Simple recipes you can make during self-quarantine with ingredients you already have! We've stocked our pantries and fridge, now we need some meals to cook. These easy meals are made with pantry staples and are great for freezing.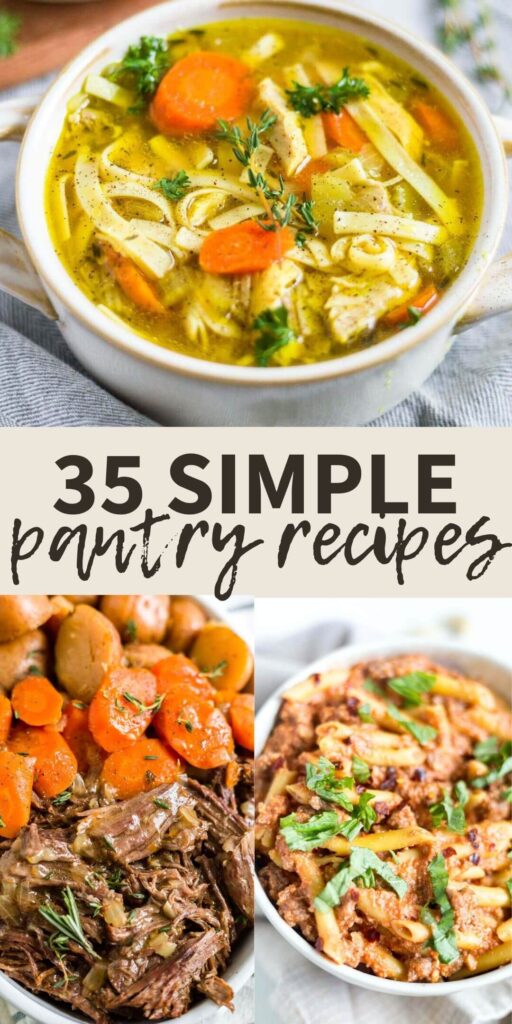 What is a pantry recipe?
Any recipe that is made with simple ingredients you can store in your pantry or freezer. This includes meals with ingredients that have a long shelf life!
My favorite pantry ingredients:
We like to eat clean to help us feel our best and often follow an anti-inflammatory diet, so a lot of these recipes will fall into the gluten free and dairy free category:
Canned tomatoes: diced, tomato sauce, crushed and tomato paste
Beans: black beans, chickpeas, chili beans, kidney beans
Pastas: any type will work for these recipe. I love Banza chickpea pasta or a gluten free brown rice pasta
Coconut cream: great for making creamy, dairy free recipes
Flours: tapioca, oat, almond, coconut and traditional flour
Oils and vinegars
Spices
Quinoa and rice
Beef and chicken stock
Corn and salsas
Potatoes, sweet potatoes and onions
Flour or corn tortillas
Proteins and Fruits/Veggies:
All of these recipes include proteins or vegetables. These last as long as you freeze them. You can use pre-frozen fruits and veggies or you can freeze fresh ones.
How to freeze fruits and veggies: wash and chop them then store them in a large freezer bag and place in the freezer. Use them in the recipe from frozen.
I've organized the recipes below based on the type of protein you have or are in the mood for.
35 Pantry Recipes:

Chicken and Poultry Pantry Recipes:

Sausage and Pork Pantry Recipes:

Beef Pantry Recipes:

Vegetarian Pantry Recipes:

How to freeze meals:
All of these meals are great to make in advance and freezer for up to 6 months.
To freeze: follow each recipe then allow to cool completely. Transfer to a air-tight container or freezer bag and place in the freezer. Thaw overnight and warm up in the oven, stove or microwave.
I hope this post helps you plan meals while you're staying at home due to COVID-19. If you need additional resources and updates about this pandemic please check out: