Edible cookie dough is sweet and delicious! It's like eating the real cookie dough, minus the raw eggs so you can eat it by the spoon full or dip it with your favorite snacks. This edible cookie dough recipe is so easy to make because it only has a few ingredients and it takes minutes to come together.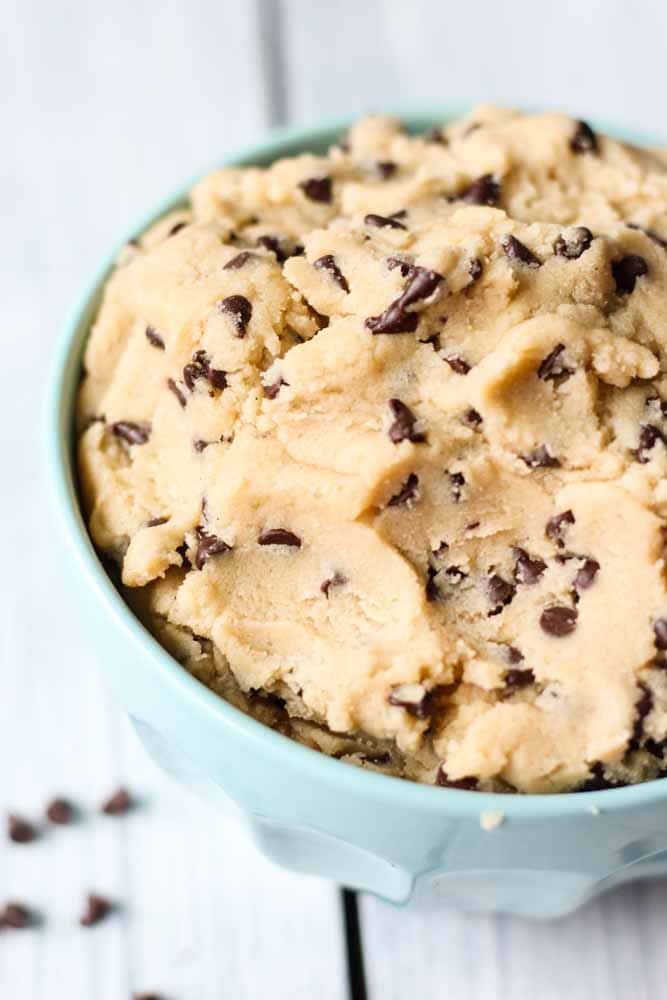 Edible Cookie Dough Recipe
JUST THINK about the endless ways to eat this edible cookie dough! In cupcakes, in brownies, as a frosting, as a crust layer to ice cream bars or cheesecake, in ice cream, or just plain by itself. There's really no reason there shouldn't be a giant bowl of this edible cookie dough in your fridge or freezer in an airtight container at all times.
By keeping it on the ready you're one step closer to an amazing dessert quickly and easily.
I know this isn't a crazy revolution or something you don't already know, but I'm obsessed with chocolate chip cookies cookies and cookie dough. But who isn't, really? Of all the ice cream flavors in the world my very first pick would be chocolate chip cookie dough.
Do you love edible batters as desserts? Try healthy edible cookie dough or edible brownie batter next.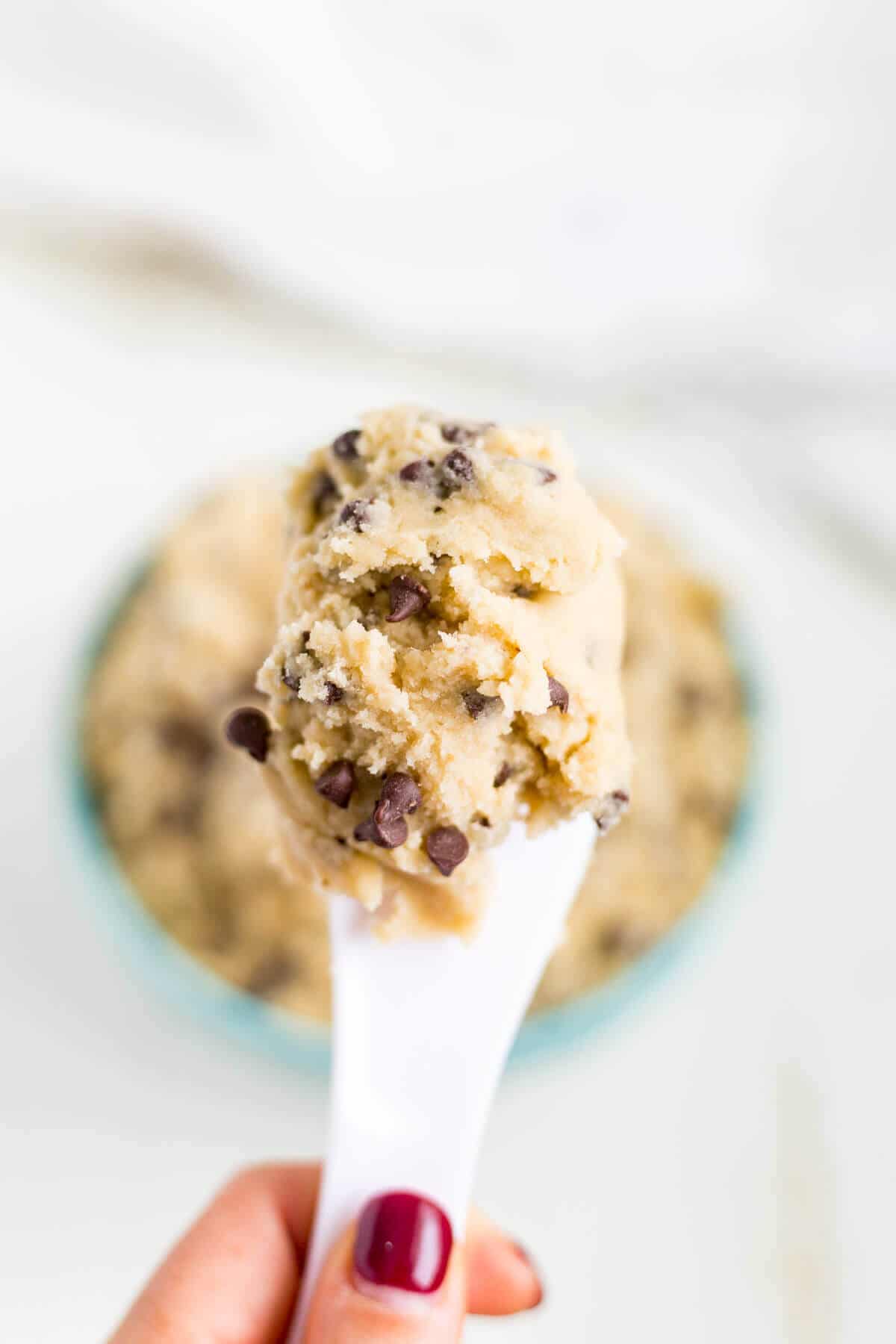 How do you make cookie dough without eggs?
To make cookie dough without eggs you'll blend all of the traditional cookie dough ingredients together with a stand mixer or electric hand mixer and add milk to bring it all together instead of eggs.
You'll cream the butter and sugar together like you do with traditional cookies when you make edible cookie dough, then you'll add the flour, vanilla and salt. Because we aren't baking this edible cookie dough you don't need any baking soda or baking powder to help them rise.
Once it's mixed you'll add mini chocolate chips (or sprinkles!) to it and serve with graham crackers, teddy grahams or any of your favorite dipping snacks.
Is it safe to eat raw flour?
It isn't the safest to eat raw flour. In recent years people have found that faw flour can cause stomach issues because of the chance of harmful bacteria so it's better to heat treat your flour before making edible cookie dough to be safe.
How to heat treat: place the flour in a bowl and then place on high in the microwave until the flour reaches an internal temp of 166°F. This takes generally 50-60 seconds. Once you do this you're good!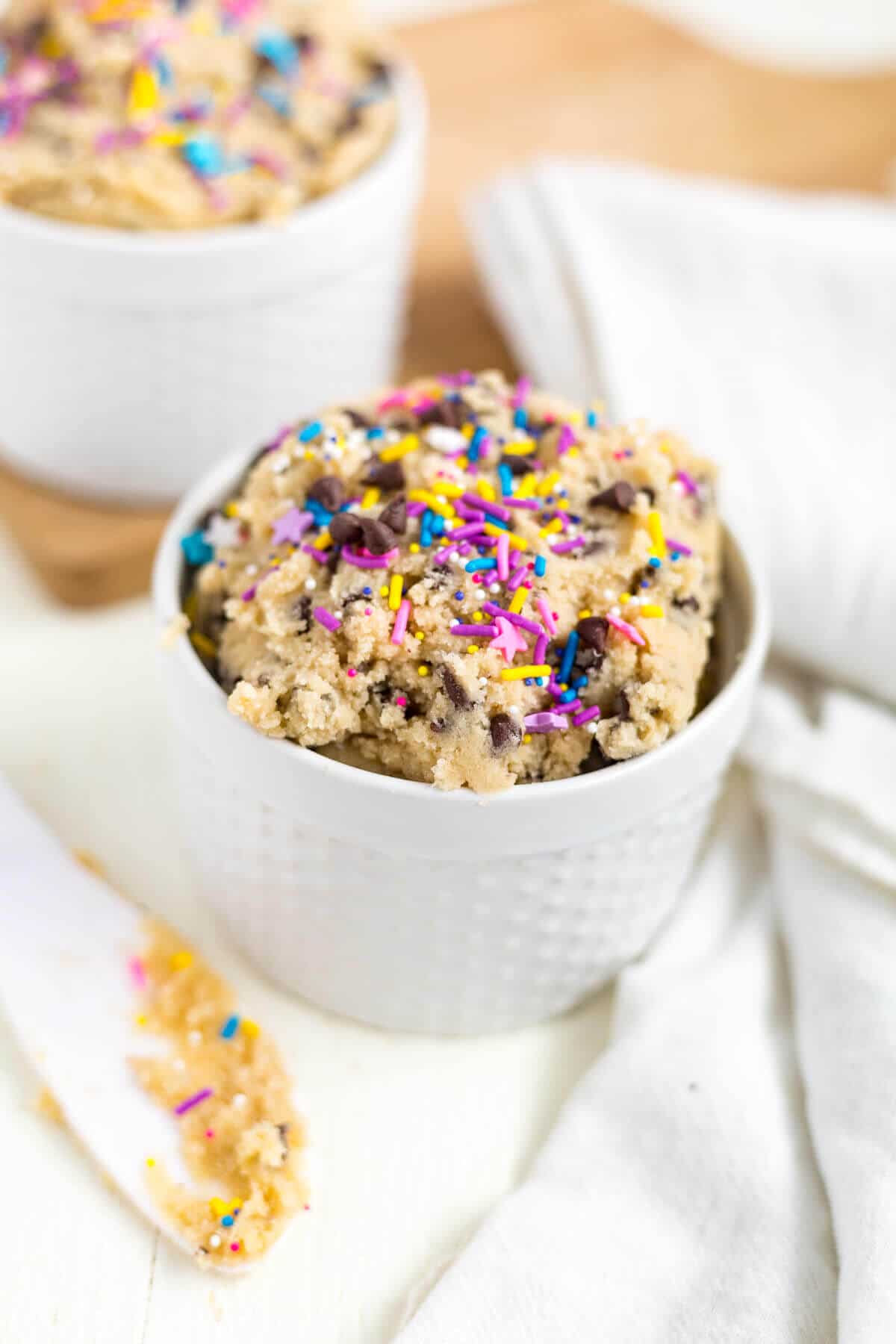 If you love this edible cookie dough recipe don't forget to give me a virtual high five by following along on Instagram and tagging #WhatMollyMade to share a picture of your edible cookie dough recipe!
How to Make Edible Cookie Dough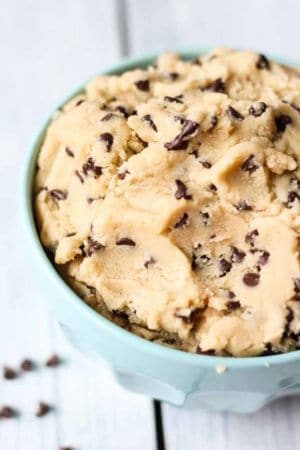 Ingredients
1

cup

brown sugar

¼

cup

granulated sugar

1

cup

unsalted butter

softened to room temperature

2 ½

teaspoons

vanilla extract

1

teaspoon

salt

2

cups

all purpose flour

2

tablespoons

milk

plus more if needed

1

cup

miniature chocolate chips
Instructions
Heat treat your flour by placing it in a microwave safe mixing bowl and heat on high for 50-60 seconds until the internal temperature reaches 166°F.

In a large bowl using an electric mixer or stand mixer, cream together the brown sugar, granulated sugar, and butter. Beat until fluffy and light in color, about 1 minute. Beat in the vanilla and salt until combined.

Beat in heat-treated flour until just combined. Add milk one tablespoon at at time and beat until dough starts to come together. Stir in the miniature chocolate chips with rubber spatula.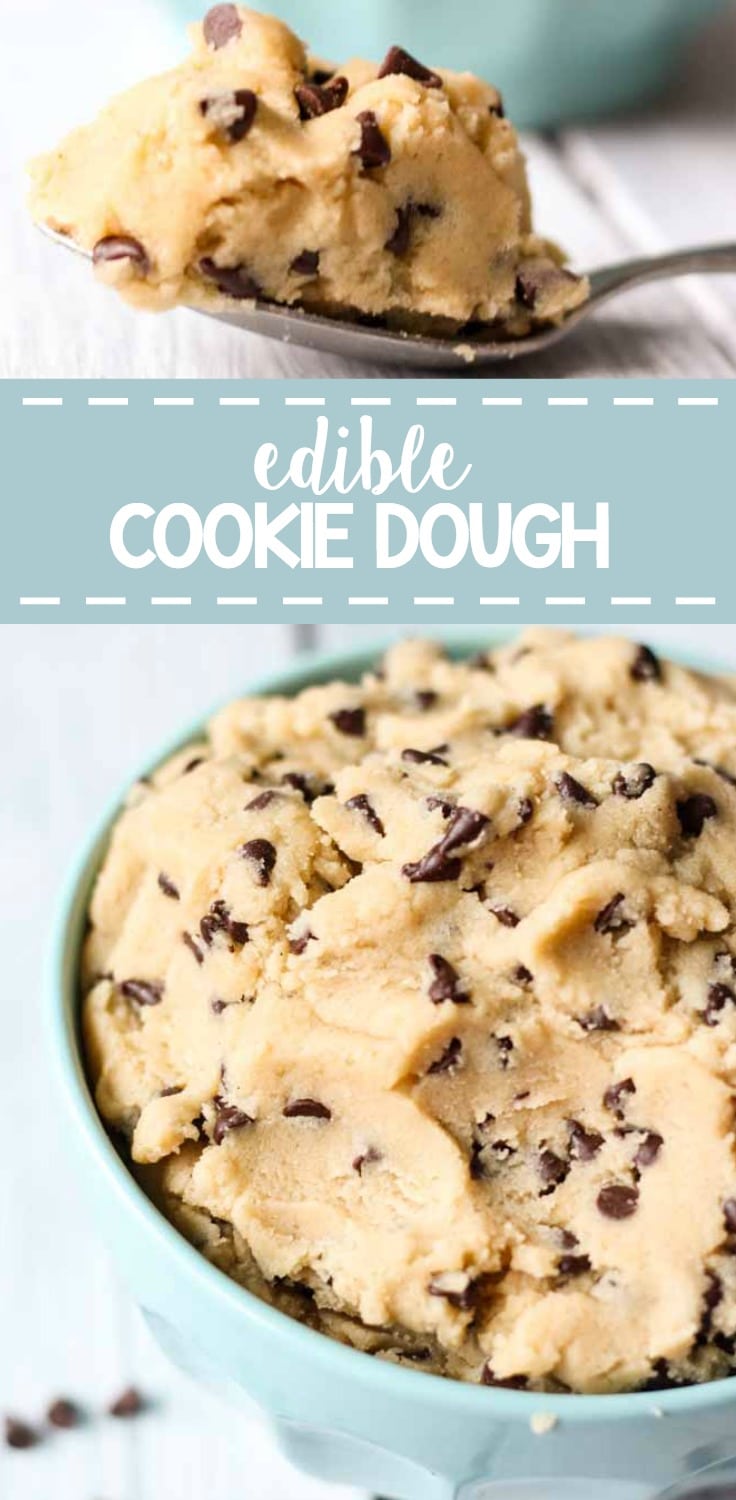 SHOP THE RECIPE
Here are a couple of items I used to make today's recipe:
Glass Bowl Set
, 3-Piece Rubber Spatula Set