White chocolate blondies with a chai swirl are a mix between a cake like bar and a thick and chewy blondie. They're dense and filled with white chocolate chips, melted white chocolate and inside is a cinnamon swirl filled with chai spices!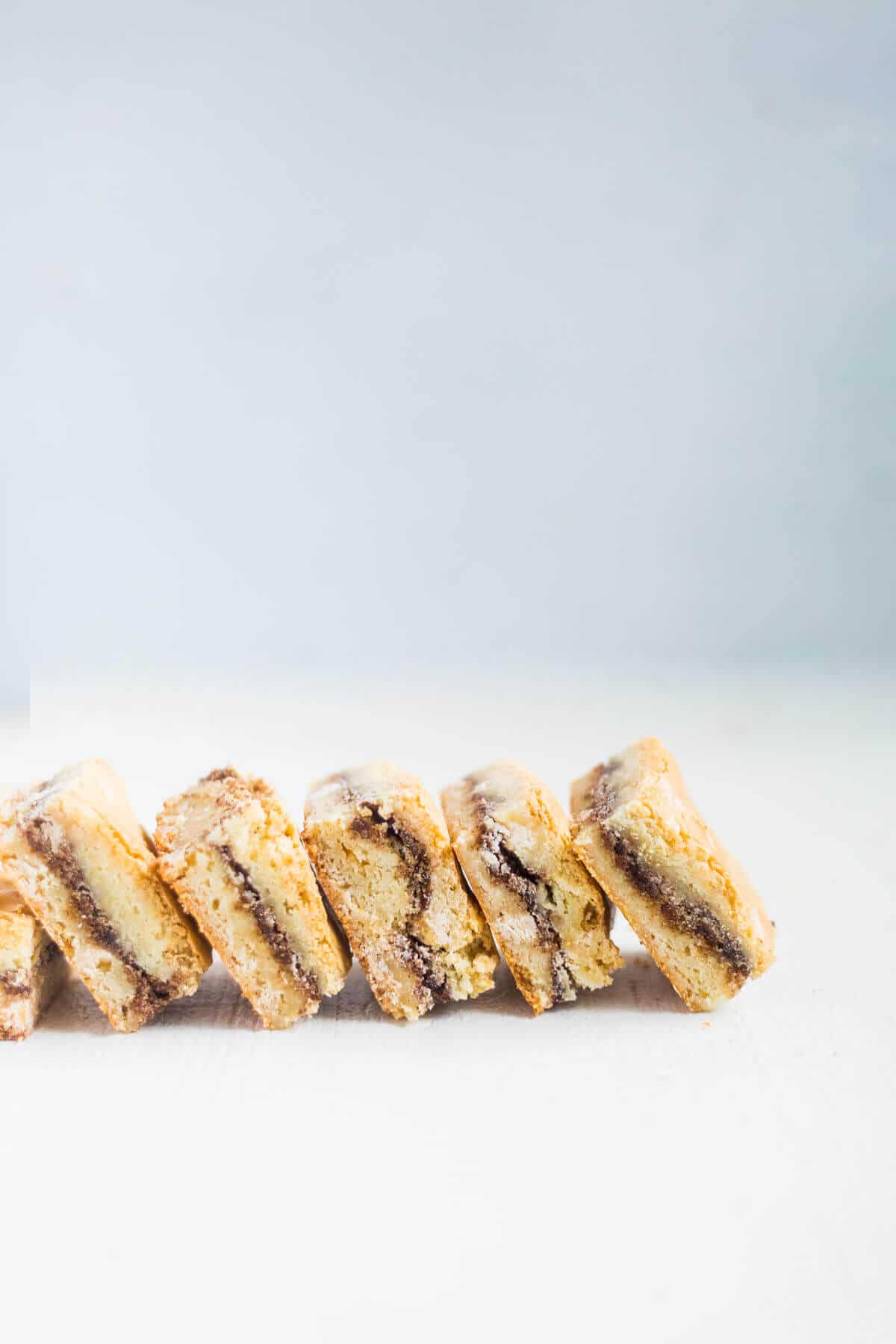 I had this white chocolate blondies recipe slated for a few weeks from now to share for Christmas but I made them and I was so excited for it that I couldn't even stand waiting another day before sharing it with you. I didn't want to deprive you of all the deliciousness any longer. Holding this recipe from you for a few weeks just didn't feel right.
And I have a feeling if it showed up on your Thanksgiving table no one would be mad about it.
For real. It's up there on top favorite recipes I've ever made on What Molly Made along with chocolate chip cookies, pumpkin streusel muffins, paleo pumpkin bars and brown butter coffee cake.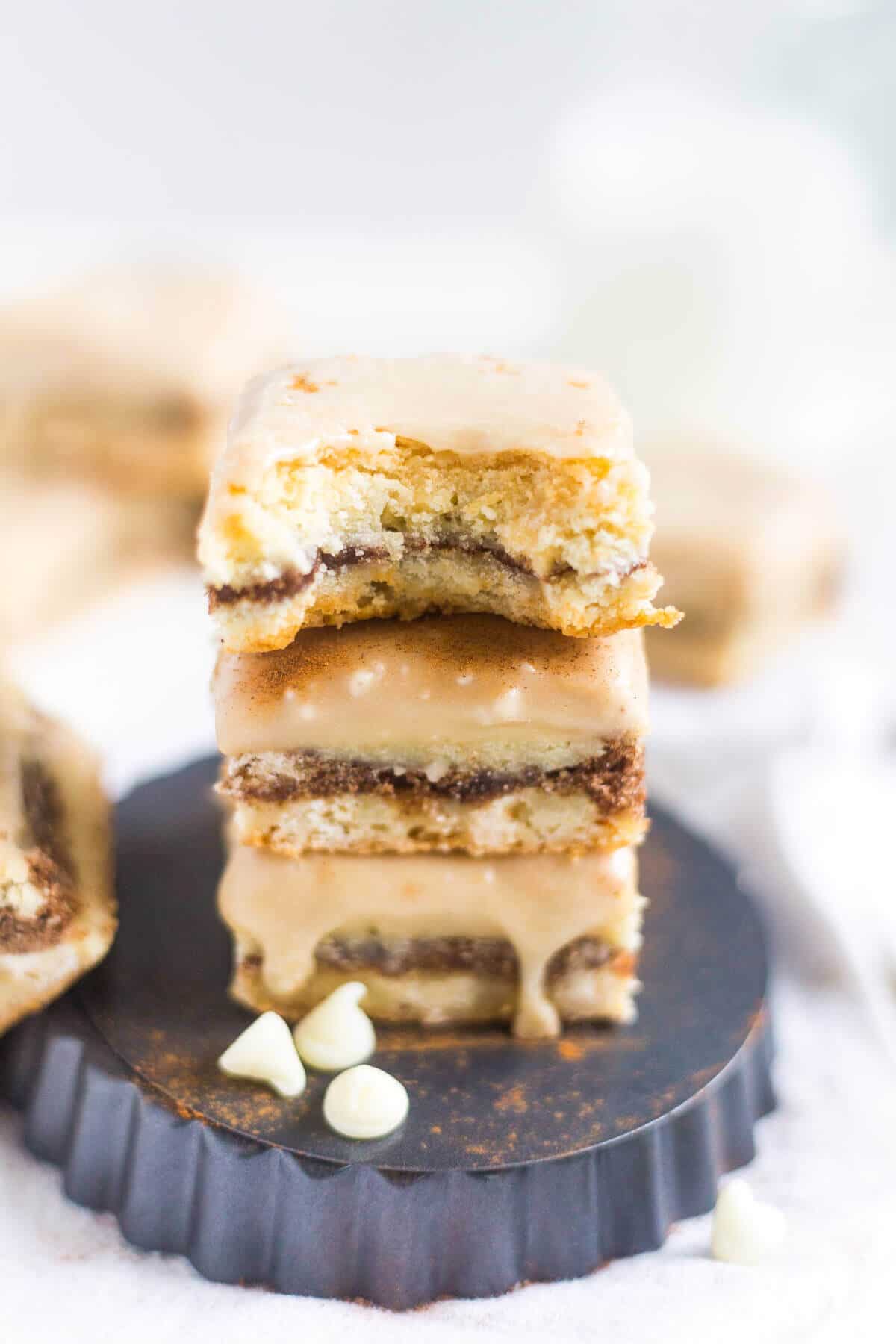 I tested a recipe about 6 months ago that were chai spiced muffins. I didn't love the chai spice I rolled the muffins in and ended up not sharing the recipe because I just didn't feel like it was good enough. But one thing I knew: I needed to share a chai flavored recipe with all of you at some point.
How Do You Make White Chocolate Brownies?
These white chocolate blondies are basically a white chocolate brownie.here's melted white chocolate inside the blondies, kinda like some brownie recipes you see. They also have melted butter in them, which always makes baked goods even more chewy.
They have a are a spin off from my lemon poppy seed bars so I knew the texture and flavor from the blondie itself was going to be really good. The texture is thick and chewy.
BUT the real star of the show in these chai spiced white chocolate blondies is the cinnamon chai swirl in the center.
The swirl is a mixture of brown sugar and a few chai spices. It's going to feel like a lot of filling, but trust me that's what you want to create that thick and spicy chai swirl in the middle.
What's in Chai Swirl?
There's 5 ingredients in this chai swirl that makes it sweet and spicy:
Brown Sugar is the base of the mixture and holds all of the spices together. It gets gooey and melty in the oven and adds sweetness to the spice.
Cinnamon is a must have in any chai combo. It's in so many fall recipes and is why I love this recipe for the holidays.
Ground ginger is part of the traditional chai flavor combo. It adds depth to the flavoring and one teaspoon does the trick for this whole recipe.
Ground cardamom is the signature chai spice and potent smell when you think of a chai latte. It's deep and spicy and will make your house smell amazing.
Ground allspice adds another layer of spice texture and works really well with the other three. You need the least amount of it in this recipe. A little goes a long way!
You can find all five ingredients at your local grocery store or I linked to them below the recipe in Amazon.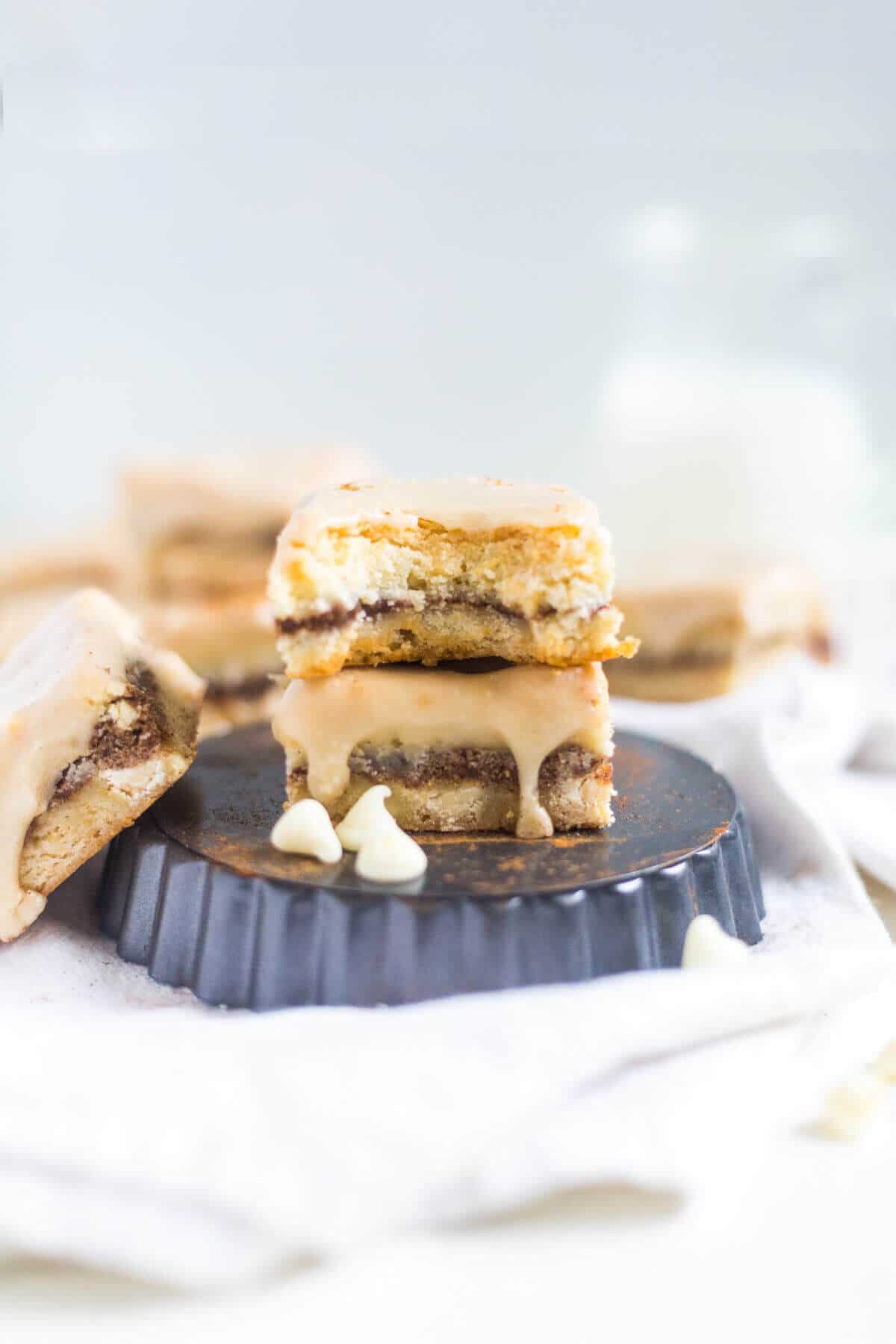 Once you have the chai swirl mixed together for these chai spice white chocolate blondies you can finish making the base of the blondies and get them in the oven.
I love the way they come together because you can make the majority of it in the sauce pan you used to melt the butter and white chocolate. Just the sugar, eggs vanilla etc. and then the dry ingredients and you're done! Super simple!
The trickiest part of this recipe for me was layering the blondie batter and the chai spice. The batter is extra thick and doesn't spread easy so you have to be careful! The bottom part of the white chocolate blondies are easy. Just spread half into the prepared baking pan then spread the thick chai swirl mixture on top.
The second part of the batter can be tricky because you don't want to mess up the chai and get it all over the batter.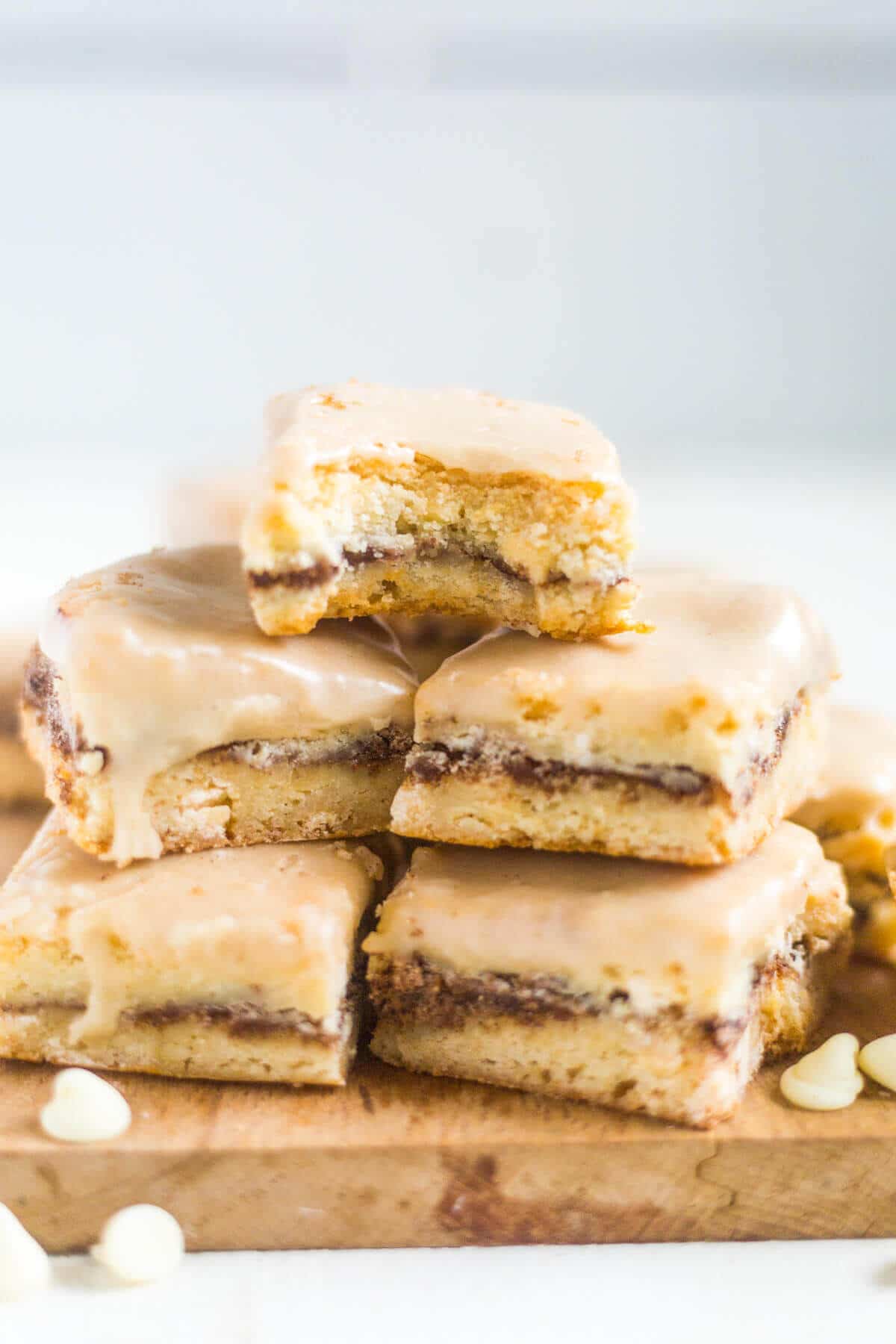 Pro tip: use a rubber spatula and spray it with non stick cooking spray to spread the top layer over the chai spice. This way the batter won't stick to the spatula and you can easily push the batter to the edges of the pan.
It's okay if the batter doesn't go all the way to the edges or there are a few wholes in the batter where you can see the chai spice. The white chocolate blondies batter will spread in oven and fill the gaps.
And then there's the glaze situation. This specific glaze is the type that somewhat hardens once it's cooled. Easy for transporting and sharing?.
You'll heat the majority of the ingredients on the stove and either pour the glaze over the baked bars or dip the top of each individual bar into the glaze. I prefer the ladder because it creates such a pretty dripping look down the side of each bar. ???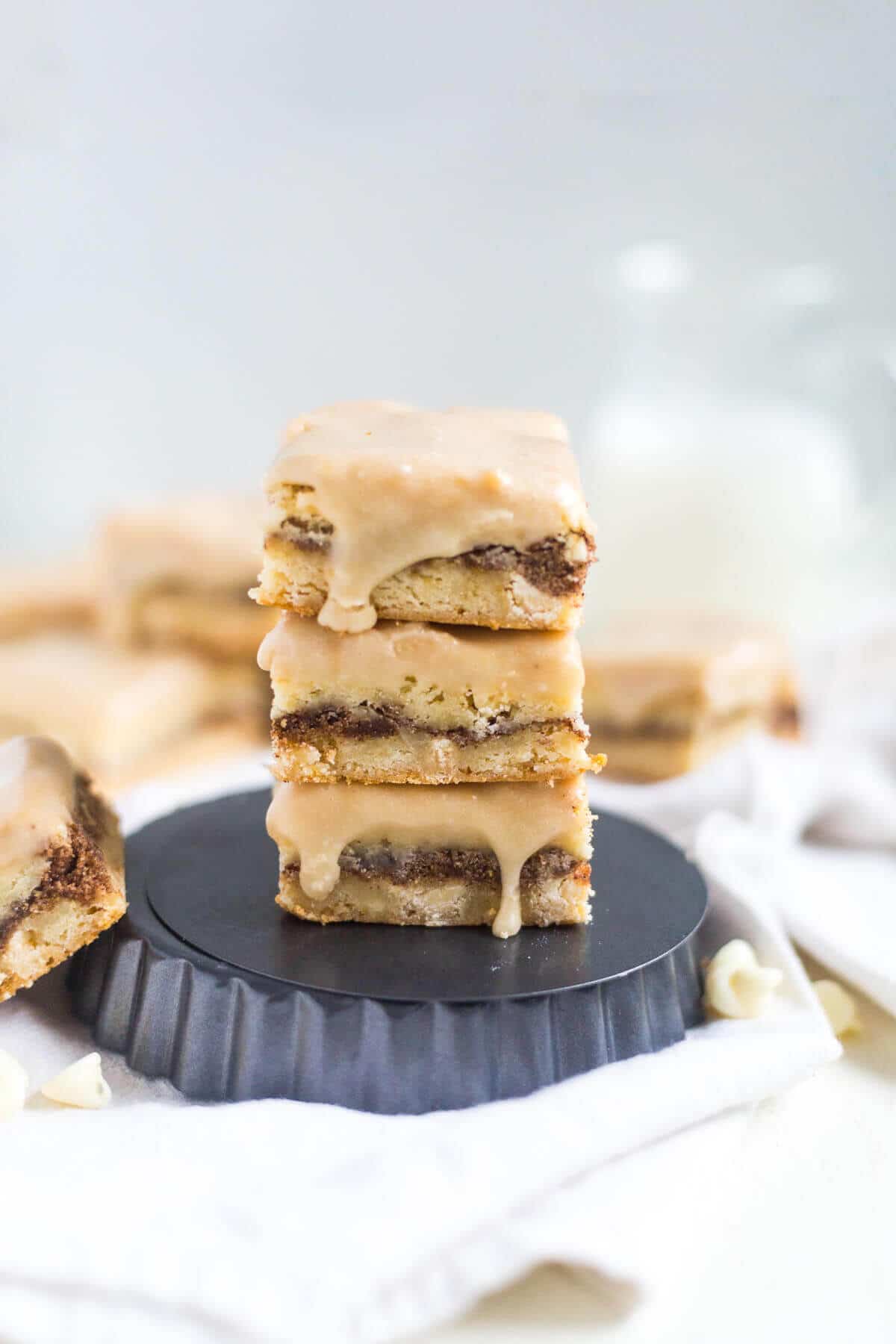 If you're anything like me you may end up doing more eating then sharing. Which is why a double batch is also recommended! You can make a batch and freeze the white chocolate blondies in an air tight container for up to 3 months. Just thaw and do that glaze before serving!
Hope you and your family love them as much as I do during the holidays! If you make them don't forget to take a pic and tag me on Instagram with @what_mollymade or #WhatMollyMade.
How To Make Chai Swirl White Chocolate Blondies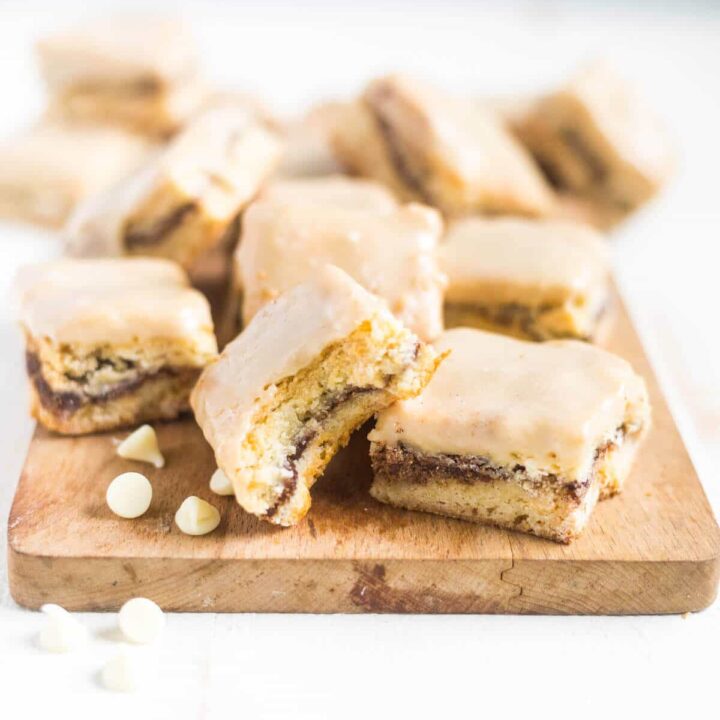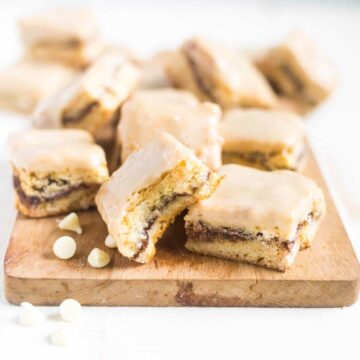 Ingredients
Blondies:

6

Tablespoons

unsalted butter

8

ounces

2 baking bars white chocolate, chopped

1

and ¾ cups all-purpose flour

½

teaspoon

baking powder

¼

teaspoon

salt

½

cup

granulated sugar

2

large eggs

1

teaspoon

vanilla extract

Chai Swirl

¾

cup

packed light or brown sugar

2

teaspoons

ground cinnamon

1

teaspoon

ground ginger

1

teaspoon

ground cardamom

½

teaspoon

ground allspice

Maple icing:

2

cups

confectioners' sugar

3

Tablespoons

pure maple syrup

2

Tablespoons

whole milk or half and half

1

teaspoon

vanilla extract

⅛

teaspoon

salt
Instructions
To make the bars, melt the butter and white chocolate together in a medium saucepan over medium heat, stirring constantly until smooth, about 7 minutes. Remove from heat and allow to slightly cool for approximately 10 minutes.

While cooling, adjust the oven rack to the lower third position and preheat oven to 350°F. Line the bottom and sides of a 9-inch square baking pan with parchment paper, leaving an overhang on all sides for easy removal once baked. Set aside.

Next, make the chai swir. Mix the swirl ingredients together in a small bowl and set aside.

In a medium bowl, whisk the flour, baking powder, and salt together. Set aside.

Whisk the granulated sugar into the cooled butter and white chocolate mixture. Whisk in the eggs and vanilla. Pour the dry ingredients into the wet ingredients and fold gently until completely incorporated.

Pour half of the batter evenly into the prepared pan. Sprinkle and spread the swirl ingredients evenly on top-- it will be a thick layer of swirl! Cover evenly with remaining batter. See post details for spreading tips.

Bake for 35-40 minutes or until the bars are lightly browned around the sides and on top and a toothpick inserted in the center comes out clean. Cool completely on a wire rack before removing.

Once cooled, make the glaze. Combine all of the ingredients in a medium saucepan over low heat and whisk until smooth. Remove from heat and pour over cooled bars or dip each individual bar into the glaze after cutting into squares. The glaze will set after about 10 minutes.

Store in an air tight container at room temperature for up to one week or store unglazed bars in the freezer for one month. Make the glaze and dip thawed bars in glaze prior to serving.
SHOP THE RECIPE
Here are a couple of items I used to make today's recipe:Brown Sugar
, Ground Cinnamon
, Ground Ginger
, Cardamom
, Allspice
, White Chocolate Baking Chocolate Bar
Some of the links above are affiliate links, which pays me a small commission for my referral at no extra cost to you! Thank you for supporting What Molly Made!