Paleo pumpkin bars filled with pumpkin and spice! These little squares of heaven taste just like pumpkin pie! And they're paleo:) Which means they're gluten-free, refined sugar free and dairy free. They taste like fall in a bite and are topped with a light maple frosting you will be drooling over.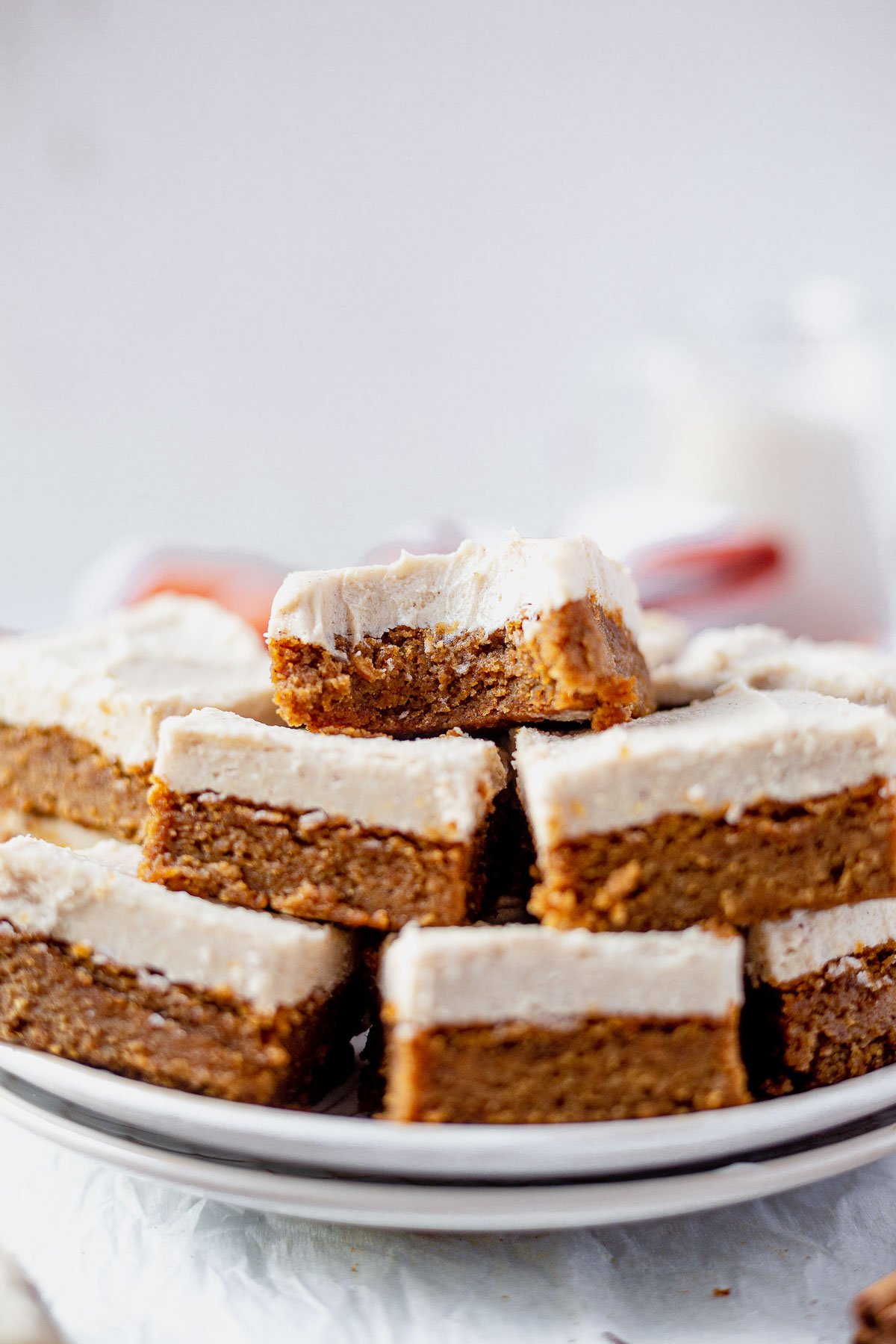 Welp, it's here. Fall baking is here. I had my first PSL yesterday and it was everything I remember it being. Though I did get it iced because it was just under 1,000,000 degrees yesterday. And it was so spectacular and flavorful.
We had the most lovely Labor Day weekend. I got to watch one of my very good friends get married and then celebrated my grandma's birthday with my entire mom's side of the family. I paused for a moment while we were grilling out yesterday afternoon and looked around at everyone to appreciate how happy and healthy everyone was.
The littles moments sometimes take up the biggest parts of our heart❤️.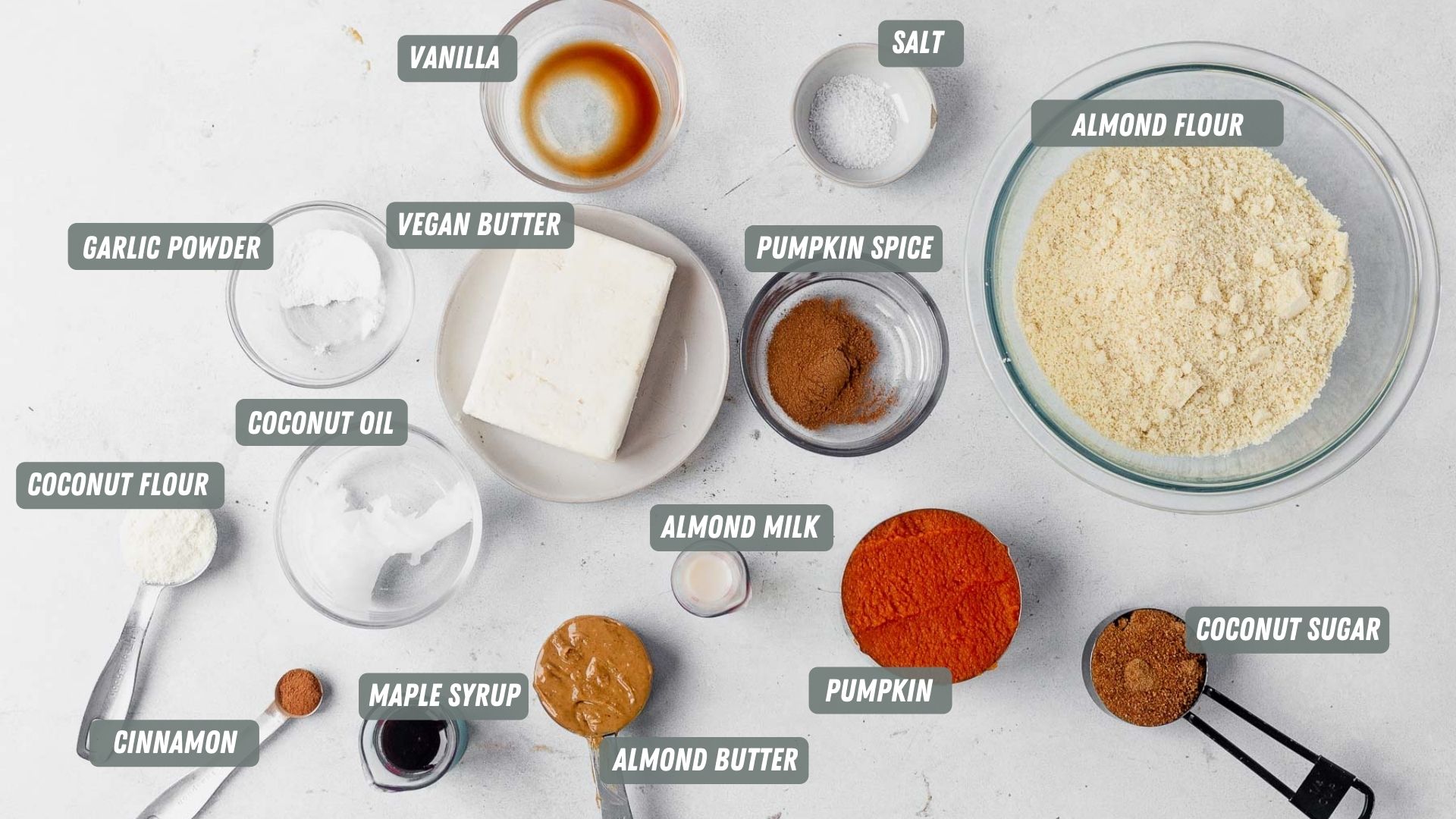 I'm usually the one to bring the desserts to the gatherings but because I was coming from the wedding celebrations out of town I didn't have time to create anything for the soiree. I would have loved to bring these Paleo Pumpkin Bars!
My mom went gluten-free about two years ago after a doctor told her that there's a chance it would help the symptoms of her arthritis. And it worked! The gluten-free diet helps regulate the swelling in her joints so she eats gluten free as much as she possibly can. Because these bars are made with almond flour and coconut flour they're perfect for her!
I'm also just trying to clean up my diet. I'm doing my best to keep the sugar, fat and guilty sweets out of my daily diet.
Especially since I just started a new work out program! And it just so happened to have been created by my amazing talented husband. He has his Masters in Exercise Science and just launched an online personal training business called, Hearbeat Strength. Beyond all the smarts he's got going on he's easily the most inspirational person I know (his story is awesome!). If you want to be motivated and encouraged by someone's story, I highly encourage you check it out!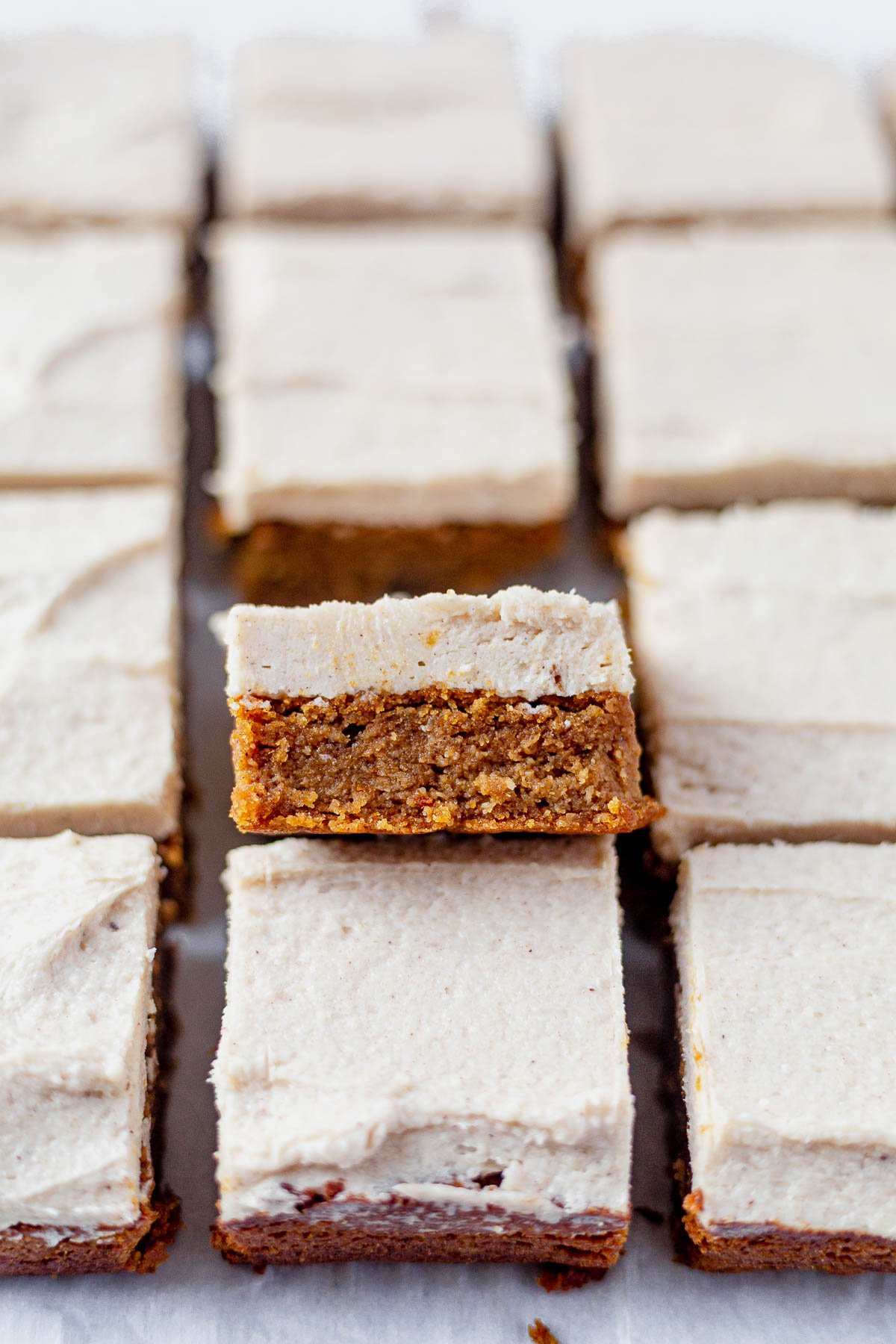 And lucky for me (and maybe you!) these bars are approved by him! They're naturally sweetened with maple syrup and the bars taste so much like pumpkin pie. It's kind of not fair how yummy they are. They taste like they should be filled with sugar and salt and butter and everything in between. But they aren't! It's so magical.
When the cold weather hits all I want is pumpkin everything and savory recipes to celebrate the season. But the additional pounds to keep me warm? Not so much. Anyone feel me on this one?
What we love about paleo pumpkin bars
One of my favorite things about this recipe is that it's pretty straight forward. No special tricks or difficult steps, you just mix it all up and put it in the oven. One thing to note is that this is made with almond flour. I love to use coconut flour in my paleo baking as well, but because coconut flour absorbs more moisture it's best to stick to almond flour on this one.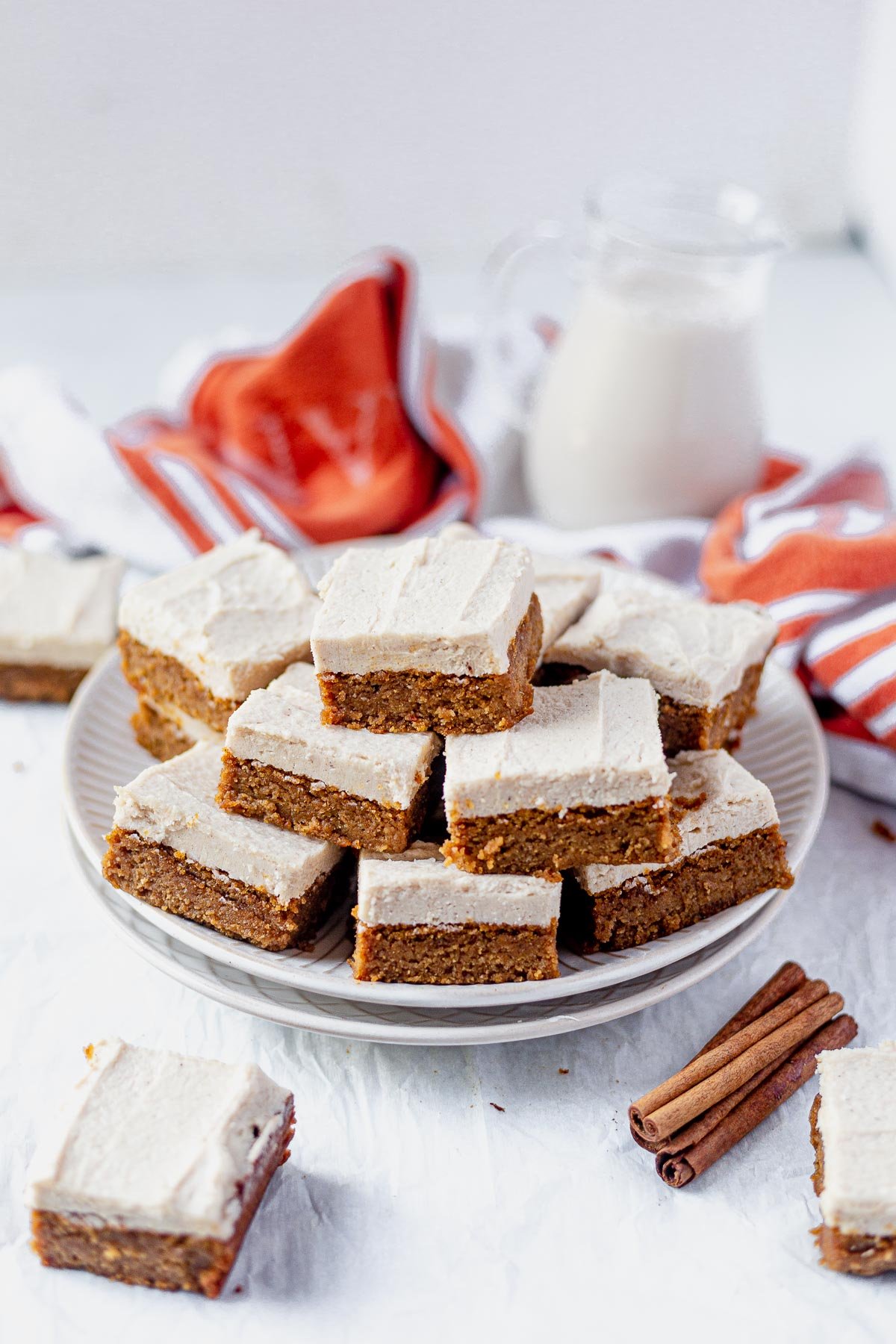 You just bake, chill and frost! Wait until the bars are completely cooled before you begin frosting. Then chill again to allow them to set! I cut mine in to pieces after throwing them in the freezer for 15 minutes. It made the layers clean and perfect.
And absolutely delish.
Annnnd go. Get your pumpkin on!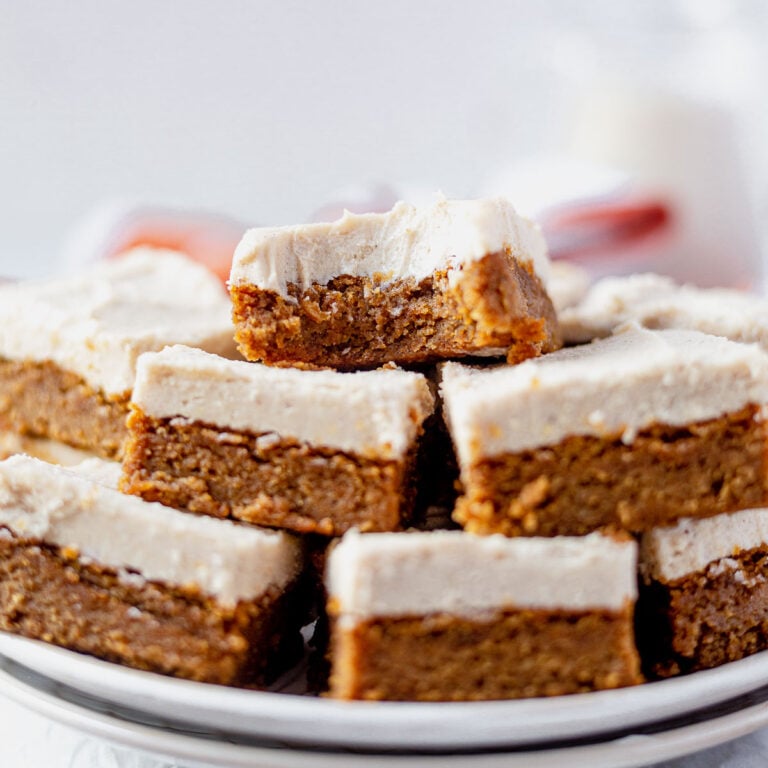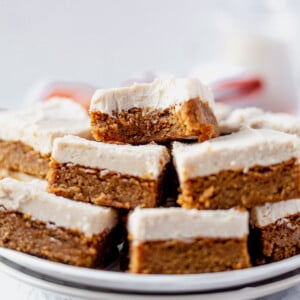 Paleo Pumpkin Bars
Paleo pumpkin bars filled with pumpkin and spice! These little squares of heaven taste just like pumpkin pie.
Print
Pin
Rate
Save
Saved!
Ingredients
Paleo Pumpkin Bars
2

cups

almond flour

packed

½

teaspoon

salt

½

teaspoon

baking soda

¼

teaspoon

baking powder

2

teaspoons

pumpkin pie spice

¼

cup

almond butter

2

tablespoons

coconut oil

melted

¼

cup

coconut sugar

2

tablespoons

maple syrup

2

teaspoons

vanilla extract

2

tablespoons

almond milk

1

cup

pumpkin puree
Maple Frosting:
½

cup

grass-fed butter, plant based butter, ghee or coconut oil

softened

⅓

cup

maple syrup

¼

teaspoon

cinnamon

2

tablespoons

coconut flour
Instructions
Preheat the oven to 350°F. Line an 8x8 baking dish with parchment paper then lightly grease it and set aside.

Combine the almond flour, salt, baking soda, baking powder and pumpkin pie spice in a small bowl and mix well. Set aside.

Whisk together the melted coconut oil, almond butter, coconut sugar, maple syrup, vanilla and almond milk until well-combined. Add the pumpkin puree and mix well.

Add the dry ingredients to the wet ingredients and stir well until all ingredients are combined.

Pour mixture into the prepared pan and place in the oven for 30-35 minutes, until center is set. Bars will be slightly moist. Allow to cool in pan for 15 minutes then place the bars in the pan in the refrigerator for at least 30 minutes, or up to a few days.

While the bars are cooling, prepare the frosting. In a medium bowl, beat the butter until smooth and creamy, about 1 minute. Add the maple syrup, cinnamon and coconut flour and beat will until combined, about 2 minutes.

When bars are completely cool, remove them from the pan and cover them with the frosting. Chill in the refrigerator again for 15 minutes. Cut and enjoy! Or keep in the refrigerator for up to one week or in he freezer for one month.