What do you get when you put chocolate peanut butter chips, marshmallow fluff and graham crackers between two cookies? Death by delicious. And also chocolate chip cookie s'mores bars.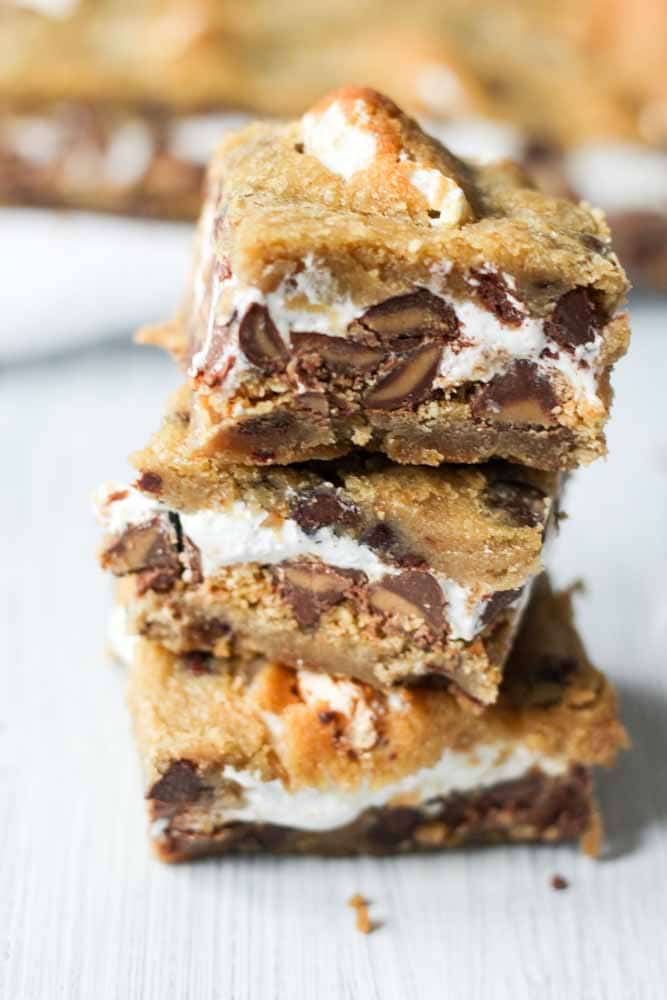 I just so happened to have two packs of Toll House pre-made chocolate chip cookie dough in my fridge. And when I was brainstorming what I could do with them my mind went back to a photo shoot we had two weeks ago for Toll House at work and the chocolate chip s'mores sandwiches I made.
I'm a social media strategist for my full-time (non-blogging?) career and I'm on the Toll House team. It's like God knew my heart and merged everything I absolutely love in to one career: social media marketing and baking.
Not to mention I work with insanely smart and creative people every day. I've got a pretty cool gig. Then I come home and do the exact same thing for my blog:) It's a blast!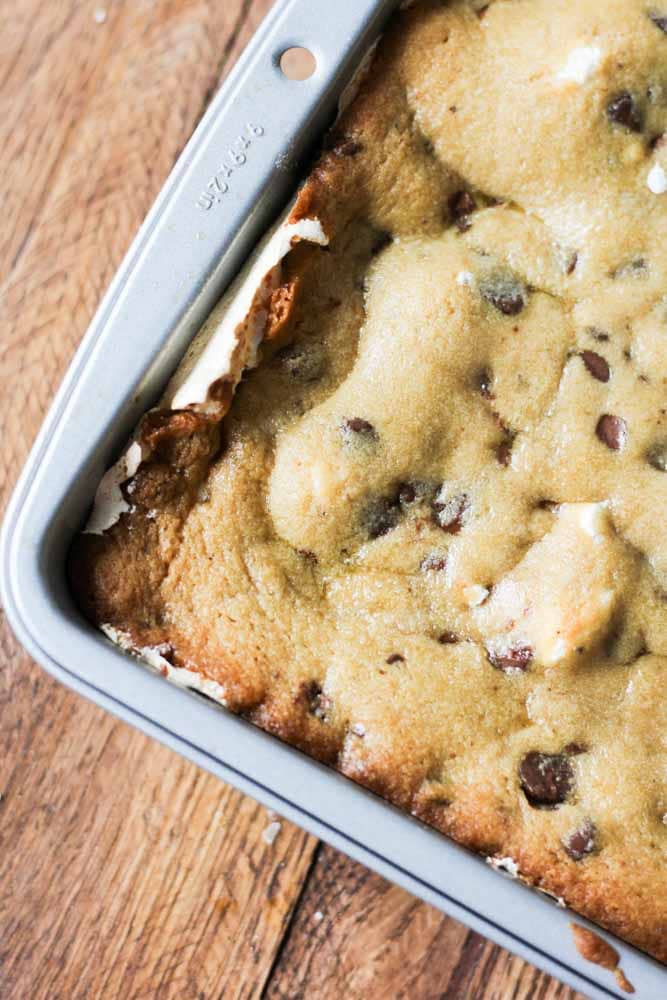 My brain instantly went back to those cookie sandwiches and I recently came across these Chocolate Chip S'mores bars from Cookies and Cups so I knew I couldn't pass up this amazing recipe.
They're perfect for summer parties and camping. You can make them in advance and have them ready to go to for all your summer entertaining. In fact, they're best made the day before so they set and don't ooze everything when you cut them!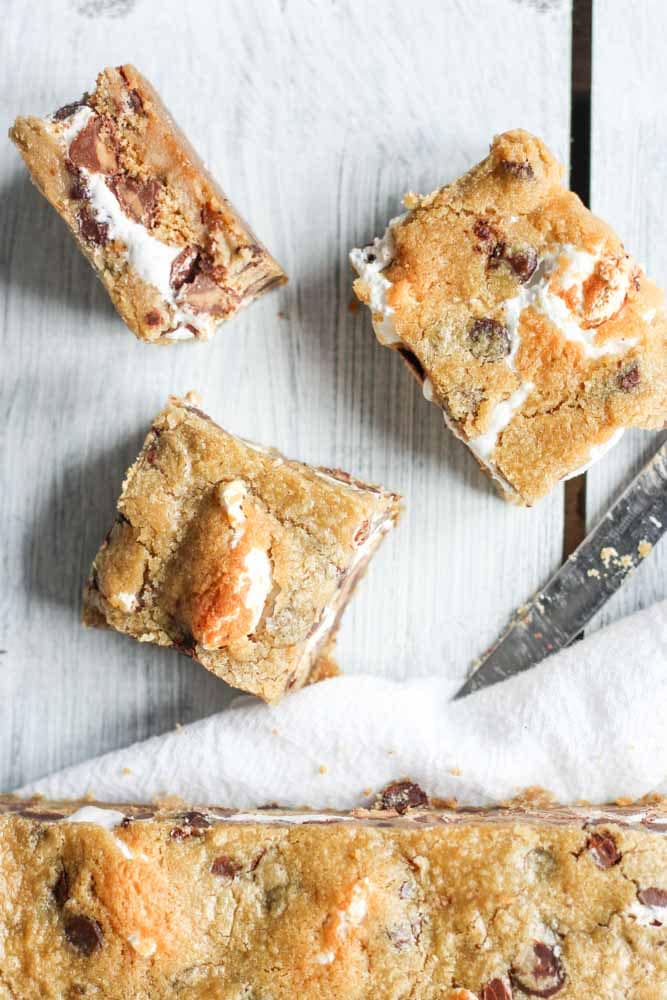 I recommend cutting these Chocolate Chip Cookie S'mores Bars evenly when they're cold from the fridge than warming them up quickly in the microwave or oven to get them just the right amount of ooey gooey.
These bars were so easy to make, to boot! Pre-made chocolate chip cookie dough makes it so easy to layer and throw in the oven.
Just let the dough set a little so it's easy to spread then spread it evenly across the bottom of the baking pan. The next step is a sprinkling of Toll House Chocolate Peanut Butter DelightFulls. If you can't find them no worries you can always use the chocolate peanut butter mixed chips or plain milk chocolate chips.
Then you sprinkle with graham cracker crumbs and top with marshmallow full!
Hint: the marshmallow full can be difficult to spread! Spray your rubber spatula with non-stick cooking spray and then spread, it's so much easier!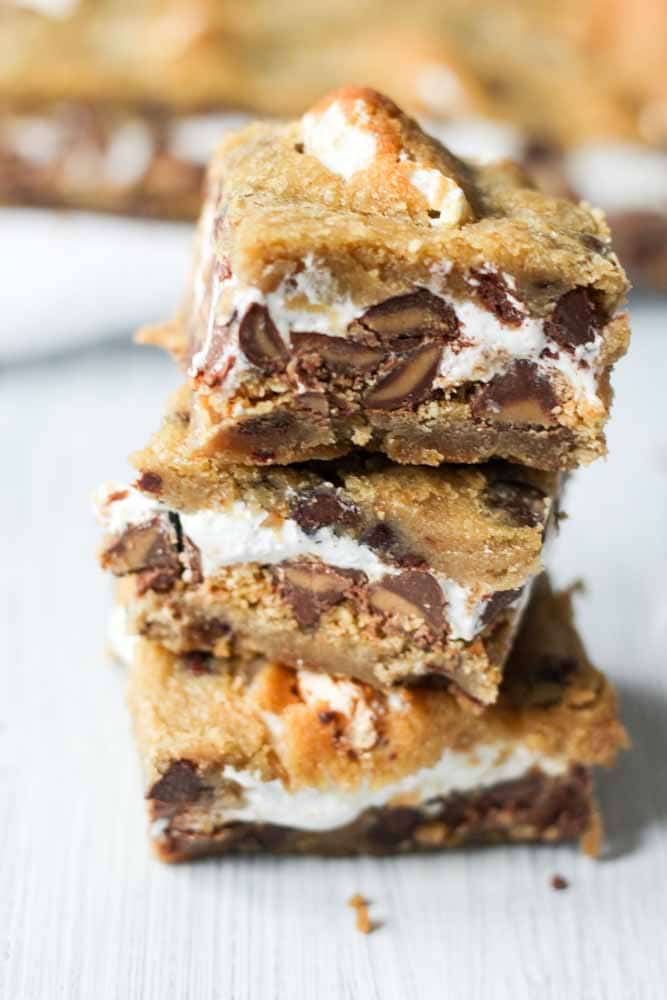 The last step is to roll out the other cookie dough so it's about the same size of the pan. When it's about the size, pick it up and place it on top of the marshmallow layer. Do your best to get it to cover, but it won't be perfect!
I think the imperfection makes it even better and more fun to make!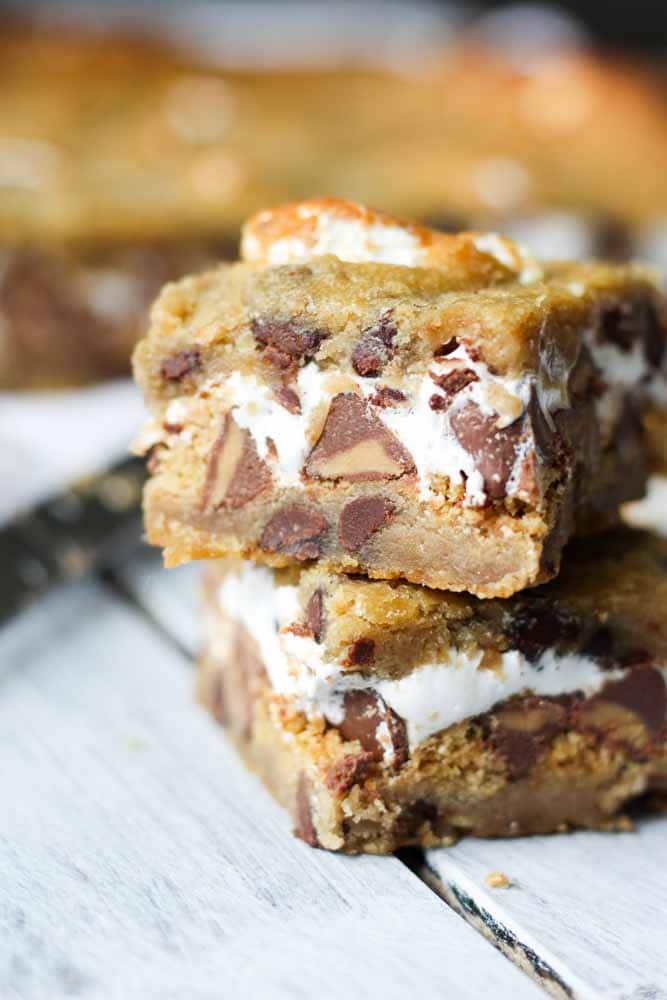 Then you bake, let it cool in the fridge and cut into amazingly delicious squares of Chocolate Chip Cookie S'mores Bars.
I mean look at those layers, people! Nuff said (shown?)
More desserts:
Ingredients
2

packs nestle toll house refrigerated cookie dough

2

cups

peanut butter filled delightful

or milk chocolate morsels

1

cup

crushed graham cracker crumbs

2

cups

marshmallow fluff
Instructions
Preheat oven to 350 degrees. Grease a 9x9 inch pan with non-stick spray. Remove both cookie dough packages from the fridge and let sit for 10 minutes to soften slightly. When it's ready, unwrap one and spread cookie dough to cover the bottom of the pan.

Sprinkle chocolate chips or DelightFuls on top of dough. Top with crumbled graham crackers.

Using a rubber spatula, spread the marshmallow fluff on top of graham crackers. It will be slightly difficult to spread. Spray spatula with non-stick spray to keep from sticking.

Unwrap second pack of cookie dough and roll out using rolling pin to the size of the 9x9 pan. Lay dough on top of marshmallow layer. May need to piece and move pieces around to completely cover marshmallow.

Bake for 25-30 minutes or until top dough is cooked and edges slightly brown.

Allow to cool for 2 hours on wire rack then transfer to fridge to allow to cool for another 2 hours. If bars aren't completely cool they'll be too gooey to cut.

Cut into squares while chilled.