These glazed lemon poppy seed bars are a zingy lemon dessert! These bars are easy to make and are packed with some serious spring flavor. The lemon glaze will leave you wanting more.
And if you really do want more lemon glaze, then try this gluten-free lemon drizzle cake or this classic lemon poppy seed bread.
You could also try the classic gluten-free lemon bars made with a buttery gluten-free shortbread crust.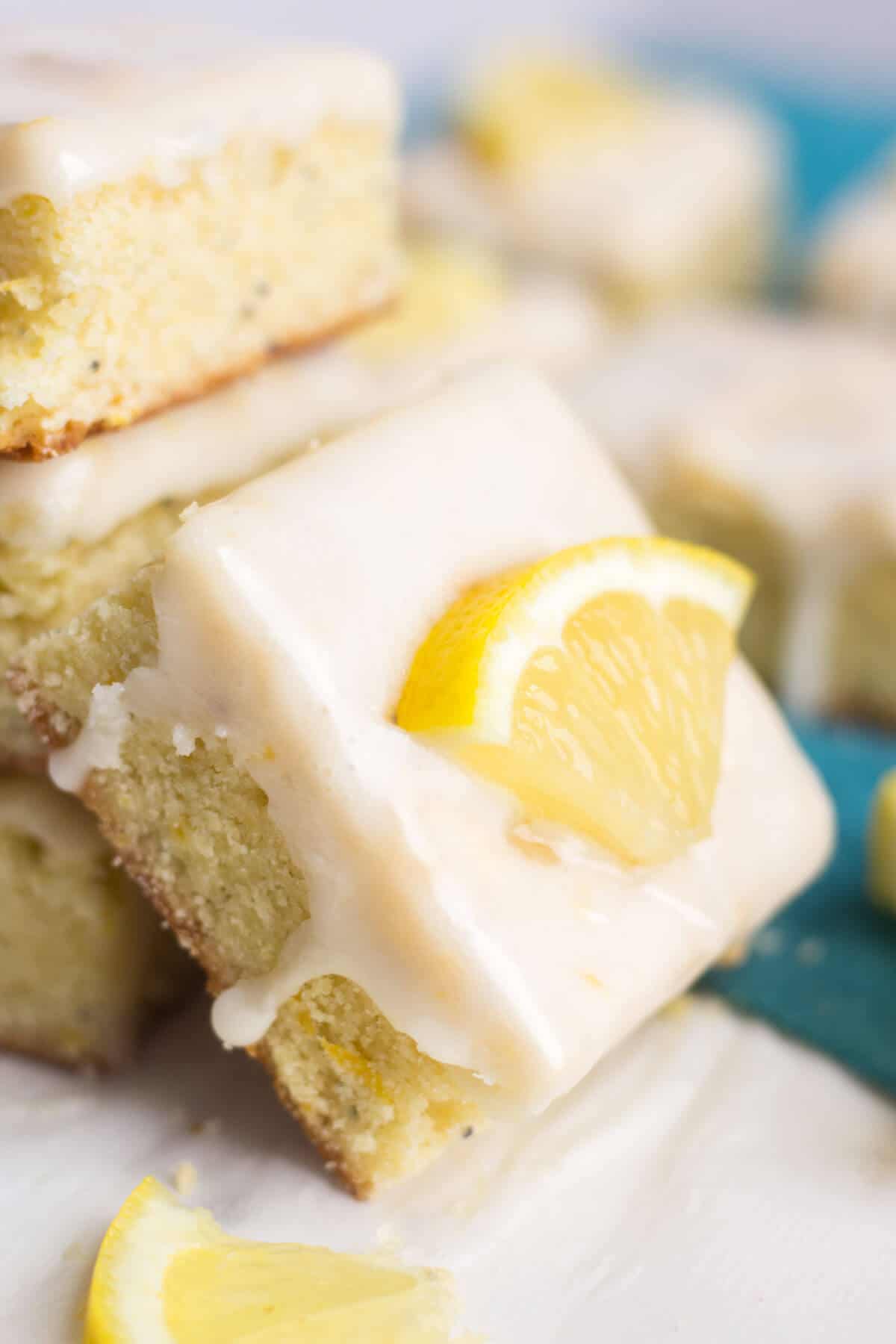 Spring is officially here. The sun has been shining here in Ohio for the at least 3 days in a row and it's been in the 60's too. That qualifies us as real life springtime weather. Though we're pretty much garaunteed one more snow by mid-April because that's just how we roll in Ohio. However, I'll overlook that for now because this weather is THE BEST.
And there's nothing better to go along with springtime weather than a perfectly lemony springtime dessert. The bright and zingy flavors behind these glazed lemon poppy seed bars make my heart so happy.
If you couldn't tell by all of my lemon poppy seed recipes, this flavor combo always makes my heart so happy. My dad used to bring home giant lemon poppy seed muffins from the grocery store each Sunday and my sisters and I fell in love with the flavors. It's my all-time favorite muffin for that reason.
And after experimenting with donuts, healthy muffins and breads I know it was time to take on the lemon poppy seed bar situation. I'm calling these a bar because they're not quite cake but they're also not quite a blondie. They're a mix of both, really. A sweet and zesty cake and a dense blondie all in one. The inspo came from the orange blondies from SBA.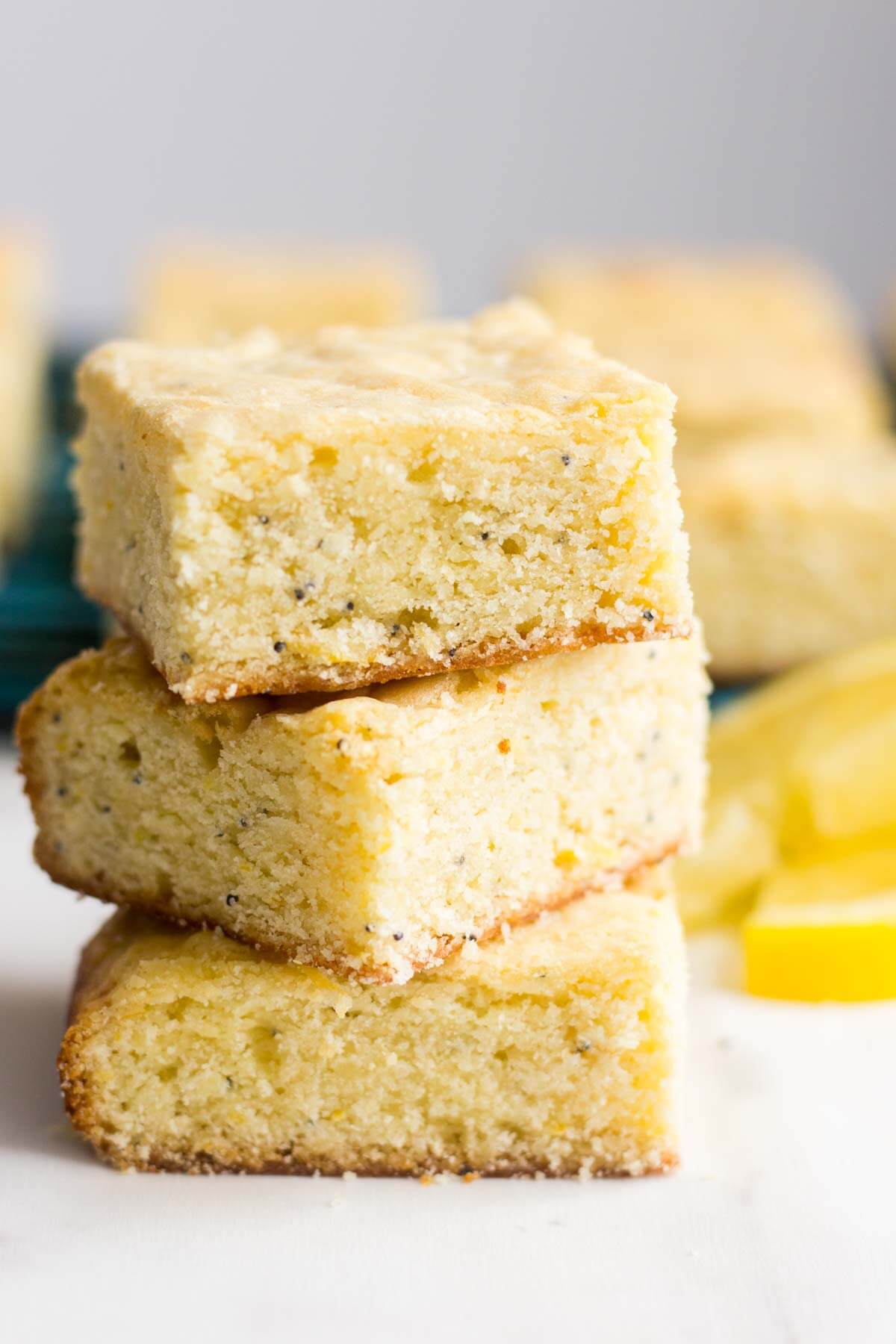 The base of these lemon poppy seed bars is similar to that of a brownie: melted chocolate and melted butter. But we're using melted white chocolate here!
Fun fact: did you know white chocolate technically isn't a real thing? Yes, it's a real, delicious product. But it's not ACTUALLY chocolate. Because it doesn't contain chocolate solids (aka cocoa powder). It is, however, made with cocoa butter which comes from the cocoa bean. You could technically make your own white chocolate at home with cocoa butter, powdered sugar and powdered milk. But today the delicious pre-packaged white chocolate will do! (I used Ghirardelli baking bars).
Okay, end nerdy baking rant. Back to the lemon poppy seed bars.
Love dessert bars? You have to try these smores cookie bars next. They're easy to make with 4 simple ingredients!
You only need one bowl to make these glazed lemon poppy seed bars:
Because the butter and white chocolate are melted together you don't need that mixer or that second bowl. Just a whisk and some elbow grease. That just means there's extra love in these bars!
The melted butter also makes these bars extra, extra chewy. Think your favorite blondie or chewy cookie. It's like that, but so easy to make!
The two eggs in this recipe bind all of the ingredients together and create a dense and even more chewy texture. And the baking powder? Just the right amount to give these lemon poppy seed bars some extra lift and air, which is where the cake-like texture comes in to play.
And obviously the lemon flavor is out of this world. If you are like me and love lemon desserts then this recipe is for you! The lemon juice and zest from fresh lemons brighten these bars up and make them so irresistible. Plus a little crunch from the poppy seed!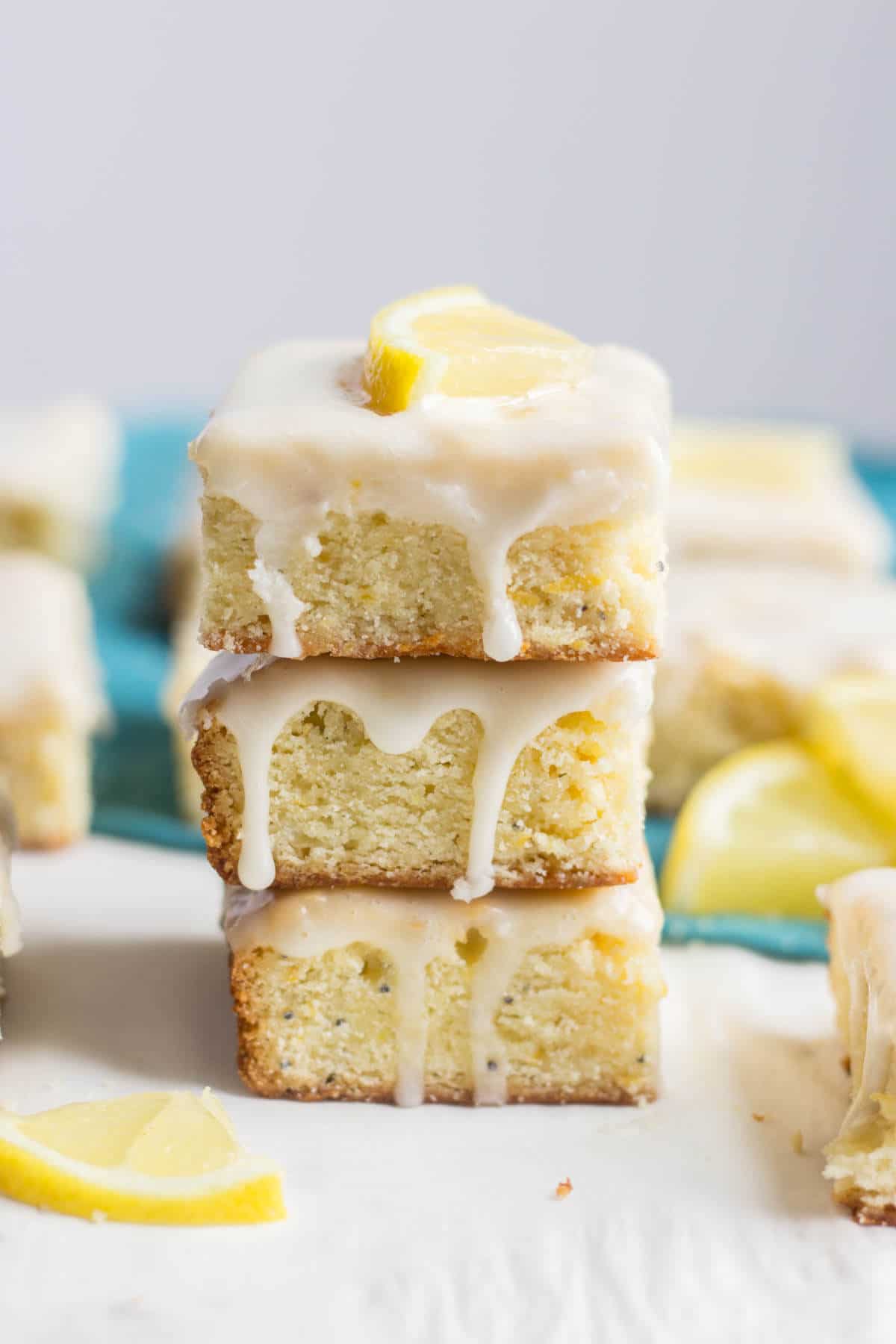 And then there's the glaze situation. This specific glaze is the type that somewhat hardens once it's cooled. Easy for transporting and sharing?.
You'll heat the majority of the ingredients on the stove and either pour the glaze over the baked bars or dip the top of each individual bar into the glaze. I prefer the ladder because it creates such a pretty dripping look down the side of each bar. I placed a piece of parchment paper under a cooling rack, dipped the bars and then placed them on the rack to cool completely.
Garnish with a small lemon wedge if you want to for some extra "wow" factor! Though they'll taste just as delicious either way!
Someone at work said, "Wow, these are like a better version of the lemon pound cake at Starbucks!" That is a big win in my book.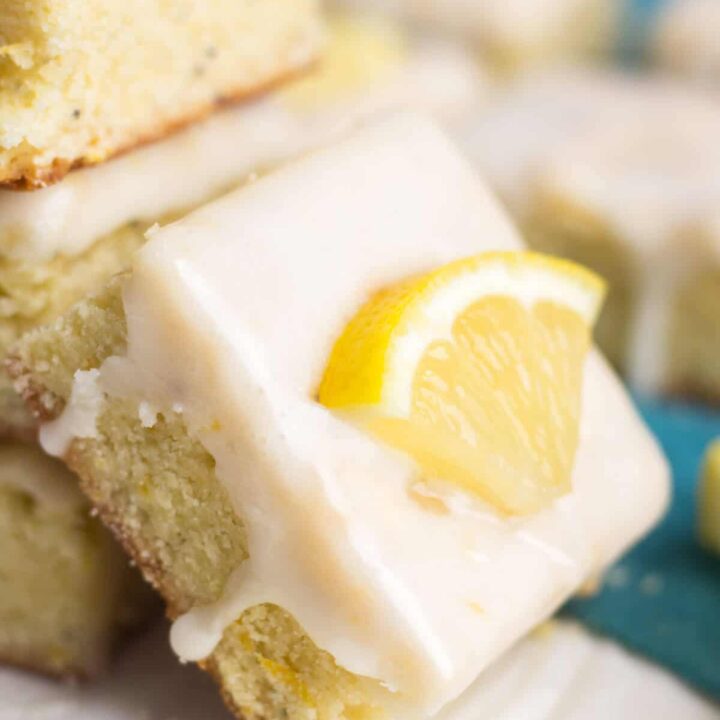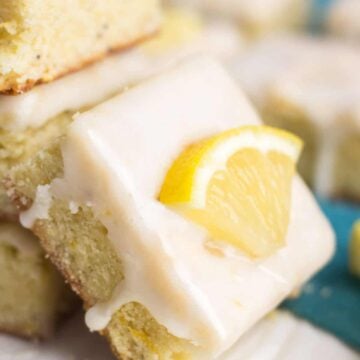 Ingredients
Bars:

6

Tablespoons

unsalted butter

8

ounces

2 baking bars white chocolate, chopped

½

cup

granulated sugar

juice and zest from 2 medium lemons

2

large eggs

1

teaspoon

vanilla extract

1

and ¾ cups all-purpose flour

½

teaspoon

baking powder

¼

teaspoon

salt

1 ½

teaspoons

poppy seeds

Lemon Glaze:

3

Tablespoons

whole milk

2

Tablespoons

fresh lemon juice

1

tablespoon

lemon zest

2

cups

powdered sugar

1

teaspoon

vanilla extract

⅛

teaspoon

salt

slices

of lemon for garnish
Instructions
To make the bars, melt the butter and white chocolate together in a medium saucepan over medium heat, stirring constantly until smooth, about 7 minutes. Remove fromheat, pour into a large mixing bowl, set aside and allow to slightly cool for approximately 10 minutes.

Adjust the oven rack to the lower third position and preheat oven to 350°F. Line the bottom and sides of a 9-inch square baking pan with parchment paper, leaving an overhang on all sides for easy removal once baked. Set aside.

In a medium bowl, whisk the flour, baking powder, salt, and poppy seeds together. Set aside.

Whisk the granulated sugar into the cooled butter mixture (you can keep it in the pan). Whisk in the lemon juice and zest, then the eggs and vanilla. Pour the dry ingredients into the pan as well and fold gently until completely incorporated.

Pour the batter into the prepared baking pan and bake for 35-40 minutes or until the bars are lightly browned around the sides and on top and a toothpick inserted in the center comes out clean. Cool completely on a wire rack before removing.

Once cooled, make the glaze. Combine all of the ingredients in a medium saucepan over low heat and whisk until smooth. Remove from heat and pour over cooled bars or dip each individual bar into the glaze after cutting into squares. Garnish with lemon wedge, if desired. The glaze will set after about 10 minutes.

Store in an air tight container at room temperature for up to one week or store unglazed bars in the freezer for one month. Make the glaze and dip thawed bars in glaze prior to serving.