Sweet and gooey snickerdoodle apple pie bars are the perfect fall dessert. The base layer is a snickerdoodle bar topped with cinnamon-spice apple pie filling and topped with more snickerdoodle. It's delicious served warm with ice cream!
Looking for more fall desserts? Try gluten-free apple pie, healthy apple crisp, or apple banana bread with crumb topping next.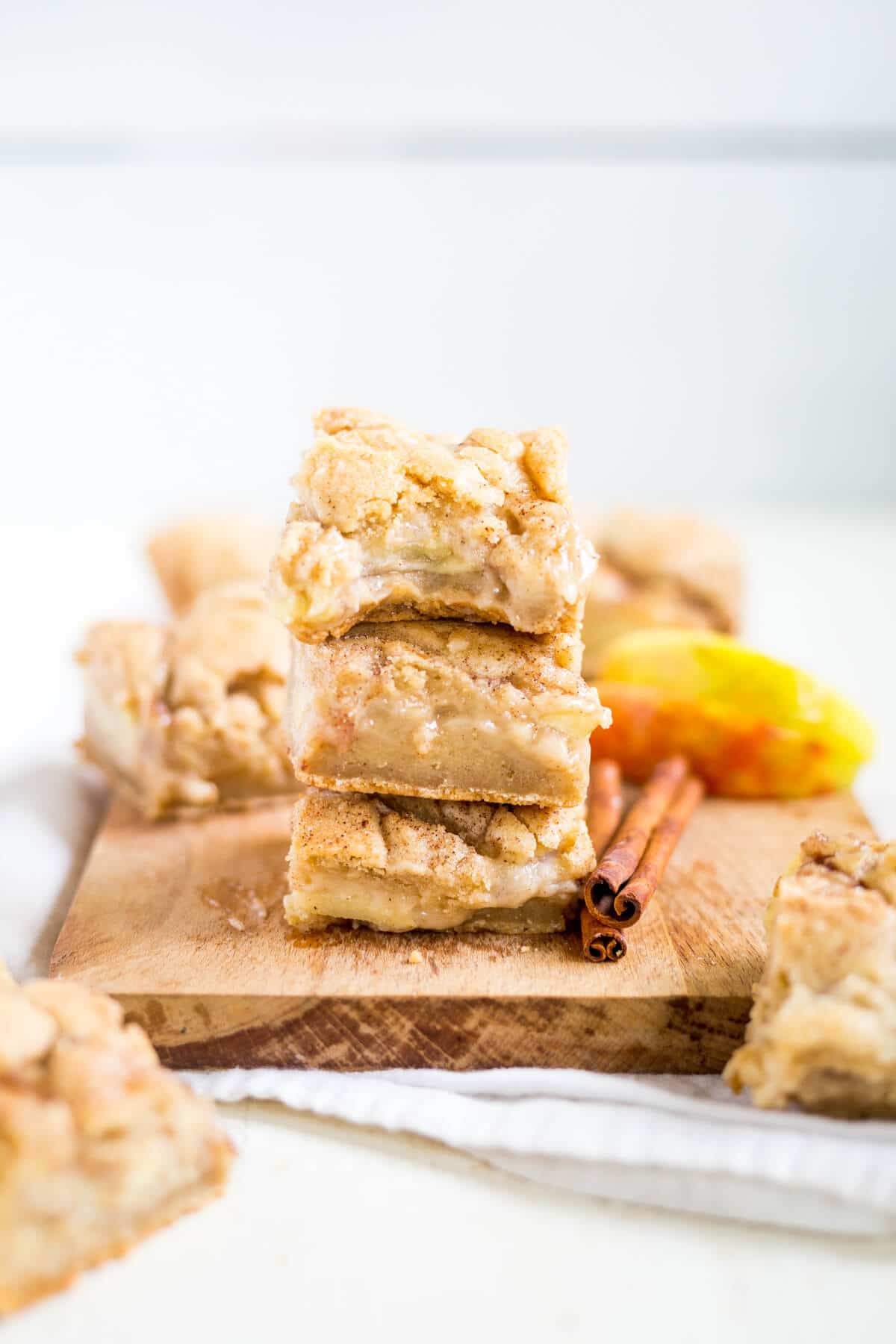 We are TWO days away from Thanksgiving. What the heck!
I'm obviously in charge of dessert for Thursday. On the menu we've got pumpkin pecan toffee bars and paleo caramel apple cake.
My grandpa is making the pumpkin pie and my aunt is making the apple pie. Which means I get to make the more interesting and unique desserts. The not-so-classic desserts!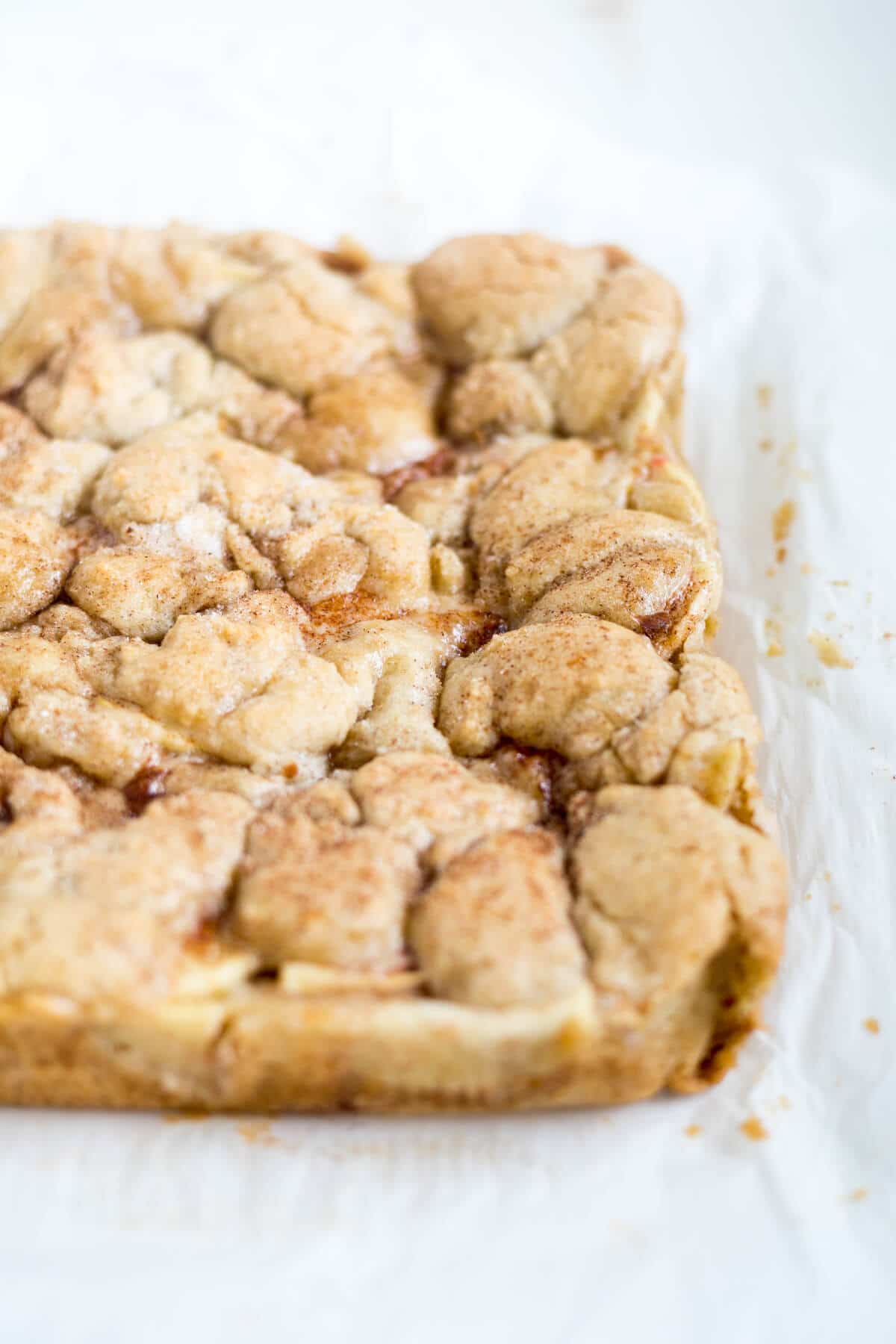 I pride myself on making desserts that have a unique twist or different take on a classic recipe. I love to do a mashup up two recipes like pumpkin snickerdoodle cobbler or pumpkin pie bars with gingersnap crust.
And that's how we landed here. With a mash up of two of my favorite desserts. Apple pie and snickerdoodles. Apple pie AND snickerdoodles.
I really wish I could take credit for this recipe but all the creative props go to my fiance. He came up with this mash up. I just executed and took the pictures.
Need another Thanksgiving dessert? Try gooey chocolate chip pie or pecan pie cobbler next.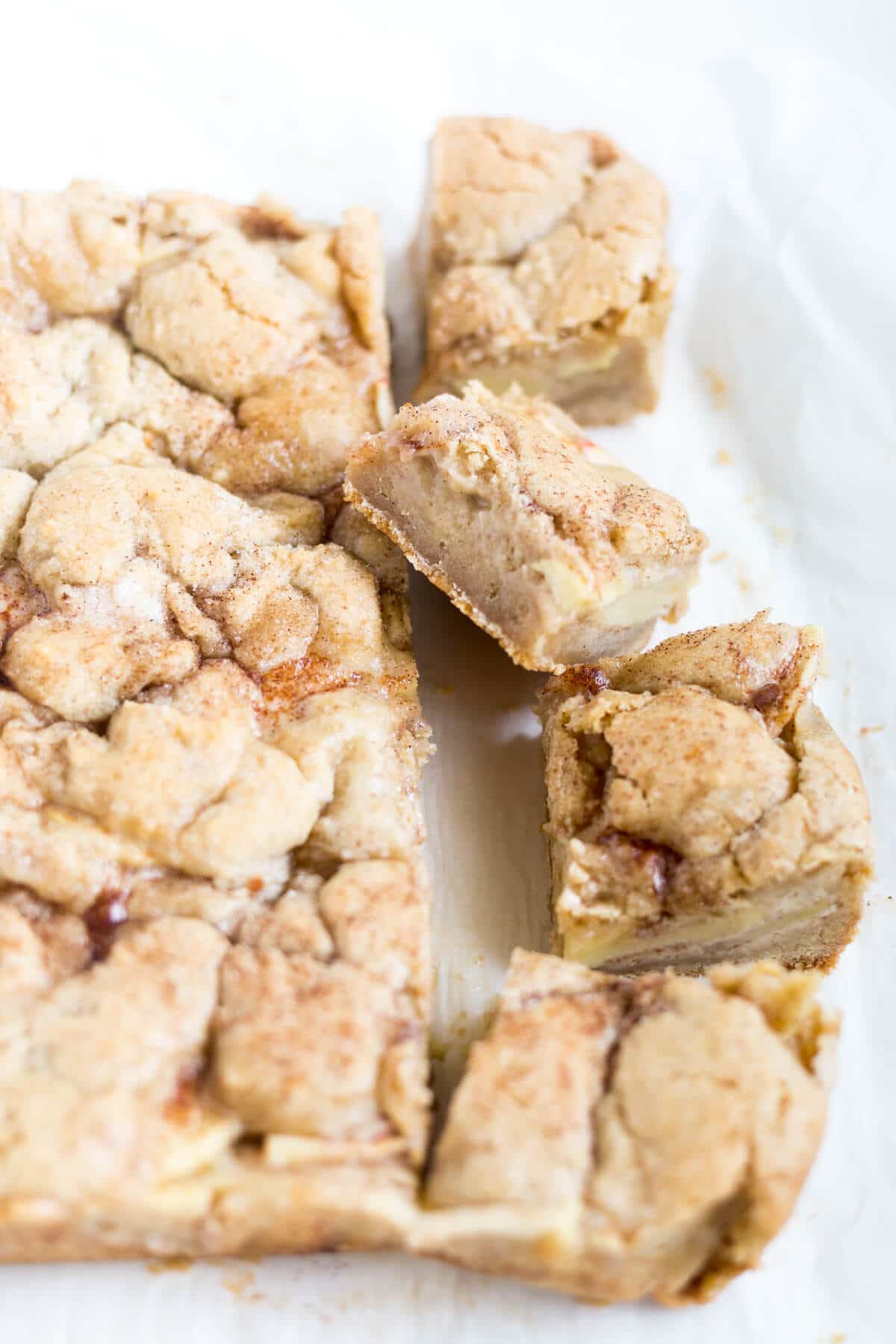 We like to sit around the house and brainstorm recipe ideas. If you came into our kitchen you'd see random post it notes with recipe ideas we have at random times. Or the notes in my phone and my computer. Just tons of recipe ideas.
That's what we do on the weekends. We catch up on This Is Us, pretend like we're going to clean the house, shop online and brainstorm dessert recipes.
Anyone else to 3 out of these 4 things?
Look for another cozy bar? Try chai white chocolate brownies, paleo pumpkin bars, or vegan pumpkin cheesecake next.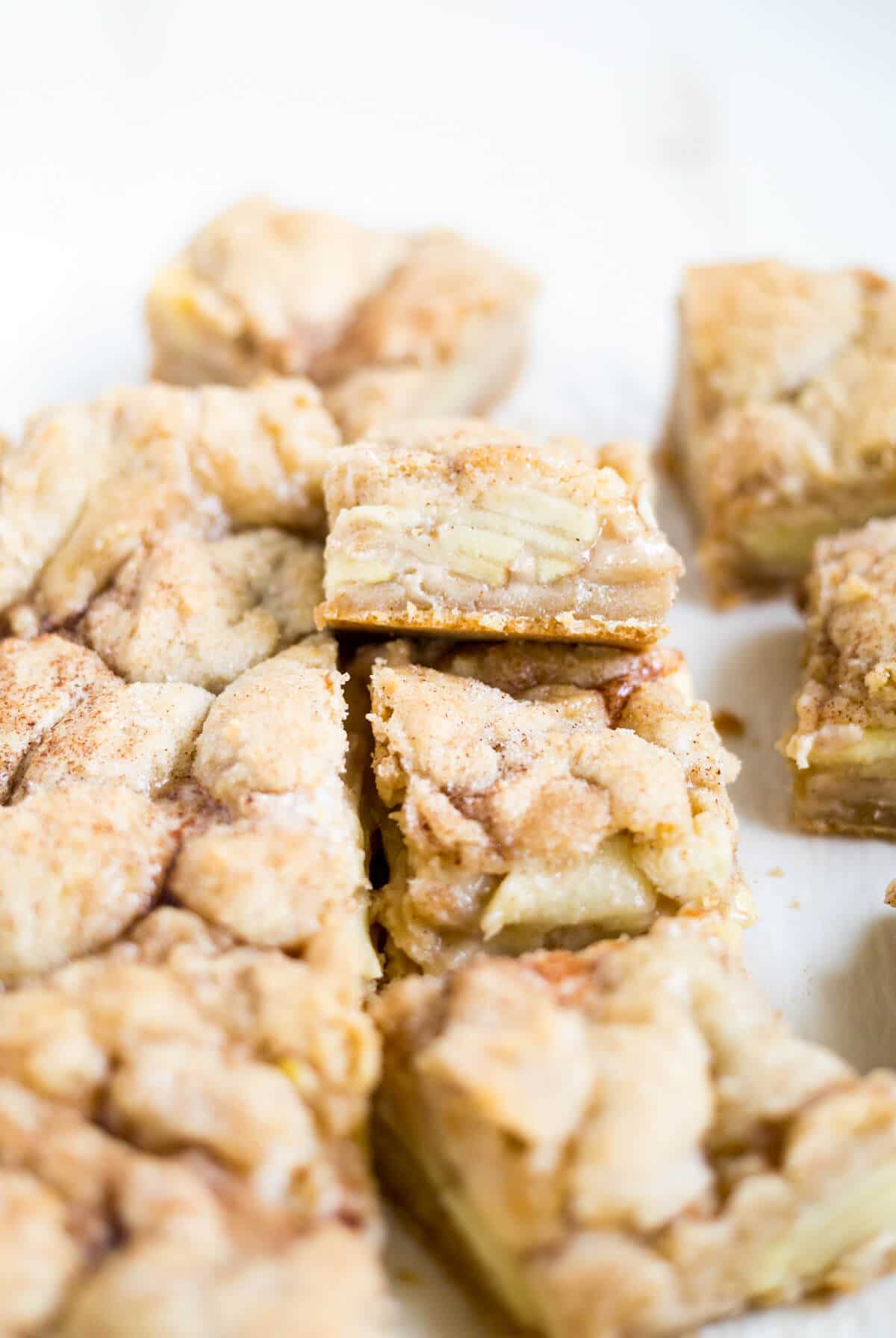 Our most recent online shopping includes christmas home decor and candles. Can ya tell we're home bodies? Give us a good movie, a comfy couch and some hot chocolate and I'm set.
I actually watched 4 Christmas movies in a row on Sunday afternoon. I had every intention of working out or doing something somewhat productive, then I remembered Hallmark movies were on Netflix. I had no chance.
I should have been prepping for Thanksgiving too. Or making these snickerdoodle apple pie bars to take to work for friends. And they aren't that hard to make so I really could have gotten them done.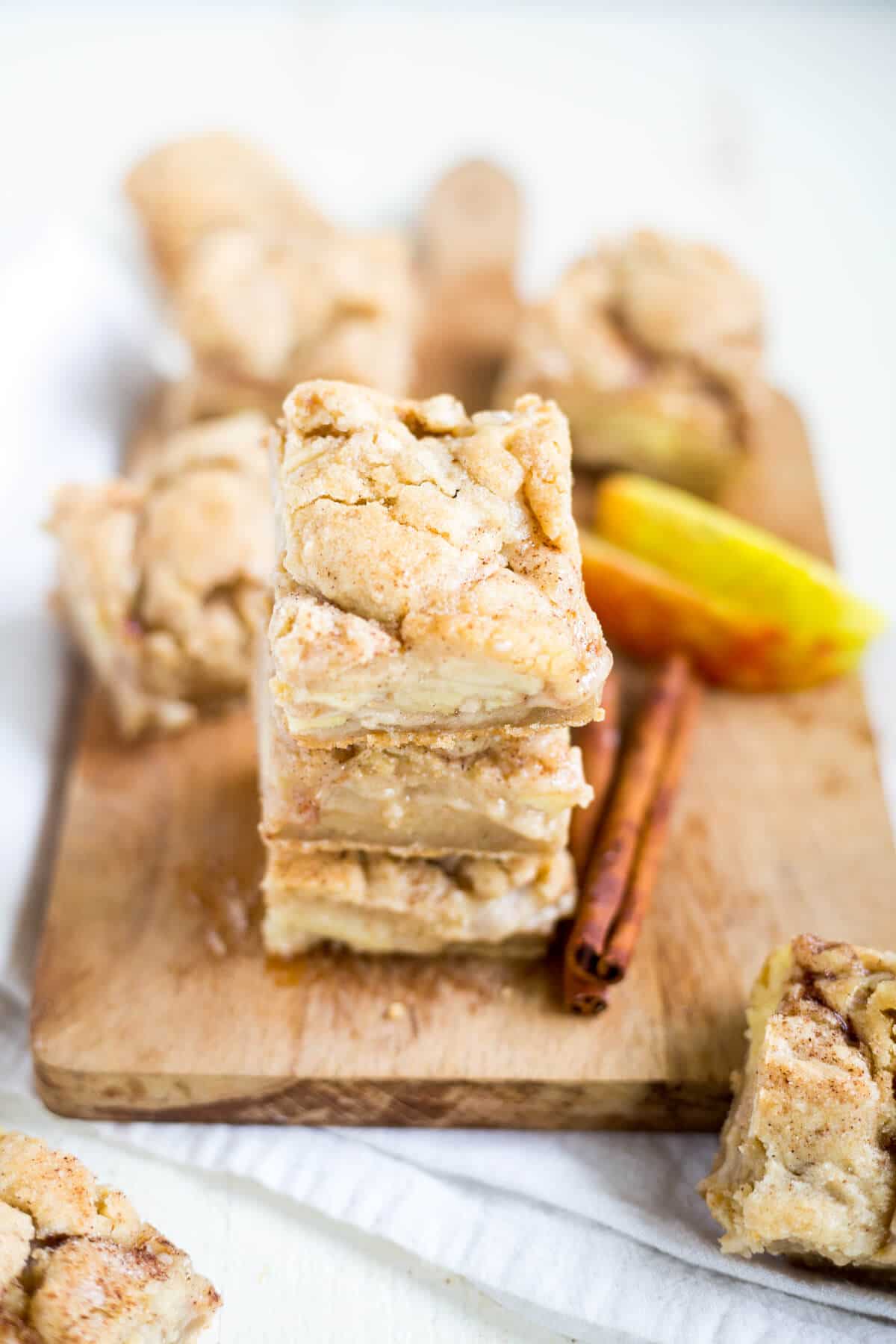 How to Make Snickerdoodle Apple Pie Bars
Start making these snickerdoodle apple pie bars by making the snickerdoodle dough. One third of the snickerdoodle dough is going to be the base of this recipe and form the bottom of the bars. They're chewy and filled with cinnamon.
After you have the base down you'll add the apple pie filling. It's a mix of apples, sugar and flour. It gets thick and gooey on the inside when it bakes!
You'll top the apples with extra snickerdoodle and give it a sprinkling of cinnamon sugar which makes a delicious crust.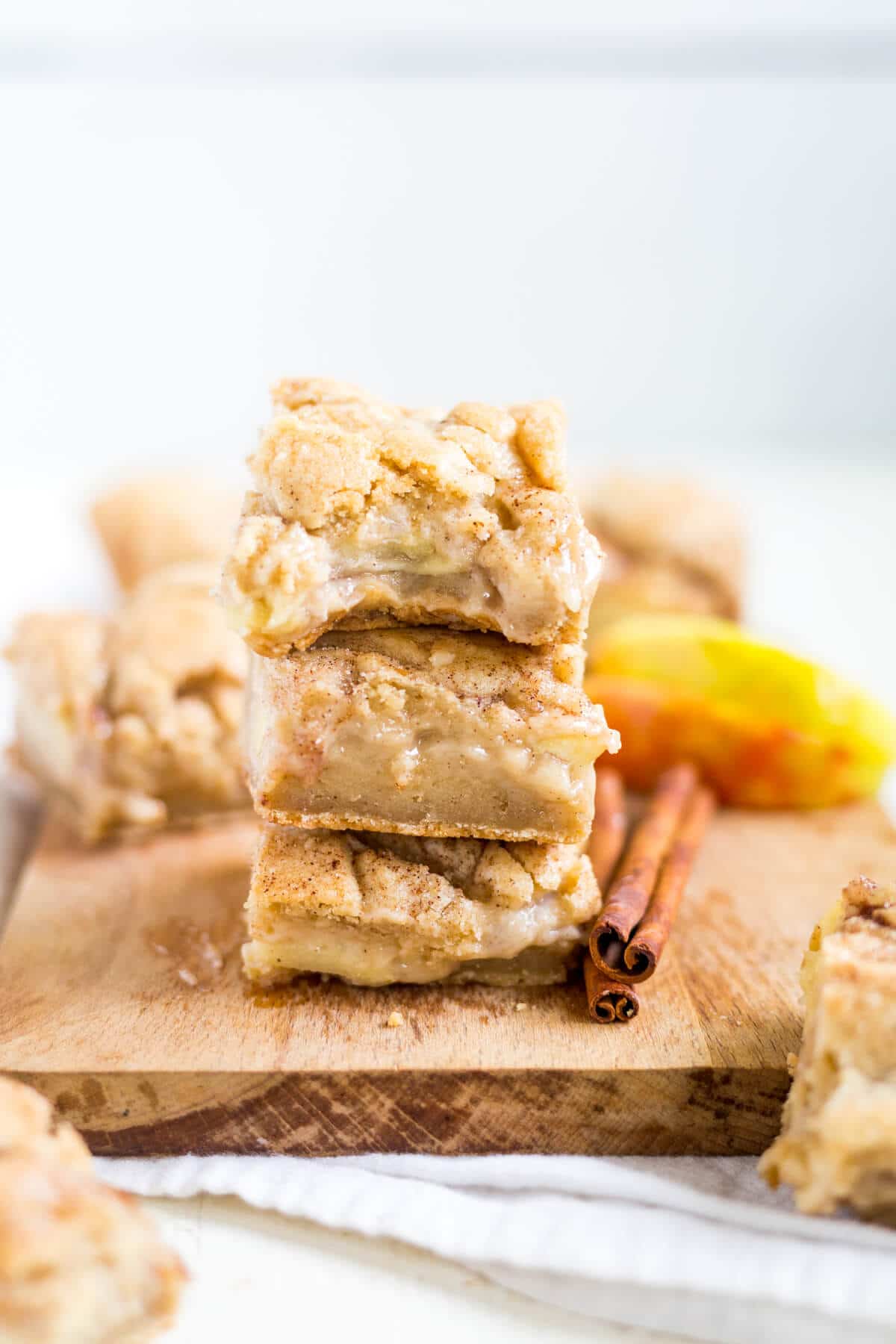 I love to serve my snickerdoodle apple pie bars warm with ice cream. All of my favorite desserts involve some sort of warmed up dessert with a serving of cold ice cream.
Anyone else love a dessert a la mode?!
This is my last fall-inspired dessert of the season and I promise you it does not disappoint!
Next week I'll be starting COOKIE WEEK so get excited! It's new cookie recipes for the entire week and it's one of my favorite weeks of the year!
In the meantime enjoy your holiday with family and friends! I'll be at my parents house with 18 of my family members and I can't wait.
And don't forget to follow along on Instagram for daily updates!
More apple recipes: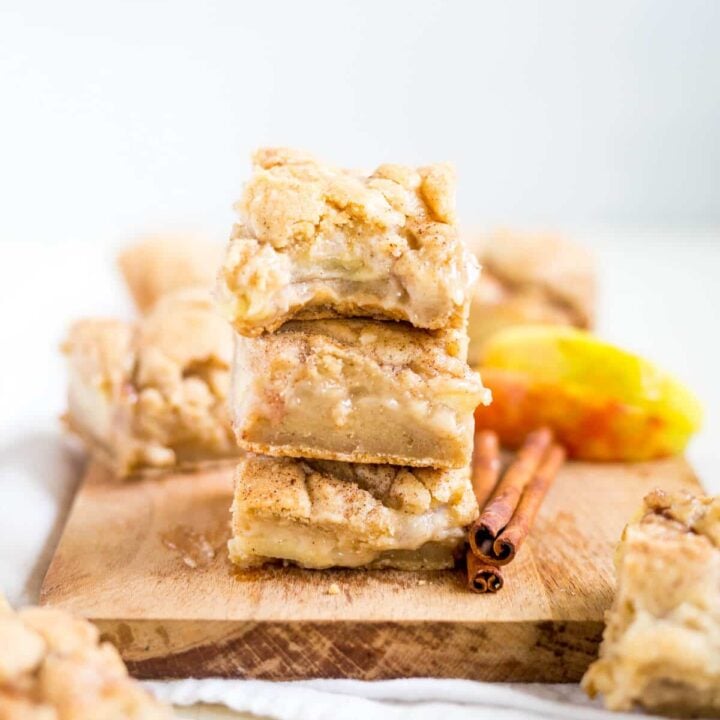 Ingredients
For the snickerdoodles:

2 ¼

cup.

all-purpose flour

½

teaspoon

baking soda

1 ½

teaspoons

ground cinnamon

1

teaspoon.

kosher salt

¾

cup

1 ½ sticks unsalted butter, melted and cooled

1

cup

sugar

½

cup

brown sugar

packed

2

large eggs

1

teaspoon

pure vanilla extract

cinnamon sugar for sprinkling

For Apple Pie Filling:

2

large apples

peeled and thinly sliced (¼ inch thick)

2

Tablespoons

all-purpose flour

2

Tablespoons

granulated sugar

1

teaspoon

ground cinnamon
Instructions
Preheat oven to 350º and grease a 9"-x-9 baking pan with cooking spray. Set aside.

Next, prepare snickerdoodle layer. In a medium bowl, whisk together flour, baking soda, cinnamon, and salt. In a separate large bowl or stand mixer fitted with the paddle attachment, cream the butter and sugars until pale and fluffy, about 3 minutes. Add eggs and vanilla and mix until just combined. Gradually add prepared flour mixture and mix on low until just combined.

Press two-thirds of the snickerdoodle dough into an even layer in the bottom of the pan and sprinkle with cinnamon sugar. Bake in preheated oven for 15 minutes.

While the dough is baking, make the apple pie filling. Combine the sliced apples, flour, granulated sugar, and cinnamon together in a large bowl until all of the apples are evenly coated. Once the bottom layer is baked pour the apple mixture on top and press down firmly.

Break up remaining snickerdoodle dough into small clumps and sprinkle over apple pie layer, then sprinkle with more cinnamon sugar.

Place back in the oven until it turns golden brown, about 35-40 minutes. Let cool completely before slicing into squares.