Brown Butter Blueberry Coffee Cake is what breakfast dreams are made of. The cake itself is moist and flavorful, bursting with blueberries and it's topped with a cinnamon crumble for extra texture and flavor. When you're debating what special breakfast to make for a weekend brunch or holiday celebration, look no further.
If you follow along here it's probably pretty obvious I have a small (??) obsession with coffee cake. It's mostly because it really reminds me of my grandmother who passed away when I was in college. She would make coffee cake for special occasions and whenever I make a coffee cake it reminds me of her. Her birthday was on Wednesday of this week and I thought there would be no better way to honor her memory than with a new coffee cake recipe. I think this might have to be a tradition:)
See other coffee cake recipes: Raspberry Crumb Cake and Coffee Cake Crumble Muffins
I decided the newest coffee cake recipe needed to involve brown butter. I just published a recipe for Brown Butter Salted Caramel Chocolate Chip Cookies and now I'm sharing this killer recipe for brown butter blueberry coffee cake.
Love brown butter? Try this brown butter banana bread or these brown butter toffee cookies next.
If you love this recipe, you'll love these classic blueberry muffins with crumb topping. And if you're looking for a lighter breakfast with the same blueberry flavor, try blueberry baked oatmeal.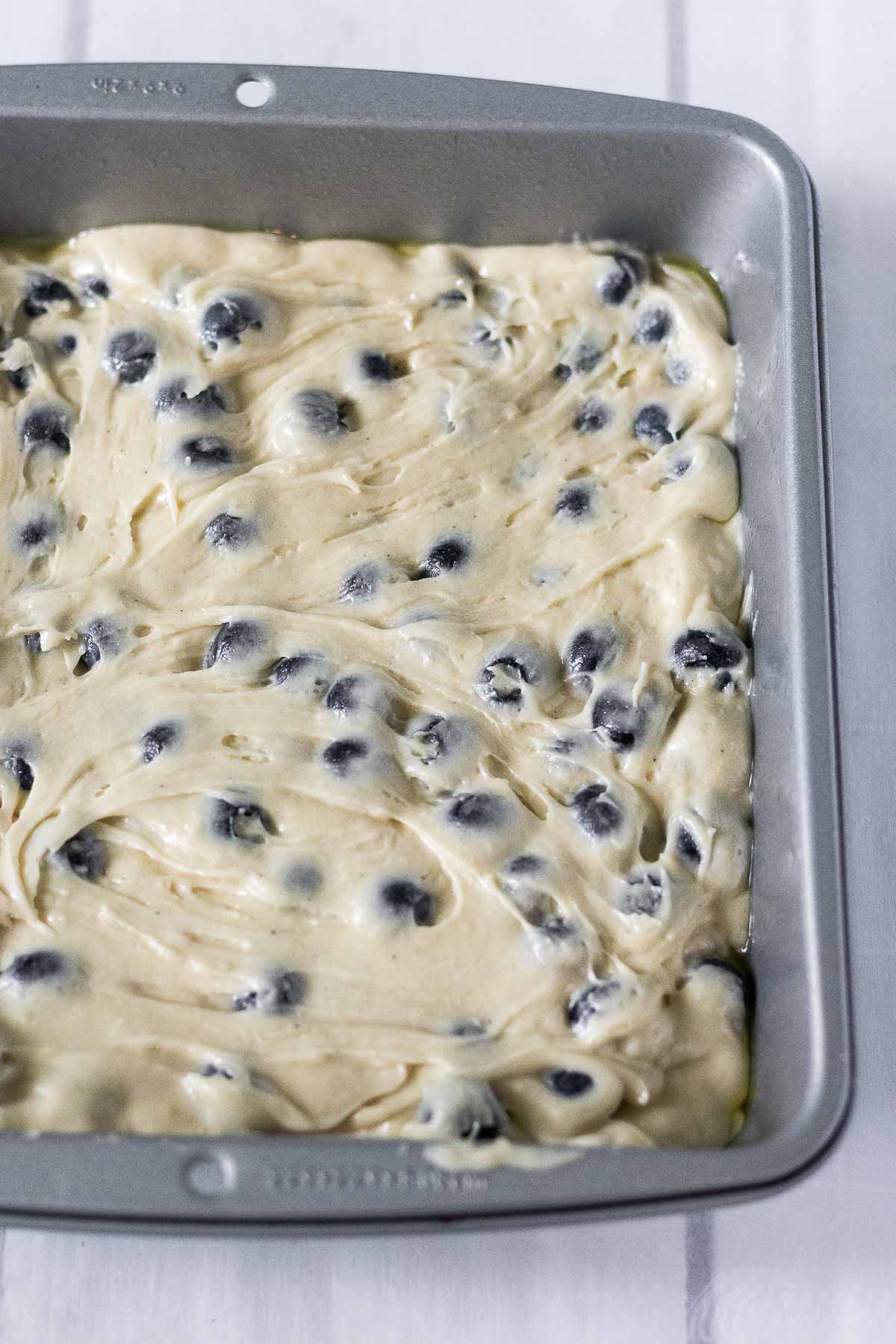 What is Brown Butter?
You may be wondering what the heck brown butter is. It's pretty true to the name! It's butter that's been melted and cooked until it browns and takes on this dark, nutty flavor. It adds so much depth of flavor to recipes and will make everyone wonder what your secret ingredient is.
The secret ingredient is brown butter. Always brown butter.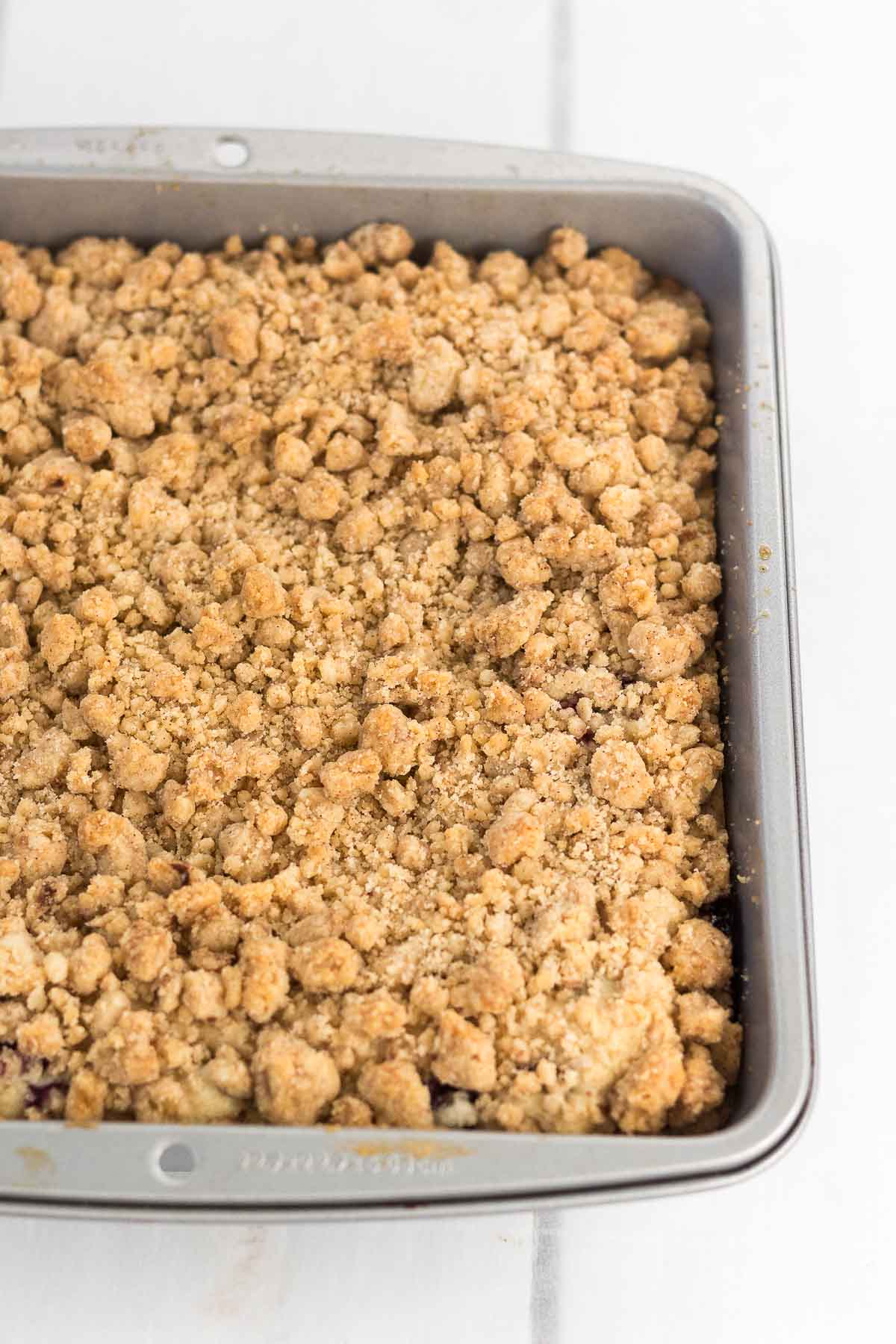 How to Brown Butter
Browning butter sounds kinda fancy but it is really simple (and everyone will just think your fancy??). It only takes 3-5 minutes to make! Here's how you do it:
Add the butter to a medium sauce pan over medium heat. Allow the butter to melt, stirring occasionally. The butter will start to froth and make an audible crackling noise. This is what you want! Continue to stir periodically for 3-5 minutes until you start to see dark brown bits at the bottom of the pan and the butter turns an auburn color. When this happens, remove the pan from the heat and pour the butter into a bowl to cool to room temperature. I like to leave the dark brown bits in the bottom of the pan because they can tend to have more of a burnt flavor but if you like that then go for it!
For this recipe, once the butter is browned you will want to let it sit and come to room temperature for about 20 minuets before you finish the rest of the recipe. This way you don't accidentally scramble your eggs with the hot buttah.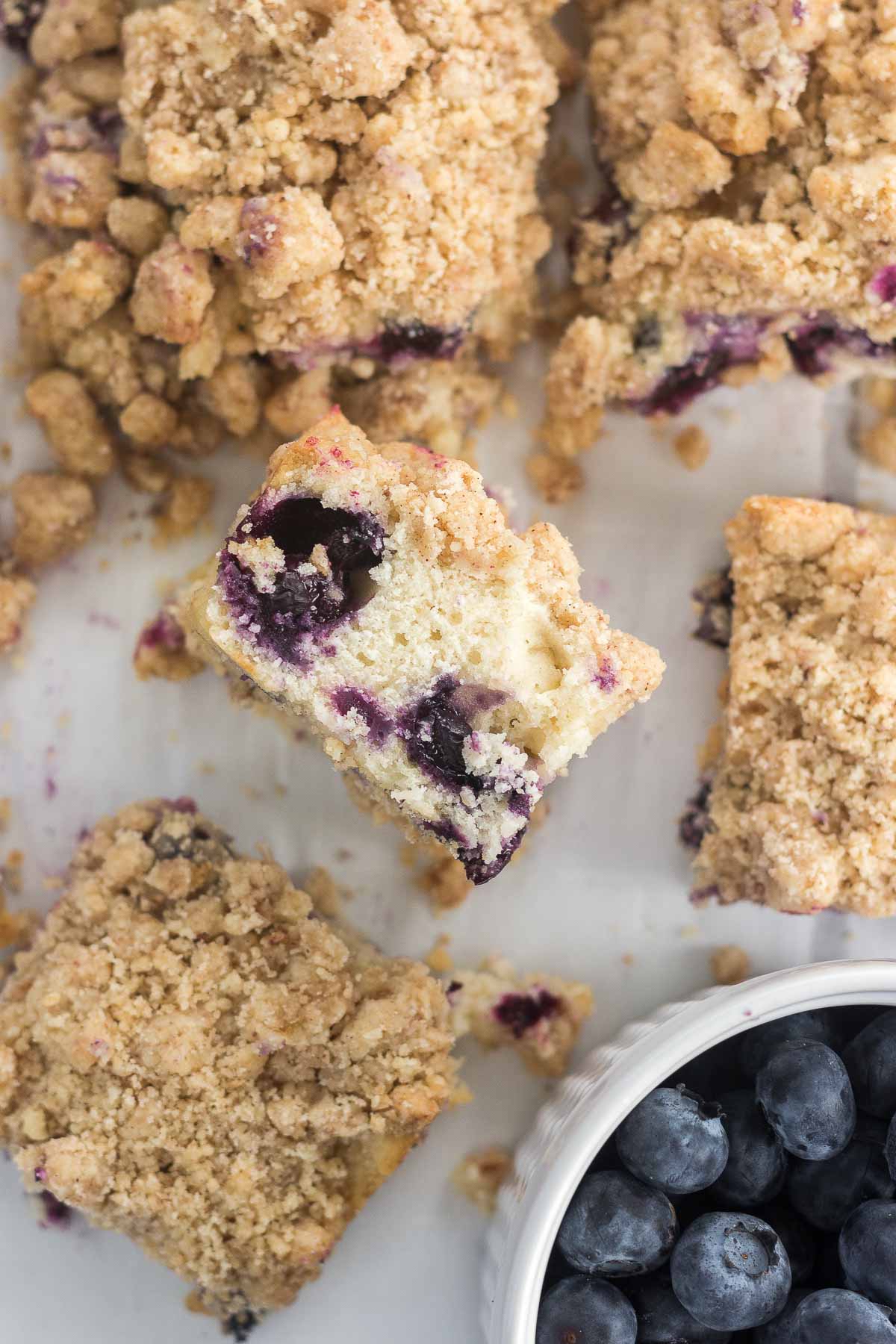 Now that we've covered off on how to make brown butter and all the deliciousness that comes from it, let's talk about this brown butter blueberry coffee cake recipe and give you the full rundown.
Brown Butter Blueberry Recipe Rundown
Taste: This recipe is similar in taste to other coffee cake recipes with the addition of two superhero ingredients: blueberries and brown butter! The brown butter adds a nutty depth of flavor and the blueberries add a fresh twist that bursts with flavor every time you bite into one. This recipe is hands down delicious.
Ease: I would say this blueberry coffee cake is in the middle of the pack when it comes to ease. Probably a little on the easier side, actually. The batter is pretty straight forward and not too finicky in terms of texture and beating time. Browning the butter and making the crumble takes a few extra minutes and adds a few extra pans to wash, but it's definitely a fool proof recipe!
Texture: The bottom part of the cake is soft and pillow-y. It's dense and moist and crumby all at the same time. The big juicy berries also help this texture! I love the crumble topping because not only does it add some extra cinnamon but it adds a little crunch and texture to each bite.
Appearance: Need I say more than showing you a big piece bursting with berries? It's so pretty!
This recipe does make a large batch, so unless you have family in town or you're hosting a ladies brunch or taking it somewhere you will likely have some left over. There are a few ways I like to store my brown butter blueberry coffee cake!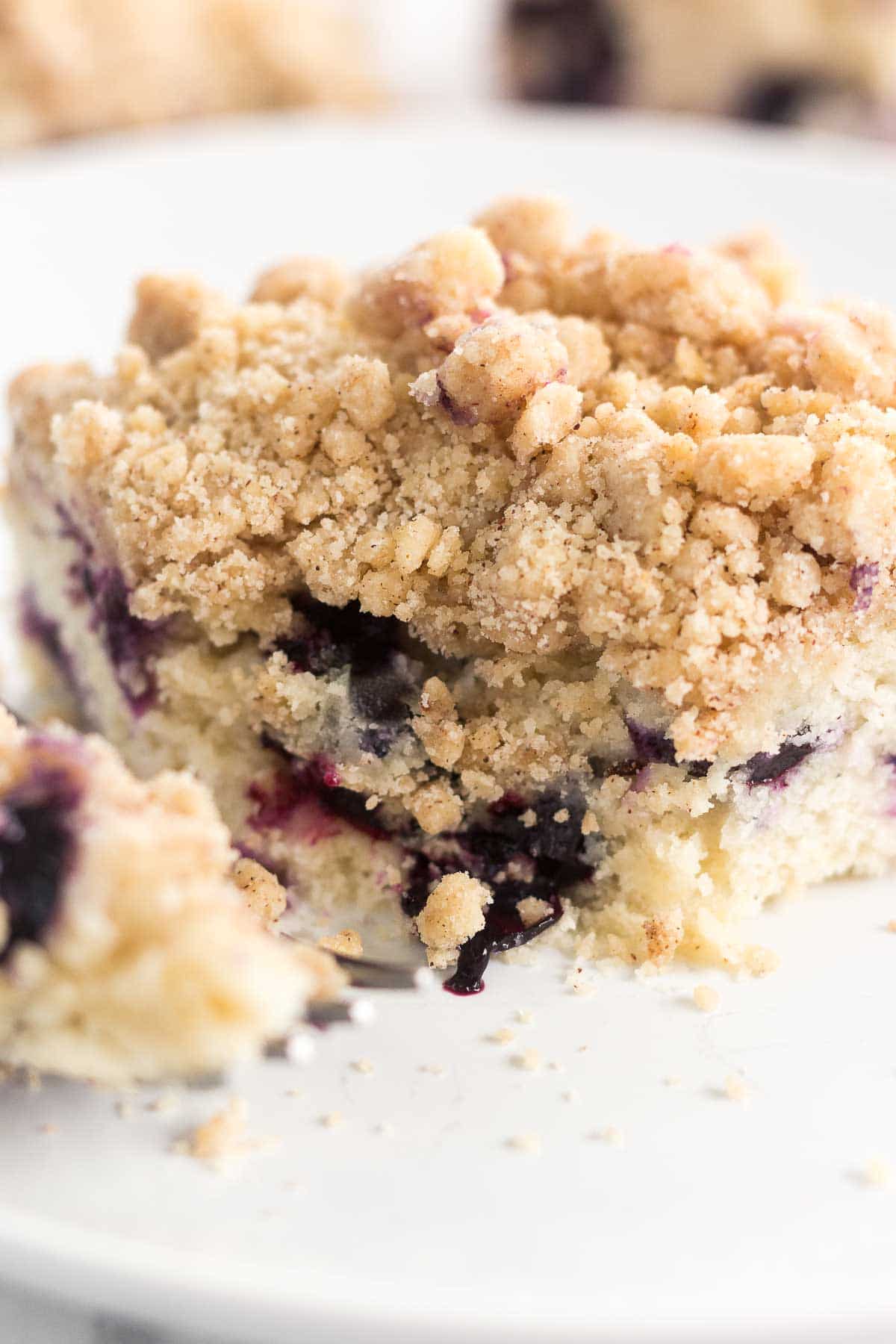 How to Store Blueberry Coffee Cake
There are three ways you could store blueberry coffee cake:
Place it in an air tight container and keep it at room temperature for 1-2 days.
Place it in an air tight container and keep it in the refrigerator for up to one week.
Place it in an air tight container and keep it in the freezer for 2-3 months. If you use this option, allow blueberry coffee cake to set out at room temperature to thaw.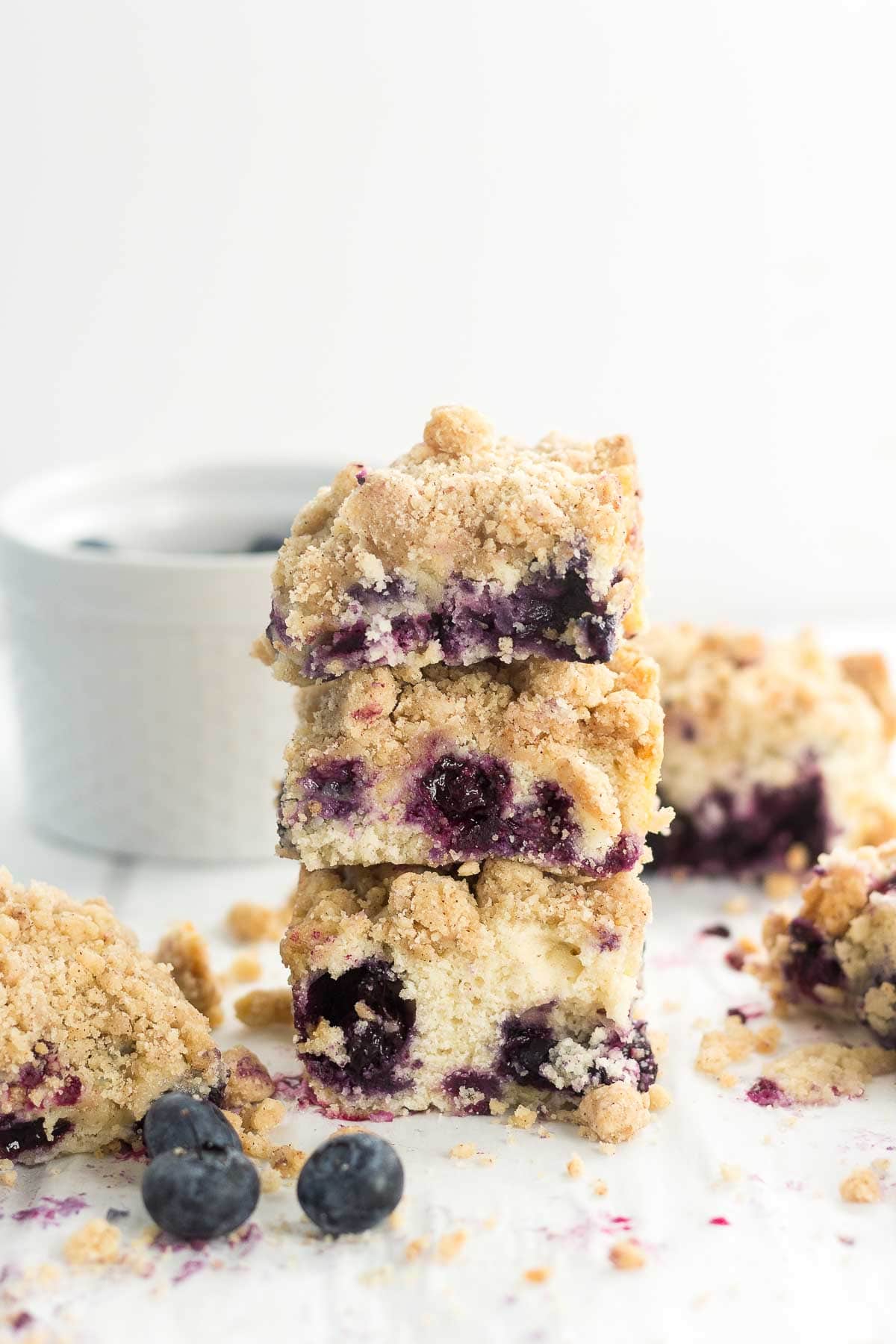 Now that we've chatted about all things coffee cake there's only one thing left to do...drool over these pictures and eat my leftovers:)
Here's to my grandma!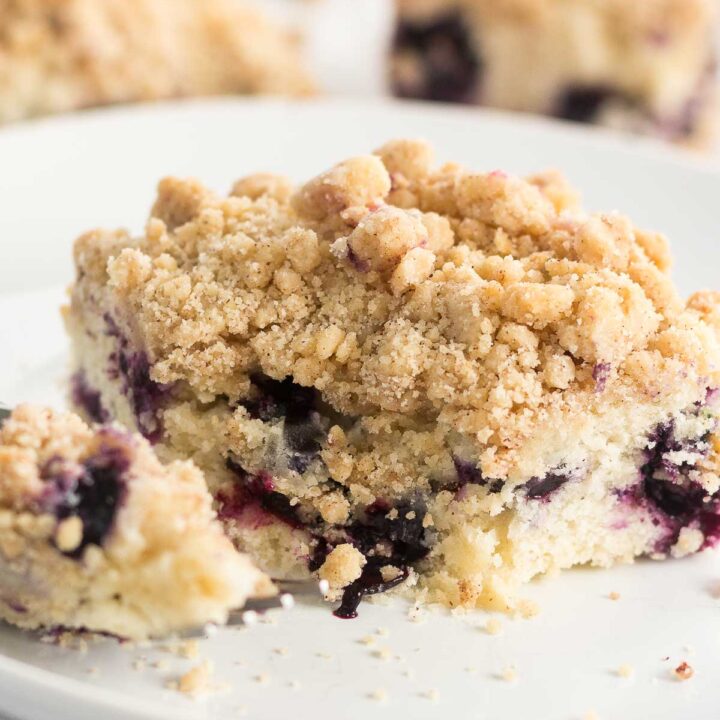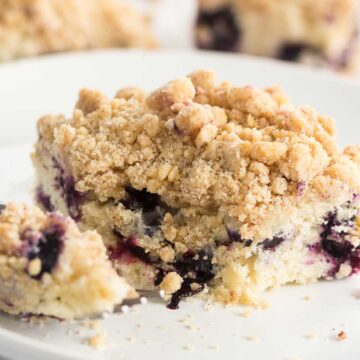 Ingredients
crumb topping

½

cup

unsalted butter

melted

⅓

cup

granulated sugar

⅓

cup

brown sugar

1

teaspoon

cinnamon

¼

teaspoon

salt

1½

cups

all-purpose flour

spooned and leveled

blueberry coffee cake:

¼

cup

unsalted butter

¾

cup

granulated sugar

1

large egg

2

cups

cake flour

can use all purpose flour too

1

teaspoon

baking powder

½

teaspoon

salt

½

cup

milk

any kind

1

cup

fresh or frozen blueberries

thaw and pat dry if using frozen

1

tablespoon

lemon juice
Instructions
Make the brown butter. In a small saucepan over medium heat, melt the butter, stirring occasionally. Continue to cook the butter until it becomes foamy and you can hear cracking and popping noises. Once that happens, continue to stir occasionally for 3-5 minutes until the butter develops a nutty aroma, brown bits start to form in the bottom of the pan and the butter turns an amber color. Once this happens, remove from the heat and pour into a mixing bowl. Allow to cool to room temperature, 20-30 minutes.

While the butter is cooling, make the crumb topping. Place the butter in a medium, microwave safe bowl. Heat on high for 30 - 60 seconds or until melted. Add the sugars, cinnamon, salt and flour and stir using a rubber spatula until combined. The mixture will not look very crumbly yet. Spread out mixture on prepared baking sheet to dry until crumbly ready to use.

Preheat oven to 350. Spray a 9 in square baking pan with cooking spray and set aside.

In a medium bowl with a hand mixer or in the bowl of a stand mixer fitted with the paddle attachment, beat browned butter and sugar on medium speed until creamy, about 3-4 minutes. Scrape down the sides of the bowl as needed. Add the egg and beat well until combined.

In a medium bowl, whisk together the flour, baking powder and salt. Gradually add one third of the flour mixture to the browned butter mixture alternately with the milk, beginning and ending with the flour mixture. It should look like this: flour, milk, flour, milk, flour.

In the bowl that had the flour in it, add the blueberries and lemon juice and stir to coat. Gently stir blueberries into the batter. Pour batter into prepared baking pan. Sprinkle with reserved crumb topping.

Bake until golden brown, 40-50 minutes or until a toothpick inserted in the center comes out clean. Let cool in pan for 10 minutes then remove from pan and cool completely on wire rack.
Here are a couple of items I used to make today's recipe:
Square Cake Pan
, Glass Bowl Set
Some of the links above are affiliate links, which pays me a small commission for my referral at no extra cost to you! Thank you for supporting What Molly Made!