Sit back with a cup of coffee and get ready to enjoy these light and moist pumpkin muffins with all the great cinnamon pumpkin spice flavors. They're heaping with cinnamon streusel that melts in your mouth with a sip of coffee. Then top with a maple brown butter glaze to finish the trifecta of yummy.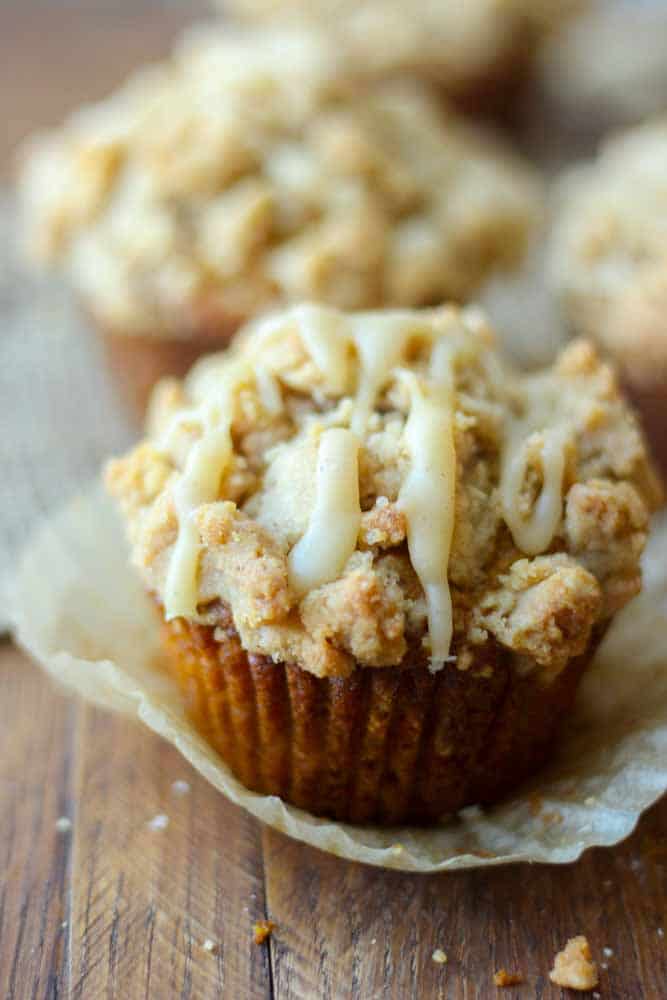 I fell in love with coffee cake because my grandma used to make it every Christmas. I loved it so much that I turned it into a coffee cake muffin. And because I love that coffee cake muffin recipe so much I decided to turn it in to a fall pumpkin recipe. Because I'm basic like that.
I actually want to eat this muffin while drinking a PSL, wearing my Uggs and a flannel and watching Gossip Girl. Basic as basic comes, I know.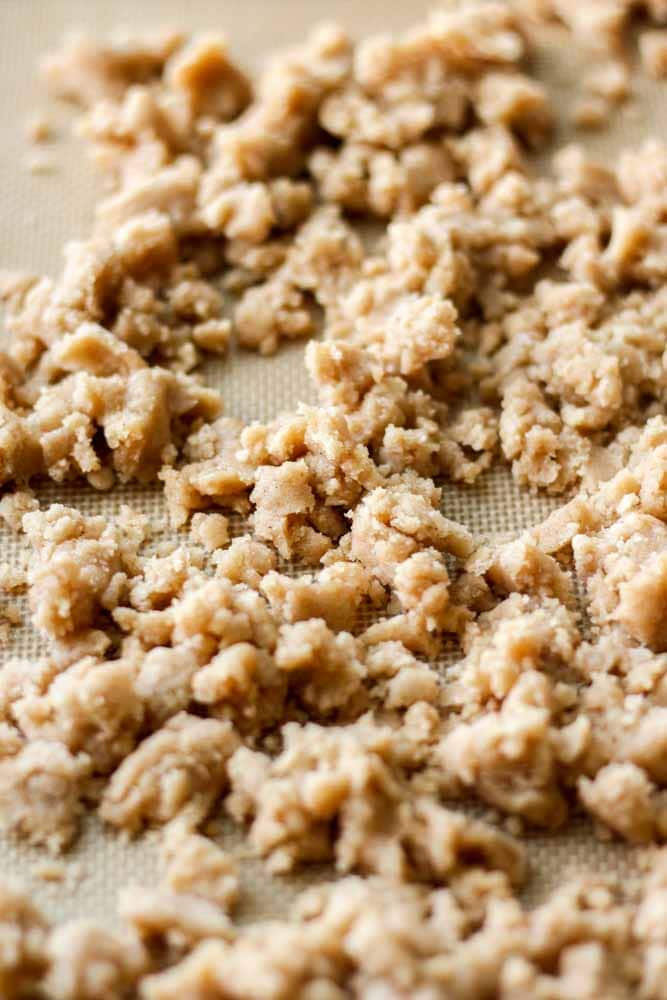 What tastes good with pumpkin?
Pumpkin is one of those recipes that can be made with both sweet and savory recipes. Pumpkin goes really well with aromatics like fresh herbs: rosemary and sage. Think of butternut squash and Thanksgiving!
But, pumpkin also is a signature ingredient in baking and goes so well with sweet flavors like cinnamon, maple syrup and obviously streusel topping!
What is pumpkin spice made of?
Pumpkin spice is a mixed blend of several spices. You can buy pre-made pumpkin pie spice from the store, but you can also make your own mix. Here's the spices in pumpkin spice mix:
Ground cinnamon
Nutmeg
Ginger
Cloves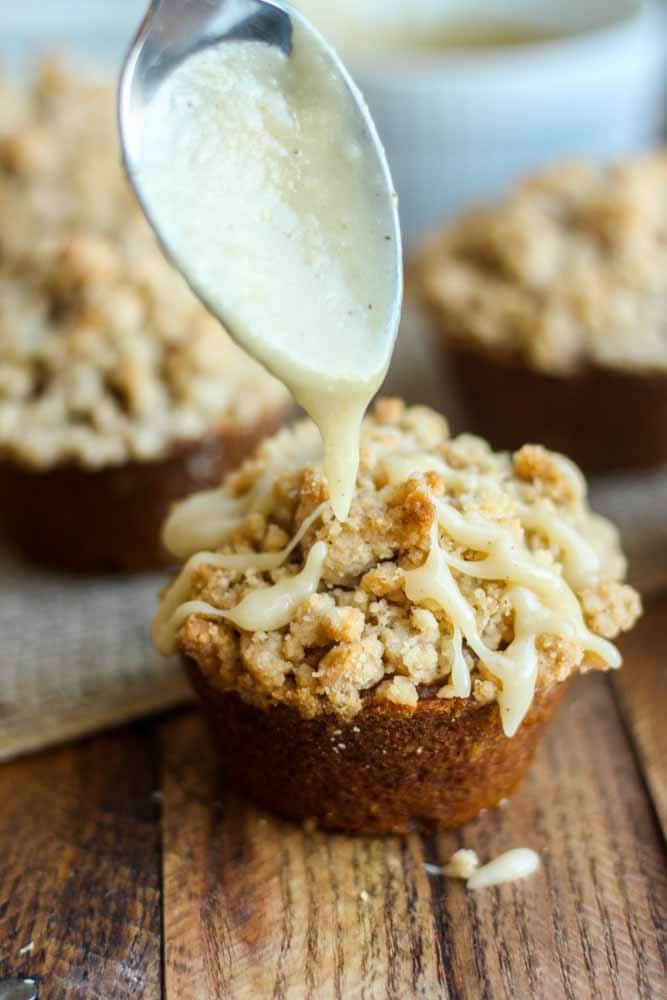 How to make pumpkin muffins with streusel topping:
First make the streusel topping and let it dry out a bit while you make the muffin batter. Just cut all the ingredients together with a pastry blender or two knives then set on a silpat mat!
Next, make the muffin batter. Mix the dry and wet ingredients separate then slowly add the dry to the wet. Be careful not to overmix! Next, fill the muffin tins about ¾ full with batter. When you're filling muffin tins you can be a little more generous with the batter compared to a cupcake recipe.
Finally, fill the tins the rest of the way with the crumbly cinnamon streusel topping. You're going to feel like there is way too much streusel to muffin ratio. This is okay. Great, even. Just keep filling, I promise!
How to get big bakery-style muffins:
I like to cook my muffins on higher heat for the first half of the baking process. This allows the muffins to rise quickly with the hotter temperature. Then turn the oven down and allow the batter to cook all the way through. The tall muffins with a thick layer of streusel topping is just what you'd find at the bakery!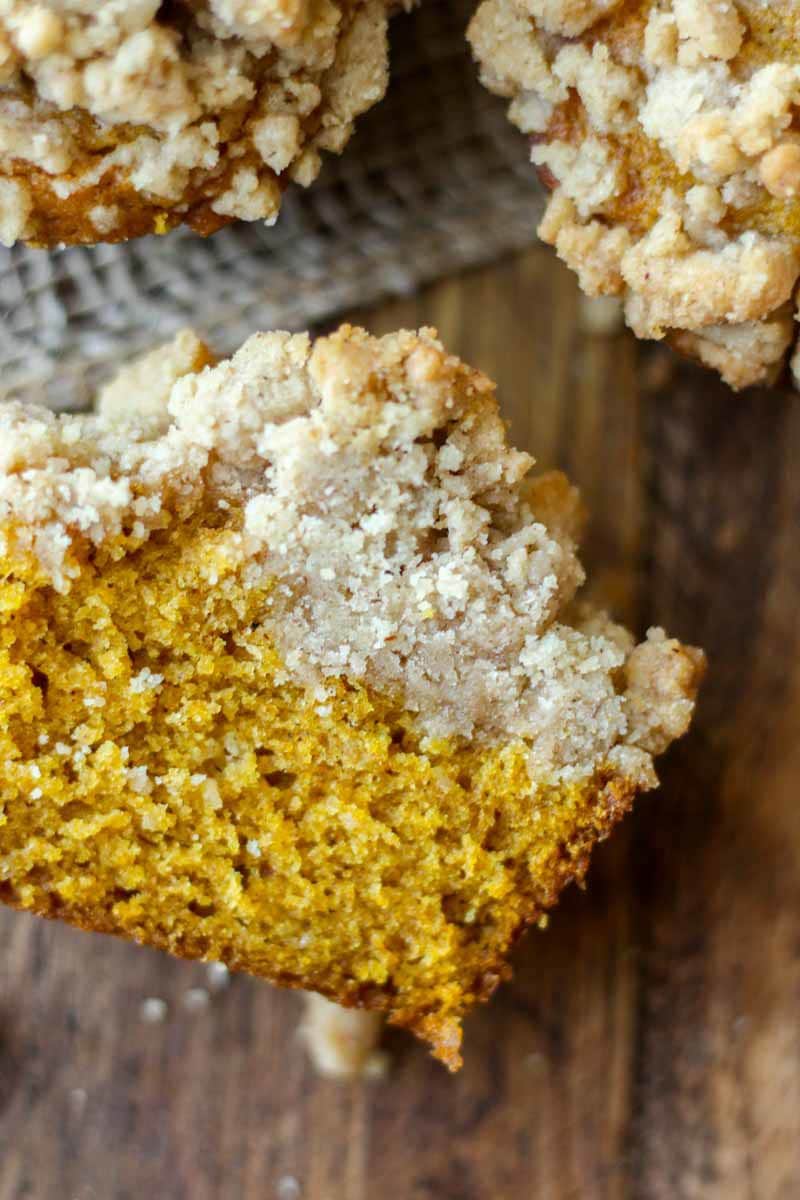 If you love this recipe, don't forget to follow me on Instagram and tag me with @what_mollymade so I can see it and feature you.
More pumpkin desserts: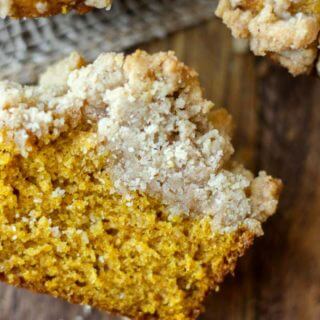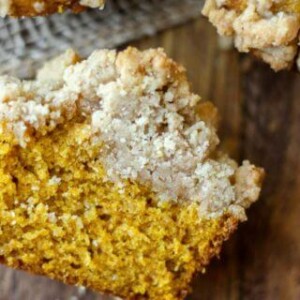 Ingredients
pumpkin muffins:

2

eggs

1

cup

sugar

½

cup

brown sugar

½

15 oz can pumpkin

¾

cup

canola oil

1.5

cups

flour

1

teaspoon

baking soda

½

teaspoon

baking powder

½

tablespoon

pumpkin pie spice

½

teaspoon

salt

crumb topping:

⅓

cup

granulated sugar

⅓

cup

brown sugar

1

teaspoon

cinnamon

¼

teaspoon

salt

½

cup

unsalted butter

melted

1½

cups

cake flour

maple icing:

2

tablespoons

butter- make brown butter

1¼

cups

powdered sugar

1

teaspoons

vanilla

2

tbs.

maple syrup

1-2

tablespoons

water
Instructions
To make the crumb topping: combine sugars, cinnamon and salt in a medium bowl. Whisk in melted butter and add flour. Stir using a rubber spatula just until moist. The mixture will not look very crumbly yet. Spread out mixture on parchment paper to dry until crumbly ready to use.

To make the muffins: Preheat oven to 375° F. Place paper liners in a regular sized muffin pan and set aside. In a large bowl, beat the eggs, brown sugar, granulated sugar, pumpkin and oil until smooth. In a medium bowl, combine the flour, baking soda, baking powder, pumpkin pie spice and salt until combined. Add the flour mixture slowly to pumpkin mixture and mix well. Fill paper-lined muffin cups three-fourths of the way full. Top the muffin batter with the crumble topping until they're overflowing. Push it down slightly to keep it in place.

Bake the muffins for 10 minutes at 375 degrees then reduce the heat to 350 and bake for another 10-12 minutes, until muffins are set. Do not overbake. Cool in pan for 10 minutes before removing to a wire rack.

While muffins are cooling, make the brown butter maple drizzle. In a medium saucepan over medium-high heat, melt the butter. Allow to cook until brown specs begin to form at the bottom of the pan, about 3 minutes. Once formed, stir immediately and remove from heat. Add the powdered sugar, vanilla, maple syrup and water and stir vigorously until smooth. Add more water a tablespoon at a time until you get the desired consistency to drizzle over muffins. Using a spoon, drizzle over baked muffins and serve immediately or store in a air tight container for up to one week. Or freeze for one month.