Pumpkin pie bars are a fun twist on a classic Thanksgiving recipe! The crust is made from crushed gingerbread and the bars are just like pumpkin pie and topped with pecans, caramel, ice cream and more!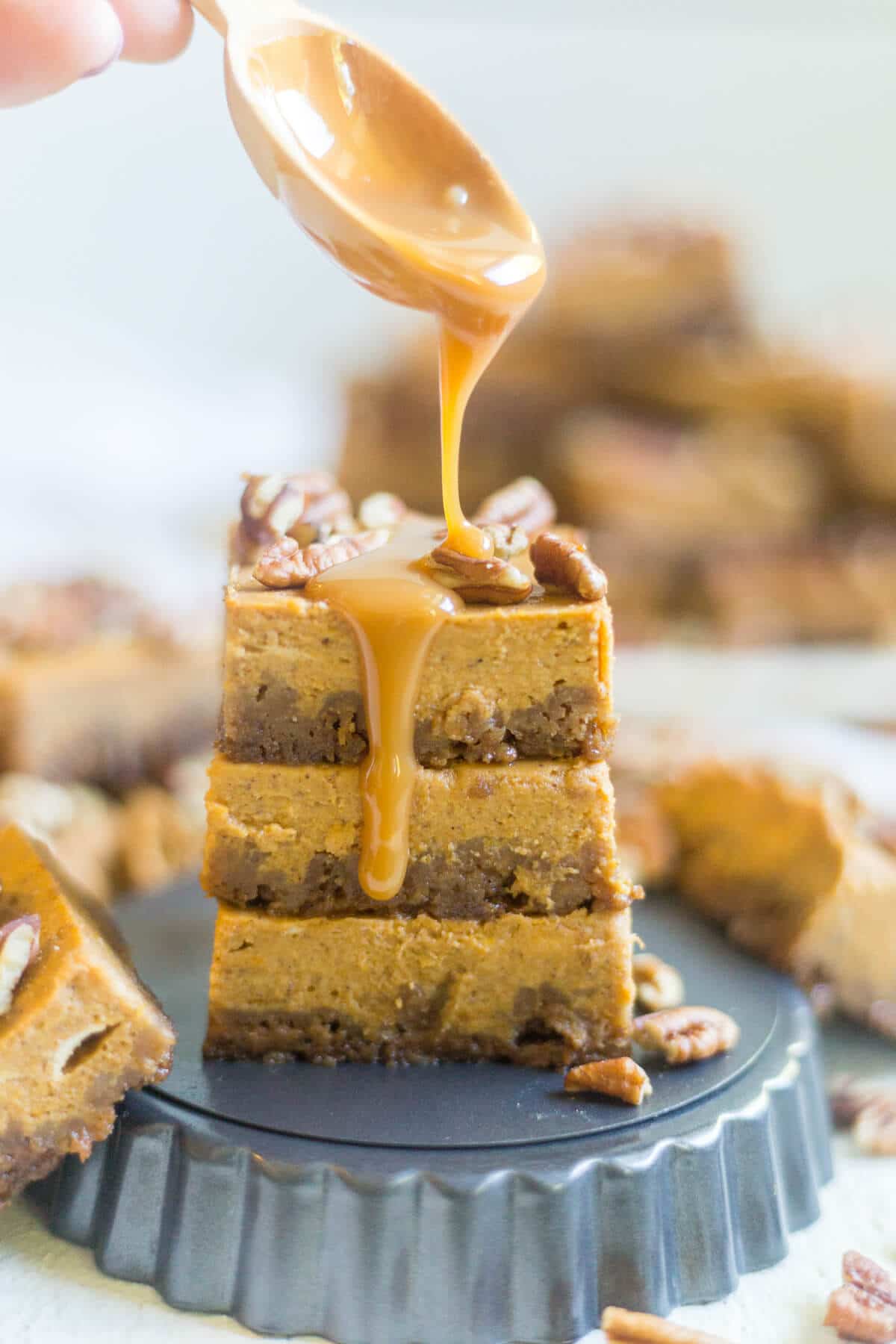 There isn't much I can say about these pumpkin pie bars that these pictures don't tell, but I will try my best! Seriously though, look at those layers and the pumpkin color!
Shout out to my fiance for getting me a new camera for my birthday. These pumpkin pie bars, along with 4 new recipes coming soon, were part of my very first photoshoot of recipes with my new camera. I had a back log of recipes waiting that I tested earlier and tested a bunch this week while I've been off.
Yesterday I took all the pictures and I am unbelievable happy with my new camera. I got really lucky you guys!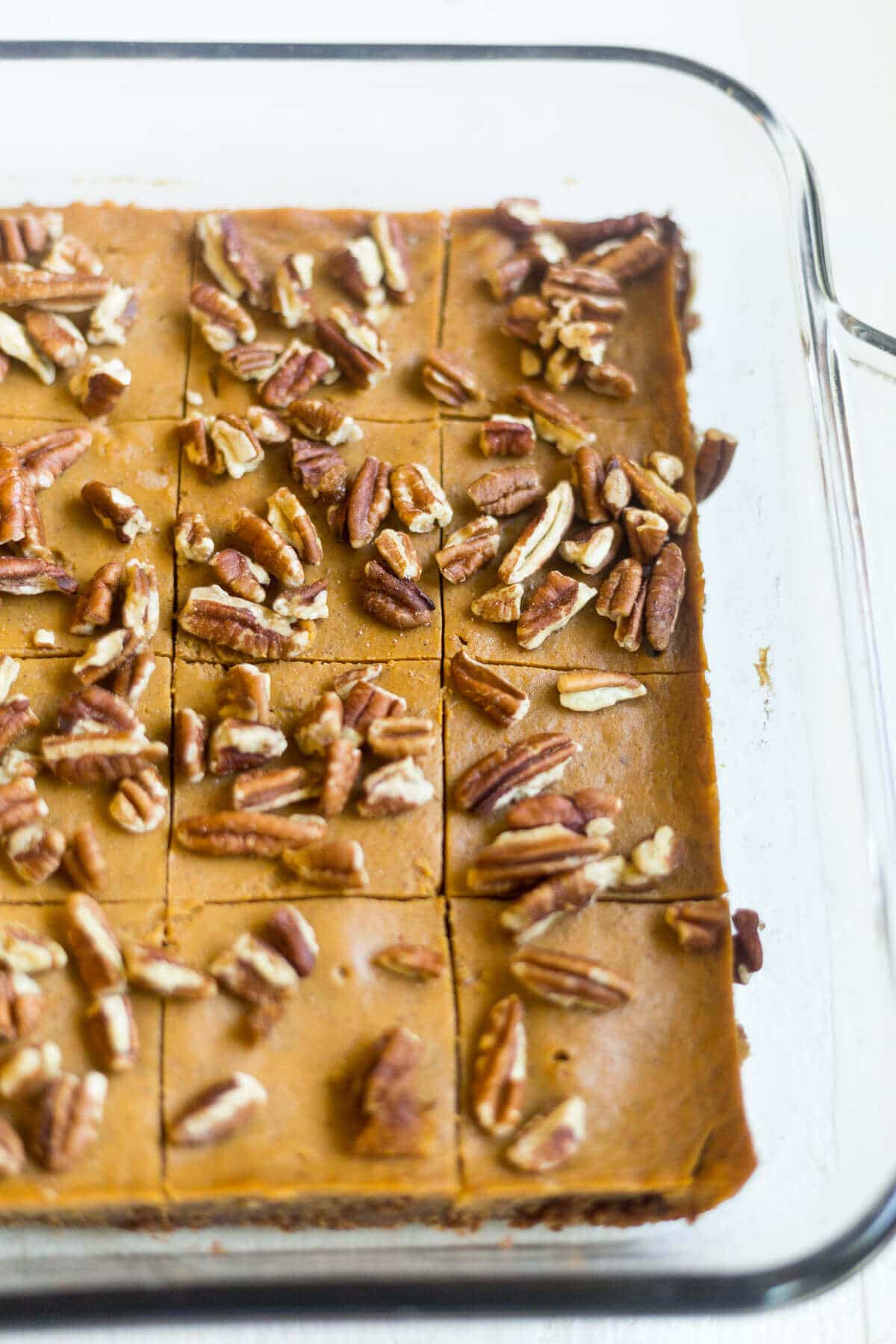 Although I have to say these pumpkin pie bars were not all that hard to photograph because they're so yummy and pretty! They taste just as good as they look too. And they kinda remind me of my paleo pumpkin bars!
I took these to a gathering with my friends at the end of the week and everyone was swooning. My very best friend got married (eeek!) yesterday so there was a lot of celebrating happening this week. I was so glad I was able to bring these pumpkin pie bars to help celebrate.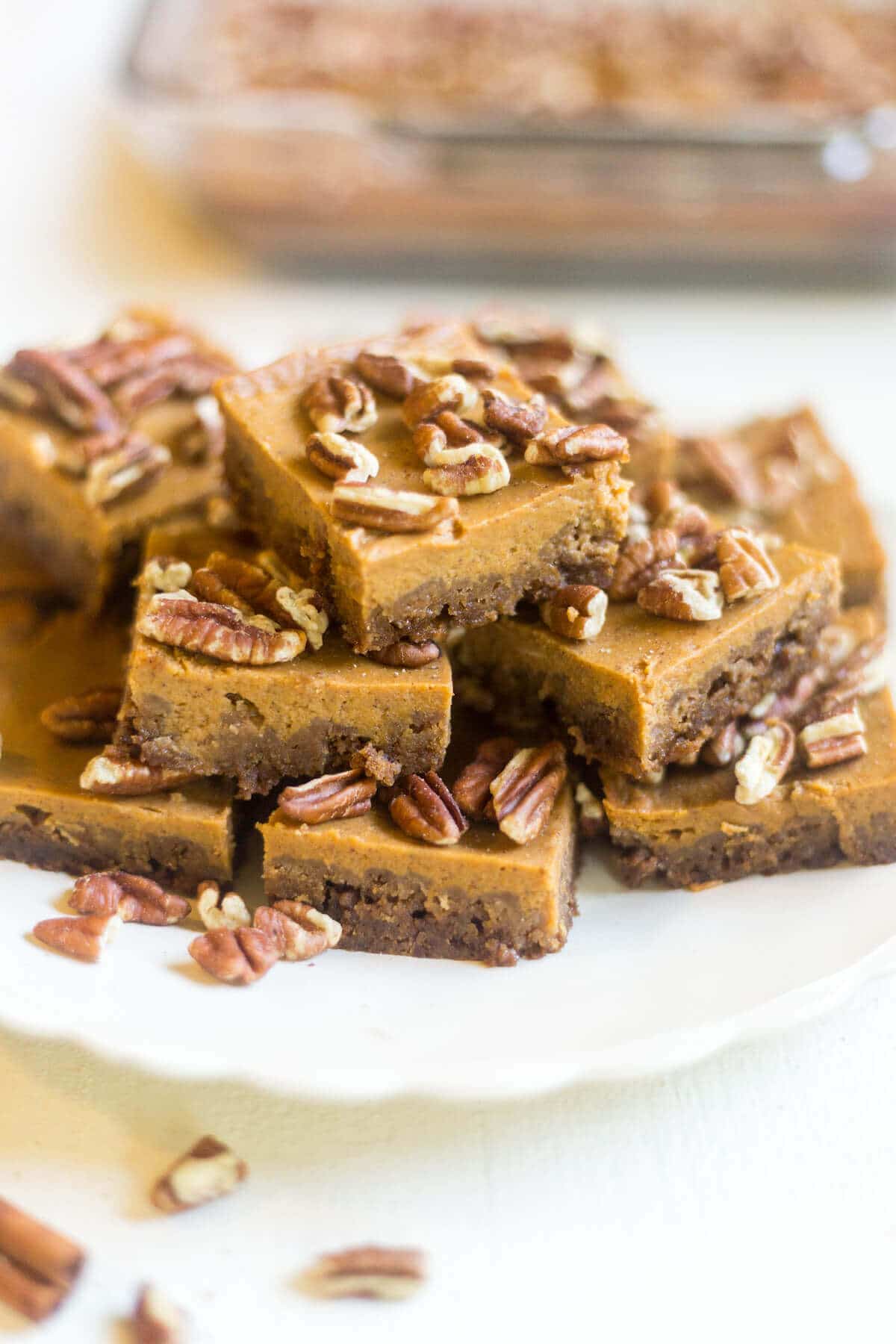 Pumpkin Pie Bars with Gingersnap Crust Recipe Rundown
Taste: The taste of these pumpkin pie bars is outstanding! Think of your favorite pumpkin pie. Then imagine taking a bite of it at the same time as a gingersnap. Yeah, it's kinda like that. Sweet and cinnamon-y and gingery-filled and SO GOOD.
Texture: It's so smooth (like buttah) and just about melts in your mouth when you take a bite. The best part is the crunch from the gingersnap crust. And if you had pecans to the top it makes it even better.
Ease: These pumpkin pie bars are really easy! You only need one bowl to make the crust and the filling. And you don't need a mixer either! A wooden spoon or whisk will do just fine.
Appearance: This might be my favorite part! The layers of gingersnap crust and pumpkin are awesome but when you add the chopped pecans, caramel drizzle or even ice cream or whipped cream on top you're in pumpkin pie bars heaven.
I would make this recipe again and again. And I HIGHLY recommend it be a part of your Thanksgiving spread. It's essentially pumpkin pie in bar form and a fun addition of gingersnap in the crust. If you can get some caramel sauce (I just get the ice cream topping) you can do that with whipped cream and everyone will love it, pinky promise.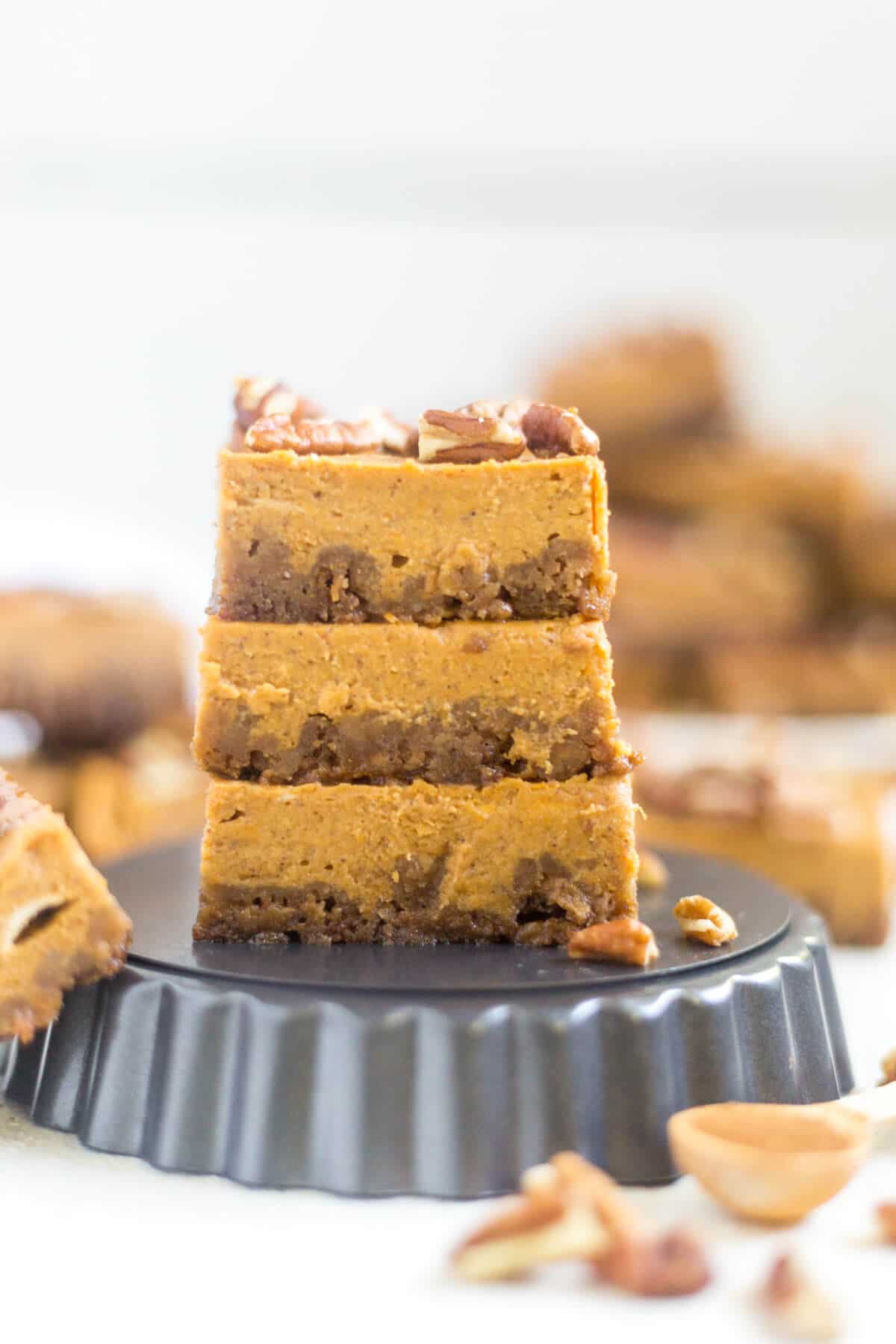 The best part is it's so easy to make!
How To Make Pumpkin Pie Bars
Pumpkin pie bars are easier than pumpkin pie because you don't have to fuss with making crust. Crust can be tricky (though worth it) so I like to make these to avoid any crust making. They crust layer is made of crushed gingersnaps, sugar, flour and butter. That's it!
Once you have the crust done it's time for the pumpkin pie layer. These are pumpkin pie bars without evaporated milk. The main ingredients in the pumpkin layer are pumpkin, half and half, and eggs. You whisk everything together, pour it over the crust and you're done!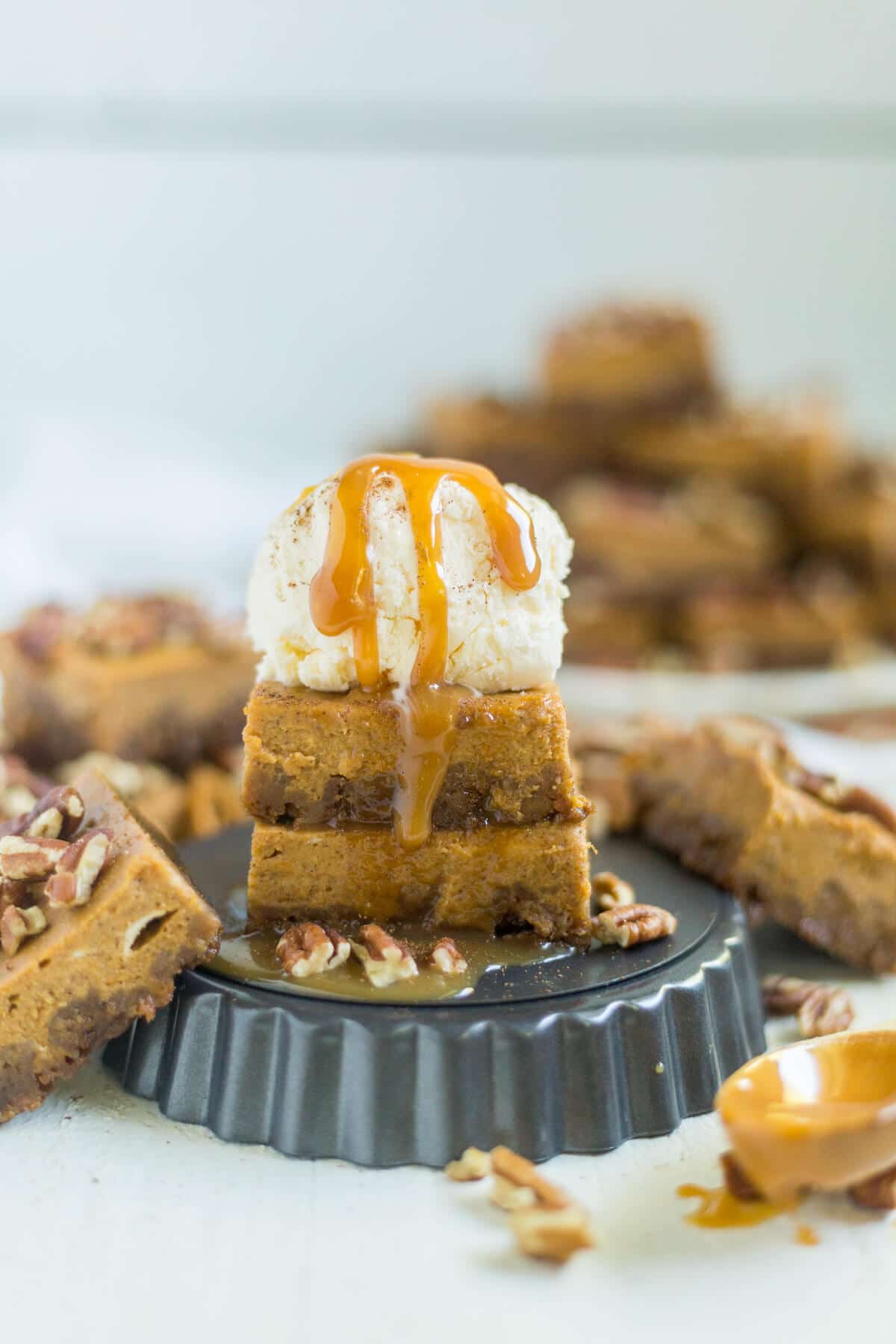 It's a good thing these pumpkin pie bars are easy to make because you can whip them up the morning you need them or make them a few days in advance. Unfortunately, this is one of those recipes you can't make ahead of time and freeze. Pumpkin pie bars just don't freeze well. I recommend making them that day or a few days before and covering them in the fridge.
I REALLY hope you make this recipe for Thanksgiving. Like really really hope you do. I promise you will not be disappointed. In fact, you very well may be the start of the show. That's how good they are! Plus no one will expect that tasty crust!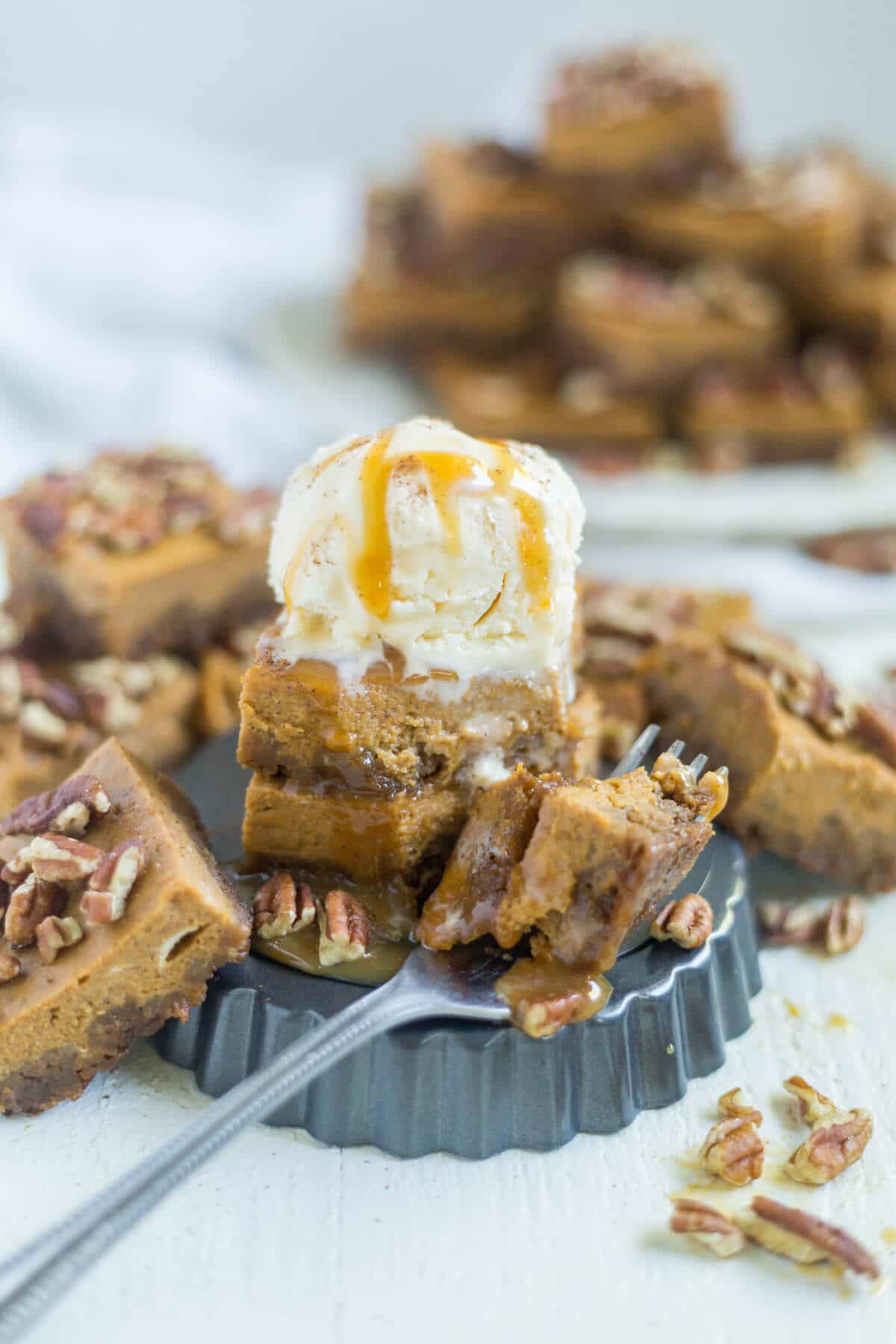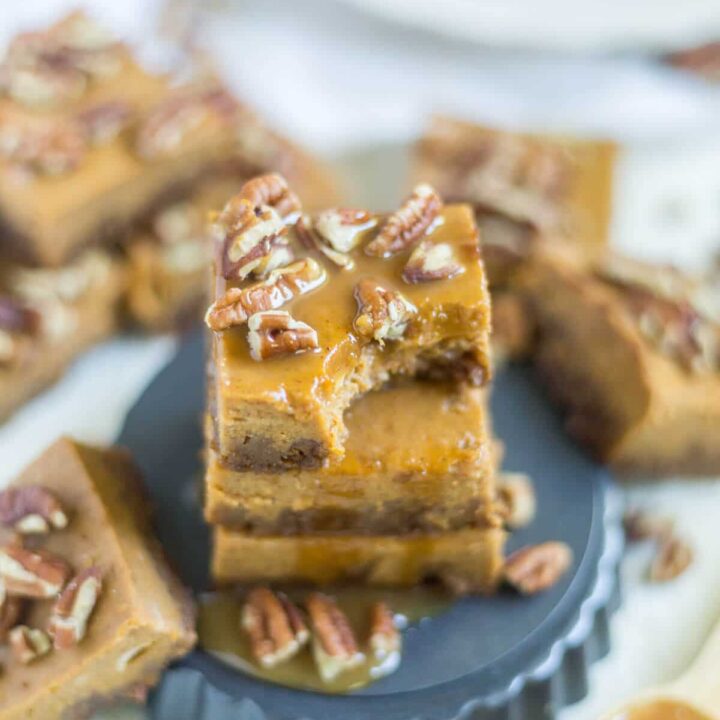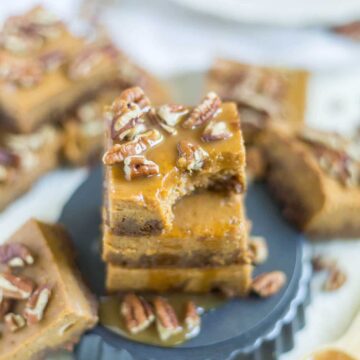 Ingredients
For the crust:

2

cups

crushed gingersnaps

1/4

cup

granulated sugar

1/4

cup

flour

1/2

cup

butter

melted

For the pumpkin pie:

1 15-

ounce

can pure pumpkin

¾

cup

brown sugar

packed

1/4

teaspoon

salt

2

teaspoons

pumpkin pie spice

1 ½

cups

half and half

4

eggs

lightly beaten

½

cup

chopped pecans

for topping

Caramel for topping
Instructions
Preheat oven to 375°F. Grease a 9x13 in baking pan with non-stick spray and set aside.

For the crust, in the bowl of a food processor, combine the gingersnaps, granulated sugar and flour. Pulse on high until crumbs form. Add the melted butter and mix again until the crust starts to stick and pull away from the edges. You can also crush them by hand and mix together with a wooden spoon. Press mixture into the bottom of the prepared baking pan and set aside.

In a large bowl, combine the pumpkin, brown sugar, salt and pumpkin pie spice. Stir in half and half and eggs just until combined, being careful not to overmix. Spread batter in crust-lined pan.

Bake 40-45 minutes in preheated oven or until a knife comes out clean. Sprinkle with pecans and cool completely in the pan on a wire rack. Cut into bars.

To store: cover bars and store in the refrigerator for up to 2 days, do not freeze.