This paleo cake is filled with caramel apples, so it's healthy, gluten and dairy free! This healthy dessert will fit perfectly into your paleo diet. It's filled with fall flavors and perfect for family and friends that want to stay healthy during the holiday season.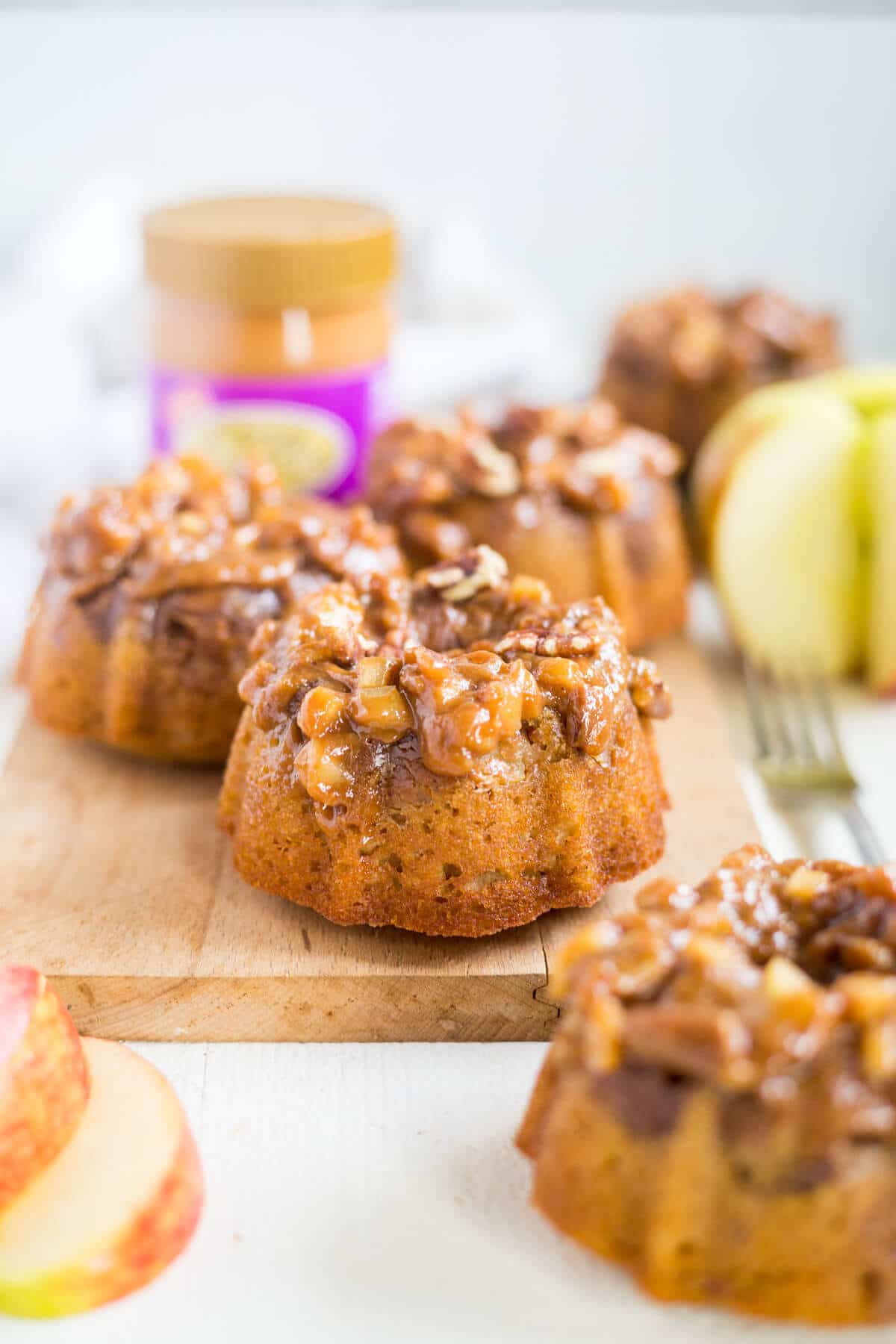 We are less than two weeks out from Thanksgiving! I cannot believe how fast time flies! They say the older you get the faster time goes and that is so true. This year flew by!
Any of you guys feel like this year went super fast? Or did it feel extra long for you? I swear it was just yesterday Zach and I got engaged. We're supposed to be getting our save the dates this week and we can't wait! Our goal is to have them out right before or just after Thanksgiving. We're trying to beat the holiday and Christmas card rush.
So far so good because we got all of the envelopes printed with the addresses. So thankful for technology!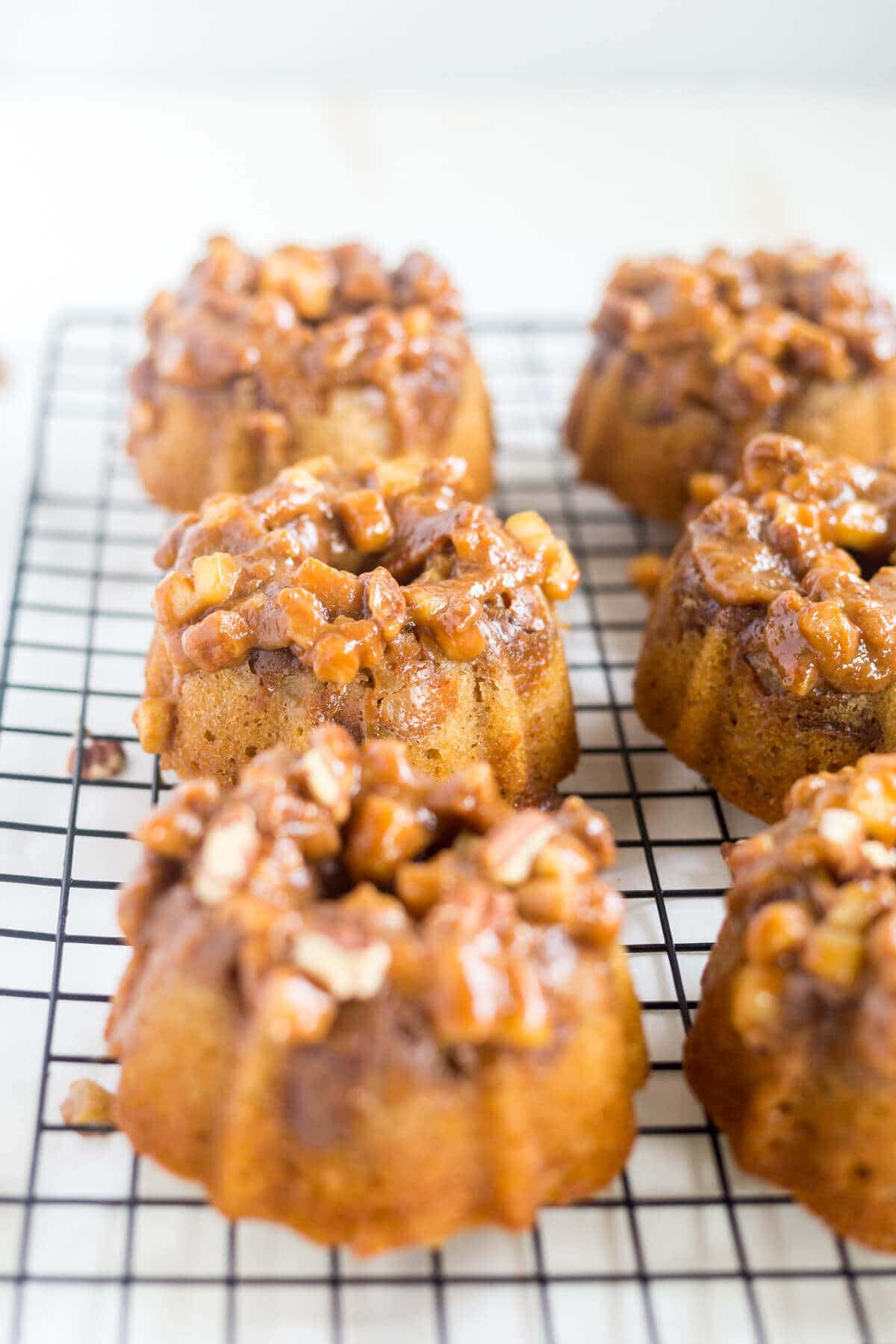 Who has time for writing on envelopes when there's baking to be done?!
I froze this batch of caramel apple mini paleo cake to take to our Thanksgiving, but I'm going to make another batch because I know how fast they will go. My family goes crazy over paleo cake and gluten free desserts!
We love to celebrate with food, but with a lot of people in my family having dietary restrictions, it makes it challenging to enjoy dessert together a lot of the time. Making recipes that everyone can enjoy is such a blessing because we can sit down, give thanks and celebrate together over a yummy treat everyone can eat.
This caramel apple paleo cake recipe is one of those paleo recipes no one will even know is paleo. The texture of the cake is rich and most and it's covered in a paleo caramel you will drool over.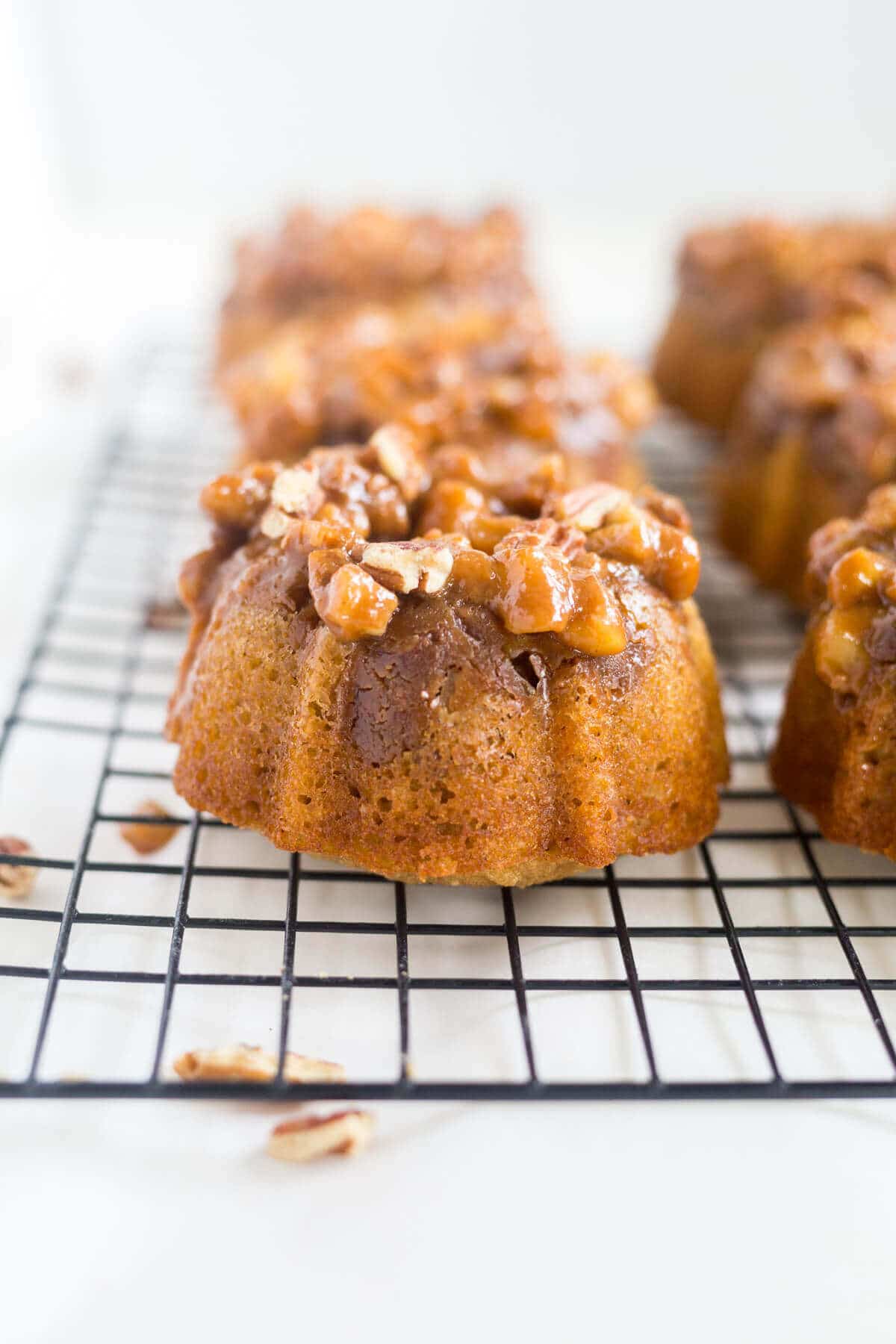 How to Make Paleo Caramel
You're probably thinking how caramel could possibly be paleo. Good question! This caramel isn't made with brown sugar and butter, you can make paleo caramel a couple ways but my favorite way is with:
Cashew Butter
Coconut Oil
Pure Maple Syrup
In this recipe I used Crazy Richard's creamy cashew butter. I love it because you don't have to worry about any extra additives or sugars going in your cashew butter, just real cashews. That way I don't have to worry about if the recipe is truly paleo, because I know I'm using the best ingredients!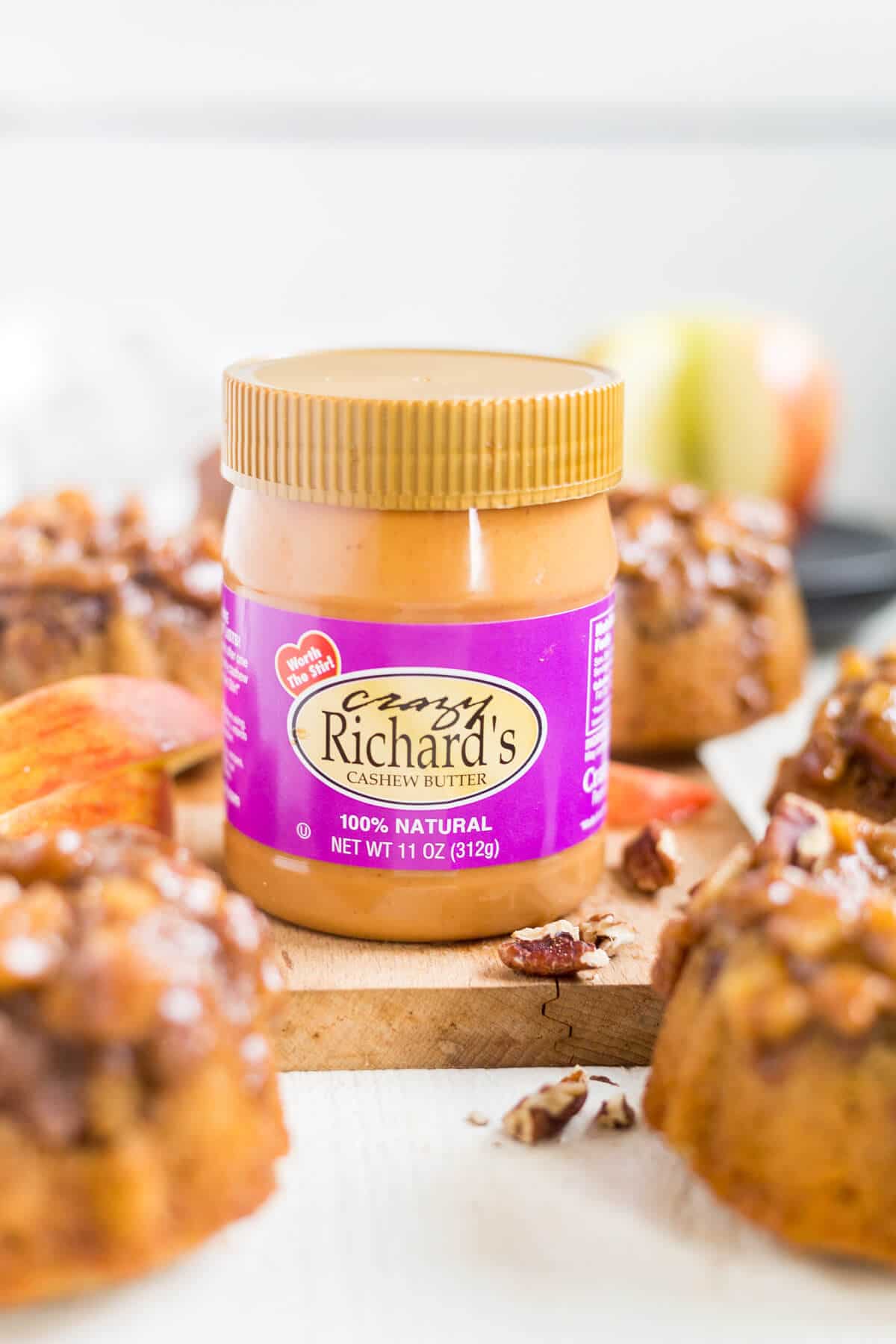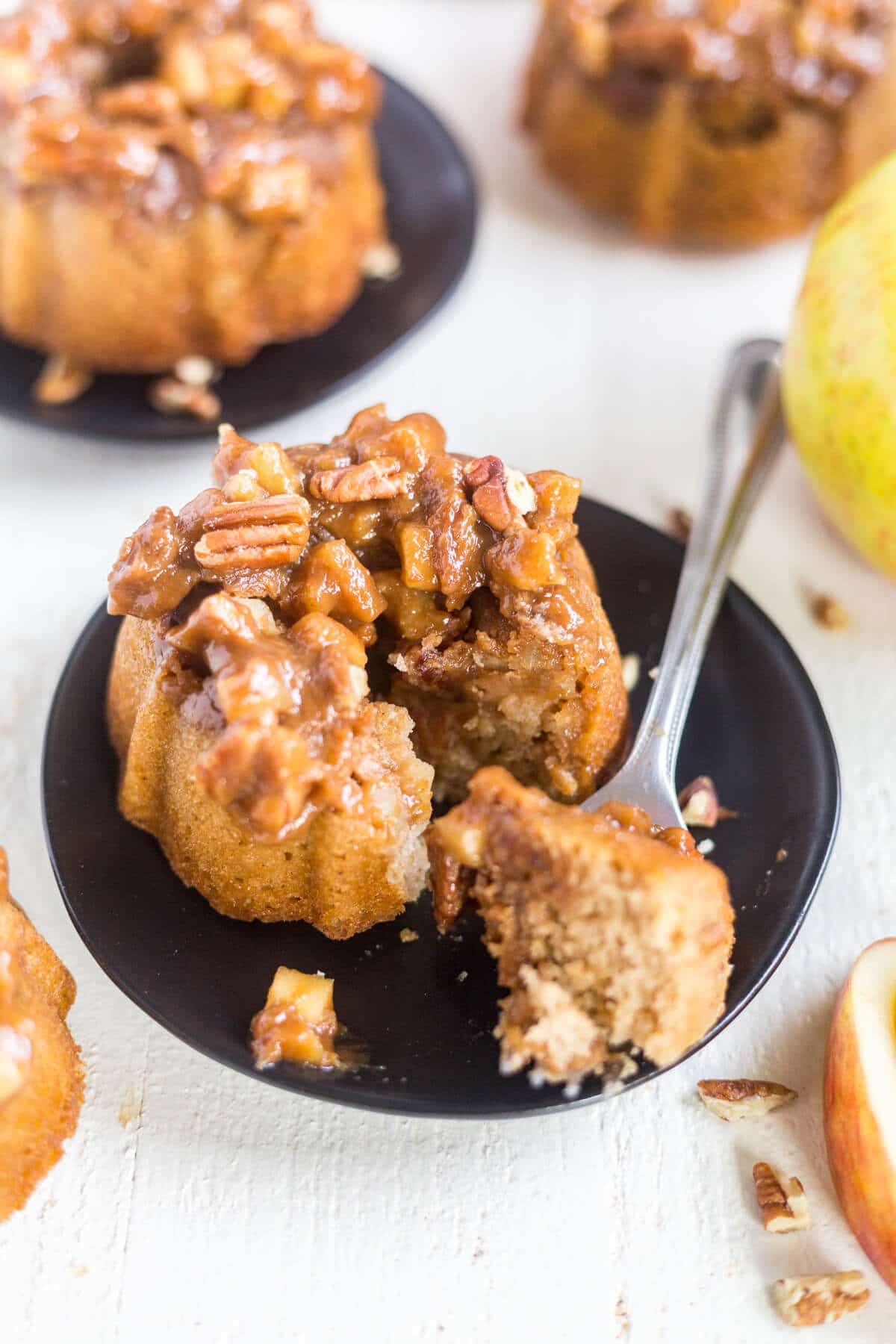 Once you have your ingredients it's so EASY to make. To make paleo caramel, add all of the ingredients to a sauce pan over medium heat and melt them together, stirring until completely combined. Then remove from the heat and allow to cool. That's it!
For this recipe you follow the exact same paleo caramel tips but you add diced apples to the mix for some extra fall flavor.
When you have the caramel made it's time to make the cake. Don't be intimidated by the three flours in this recipe. You can get all three in the same place in the baking aisle! If you like paleo baking you may already have them in your pantry.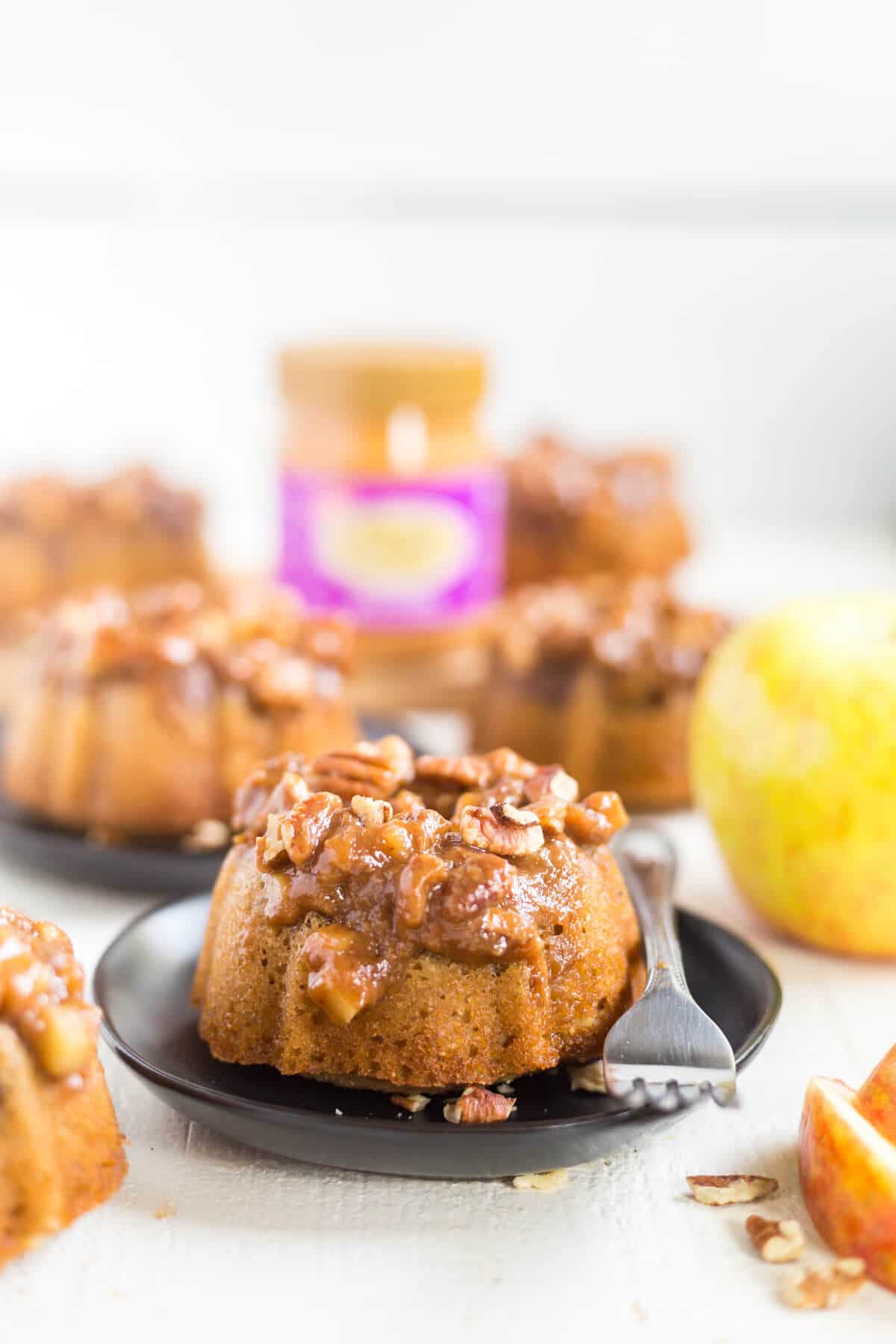 If not, they are relatively inexpensive, especially the coconut and tapioca flour! And once you buy them you can check out all my other paleo recipes so those flours don't go to waste.
The cake will rise a lot in the oven so don't worry if you don't feel like you have enough batter to fill up each mini bundt pan hole. The batter should be filler ⅔ of the way full and it will rise just enough and get golden brown in the oven.
I like to reserve half of the caramel apple mixture to spoon over top of the caramel apple cakes when they're ready to serve. You can even freeze the cakes and warm them back up with the caramel apple topping if you're looking to make them in advance.
If you know you're going to be busy next week and won't have time for dessert you can make these now or this weekend and keep them in the freezer until you need them next Thursday.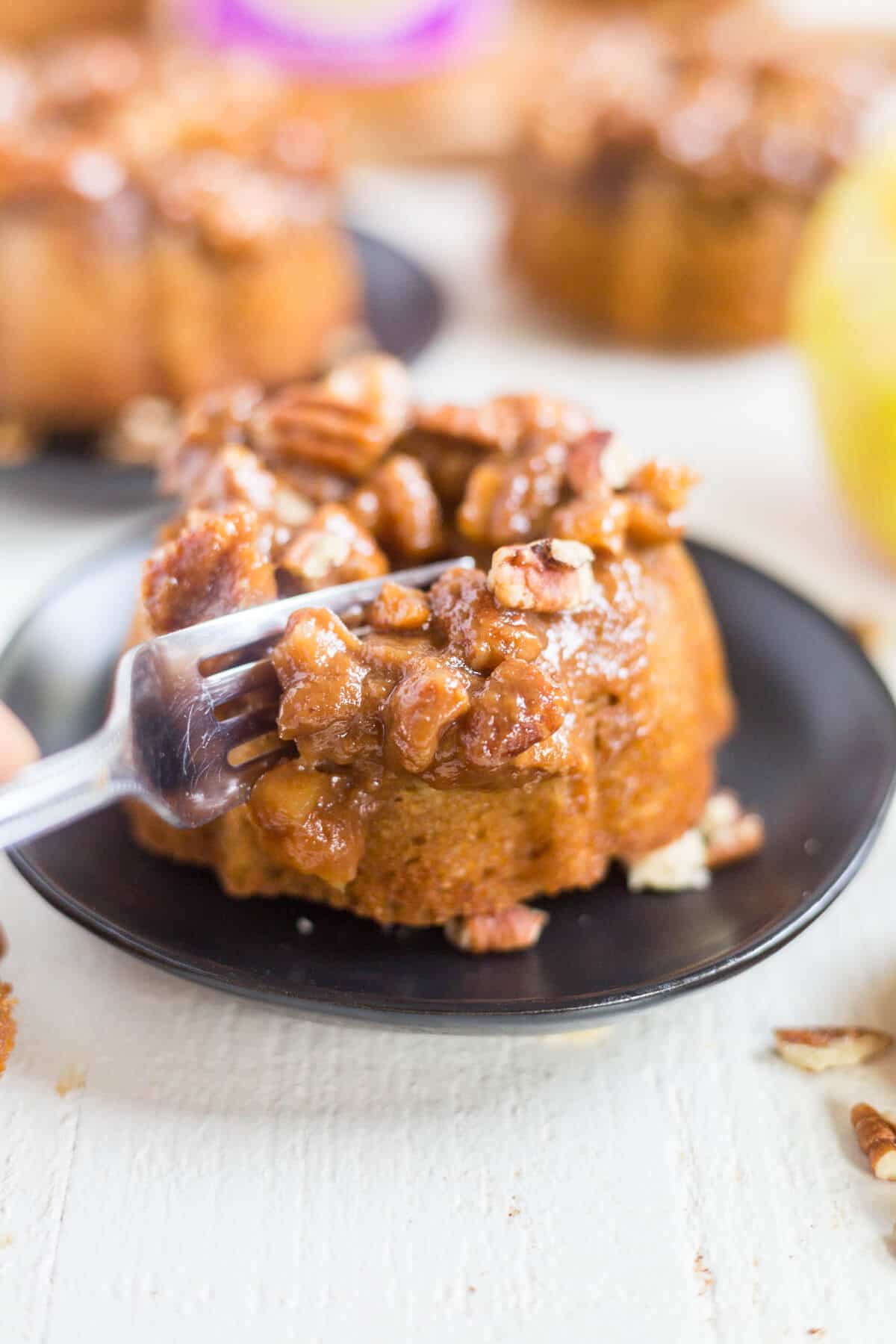 How to Freeze Paleo Caramel Apple Cakes
Once all of the cakes are baked and topped with all the paleo caramel apple, wrap each one individually with plastic wrap, making sure no air is getting in. Place in the freezer for up to 3 months.
When you're ready to serve, turn the oven on to 250°F, unwrap caramel apple paleo cake and place in the oven for about 20 minutes, or warmed all the way through.
There's nothing more I love than an easy, healthy dessert you can make to celebrate with friends and family! I hope you and your family have an amazing time and enjoy the rest of your year!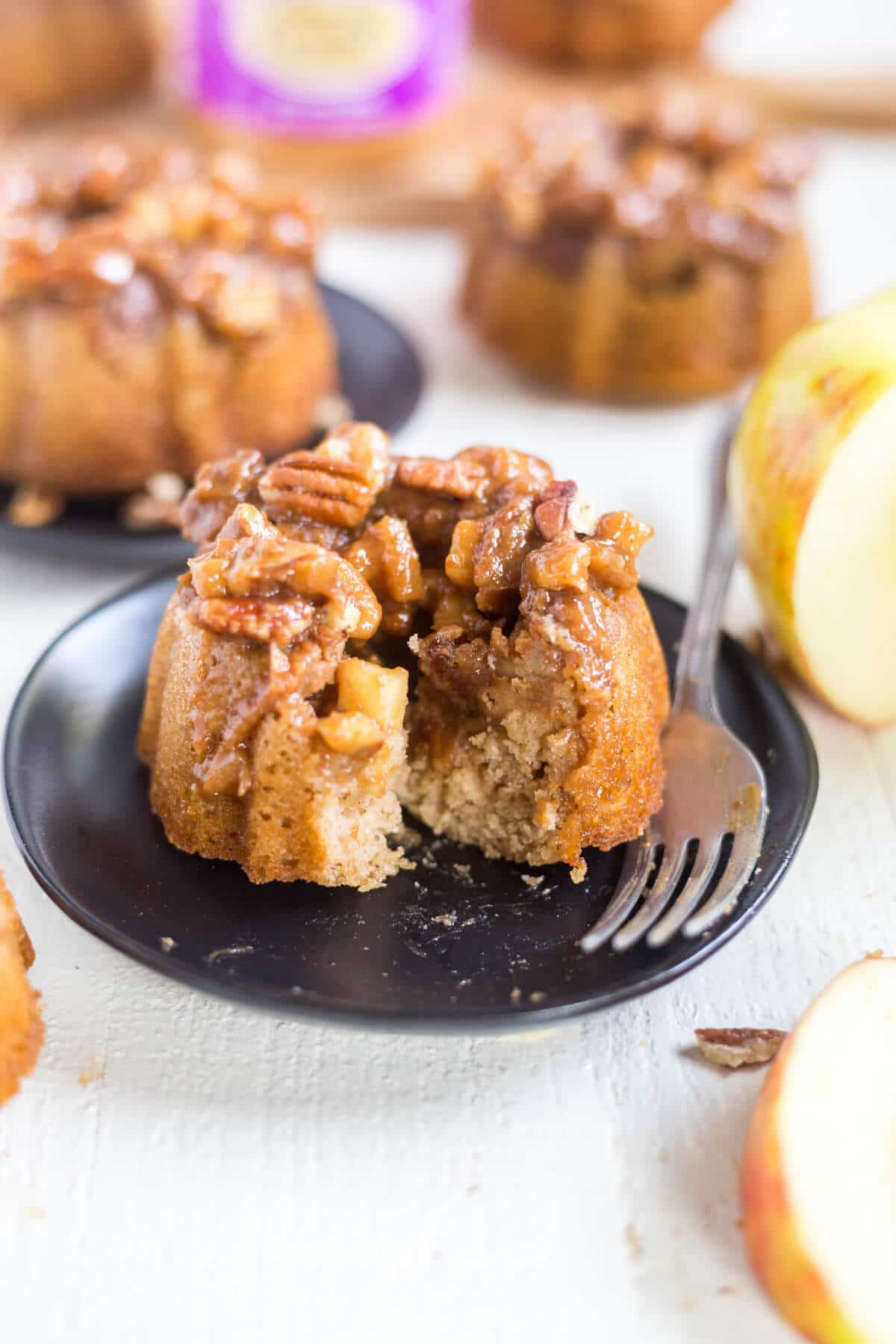 This post is sponsored by Crazy Richard's. All opinions are my own! Thank you Crazy Richard's for helping me share yummy recipes with all of you!
If you love this recipe, I hang out over on Instagram every day. Don't forget to give me a virtual high five by following along!
How to Make Paleo Cake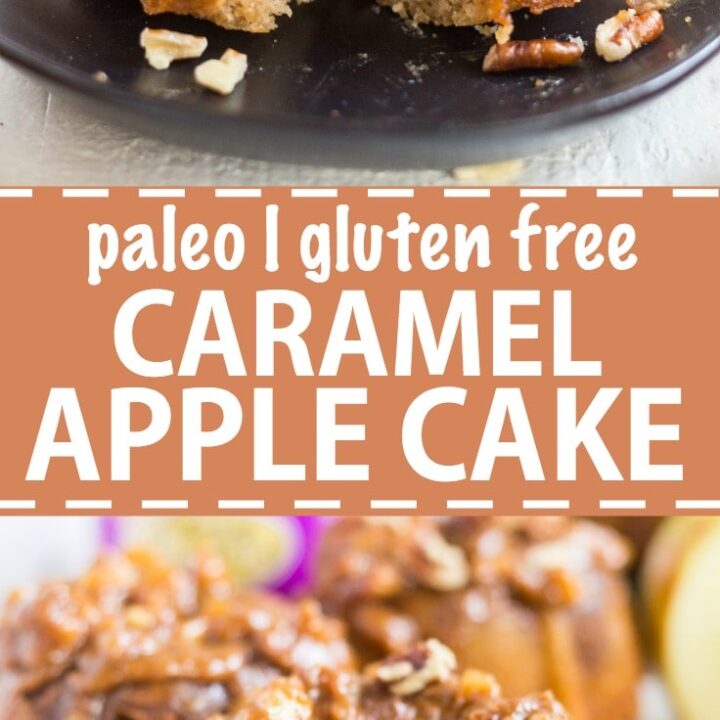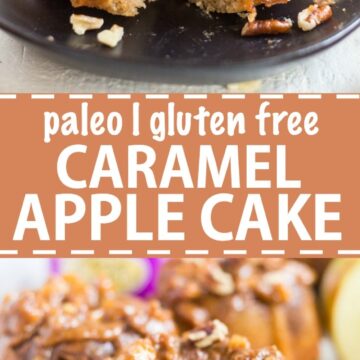 Ingredients
For the paleo cake:

4

large eggs

½

cup

pure maple syrup

⅓

cup

coconut oil

melted and cooled to room temperature

¼

cup

unsweetened almond or coconut milk

1

tablespoon

apple cider vinegar

1

teaspoon

pure vanilla extract

1 ¼

cups

blanched almond flour

¼

cup

coconut flour

⅓

cup

tapioca flour

1

teaspoon

baking soda

¼

teaspoon

salt

1 ½

tablespoons

ground cinnamon

Paleo Caramel Apple:

¾

cups

Crazy Richard's Cashew Butter

⅓

cup

coconut oil

⅓

cup

pure maple syrup

1

cup

coarsely chopped pecans

1½

cup

peeled and diced apples

about 2 apples
Instructions
Preheat oven to 350°F and grease mini bundt pan with non stick cooking spray and set aside.

In a medium bowl, combine the almond flour, coconut flour, tapioca flour, baking soda, salt and ground sinnamon. Set aside.

In a medium sauce pan, combine the Crazy Richard's Cashew Butter, coconut oil, maple syrup, pecans and apples. Heath on medium-high heat until cashew butter melts and apples begin to soften, about 5 minutes.

In a larger bowl, with a stand mixer fitted with the paddle attachment or a hand mixer, beat together the eggs, maple syrup, almond milk, apple cider vinegar, coconut oil and vanilla on medium speed for 1-2 minutes. Add the dry mixture to the wet and beat on low speed until fully combined.

Place 2 tablespoons of the caramel apple mixture in the bottom of each prepared bundt cup. Reserve the leftover paleo caramel to serve on top of the cakes after baking. Spoon about ⅓ cup of the cake batter into each cup on top of the caramel apple mixture, filling each about ⅔ of the way full.

Bake in prepared oven for 18-20 minutes or until a wooden toothpick inserted comes out clean. Cool cakes in pan on a rack for 5 minutes. Using a sharp knife, loosen the cakes from the sides of the pan. Place wire rack on top and invert, flipping the cakes upside down. Spoon any remaining pecan and apple mixture on top of cakes. Serve warm or let cool.