A Thanksgiving Twist on a classic fall recipe, this Pumpkin Snickerdoodle Cobbler is warm and gooey and so festive. It's full of pumpkin spice flavor and topped with a cinnamon sugar cookie crust your friends and family will be drooling over.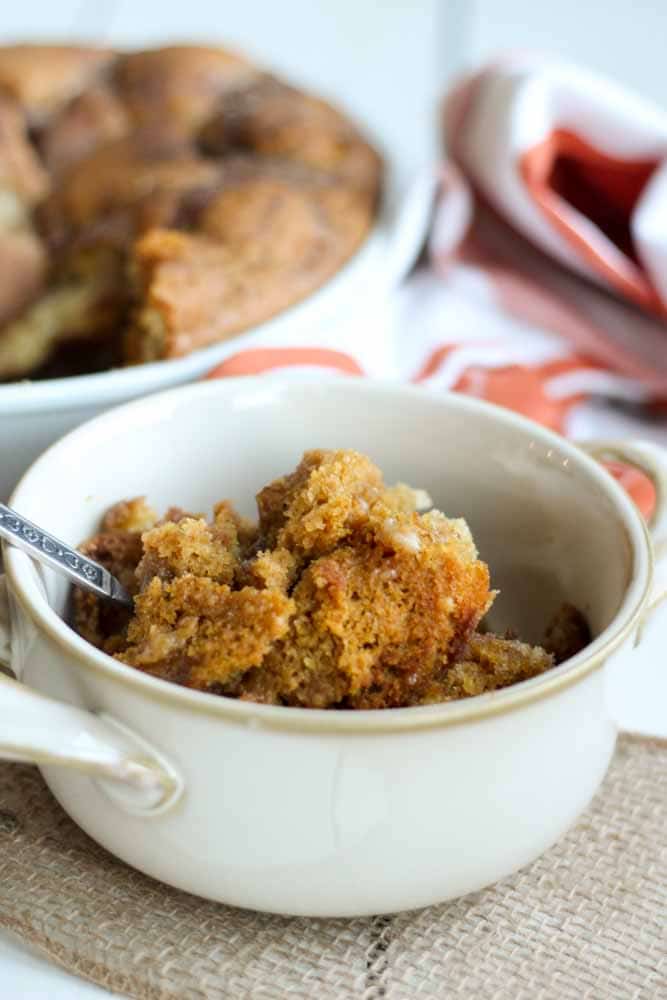 I can't believe Thanksgiving is right around the corner! In just two short weeks we'll all be gathering around tables sharing the best meal of the year together. Is there anything better?!
I'm so excited because this year I have FOUR Thanksgivings to attend. Yes, four. No shame! The more chances I have to make this Pumpkin Snickerdoodle Cobbler the better. And it started last night. I went to a Friendsgiving and brought this cobbler and it stole the show. I knew it was good the second I dipped my spoon in and started oozing with pumpkin goodness.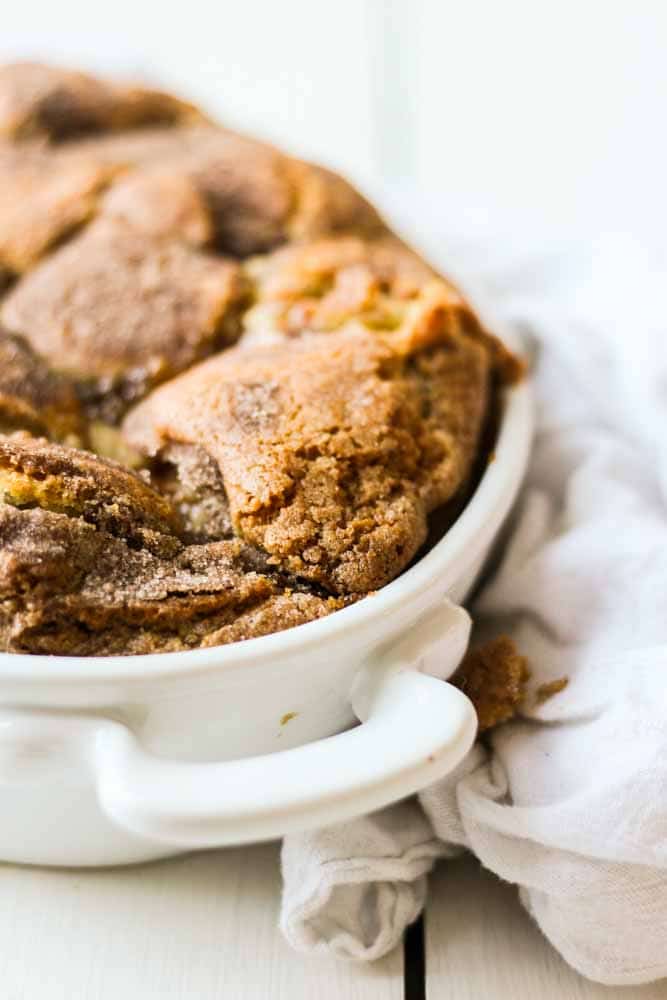 We passed it around the table and it didn't even make it a full circle around before it was gone. Thank goodness I started the line. Next Thanksgiving dinner I will be making double.
One of my favorite parts about this recipe is it's so easy to make ahead of time. It's made for the on-the-go lifestyle for busy folks (like myself). I made this recipe last weekend in under an hour and threw it in the freezer. That way when I needed to bake it all I had to do was let it thaw for a few a pop it in the oven to get nice and warm and goooey again.
For our Friendsgiving I let it sit out while I got ready and then took it with me (with a pint of ice cream, of course) to our friends and threw it in the oven while we ate the meal. By the time we were done it was perfectly warm and ready to eat!
There are a few reasons why this pumpkin snickerdoodle cobbler is so good:
NESTLÉ® CARNATION® Evaporated Milk- this is always a staple in my pantry because it makes baked goods so rich and creamy. It's what helps this cobbler be so gooey and perfect.
Snickerdoodle- who doesn't love snickerdoodle?! They're one of my favorite Christmas cookies, but why would we limit ourselves to enjoying this only in December. After this recipe it will now be a November Thanksgiving flavor. It's such a fun and delicious twist on the classic cookie and classic cobbler. Two of the best desserts coming together (rant over)!
Libby's® Pure Pumpkin- there is no other pumpkin I buy. I even think it's better than making it from scratch. It's all natural with no preservatives and has the best color. It's so much more than made for pumpkin pie and makes this cobbler what it is. P.S. you can find this in the baking aisle at Walmart along with all of my other favorite Nestle products!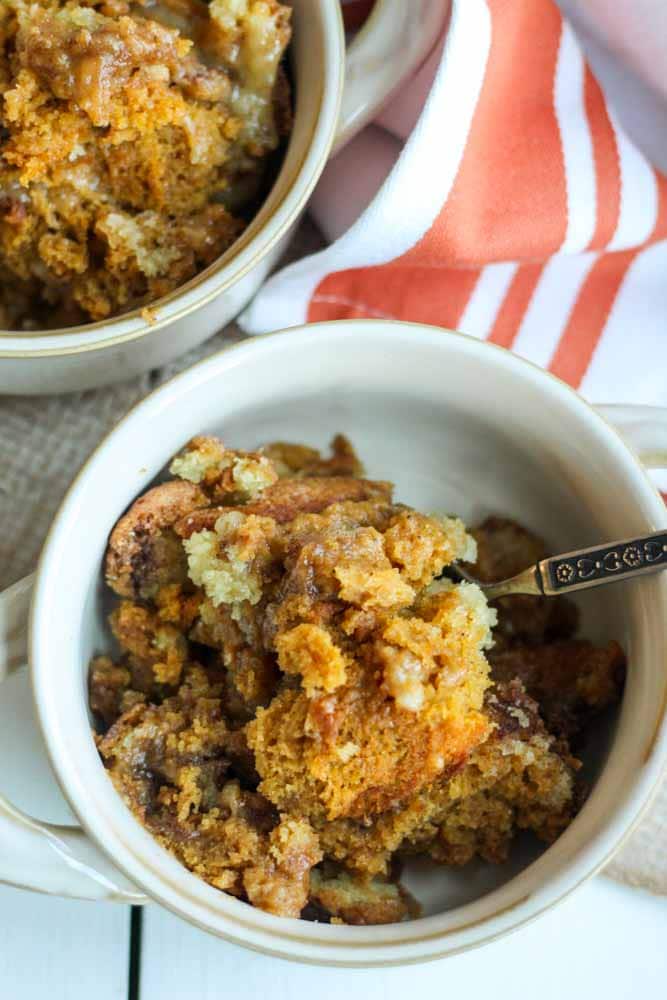 I ate a giant bowl of this last night and then went to sleep and dreamed of it again. It's heavenly. Pumpkin, gooey, cinnamon-sugar heaven. And it's such a fun twist on a Thanksgiving dessert. I love to get creative with my Libby's Pure Pumpkin recipes at Thanksgiving and this recipe is no exception.
If you loved this recipe please give me a virtual high five by pinning it and tagging me with #WhatMollyMade.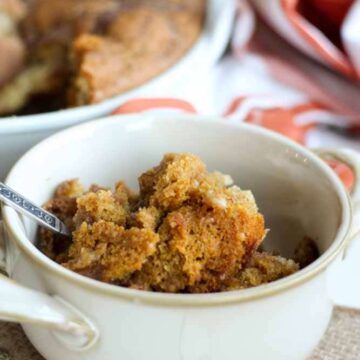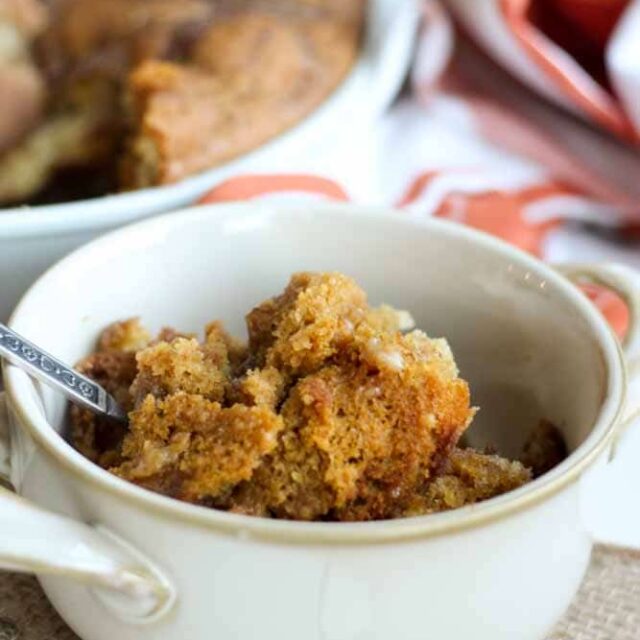 Ingredients
pumpkin cobbler:

1

cup

flour

2

teaspoons

baking powder

1/2

teaspoon

salt

1/2

cup

sugar

1/2

cup

brown sugar

2

teaspoons

pumpkin pie spice

2

eggs

lightly beaten

1/2

cup

Libby's® Pure Pumpkin

3/4

cup

NESTLÉ® CARNATION® Evaporated Milk

1/4

cup

melted butter

1 1/2

teaspoons

vanilla

snickerdoodle topping:

1/2

cup

butter

softened

1/2

granulated sugar

1

egg

1

teaspoon

vanilla

1/2

teaspoon

baking soda

1/2

teaspoon

cream of tartar

1/2

teaspoon

salt

1

cup

all purpose flour

1/3

cup

sugar

2

teaspoons

cinnamon
Instructions
Preheat oven to 350F degrees. Spray an 8inch casserole dish with cooking spray and set aside.

In a large bowl, whisk together the Libby's® Pure Pumpkin, NESTLÉ® CARNATION® Evaporated Milk, eggs, melted butter and vanilla and set aside.

In a medium bowl, combine the flour, baking powder, salt, granulated sugar, brown sugar and pumpkin pie spice.

Pour the dry ingredients into wet ingredients and stir well. Batter will be thick. Pour batter into the prepared casserole dish and set aside.

In a separate bowl, cream the butter and sugar on high for about 3 minutes. Add the egg, vanilla, baking soda, cream of tartar and salt and beat well. Add the flour and beat until combined. Spoon tablespoons of dough over pumpkin layer. Mix together cinnamon sugar together and sprinkle over the entire dish. Bake for 40 minutes. Cool for 5-10 minutes then serve.

Make ahead tip: Make this recipe up to two weeks in advance by placing in the freezer. Allow to sit at room temperature for 30 minutes then heat at 350F degrees for 30 minutes. Serve warm with ice cream!