Individual fall-inspired cakes that you will be so proud to serve your family and friends at your next party. These adorable caramel apple mini cakes are made in mini bundt pans and they're filled with so much flavor (cinnamon, apples, caramel, oh my!).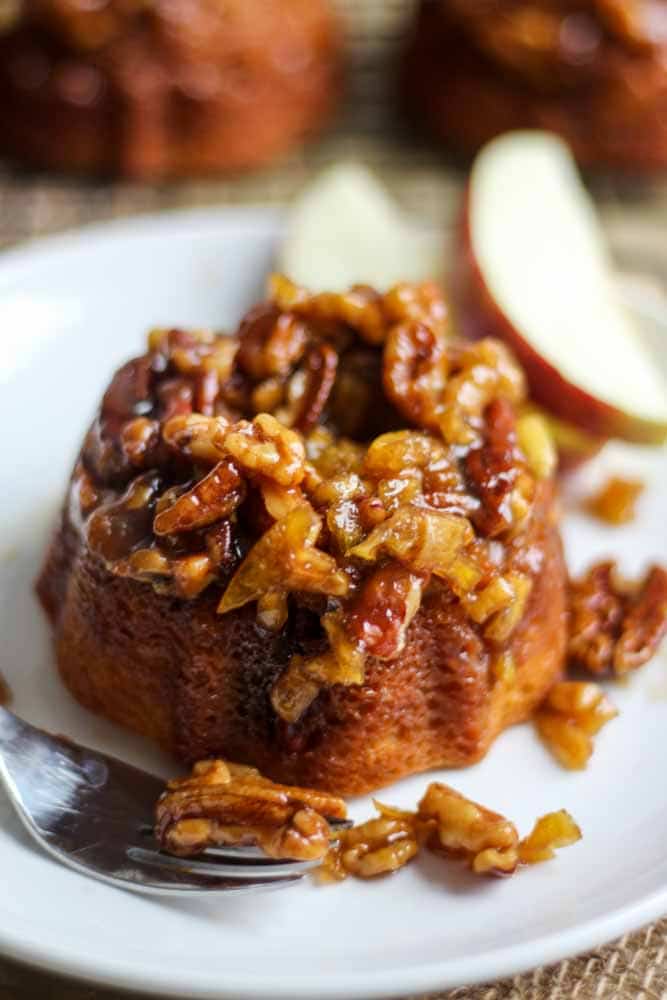 It's Friday!! It's Friday!! Another week in the books, folks. We all deserve a giant round of applause because I have no doubt you killed it. I had a lighter week than I've had in a while at both work and outside of work obligations and it felt great to have some time back in my life.
We just kicked off this huge campaign at work and I can finally announce it's live!! If you're new around here, I'm a social media strategist at a marketing agency in Columbus, Ohio. And one of my largest accounts is Nestle Toll House. Perfect fit for me, right?! I'm so very grateful.
Our team, along with the brand and others, are collaborating with a group of 6 passionate bakers in the Chicago area to bake some good. We truly believe that the power of baking can do so much good in this world and I couldn't agree more. Hence my about page talking about it. If you want to learn more about it check out the website and social channels.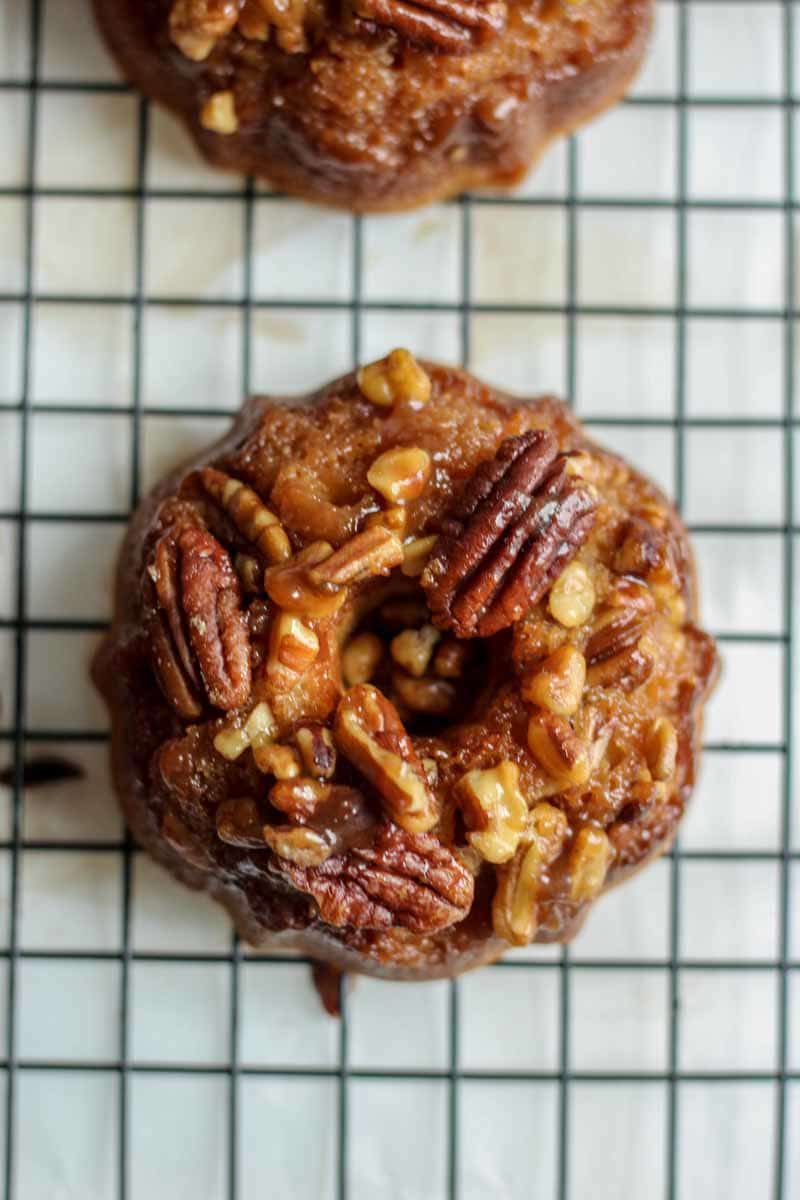 It's not secret around my office I'm the baker in our office. Mostly because they're my taste testers a lot of the time! I had a couple of colleagues ask me if I would cater their Halloween parties next week. Naturally, I said yes! More reasons to bake is fine by me. I'm making one of them my Halloween Bark and these Snickerdoodles with googly eyes. And the other I'm making my Buckeye Bites and Paleo Pumpkin Bars. It's gonna be some work but lots of fun!
My manager even asked if I would make these Caramel Apple Mini Cakes for her family for Thanksgiving. I set one on her desk and headed upstairs for a couple of meetings and had an email from her that said, "These are so good I feel like I need to pay you!" That's a green light and thumbs up in my book.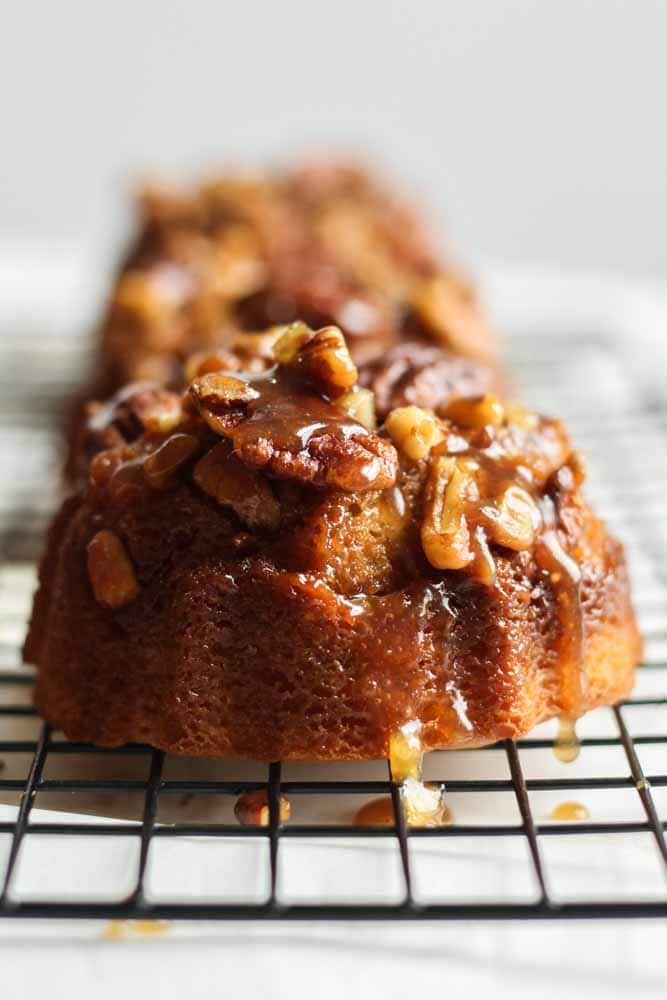 These cakes are very similar to a pineapple upside down cake because the caramel and apple are gooey and oozy and you dump it all at the bottom of the pan and pour the cake batter on top. While the cakes are in the oven the apples and sugar get super caramel and gooey and the cakes bake to a golden brown perfection.
When you pull them out be prepared! They're a little messy, but so worth it. I put a large piece of parchment paper under my cooling rack so any dripping caramel wouldn't get all over my counter. The best way to do this is place your cooling rack upside down on top of the pan and quickly flip it over onto the prepared parchment paper.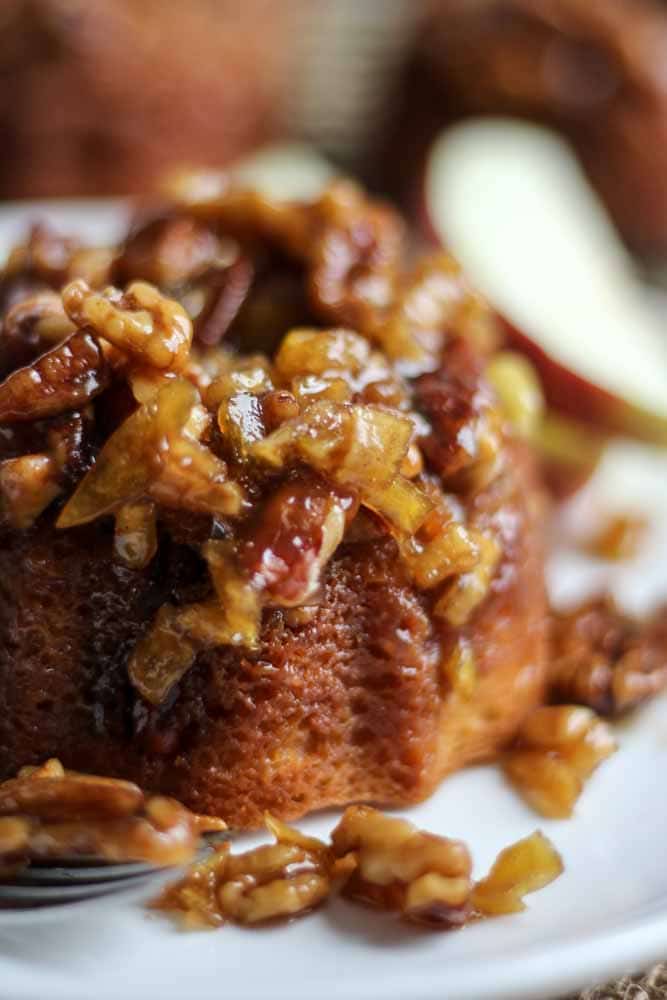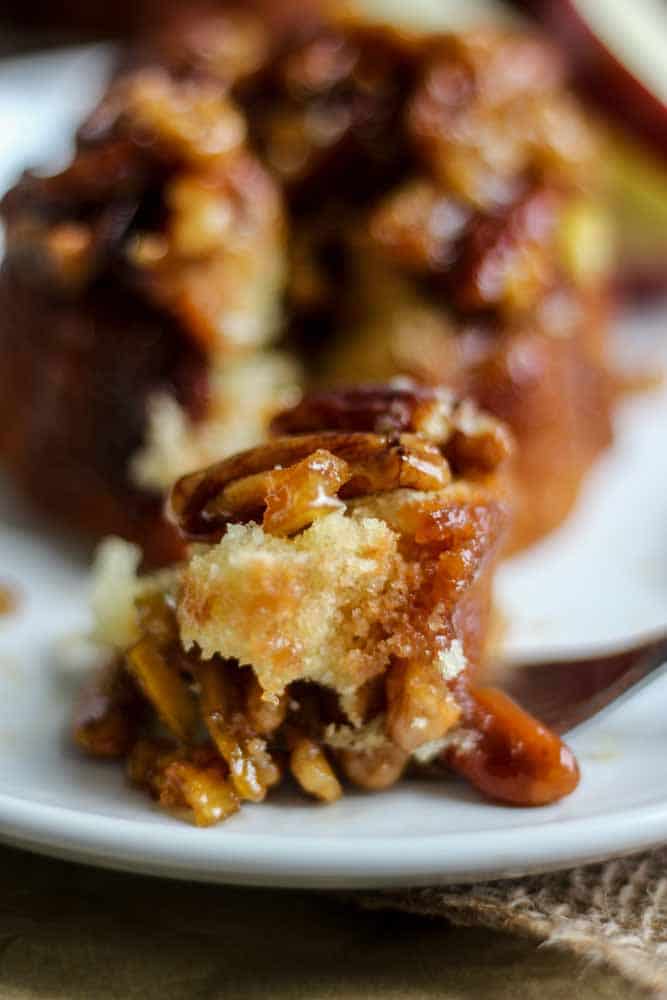 The cakes will be perfect with piles of caramel apple on top and oozing with delicousness. The cakes are moist as is, but all of the gooey caramel seeps in and makes them that much better! Heaven I tell you. I wish I could express even more through words just how amazing these are.
They're so perfect for fall parties or a Thanksgiving dessert because you can make ahead of time. Warm them up and serve with a big scoop of vanilla ice cream.
Warm apple desserts a la mode are my favorite!
More desserts: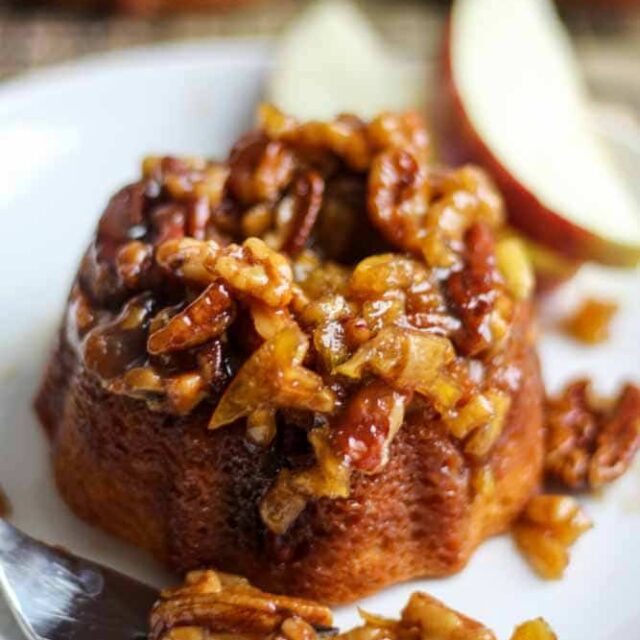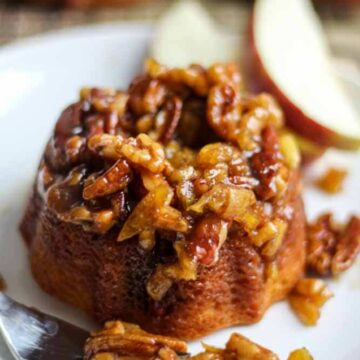 Ingredients
1

cup

brown sugar

packed

¾

cup

unsalted butter

⅓

cup

honey

1

cup

coarsely chopped pecans

1 ½

cup

dices apples

about 2 apples

2 ½

cups

all purpose flour

3

eggs

1

teaspoon

baking powder

½

teaspoon

baking soda

½

teaspoon

salt

2

cups

granulated sugar

1

cup

vegetable oil

1 8-

ounce

carton sour cream

2

teaspoons

vanilla
Instructions
Preheat oven to 350 degrees. Lightly coat a mini bundt pan with non-stick spray and set aside.

In a medium saucepan over medium-high heat combine brown sugar, butter and honey. Heat about 4 minutes until melted and smooth. Stir in chopped pecans and apples and stir for another 2 minutes. Remove from heat and set aside.

In a medium mixing bowl, combine the flour, baking powder and baking soda and set aside.

In a large mixing bowl beat eggs and granulated sugar on medium to high speed for approximately 3 minutes, or until it's thick and a light yellow color. Add the oil, sour cream and vanilla and beat on medium until combined. Gradually add the flour mixture, beating on low speed until smooth and just combined, being careful not to overmix.

Place 2 tablespoons of the pecan and apple mixture in the bottom of each bundt cup. Spoon a heaping ⅓ cup of the batter into each cup on top.

Bake for 25-30 minutes or until a wooden toothpick inserted comes out clean. Cool cakes in pan on a rack for 5 minutes. Using a sharp knife loosen the cakes from the sides of the pan. Place wire rack on top and invert, flipping the cakes upside down. Spoon any remaining pecan and apple mixture on top of cakes. Serve warm with ice cream or let cool.