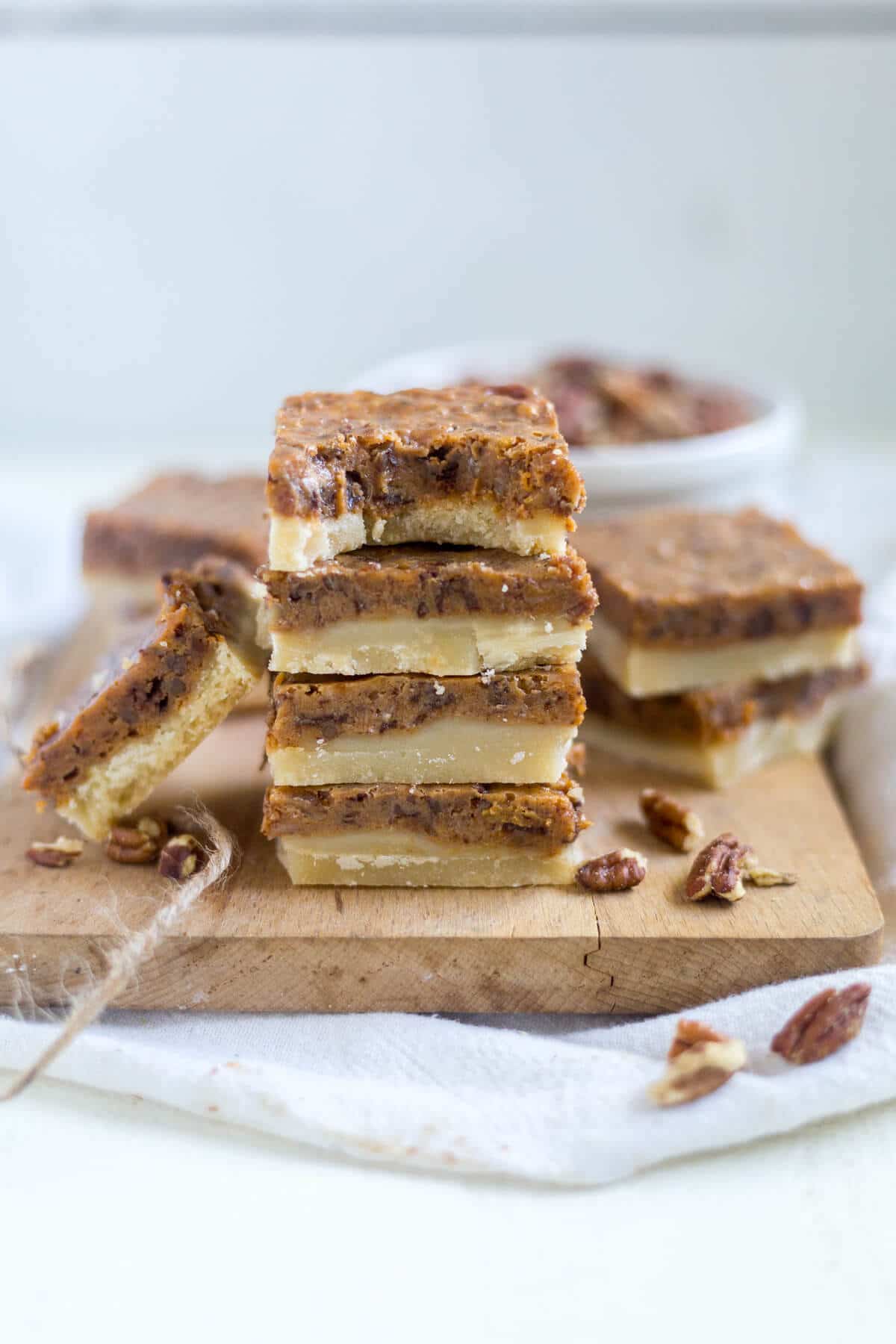 Question: A thick layer of flaky buttery crust that holds a nutty, pumpkin-y and toffee layer drizzled with chocolate – can you handle that?
I sure hope so because that's what is going on in these Pumpkin Pecan Toffee Bars.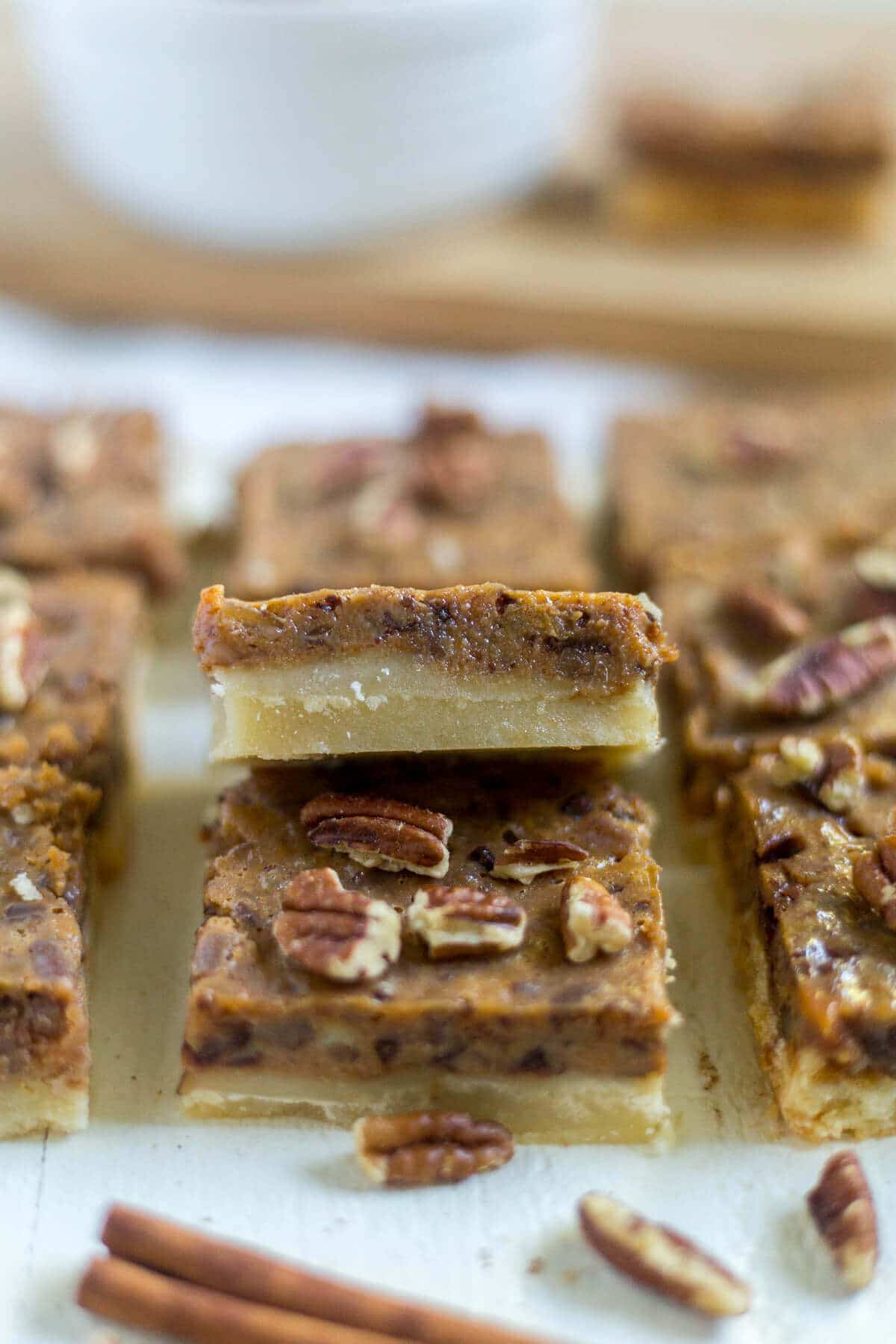 Pumpkin season is in full swing and though I've yet to make a traditional pumpkin pie, I've made enough pumpkin muffins to clean out Libby's for the year. Not to mention the pumpkin spice granola I made this weekend in addition to these. The pumpkin situation going on was just fantastic and I loved every second of it.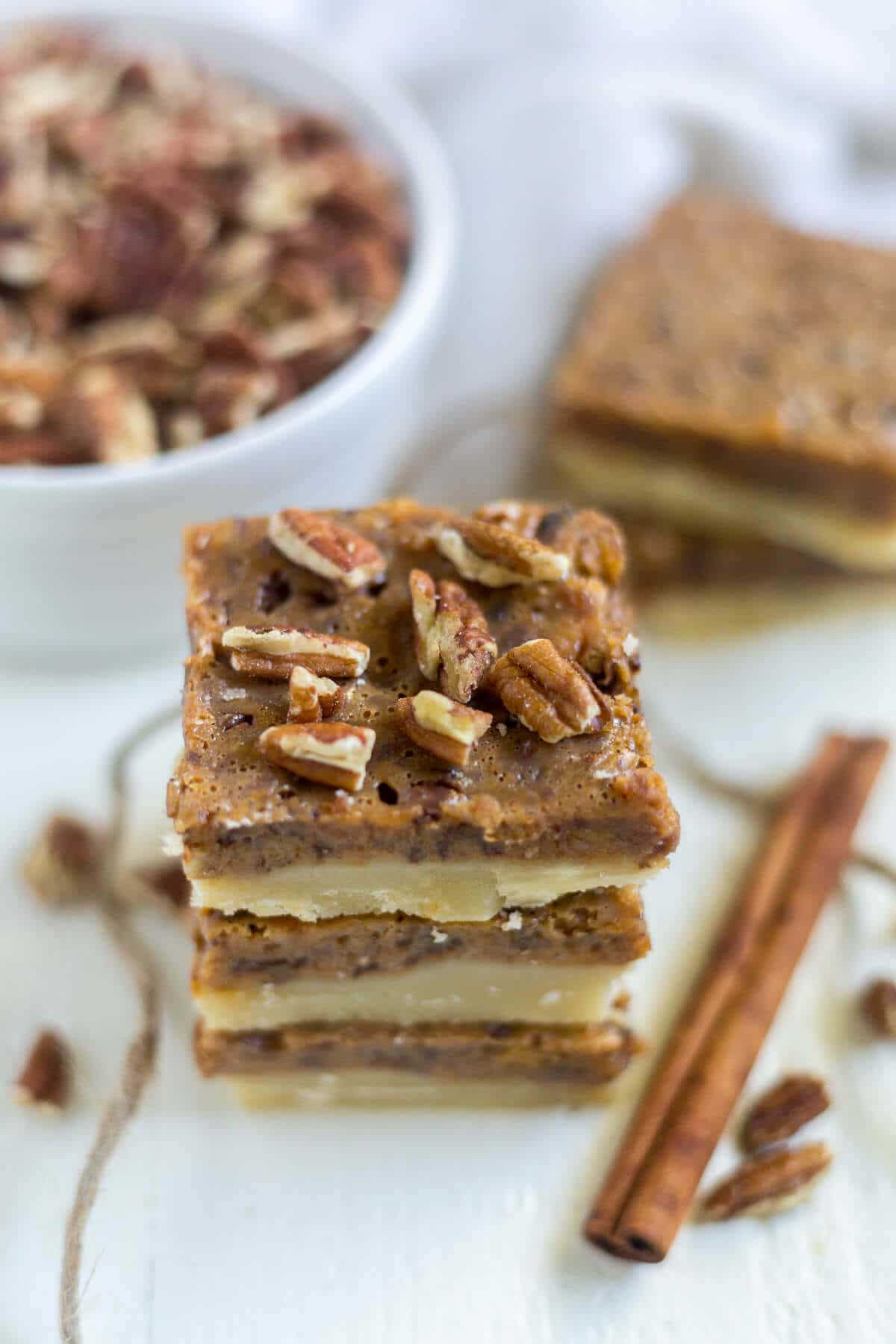 Especially the moment I sunk my teeth into these delectable bars. It was about half way through the baking process when the pumpkin and pecan smells started wafting through the place. I wasn't sure if I could stand waiting to taste them.
Fun fact: I'm extremely impatient when it comes to cooking. I just want to eat it NOW (Violet Beauregarde voice from Willy Wonka). Waiting to flip pancakes? I ALWAYS flip too early. I just get too excited about the finished product and giving them a taste.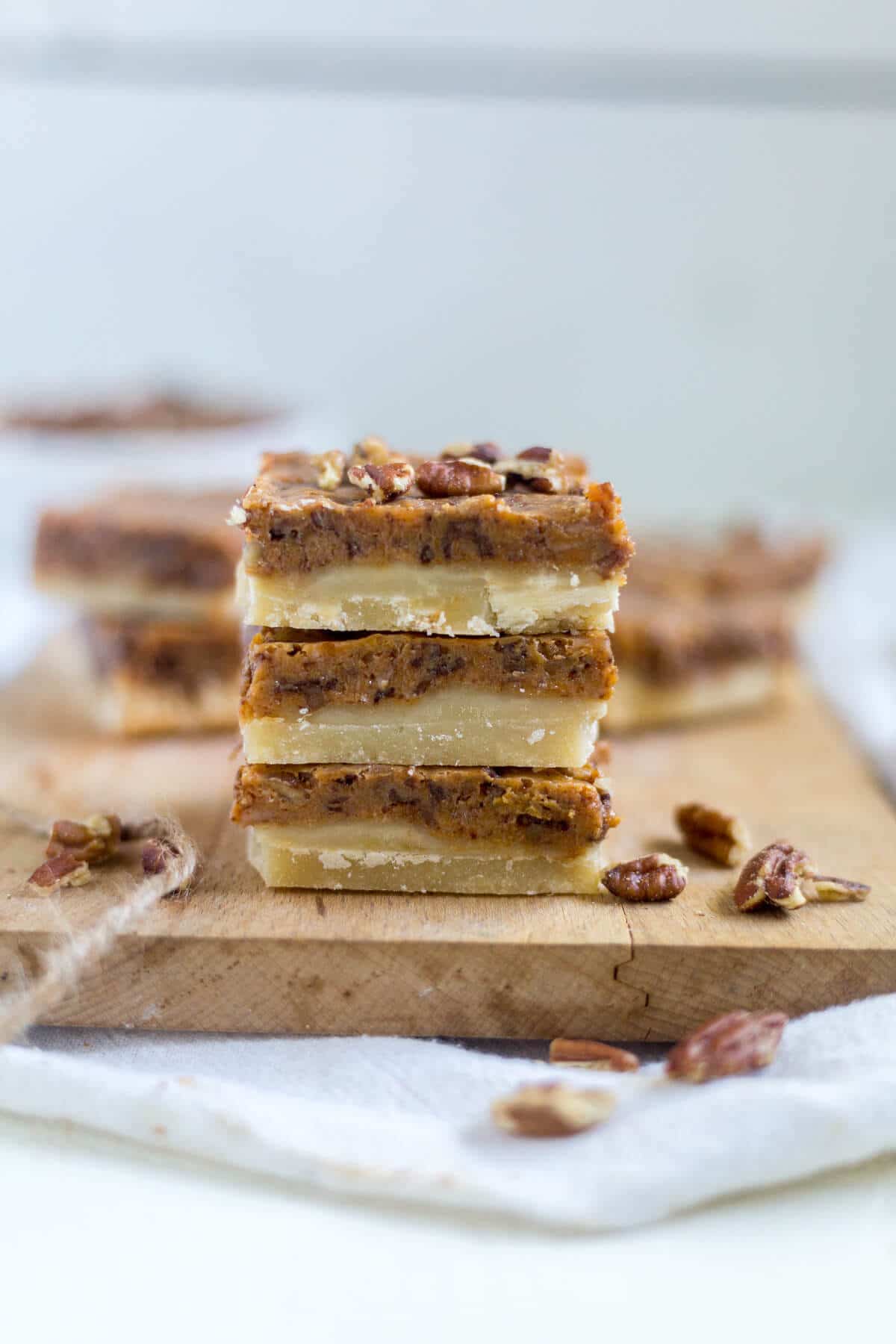 This recipe is especially cruel to impatient people like myself because you have to wait for the bars to completely cool before cutting. But boy is the wait worth it. They're the epitome of fall dessert bars and you 100% have got to try them.
There are so many great things happening in the crust of this bar. The key is cutting the butter into the flour. This is such an important step because the little pieces of cold butter create pockets of fat and when you put it in the oven they melt and create the flaky texture we all love in a good crust. There are a few ways you can do this: use a pastry blender (the easiest and my favorite) or take two knives and cut through.
Then there's the nutty toffee pumpkin layer. Gooey chewy toffee meets pumpkin pie meets pecans. Nuff said.
These bars are inspired by one that Chelsea's mom (hi Cathy!) gave us years ago. Originally this recipe didn't include pumpkin, but come on, it's October and National Pumpkin Day. It's only right to have a million pumpkin desserts.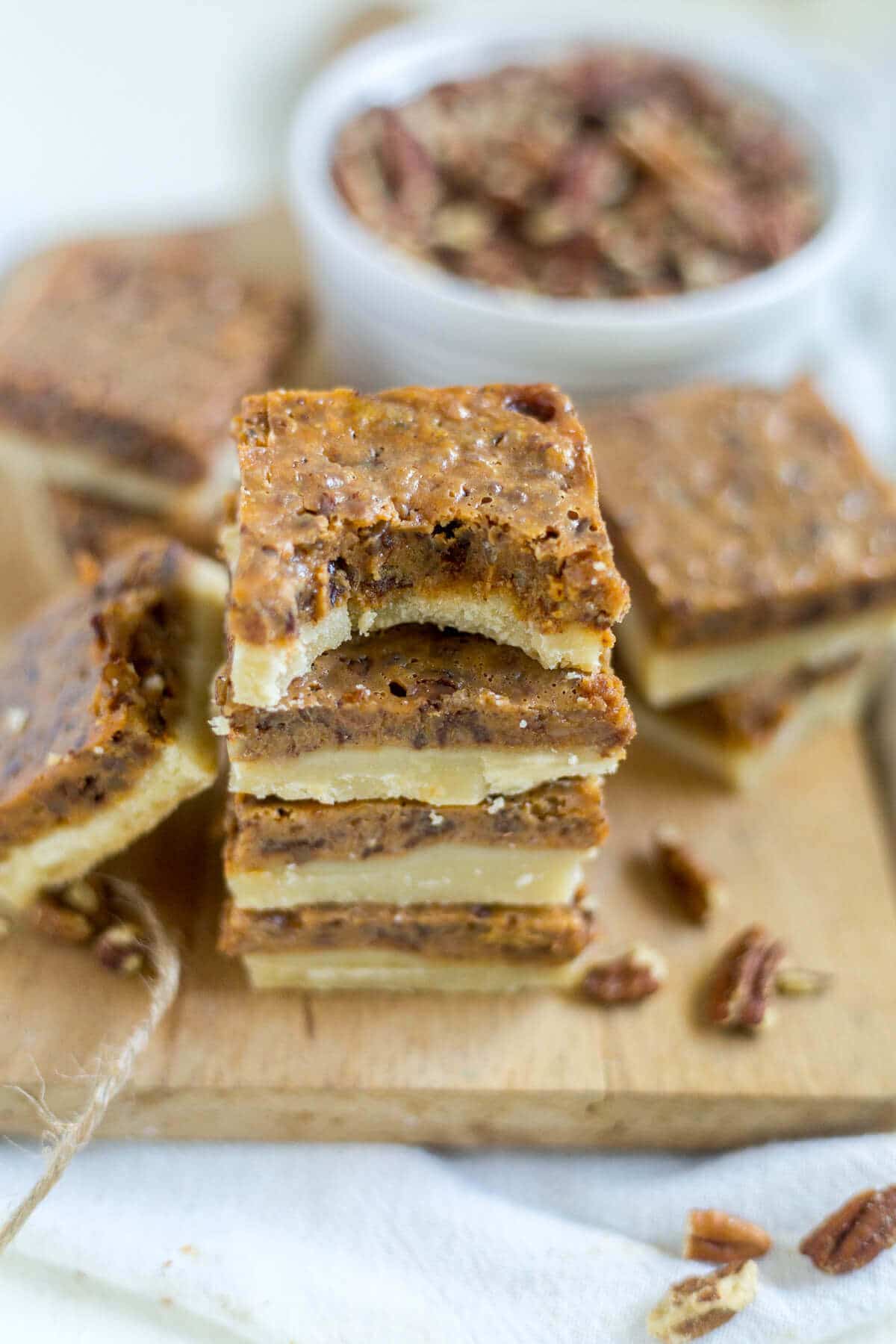 So the bottom line is this: you have got to try this recipe and share with all your friends this fall.
Other fall favorites: pumpkin pie bars with gingerbread crust, paleo pumpkin bars and old fashioned pumpkin donuts.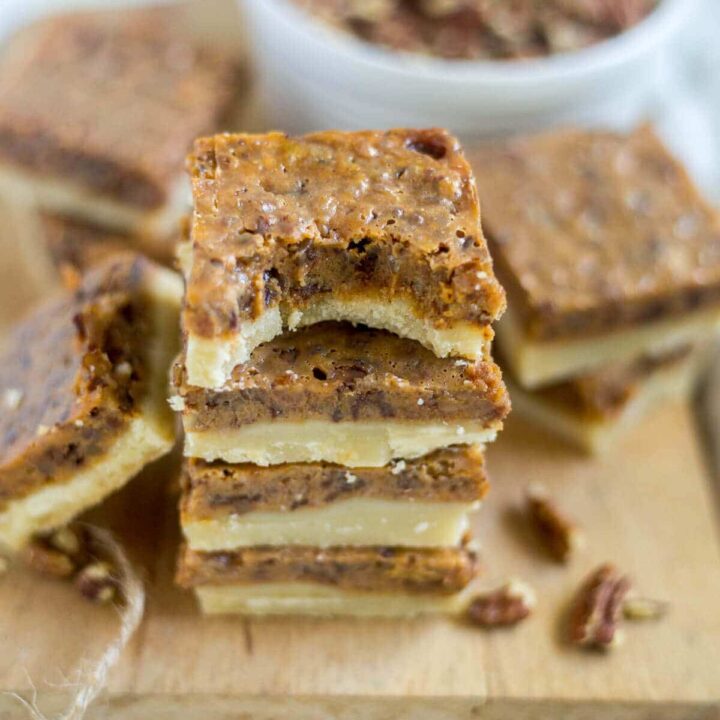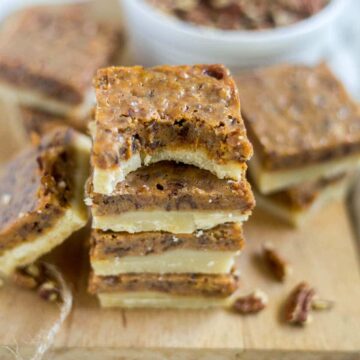 Ingredients
2

cups

all-purpose flour

½

cup

powdered sugar

4

tablespoons

cold water

1

cup

COLD butter

2 sticks

1

egg

1-14

ounce

can sweetened condensed milk

½

cup

pumpkin puree

1

teaspoon

vanilla extract

1

teaspoon

pumpkin pie spice

1- 8

ounce

package Heath Bar toffee bits

1

cup

chopped pecans
Instructions
Preheat oven to 350 degrees and grease a 9x13 baking pan.

In a bowl, combine the flour and powdered sugar. Cut in the butter using a pastry blender or two knives until the mixture is crumbly. Sprinkle in water and mix. Press into prepared pan and bake for 17 minutes.

In a medium bowl, combine the egg, sweetened condensed milk, pumpkin, pumpkin pie spice and vanilla and mix well. Fold in the toffee bits and pecans. Spoon over crust when it's done baking.

Bake again for 25-30 minutes or until golden brown.

Chill completely before cutting.