This 5 ingredient butternut squash soup recipe is healthy and easy! It's a creamy (and vegan!) soup and it's the best for fall. It's made with roasted butternut squash, onions and yummy fall spices.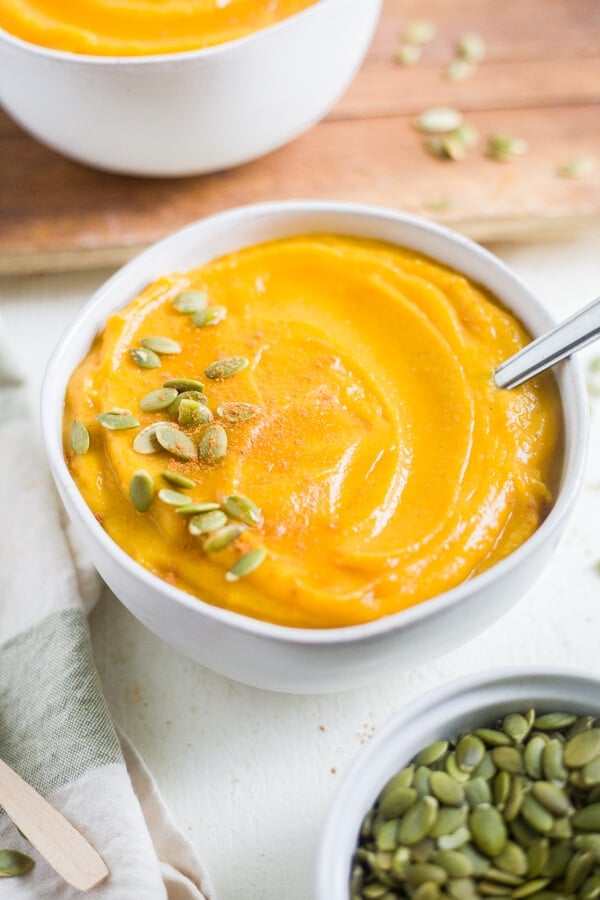 Not only is this 5 ingredient butternut squash soup creamy and delicious, but it's also easy to make and super healthy! Hence the name, you only need a few ingredients to bring this soup together. It's also a great recipe to fit into any diet you may follow.
Does this butternut squash soup recipe fit into my diet?
This butternut squash soup recipe is really versatile and can fit into most diets you follow! It's naturally paleo because it's made with whole foods.
How to make this butternut squash soup recipe Whole30: If you follow a whole30 diet, just remove the pure maple syrup from the recipe. It still tastes really good, it's just a tiny bit less sweet. Still tastes delicious!
How to make this butternut squash soup recipe vegan: If you follow a vegan diet, just swap out the chicken stock or bone broth with vegetable broth. I've done it both ways and it's delicious!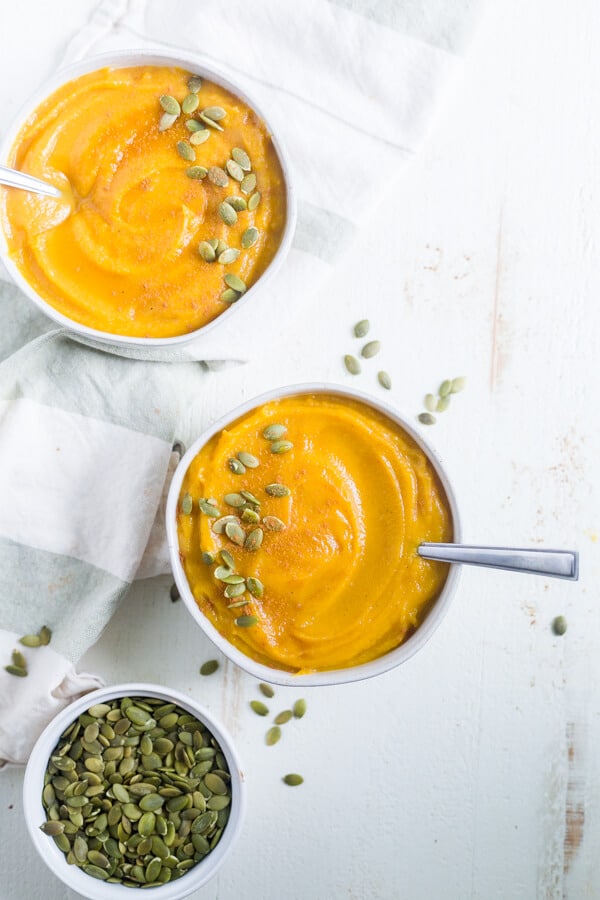 What are the ingredients for butternut squash soup?
As I mentioned, this butternut squash soup recipe is so easy to make! It only has 5 main ingredients, and they're all super simple. You might even have them in your pantry right now!
Butternut squash: The main ingredient in this soup and where it gets most of it's flavor! It makes the soup creamy and it's super healthy for you! Check out the video at the bottom to learn how to peel and cut a butternut squash!
Onion: Sweet onion is a staple in a lot of savory cooking. It adds depth and flavor!
Coconut oil: this is for greasing the pan and cooking! A little healthy fat helps keep you full and adds so much flavor.
Maple syrup: this fall flavor adds a touch of sweetness to the recipe.
Chicken or Vegetable stock: This also adds lots of flavor! I actually like to use bone broth because it's a superfood and so great for your gut health, but chicken stock is great too and vegetable stock is also a great option for vegan butternut squash soup.
There are a few spices in this recipe as well to give it some extra flavor, but I don't count them as ingredients here because they're very likely things you already have in your pantry! The spices include: salt, pepper, cinnamon and nutmeg.
How do you make butternut squash soup easy?
This butternut squash soup recipe is inherently easy to make. With only 5 ingredients, they come together easily! Start by roasting the butternut squash (video below!). Peel and cut the squash and place it in the oven for 40 minutes to soften and brown a bit.
While it's roasting, cook the onion in coconut oil in a large dutch oven or stock pot. When it's done, add the butternut squash chunks to the pot, add the stock on top of that and allow it to cook for a while. Use a blender or immersion blender (my fave!) and blend it all together until soup is smooth and creamy.
Add the spices and maple syrup and you're done! That's how easy it is!
What are good spices to add to butternut squash soup?
My favorite spices to add to this butternut squash soup recipe are cinnamon, nutmeg, salt and pepper. Easy as that! The cinnamon and nutmeg are traditional fall recipes. You'll use a good amount of cinnamon then just a pinch of nutmeg. It adds a little more sweetness because you typically use it in baked goods. People will wonder what the secret ingredient is!
Salt and pepper are just to enhance the flavor of the soup itself. If you feel like it needs a little more or less based on your taste, you can customize!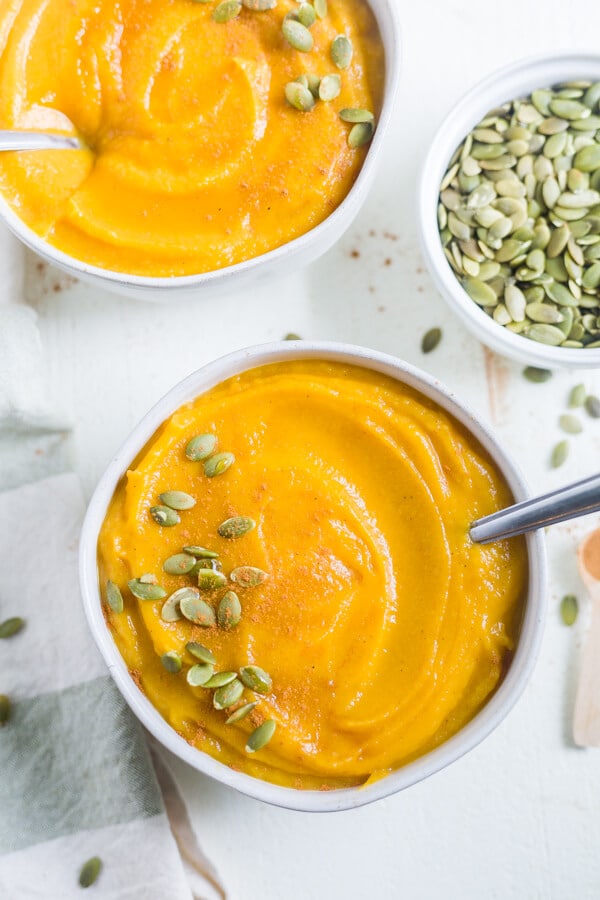 How to peel and cut butternut squash:
Start by peeling the butternut squash with a traditional potato peeler. Make sure you always peel away from yourself. Once it's peeled, but off both ends then cut the squash long ways down the middle. Next, scoop the seeds out and either save them to roast or toss them. Last, cut it into chunks and you're done!
Watch this video to learn how to cut a butternut squash:
[VIDEO]
If you love this fall recipe as much as I do, don't forget to follow me on Instagram and tag me with @what_mollymade so I can see it and feature you!
More fall recipes: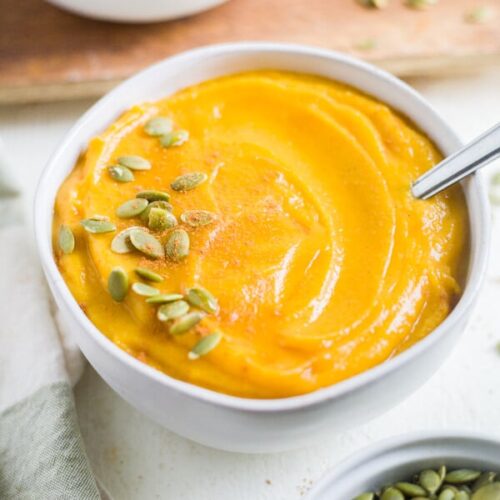 Ingredients
4

tablespoons

olive oil

separated

1

medium butternut squash

3

cups

chicken stock, vegetable stock or bone broth

1

yellow onion

diced

¼

cup

pure maple syrup

½

teaspoon

ground nutmeg

1

teaspoon

ground cinnamon

1

teaspoon

sea salt

plus more to taste

¼

teaspoon

black pepper

plus more to taste
Instructions
Preheat the oven to 400°F and spray a large baking pan with non stick spray. Peel the butternut squash using a potato peeler. Cut off the ends and cut the squash in half long ways. Scoop out the seeds then cut the squash into chunks. Add to the prepared baking pan, toss with a 2 tablespoons of olive oil and salt and pepper then roast in the preheated oven for 40 minutes.

While it's roasting, heat the other 2 tablespoons of olive oil in a large dutch oven or stock pot and add the chopped onion over medium heat. Cook until the onion is translucent and starts to turn golden, 2-3 minutes.

When the squash is done, add it to the pot with the onions. Add the stock, stir and let simmer for 10 minutes at medium-high heat.

Using an immersion blender, mix the soup until it's a smooth and creamy consistency. Or transfer to a blender and mix well if you don't have an immersion blender.

Place back in the soup and add the maple syrup, nutmeg and cinnamon. Stir well.

Serve immediately or store in an air tight container in the fridge for up to three days.