Get ready for an easy, paleo dinner! Sausage and apple stuffed acorn squash is a clean eating dinner the family will love. If you are paleo or whole30, this recipe is for you!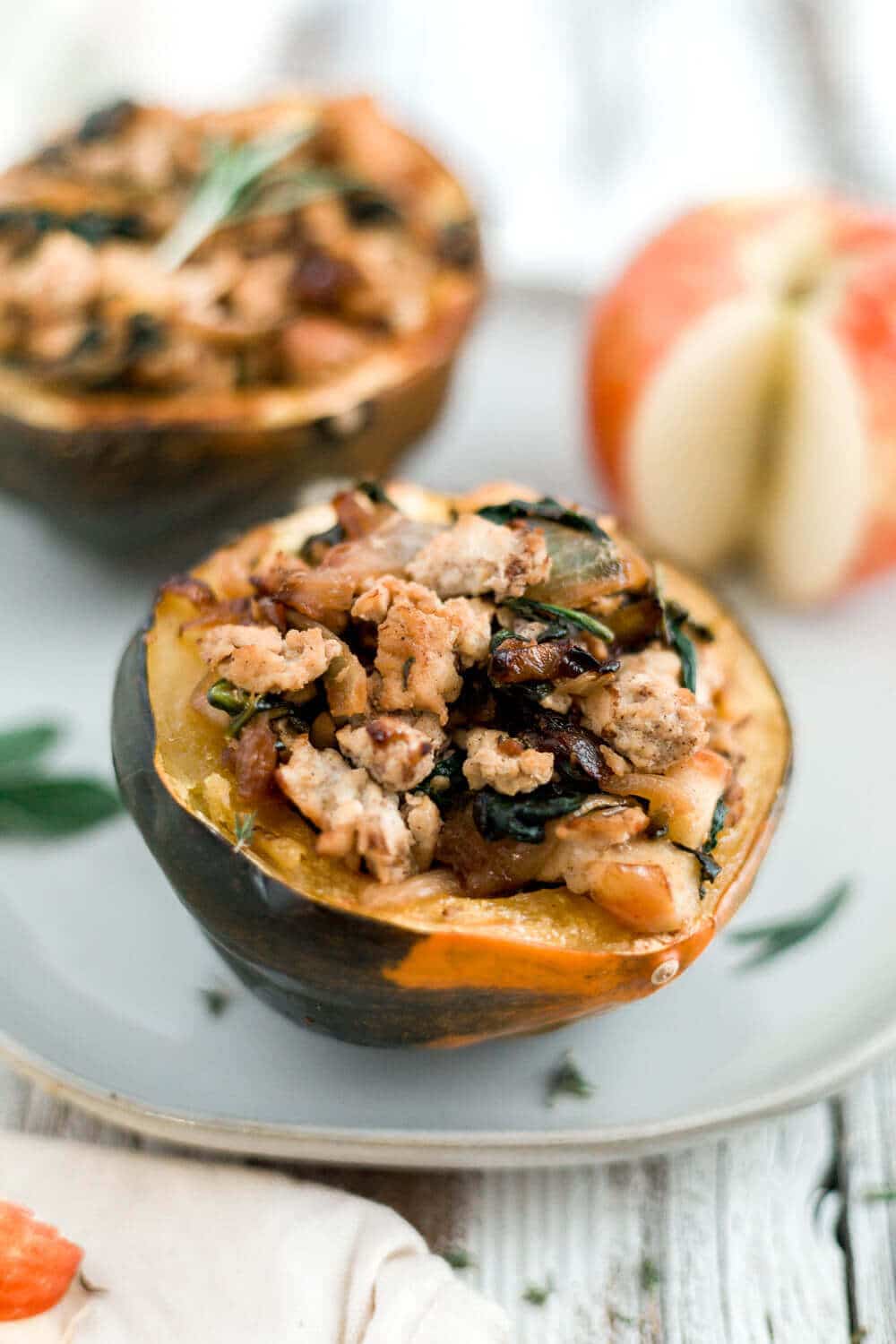 I don't think squash should be a thing we only eat in the fall. It's a year-round ingredient in our home. And for good reason! It tastes delicious, it's filling and it's a veggies!
I've been making stuffed acorn squash and after sharing this recipe a week or so ago on Instagram stories I thought it was time to share it with all of you.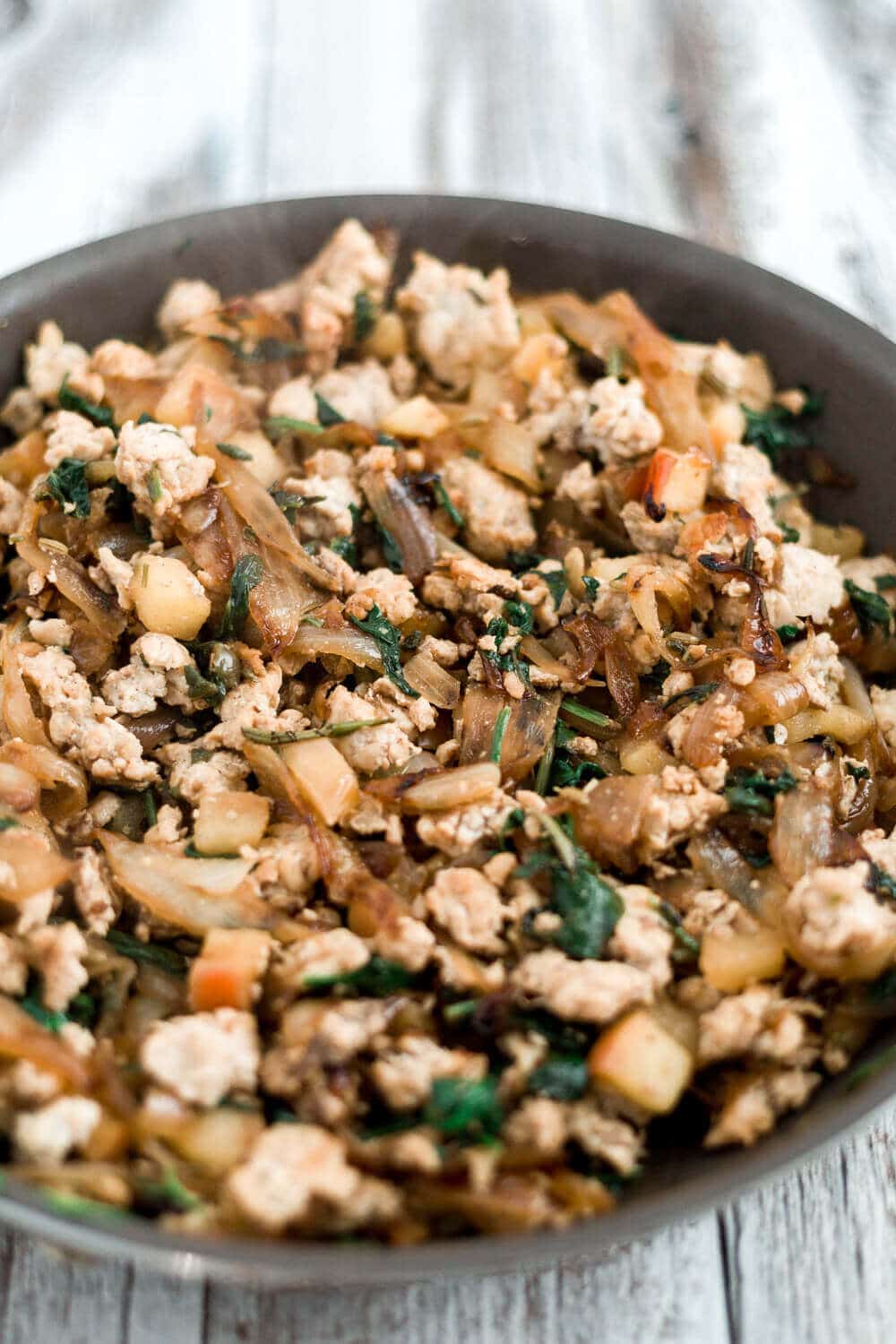 Ingredients for stuffed acorn squash:
Acorn squash is the star of the show. Once you scoop out the seeds it has an empty center that lets you stuff all the yummy filling inside. You can get them at your local grocery store!
Onion gets caramelized in this recipe and adds depth and sweetness. Grab a large yellow onion!
Apples give this stuffed acorn squash recipe more sweetness. Cube them small! I recommend a Pink Lady or Honeycrisp apple for cooking.
Pork or chicken sausage adds just a little spice and even more flavor. Make sure you get a sausage that's sugar free! I've also got notes below to make your own sausage if you can't find any sugar free sausage.
Spinach or kale add a green to this recipe that makes it even healthier. It's a great way to add greens if you aren't a big salad person!
Fresh herbs like sage, rosemary and thyme add more flavor and a freshness that's so important. I love fresh rosemary!
Then of course there's staples like olive oil or ghee and salt and pepper!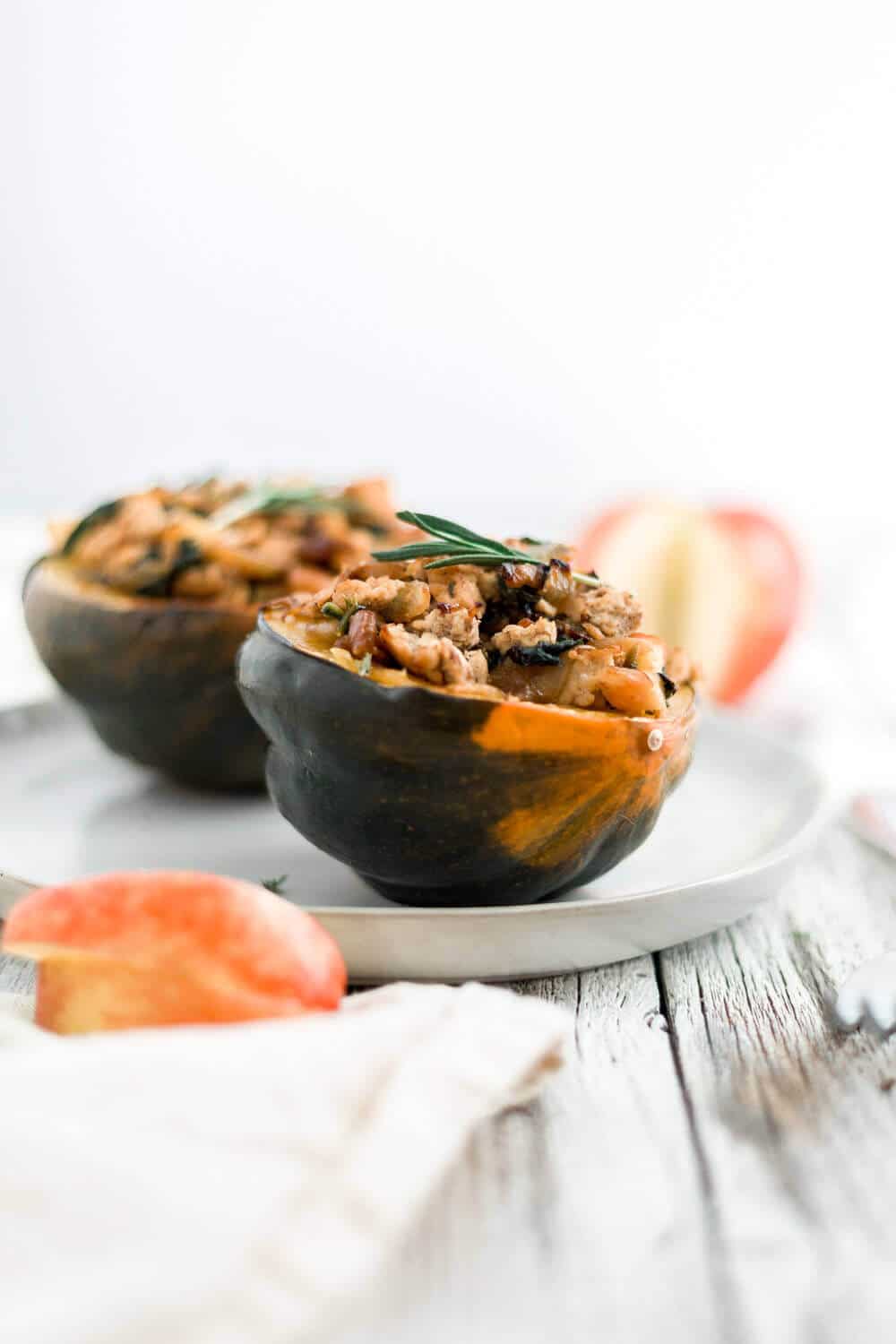 Stuffed Acorn Squash Q&A:
How do you cook stuffed acorn squash?
You cook stuffed acorn squash by halving and roasting the acorn squash in the oven for about 30 minutes until it's soft. While it's roasting, you'll make the filling on the stove. Once the acorn squash is soft, add the filling inside and place it back in the oven to broil for a few minutes.
Is acorn squash healthy?
Acorn squash is very healthy! It's a vegetable! You can roast it and eat it plain with some grass fed butter and cinnamon or you can use them to make a healthy dinner recipe like this paleo and whole30 stuffed acorn squash.
How can you tell if an acorn squash is bad?
The best way to tell if acorn squash has gone bad is if the seeds inside of it are slimy and grey. The acorn squash should be heavy for its size. They last at room temperature for up to two months so if you're in that window it should be good.
What is the best way to store acorn squash?
If you haven't cooked the acorn squash yet, the best way to store it is to leave it in your pantry or on your counter top at room temperature. No need to keep it in the fridge!
If you've already cooked the acorn squash, like in this sausage and apple stuffed acorn squash recipe, then find a storage container with an airtight lid and place them in the fridge for up to one week.
How to eat stuffed acorn squash:
I highly recommend eating stuffed acorn squash with a spoon! You'll be able to scoop up all the delicious filling and scrape the sides of the squash against the skin.
My favorite recipes are always ones you can double and freeze. This stuffed acorn squash is another one that stores well in the freezer.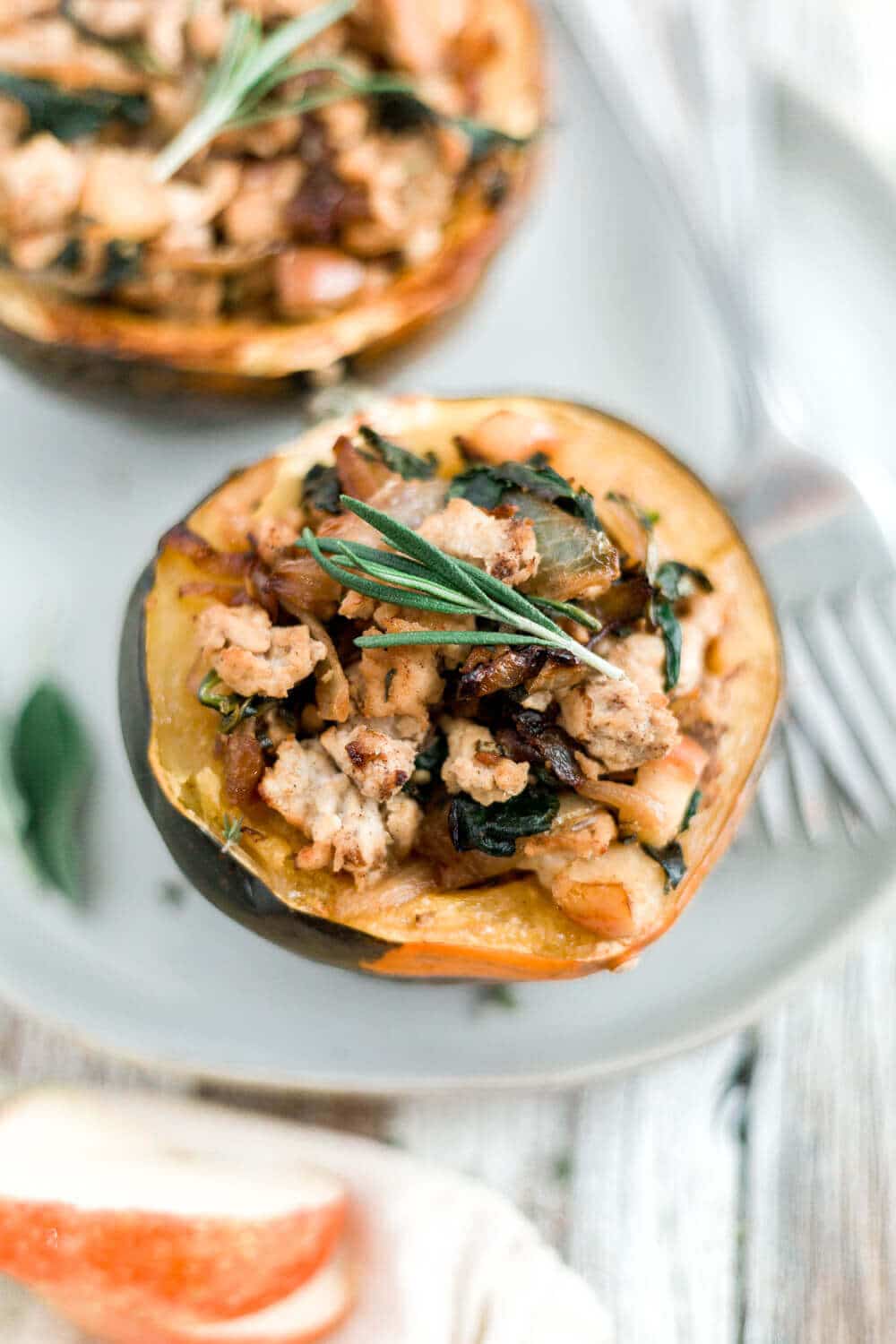 How to freeze stuffed acorn squash:
Place them in a deep air tight container and close the lid. Place in the freezer for up to 3 months.
Thaw and heat: that the stuffed acorn squash in the refrigerator over night then place them back in the oven at 350°F for 20 minutes or until warm. You can also reheat in the microwave.
I hope you love this recipe as much as we do! If you make it, don't forget to follow me on Instagram and tag me with @what_mollymade so I can see it and feature you.
More healthy squash recipes: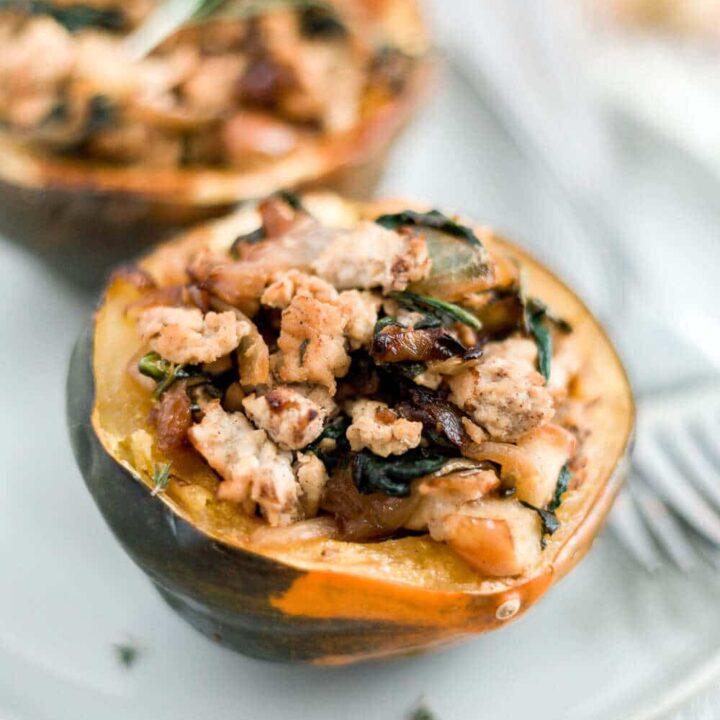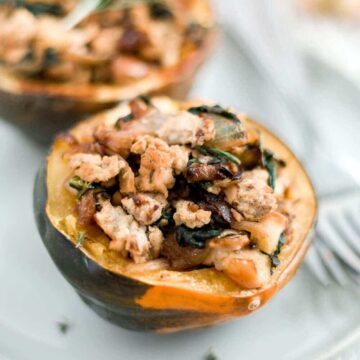 Sausage and apple stuffed acorn squash
Get ready for an easy, paleo dinner! Sausage and apple stuffed acorn squash is a clean eating dinner the family will love. If you are paleo or whole30, this recipe is for you!
Print
Pin
Rate
Save
Saved!
Ingredients
3

medium acorn squash

3

tablespoons

ghee coconut oil

or olive oil

1

large yellow onion

thinly sliced

3

cloves

garlic

minced

1

lb

sugar free pork or chicken sausage - see notes to make your own sausage

1

large

or 2 small apple, diced (leave skin on)

1

tablespoon

fresh rosemary

chopped

1

tablespoon

fresh sage

chopped

2

teaspoons

fresh thyme

chopped

2

cups

fresh spinach or kale

roughly chopped

sea salt and black pepper to taste
Instructions
Preheat your oven to 400 degrees and line a baking sheet with parchment paper.

Cut the acorn squash in half lengthwise and scoop out the seeds/strings in the center. Place the 6 halves open-side down on a baking sheet covered in foil or a silpat mat. Roast for 25-35 minutes, or until the squash is tender to the touch.

While the squash is roasting, make the filling. In a large skillet over medium-low heat, add the ghee, coconut oil or olive oil to the pan then add the onion. Cook for 20 minutes to caramelize the onions, stirring every 2-3 minutes so they don't burn. When the onions are caramelized, add the garlic and cook for 1-2 more minutes. Add the sausage

Add the sausage to the onions and turn the heat up to medium. Then add salt and pepper to taste then cook the sausage for 6-8 minutes, stirring often to break up clumps.

Next add the chopped apple, kale or spinach and fresh herbs and stir to cook until the spinach/kale wilts.

When the squash is done, remove from the oven and careful flip them over so the inside and the whole are facing up. You may need to do this with an oven mit. Divide the filling evenly between the 6 halves.

Switch the oven to broiler and place the stuffed acorn squash back in the oven for 3-5 minutes until the tops get browned and crispy. Remove from the oven, cool slightly and enjoy!
Notes
To freeze, place in an airtight container and store in the freezer for up to 2 months. Thaw overnight in the fridge and warm at 350°F for 20 minutes or until heated all the way through. To make your own sausage, add the raw ground chicken or bowl to a medium bowl. Add 1 teaspoon of fennel seeds, 1 teaspoon garlic powder, ½ teaspoon ground black pepper, 1 teaspoon dried sage, ½ teaspoon onion powder, 1 teaspoon sea salt and a pinch of nutmeg. Mix well with your hands or a spoon before adding to the recipes to brown.
Nutrition
Serving:
1
half
|
Calories:
347
kcal
|
Carbohydrates:
29
g
|
Protein:
15
g
|
Fat:
21
g
|
Sodium:
62
mg
|
Sugar:
3
g
SHOP THIS RECIPE: