Healthy, gluten-free pho with your favorite Thai flavors! It's smooth and creamy from the coconut milk and packed with so much flavor from the curry. It's become a lunch and dinner staple in my life!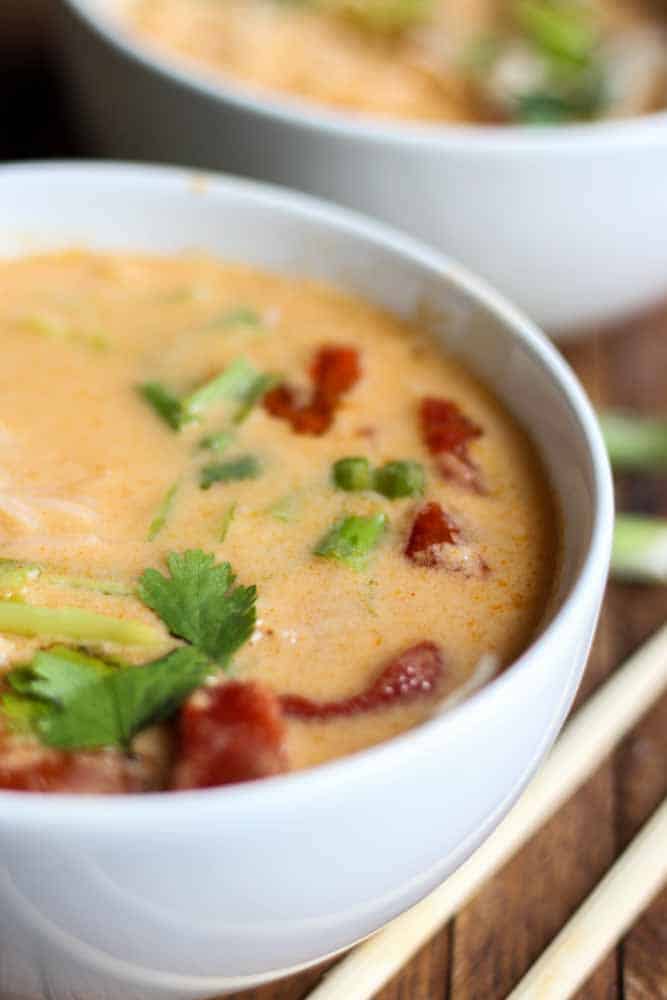 You guys, last week was insane. Both my clients were coming in to the office on the same day. And one of my clients was expecting a huge report on our strategy for the first six months of this year. We had to report on what we've done and give recommendations for the rest of the year. Talk about stress.
I'm not usually one to get stressed, but this week got to me. Redoing this report no less than 5 times took a toll. Which is why you didn't see any new recipes happening over here last week.
But the good news? I MADE IT. And man did I learn a lot.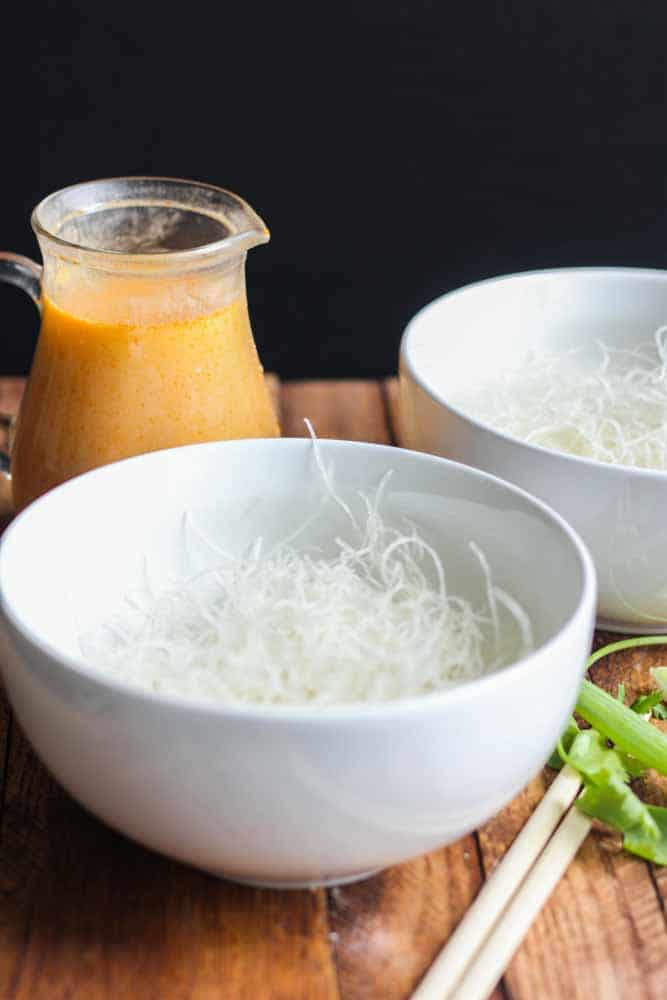 It's so easy to get caught up in the little things, like a not so nice comment someone makes about your work, or a mean look across the room. But as long as you gave your best effort and know you did all you can that's all that matter, right?
I also learned that a small, kind gesture goes a long way. When emotions are running high and there's some serious pressure to deliver it's easy to take it out on others. I tried so hard last week to make the small moments count throughout the process. An appreciation email, a thank you note or a side comment to show some love makes all the difference. It changes the mood, instantly reassures someone to believe in themselves and improves the moral (and eventually the work).
That said, my new goal from now on is to do one small (but impactful) good deed a day. Something small can change the course of someone's day and I hope I can be a part of making that happen for someone else.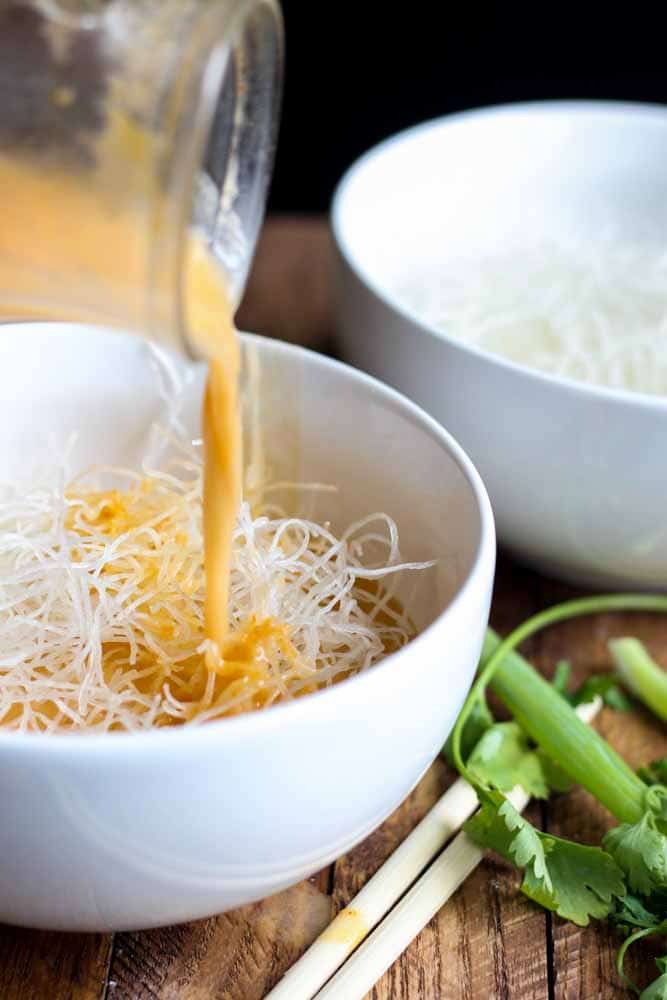 Know what else changes the course of someone's day? This Thai Curry Pho?
It's so surprisingly healthy in all it's creamy, comforting glory. I'm so looking forward to making it again!
To make this Pho you just need one pot. And lots of healthy and flavorful ingredients including, coconut oil, coconut milk, thai curry paste, ginger, garlic and chicken broth. You mix the majority of the ingredients in a blender then bring it to a boil to get nice and hot.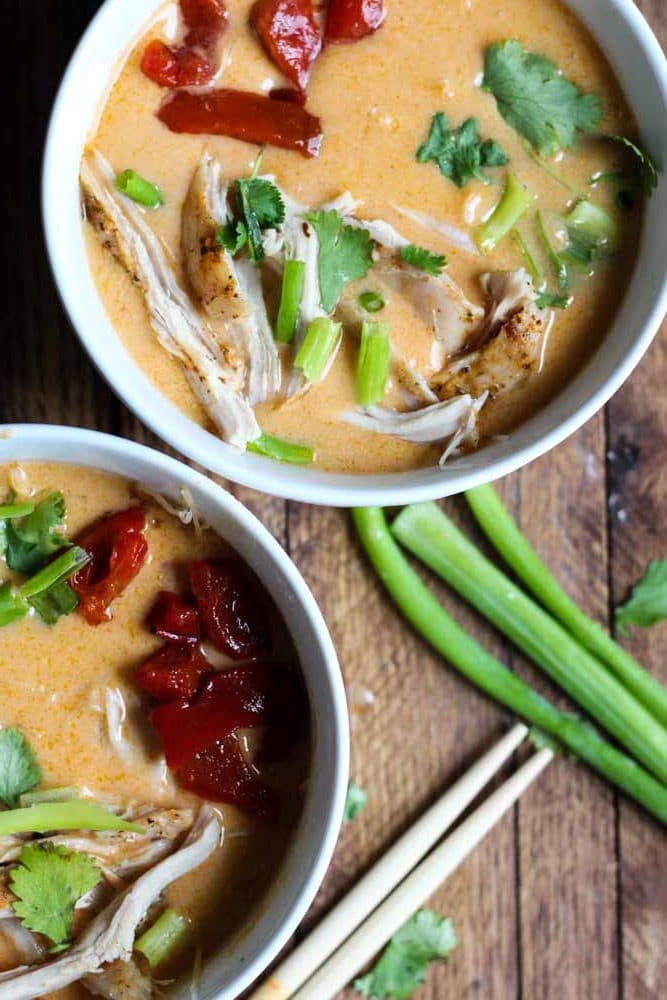 The coolest part (I think) is that you don't even need to cook the rice noodles. They're so thin that the boiling hot curry broth is hot enough that it cooks the noodles when you pour it over them right in the bowl.
Top with your favorite toppings! Mine included shredded rotisserie chicken, cilantro, roasted red peppers and onion. But you can get crazy! Bean sprouts, more ginger, beef. The options are endless, really.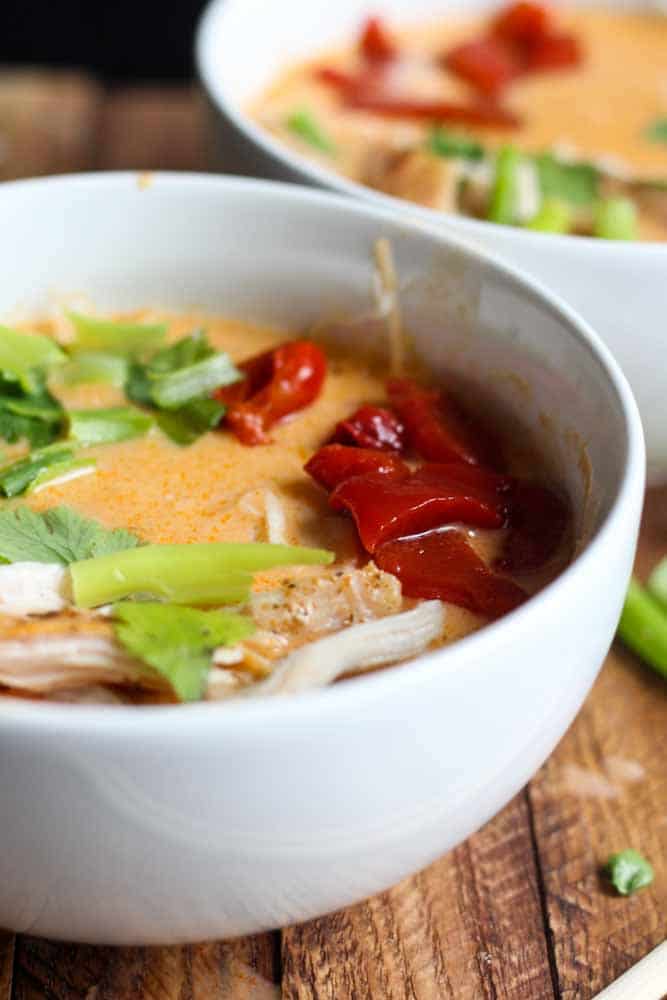 And it makes four giant servings! My boyfriend and I both had a big bowl and I had enough for lunch and dinner the next day.
It's exactly what I need to comfort my soul on those hard/stressful days!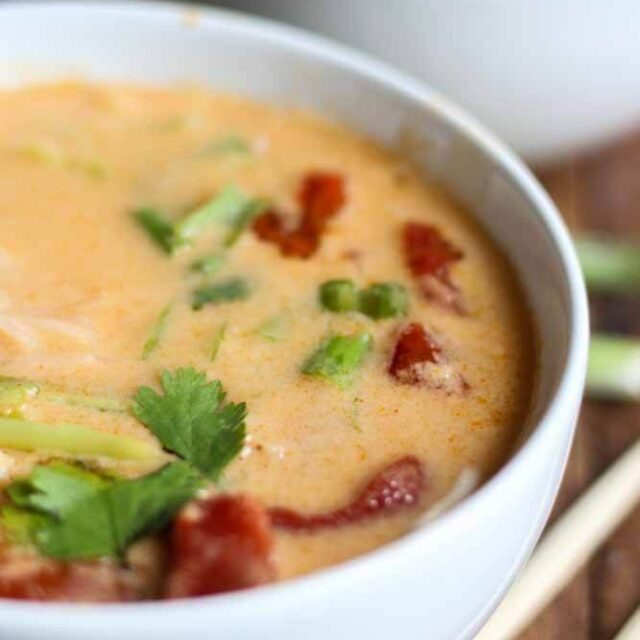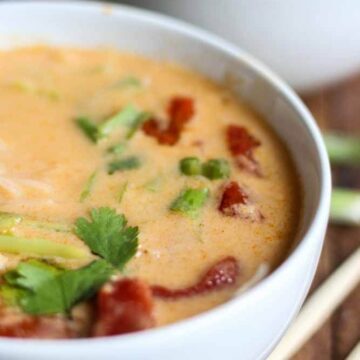 Ingredients
4

garlic cloves

chopped

2 ½

tablespoons

fresh ginger

2

tablespoons

red curry paste

2

tablespoons

coconut oil

4

cups

vegetable or chicken broth

3

cups

coconut milk

6.75

ounces

of rice sticks

really thin rice noodles

Fresh cilantro

thai basil, red peppers, shredded chicken and green onions to garnish
Instructions
Combine the garlic, ginger and curry paste in the food processor (or mince and mash together in a small bowl). Add the coconut oil and combine everything well.

In a large pot, heat the curry-coconut paste over medium heat, warming the paste gently for 1-2 minutes until it starts to bubble slightly.

Add the chicken broth and deglaze the pot by stirring to mix everything together. Add the coconut milk, stir and bring the broth to a boil. Season to taste with kosher salt.

Divide the rice sticks evenly between large bowls. Pour the boiling broth over the noodles let sit for approximately 3 minutes to cook.

Garnish with shredded chicken, cilantro, thai basil, red peppers and green onions, if desired.