Rustic homemade granola tossed together and baked until golden and crunchy. The almond and vanilla flavors are so delicious and the honey adds the perfect sweetness to eat on its own or compliment a big bowl of granola.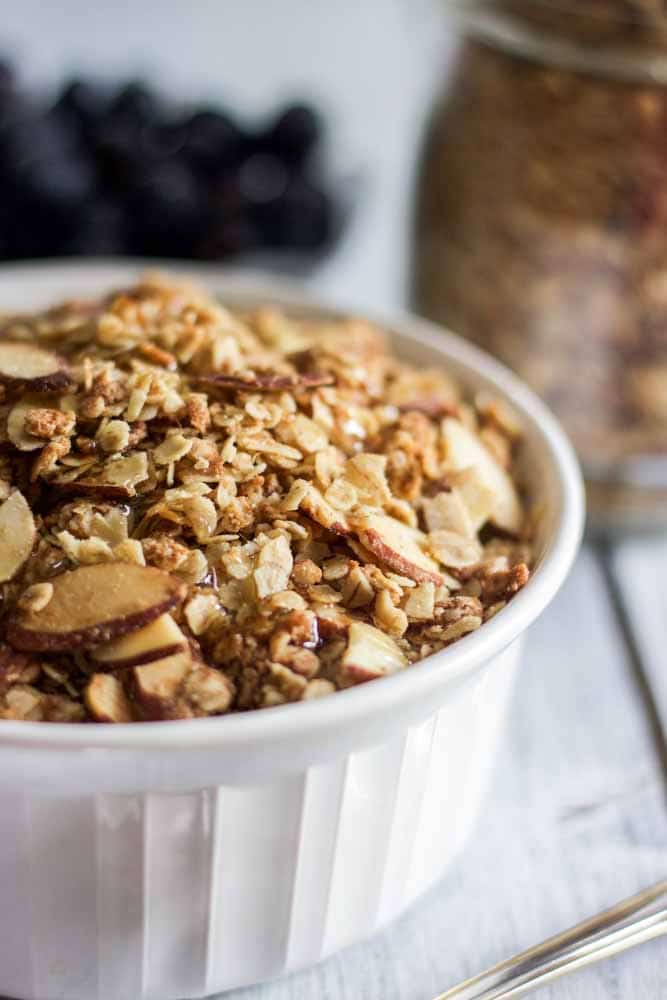 Let's be real for a second here.
I'm sitting on my apartment couch this morning looking at this crunchy rustic and healthy granola, pretending like I have my life together and that I'm going to write a perfect and thoughtful post about how wonderful and perfect this granola is (which it totally is). But considering the following...
I just returned from a week long vacation visiting my very best college friends. Fierce lady friendships were in full force last week. And I loved every second of it.
and said vacation took place in Charleston, SC and it's the most historic, gorgeous and adorable place I've been. Not to mention the food was on another level (more to come on where I went to eat!) and I can't stop day dreaming about it.
that my legs are as fried as a lobster and this hot lab top sitting in my lap is seriously making it very difficult to write.
and that my entire being looks like I went straight from the beach, to 10 hours in the car, to bed and to this couch to write, which is exactly what I did.
...It's probably best to come out and say that my brain is still in post-vacation mush slash stressing about the hundreds of emails waiting in my inbox. Woof.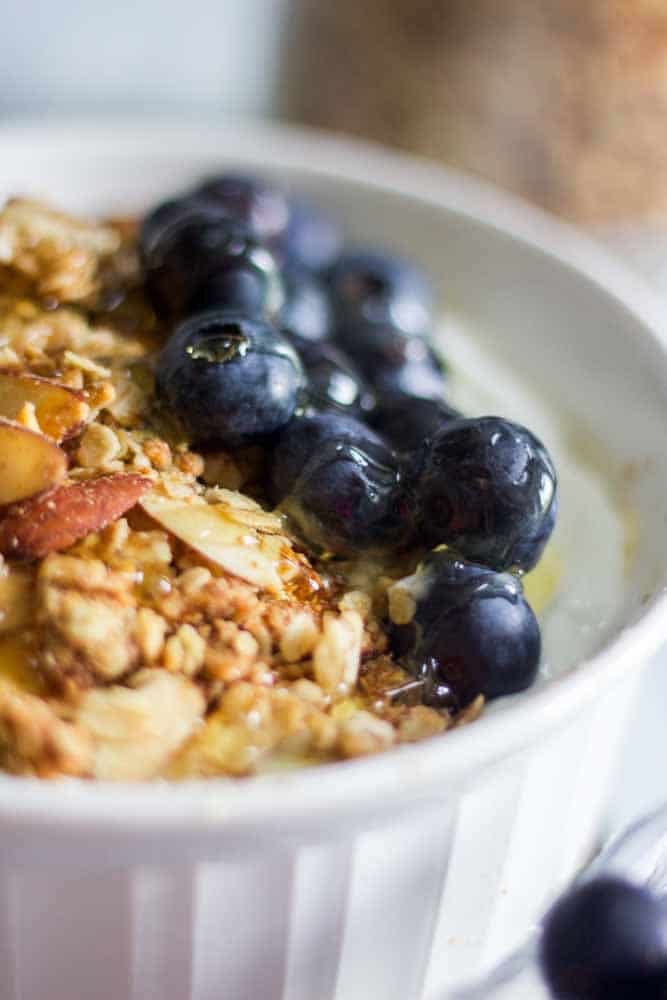 And that my sole goal for the day is to eat at least one vegetable and attempt to walk across the street to the grocery store. If I brush my hair today I'll consider it a win. And I'll be drinking all the coffee. Obvi.
And you know what would be just perfect with coffee? This VANILLA ALMOND GRANOLA on top of a big ole bowl of vanilla yogurt, topped with blueberries and a drizzle of honey. That would surely cure my Monday blues.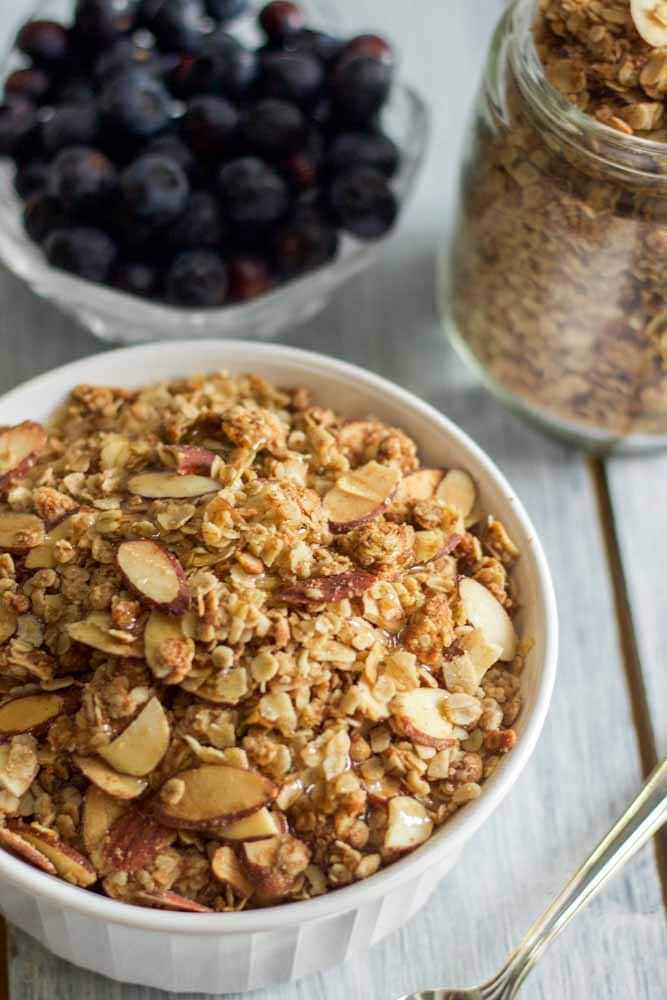 Have you ever taken a look at the nutrition ingredients on the pre-made packaged granola? It's scaryyyy. Words I can't even pronounce in the ingredient list and so much sugar it would make my yogurt parfait have more sugar than a McDonald's ice cream cone.
Nope. No thanks.
I'll take this easy-to-make, healthy and flavorful homemade granola. One batch makes like 6 cups and lasts all the week long and it comes together so fast! It makes it so easy to throw on top some yogurt in the morning.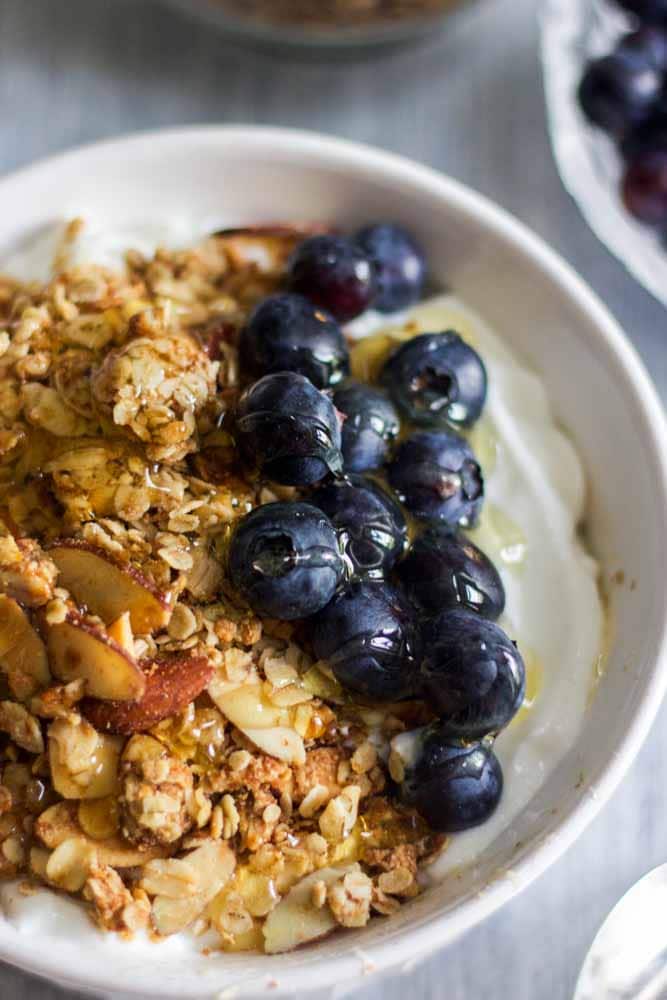 Next weekend when I have my life together I will be making this homemade granola for the whole next week. I really just can't wait!
AND, as promised, here are all the restaurants I went to in Charleston:
They're all amazing, just like this granola!!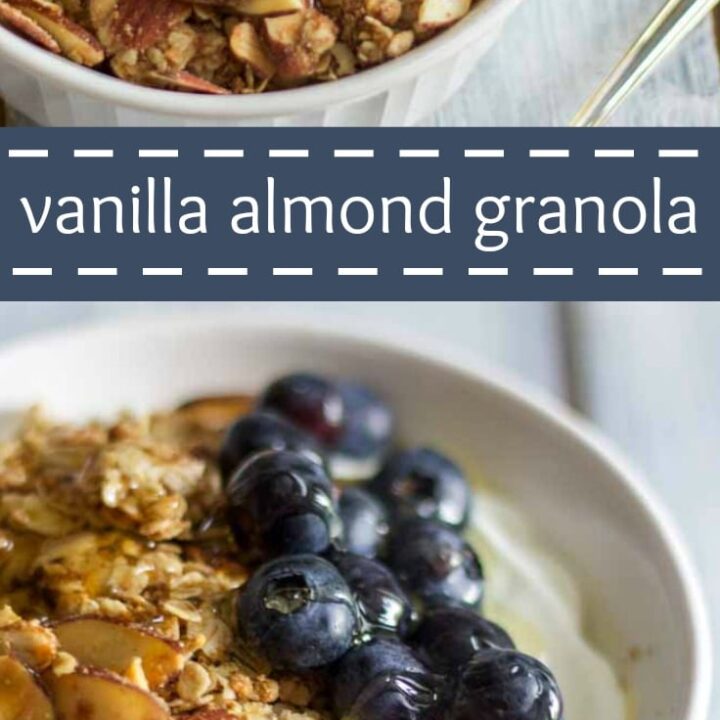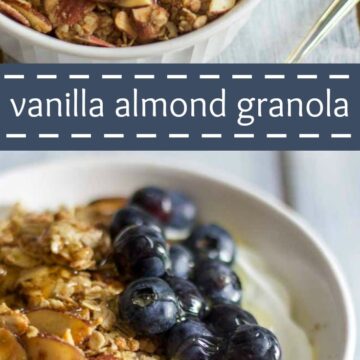 Ingredients
6

cups

rolled oats

not the quick instant oats

1

cup

slivered almonds

1

cup

chopped pecans or walnuts

I used walnuts

1

cup

whole wheat flour

1

teaspoon

cinnamon

1

teaspoon

salt

½

cup

honey

1

cup

coconut oil

melted

¼

cup

maple syrup

1

tablespoon

vanilla
Instructions
Preheat the oven to 325 degrees.

In a very large bowl, combine the oats, almonds, pecans, whole wheat flour, cinnamon, salt, and sugar if using. Stir to combine.

Whisk the melted coconut oil, maple syrup and the honey together. Pour over the oats mixture and stir until the mixture is well combined and is completely coated. Pour into a large baking sheet in a single layer. It will be a thick layer, which is okay, you want it to create large clusters.

Bake for 20 minutes, stir and bake for another 10 minutes. Stiry again and bake for a final 5 minutes and remove from the oven.

Do not stir right away. The granola will will become more clumpy as it dries.