This Chocolate Peanut Butter Protein Granola is crunchy, flavorful and packed with healthy ingredients. It's a delicious way to start the day! This post is sponsored by Vital Proteins, all opinions are my own.
Delicious breakfasts make my days so much better. I've been working on changing my morning routine to start the day with a calm mind and confidence to take on whatever is ahead. Part of that is eating a healthy breakfast.
When I eat a healthy breakfast in the morning that keeps me full I concentrate more (I struggle with this) and I'm able to work faster and more efficiently. But I don't just want a healthy breakfast I force myself to eat because I know it's healthy.
I want to actually enjoy my breakfast.
Being able to look forward to what you're going to eat in the morning is key for me. I actually wanted to go to bed early so I could wake up and eat this Chocolate Peanut Butter Protein Granola. Anyone else do this same thing?! It usually happens or me with coffee or a great breakfast recipe.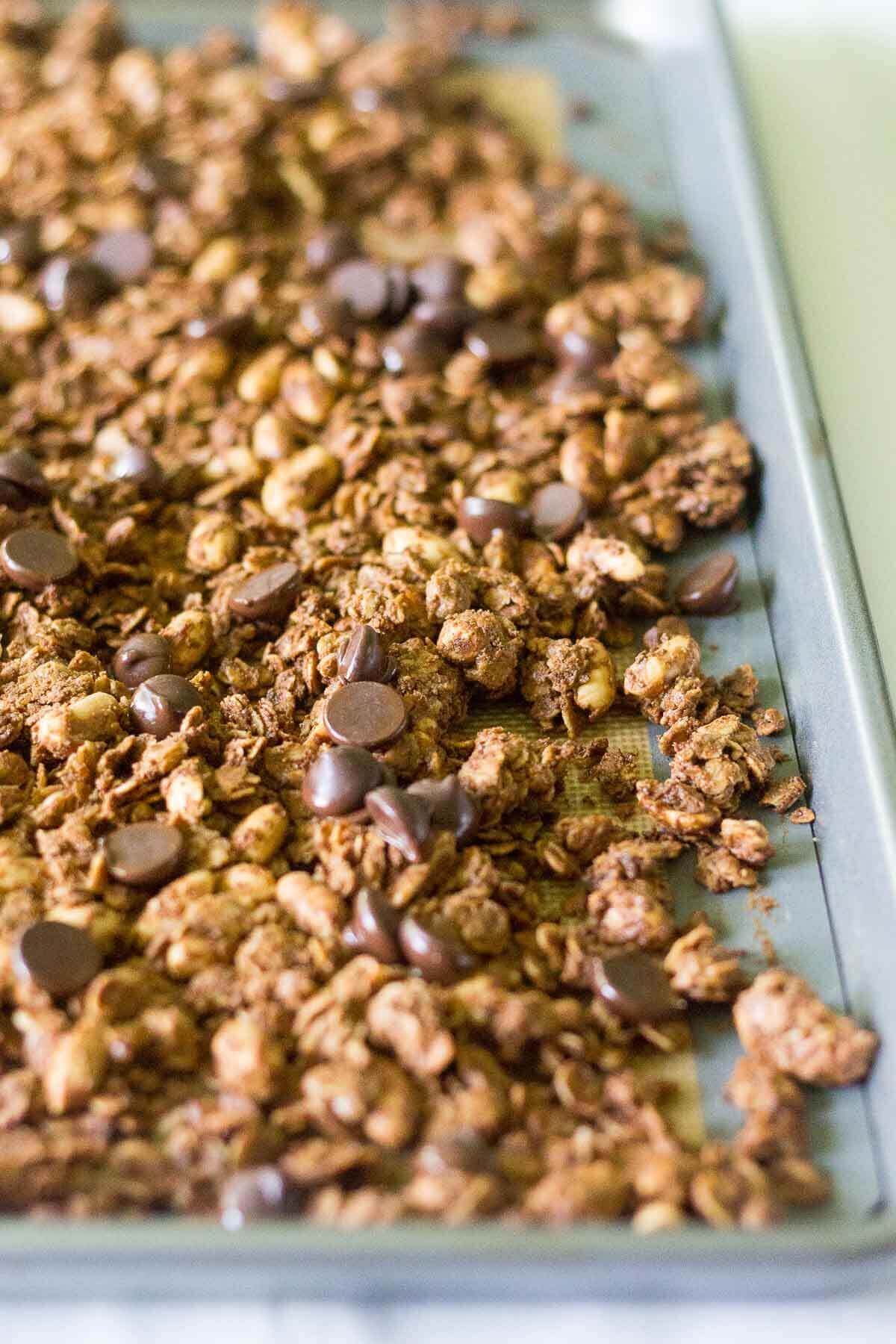 I would eat this chocolate peanut butter protein granola with a little almond milk or greek yogurt and feel like I could take on the day.
And it lasted a while! I made a big batch last weekend and I had breakfast for the entire week. Talk about easy and affordable!
You likely have all of the ingredients to make this recipe in your pantry right now. The major ingredients here are oats, peanut butter and cocoa powder to make the base.
The only other (but very important) ingredient is the bone broth. You may have heard all the buzz by now around bone broth and all of the recipes for homemade bone broth or how to incorporate bone broth into your recipes (ahem, this recipe). But you may be wondering what exactly bone broth is.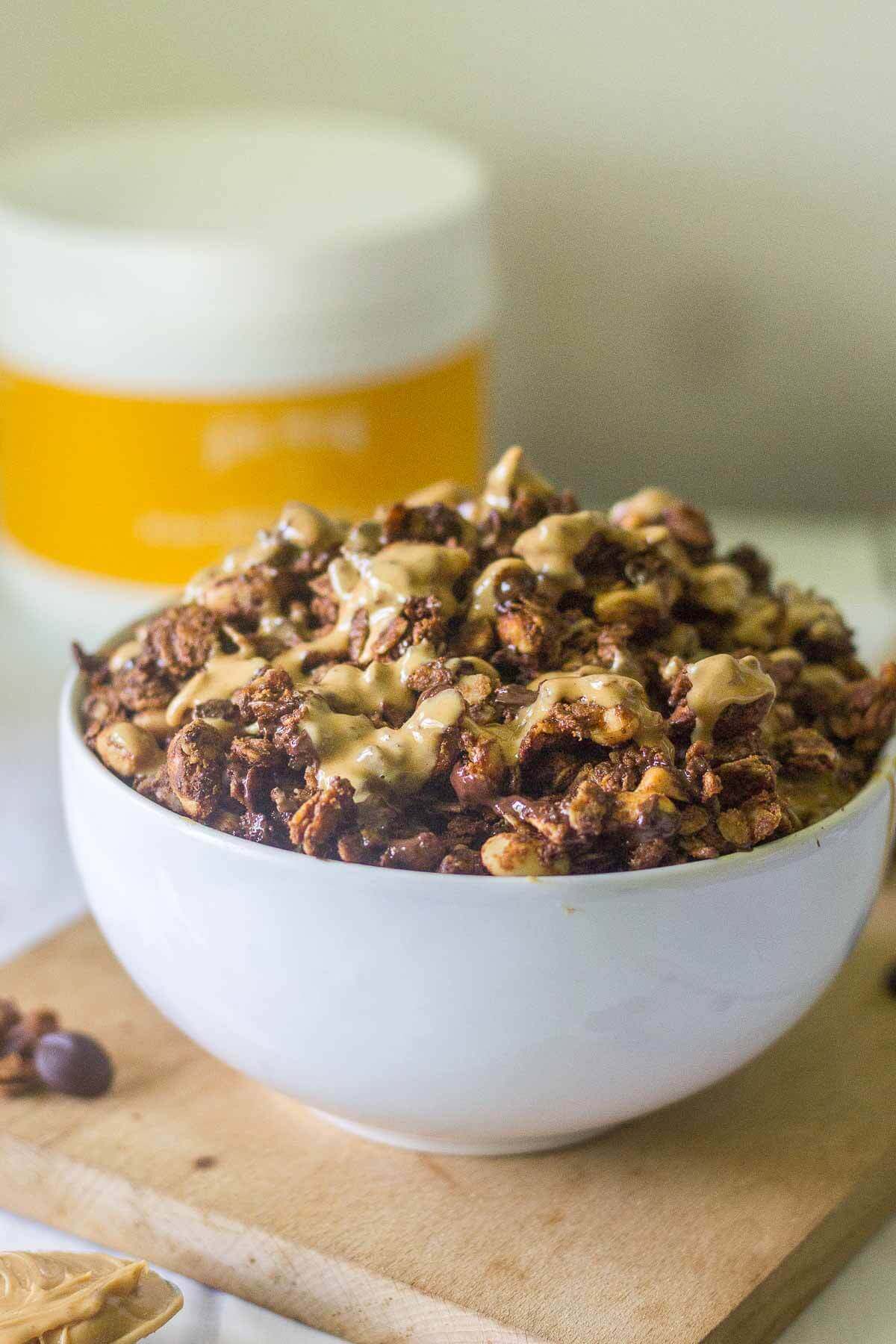 What is Bone Broth?
Bone broth (or bone stock) was a way our ancestors utilized every part of the animal they were eating. They would boil and simmer it which releases healing compounds including collagen, proline, glycine and glutamine which have awesome healing power.
Nutrition researchers Sally Fallon and Kaayla Daniel of the Weston A. Price Foundation explain that bone broths contain minerals in forms that your body can easily absorb: calcium, magnesium, phosphorus, silicon, sulphur and others. They contain chondroitin sulfate and glucosamine, the compounds sold as pricey supplements to reduce inflammation, arthritis and joint pain.
Some other benefits of bone broth include:
Excellent for healing your gut
Supports digestion
Protects joints
Maintains healthy skin (from the collagen!)
Supports immune system
Provides minerals and nutrients (like Vitamin A and magnesium) that help your thyroid function
Note: I'm not a physician so definitely ask your doctor for more info. Or read up yourself! This article is great for learning more about bone broth.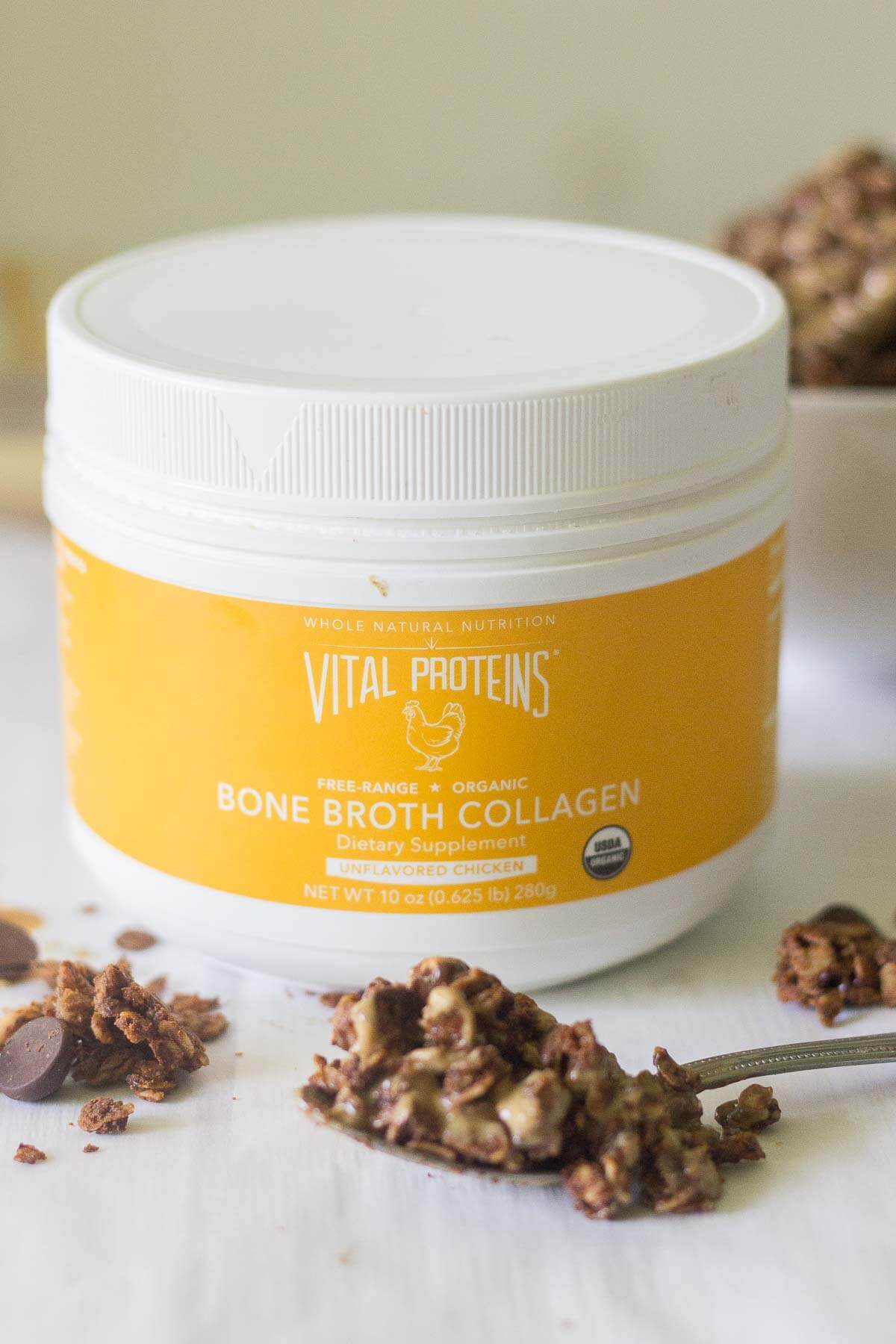 I've been reading a lot about it lately because I've really been focusing on my gut health and getting my hormones more in balance. If you're in the same boat by any chance, I came across a podcast (shout out to my friend Sam!) and a blog I fell in love with. Functional medicine is my jam these days. I really believe food is medicine.
One of the main changes I've been making is my diet. I'm trying to get my gut and hormones under control. And a huge addition I've been making to my diet is the addition of bone broth.
Because making your own bone broth can be time consuming to make from scratch, I fell in love with Vital Protein's Bone Broth Collagen.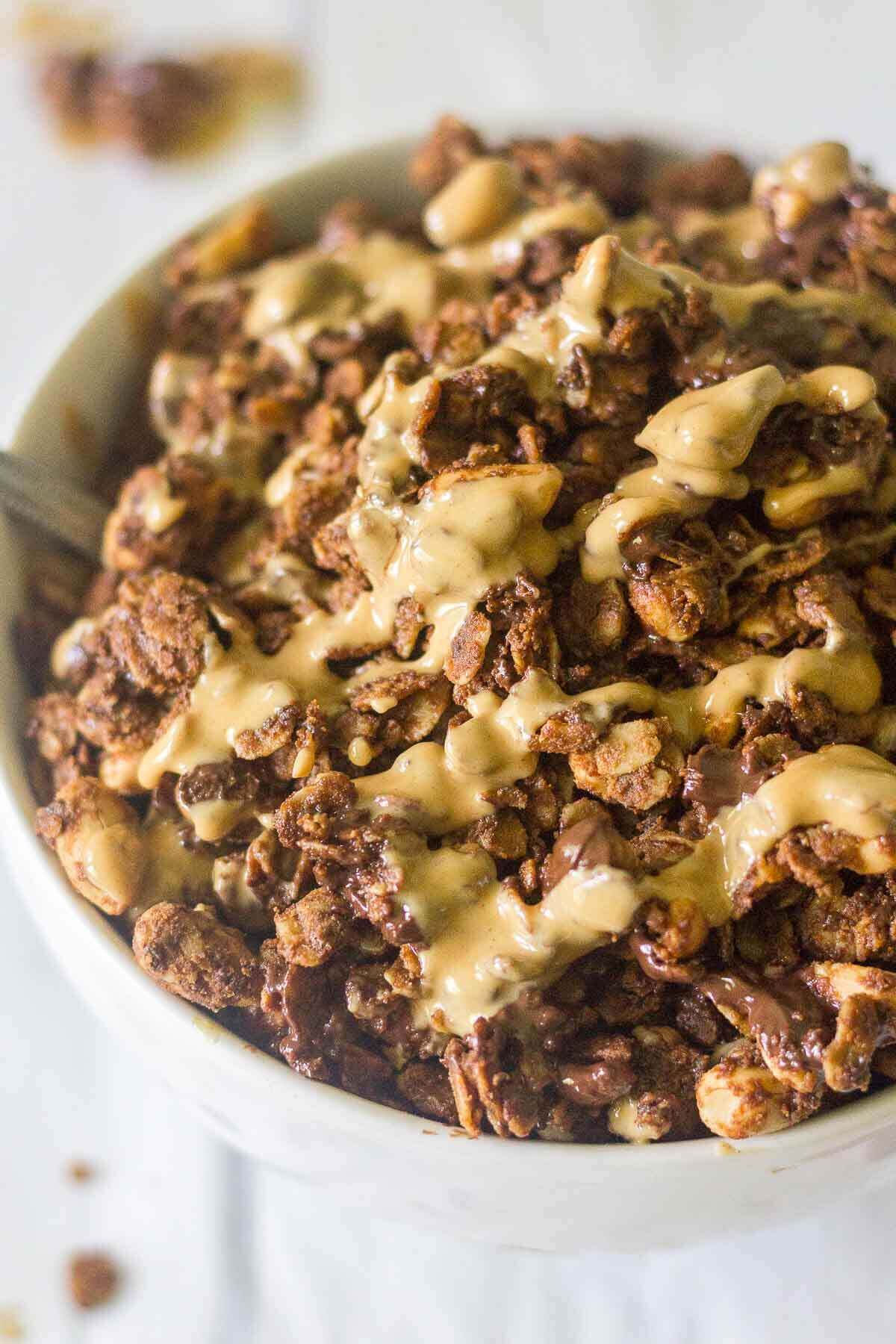 Their Bone Broth Collagen is crafted from pasture-raised, grass-fed cows, plus its organic! It's so efficient because it eliminates the time it takes to make it at home (nobody has time for that!), but you get the benefits and deliciousness of it in one simple ingredient.
It's the first of its kind in powder form! Did I mention it's Whole30 approved, low in sodium and MSG free? Seriously, this is the miracle ingredient! I'm in love. I'm currently sipping on tea with bone broth right now.
If you decide to buy it I highly recommend making this chocolate peanut butter protein granola. Other ways I love to incorporate bone broth into my diet: stir into hot water, add it to a cup of tea, add it to smoothies, mix it in entree recipes, or mix it in sauces/soups. Options are endless!
Now let's talk about this chocolate peanut butter protein granola for one second!
You may be wondering why I added bone broth to granola and also wondering if your granola will taste like chicken soup. LOL do not worry. All you can taste in this chocolate peanut butter protein granola is the chocolate and peanut butter! You get the benefits of bone broth bright and early with a bunch of chocolate peanut butter flavor. WIN-WIN.
Granola is also super simple to make (see video as proof!). You mix everything up and bake it, stirring ocassionally. I love making my own granola because, excuse me, have you seen all the added sugar in store brought granola? No thank you very much.
If I can make it myself quickly and add awesome supplements like Vital Proteins Bone Broth Collagen I'll do that every time. No question.
It stores really well too! Which is why I make a big batch and keep it in a container to eat throughout the week (if it lasts that long).
DID YOU MAKE THIS RECIPE!? SNAP A PIC AND TAG @WHAT_MOLLYMADE AND USE #WHATMOLLYMADE!
Search other protein recipes.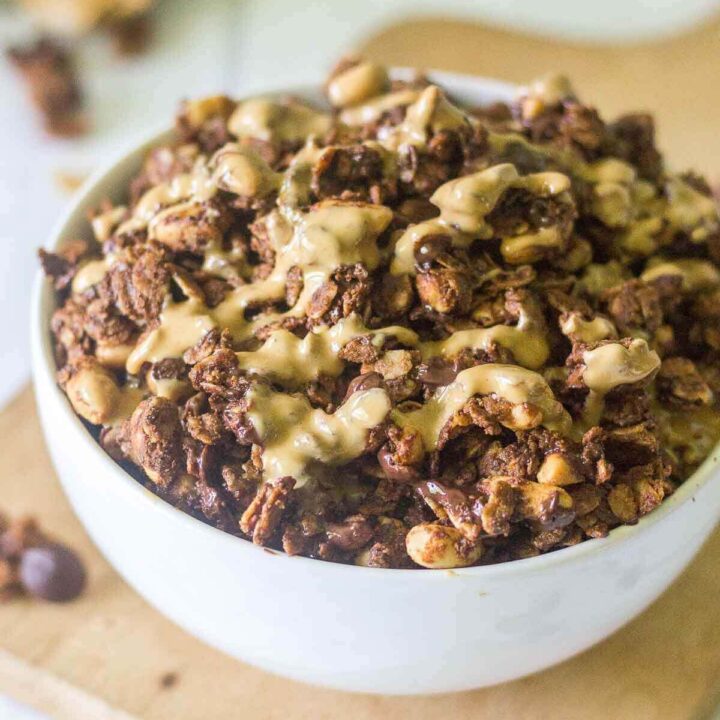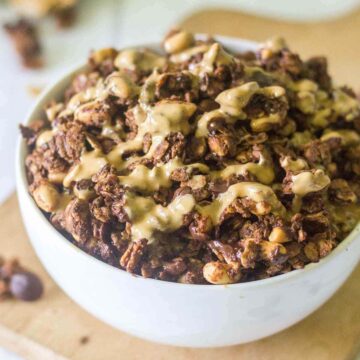 Ingredients
2 ¼

cups

old fashioned oats

not instant

¾

cup

roasted and salted peanuts

½

cup

maple syrup

⅔

cup

creamy peanut butter

3

tablespoons

melted coconut oil

1-1

scoops Vital Proteins Bone Broth Collagen

2

tablespoons

cocoa powder

1 ½

teaspoons

vanilla extract

¼

teaspoon

salt

½

cup

dark chocolate chips

optional
Instructions
Preheat oven to 300°F. Line a large baking sheet with a silpat mat or parchment paper.

Combine the oats and peanuts in a large bowl and set aside. In a smaller bowl, combine the rest of the ingredients, except for the chocolate chips, and mix well. Pour the wet ingredients over the dry ingredients and stir until completely moistened.

Spread the mixture onto the prepared baking sheet in an even layer. Bake for 45 minutes, stirring every 15 minutes for even cooking. Remove from the oven and allow to cool completely, the granola will begin to obtain a crunchy texture as it cools. Store in an airtight container or up to 3 weeks.