Sweet, crunchy, and sticky, this cherry almond granola is exploding with flavors. Ditch the store-bought stuff, this healthy homemade granola is easy!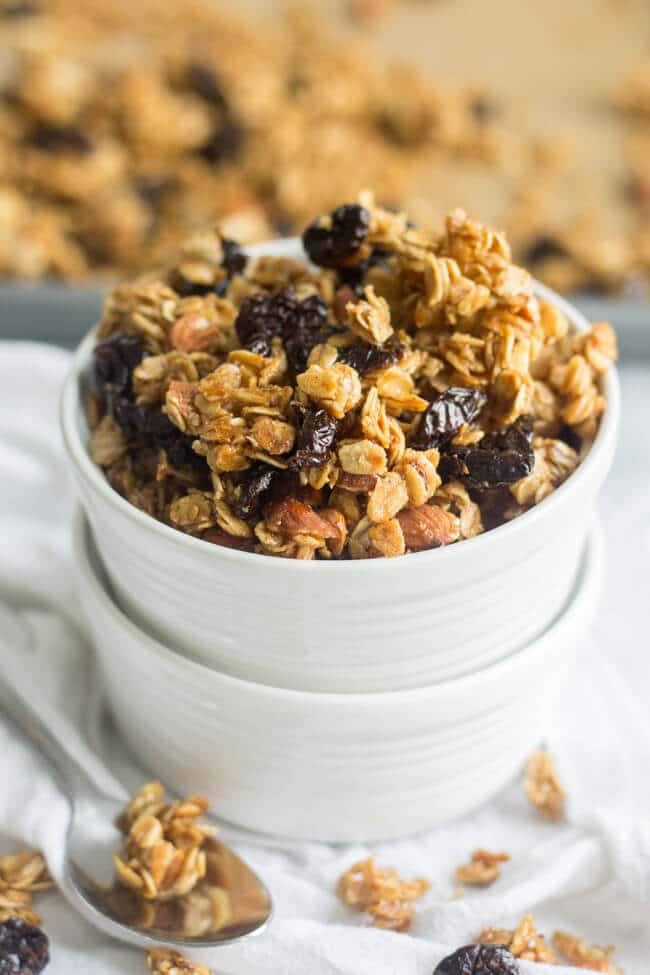 I'm a little granola obsessed as of late and can't get enough, any which way. It's one of my all time favorite things to munch on and absolutely love eating it with a big bowl of vanilla greek yogurt. I'm fairly sure I could live off of that meal for months on end. Give me this strawberry granola and I'm set. It's made with dried strawberries and naturally sweetened!
This cherry almond granola recipe will leave you wanting more and more. Self control doesn't stand a chance. Which is why I love to have a little bit throughout the day to get my fix. A bowl in the morning, a handful as an afternoon snack and of course a sweet bite right before bed. Morning, noon and night, this recipe is sure to satisfy. Promise!
Nutty almond extract, pure maple, crunchy almonds and sweet and tart dried cherries that will make your mouth water. This stuff is seriously the best. The best because of all that flava but also because it's a breeze to pull together.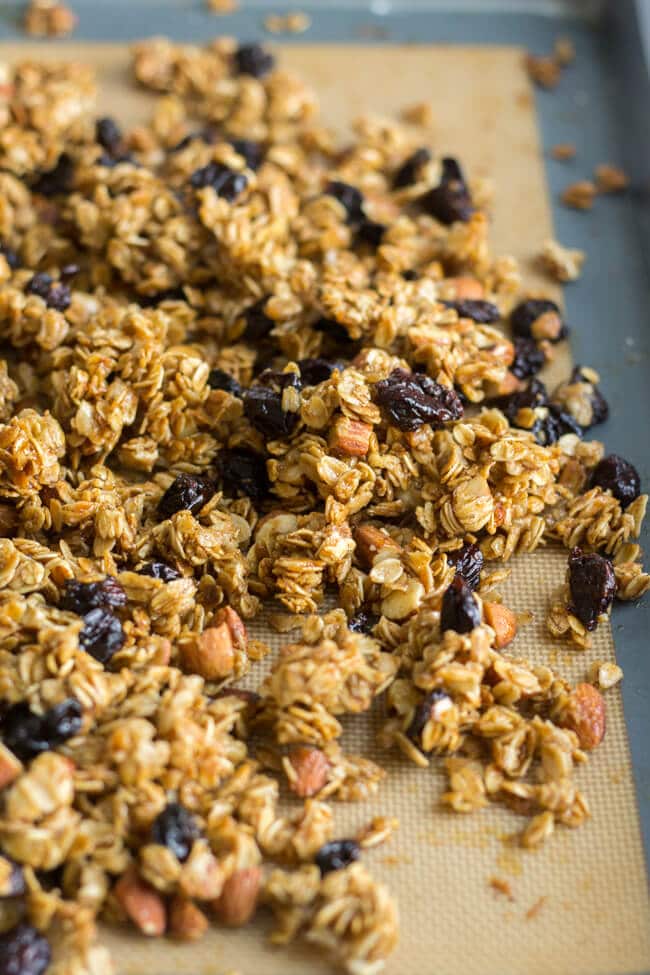 Homemade granola sounds like a tedious task, I know. But you actually just throw everything together in one bowl and dump it on a pan and bake it. No fancy tools, no fancy ingredients, just one bowl and one pan to pure snack magic.
Also, no crazy I-can't-read-this-giant-word ingredients. Just 8 natural ingredients to pull this off.
And you likely have them all in your pantry right now! Start with oats, cinnamon, and sliced almonds. The oats are the base of the recipe and the main ingredient. It clusters together with all of the other ingredients to make is so filling. It's also filled with healthy crabs and fiber! It will keep you satisfied all day...until you need one more handful:).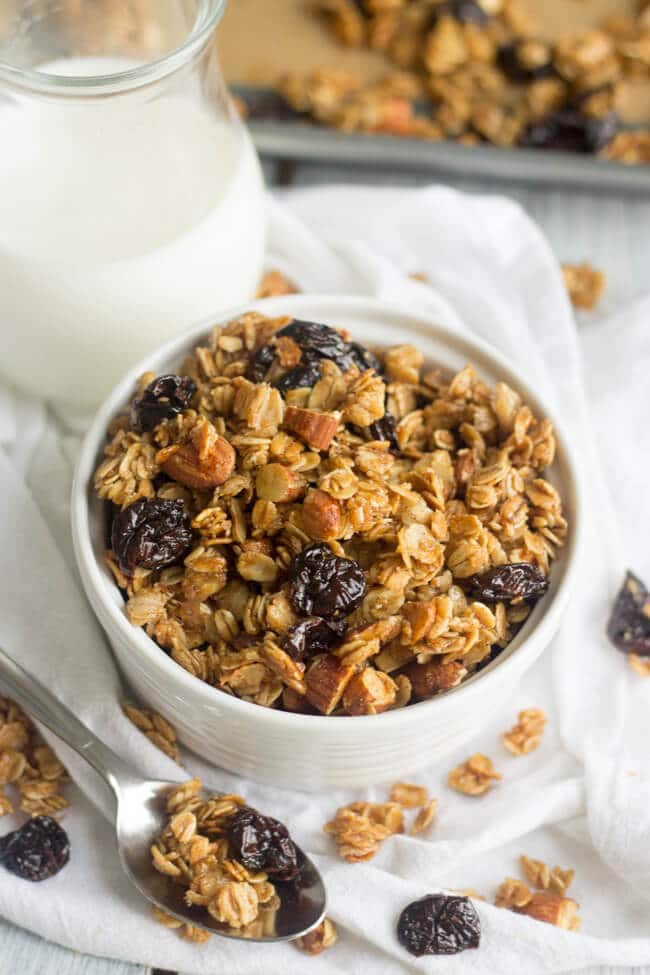 From there, you add the sliced almonds. Not to mention the nutty flavor, these sliced almonds give the cherry almond granola the perfect crunch. I like to buy the pre bought sliced almonds but you can definitely chop up whole almonds if that's what you have on hand.
The other thing that adds so much flavor to this recipe is the almond extract. I like to go pretty light on the almond extract because a little bit goes a long way with this stuff! It is strong, my friends. But a little bit brings out the nutty flavor in the actual almonds and adds so much depth of flavor. It's a must!

So what makes this cherry almond granola so sweet and crunchy?
The maple syrup is key! It's naturally sweet. Love when the majority of a recipe is made with unrefined sugars! There is a very small amount of dark brown sugar to this that adds to the sticky sweetness, but you can absolutely omit and use honey or more maple syrup if you would like.
The next key ingredient is the dried cherries. They add another layer of sweetness with a hint of tart to break it up. They're also chewy and the best texture to add with the crunchy oat clusters.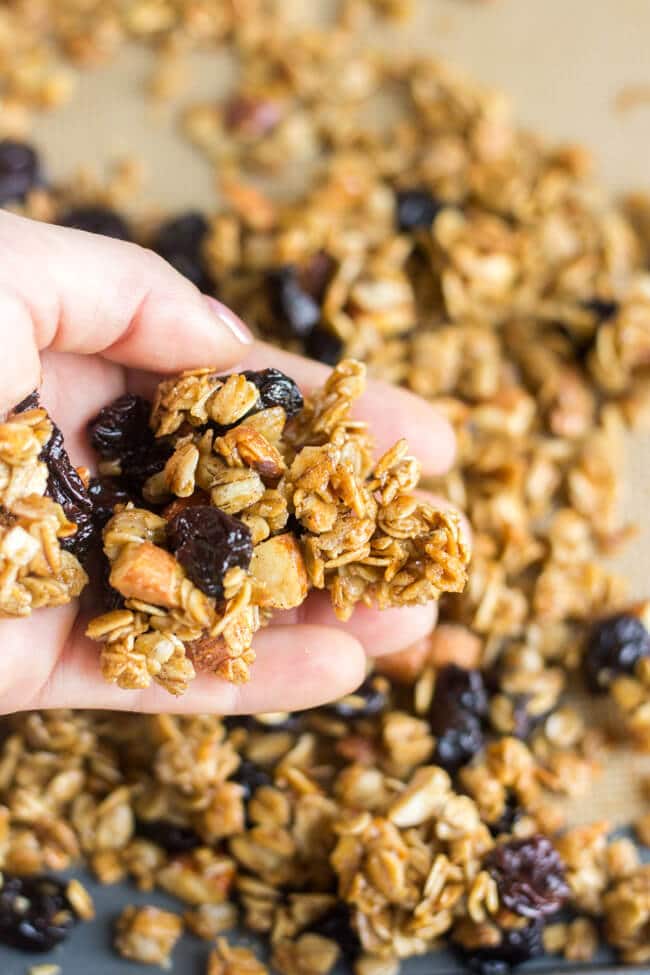 Coconut oil is for helping bring it all together and the cinnamon is a must! I absolutely love cinnamon on my granola. Just one more flavor profile to take this cherry almond granola over the edge.
If you're loving this flavor combo, that's awesome! If not, no worries! By replacing some of the key add-ons you can personalize it to your favorite granola recipe.
If you don't like almonds try adding walnuts or pecans. If you're not into dried cherries, then dried cranberries, chopped dates or dried figs would be perfect. Don't love almond extract? Stick to the vanilla or add in one of your favorites.
The best part about this cherry almond granola is that the options are endless. The base of a granola recipe is super simple and the add ons are up to your taste. I just happen to love almond everything and cherries make me super happy! But I also love blueberry almond granola just as much. Pumpkin spice too, can't forget that.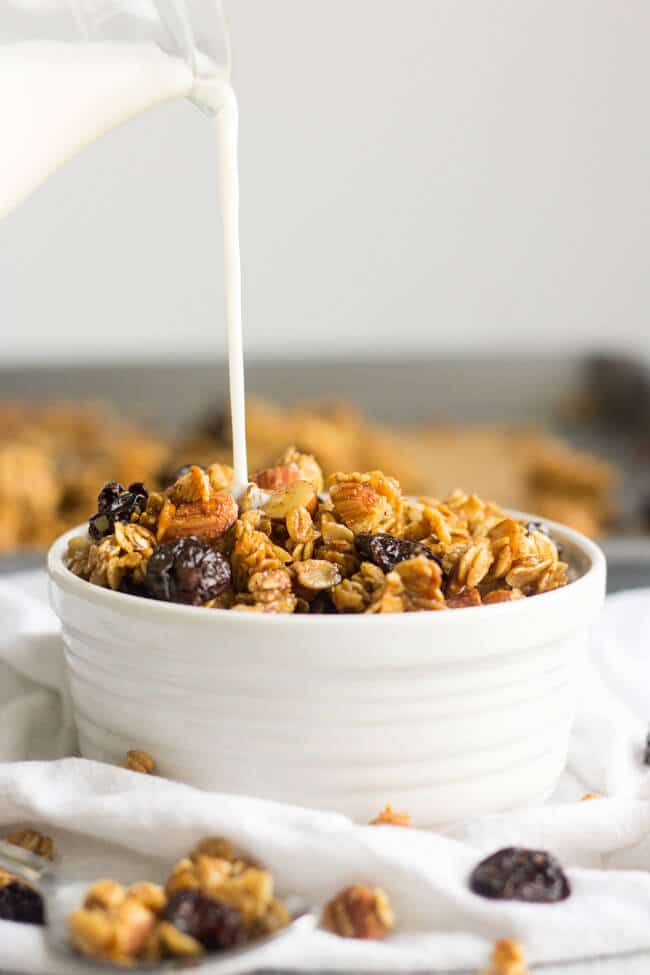 I'm also super happy because it fits so perfectly into my meal prepping routine on Sundays. I tossed everything together in a giant bowl last week and threw it on the pan and into the oven. Every 15 minutes give it a good toss and that's the extent of your effort.
By the end you have a sweet and crunchy cherry almond granola that makes just the right amount to last you all week. Unless you have a fiance like me who it's the entire batch in a day and a half. I'll be doubling this come Sunday!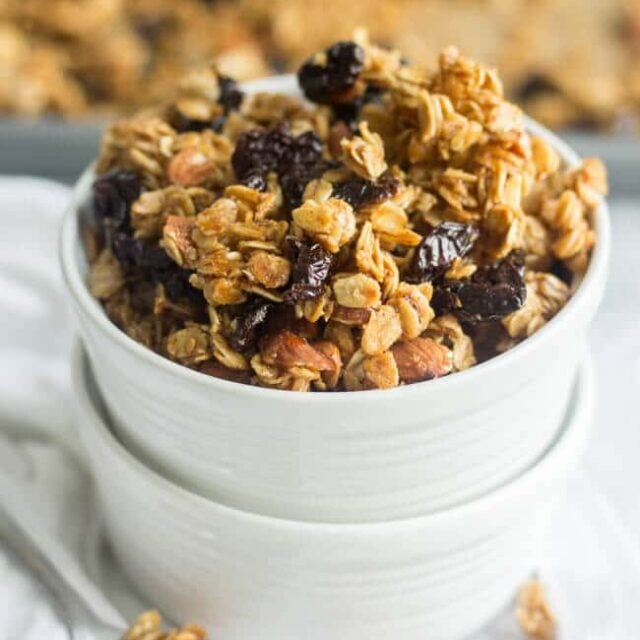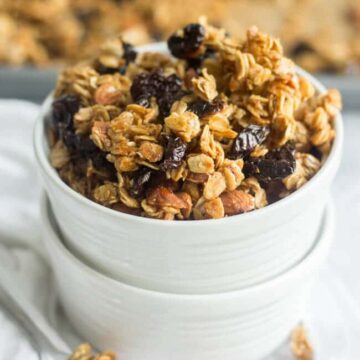 Ingredients
2

cups

old fashioned oats

not instant

½

cup

maple syrup

¼

cup

dark brown sugar

½

cup

dried cherries

½

cup

sliced almonds

2

tablespoons

melted coconut oil

1

teaspoon

ground cinnamon

1

teaspoon

vanilla extract

¼

teaspoon

almond extract

½

teaspoon

salt
Instructions
Preheat oven to 300°F. Line a large baking sheet with a silicon mat or parchment paper.

Combine all of the ingredients in a large bowl and stir until moistened.

Spread mixture onto the prepared baking sheet and bake for 45 minutes, stirring every 15 minutes. Allow to cool completely, the granola will begin to obtain a crunchy texture as it cools.

It remains fresh at room temp for up to 3 weeks in air tight container.