Pumpkin grain free granola is your next easy, gluten free and paleo breakfast for fall! Made with nuts, seeds, coconut and pumpkin spice, this healthy breakfast recipe will start your day with a crunch.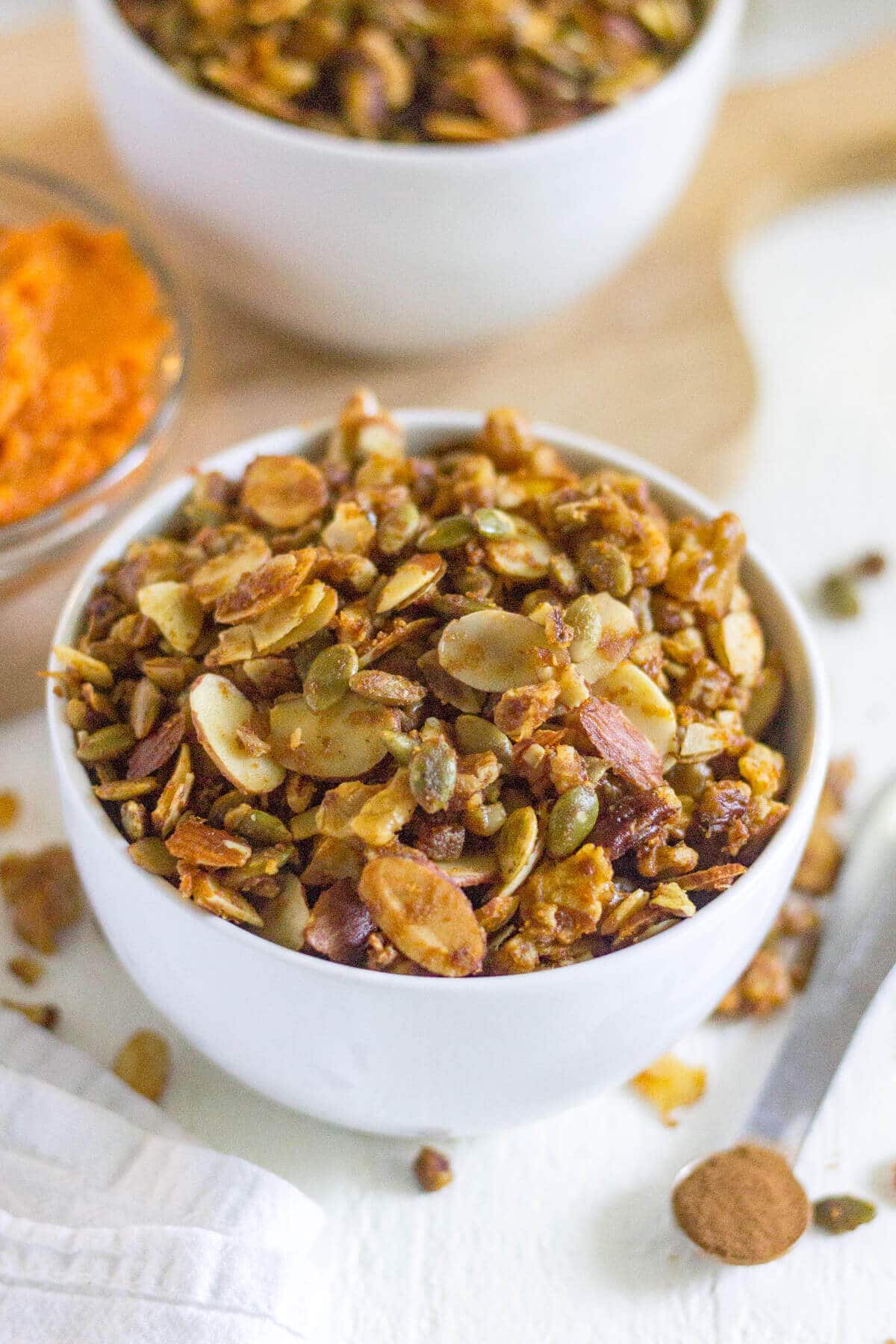 Are you a pumpkin lover? Are you one to get a PSL the moment it's released or do you casually wait until mid-September/official start of fall before you turn up the pumpkin flavor?
I like to think I'm a mix of both. I have no shame that I love all things pumpkin and could (and sometimes do) eat it year round. But for some reason this year the time got ahead of me and before I knew it it's mid-September and I haven't tried a PSL or made one single pumpkin recipe. Who am I?!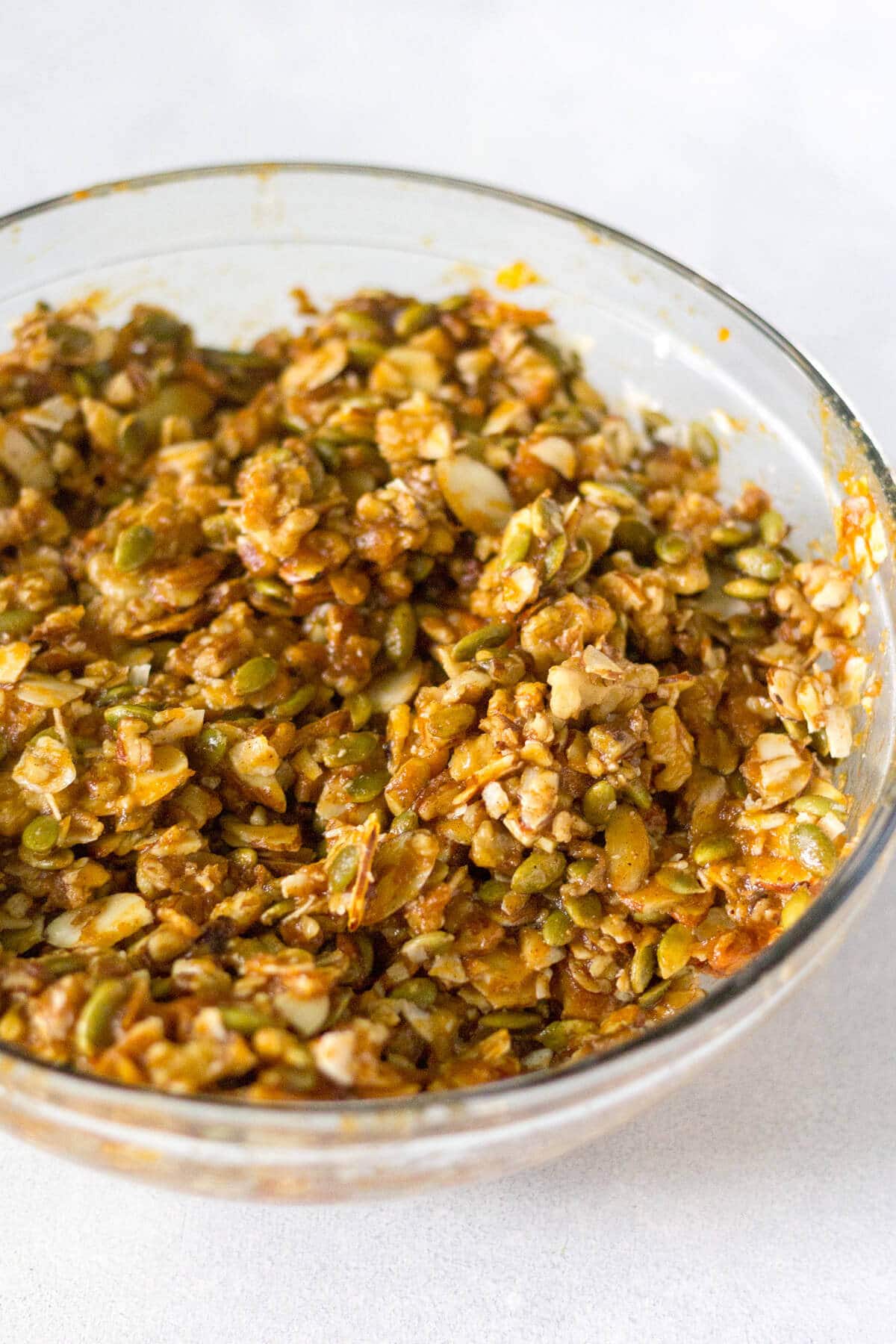 Anyone else feel like time flies!?
How did it become almost mid-September without me even knowing? I don't want to wish time away but man am I excited about our wedding getting closer. Mr Heartbeat Strength (my fiance) and I are really really looking forward to the festivities ahead.
We're trying to be patient and enjoy this season and enjoy our family and friends. So for now, I'll celebrate the small excitements, like my first pumpkin recipe of the season! AKA this pumpkin grain free granola.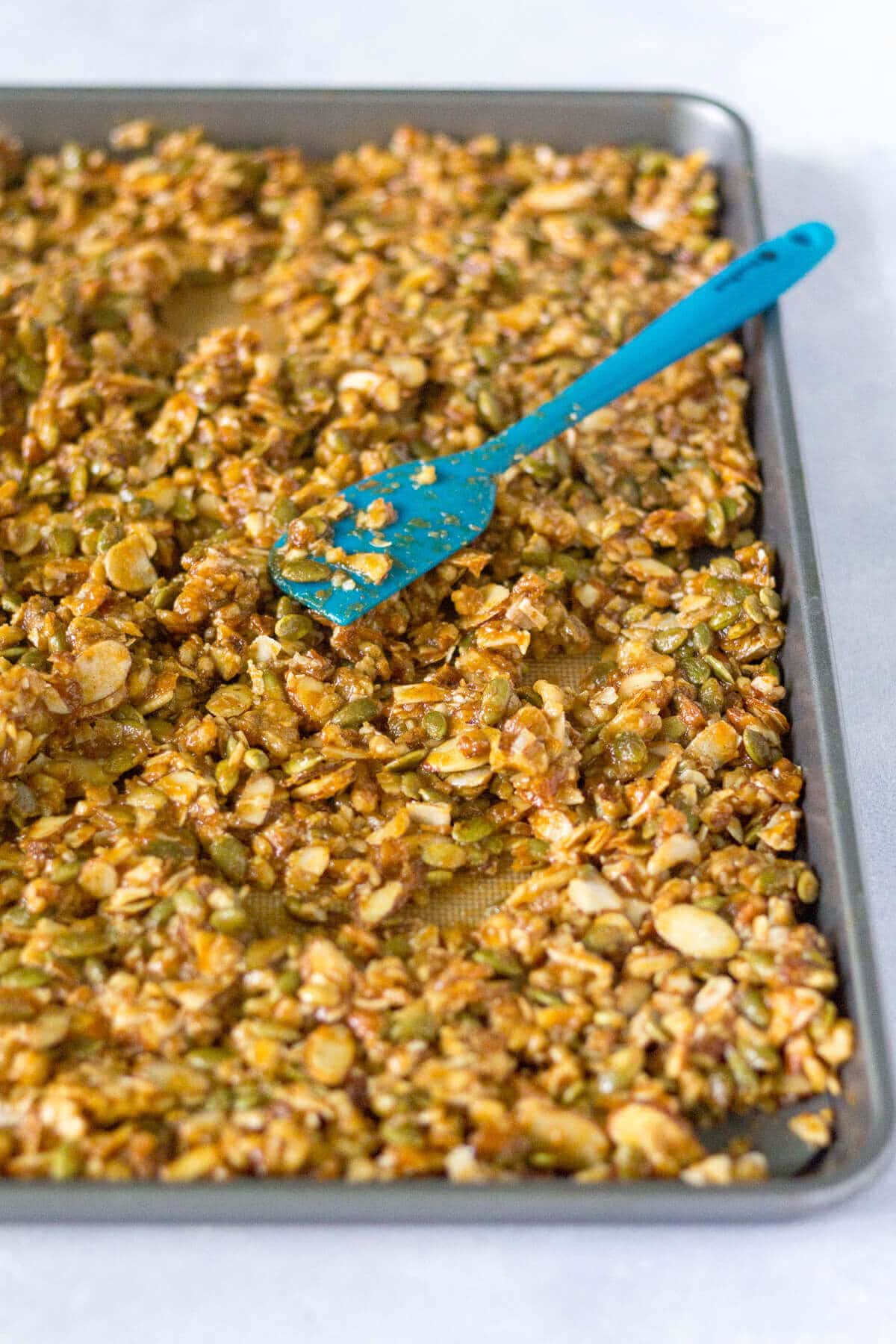 Before we jump into this grain free pumpkin granola recipe rundown, let's take a moment to remember last year's pumpkin recipes:
I'm just now realizing as I wrote that list out that it's a little excessive. I knew a made a few pumpkin recipes last year, but geeeez that's a good chunk of pumpkin recipes. All delicious though! My favorite out of that list has to be the pumpkin streusel muffins, cobbler and paleo pumpkin bars.
Have you made one of these?! Or are you making this grain free pumpkin granola?! I want to hear from you! Leave a comment below so we can become friends over pumpkin and chat desserts for hours pleaseee.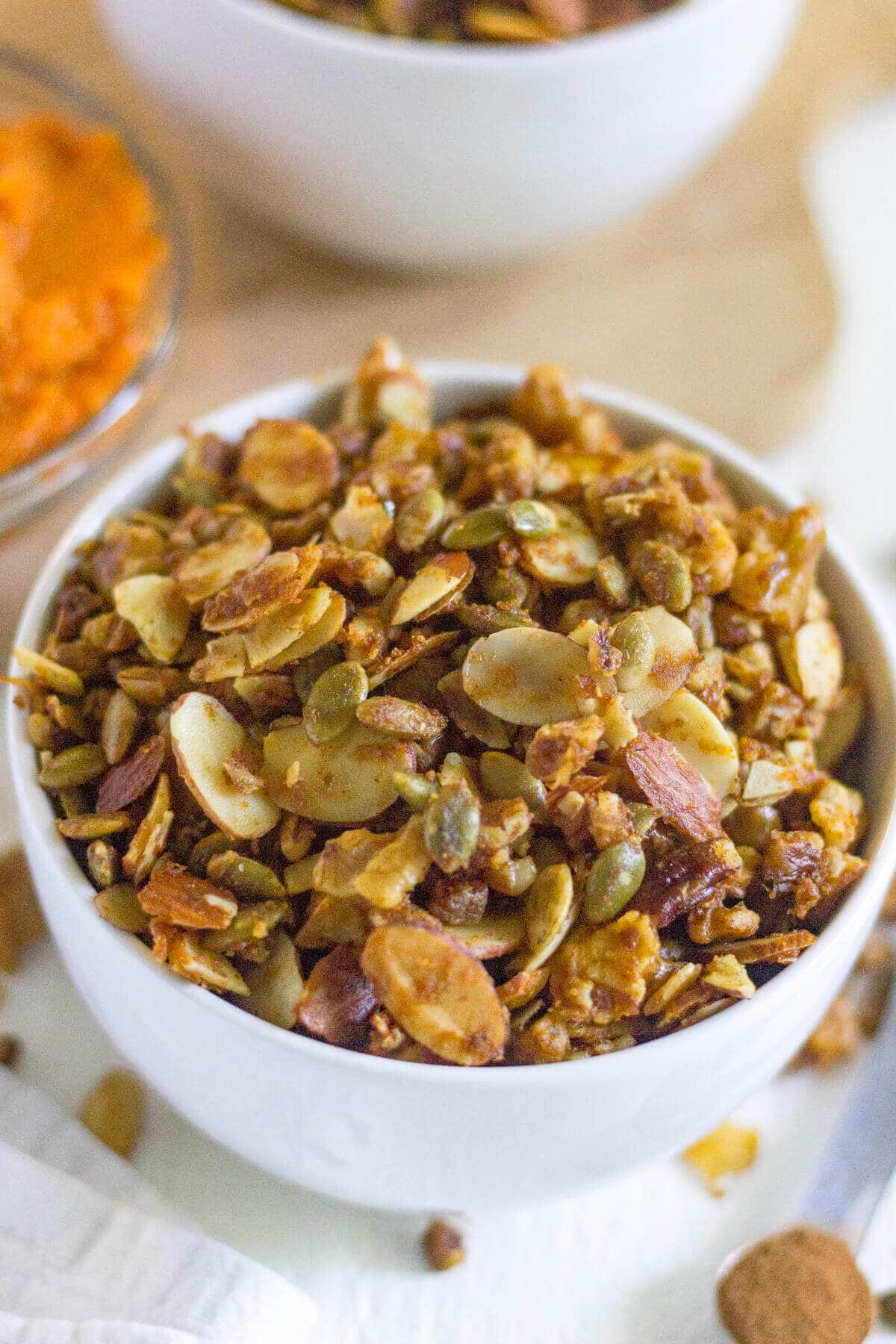 Now let's dive into the deliciousness that is this grain free pumpkin granola. I LOVE granola. It's crunchy, it's kinda sweet and it's to die for with yogurt or milk in the morning.
I've been trying to limit my gluten on a regular basis to help with inflammation in my body and I think it's really working! If you have any tips, tricks, recipes or vitamins that you use to help with inflammation let me know because I'm all ears.
Unfortunately for granola-lovers like me, the store bought granola tends to have mass amounts of sugar and all the grains. To help kick the added sugar/refined sugar I like to make my own granola and have for years. But I've never made a grain free granola!
So this, friends, is the first (of many) grain free granolas!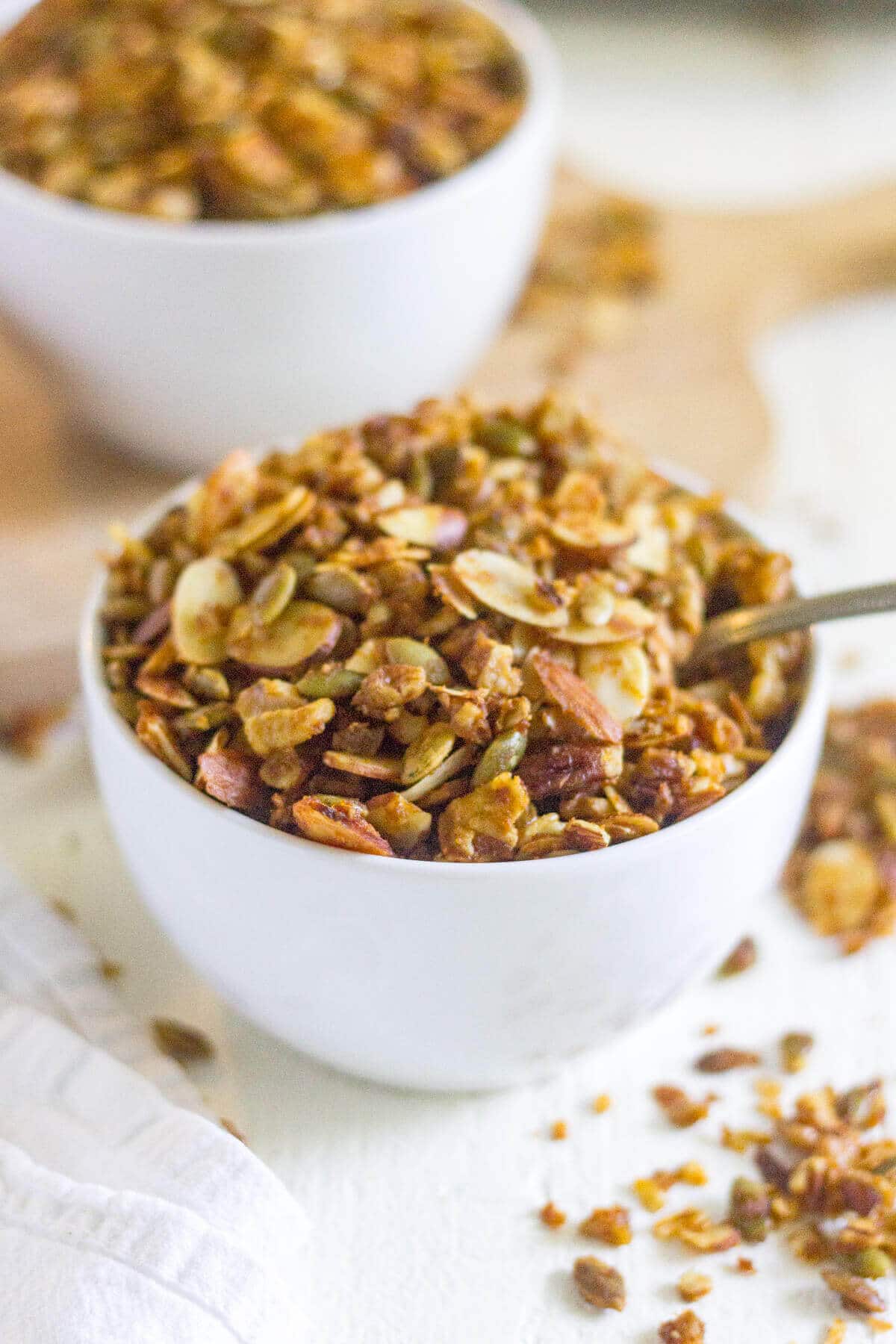 Grain Free Pumpkin Granola Recipe Rundown
Taste: If you love the sweet and savory taste of pumpkin spice and toasted nuts then you are going to love this recipe. The taste is out of this world good.
Texture: Even without out clusters this granola is extra crispy and crunchy.
Ease: One bowl, one spoon and one pan is all you need to make this grain free pumpkin granola happen.
Appearance: The little clusters and bits of nuts make me want to dive in with a spoon immediately. I love that you can clearly see all the pumpkin seends throughout. It makes you feel like there was not skimping on the pumpkin in this recipe (which, trust me, there isn't).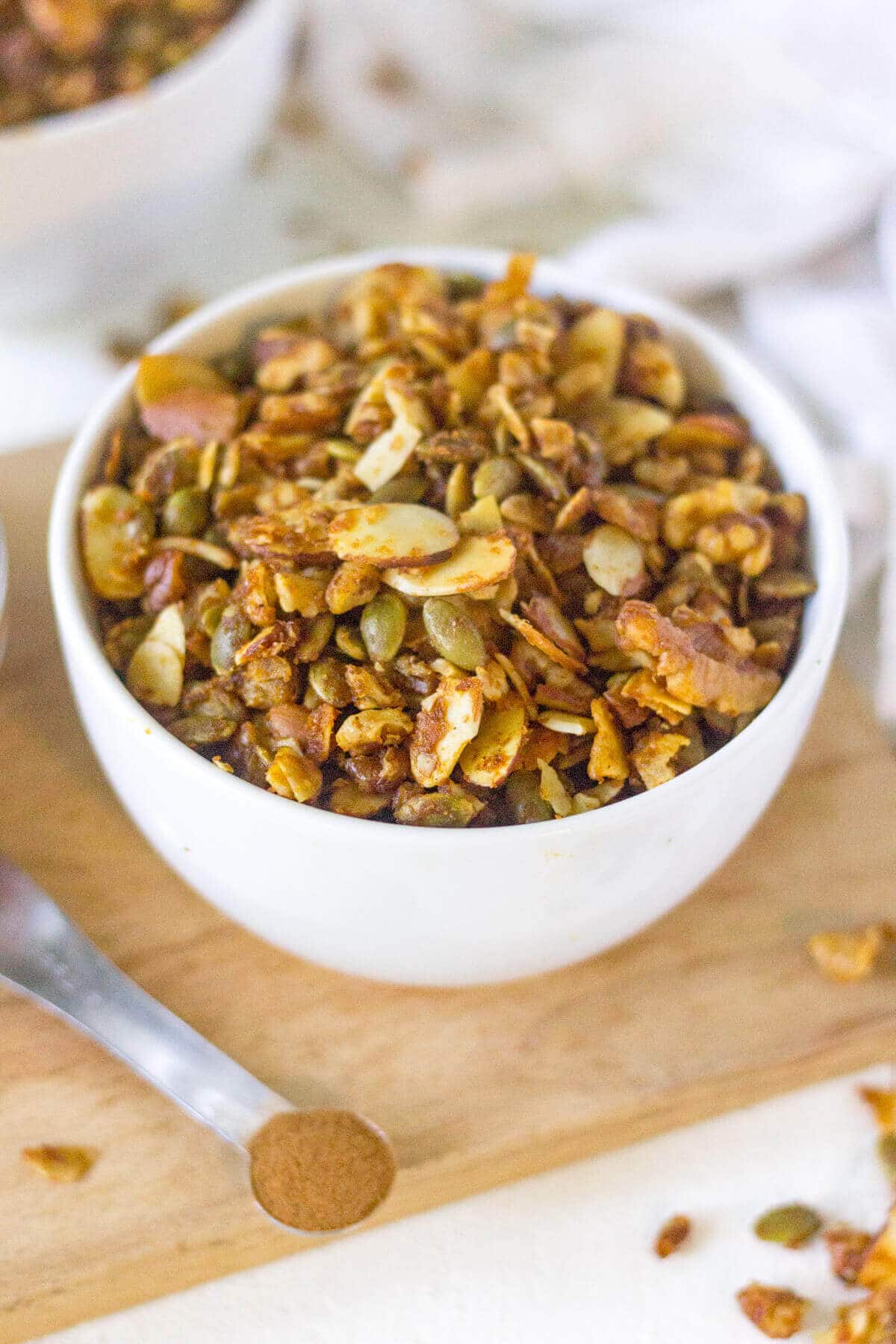 I mentioned how easy it is, but before I want to reiterate that because it's literally SO EASY. Don't shy away from grain free granola because I know that can sound scary. It immediately makes me think crazy, unrealistic ingredients. BUT it's not at all.
How to Make Grain Free Granola
The important part of the grain free pumpkin granola is the ingredient list. No grains allowed. Grain free granola is typically made up of nuts and seeds, like this recipe. It sometimes has coconut like this one, but doesn't always.
The seeds and nuts are the dry ingredients and they need coated in a combo of wet ingredients that will make the nuts and seeds taste extra delicious. This recipe is mixed with coconut oil, maple syrup, pumpkin and pumpkin pie spice.
To make pumpkin grain free granola, you mix both the wet and dry ingredients in a bowl and spread on a large baking sheet. Bake on a low temperature for about 45 minutes, stirring every 15 minutes to help avoid burning.
When the granola is baked let it sit out to cool. As the granola cools it becomes hard and crunchy (this is what you want!).
The best part about this grain free granola is that it lasts forever. You can store it in an air tight container for weeks if it lasts that long. Zach and I are taking it on a family vacation we're going on tomorrow, but I'm not sure it will even make it through the road trip. Granola makes a great road trip snack too!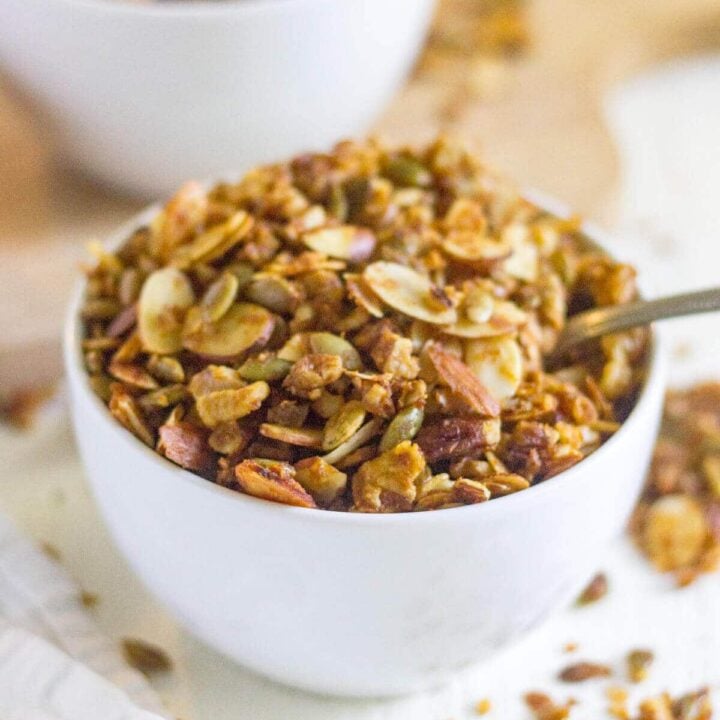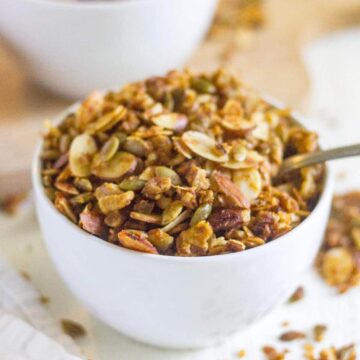 Ingredients
¼

cup

coconut oil

melted

⅓

cup

pure maple syrup

⅓

cup

pumpkin puree

1 ½

teaspoons

pumpkin pie spice

1

tablespoon

vanilla extract

½

teaspoon

kosher salt

2

cups

almonds

chopped or sliced

1

cup

pecans

1

cup

pumpkin seeds

1

cup

coconut flakes
Instructions
Preheat oven to 300 degrees F and position a rack in the center of the oven.

In a large bowl, whisk together the melted coconut oil, maple syrup and pumpkin puree and stir until combined. Add the pumpkin pie spice, vanilla extra and salt and mix well.

Add the almonds, pecans, pumpkin seeds, and coconut flakes and stir to completely coat.

Spread the mixture evenly onto a large baking sheet and bake for 45 minutes, stirring every 15 minutes to avoid burning.

Once the granola is visibly browned and done cooking, remove from the oven and let cool completely to get crisp.

Store in a container with an air-tight seal, and it should keep for up to 3 weeks.
Here are a couple of items I used to make today's recipe:
Baker's Half Sheet
, Glass Bowl Set
, Farmers Market Organic Pumpkin
Some of the links above are affiliate links, which pays me a small commission for my referral at no extra cost to you! Thank you for supporting What Molly Made!