These high protein pasta recipes are bursting with flavor. Adding protein to your pasta is a great way to get more of this macronutrient into your diet in a creative way. These recipes will become regulars on your menu.
If you love pasta recipes, try this creamy balsamic steak pasta or creamy cajun shrimp pasta (with sausage and shrimp for added protein!).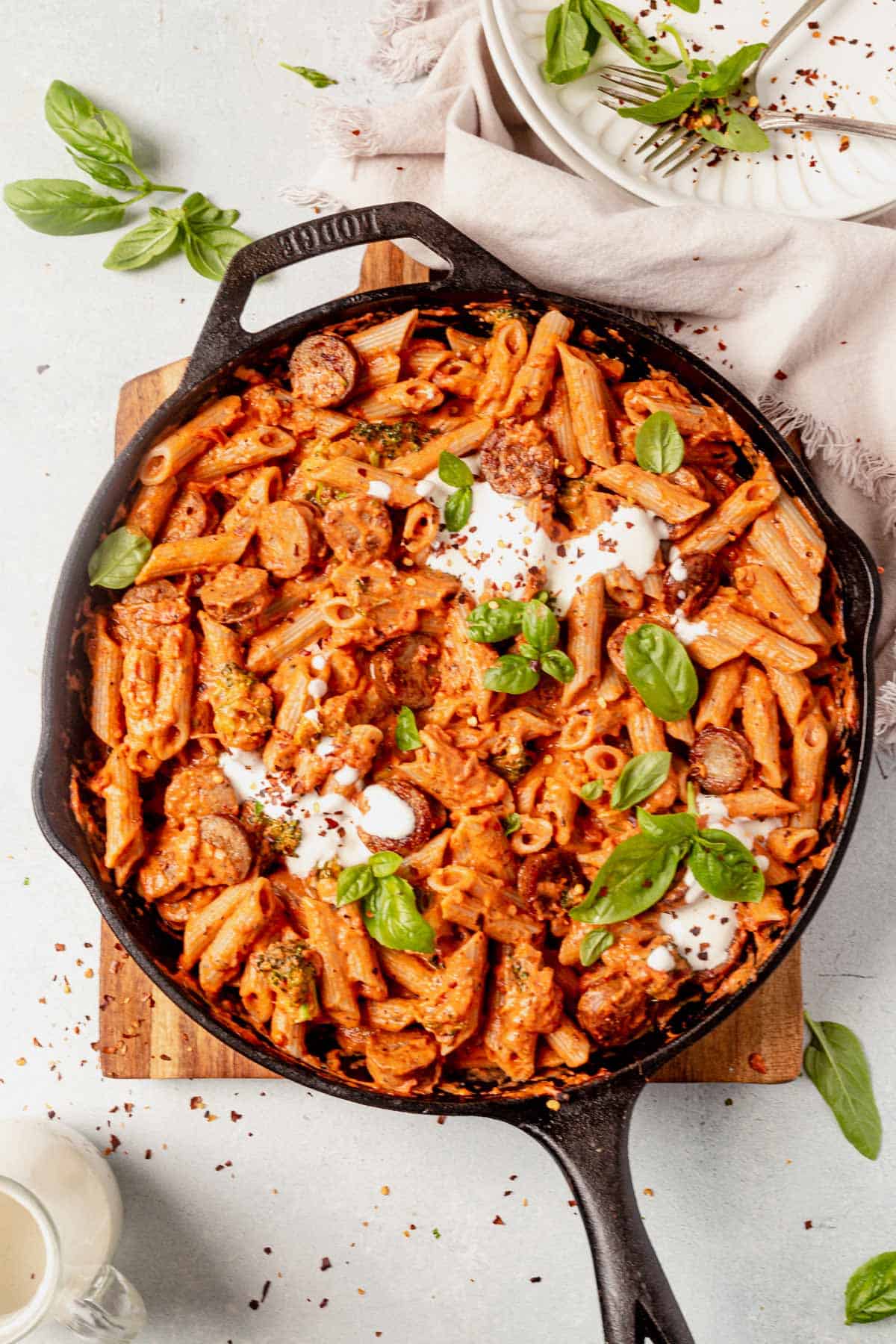 With so many of the well-known pasta brands getting a new look and adding a protein pasta product, we've combed through our archives and compiled our best high-protein pasta recipes to meet all of your protein goals!
Check out one of our favorite and most beloved pasta dishes, this Italian Pasta Salad!
What is Protein?
Your body needs protein to stay healthy and have all of your bodily systems work the way they should. Did you know that your body has more than 10,000 types of protein?! They are in everything, from your organs, tissues, and muscles to your hair, skin, and nails!
Protein is also crucial to to carry oxygen through your body. It helps fight off illness and infections and aids in making healthy cells. The best part about protein is that it helps fuel your energy - something we all need to get through a busy day!
How Much Protein Should I Consume?
There are many schools of thought on this, especially when you have different nutrition goals, like gaining or losing weight, or building muscle. However, the fact is that your protein intake is mostly dependent on your age, current weight, gender, and overall health condition.
If you want to know how many grams of protein to consume, take your body weight and multiply it by .36. This should be how many grams of protein you try to consume in a day!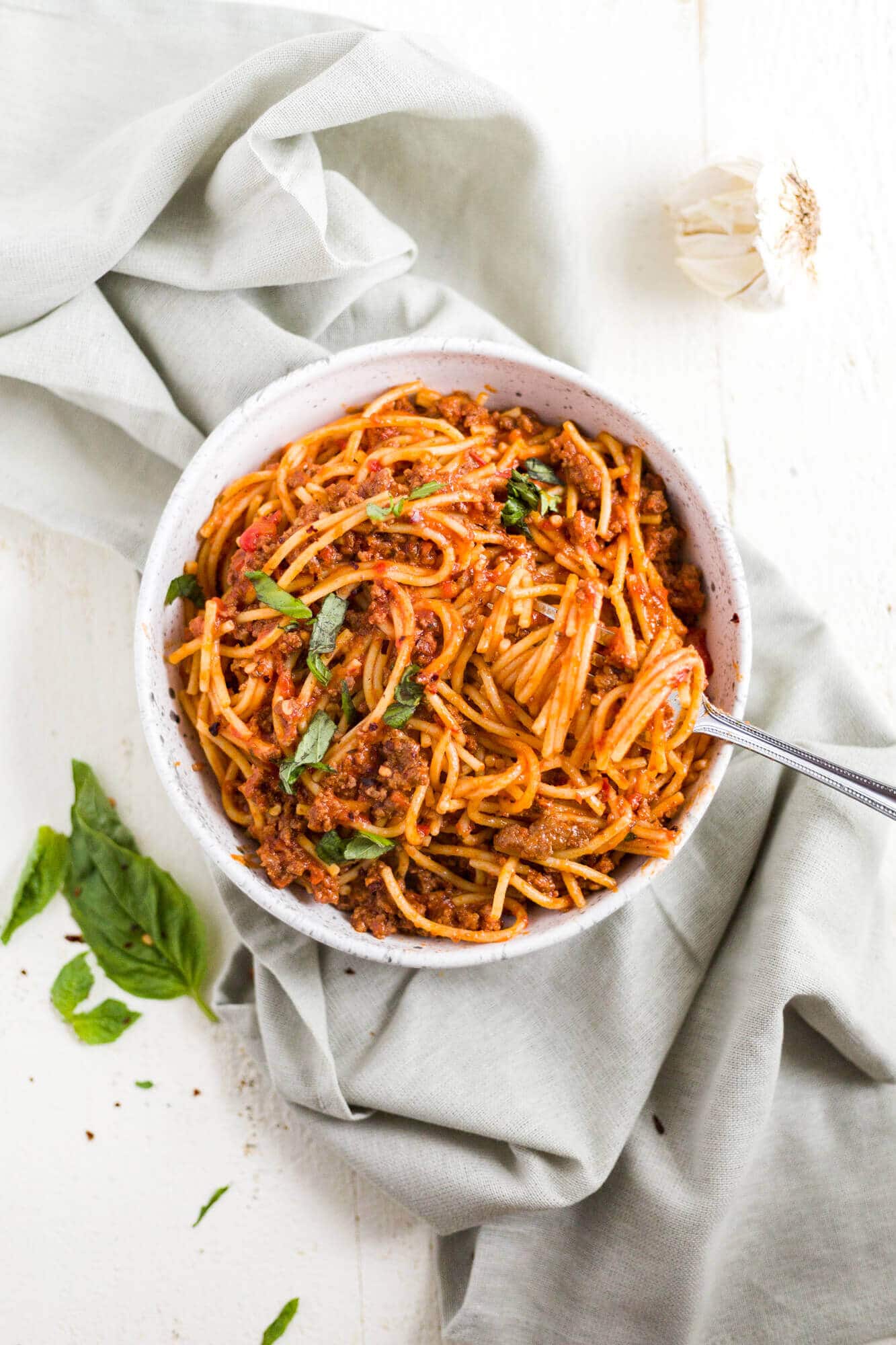 Foods High in Protein
There are so many foods that are a good source of protein. When making a high-protein pasta recipe, part of the recipe magic is knowing what additional ingredients to add!
You can get extra protein in a recipe by adding in lean meat or seafood, eggs, nuts, legumes, (i.e., beans, lentils, chickpeas, edamame, etc.) or even cottage cheese!
High-Protein Pasta
First: understand all of your pasta options. There are so many different kinds of pasta! Regular pasta noodles don't carry as much nutritional value as other options in your grocery store, especially high protein pasta or plant-based protein pasta.
Many well-known brands have their own brand of high protein pasta or plant-based protein pasta, like chickpea pasta or legume pasta. If you're at the grocery store and unsure of what brand to try, Barilla and Banza both have several options.
Barilla carries a line while Banza focuses on chickpea pasta.
Related: Learn how to grill chicken, and how to grill steak to add to any pasta recipe.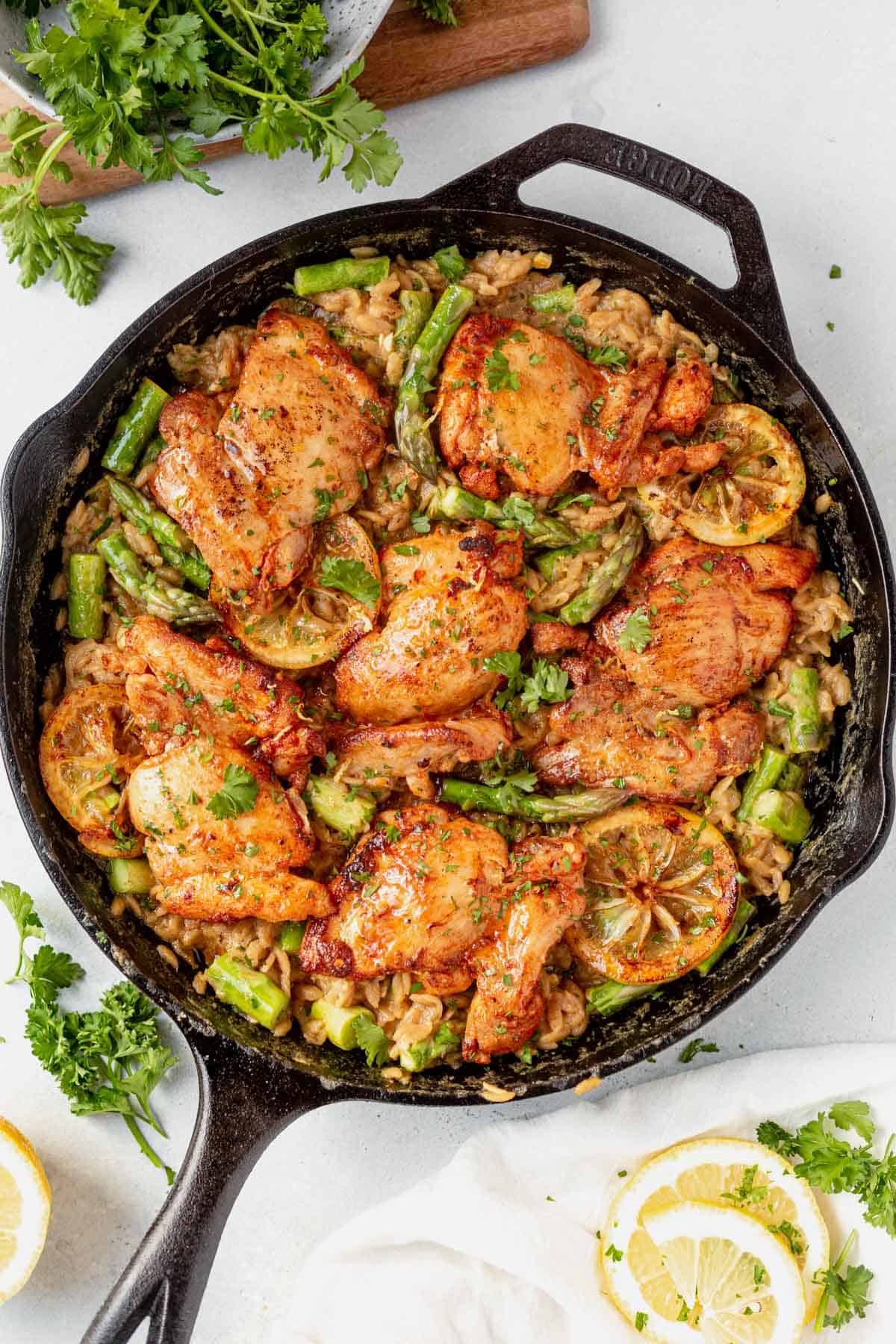 Protein Pasta vs Regular Pasta
When it comes to selecting a noodle for any of your pasta dishes, the "pasta-bilities" are truly endless. However, I'm sure you might be asking: what's the difference between protein pasta and regular pasta?
It's probably pretty obvious that protein pasta has more protein in it than regular or even whole-wheat. They oftene add pea protein to increase the grams of protein in a serving.
However, the nutritional value doesn't stop there! Protein pasta also contains durum wheat, which is also sometimes called pasta wheat. Durum wheat flour contains more protein than other wheat flour. It typically offers more grams of fiber and fewer grams of carbs per serving.
Plant-Based Protein Pasta
Plant-based pasta is a good source of protein for those who follow a vegan or vegetarian diet.
Manufacturers got creative with their ability to make plant-based protein pasta from a variety of vegetables. The most common type of plant-based protein pasta is chickpea pasta, which is made from ingredients like any variety of chickpea flours and pea protein.
Legume pasta is becoming increasingly common in the pasta world, oftene made from red lentils, green lentils and black beans.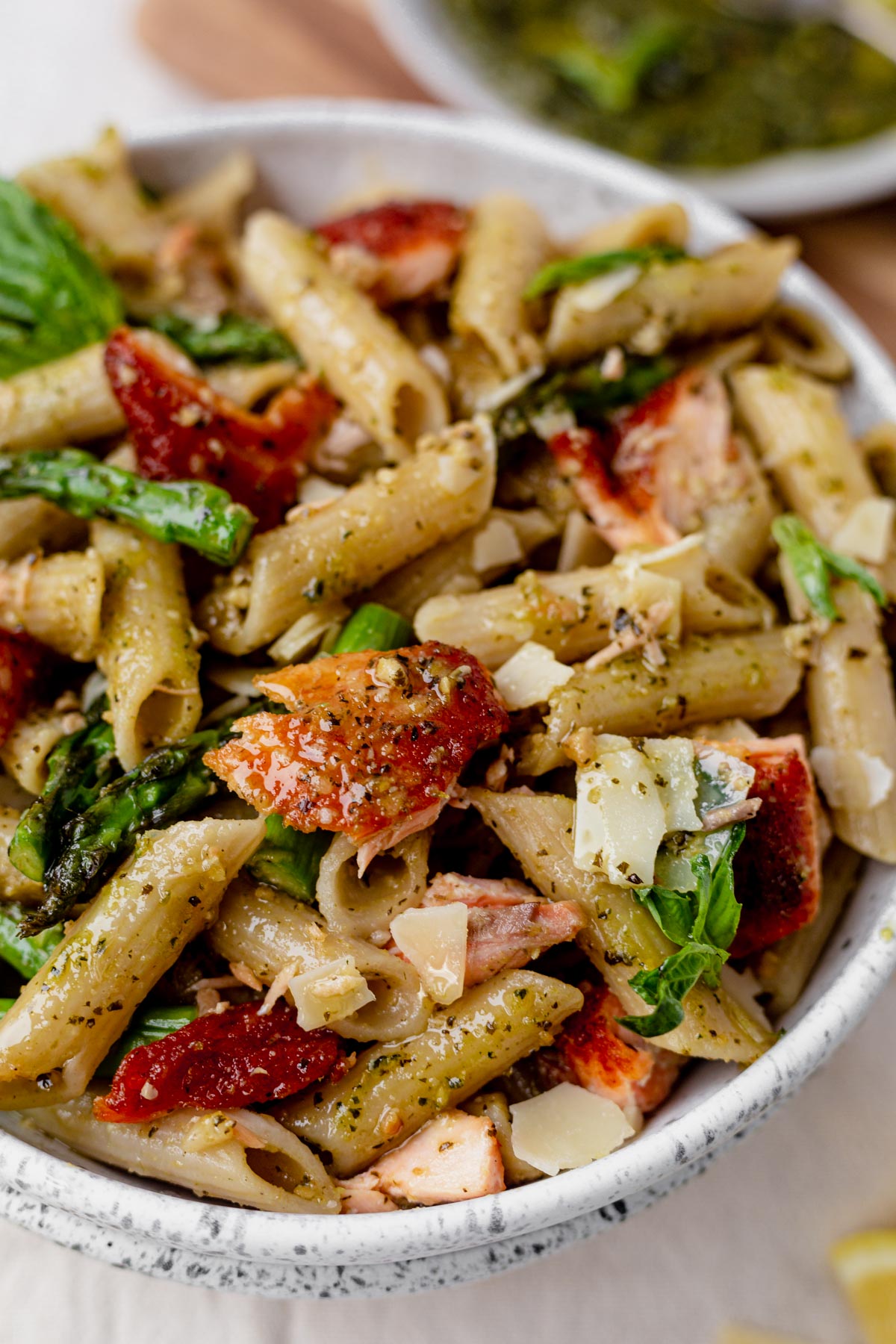 21 High-Protein Pasta Recipes
One of the easiest ways to sneak in more grams of protein for the whole family will be to swap in a high protein pasta option. Even with different key ingredients, high protein pasta and plant-based protein pasta don't lose that classic pasta taste!
Our compilation of high-protein pasta recipes are traditional pasta recipes that use simple ingredients and easy swaps that focus on getting in more grams of protein, making a holistic and nutritious meal. We focus on adding in lean meat or plant-based proteins and fresh veggies to make a balanced and nutritious meal.
Try one of the options below with any variety of high protein pasta and do a taste test with your whole family. Be sure to let us know their reactions in the comments below!
Protein Pasta Recipes with Chicken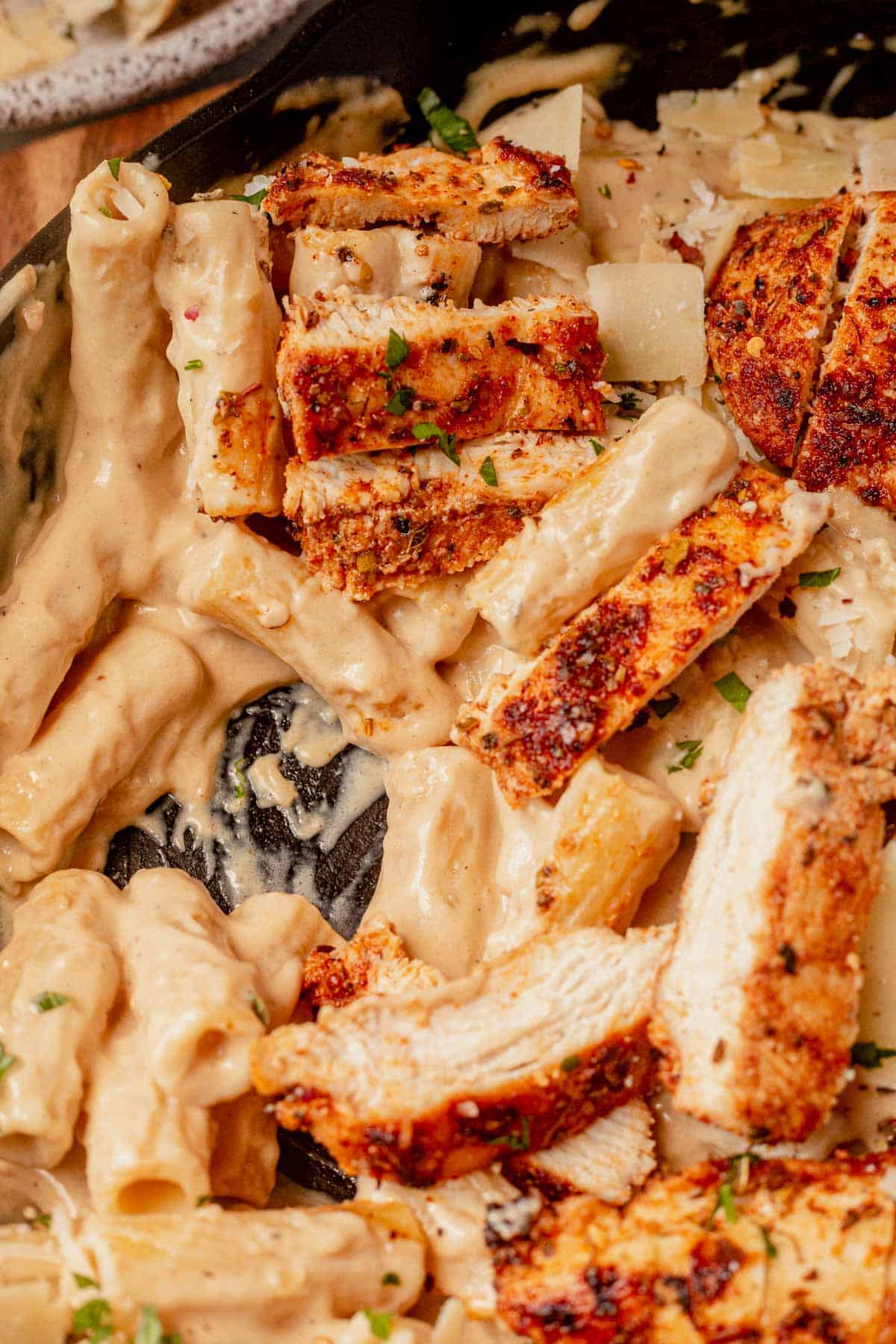 Beef Protein Pasta Recipes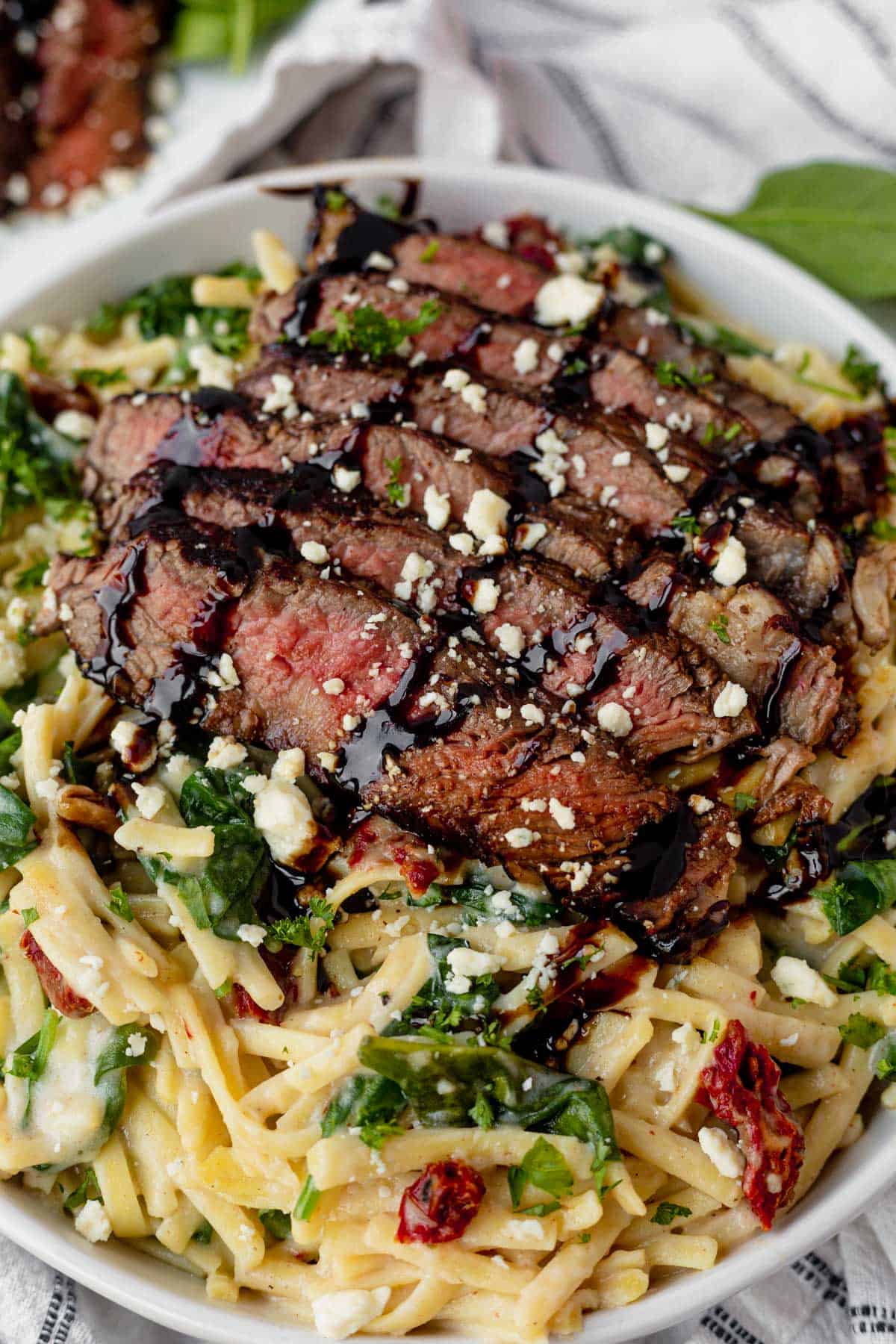 High-Protein Pasta Recipes with Seafood
Salmon Pesto Pasta is a healthy, easy-to-make dish that's loaded with good fats. The combination of salmon, al dente penne pasta, pesto, and fresh basil make a delicious creamy pasta dish. Additionally, it's ready in 25 minutes or less!
Get ready for a bold, creamy, saucy dinner with this One Pot Cajun Shrimp Pasta. It takes 30 minutes to make and is easily dairy-free and gluten-free noodles with a few ingredient swaps. Dinner done in one pan is the best kind of meal!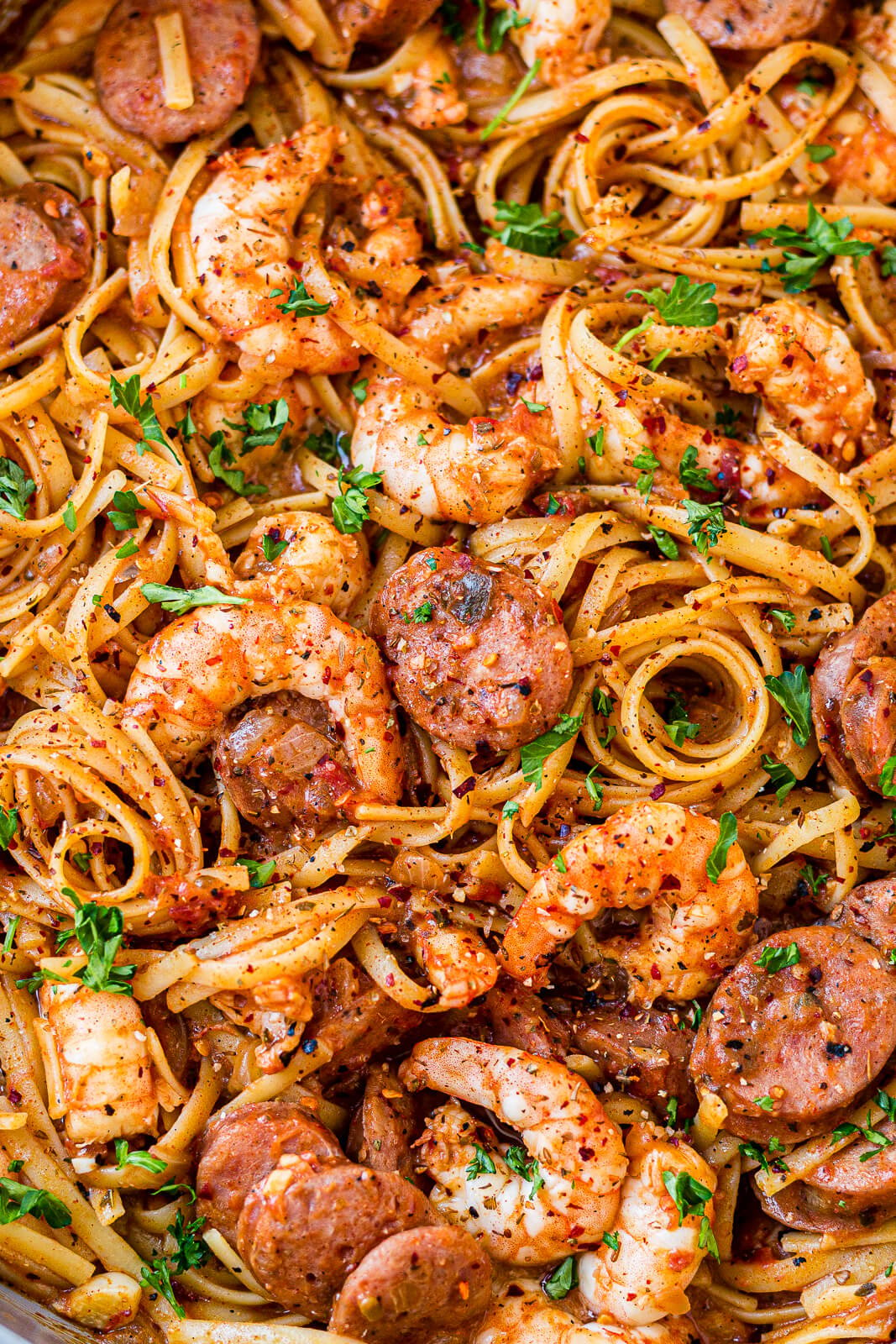 Vegetarian High-Protein Pasta Recipes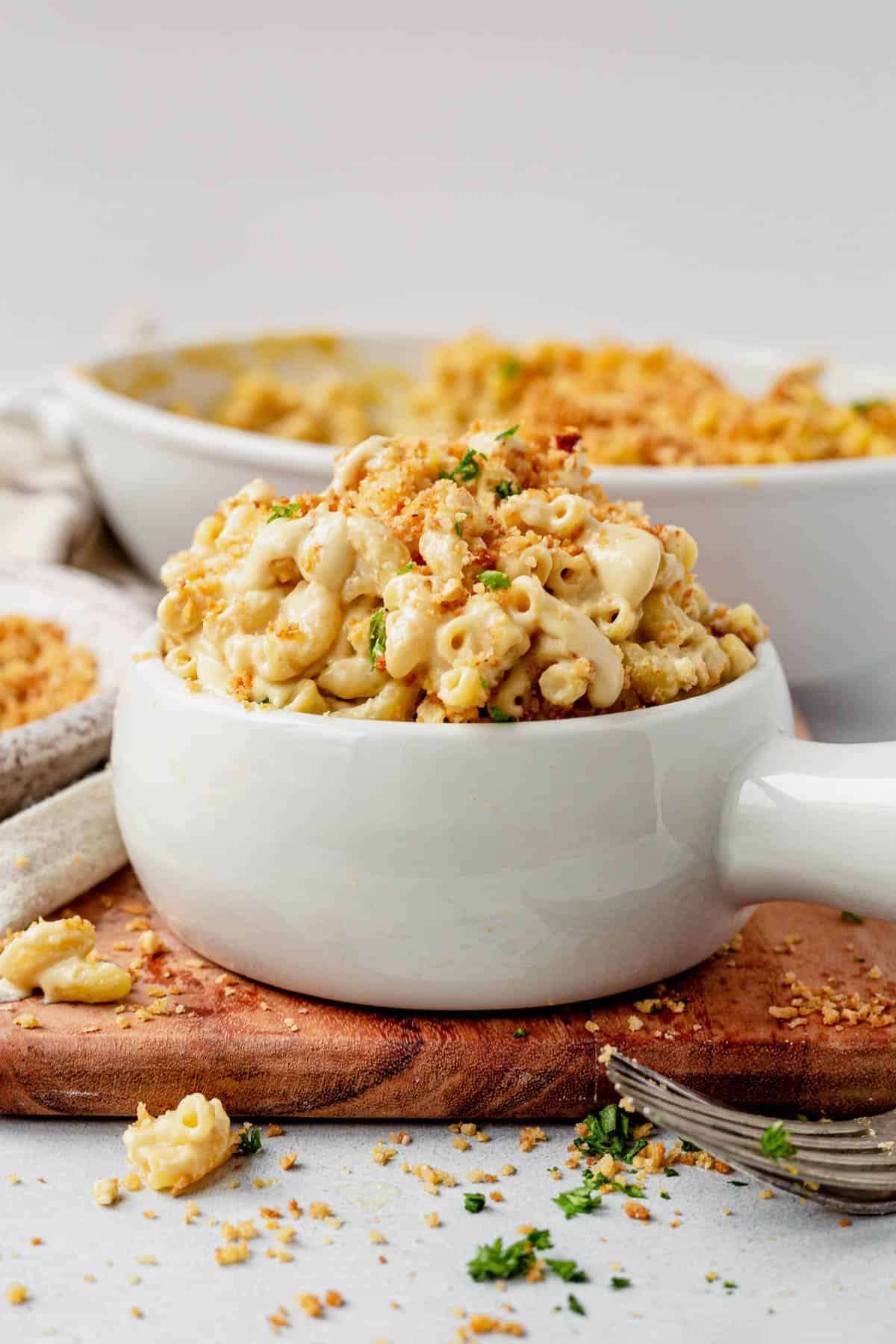 Frequently Asked Questions
What kind of pasta is good for protein?
While whole wheat pasta does have some protein in it, there are now pastas that focus on protein content! Barilla protein pasta is probably the most popular brand to find in your grocery store. Other options of high protein pasta include plant-based varieties, like chickpea pasta, or legume pasta.
What can I add to pasta for additional protein?
There are a variety of foods that you can add to pasta to increase the grams of protein per serving, like lean meat or seafood, eggs, nuts, beans, or even cottage cheese!
Is protein pasta healthier than regular pasta?
According to Sarah Schlichter, MPH, RDN, plant-based protein pasta isn't necessarily healthier than regular pasta, but it makes it easier for some to meet protein and fiber needs. However, protein is a very important part of our diets and protein pastas are an easy, delicious and nutritious way to increase your protein intake!
More High Protein Dinners
If you make this recipe, I'd love for you to give it a star rating ★ below. You can also tag me on Instagram so I can see it!