Super chewy St. Patrick's Day cereal bars (a.k.a rice crispy treats) made with Lucky Charms, Golden Grahams and marshmallows. A simple no-bake recipe!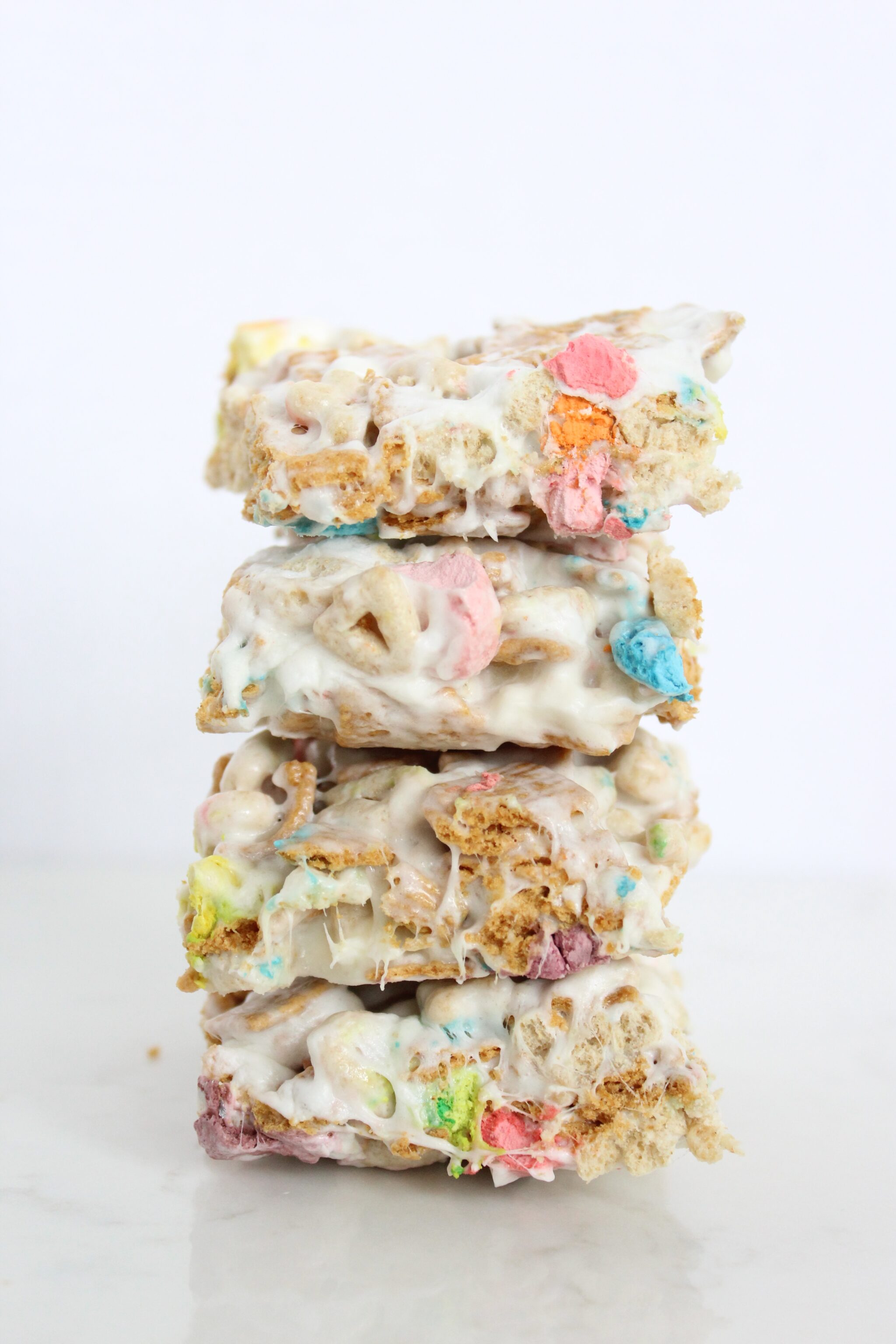 I've been sorta off the grid as of late. Truthfully, sometimes life just throws you curve balls that leave you scrambling to keep up >> my current situation. A million deadlines at work, friends and family birthdays, travel and well, Scandal started.
Pleaseee forgive me for my lack of posting, but I promise I've got lots of yummy recipes ahead!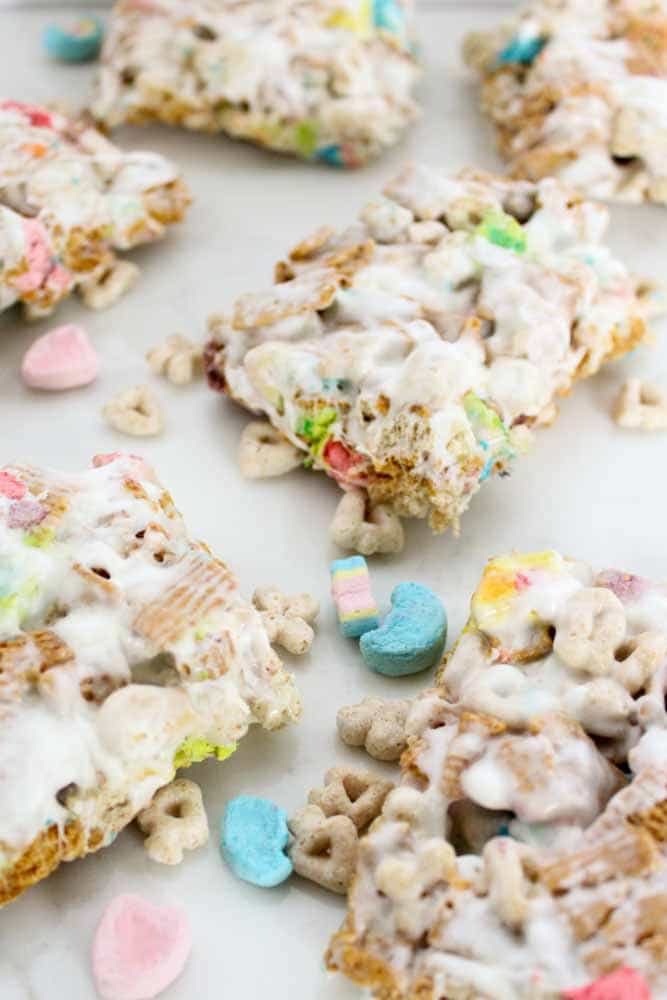 So bring me up to speed. Who's excited for St. Patrick's Day? Do you have big plans to attend a parade? Are you going to watch the celtic ladies on TV (not sure if anyone else knows what that is—my dad gets super excited for it each year)? Do you have lots of green beer in your future? Or a giant Rueben on the menu?
I can gaurantee one thing in my St. Patty's Day future: these St. Patrick's Day Cereal Bars.
As if you need convincing, here are a few reasons why these Cereal Bars (Rice Crispy Treats) are perfect for St. Patrick's Day.
Lucky Charms. I adore Lucky Charms. I was one of those kids that picked out the marshmallows.
They take a total of 12 minutes to make. Including resting time. So like 2 minutes to actually prepare.
Golden Grahams. Nuff said.
Very easy to share and transport. Take them to work, or share with all your Irish (or non-Irish) friends. Because Golden Grahams.
St. Patrick's Day Cereal Bars just so happen to go down nicely with a large green beer.
Did I already tell you these have Lucky Charms in them? As in, your favorite childhood cereal, covered in marshmallows. I used to eat more of this than I care to admit. And by this I mean all the marshmallows. Especially the pots of gold. Those are my fav. And the deliciously sweet and rainbow milk I got to slurp from the bowl after my giant helping.
Did I also mention there's Golden Grahams? Oh right, I did. Because there is. And they're just as magically delicious as Lucky Charms.
If you're looking for a dessert for St. Patrick's Day it's your lucky day! (insert four leaf clover emoji—I searched for 5 minutes for that stupid thing)
JK finalllyyyyy found it ?. For future reference it's in the nature section with all the flowers and trees (you're welcome).
Throw some marshmallows in a microwave safe bowl with some butter, heat it on high and watch those babies expand like crazy and get all soft an melty. You'll want to keep an eye these because there's a good chance they will consumer you're microwave blob style if you aren't careful. Dump the cloud-like marshmallows over the cereal in a large bow, and mix well. Then ya just dump into a greased pan, smoosh it all down and wait 10 long and agonizing minutes for them to set.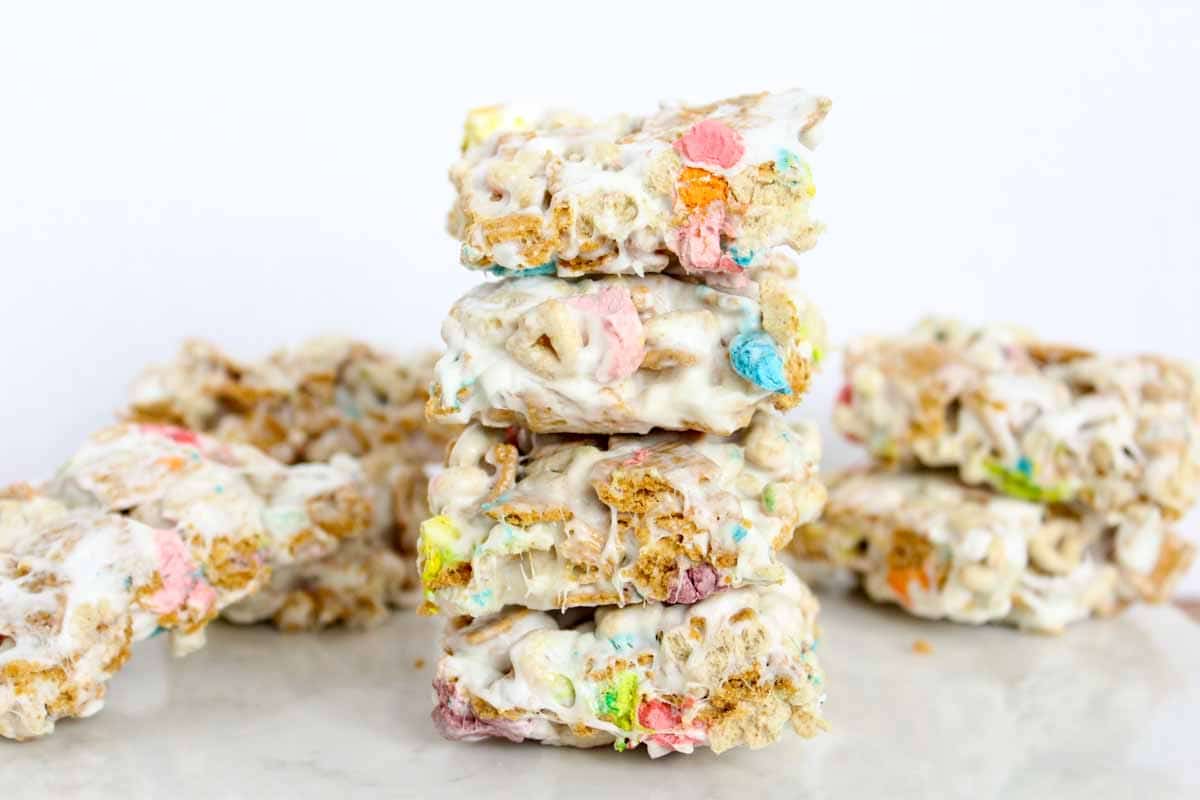 Get your green on people and enjoy yourself a lucky day full of cereal bars!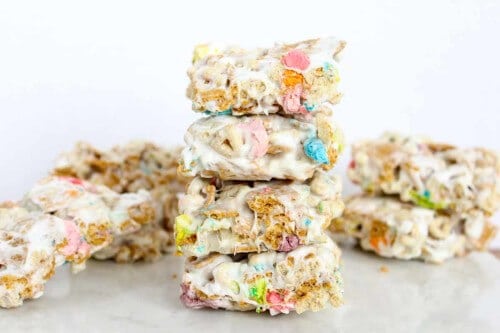 Ingredients
3

cups

Lucky Charms

3

Cups

Golden Grahams

4

tablespoons

butter

10.8

ounces

one bag mini marshmallows
Instructions
Spray an 8x8 baking pan with cookie spray and set aside. Combine the Lucky Charms and Golden Grahams in a large bowl and mix well. Set aside.

In a large microwave safe bowl, combine the marshmallows and butter and heat on high in the microwave for 2 minutes. Watch carefully to avoid marshmallows overflowing.

Once heated, pour the marshmallow mixture over the cereal. Using a rubber spatula, mix well until all the cereal is coated with marshmallow. Dump into the prepared baking pan and push down to form an even layer.

Allow to cool for ten minutes. Serve immediately or keep stored in an air tight container for up to 3 days or in the freezer for up to two months.