Addicting muddy buddy/puppy chow coated in chocolate and COOKIE BUTTER and doused with powdered sugar.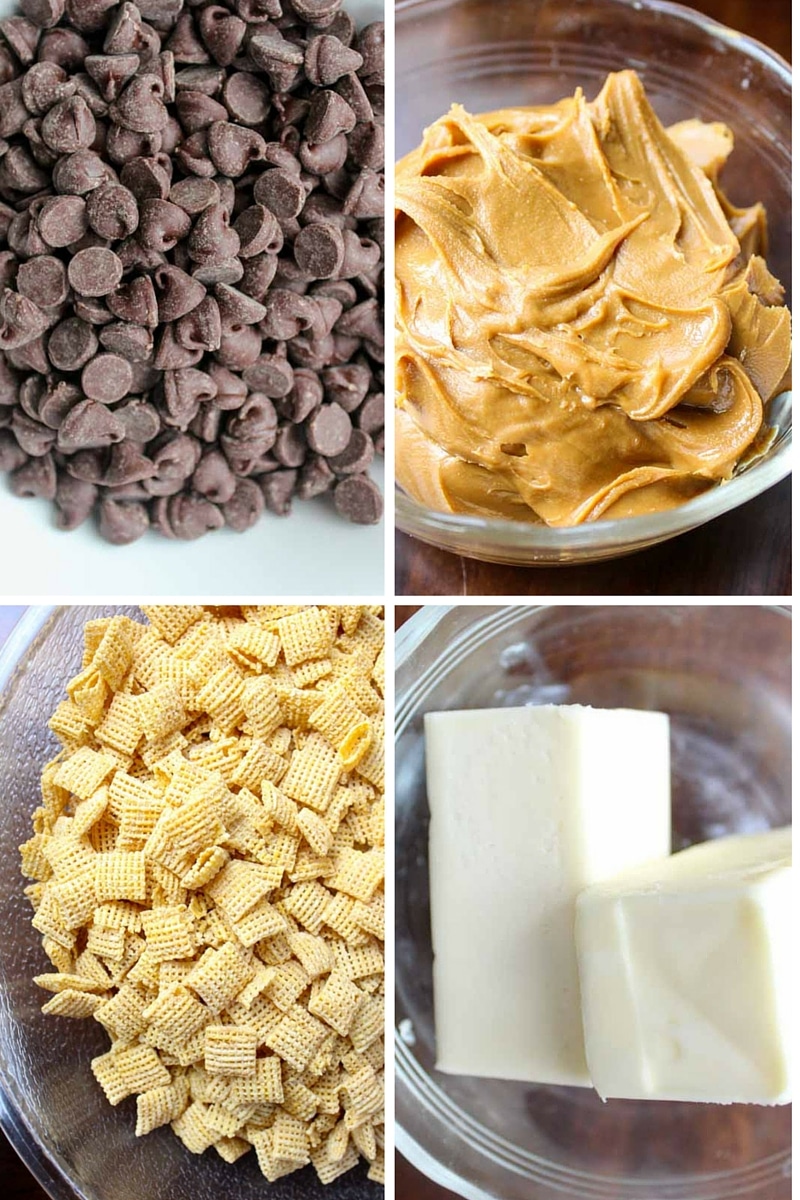 I'm so sorry for this. I really am. I'm ruining New Year's Resolutions one sweet, crunchy bite at a time. You won't physically be able to stop reaching for this puppy chow. You convince yourself you'll only have one more handful. After every handful. And somehow the bowl is empty and you have no idea how it happened.
I'm sure you've had some form of puppy chow at one point or another in your life. Whether you've made it yourself or someone made it for you, this delicious snack has been around for ages.
BUT, you probably have never had puppy chow made with cookie butter. There are so many versions of the traditional recipe, it's my hope to make puppy chow in all different varieties. Like this protein puppy chow. And now this one!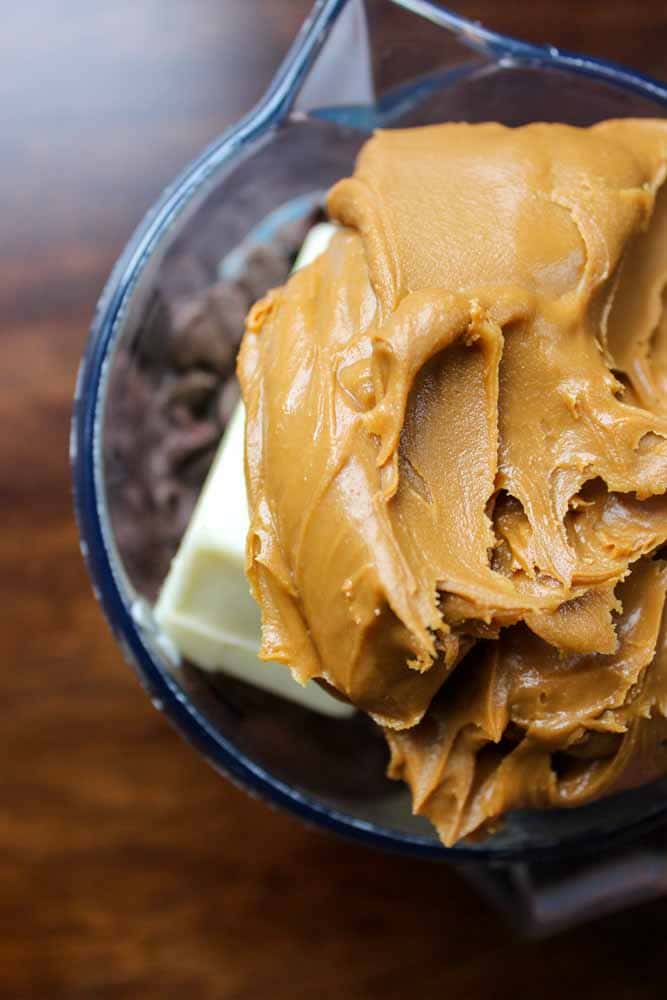 People also call puppy chow muddy buddies. Both are totally correct and fun to say, but I grew up calling it puppy chow. In fact, the first time I heard about it (wayyy back in elementry school) I thought it was dog food. My friend's mom made it and I fell in love. Yes, I fell in love with food. It's possible.
The second time I decided to give it a go on my own. And by on my own I mean with Chelsea, of course. Shaking giant bags of crunchy chocolate and peanut butter is a bonding moment for sure. Especially with powdered sugar flying all over the place. My mom was really happy about the whole situation.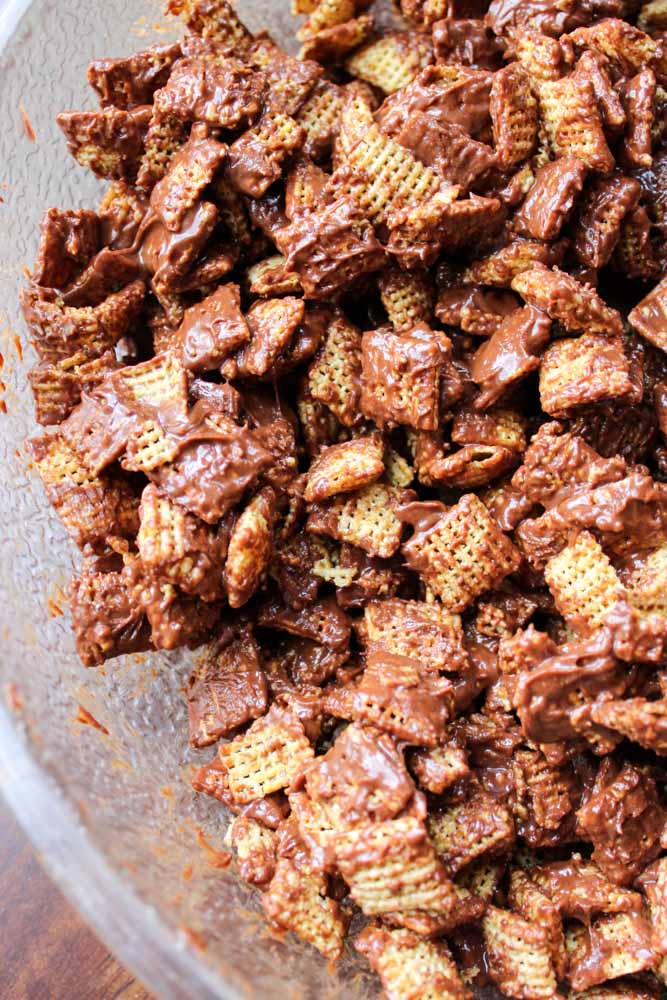 The idea for this puppy chow came to me after a major craving for cookie butter. I was looking to switch up my typical recipe and thought swapping the peanut butter for cookie butter had to be delicious. It's a subtle change, but a delicious one.
I made a giant batch and took it to my nephew's second birthday party. I think the adults ate the whole thing before the kids noticed it was there.
The best part? You only need 6 ingredients.
Make this puppy chow with 6 simple ingredients:
1. chex cereal
2. chocolate chips
3. cookie butter
4. vanilla
5. butter
6. powdered sugar
Like all puppy chow recipes, this easy snack requires no baking at all! You start by adding the butter, chocolate chips and cookie butter into a large microwave safe bowl or measuring cup. Then pop it in the micro for 30 seconds, stir and repeat until it's a giant silky pool of chocolate, cookie butter heaven. Dump your chex in a giant bowl and get ready to pour the melty chocolate mixture over the the cereal. Next up? stir it all up with a rubber spoon. Do your best to mix until just combined to try and avoid breaking a lot of the cereal.
Now the fun part! Grab two big freezer bags and divide the cereal mixture into each one. Dump all the powdered sugar in and shake shake shake like crazyy to cover each and every piece.
P.S. the very best bites are the big chunks that get stuck together. Dive in early and grab as many as you can!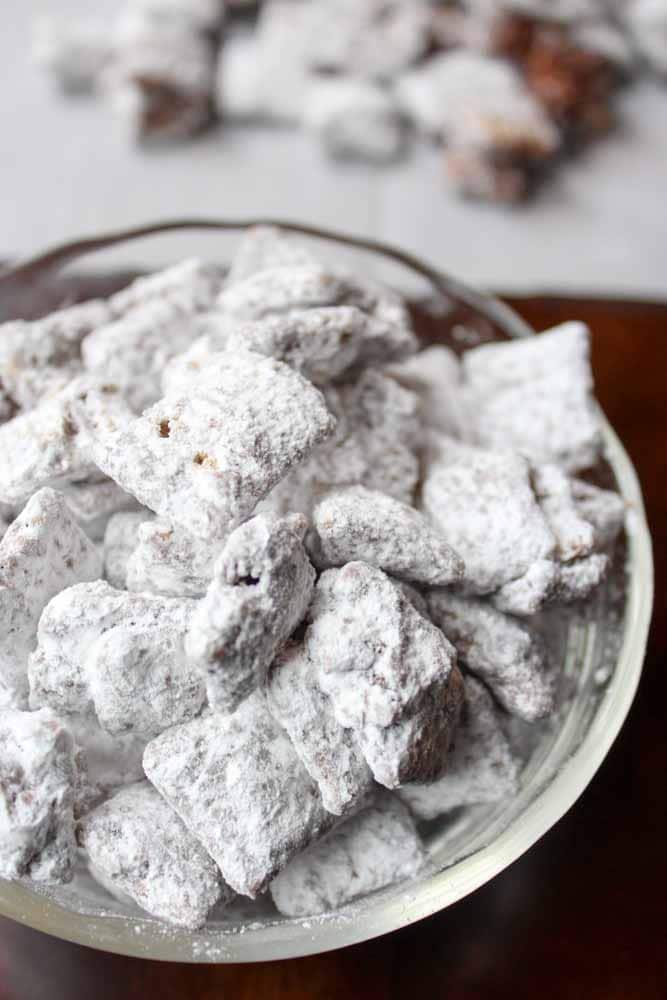 It's so addicting. Bite, handful, bowl or batch, you won't be able to get enough of this puppy chow. Again, I really am sorry about your resolutions.
More puppy chow: Chocolate peanut butter protein puppy chow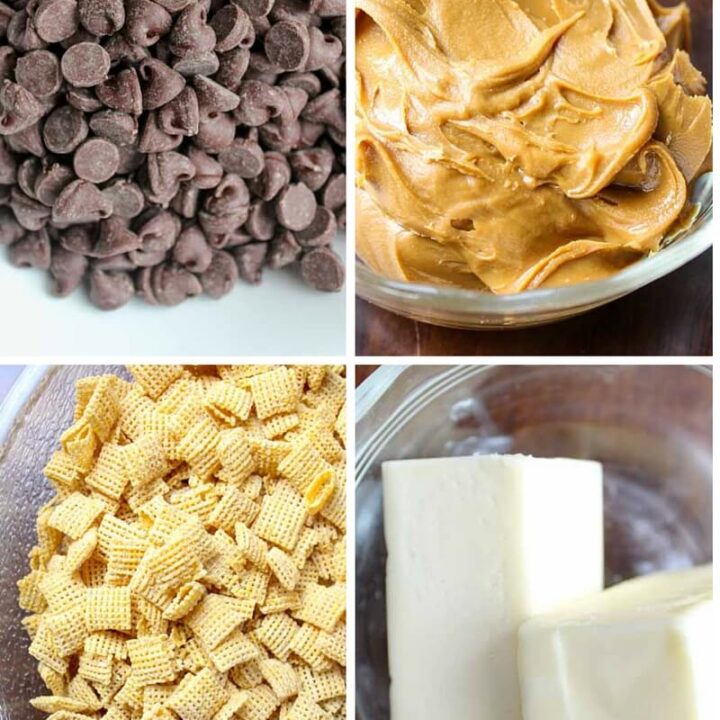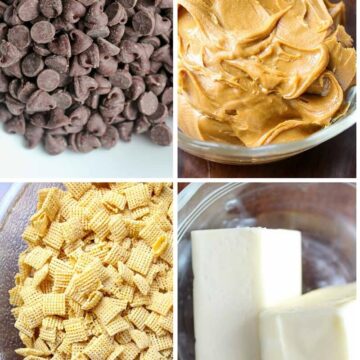 Puppy Chow with Cookie Butter
Sweet and crunchy puppy chow recipe made with cookie butter and covered in powdered sugar. This recipe is the best!
Print
Pin
Rate
Ingredients
1-14

ounce

box rice chex cereal

2

cups

semi sweet chocolate chips

1 ¼

cup

cookie butter

¾

cup

unsalted butter

2

teaspoon

vanilla extract

5

cups

powdered sugar
Instructions
Add chocolate chips, cookie butter and butter to a medium microwave safe bowl. Heat on high for 30 seconds, mix and repeat until mixture is melted together. Add vanilla and mix well.

Dump the cereal in a large bowl. Drizzle chocolate mixture over and stir with a rubber spatula until just mixed, being careful not to break cereal pizzas.

Split cereal mixture into two plastic bags. Add 2 ½ cups of powdered sugar to each bag and shake well, coating everything.

Store in an air tight container. I like to keep mine in the freezer.