The bite-sized desserts, patriotic recipes and Fourth of July celebrations are upon us! And these mini patriotic brownies fit the bill. With just the right amount of chocolate and chewiness, these little guys satisfy chocolate cravings in one bite. And the sweet topping with fresh fruit is just perfect, and I couldn't love it more.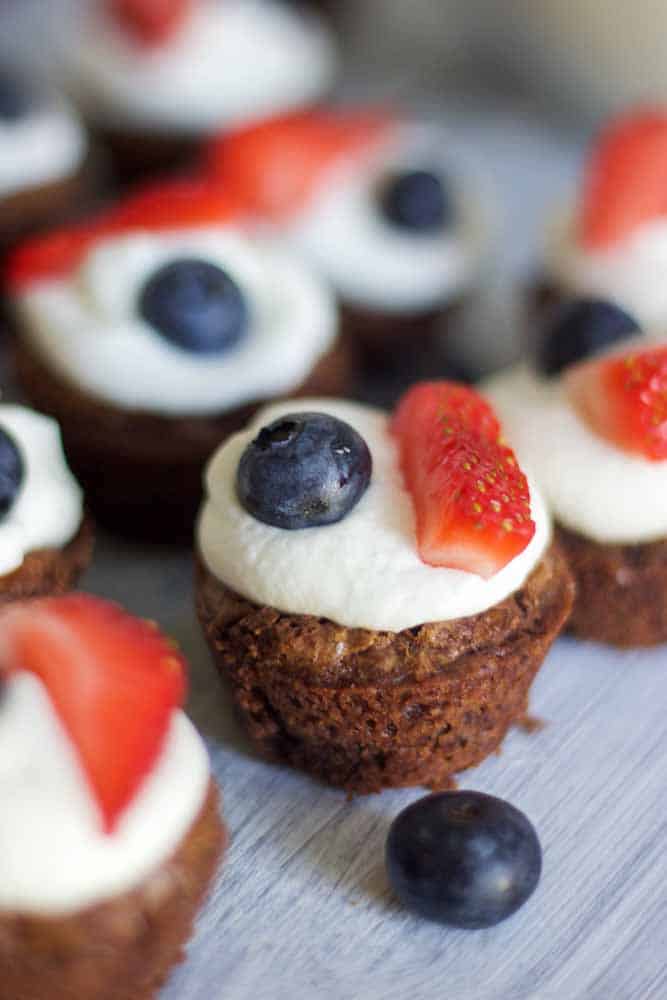 Chocolate, whipped cream and berries: gangs all here!
And ready for your 4th of July parties?? Make these patriotic brownies and bring a batch of red white and blue jello shots.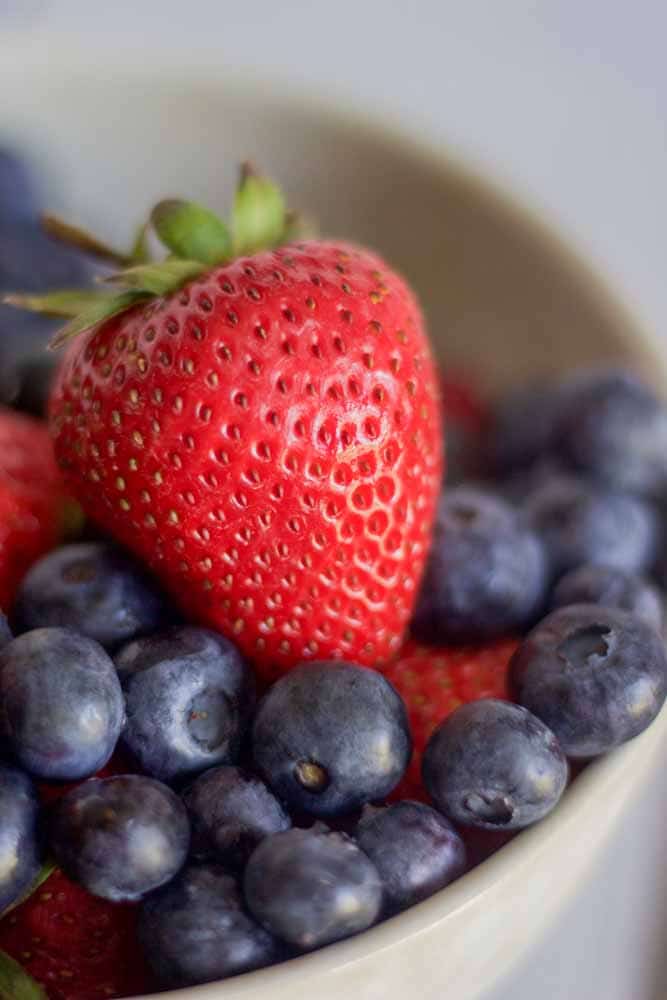 I was testing this recipe last weekend when I was visiting my family in Akron for the weekend. I had originally intended to test a couple recipes on this particular Saturday night, so after a long hard day lounging at the pool I got my life together and went to the grocery store to gather the ingredients.
Then I get home to make all my epic recipes and realized I forgot at least one critical ingredient I needed for each recipe. Complete FAIL.
The unglamorous side of food blogging: going to the grocery store 1000000 times a week. Unless you love it and you're into that kind of thing (which I am not).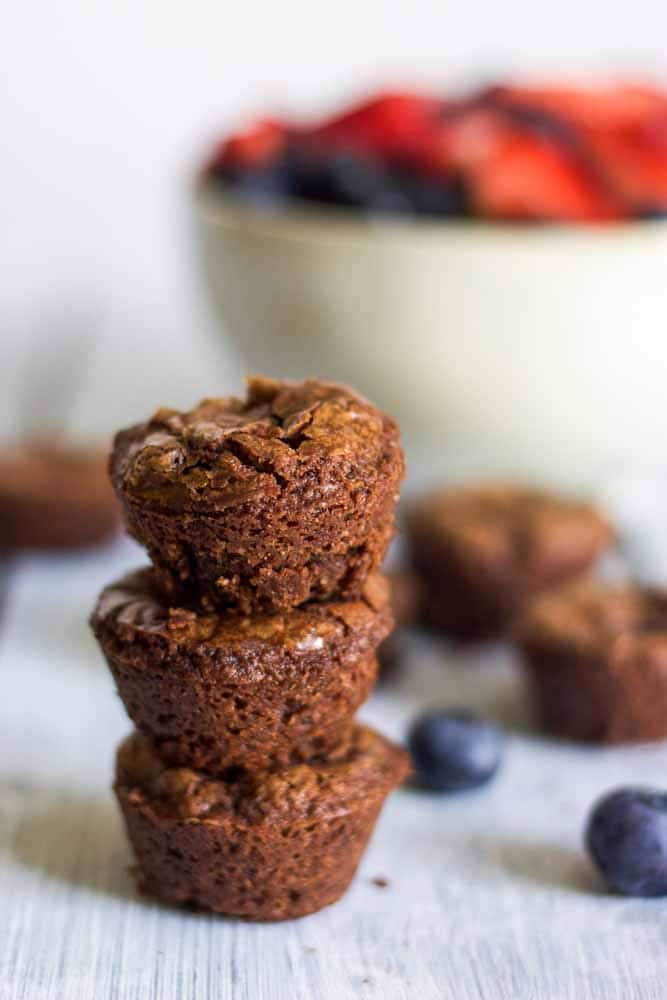 The only recipe I had all the ingredients for were these mini patriotic brownies. I could go to the grocery store and be super productive, get all the ingredients to make the rest of the recipes. OR I could just make these and call it a night. Guess which one I chose?
No brainer.
These chocolate love bites baked up in 10 minutes and they're just the cutest little things. A small dollop of fresh whipped cream and berries and the mini patriotic brownies are almost too gorg too eat.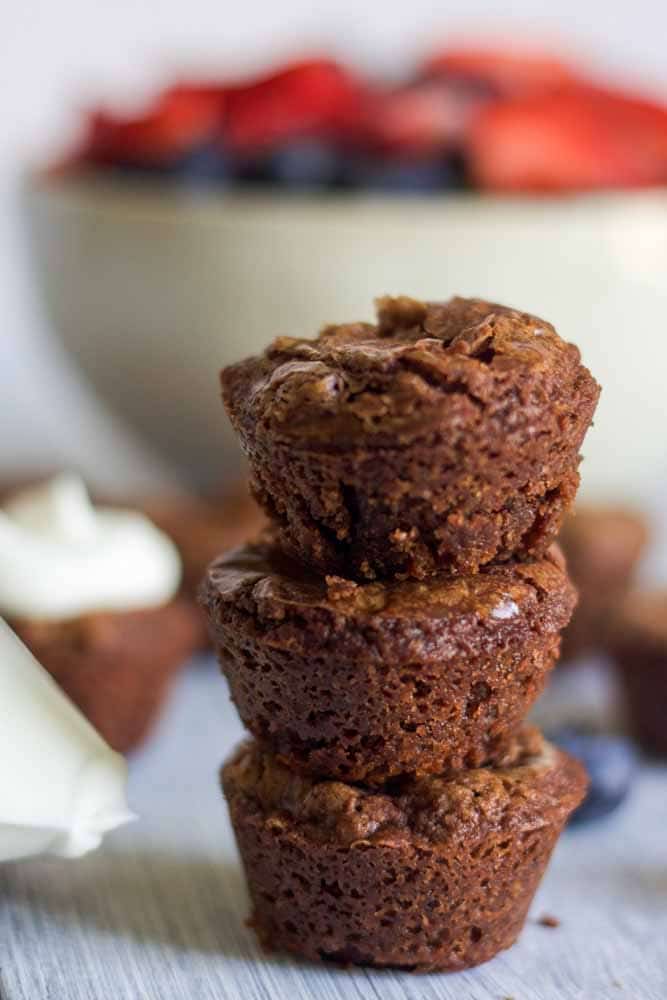 I'm currently tracking my macros (carbs, fat and protein) after the eating extravangaza that was Charleston, SC (read more about everything I ate here). So I only had a tiny bite (of a bite).
BUT that bite was pure heaven. Even watching my nutrition won't deter me from baking the very best summer recipes. The next day I packaged them up to take home with me so I could share with my coworkers and asked my mom if she thought the whipped cream would be okay for the 2 hour trek back to Cbus.
She said yes. The real answer? no.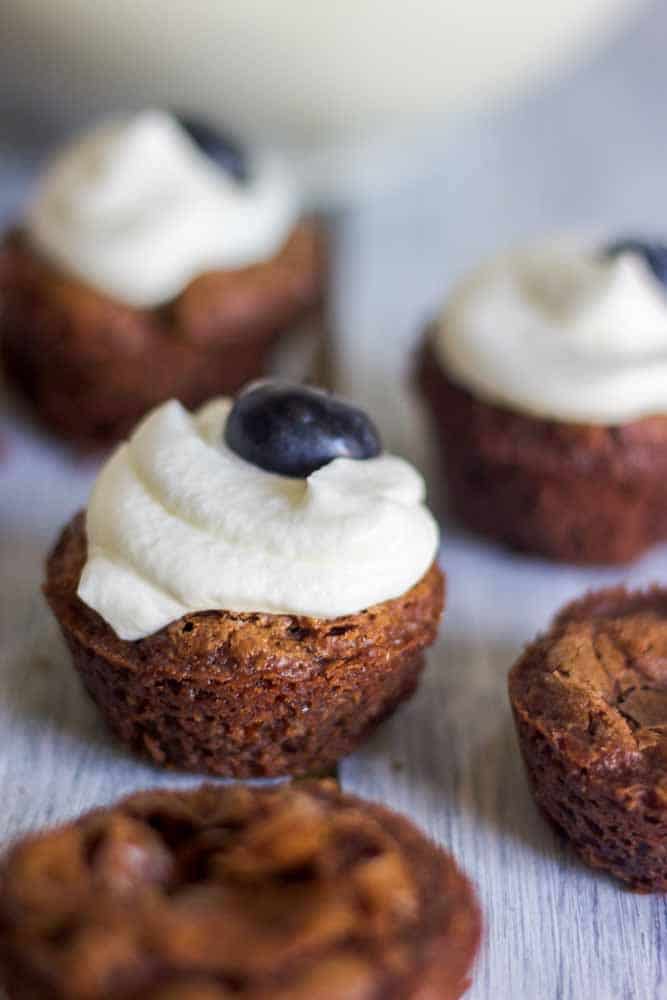 I pulled them out and they were a giant mess of melty chocolate whipped cream and berries.
To my coworkers who are reading this: I'm sorry they didn't make it to you.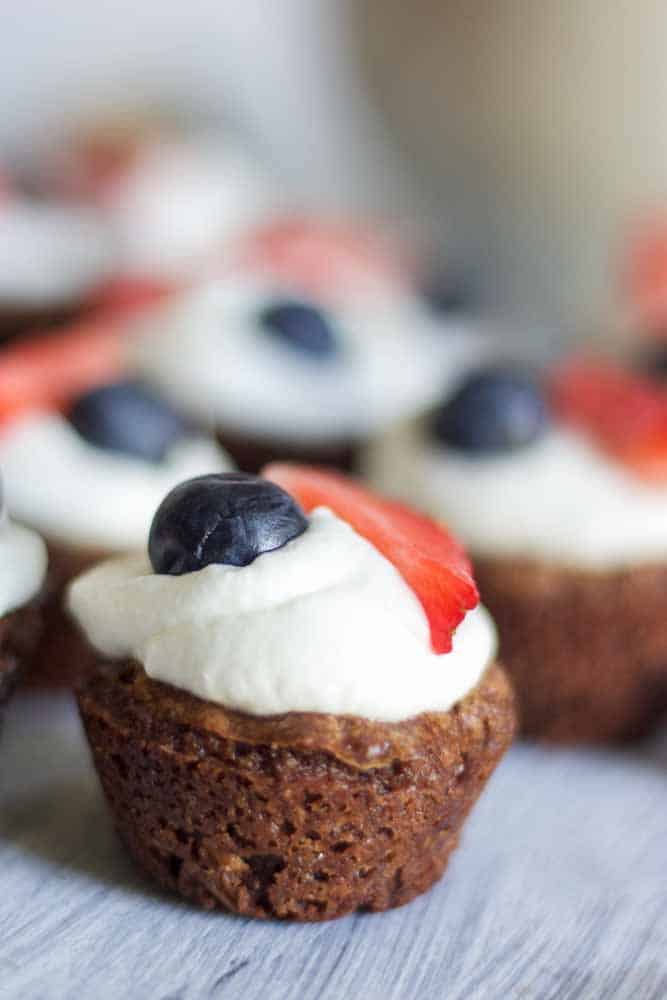 Because they didn't make it back, and because they were so damn delicious, I MUST (and so should you) make them again. Along with these festive Red, White and Blue Jell-O shots.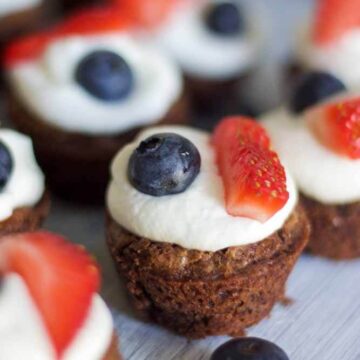 Ingredients
For the brownies:

¾

cup

granulated sugar

6

tablespoons

unsalted butter

1

tablespoon

water

1 ½

cups

semi-sweet chocolate chips

½

teaspoon

vanilla extract

2

large eggs

⅔

cup

all-purpose flour

¼

teaspoon

baking soda

¼

teaspoon

salt

For the topping:

½

cup

heavy whipping cream

1/

cup

granulated sugar

1

cup

strawberries

sliced

1

cup

blueberries
Instructions
For the brownies, preheat oven to 350 degrees. Grease mini muffin tin with nonstick spray.

In a medium sauce pan, combine ¾ cup sugar, butter and water over high heat. Bring to a boil, stirring constantly. When boiling, remove from heat and add ¾ cup chocolate chips and stir until smooth.

Stir in vanilla extract. Add eggs, one at a time, stirring well after each addition. Add flour, baking soda and salt and stir until well combined. Add remaining chocolate chips and stir until incorporated.

Fill prepared mini muffin tins with 1 tablespoon of brownie batter. Bake for 10 minutes, or until tops are set and toothpick insert comes out clean. Cool for 10 minutes and transfer to wire cooling rack to cool completely.

While brownies are cooling, beat cream and ¼ cup sugar on high in a small bowl until stiff peaks form, about 3 minutes. Transfer whipped cream to a piping bag or plastic sandwich bag. Snip the end and pipe a dollop of whipped cream on top of each cooled brownie. Add a blueberry and sliced strawberry to each mini patriotic brownie.