This peppermint pretzel bite recipe will be a huge hit! A pretzel, topped with milk chocolate and sprinkled with peppermint pieces, you can make these bite-sized holiday desserts in under 10 minutes!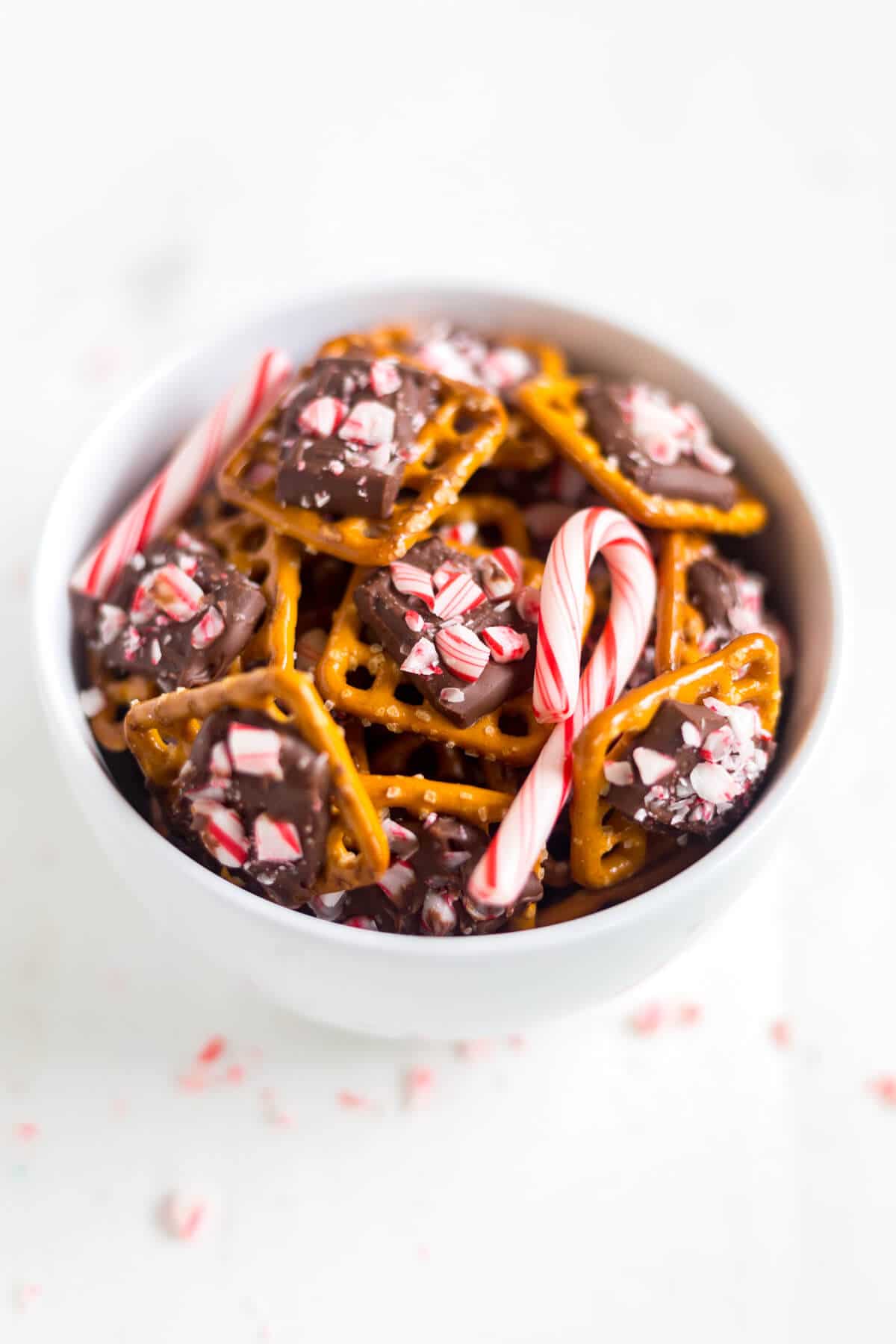 I like to call this my need-a-recipe-last-minute Christmas recipe. That's because it really does take only minutes to make. And it's so delish! Not to mention it looks super pretty.
They're a perfect size to take to holiday parties because they're bite-sized people can pop them in their mouth one at a time while they mingle and hang out. They're also really good fillers for a Christmas cookie exchange.
If you're a regular around here you know we just wrapped up Christmas cookie week. I had 4 containers of cookies in my freezer waiting to be packaged up to share with friends and family. I just got those divided yesterday and these little peppermint pretzel bites were a great addition to fill the little holes in my tins.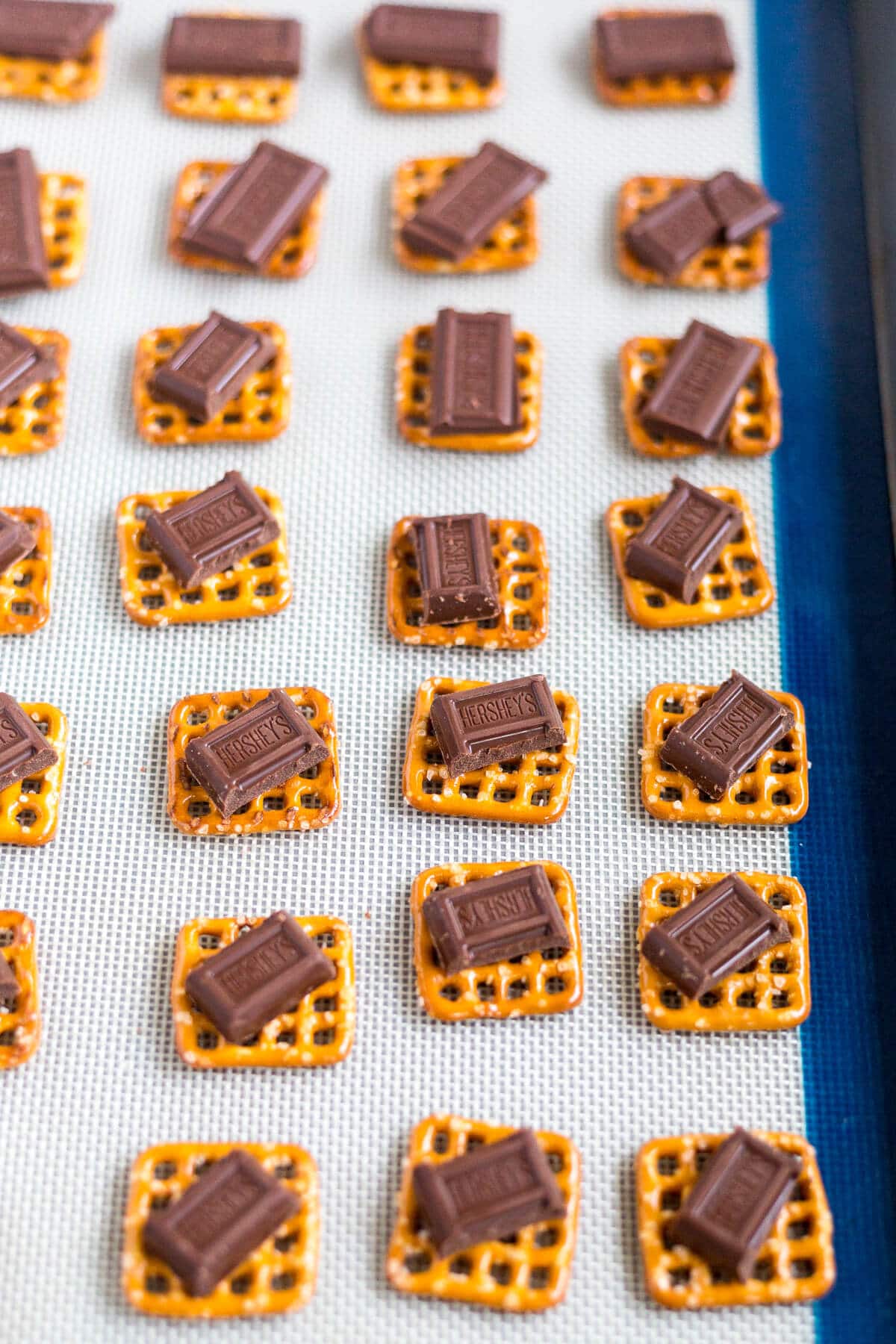 We don't have any more holiday parties to go to but we always go to my parents for Christmas Eve so I saved a few to take to them. We're also heading to Iowa to visit Zach's family right after Christmas so I'm going to save some for them too!
You could even wrap these peppermint pretzel bites up in little plastic baggies with a ribbon and they would such a cute teacher or coach gift! I'm going to need to remember that when we start having little kiddos!
Seriously, if you have under 15 minutes you can make this recipe and it will be ready to take to a party last minute!
3 Steps to Make Peppermint Pretzel Bites
Start by laying your pretzel outs on a parchment lined baking sheet. Try to pick out the pretzels that aren't broken, but they'll taste exactly the same if they're broken so don't worry too much about that. Then top each pretzel with one Hershey square.
Bake the pretzels and Hershey's for about 5 minutes.
Once the pretzels come out of the oven top each one with crushed peppermint sticks (aka candy canes).
I bought the mini candy canes from the grocery store and put them in a plastic bag and crushed them together. But you could get any size candy canes really! Just as long as they're peppermint!
If you're in an extra rush throw them in your freezer when they're done to set. They take about 5 more minutes to set in there so you really do have an easy dessert in under 10!
I really hope this peppermint pretzel bites recipe brightens your holidays and makes a fun and festive addition to your holiday cookie try. Or saves the day in a holiday party pinch!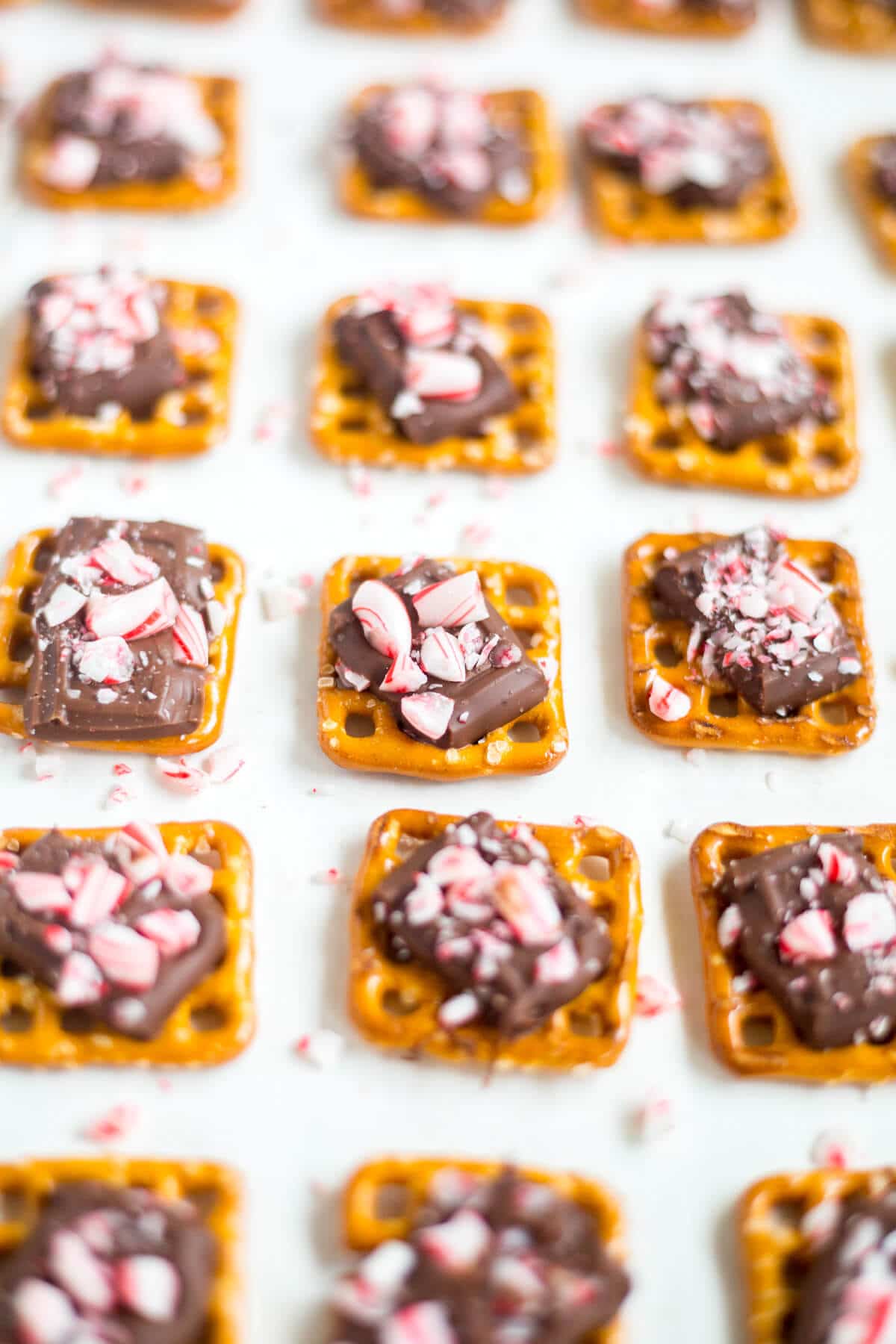 If you do make it don't forget to tag me in a pic on Instagram with #WhatMollyMade! And follow along over there to because I hang out there every day!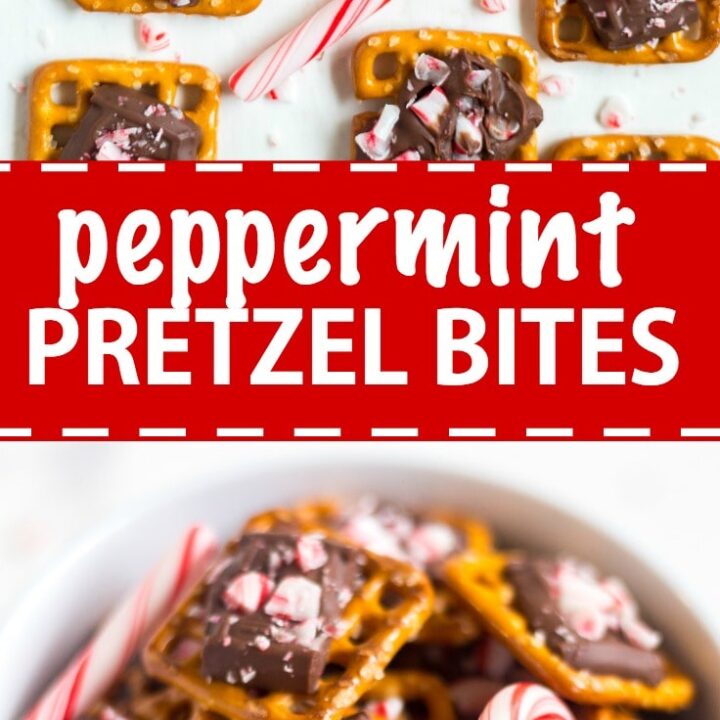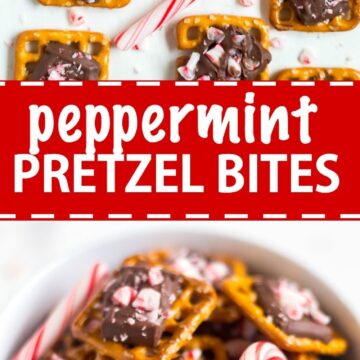 Ingredients
70

square pretzels

6

large Hershey's bars

½

cup

5-7 candy canes, crushed
Instructions
Preheat oven to 200°F. Line a cookie sheet with a parchment paper or a silpat mat. Line pretzels on cookie sheet in a single layer then top each pretzel with one square of the Hershey's bar. Bake in preheated oven for 4-5 minutes, just until chocolate is shiny and soft.

Remove from oven and sprinkle with crushed candy canes. You may need to push the candy canes down gently into the melted chocolate to make sure they stay. Place in refrigerator or freezer to set for about 5 minutes. Store in an airtight container for up to 7 days or in the freezer for up to 3 months.