Let's give a huge shout out to these Triple layer caramel crunch (refined sugar free and gluten-free!) bars. The bottom layer is filled with lots of rich chocolate, naturally sweetened with no refined sugar and baked to perfection. The second layer is a paleo "caramel" made with some awesome ingredients (keep reading to find out!) and the top layer is a chocolate crunch layer made with rice puffs.
Hint: if you want these to be completely paleo just omit the rice puffs!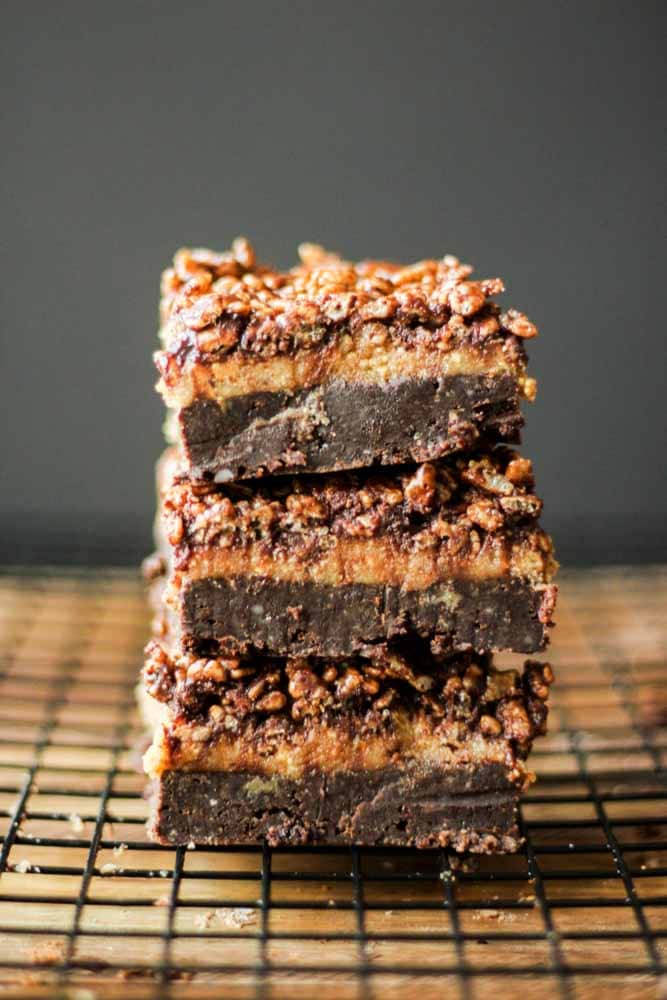 I know what you're thinking..."Molly- two healthy recipes in a row? Who are you?!"
I know I share a ton of rich and indulgent save-this-for-my-cheat-day recipes around her. But I decided that the recipes I share should somewhat reflect how I try to live my life. Don't get me wrong I LOVE dessert. But I also love health. So now I'm sharing the best of both worlds with a little of both.
Also another major update! I finallyyyy created a bitmoji. This is huge, I KNOW. And it's the greatest thing to happen to my life since I made these bars. It's like a little Molly inside my screen saying really cool things like "on fleek" and "bye Felicia" (which I actually say on a daily basis). Here's a quick snapshot in case you were wondering...
I have many more faves but I'll let you download it and have a great time reading them all. It's pretty awesome.
Like these bars! Let's talk about the bottom layer. It's paleo and chocolate and you would never know there isn't any refined sugar in them. Just pure ingredients with so much chocolate flava.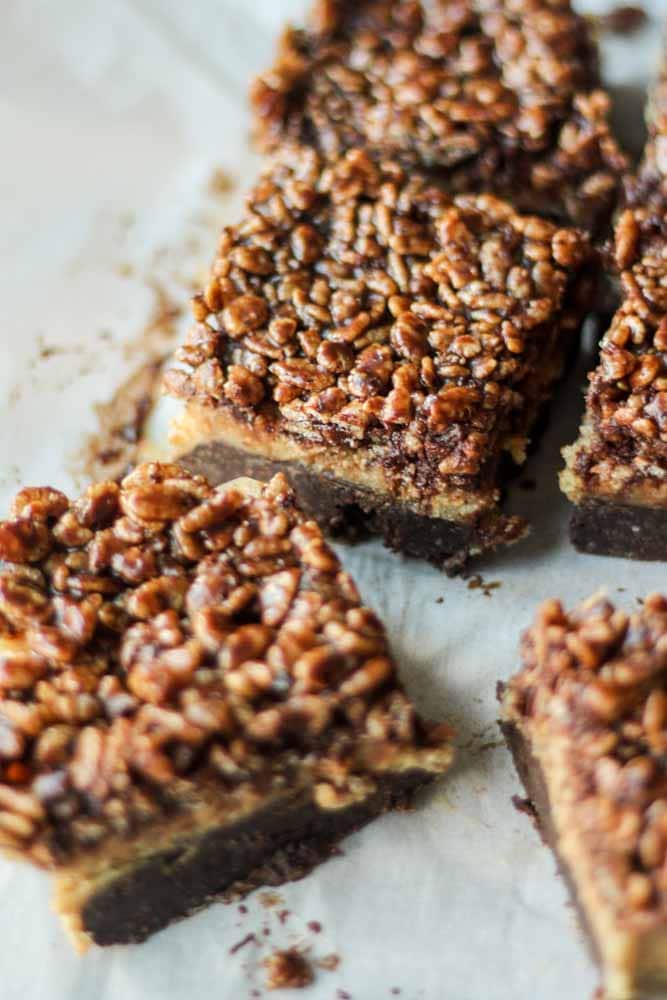 The second layer is a paleo caramel. The base of it is made with almond butter and 100% maple syrup. Seriously, it's kinda strange how much these actually taste like the real deal. It's sweet and has just the right color of caramel and makes the perfect topping for the brownie layer.
I thought these brownies needed some texture so I added a layer of chocolate crunch made with coconut oil, cocoa powder and rice puffs (or rice cereal). This is the only layer that excludes these bars from being strict paleo.
So if you want them to be paleo I would just omit the rice puffs and replace with chopped nuts like almonds or pecans. That way you still get the crunchy texture and have a paleo treat at the same time.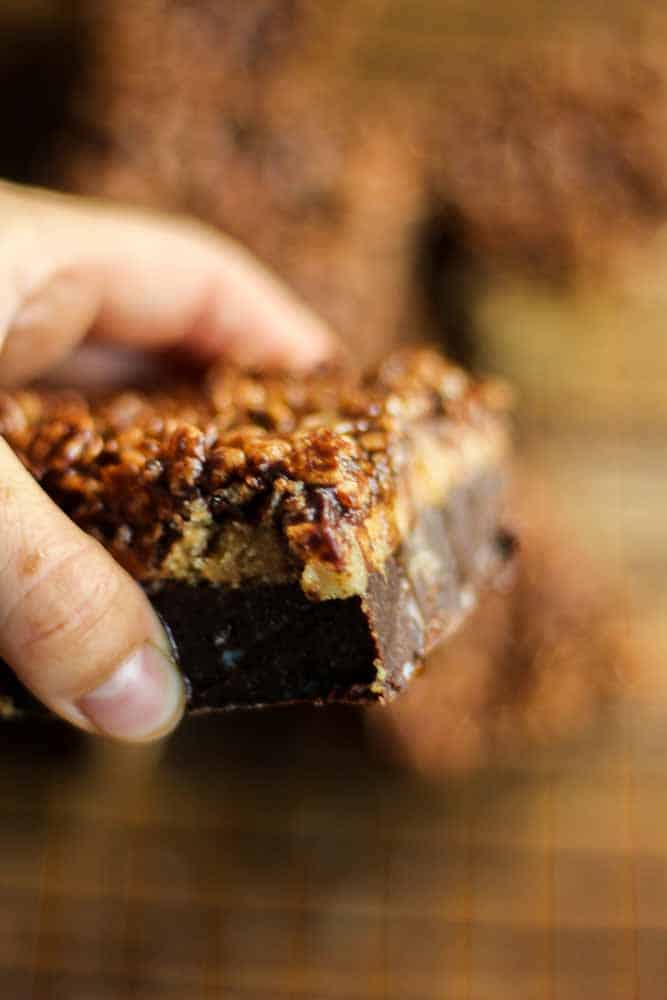 When you bite in to these squares all three layers together come together just right. They are super rich so I recommend cutting your squares small. I cut mine so small I could have one bite. Every time I went to the fridge. So about 25 bites a day? Sounds about right.
Another tip is to throw these in the freezer between each layer. It allows the layer to set just right before apply the next one. When you let the layer cool before adding the new one it gives you the super pretty and clean lines between the layers when you cut them. Cutting them when they've been in the freezer also makes it a lot easier!
And I stored these in the freezer for almost a month! The freezer is our friend here.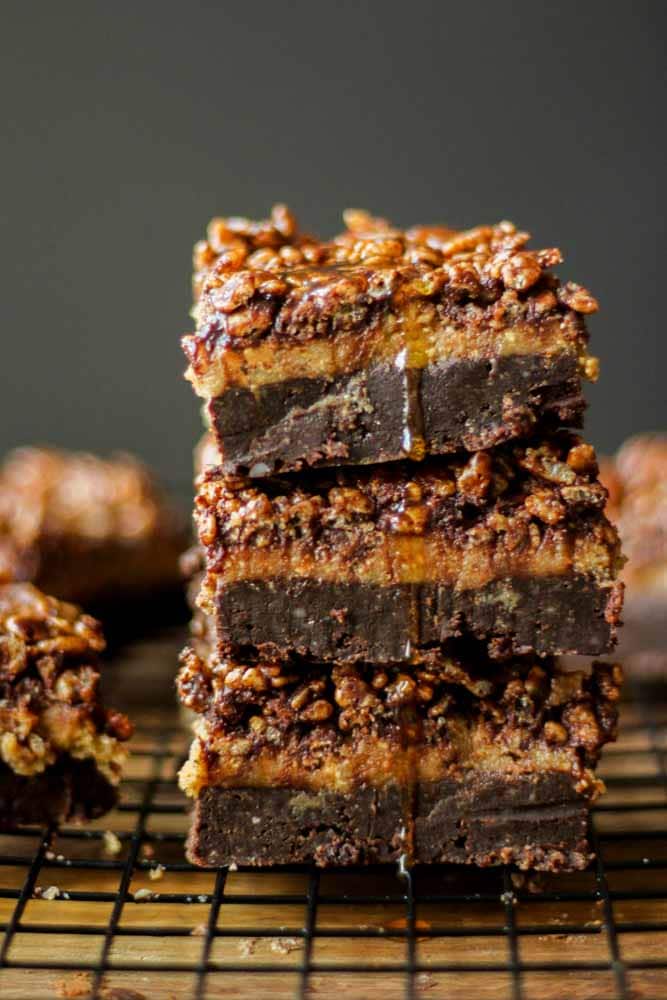 Speaking of friends. I guess you could share these with your friends if you feel so inclined. But I totally wouldn't judge if you kept them in your freezer all to yourself.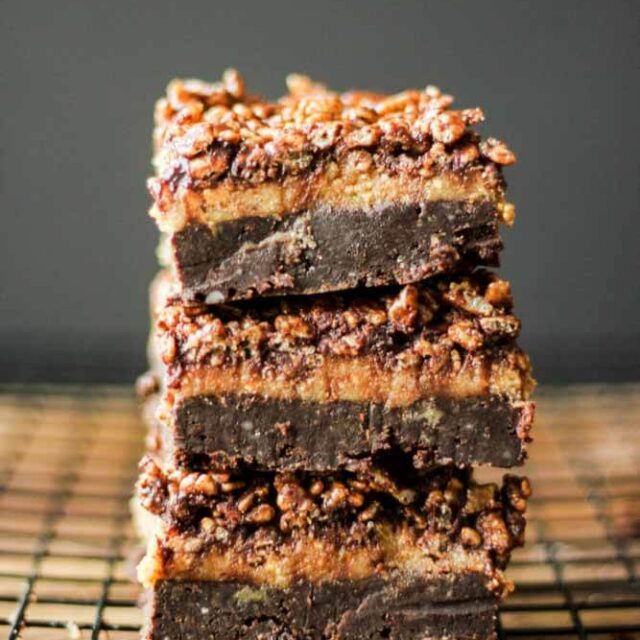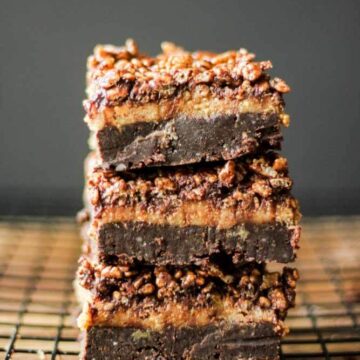 Ingredients
Brownie Layer:

1/2

cups

+ 2 tablespoon coconut oil

1 1/4

cups

coconut sugar

3/4

cup

+ 2 tablespoons unsweetened cocoa powder

1/4

teaspoon

salt

1

teaspoon

vanilla

2

large eggs

1/2

cup

almond flour

Caramel Layer:

1/2

cup

creamy almond butter or cashew butter

1/3

cup

maple syrup

1/3

cup

coconut oil

1

teaspoon

vanilla

1/2

teaspoon

salt

Crisp Layer:

1/4

cup

coconut oil

melted

1/4

cup

cocoa powder

2

tablespoon

maple syrup

1/2

teaspoon

slat

1

cup

rice cereal
Instructions
Brownie Layer: Preheat oven to 325. Line an 8x8 pan with parchment paper and set aside. Place the coconut oil, coconut sugar, cocoa powder and salt in microwave safe bowl and heat for 30 seconds. Stir mixture and place back in the oven for another 30 seconds until completely melted. Whisk thoroughly until sugar is dissolved. Add the vanilla, and eggs and stir until combined, about 30 seconds. Add the almond flour and stir until just combined. Pour the batter into the prepared pan and spread evenly. Bake for 22-25 minutes or until toothpick in center come out clean. Set on cooling rack and allow to cool completely.

Caramel Layer: Combine all ingredients in a medium sauce pan over medium high heat. Stir the mixture constantly until all ingredients are melted and combined. Pour the caramel layer over brownie layer. Place in the refrigerator for 30 minutes to cool completely.

Crisp Layer: Combine coconut oil, cocoa powder, maple syrup and salt in a microwave safe bowl. Melt on high heat for 30 seconds. Stir and place back in the microwave for another 30 seconds if needed. Stir together until smooth. Add rice cereal or rice puffs and mix with a rubber spatula until well combined. Spread over cooled caramel layer. Cool completely and cut into squares.

Note: The bars are easiest cut if you put them in the freezer for about 15 minutes.