The spookiest time of the year is here! And these Halloween Mummy Bars make the perfect scary treat for your next party. They're so easy to make (you don't even need an oven!) and they're filled with pumpkin spice flavor. Your friends and family will love the festive decorations and you will love how simple and creative they are!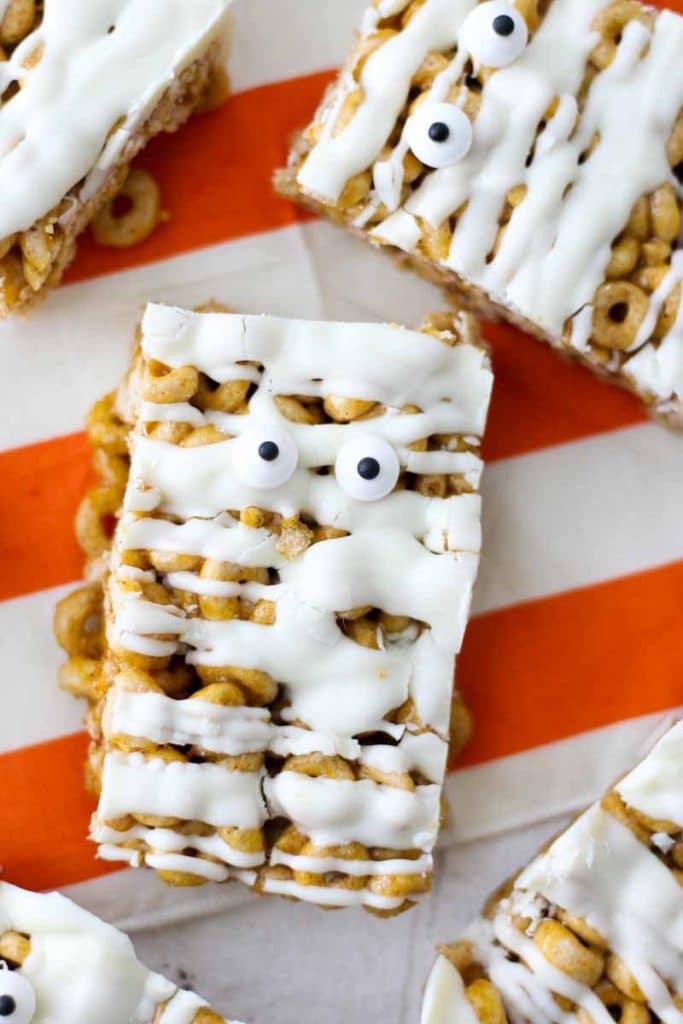 I don't know about you, but I LOVE Halloween. It's like the first official holiday that kicks off the rest of the holidays. Once Halloween comes and passes we're like a blink of an eye away from Thanksgiving and Christmas!
There is just nothing better than the holidays and I have some really exciting holiday recipes happening over her on WMM so stay tuned! I promise, the cookie situation is about to get real.
Until then, we have Halloween goodies to devour! These bars are made from cereal and require no baking at all. Yep, you heard that right! No oven for this here mummy recipe. They're essentially a spookified rice crispy treat. The base of the recipe is marshmallow, cheerios, pumpkin and pumpkin pie spice.
The decor is made from white chocolate and candy googly eyes! This is where the fun coms in! Within minutes your ordinary cereal bars are transformed into a spooky Halloween treat!
If you've got a party to host or a party to attend these are such a fun recipe to bring along. Anyone have a fun party to go to?! My boyfriend, Zach, and I are heading to Colorado to visit his grandparents for a long weekend, so we won't be able to dress up and celebrate (sigh). But there's a very good chance I'll make this recipe!
His grandmother is a killer chef/baker. She even taught me my boursin cheese recipe. That stuff is cheese gold.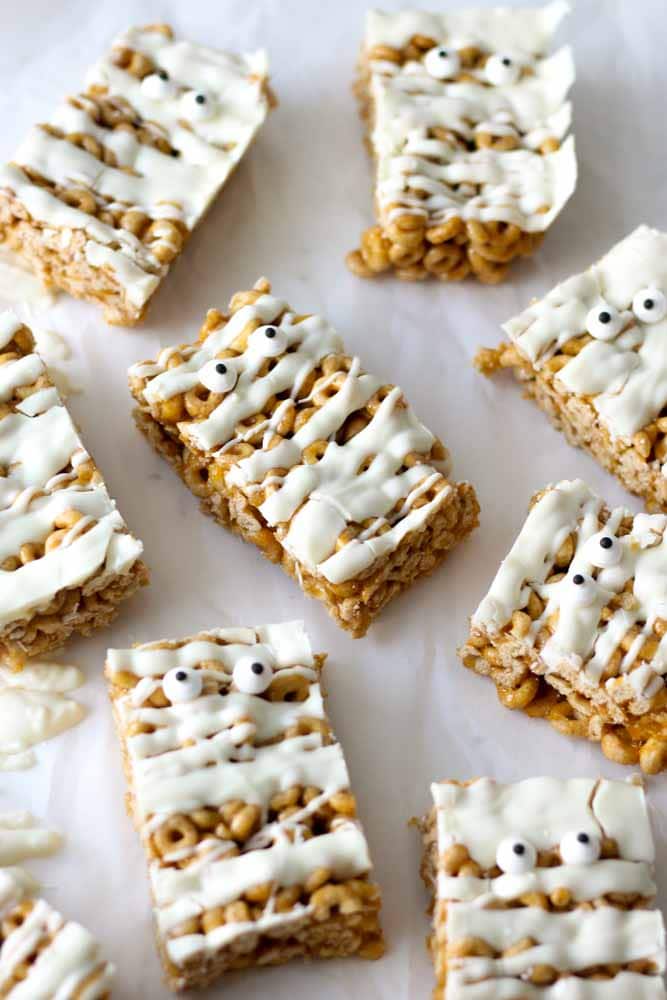 We're going to have a blast visiting his family, but it means we won't be able to dress up. And we had a fantastic idea for a couples costume. If you're a frequent reader around here you know my love for the show Friends is very real. So real that I watch it every night before bed.
Thank goodness Zach is an equally as obsessed fan. We were going to be Rachel and Joey for Halloween. I know it seems odd that it's not Rachel and Ross (my thoughts exactly) but Zach really wanted to dress up as Joey from the episode where he puts all of Chandler's clothes on. If you haven't seen it I'm just going to leave this here...
Once he told me his reasons there just wasn't any way I could say no. I mean it's hilarious and actually very practical. Wearing a bunch of clothes at the end of October in Ohio makes a lot of sense. We all know who the warm one would be. I was going to be Rachel when she wears a plaid skirt, grey sweater and knee high socks.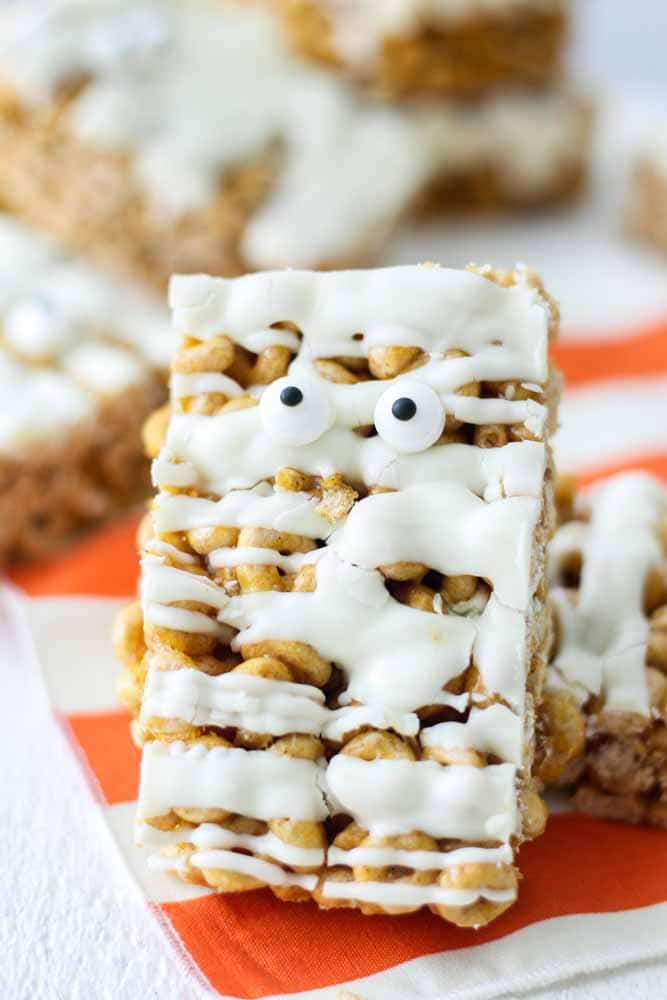 Until next year Friends costumes! What are you guys being for Halloween?!
If you're looking for more fun Halloween ideas check out my Halloween Candy Bark. You can also check out these St. Patrick's Day Cereal Bars for St. Patrick's Day!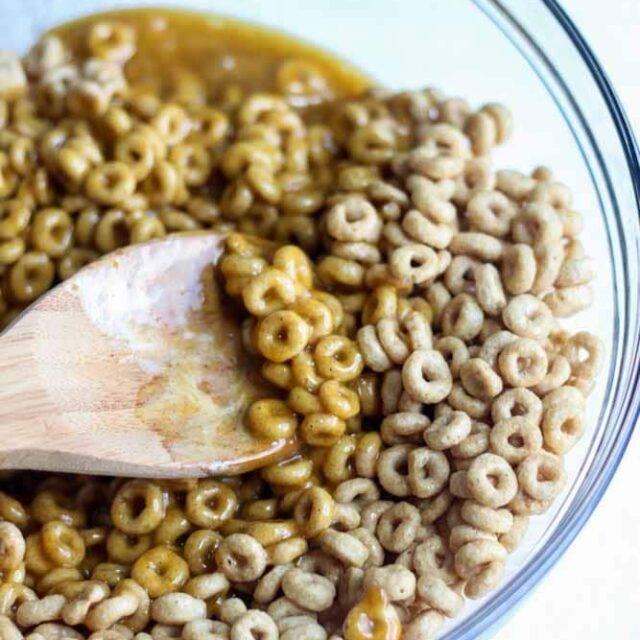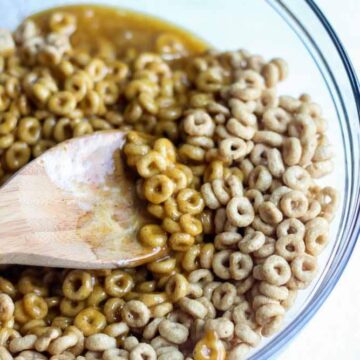 Ingredients
3

tablespoons

unsalted butter

2

teaspoons

pumpkin pie spice

4

cups

miniature marshmallows

6

cups

honey nut cheerios

12

ounces

1 bag of white chocolate melting morsels

18

candy googly eyes
Instructions
Spray an 11x7 inch pan with nonstick cooking spray and set aside.

In a medium saucepan over medium heat, melt the butter, stirring occasionally with a wooden spoon. Once melted, add the pumpkin puree and pumpkin pie spice and mix well. Add the marshmallows and stir continuously until they're all melted and mixture is sticky, but smooth, about two minutes. Add the cereal and mix well, making sure everything is coated with the marshmallow mixture.

Pour mixture into prepared pan and press firmly down with a rubber spatula spray with cooking spray to avoid sticking. Allow to set for 15 minutes.

In a microwave safe bowl, add the white chocolate chips and place on high for 30 seconds, remove and stir and return to microwave in 30 second increments until melted, stirring between each one. Transfer melted chocolate to a pastry bag or plastic bag with ¼ and inch of the tip cut off and pipe melted chocolate on top of cereal bars back and forth horizontally, saving a little extra to add the eyes. Place bars in the fridge for 10 minutes to set.

Cut bars in long rectangles and use left over melted chocolate to place eyes on the bars towards the top of the rectangles.