This salmon with mango salsa recipe is vibrant, full of flavor, and healthy. Featuring a fruity salsa and a smoky flavor on the flaky salmon, it's great for those who love both sweet and spicy!
If you like fruit salsa recipes, be sure to try our mango pineapple salsa next. Have it with tortilla chips as a side or pair it with another favorite salmon recipe like this honey glazed salmon.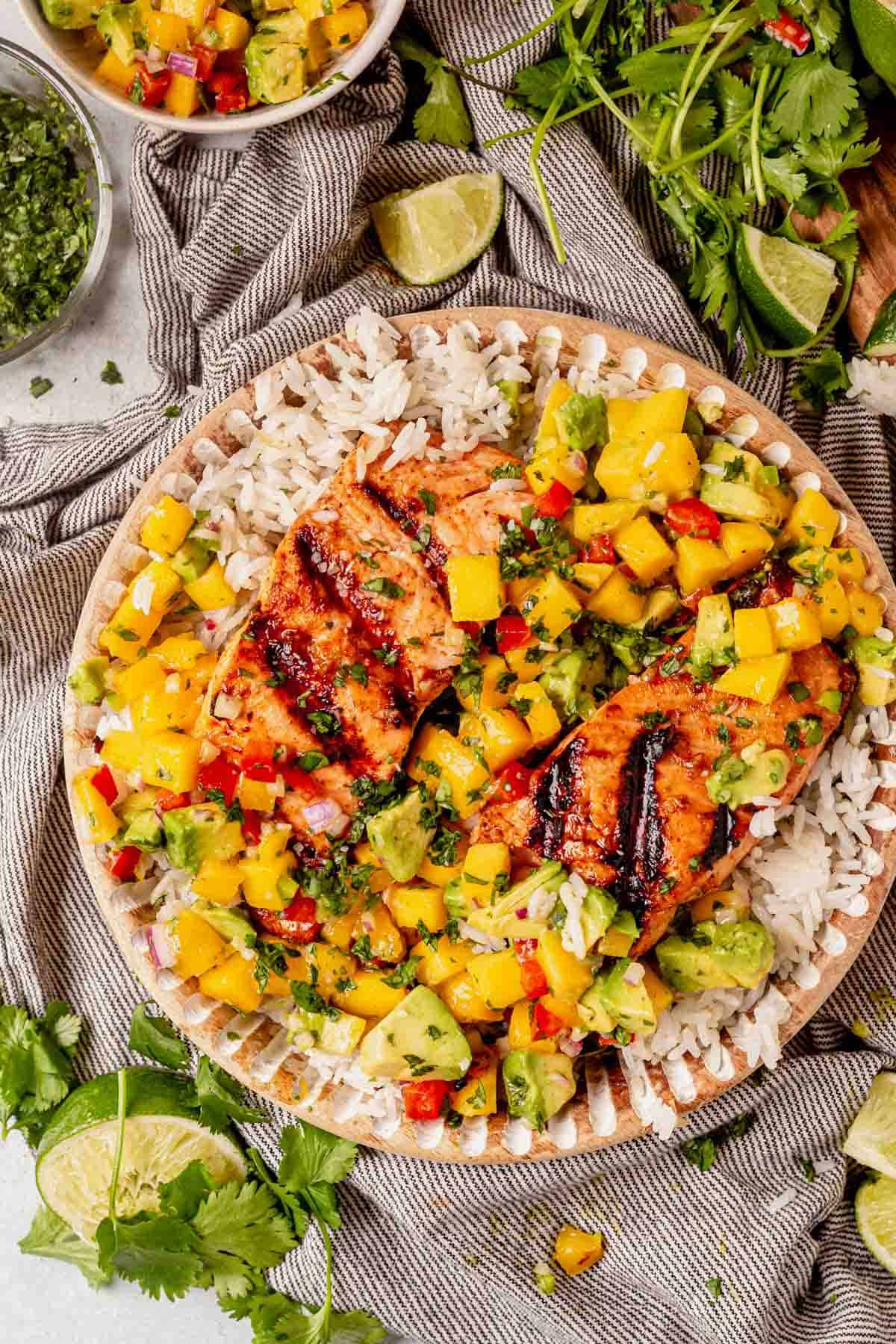 Why You'll Love this Salmon with Fresh Mango Salsa
Healthy: This is one of those healthy recipes the whole family will enjoy. Little do they know, it's full of fatty acids, dietary fiber, and vitamins.
Fresh ingredients: This colorful salsa is a great way to use delicious, fresh, in-season fruits and vegetables.
Perfect summer dinner: Especially in the warmer summer months, it's nice to have a lighter-tasting dish on rotation.
Easy meal: Keep this recipe on deck as an easy weeknight dinner or special occasion.
Grab These Ingredients
Here are the simple ingredients for this salmon and mango salsa recipe. They're affordable and easy to find in grocery stores. Jump down to the recipe card for exact measurements.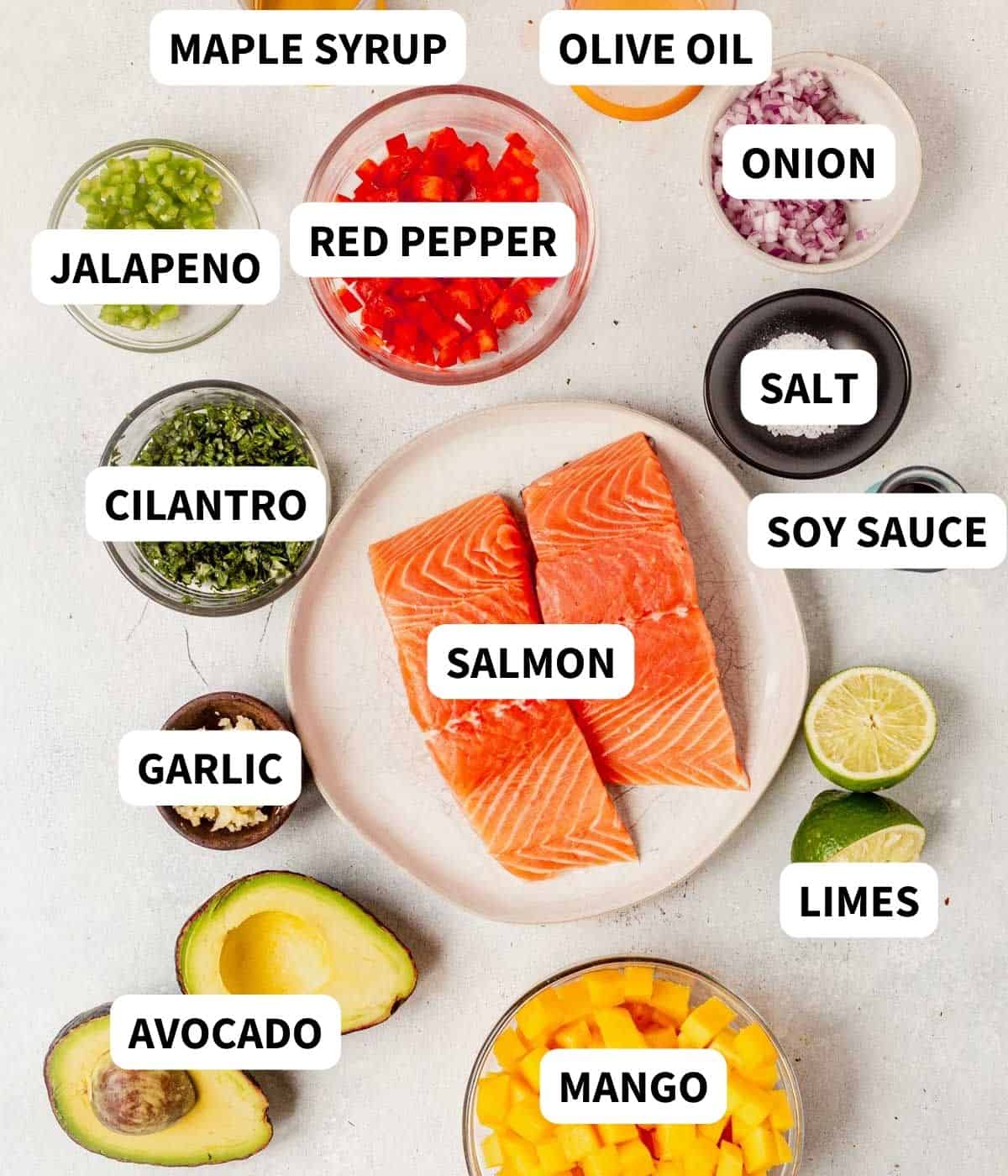 Salmon Ingredients
Salmon: Salmon fillets are rich in omega-3s, protein, vitamins, and minerals. Not to mention, it's our favorite fish. We prefer wild-caught salmon (Sitka Salmon Shares is a great online option), but Atlantic salmon works too.
Soy sauce: Or coconut aminos for a gluten-free and soy-free option. Use tamari for just a gluten-free option (contains soy).
Maple syrup: You can also use brown sugar, coconut sugar, or any substitute for coconut sugar.
Olive oil: Avocado oil is a good substitute.
Spice mixture: Garlic (or garlic powder), kosher salt, Tajin, paprika, and chili powder.
Mango Salsa Ingredients
Avocado: Diced avocado adds a creaminess to the tangy mango salsa.
Red onion: Adds bright color and a nice crunch. Follow our tips for how to cut a bell pepper.
Red bell pepper: Substitute red peppers with any color bell peppers you like best.
Jalapeño: Add to taste depending on the spice level you're comfortable with.
Cilantro: Find fresh cilantro in the produce section at the grocery store, the farmers market, or your own herb garden! If you aren't a fan of cilantro, try parsley.
Lime: Fresh lime juice and a little lime zest. You can use bottled lime juice if you don't have fresh limes at home.
Mango: The juicy mango flavors give this dish a fruity aroma and the best flavor. You're bound to love this sweet mango salsa!
Want to skip the avocado? Try this salmon with peach mango salsa.
HOW TO MAKE SALMON WITH MANGO SALSA
The full printable recipe is below, but let's walk through the steps with some photos and a video so you have a clear idea of what to expect. This salmon with mango salsa recipe is really easy and these step-by-step instructions will make sure it turns out every time.
Note: the recipe card below includes instructions to bake or grill the salmon. You could also make blackened salmon with this mango salsa.
Marinate the salmon: In a large bowl combine the soy sauce, maple, olive oil, lime juice, garlic, and salt. Place the salmon in the marinade and toss to coat. Allow it to marinade for 20 minutes or up to 3 hours.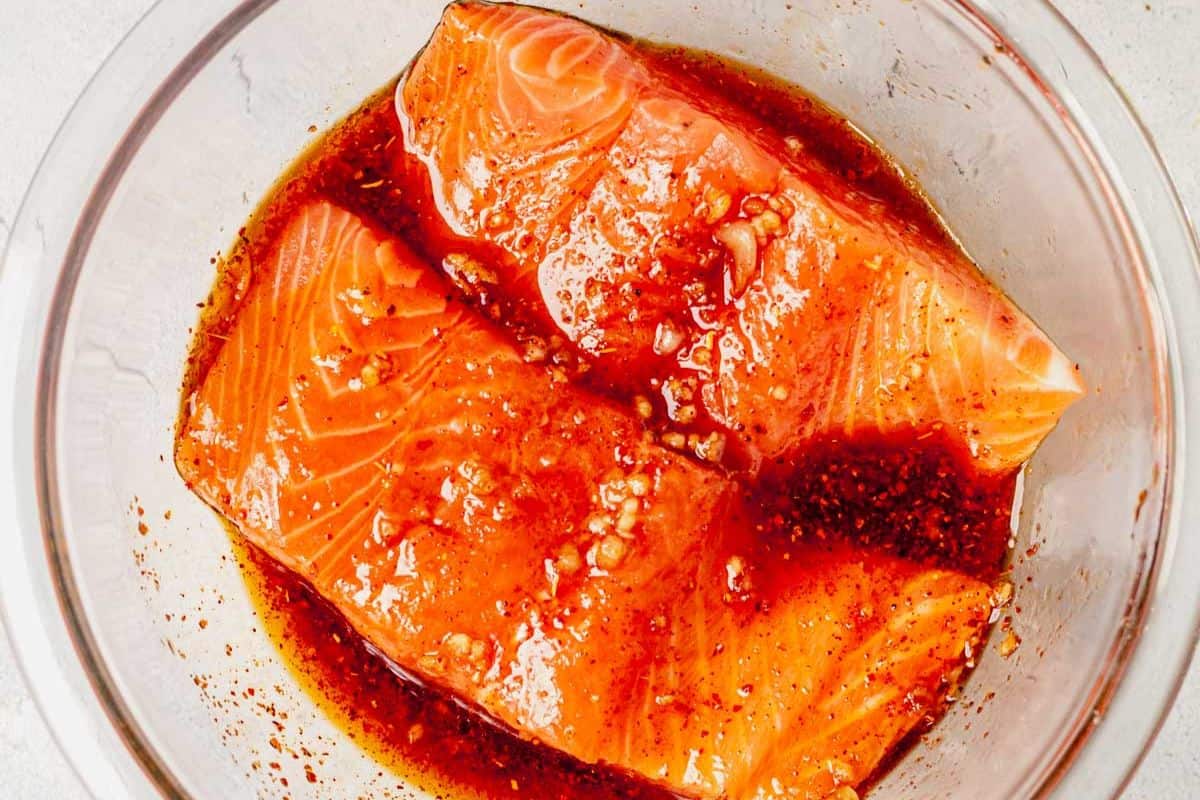 Make the mango salsa: In a medium bowl, combine mango salsa ingredients together. Place it in the fridge until ready to serve.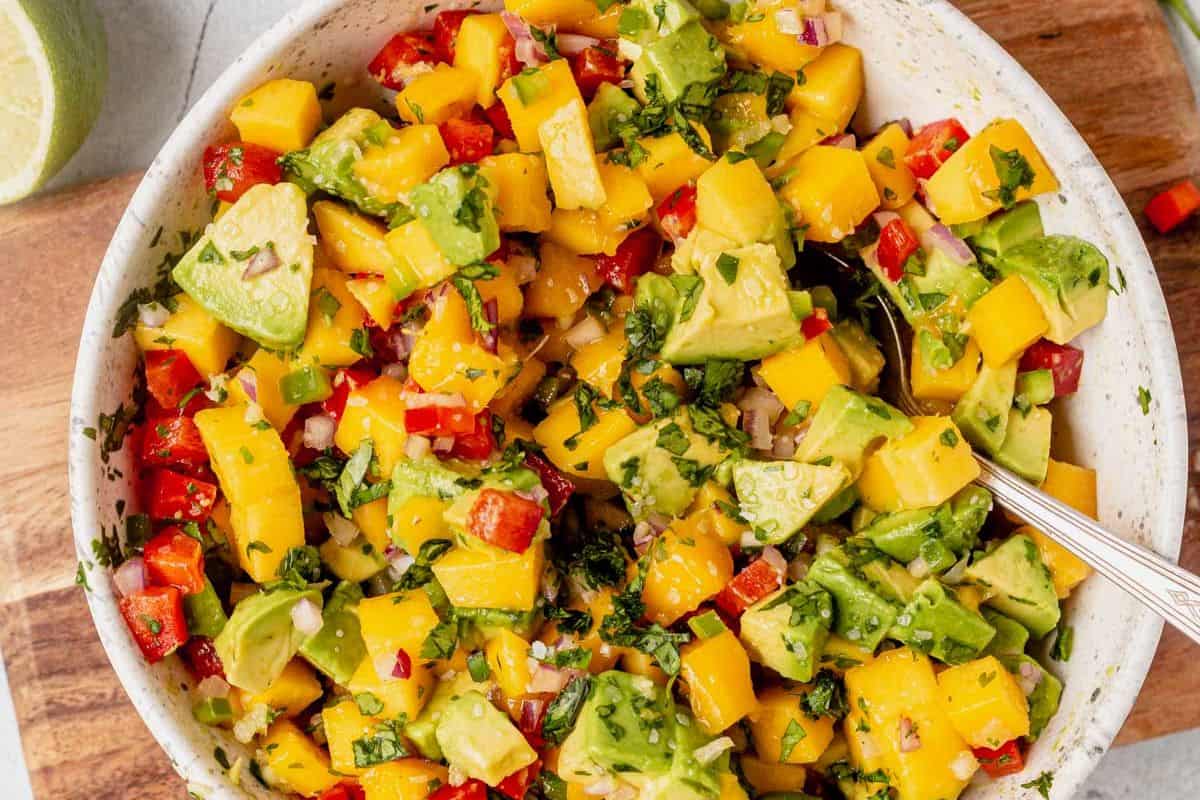 Grill the salmon: You can either bake, grill, or blacken the salmon. We love grilled salmon, especially in the summer months. To do this, Clean the grill grates and heat the grill to medium-high heat. Brush with oil using a paper towel.
Sear the salmon: Or follow the instructions to sear the salmon over medium heat in this salmon Caesar salad.
Bake the salmon: follow our instructions on how long to bake salmon at 400 to bake salmon instead of grilling. It takes about 10-15 minutes at 400!
Serve: Serve it over coconut rice and spoon mango salsa on top of the salmon.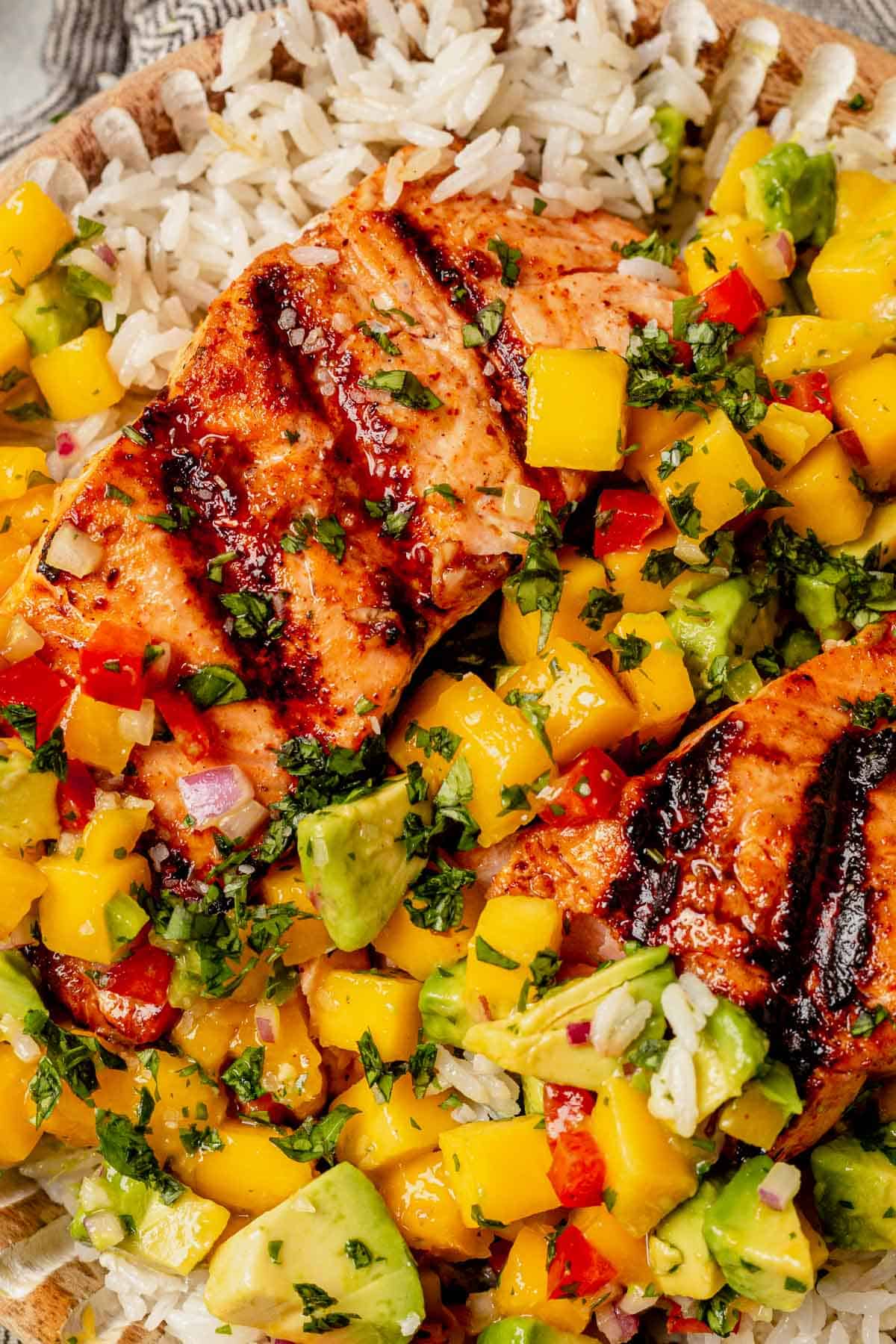 Cooking the Salmon: Baked, Grilled, or Blackened
How long to grill salmon: This recipe calls for 6 oz salmon fillets. At that weight, you'll need to grill the salmon for 6-8 minutes over medium-high heat. Or until the salmon reaches an internal temperature of 135-140 degrees F using a meat thermometer and you get nice grill marks. Pull it off the grill and let it sit until it rises to a target temp of 145 degrees F.
Oven: If you're cooking salmon in the oven, place it on a baking sheet (salmon skin side down) with parchment paper in the preheated oven at 400 degrees F. Bake salmon for 12 – 15 minutes or until the salmon reaches an internal temperature of 135-140 degrees F using a meat thermometer. Allow it to rest until it reaches a target temp of 145 degrees F.
Blackened: We have a really delicious blackened salmon recipe you can follow. You will add the blackening seasoning then sear the salmon until cooked through.
Video: Watch How to Make Salmon with Mango Salsa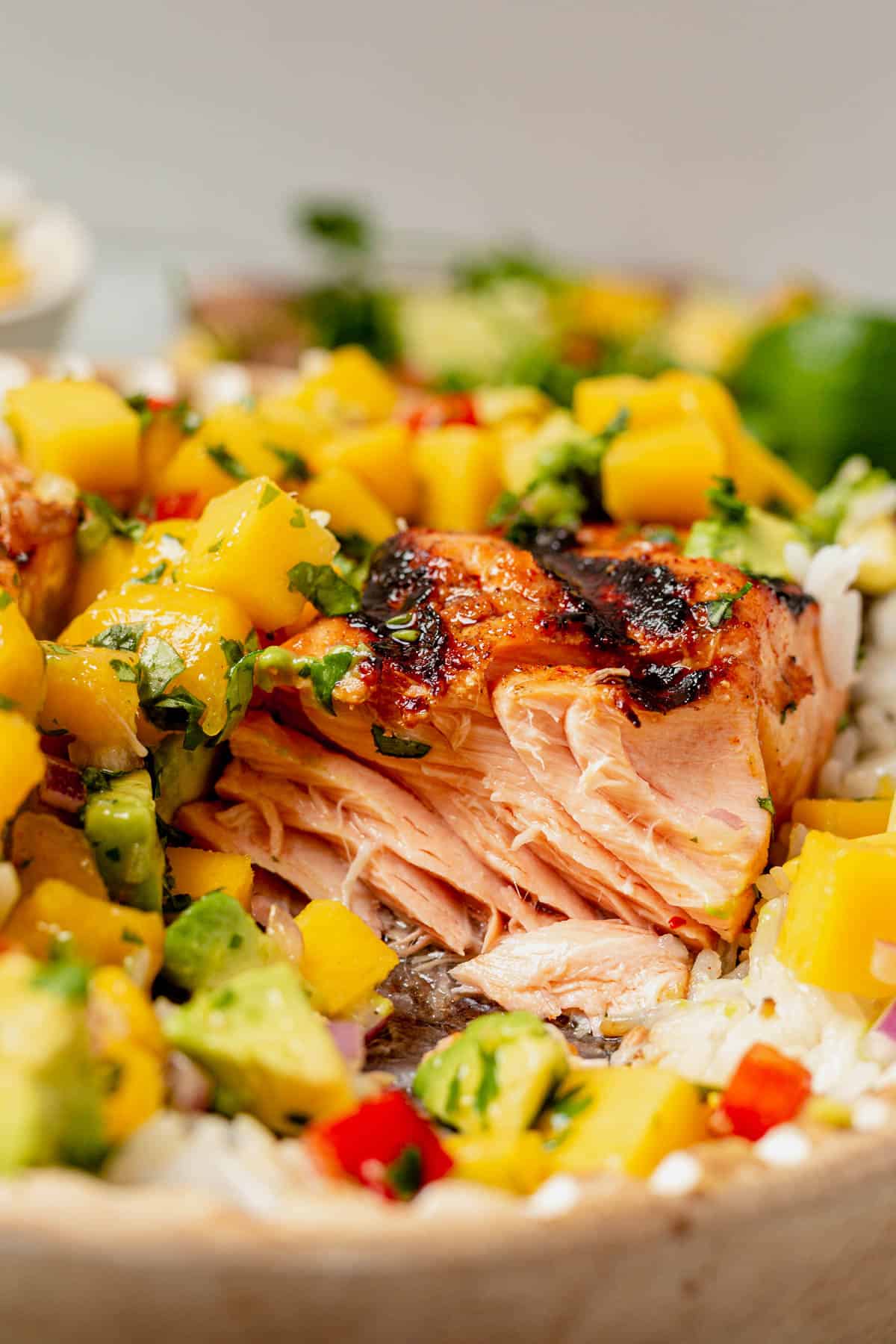 Expert Recipe Tips
Wild-caught Alaskan salmon is always my first choice of salmon. It usually means it's farm-raised if it says "Atlantic salmon." If you have the option between wild-caught salmon and Atlantic go with wild-caught!

We like to order ours from Sitka Salmon Shares, which is a great supplier of salmon and ships directly to your door.

Get salmon filets that are all the same size. Getting uniform salmon filets means they will all cook at the same pace, so you aren't left with one perfectly cooked filet and one overcooked.
Cook time will vary depending on how thick the salmon is so use an instant-read thermometer over cooking times.
You'll know salmon is done just before the internal temperature reaches 145°F (135-140° is ideal).
Just like determining beef doneness, make sure to insert the thermometer into the thickest part of the salmon for the best reading when measuring the degree of doneness.
The salmon should be firm to the touch and the fish flakes should come apart easily as you cut.
What flavors go well with salmon?
Salmon has a rich and distinct flavor that can be enhanced by pairing it with complementary ingredients. Here are some flavors that go well with salmon:
Citrus: citrus flavors such as lemon, lime, and orange work well with salmon, like in this honey glazed salmon.
Dill: Dill is a classic herb that pairs exceptionally well with salmon. Try it in this herb crusted salmon recipe.
Soy sauce and ginger: The umami flavor of soy sauce and the warmth of ginger create a delicious combination with salmon. You'll see this in our honey garlic salmon rice bowl recipe!
Honey and mustard: The sweetness of honey and the tanginess of mustard create a fantastic balance with salmon. We used them in this salmon arugula salad.
Maple Syrup: The rich, smoky sweetness of maple syrup pairs well with salmon.
Fresh herbs: Besides dill, other fresh herbs like parsley, cilantro, and basil can enhance the flavor of salmon in this herb grilled salmon.
Garlic and butter: The combination of garlic and butter adds richness and depth to salmon (also in the above herb grilled salmon!).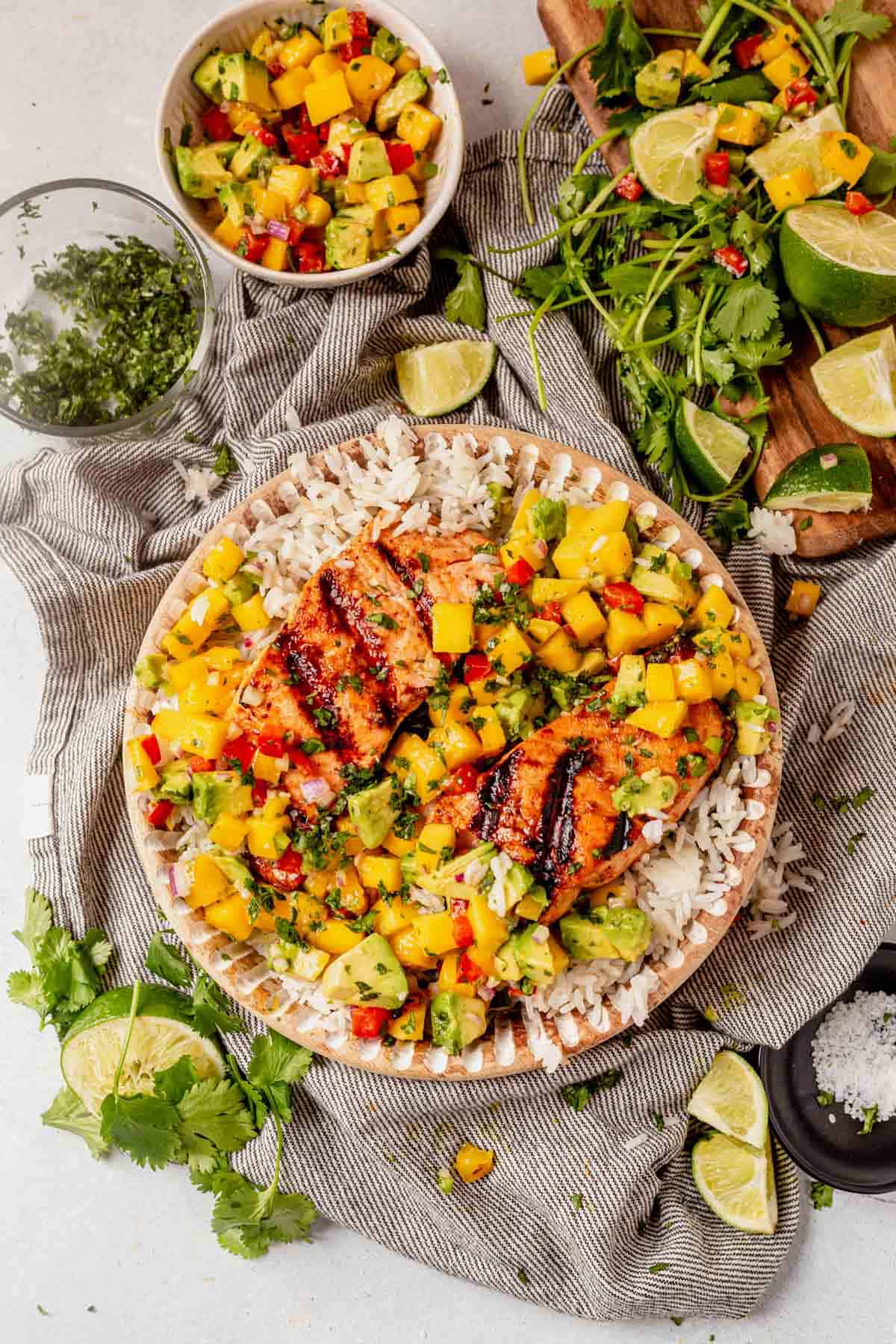 Recipe FAQs
How to know when the mango is ripe?
A ripe mango will have a little give when you add pressure to them and will have a pleasant, fruity aroma. Avoid mangos with wrinkled or shriveled skin, as they may be past their prime.
How to cut a mango for this salsa?
Hold the mango upright with one hand on a cutting board, positioning it so the narrower side faces you. Cut vertically along one side of the flat, oblong pit then repeat for the other side. Score the mango flesh in a crisscross pattern and push it in the center to invert each mango half, causing the cubes to pop out. Repeat for the other mango half.
Storage Instructions
Store this dish in an airtight container in the fridge for up to 3 days. Warm up the salmon in the air fryer or place it all on the same baking tray in the oven until heated through. Allow the spicy mango salsa to come to room temperature.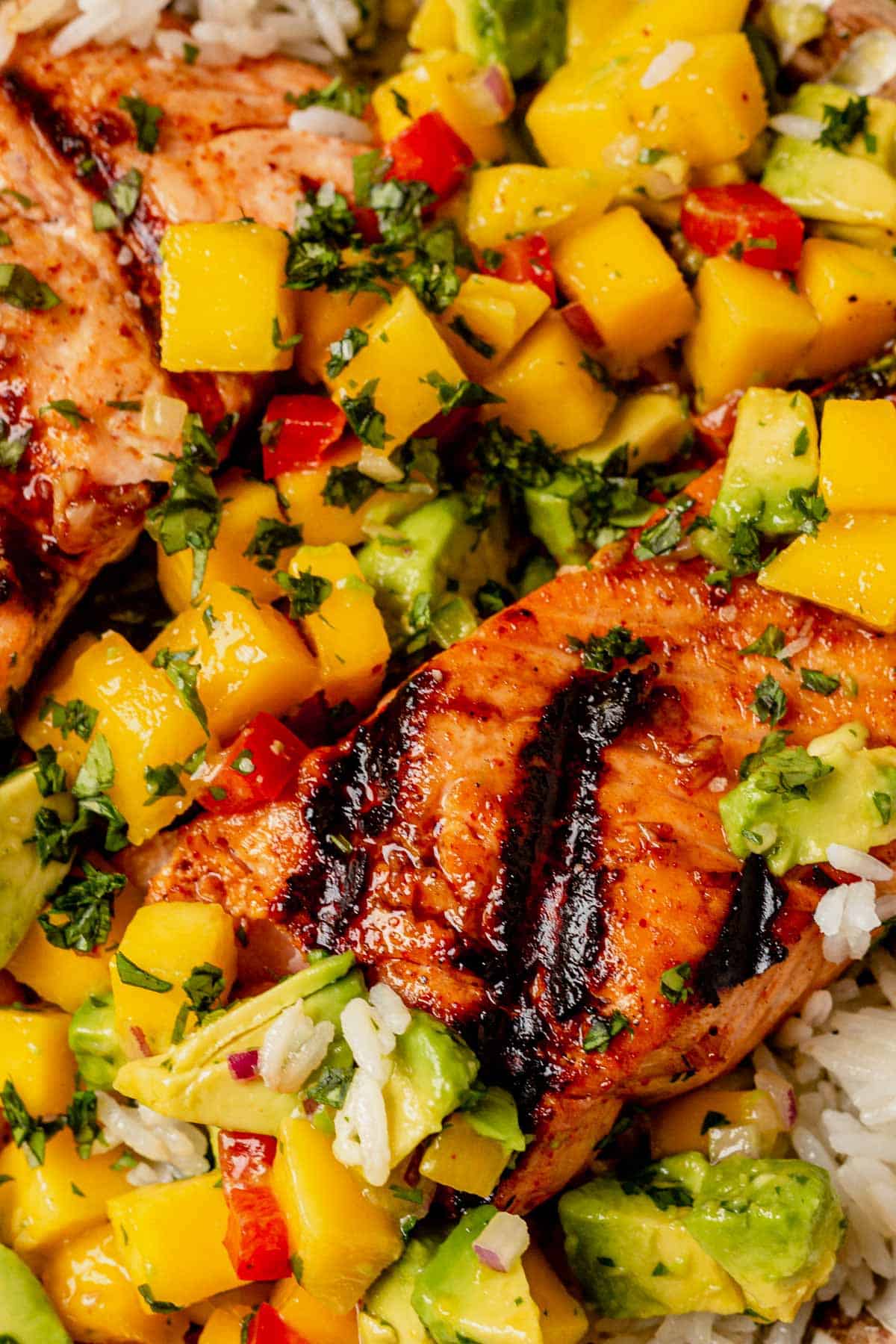 If you make this recipe, I'd love for you to give it a star rating ★ below. You can also tag me on Instagram so I can see it!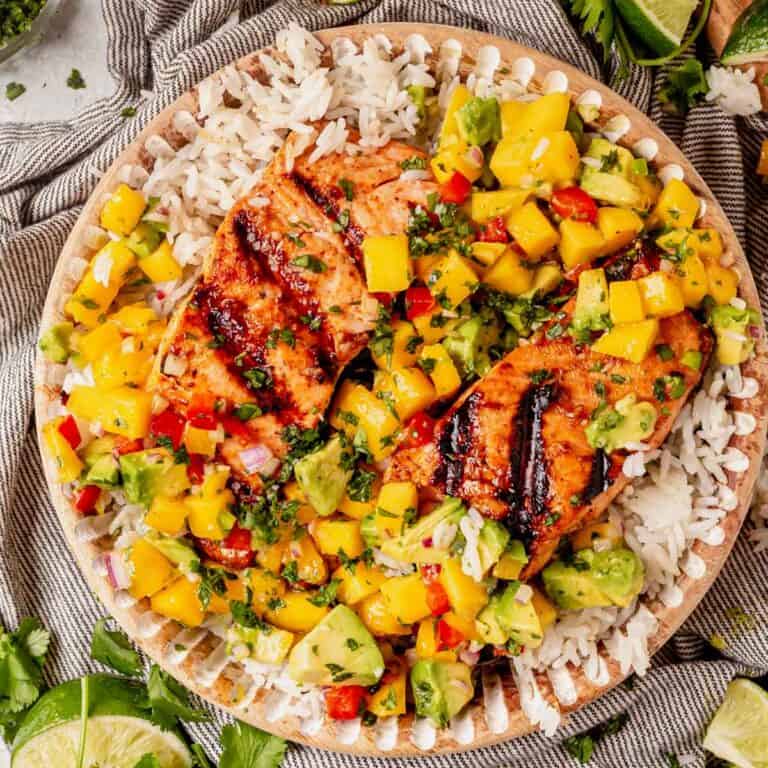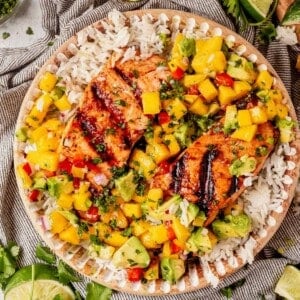 Salmon with Mango Salsa
This salmon with mango salsa recipe is vibrant, full of flavor, and healthy. Featuring a fruity salsa and a smoky flavor on the flaky salmon, it's great for those who love both sweet and spicy!
Print
Pin
Rate
Save
Saved!
Ingredients
Salmon
2

tablespoons

soy sauce or coconut aminos

1

tablespoon

maple syrup or brown sugar

2

tablespoons

olive oil

2

Tablespoons

lime juice

about 1 lime

2

cloves

crushed garlic

(or 1 teaspoon garlic powder)

½

teaspoon

kosher salt

2

teaspoons

Tajin

(Note 1)

1

teaspoon

paprika

1

teaspoon

chili powder

4

4-6-ounce salmon filets

(Note 2)
Mango Salsa
1

large ripe avocado

pitted and diced

1

large mango

diced

½

red bell pepper

diced small

2

Tablespoons

finely chopped cilantro

½

jalapeño

seeded and minced

¼

cup

finely diced red onion

2

Tablespoons

fresh lime juice

about 1 lime

½

teaspoon

kosher salt

plus more to taste
Recommended Equipment
Indoor or outdoor grill

or oven for baked salmon

Large and medium mixing bowls
Instructions
In a large bowl, whisk together the soy sauce, olive oil, maple syrup, lime juice, garlic, and spices. Add the salmon filets and toss to coat the salmon in the marinade. Cover with plastic wrap and marinate in the fridge for at least 20 minutes or overnight (no longer than a day).

If you're serving it with coconut rice, start making it while the salmon is marinating.

While it's marinating, dice and chop the avocado, mango, pepper, cilantro, jalapeño, and red onion. Squeeze the lime juice on top and sprinkle with salt. Toss to coat, taste, and add more lime juice and salt as needed.

When you're ready to cook the salmon, clean grill grates and brush them with an oiled kitchen towel or paper towels. Heat grill to medium high heat (400-450°F). brush with oil using a paper towel. See recipe notes below for baked salmon or blackened salmon.

Remove the salmon from the marinade and shake off any excess marinade. Excess marinade can cause flare ups on the grill. Discard leftover marinade.

Place the salmon on the grill skin-side-down and grill the salmon for 7-9 minutes, flipping halfway through. If the grill marks are becoming to dark before the center is done, flip the salmon back over to the skin-side. Cook times will vary depending on the grill and temperature, so use the internal temperature of the salmon for best results. Remove the salmon from the heat when it reaches 135-140°F so it reaches the target temperatures of 145°F for medium-rare salmon while it rests.

Serve immediately with prepared mango salsa and coconut rice, if using.
Notes
Note 1. Tajin. I know people don't always have this on hand, so don't make a special trip just to use it in this recipe (although it is delicious on the rim of a pineapple jalapeno margarita. Replace it with a pinch of red chili flakes and 1 teaspoon of lime zest. Or omit it altogether and it will still be delicious!
Note 2. Salmon. The cook times in this recipe are based on a 4-6 ounce fillet. We like to use wild-caught Alaskan salmon whenever possible.
Baked salmon with mango salsa: Preheat the oven to 400 degrees F. Line a large baking sheet with parchment paper. Remove the salmon from the marinade and discard the leftovers. Arrange them on the prepared baking sheet and bake in the preheated oven for 12 – 15 minutes, or until the internal temperature reaches 135-140°F.
Blackened Salmon: omit the marinade and follow the instructions on this blackened salmon recipe.
*Nutrition information is for a 5-ounce salmon fillet with salsa (does not include coconut rice).
Nutrition
Serving:
1
serving
|
Calories:
370
kcal
|
Carbohydrates:
18.7
g
|
Protein:
33.9
g
|
Fat:
19.3
g
|
Cholesterol:
72.4
mg
|
Sodium:
765.2
mg
|
Fiber:
4.3
g
|
Sugar:
10.6
g
|
Vitamin A:
126.5
IU
|
Vitamin C:
37.2
mg