Learn how to bake salmon at 400 so you get that sought-after silky texture! Season it, bake it, and enjoy this delicious salmon in under 15 minutes. Follow these simple steps to achieve the perfect baked salmon every single time!
Do you love baked salmon recipes? Try this herb-crusted salmon, tahini ginger salmon, or almond-crusted salmon.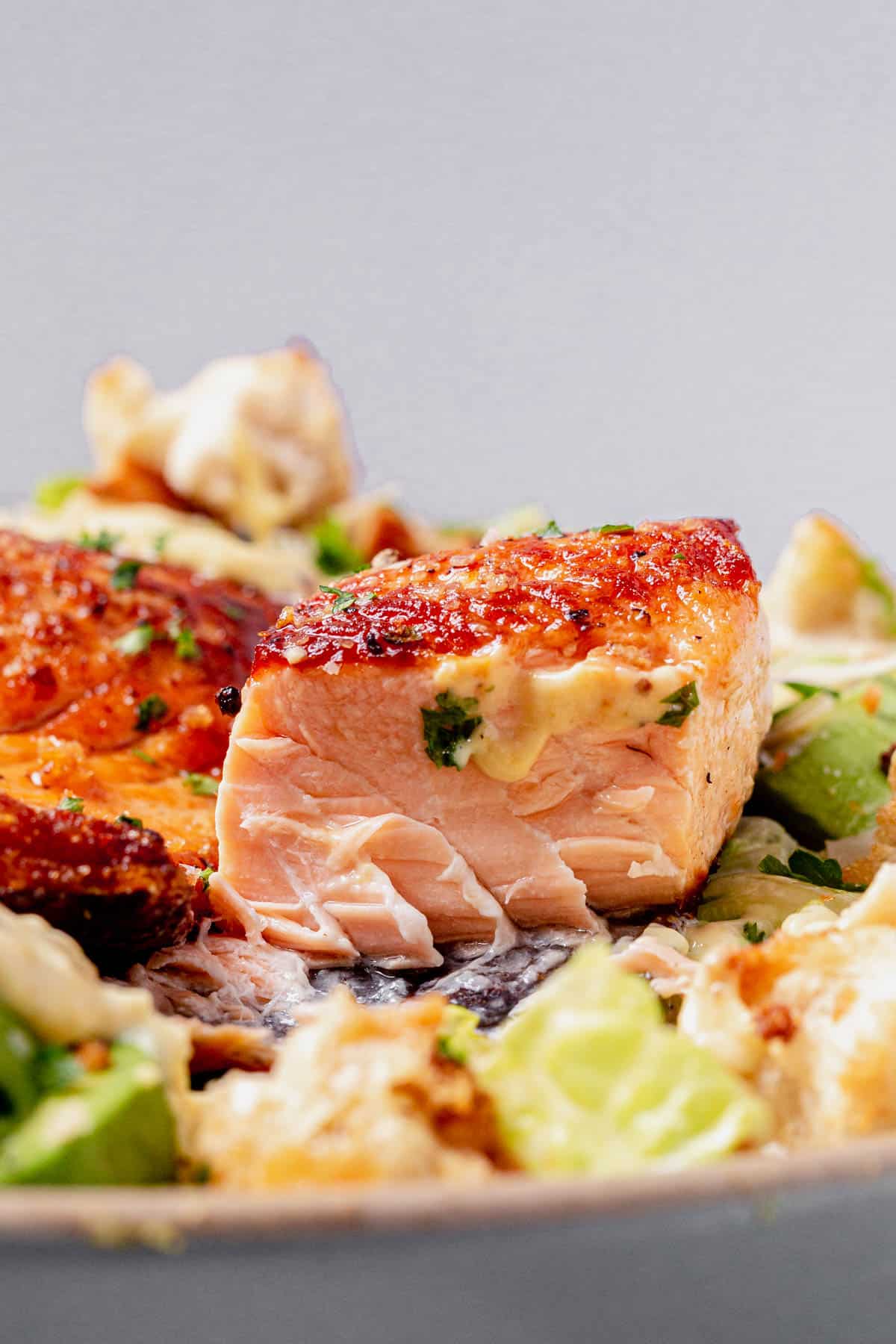 You may be wondering, is it better to bake salmon at 400 or 425? We've tested so many salmon recipes, and both 400 and 425 yield delicious, buttery salmon, as long as you cook it to the right temperature!
So what's the difference? Salmon will take a few minutes longer to bake at a lower temperature 400 but is less likely to be overcooked. At a higher temperature of 425 you may get a little crispy outside, which is why we like to bake chicken at 425. However, both temperatures are great options for salmon and depend on the recipe you follow.
A looking for a delicious salmon recipe? Try salmon Caesar salad, salmon arugula salad or everything bagel seasoning salmon.
Perfectly Baked Salmon at 400
Silky, buttery salmon is a culinary masterpiece. The texture is so soft and it almost melts in your mouth as you eat it. But, overcooking salmon completely changes that texture and results in dry, tough salmon that isn't very appetizing to eat.
Baked salmon is one of the easiest ways to cook salmon. You can marinate or season it however you like, put it on a parchment-lined baking sheet, and you have perfectly cooked salmon in 15 minutes or less. Follow this guide for how long to bake salmon at 400 to get that silky smooth salmon every time.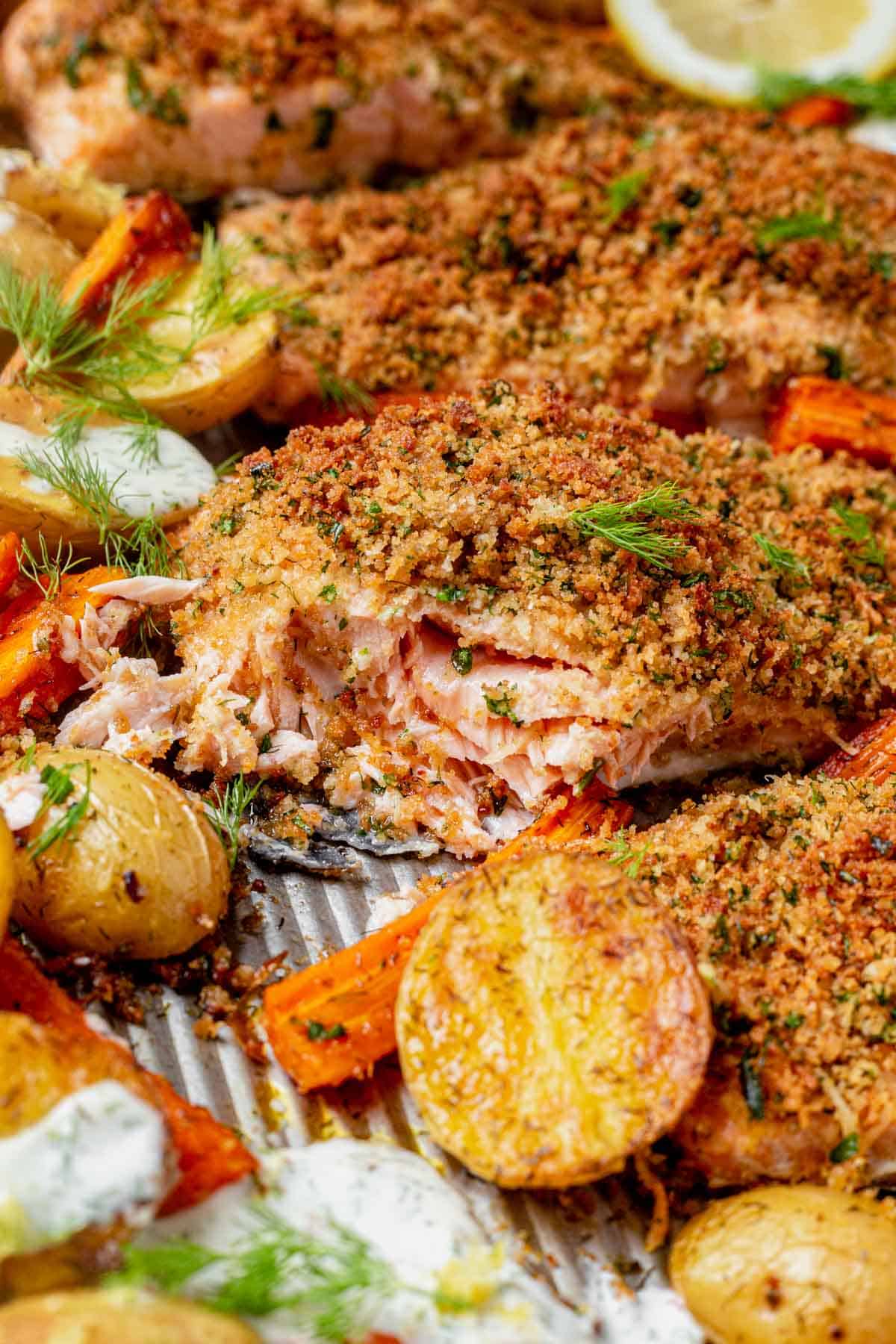 How Long to Bake Salmon at 400
The baking time will vary depending on the thickness of your salmon. As a general rule of thumb, a 4-ounce salmon fillet takes 10-15 minutes to bake in the oven at 400 degrees f.
If you are cooking salmon that happens to be thicker (larger than 1 inch of thickness), will be longer. Thicker fillets can take up to 15-20 minutes to bake at 400.
Cooking time will depend on the thickness of the fillet but what's most important is that your salmon reaches the recommended internal temperature for fish so that it's safe to consume.
How to Know When Salmon is Done
Best Internal Temperature of Salmon
Perfectly cooked salmon is moist, tender, flaky, and almost melts in your mouth. I've tested a ton of salmon recipes, and have found the best temperature for salmon is 135°F. Pull the salmon from the heat (oven, pan, grill etc) when an instant-read thermometer reads 135°F in the thickest part of the fish.
These cook times hold true for regular baked salmon or if you decide to bake your salmon in foil packets1! The temperature of the salmon will continue to rise slightly as it rests. Letting the salmon rest also allows any juices to reabsorb into the fish.
The FDA recommends a well-done internal temperature of 145 degrees Fahrenheit for fish and Cook's Illustrated recommends 125°F for farmed salmon and 120°F for wild salmon.
Meat thermometers: this Thermoworks thermometer is dead accurate in an instant. We also like this $15 Amazon meat thermometer.
Salmon Internal Temperature Guide
Rare Salmon. Less than 120 degrees F.
Medium-Rare Salmon. 125 degrees F to 130 degrees F.
Medium Salmon. 135 degrees F to 140 degrees F (what we recommend!).
Well-Done Salmon. 145 degrees F or more (please don't do this).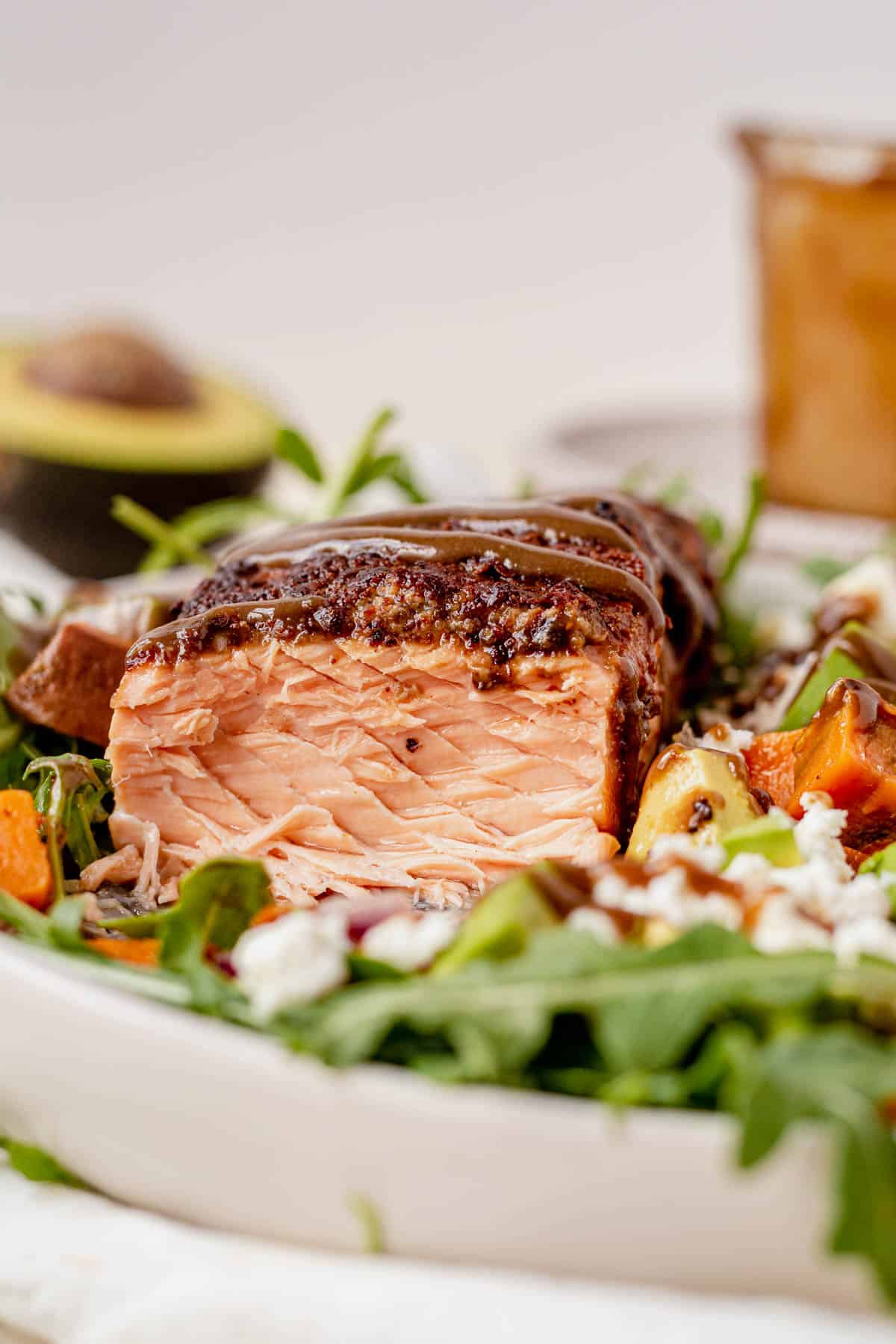 How to Bake Salmon at 400
You can find a printable recipe card below, but let's walk through the steps so you have a clear idea of what to expect.
Prep the salmon: place the salmon filets on a parchment-lined baking sheet and pat it dry with paper towels. Allow it to sit out at room temperature to temper while you get the rest of the ingredients ready.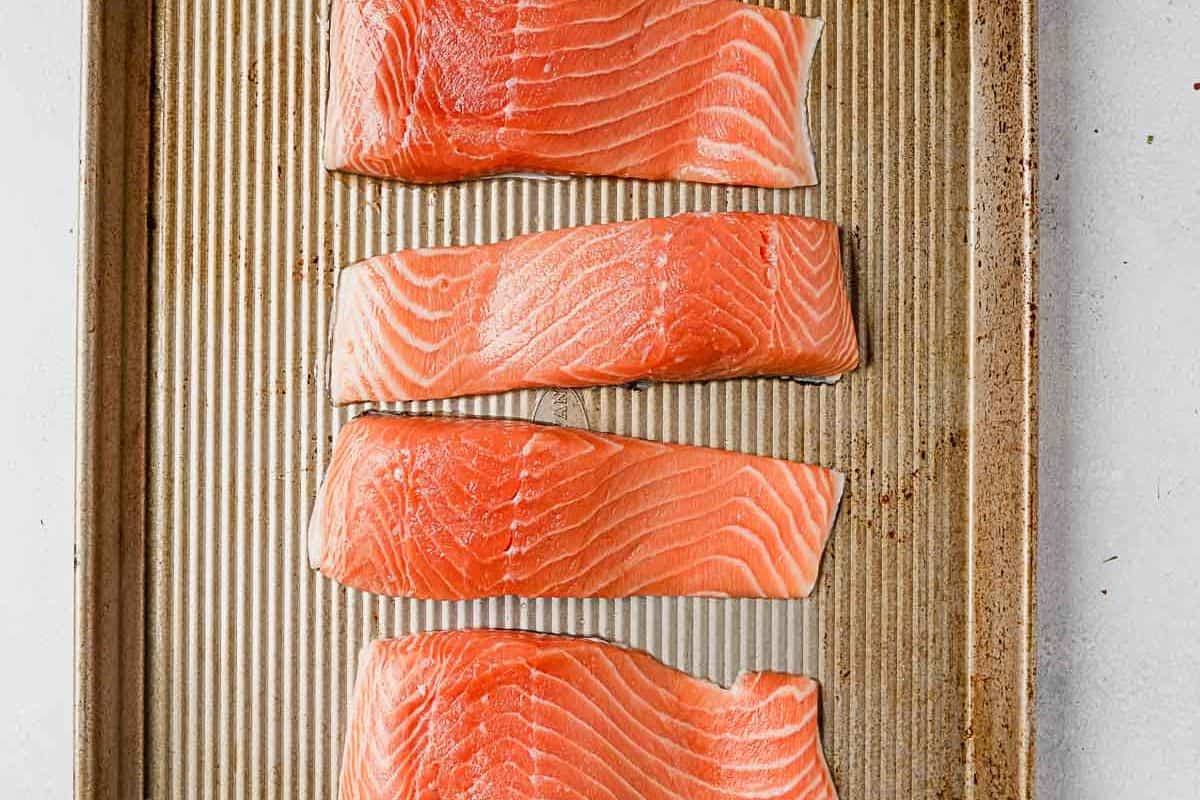 Season: season the filets with kosher salt and pepper. Stir together olive oil, garlic, thyme, parsley, oregano, basil, dill, and lemon juice in a small bowl. Spoon it over each salmon fillet.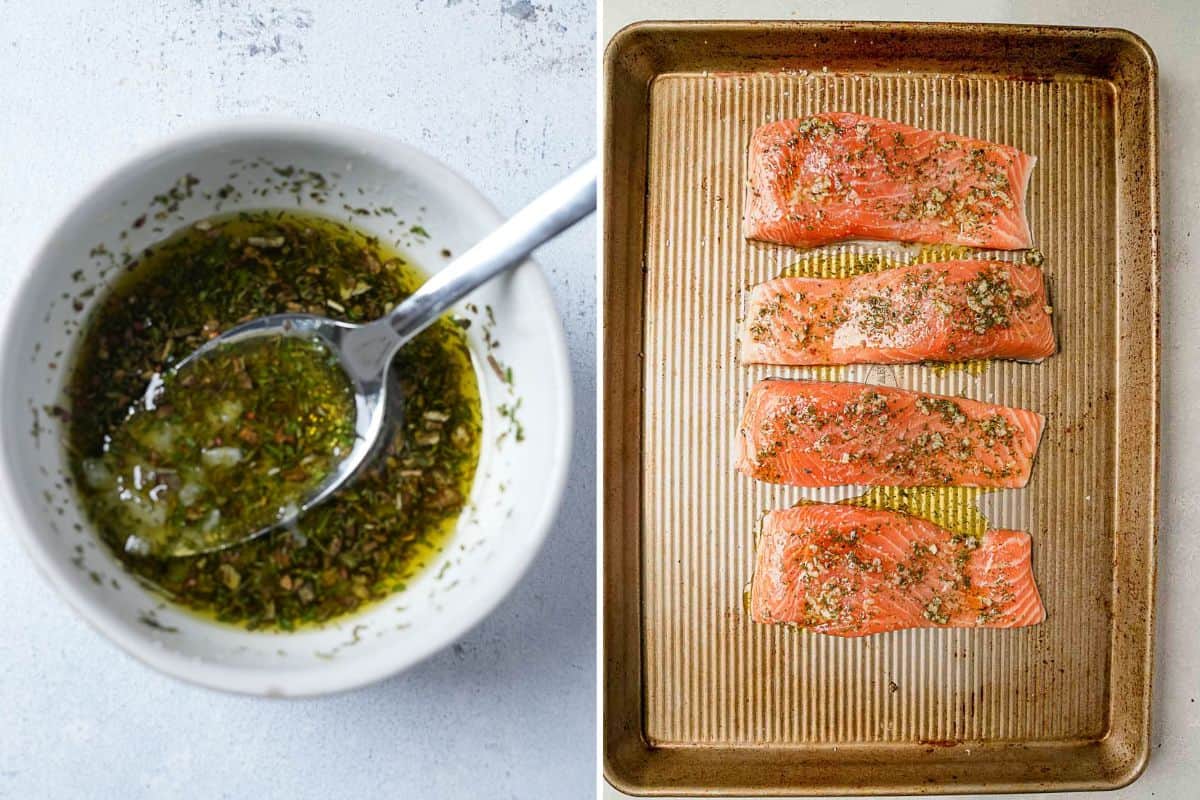 Bake: top each piece of salmon with a lemon wedge then bake for 10-15 minutes at 400°F or until the internal temperature of the salmon reaches 135°F in the thickest part of the salmon. Remove from the oven and allow it to rest for 5-10 minutes before serving.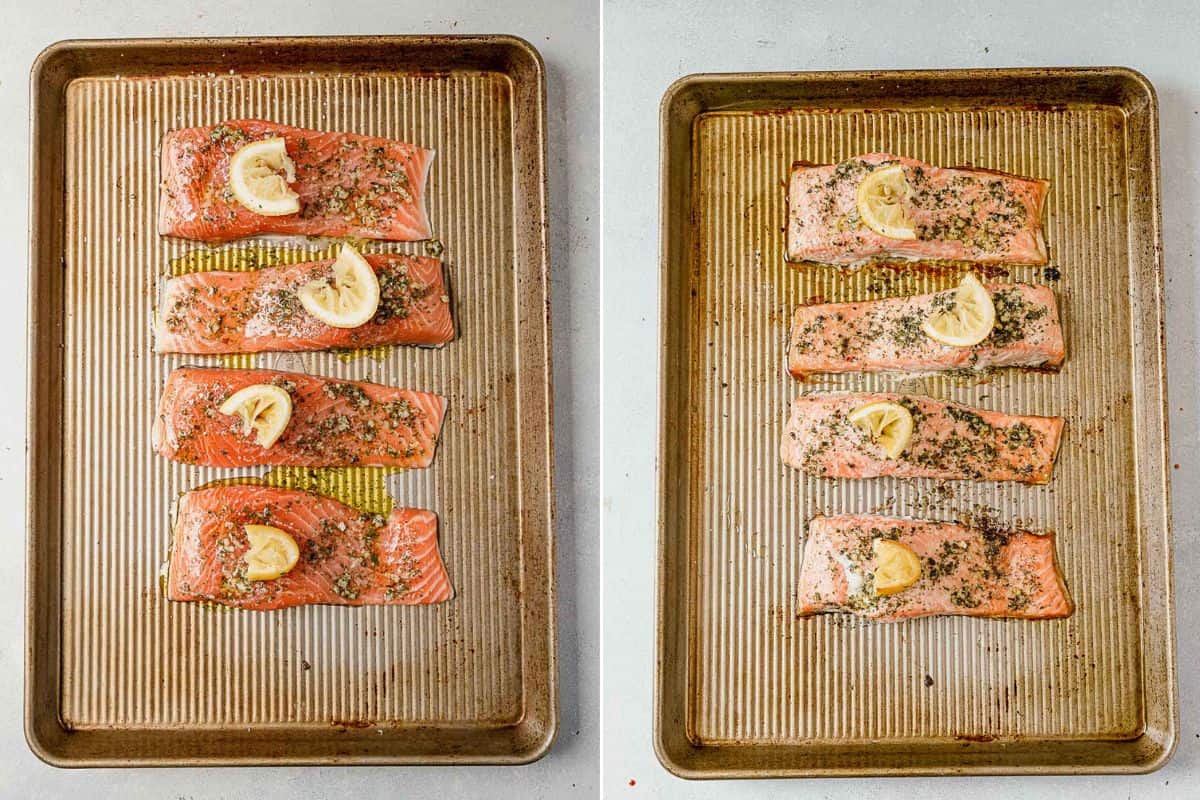 Common Mistakes when Cooking Salmon
Don't overcook it. Use our bake times as a guide, but always use an meat thermometer to check the internal temperature of the fish (135°F for best results).
Remove pin bones. Pin bones are tiny bones in your salmon filets. Most salmon from grocery stores do not include pin bones, but it's always good to double check before baking.
Avoid reheating salmon. In general, fish does not reheat well and salmon is no exception. Salmon filets, once they have been cooked, are delicious to eat cold. Put them on top of a salad or toss into a bowl of other, already-warm ingredients, like in this salmon rice bowl.
Season it well. Some of the best salmon is seasoned with nothing more than olive oil, melted butter, garlic powder, black pepper, and a little bit of lemon juice. However, adding fresh herbs is always welcome. We have perfected this simple herb salmon recipe so well that it rivals Olive Garden!
Expert Tips for Cooking Salmon at 400
We've compiled a few simple tips to help as a general guideline so that you always get the best results when cooking salmon.
Temper your fish. Tempering is a cooking term that simply means stability. Tempering your salmon ensures the integrity will not change once heat is applied in the oven. You can achieve tempering by bringing your salmon to room temperature before cooking.
Pat your salmon dry with a paper towel. Using a paper towel, make sure to get an excess moisture off of your salmon before adding any glazes or seasonings. Removing excess moisture also helps the cooking process!
Prepare your baking sheet. A prepared baking sheet is the best way to ensure you will have an easy time cooking your salmon. Always line your baking sheet with aluminum foil or parchment paper to help with the baking process.
Use a meat thermometer. It's really important that you use a meat thermometer or an instant read thermometer to accurately cook your salmon. Insert it into the thickest part of the salmon for the best reading.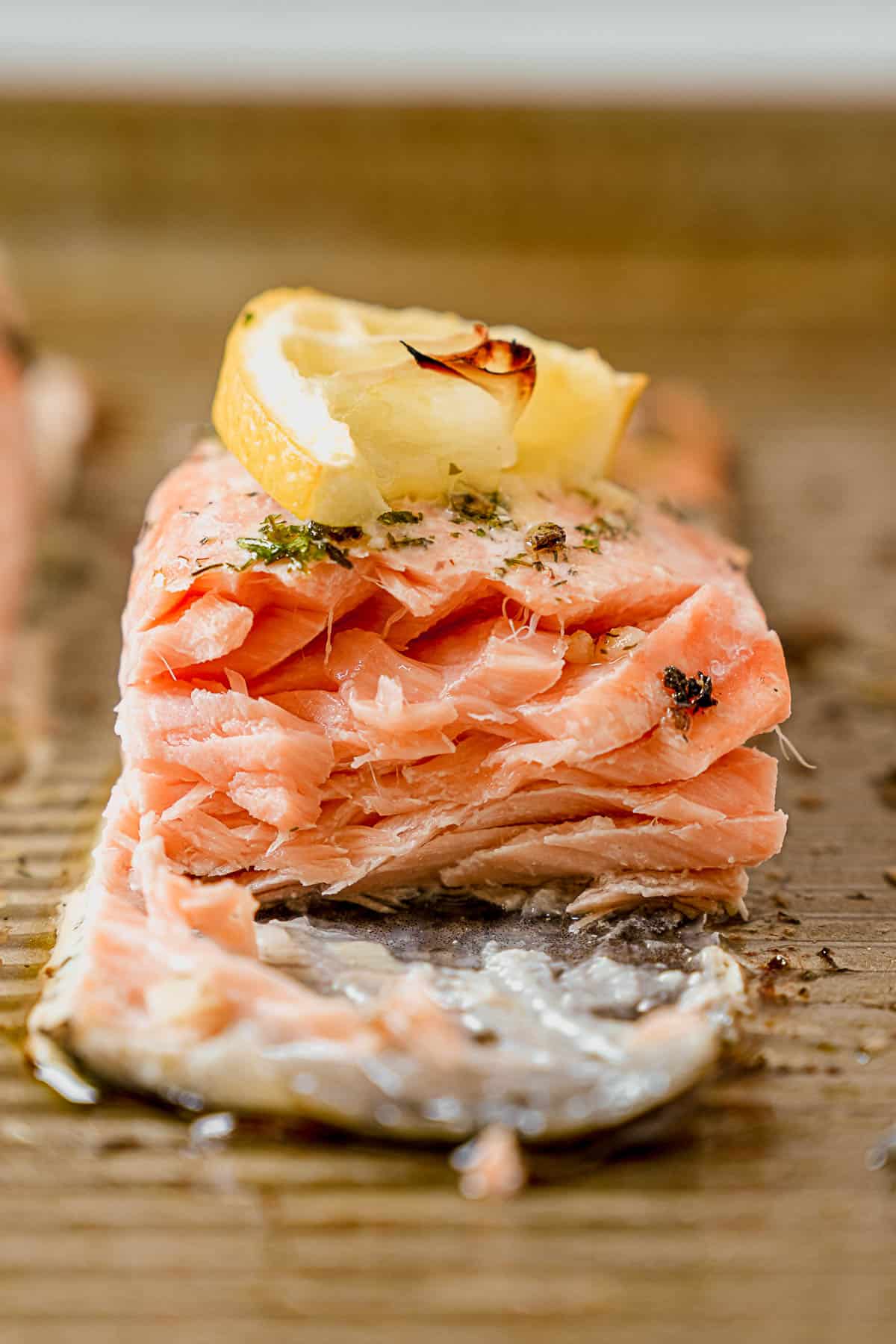 Types of Salmon
There are so many different types of salmon available when you're baking salmon at 400. Here, we've highlighted three of the most common types of salmon.
Chinook Salmon, also known as king salmon, is the largest, and also most expensive, type of salmon. It possesses the highest fatty acid content of all types of salmon. Chinook salmon meat can be red or white in color and is great for grilling or different types of slower cooking, such as barbecuing and smoking.

Fun fact: Chinook salmon are anadromous, meaning they live in both fresh, and salt water! They are born in fresh water but migrate to salt water later in life.

Sockeye Salmon, also known as red salmon, are best known for their firm and bright-orange flesh. It comes from the Pacific ocean and is primarily fished for in Alaska. Sockeye salmon will often be referred to as "Wild-Caught Salmon" as sockeye salmon are rarely farmed. This type of salmon has a stronger flavor and stands up well to grilling.
Atlantic Salmon, is the most common type of salmon. Atlantic salmon makes up around 90% of the farmed salmon market. Farmed salmon tend to be fattier than their wild-caught salmon counter parts. It has a rich taste that pairs will with melted butter. Farm-raised salmon meat is naturally gray but it often has a pink color added when it goes to market.
Health Benefits of Salmon
Salmon is one of the healthiest fishes you can consume. It is high in omega-3 fatty acids and the vitamin B group, including B3, B5, B7, B6, B9, and B12. If you are looking for a healthy recipe that's packed full of nutrients, salmon recipes are the perfect option.
Promotes heart health. Salmon is a rich source of omega-3 fatty acids and potassium. The fatty acids combined with potassium greatly contribute to heart health, as they reduce artery inflammation, lower cholesterol levels, and maintain blood pressure levels.
Promotes brain health. The fatty acids, combined with vitamin A, vitamin D, and selenium in salmon, boost and improve brain function. Eating salmon during pregnancy can also assist with improved fetal brain development.
Promotes healthy skin. Fatty acids and vitamin A help improve your skin quality and health. Omega-3 fatty acids work in collaboration with the antioxidants in salmon to reduce some skin damage that is responsible for aging.
Cooking salmon is a great way to fit in some key nutrients and gain the health benefits above, and more!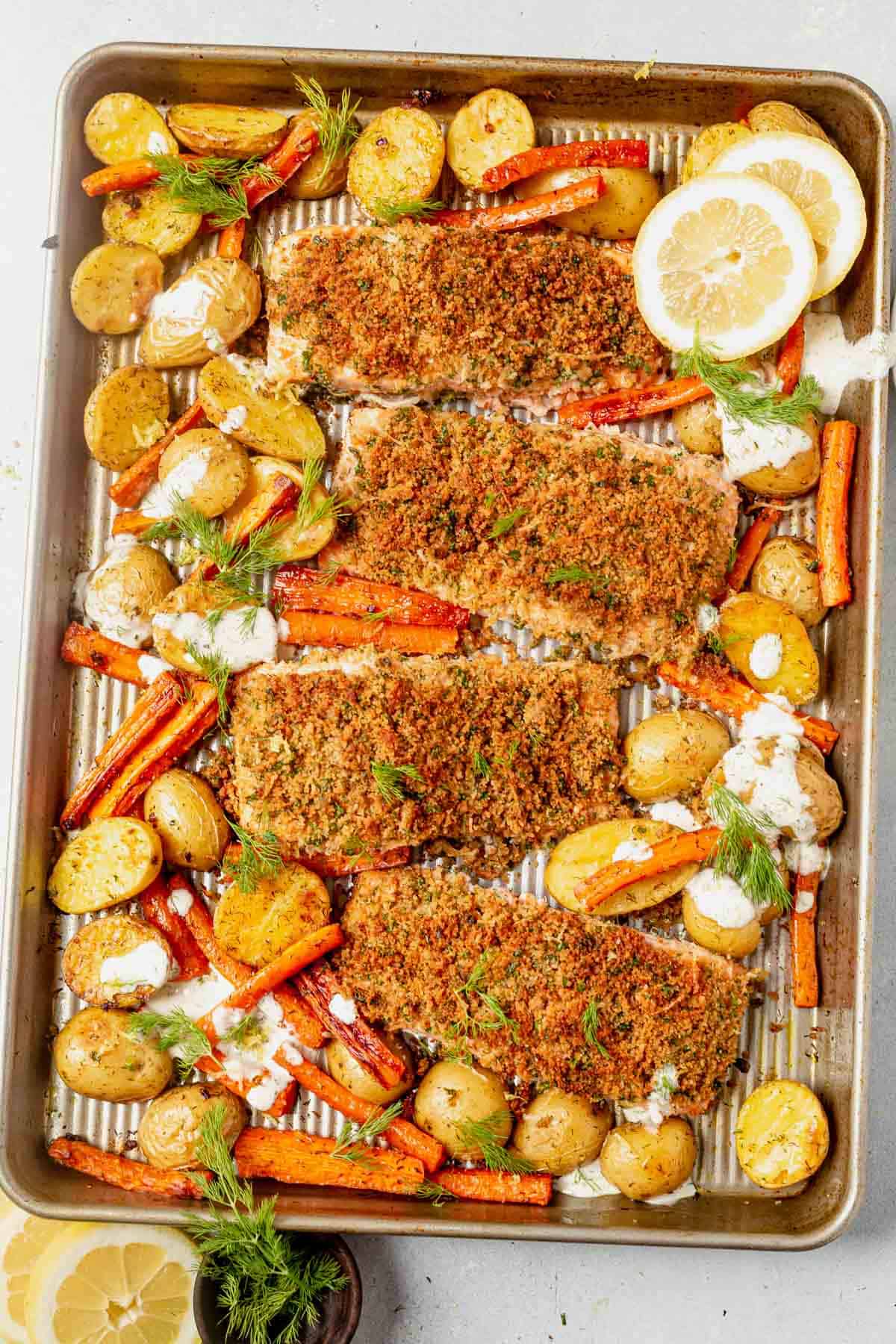 Serving, Storing, and Reheating Salmon
Once you've learned how long to bake salmon at 400, baked it to the perfect temperature, and enjoyed that silky texture, here's how to store leftovers.
Serving: If you have other dishes to prepare or are serving salmon at a cookout, it should not sit out for more than two hours at room temperature. If your cookout is outside or your room temperature is above 90°F, your salmon should not sit out for more than one hour.
Storing: To store leftover salmon, place it in an airtight container in your refrigerator. It will last as long as 3-4 days, but should be tossed after four days. If your salmon smells extra fishy when you open your container, throw it away.
Freezing: Oven-baked salmon can be frozen after it is cooked, especially if you don't see yourself using it within 3-4 days. To freeze, place your cooked salmon in an airtight container. It will last for up to 3 months.
Reheating: Salmon is tricky to reheat not only because it dries out easily, but also because it can get smelly (which is why we recommend you do not microwave it). Try using your salmon cold or at room temperature but if you absolutely need to warm up your leftover salmon, low and slow is the key! Warm up your salmon on the grill or air fryer until it is heated through to your personal preference.
Frequently Asked Questions
What is the best kind of salmon to buy?
This all depends on personal preference! Chinook salmon (king salmon) is often the most expensive but will have the best taste. Atlantic salmon will be more affordable but is a fattier type of salmon than Chinook or Sockeye.
Should I take the skin off of my salmon?
Unless the recipe you are using explicitly states to leave the skin on or take it off, it will be your personal preference. Leaving the skin on provides a barrier between the heat and your fish, giving slight protection from overcooking. You can easily remove it once you finish cooking. However, if you don't want to mess with removing the skin after you finish cooking or would like the skin removed for presentation purposes, then cook the salmon with the skin off. It's truly up to you!
What is the white stuff oozing from my salmon?
The white substance oozing from your salmon is a protein called albumin that will escape from the salmon while cooking. It is totally harmless and completely safe to eat!
Do I need to remove the gray stuff from my salmon?
The "gray stuff" on the bottom of your salmon is actually fat! While we are used to a whiter colored fat as seen in our red meats and chicken, salmon fat is a (admittedly less appetizing) gray color. It's rich in fatty acids and perfectly fine to eat. It's flavor blends in with the rest of the salmon fillet. If you prefer to remove it, you can simply scrape it off before serving.
Is raw (or undercooked) salmon safe to eat?
It is our recommendation that you should never consume raw or undercooked salmon as it may increase the risk of foodborne illness. However, we are food experts and do enjoy a good raw salmon sushi roll so we understand the question. If you want to eat salmon raw, look for sushi-grade salmon. This type of salmon is safe to consume raw.
How long is cooked salmon good for?
Cooked salmon will be good for 3-4 days. Store in an airtight container in your refrigerator. If it smells fishy when you go to eat your leftovers, throw it away.
Salmon Recipes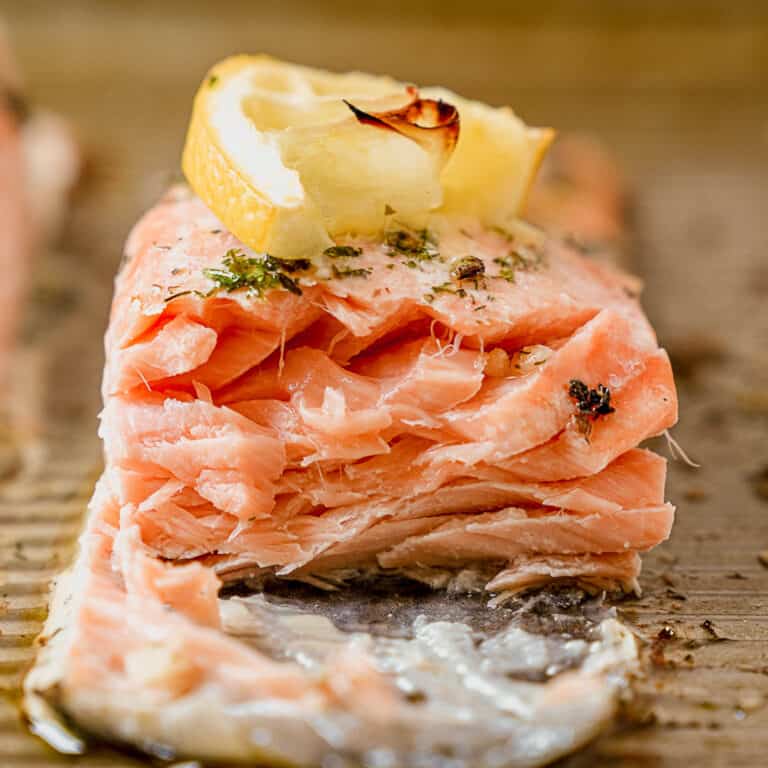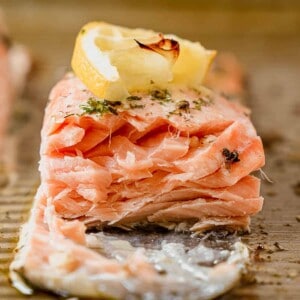 How to Bake Salmon at 400
This easy salmon baked at 400 degrees f results in buttery, flaky salmon and has the most delicious herb and garlic rub.
Print
Pin
Rate
Save
Saved!
Ingredients
4

(4-6 ounce)

salmon fillets

2

Tablespoons

olive oil

½

teaspoon

kosher salt

¼

teaspoon

cracked black pepper

2

cloves

minced garlic

¼

teaspoon

EACH: dried thyme, dried oregano, dried basil, and dried dill

Juice from 1 lemon

plus 4 lemon wedges
Instructions
Preheat oven to 400 degrees f and grease a large baking pan. Arrange salmon fillets on the baking sheet and season generously with salt and pepper.

Stir together olive oil, garlic, herbs, and juice of ½ lemon. Spoon over salmon fillets being sure to rub all over the tops and sides of the salmon so it has no dry spots. Thinly slice the remaining ½ of lemon and top each piece of salmon with a slice of lemon.

Bake for 12-15 minutes until salmon is opaque and flaky when pulled apart with a fork. You can broil the last 1-2 minutes if desired.

Garnish with fresh thyme or parsley if desired and serve.
Nutrition
Serving:
1
5-ounce fillet
|
Calories:
248
kcal
|
Carbohydrates:
0.6
g
|
Protein:
31.6
g
|
Fat:
13.7
g
|
Cholesterol:
72.3
mg
|
Sodium:
265.8
mg
|
Fiber:
0.1
g
|
Vitamin A:
69.6
IU
|
Vitamin C:
0.5
mg