The very best way to cook your beef to proper doneness is by using the internal temperature as a guide to capture the cooked beef temp. The beef should be 145°F for a medium rare cut of beef. This post will explain each type of beef, varying temperatures of doneness and the best tools to use!
Jump to:
Want to learn more about temperatures and times? Learn how long to grill chicken breast, how long to grill pork tenderloin, how long to grill pork chops, and how long to bake chicken wings.
Have you ever been to a restaurant and wondered how they cook their burgers and steaks so perfectly? Though they may have professional chefs working their magic, you can get the same result at home by using a meat thermometer.
Using a meat thermometer is the #1 way to tell when your beef is cooked to the right temperature (see below for how to properly use a meat thermometer).
Internal Temperature of Beef
Here's a guide to the internal temperature of beef based on your desired doneness.
| | | |
| --- | --- | --- |
| Doneness | Remove from the Grill | Target Temperature |
| Rare | 125-130°F | 130-135°F |
| Medium-Rare | 130-135°F | 135-145°F |
| Medium | 135-145°F | 145°F-150°F |
| Medium-Well | 145-155°F | 150-160°F |
| Well Done | 155°F and above | 160°F and above |
When to Take the Meat Off the Heat
Remove the steak from the heat 5-10 degrees before reaching your desired temperature because it will continue to rise 5-15 degrees (also known as carry-over cooking). Allow 15-20 minutes of standing time.
What temperature should beef be cooked to celsius?
Rare: 57°C
Medium rare: 57-63°C
Medium: 63-66°C
Medium well: 66-71°C
Well done: 71°C and above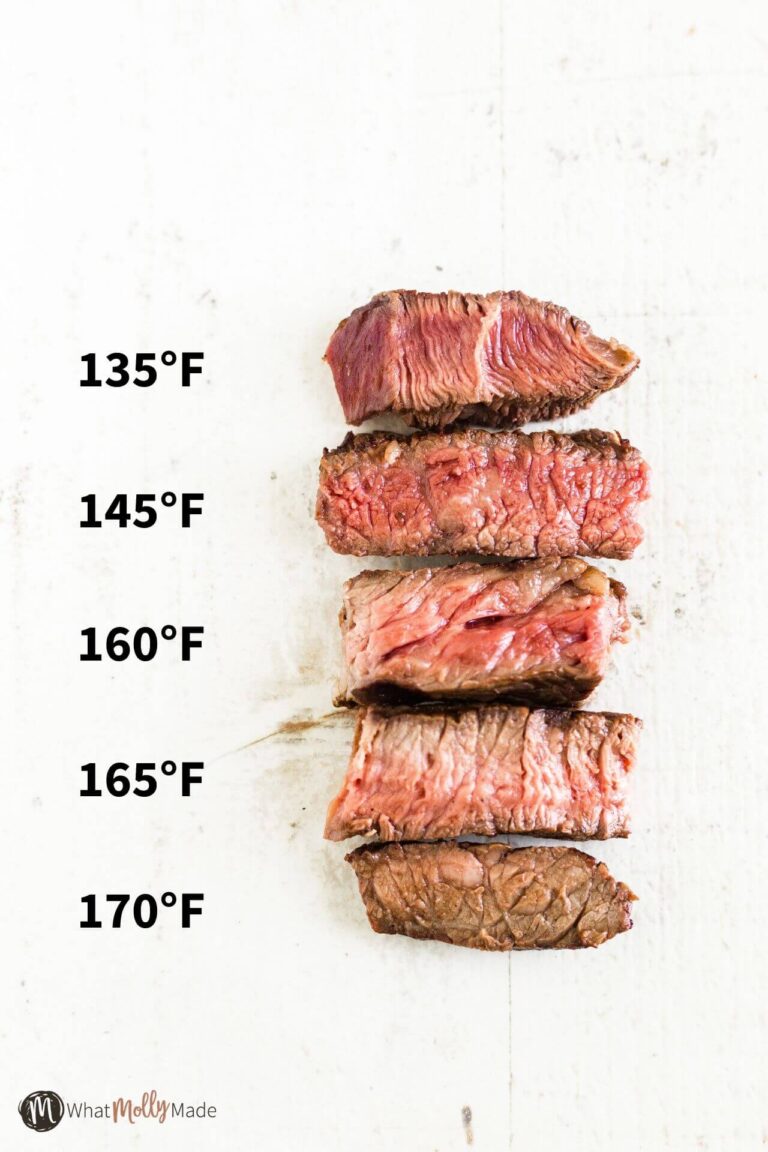 Internal temperature of Steaks:
For ½ inch thick or more steaks, use a meat thermometer to insert horizontally and wait for the temperature to read about 5 degrees below these target temperatures: 145°F (medium-rare), 160°F (medium) or 170° (well done).
Remember to remove the steaks from the heat prior to the desired temperature to allow for carry over cooking!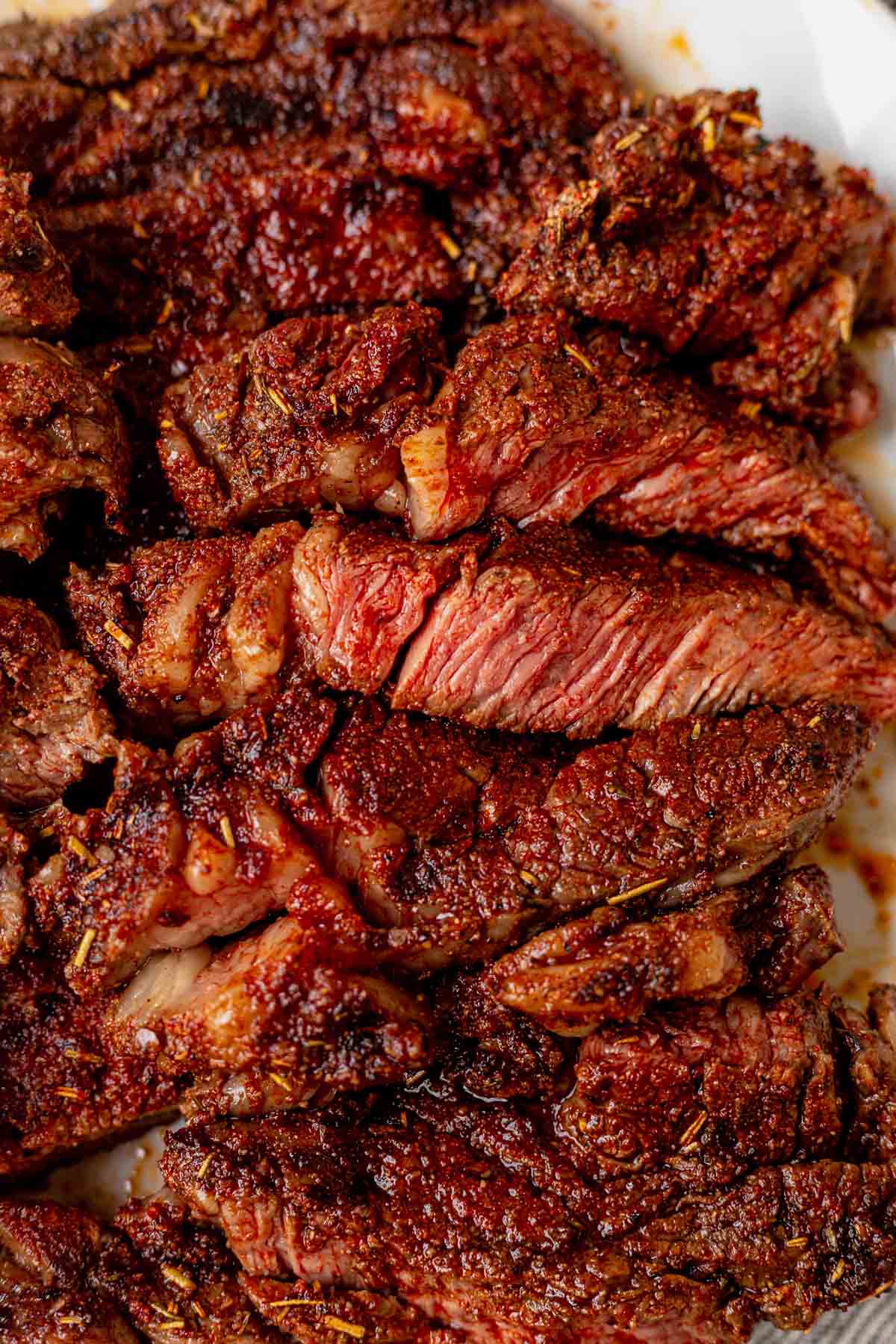 Internal temperature of Ground Beef
Ground beef should always be cooked to a safe 160°F. Ground beef includes all recipes that have ground beef as the base like burgers, meatballs and meatloaf.
The color of the ground beef isn't always a reliable indicator for doneness so use a meat thermometer to determine the internal temperature to ensure it's thoroughly cooked.
Insert the thermometer into the thickest part of the beef until it reaches a safe and savory 160°F.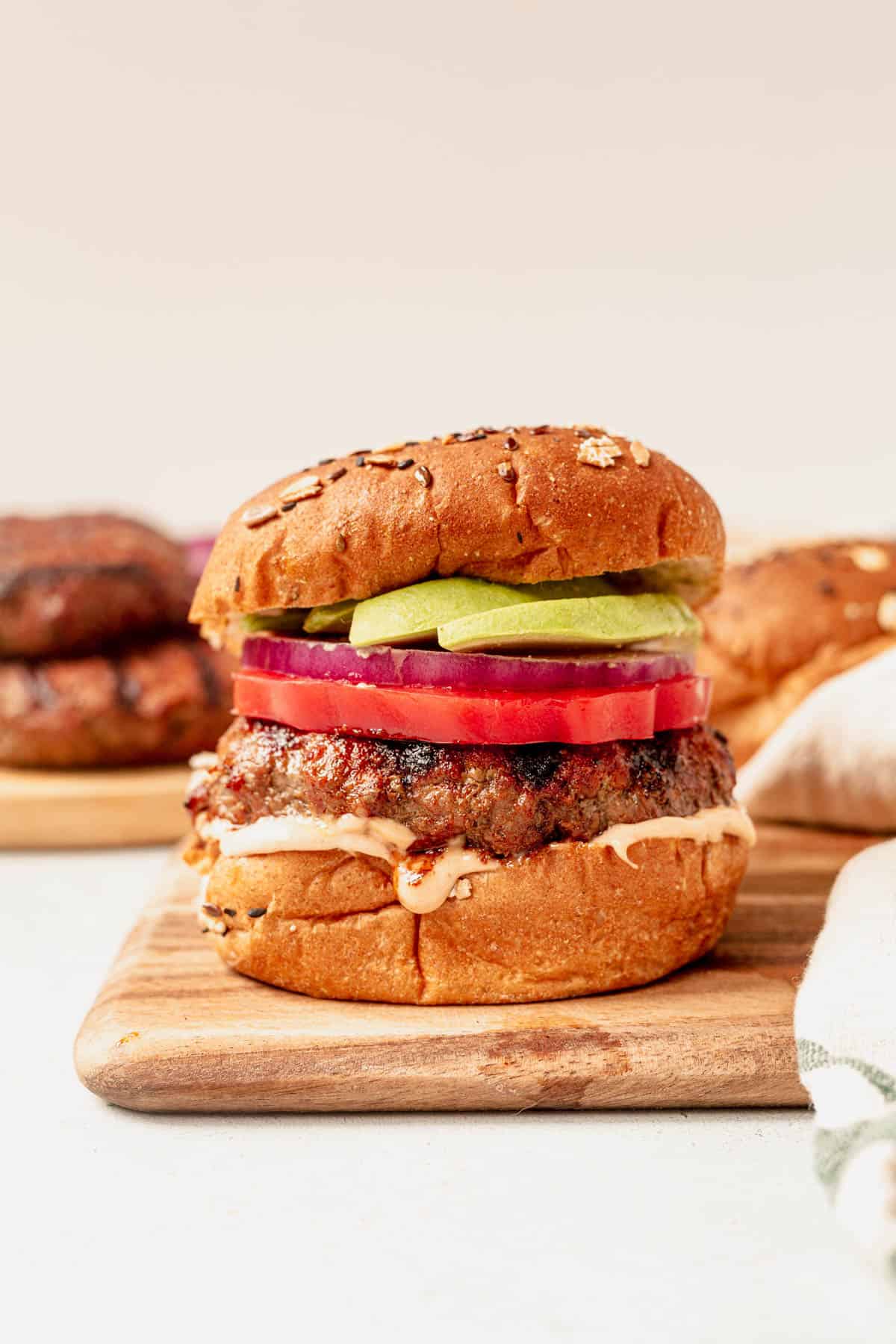 Internal Temperature of Roasts
There are two ways to check the internal temp of a roast: place an oven safe thermometer in the thickest part of the beef prior to cooking and leave it in throughout the cooking process or use an instant read thermometer after the cook time is complete.
Roasts include cuts of beef like round roasts, rump roasts and chuck roasts and their internal temperature should read 145°F (medium-rare), 160°F (medium) or 170° (well done).
Read more about determining doneness from The Ohio Beef Council and for an even more in depth guide to specific cuts, temps and cook times check out these oven roasting guidelines.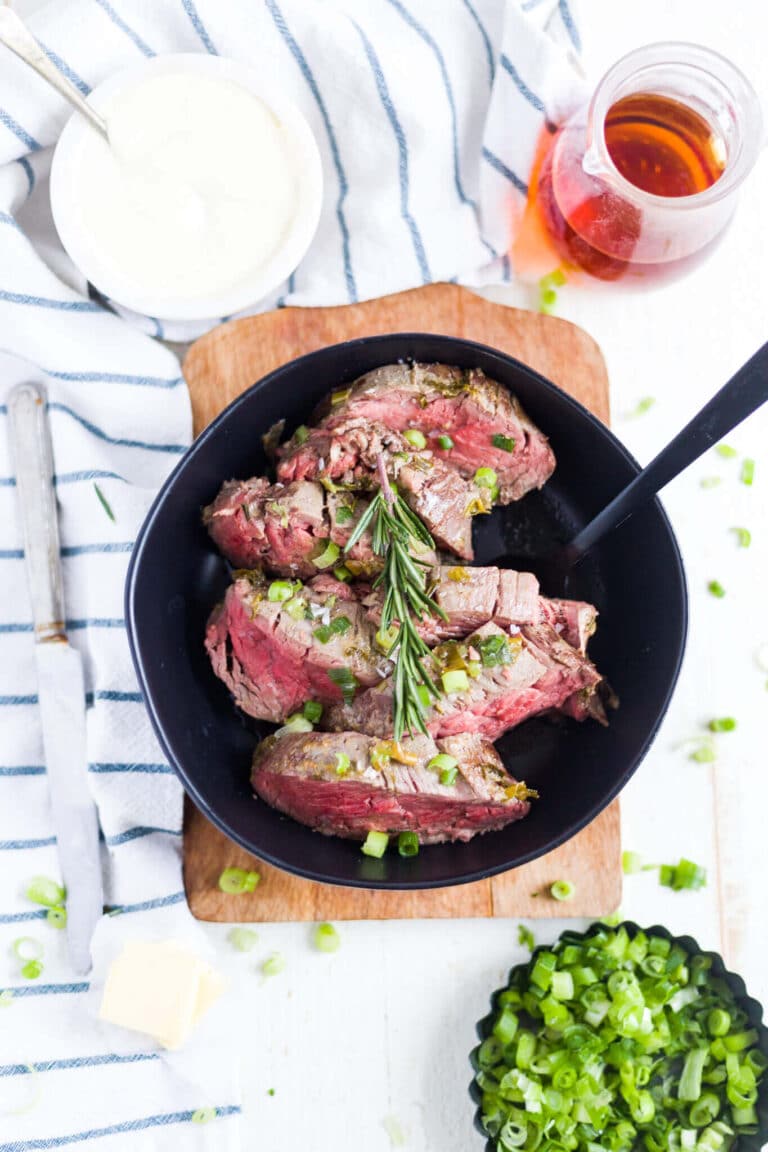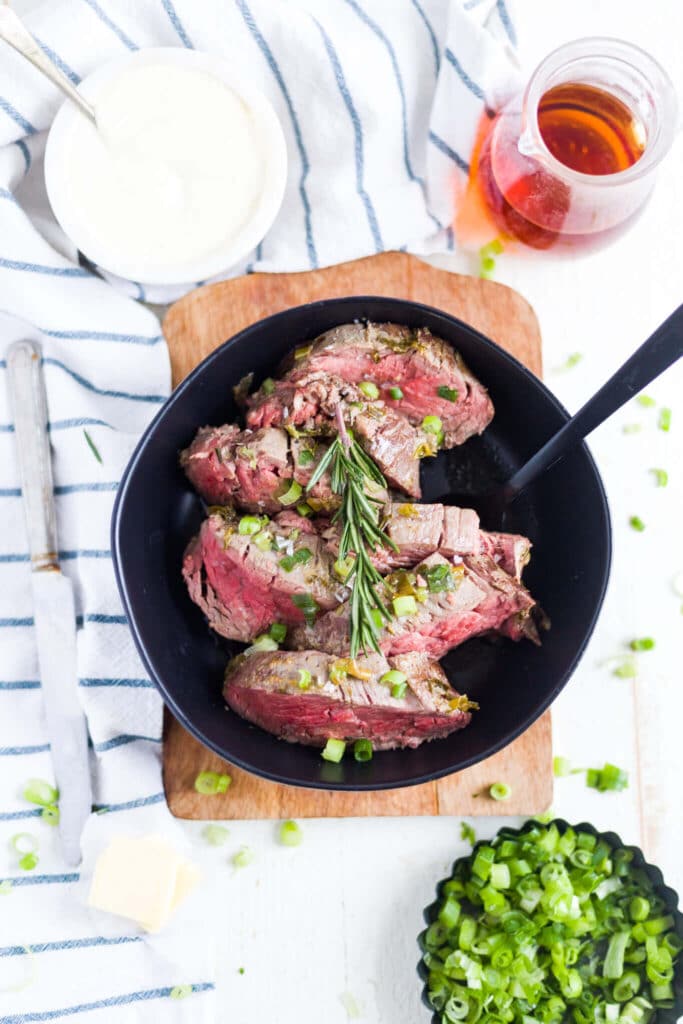 How to Properly use a Meat Thermometer
Now that you have the proper cooked beef temps, there's a few tips on how you properly capture those temps with the thermometer.
Insert a meat thermometer horizontally into the thickest part of the beef.
Avoid the thermometer resting in fat or touching bone.
Leave the meat thermometer in the beef for about 15 seconds.
Best digital meat thermometers: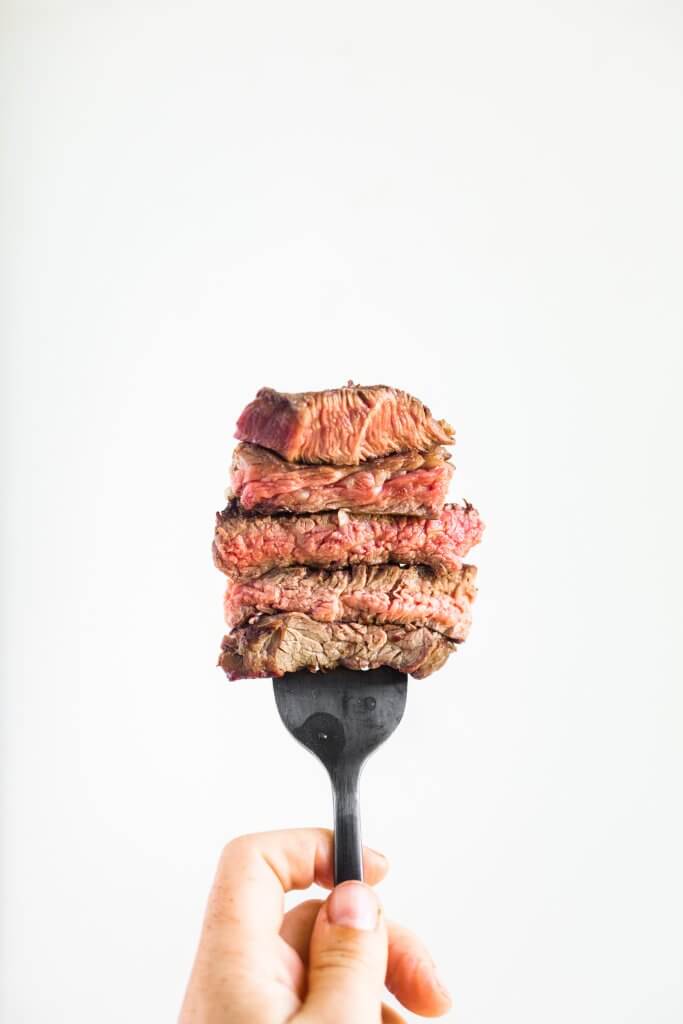 Best Beef Recipes
Steak: Steak bites and potatoes, healthy IP mongolian beef, beef tenderloin, IP beef stroganoff, one pan garlic steak and potatoes, stuffed flank steak, steak fajitas
Ground beef: Mexican beef and rice, IP spaghetti, teriyaki burger
Roasts: Beef ragu, sweet potato beef stew, korean beef tacos, IP Pot Roast
This post is sponsored by The Ohio Beef Council. All thoughts and opinions are my own. Thanks to brands like them for believing in me and allowing me to share free information and recipes with you!