Nutella filled banana muffins. Aka hazelnut heaven tucked inside a moist and delightful muffin recipe. Topped with a cinnamon sugar blend. It's pretty epic if I do say so myself.
Happy hump day to all my Nutella-loving friends! We're half way through the week and it just felt important in my heart to bring you a scrumptious muffin recipe.
I realized as I was making these that I love making muffins. Aside from cookies, I think it's my favorite type of recipe to make. They're pretty fool proof the majority of the time and they can brighten a morning like no other. Easy and happy? I'm cool with that.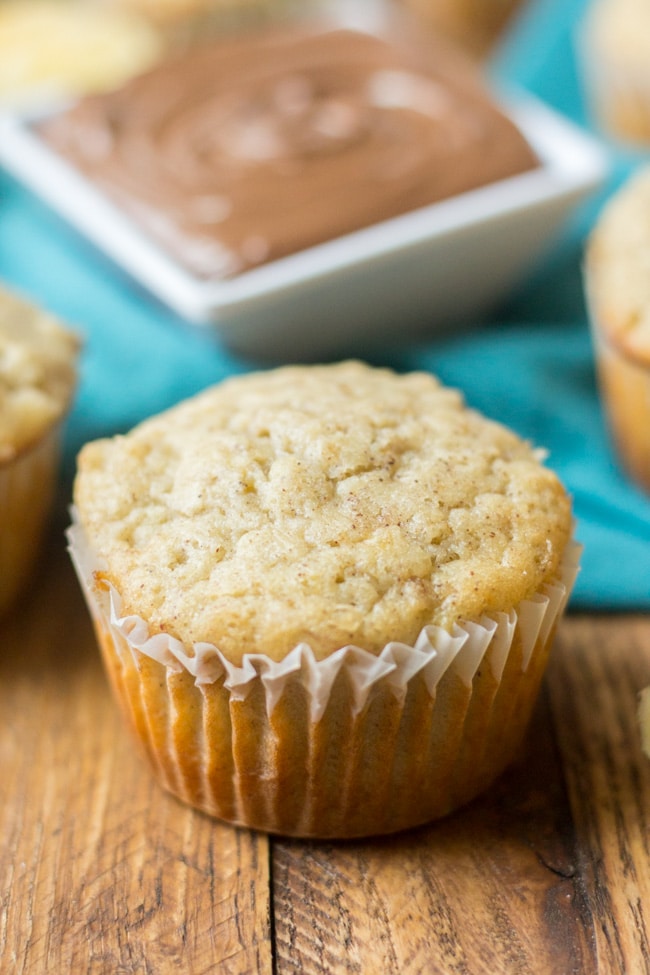 My muffin crushes lately are these GF Banana Chocolate Muffins, Coffee Cake Muffins and Two-Ingredient Pumpkin Muffins. I'd recently made this delicious healthy banana bread over on The Stay At Home Chef and had some mushy bananas sitting in my pantry.
I firmly believe in not letting any yummy food go to waste so the wheels started turning about some banana recipe ideas. And wha-la, these Nutella filled banana muffins came to mind. Because is there anything better than filling anything with Nutella?
Nope. Which is why I made these Nutella stuffed pretzel bites and these Nutella brownies. I also made Nutella swirled banana bread about a year ago so I knew this combo was killer.

How to make Nutella filled banana muffins:
It's simple really. The base of the recipe is a soft and fluffy banana recipe. Make sure your bananas are super ripe. It makes the muffin batter so smooth and so moist when they come out of the oven.
But before they go in the oven, the most important step: the Nutella! Scoop some batter in each muffin tin about half way full. Then you're going to dollop the Nutella right on top. Pour more batter over it to just cover them and throw them in the oven.
I always like to bake my muffin recipe at high heat at first and these Nutella filled banana muffins are no different. The high heat makes the muffins rise quickly (bakery style) and then you turn the oven down to bake them all the way through. Perfect I tell ya.
Once you pull them out it's time to add the finishing touches. A dip in melted butter and a coating of cinnamon sugar. It creates the best texture and a small pop of flavor. Plus it looks really pretty.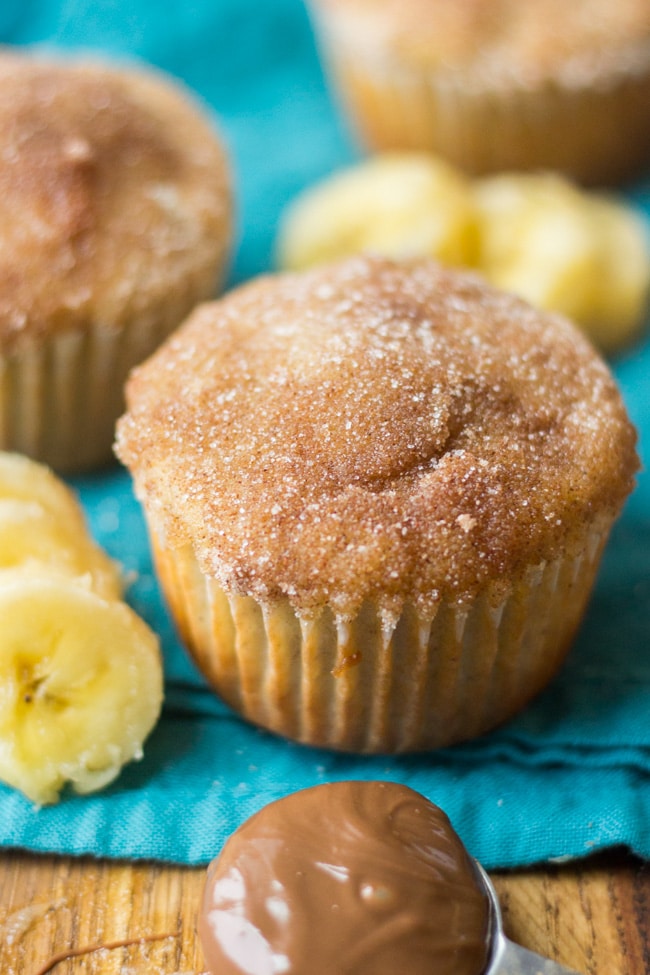 I took these muffins in to my office to share with coworkers and they were all pleasantly surprised by the Nutella tucked inside.
"I hate a surprise dollop of Nutella," said no one ever.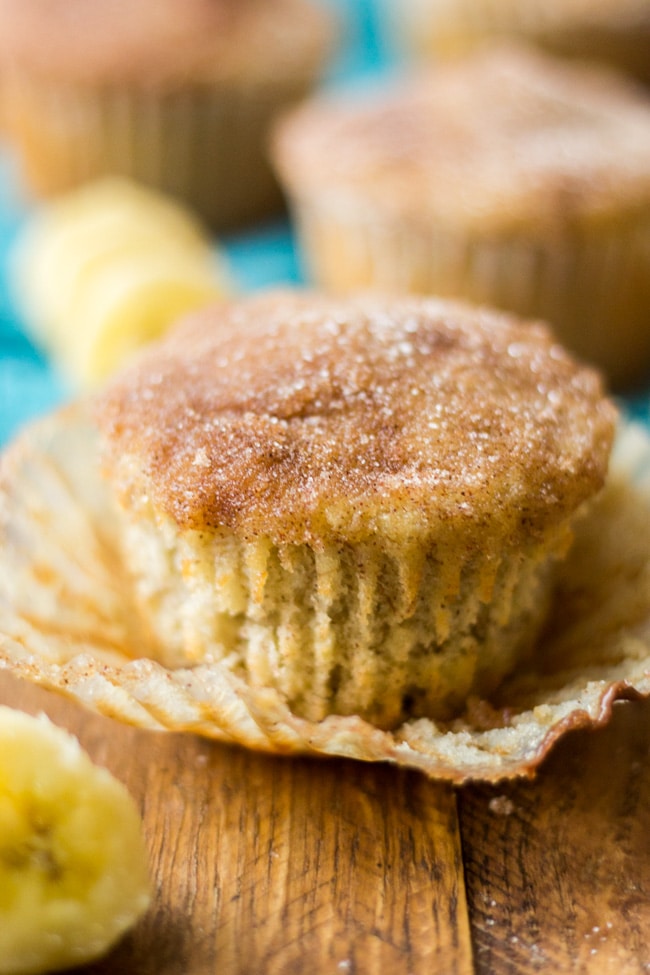 I hope you really enjoy these! And get pumped because I have some exciting ideas in the works. They're surprisingly not food-related. But super cool and something I'm hoping will help me connect with all of you and provide even more value to you!
Stay tuned:)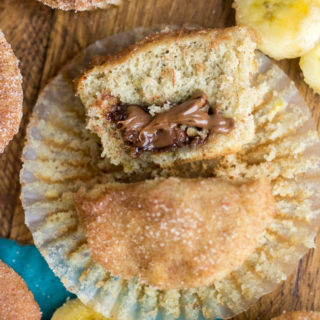 Ingredients
1/3

cup

butter

room temperature

1/2

cup

granulated sugar

2

very ripe bananas

1

egg

1

teaspoon

vanilla extract

1/2

cup

milk

1 1/2

cups

all-purpose flour

1 1/2

teaspoon

baking powder

1/2

teaspoon

ground cinnamon

1/2

teaspoon

nutmeg

1/2

tsp

salt

1/3

cup

Nutella

Cinnamon-Sugar Topping:

4

tablespoons

butter

melted

1/4

cup

granulated sugar

2

teaspoons

ground cinnamon
Instructions
Preheat the oven to 425°F. Spray the muffin pan with non-stick cooking pray. Set aside.

Using a handheld mixer or a stand mixer fitted with the paddle attachment, beat the butter and granulated sugar together in a large bowl in medium speed until creamed, about 3 minutes. Beat in the bananas, egg, vanilla and milk, scraping down the sides of the bowl as needed. Using a wooden spoon or large rubber spatula, gently stir in the flour, baking powder, cinnamon, nutmeg and salt until combined, being careful not to overmix.

Spoon a heaping tablespoon of the batter into each prepared muffin cup. Layer each with one heaping teaspoon of Nutella in the center and spoon another tablespoon of batter on top.

Bake at 425°F for five minutes then reduce temperature to 350°F and bake for an additional 9-12 minutes, or until tops are set and a toothpick inserted in the center comes out with few crumbs. Allow to cool for five minutes in the pan.

To make the topping: Melt the butter in a small bow. In a separate small bowl, mix the cinnamon and sugar together. Dip the top of the cooled muffin into the melted butter then immediately in the cinnamon-sugar mixture. Swirl them around in the cinnamon-sugar a bit to coat the top well. Set upright on a cooling rack to cool completely. Keep muffins in an airtight container at room temperature for up to 3 days, in the refrigerator for up to 5 days and in the freezer for up to one month.
DID YOU MAKE THIS RECIPE!? SNAP A PIC AND TAG @WHAT_MOLLYMADE AND USE #WHATMOLLYMADE!
Here are a couple of items I used to make today's recipe:
KitchenAid 5-Speed Ultra Power Hand Mixer
,Glass Bowl Set
Some of the links above are affiliate links, which pays me a small commission for my referral at no extra cost to you! Thank you for supporting What Molly Made!