Nothing like a Nutella surprise! These soft and flavorful cinnamon sugar pretzel bites are baked to golden brown perfection then dipped in butter and rolled in cinnamon sugar.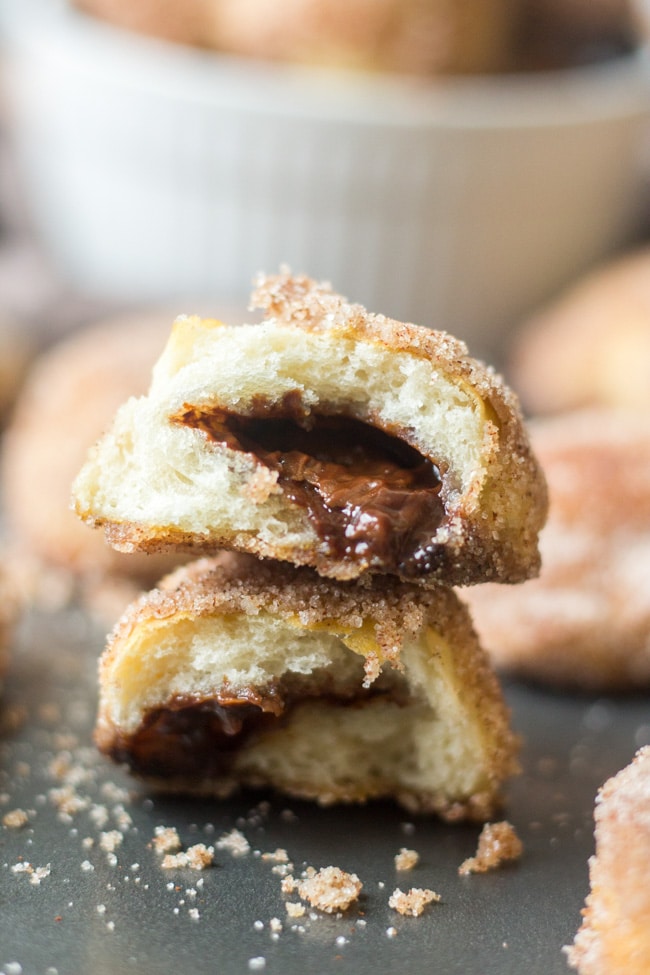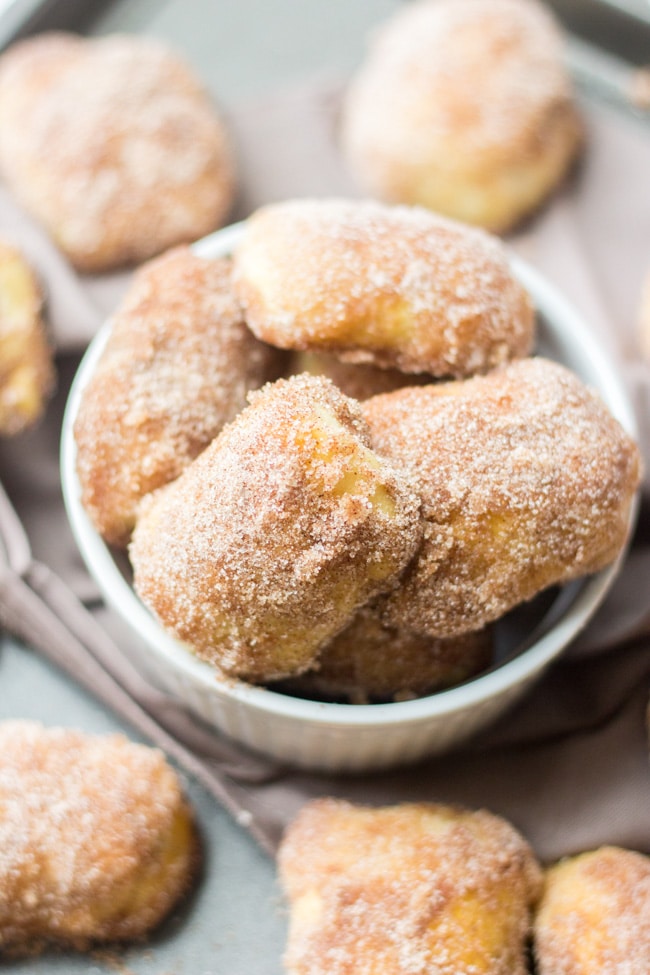 I've had this obsession with stuffing things with Nutella the last couple of weeks. I got Nutella in a gift basket recently and my wheels started turning about all the ways I could use it. Stay tuned for some of those recipes coming soon!
Think Nutella stuffed banana muffins (which you may have seen on my insta feed). I also made some epic Nutella stuffed cookie sandwiches right before Christmas. And I can't forget about my Nutella banana bread or my Nutella brownies. I swear I don't have a problem...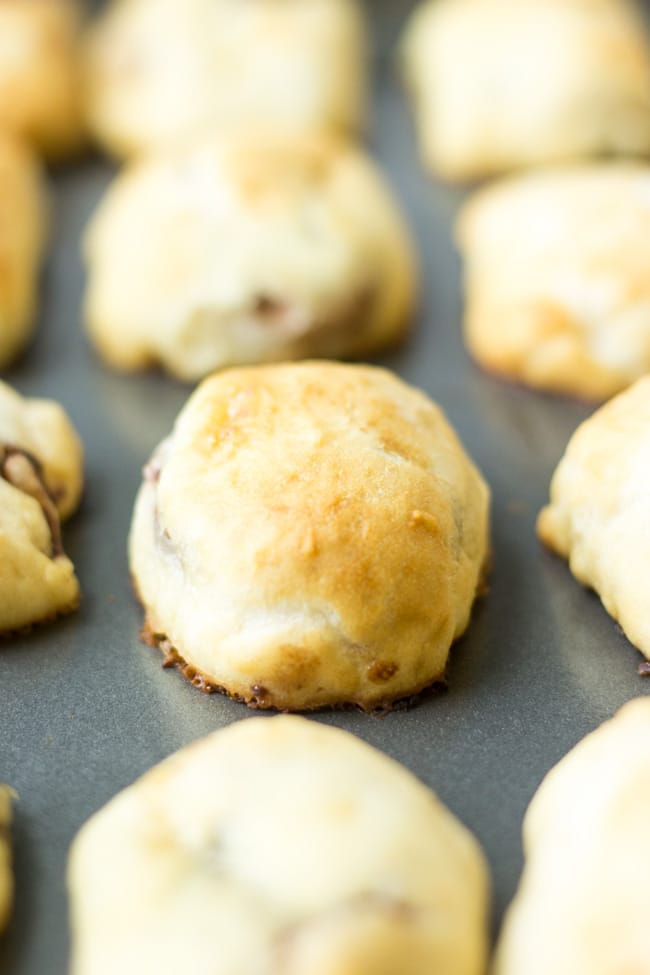 But because I knew the Super Bowl was quickly approaching I wanted to come up with a fun and delicious snack recipe to share while you watch the game. My soft pretzel bites with beer cheese is one of the most popular recipes on my blog and since I've sort of changed gears to focus more on desserts I wanted to sweeten up that recipe!
And what better way to sweet it up than making Nutella stuffed cinnamon sugar pretzel bites?!
Please don't be overwhelmed by these! I promise they're really not hard to make. Don't let that active dry yeast scare you off. Easy stuff, I promise. Because I have a variation of this recipe on my blog already I only had to test the recipe once. Winning!
I completed the entire recipe in one night, even with dough rising and all.

So let's discuss the crucial steps in making these Nutella stuffed cinnamon sugar pretzel bites:
Proofing the yeast. This is basically just mixing the active dry yeast with warm milk. When you let it sit the yeast gets frothy and that's how you know it's alive and ready to use. You're essentially "proving" the yeast is good. If it doesn't get frothy your milk is either too hot or you need new yeast! I warm my milk in the microwave for 30-60 seconds to get it the right temp. But typically you have no problems!
Letting the dough rise. Once you bring the dough together (which is super easy!), place it in a greased bowl and cover with a kitchen towel. Let it rise for about an hour. I like to preheat my oven to 250°F while I'm mixing the dough. I turn the oven off and place the dough in there to rise. Warm settings are the perfect environment for this!
Cutting the dough into bite pieces. Once the dough rises, punch it down to release some air and separate the dough into for equal pieces. Generously flour your surface! Once section at a time, roll the pieces out into a 12 inch rope then roll the rope out slightly to flatten it to about 2 inches wide. Repeat the process for all 4 sections. It's okay to add more flour if the dough is sticking. Once you're done, you'll have 4 long ropes. Cut each rope into about 6 pieces (so they should end up being 2x2 squares). Wha-la!
Gooey Nutella stuffing! The chocolate hazelnut spread if dolloped in the middle of the dough and then you fold over the dough and pinch the edges to seal it shut. All it takes for a delicious Nutella surprise!
Baking soda bath. In my other pretzel bites recipe it calls for boiling the water for the baking soda bath. The bath gives the dough a crusty brown outside when you bake it. However, for these cinnamon sugar pretzel bites, we want a more soft and chewy pretzel. Which is why the baking soda is dissolved in warm water from the faucet rather than boiled. It's much easier too!
Cinnamon sugar heaven! Once the pretzels are baked to perfection it's time for the final touch! The best part! Melt the butter and mix the cinnamon sugar together. Dunk in the butter and roll in the mixture for the perfect sweet coating. Done and done!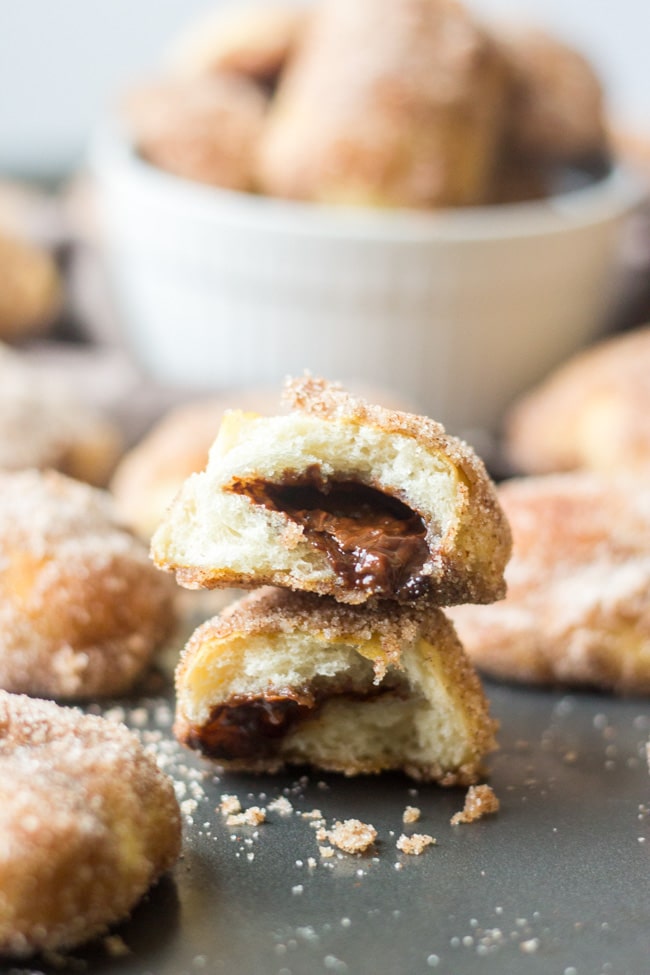 I'm telling you, your guests will swoon over the melty Nutella oozing out of these cinnamon sugar pretzel bites when you bite into one. If you make them in advance throw them in the oven at 300 for a few minutes to warm them up.
They're so impressive your friends will think a pro made them! I recommend serving them with some delicious churro bites, chocolate chip cookie bars or buckeye bites.
They're all crowd pleasers!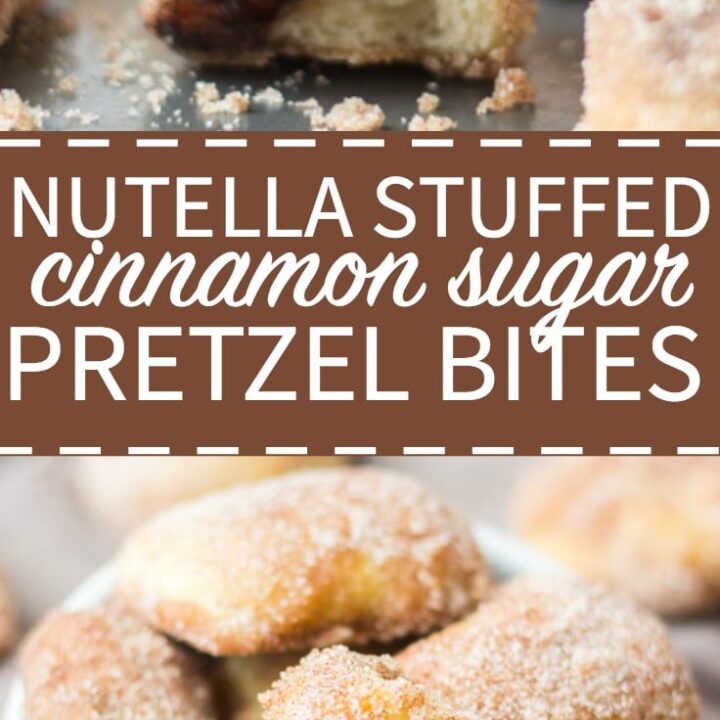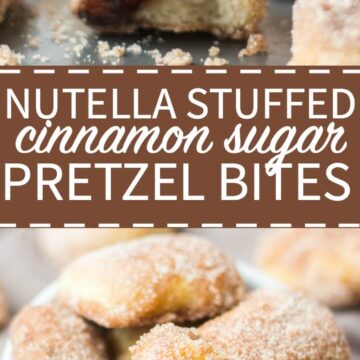 Ingredients
1

cup

milk

1

package

2¼ teaspoons active dry yeast

3

tablespoons

packed light brown sugar

2

tablespoons

butter

melted

2¼

cups

all-purpose flour

plus more for kneading

1

teaspoon

fine salt

½

cup

nutella

Baking Soda Bath:

¼

cup

baking soda

2½

cups

warm water

Cinnamon Sugar Coating:

¾

cup

melted butter

1

cup

sugar

4

teaspoon

cinnamon for topping
Instructions
To make the pretzel bites, pour warm milk into a medium bowl (I microwaved my milk on high for about 30-60 seconds) or into the bowl of your stand mixer. Sprinkle the yeast over the milk and let sit for approximately 10 minutes to proof (mixture will be frothy).

Once frothy, add the brown sugar and melted butter and mix gently with a wooden spoon. Add the flour and salt and mix well with a wooden spoon or mix on low in your stand mixer with the dough hook attachment. Add more flour a tablespoon at a time until the dough is wet but not too sticky.

Knead with the dough on low to medium speed for approximately 5 minutes, until dough starts pulling away from the surface of the stand mixer. If your mixing by hand, turn the dough out onto a floured surface and knead by hand for 5 minutes.

Shape dough into a ball then place in a greased bowl and cover with a kitchen towel or plastic wrap. Let rise for about 1 hour in a warm place, until dough has doubled in size. I like to preheat the oven to 250°F while I'm kneading the dough then I turn it off before placing the dough in it to rise.

Once it's risen, punch down the dough with your fist gently and divide it evenly into 4 equal pieces. One piece at a time, roll the dough into a 12 inch long rope on a well floured surface. Roll the rope out to 2 inches thick so you have a long rectangle. Repeat the process for the other 3 sections. Cut each long rectangle into 6 pieces so you have 2x2 squares.

Place a heaping ½ teaspoon of Nutella in the center of each piece of dough. Gently fold one side of the dough over the Nutella and pinch all of the seams closed. Repeat the process until all of the dough is sealed with Nutella inside.

Preheat oven to 450°F and line a large baking sheet with parchment paper. Set aside.

For the baking soda batth, dissolve the baking soda in warm water in a medium bowl or dish. Dip each pretzel bite in the bath for a couple of seconds then transfer to prepared baking sheet. Bake for 8-10 minutes or until tops begin to turn golden brown. Some of the Nutella may come out of some of them. This is okay.

Once baked, allow to cool for approximately 5 minutes. Dip each pretzel in the melted butter then coat in the cinnamon sugar mixture. Eat immediately or store in an air tight container for a couple of days.