Coffee cake muffins with crumble topping are easy and delicious. They're topped with a crumbly, buttery streusel top overflowing as you pull them out of the oven. They're explosions of flavor in your mouth. And the best part is you can eat them for breakfast. With coffee.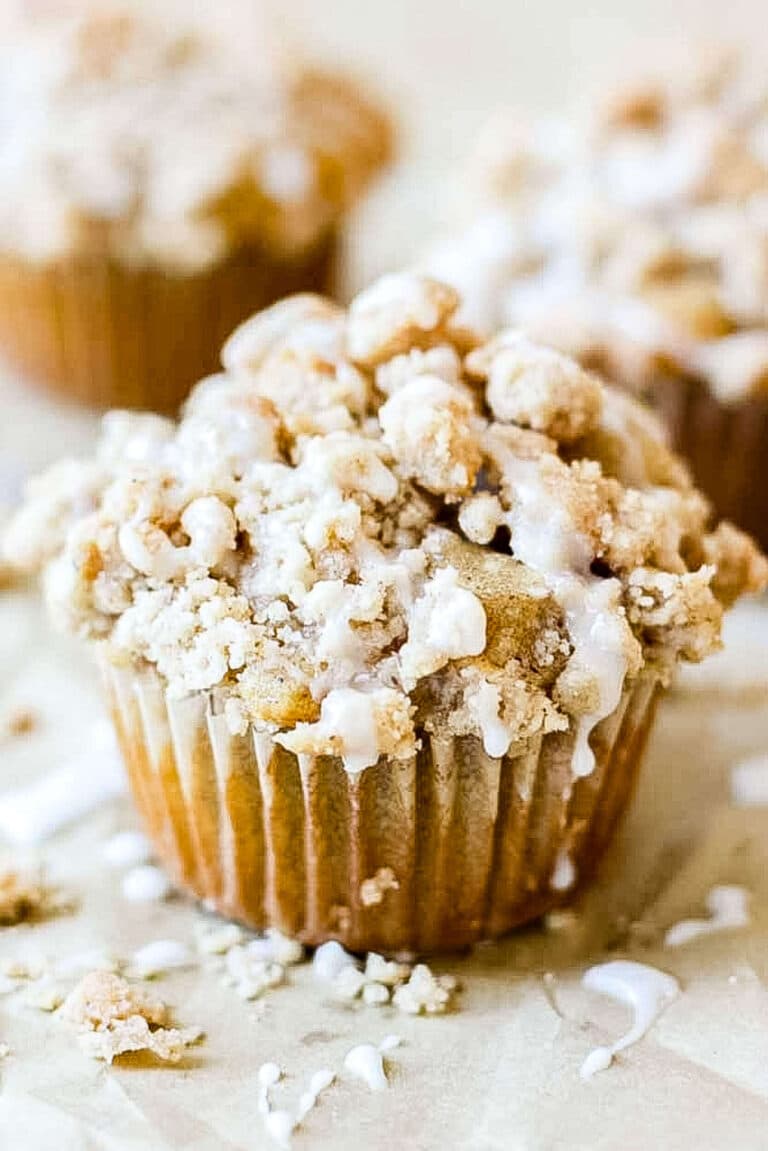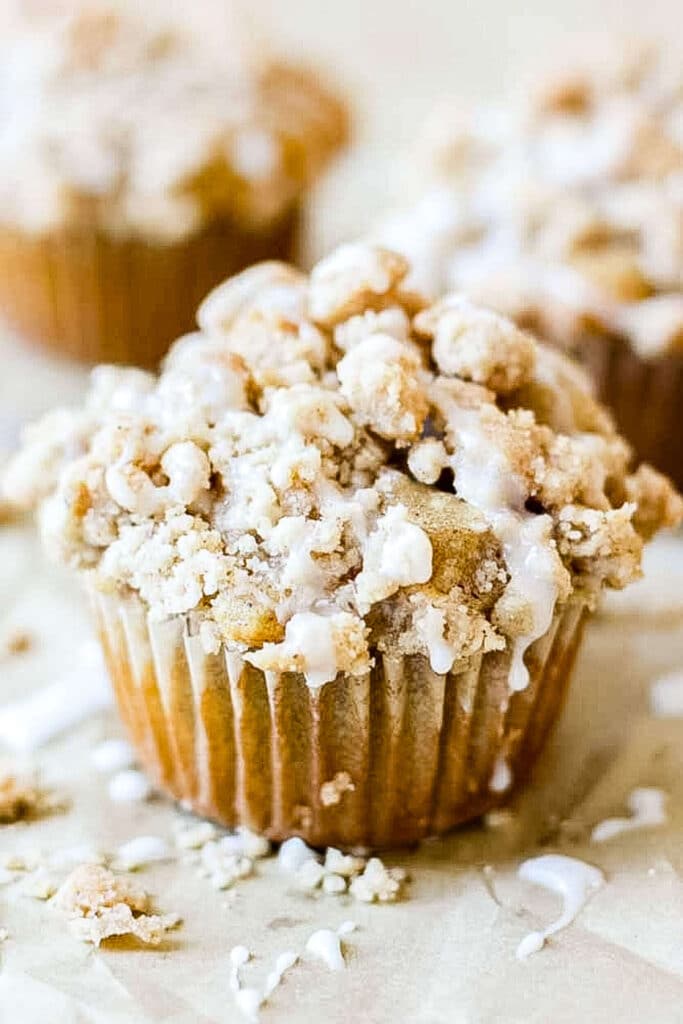 My two favorite things in the world involve baking and coffee so I think it's safe to say this is one of my all time favorite recipes I've ever made. And I have to thank Damn Delicious for the inspo!
Another one of my favorite things is how food or a single recipe can take you back to a specific moment in time or remind you of a certain person in your life.
These muffins are in honor of my grandmother (my dad's mom) who made the most out of this world delicious coffee cake and these coffee cake muffins remind me so much of her. She only made coffee cake at Christmas time.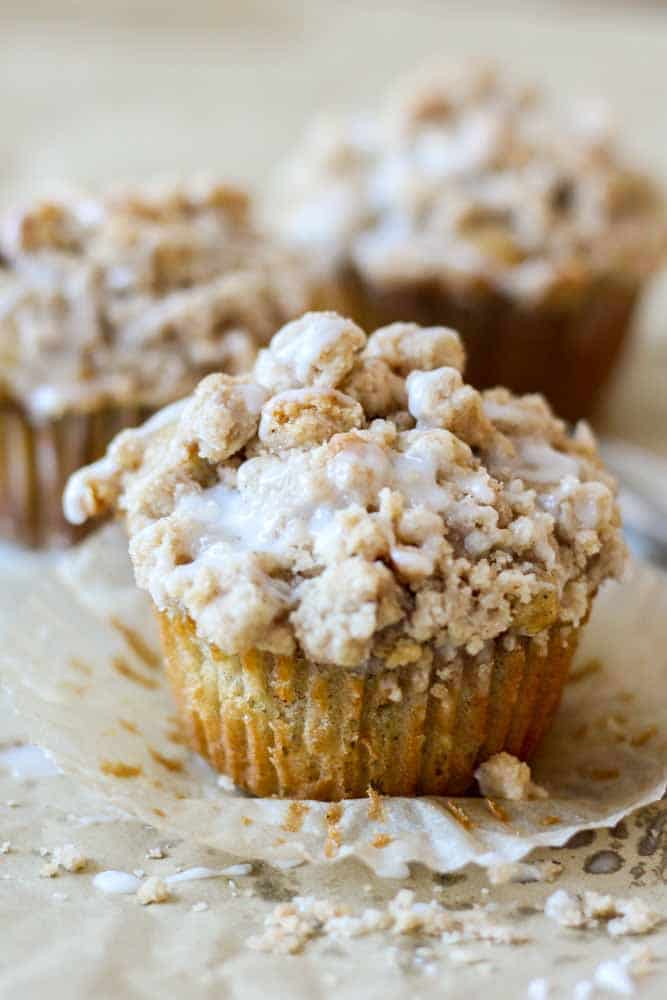 Even the smell of these muffins pouring into my kitchen as they baked reminded me of her. The cinnamon and butter baking together in the oven makes for one great smelling kitchen. Bath and Body Works should make a 3-wick candle of this scent.
The actual coffee cake muffin batter is as simple as can be. No mixer required. Just a bowl and a spoon. The crumb topping is easy as can be too. I suggest making that first because it needs to be spread out on a baking pan to dry out slightly before you top the muffins. It actually works out perfect because it can sit out while you make the muffin batter then when it's time to spoon the batter into the muffin tins your crumble will be ready to top!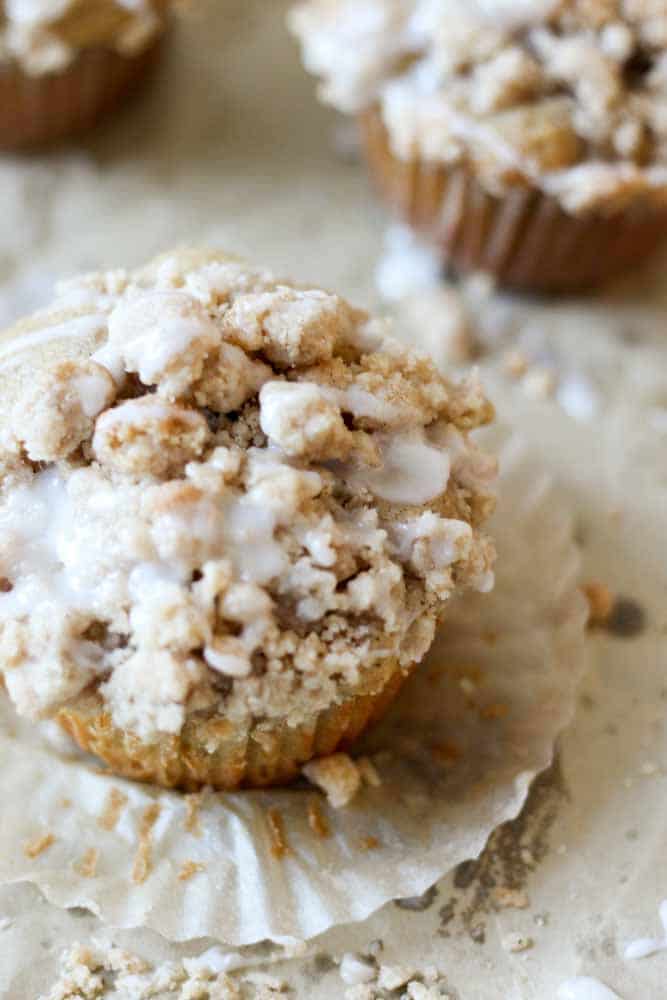 How to make coffee cake muffins:
Mix the dry ingredients together then add the wet ingredients. Be careful not to over-mix then fill lined muffin tins with 2/3 way full with batter then pile high with crumble.
My trick to a bakery style muffin: bake them for a little on high heat so they puff up then turn it down so they cook through in the middle.
When you take them out the crumbles may fall a bit, that's okay. I just scooped them up and stuck them right back on the top. No way was I wasting it! It's like pure cinnamon gold. The last step is the sweet drizzle of icing right on top. Cover them or do a light drizzle, this step is at your discretion!
How many calories in a coffee cake muffin?
There are XX calories in each one of these coffee cake muffins.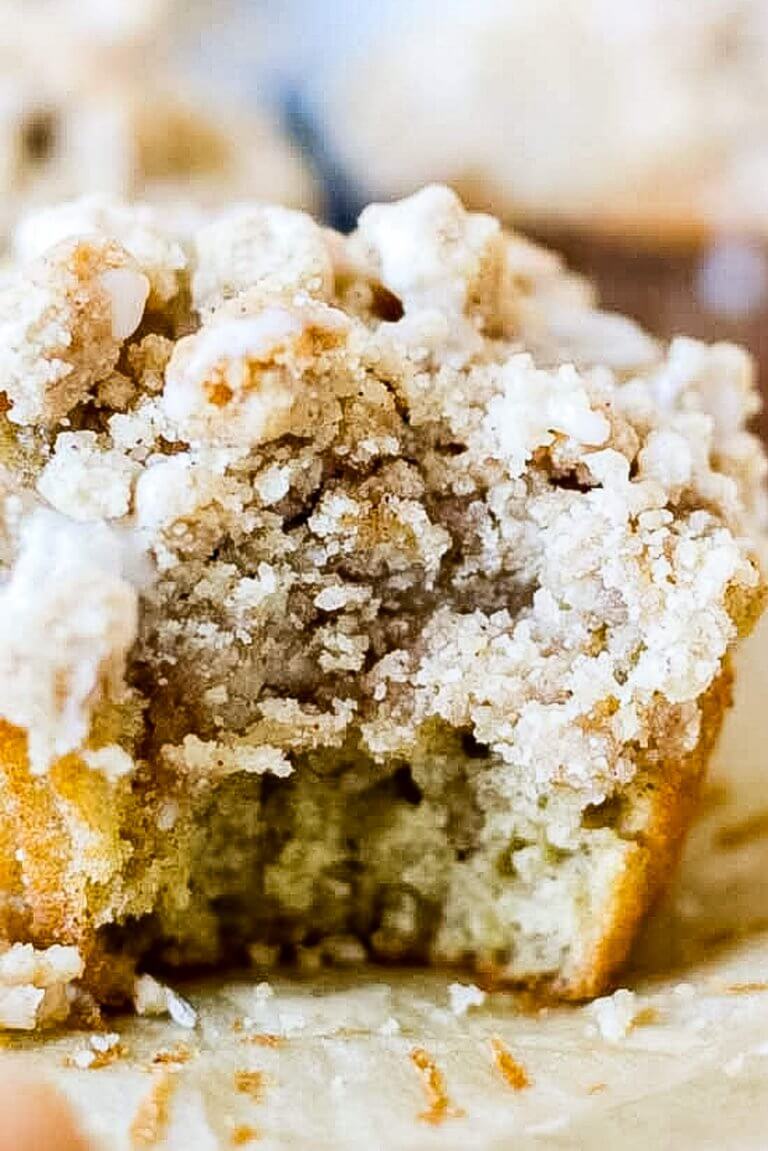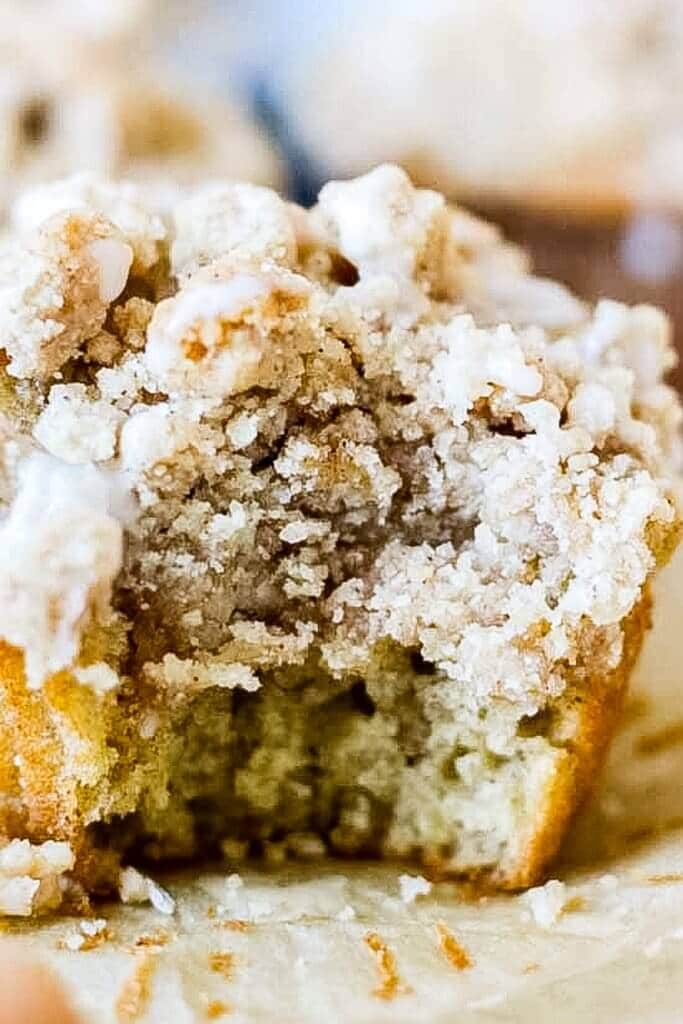 More muffin recipes: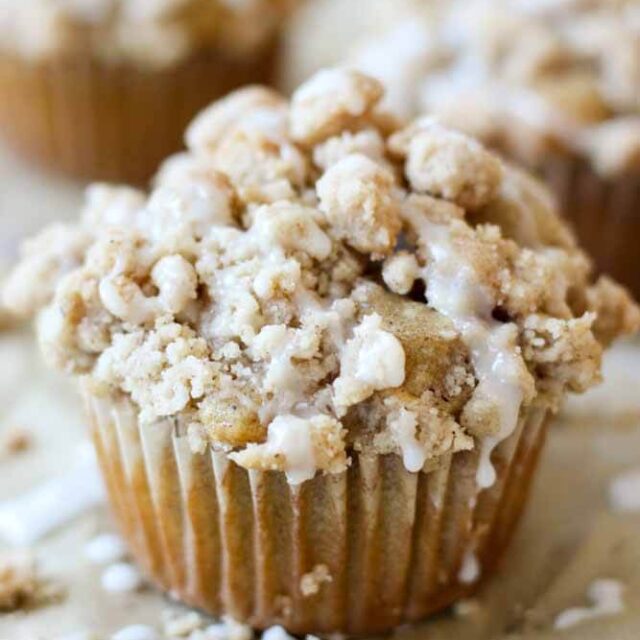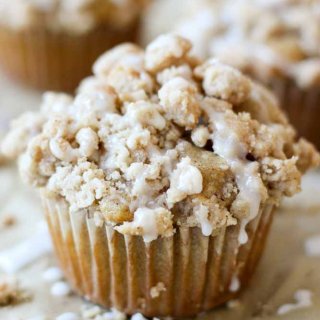 Ingredients
Coffee Cake Muffins:
1 1/2

cups

cake flour

1/2

cup

brown sugar

2

tsp

baking powder

1

tsp

cinnamon

1/4

tsp

baking soda

1/4

tsp

salt

3/4

cup

milk

1/3

cup

canola oil

1

tsp

vanilla

2

eggs
Crumb topping:
1/3

cup

granulated sugar

1/3

cup

brown sugar

1

tsp

cinnamon

1/4

tsp

salt

1/2

cup

unsalted butter

melted

1 1/2

cups

cake flour

icing:

1/4

cup

powdered sugar

1

tsp

milk
Instructions
Preheat oven to 375. Line a 12-cup muffin tin with paper liners or coat with nonstick spray. Set aside.

To make the crumb topping, combine sugars, cinnamon and salt in a medium bowl. Whisk in melted butter and add flour. Stir using a rubber spatula just until moist. The mixture will not look very crumbly yet. Spread out mixture on parchment paper to dry until crumbly ready to use.

To make the muffins, in a large bowl, combine flour, sugar, baking powder, cinnamon, baking soda and salt.

In a medium bowl, whisk together milk, canola oil, vanilla and eggs. Pour mixture over the dry ingredients and stir using a rubber spatula until just incorporate, being careful not to overmix.

Scoop the batter evenly into the muffin tray about 2/3 of the way full. Top with reserved crumb topping, using your fingers to gently press the crumbs into the batter to help it stay in place while baking. It will be a lot of crumb topping on each muffin. That's what you want!

Bake muffins in preheated oven for 10 minutes, then reduce the heat to 350 degrees and bake another 5-10 minutes

While the muffins are baking, make the glaze. Combine powdered sugar and milk in a medium bowl and whisk until smooth. If the glaze is too thin, add more confectioners' sugar as needed.

When the muffins are done, cool for 10 minutes and drizzle the glaze on each muffin using a small spoon.

Allow glaze to set before serving.