If you have ever wondered how to cut green onions, this simple step-by-step guide will give you the best way to cut green onions and have you wondering no more!
After you properly select, wash, and cut up this high-fiber vegetable, you can use it in your favorite recipes! Or learn how to store green onions for another recipe.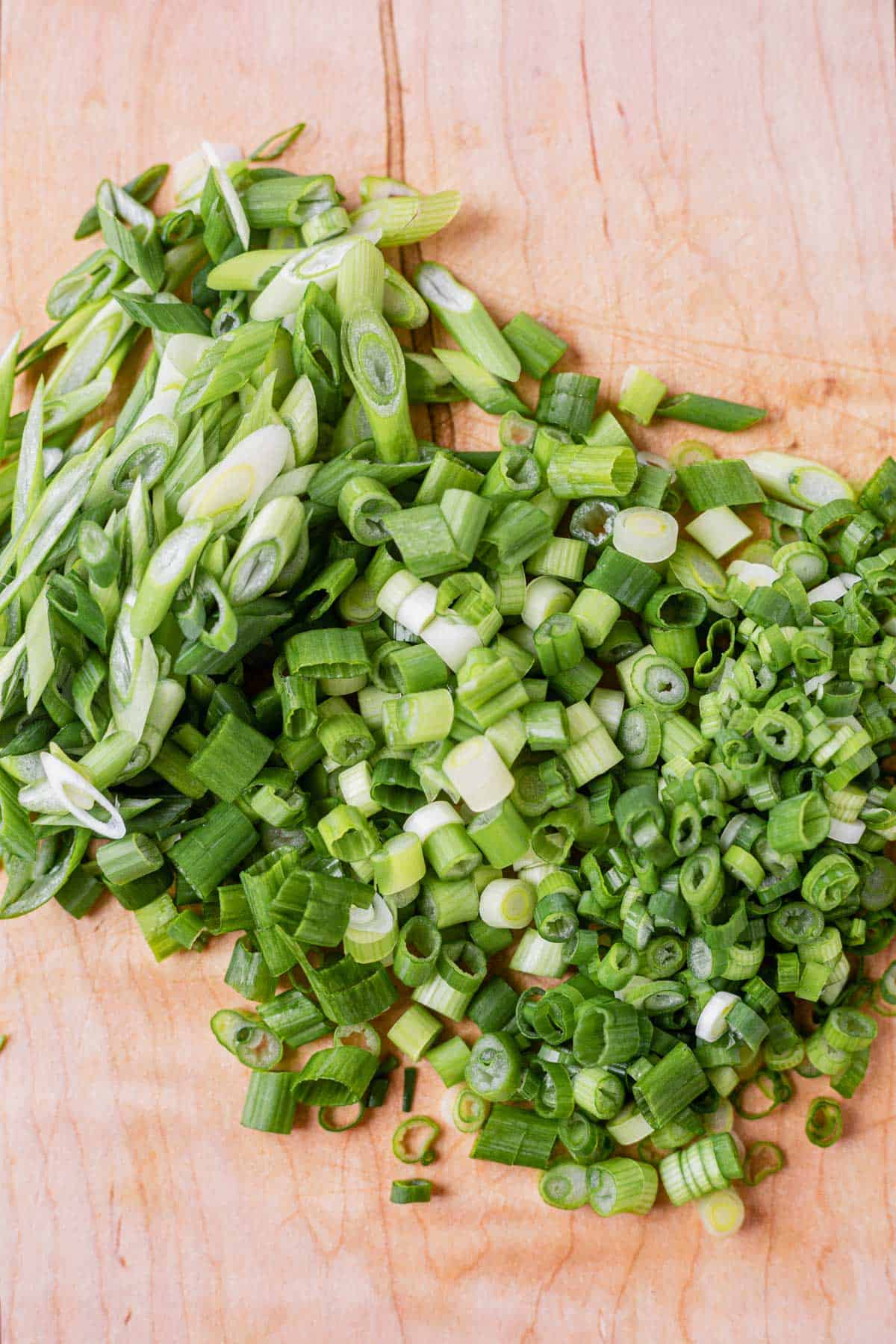 Jump to:
Cutting Green Onions
Whether it's a main ingredient in the base of a recipe, or a garnish at the end, adding green onion adds depth and variety to your dishes.
But how do you clean, peel, slice or chop these onions for the recipe you're making?
The process is really quick and easy! In just a few minutes you'll have perfectly chopped green onions.
You can use them to garnish Instant Pot Mongolian Beef and this Turkey Teriyaki Rice Bowl. Or use them as a base in this delicious Beef Tenderloin Deluxe.
Want to sharpen your knife skills? You might enjoy learning how to cut flank steak, how to cut dragon fruit, or how to cut a bell pepper.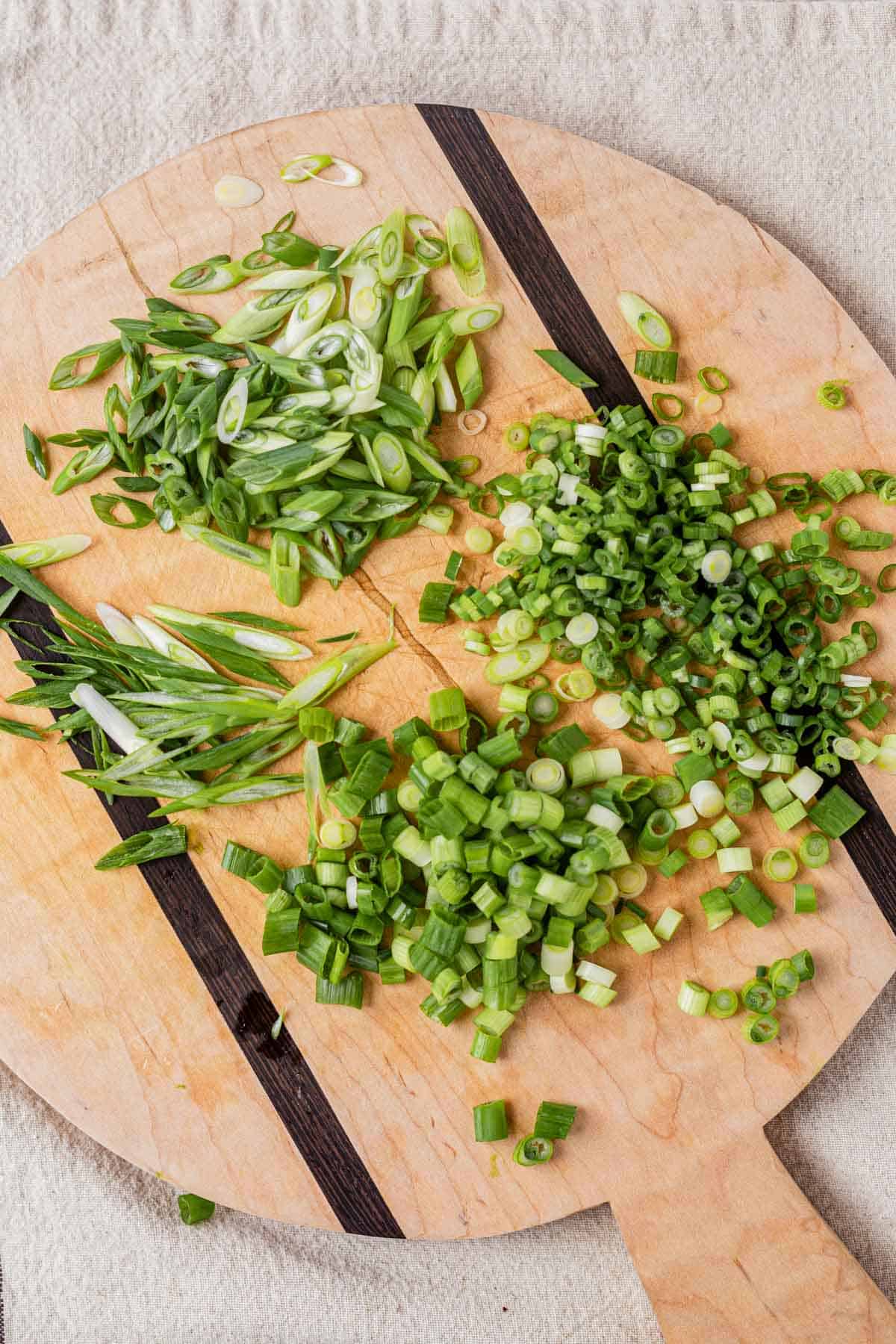 What Are Green Onions?
Green onions are vegetables characterized by their long green stalks that contain a small white bulb at the end, otherwise known as the onion!
They are members of the allium family, which not only includes many varieties of onion, like white onions, yellow onions, and red onions, but also includes garlic, shallots, and chives.
They've also got a host of health benefits, so adding them to your meal is both delicious and nutritious.
Green Onions vs Scallions
Scallions and green onions are often used interchangeably, but they are actually slightly different varieties of onions. Here's the difference:
Scallions: Scallions are a type of onion with a long, straight white stem and long green leaves. The white part of the scallion is milder in flavor than the green part, which has a more pungent, onion-like taste. Scallions are often used in Asian cuisine, particularly in dishes like stir-fries and soups.
Green onions: Green onions are a young, immature onion that is harvested before the bulb has fully developed. They have a small white bulb with long green leaves and a milder flavor than most other onion varieties. Green onions are often used in Mexican and American cuisine, particularly in dishes like salads, soups, and stews.
Green onion is often an umbrella term used to encompass any young onion, including green onions, spring onions, or scallions.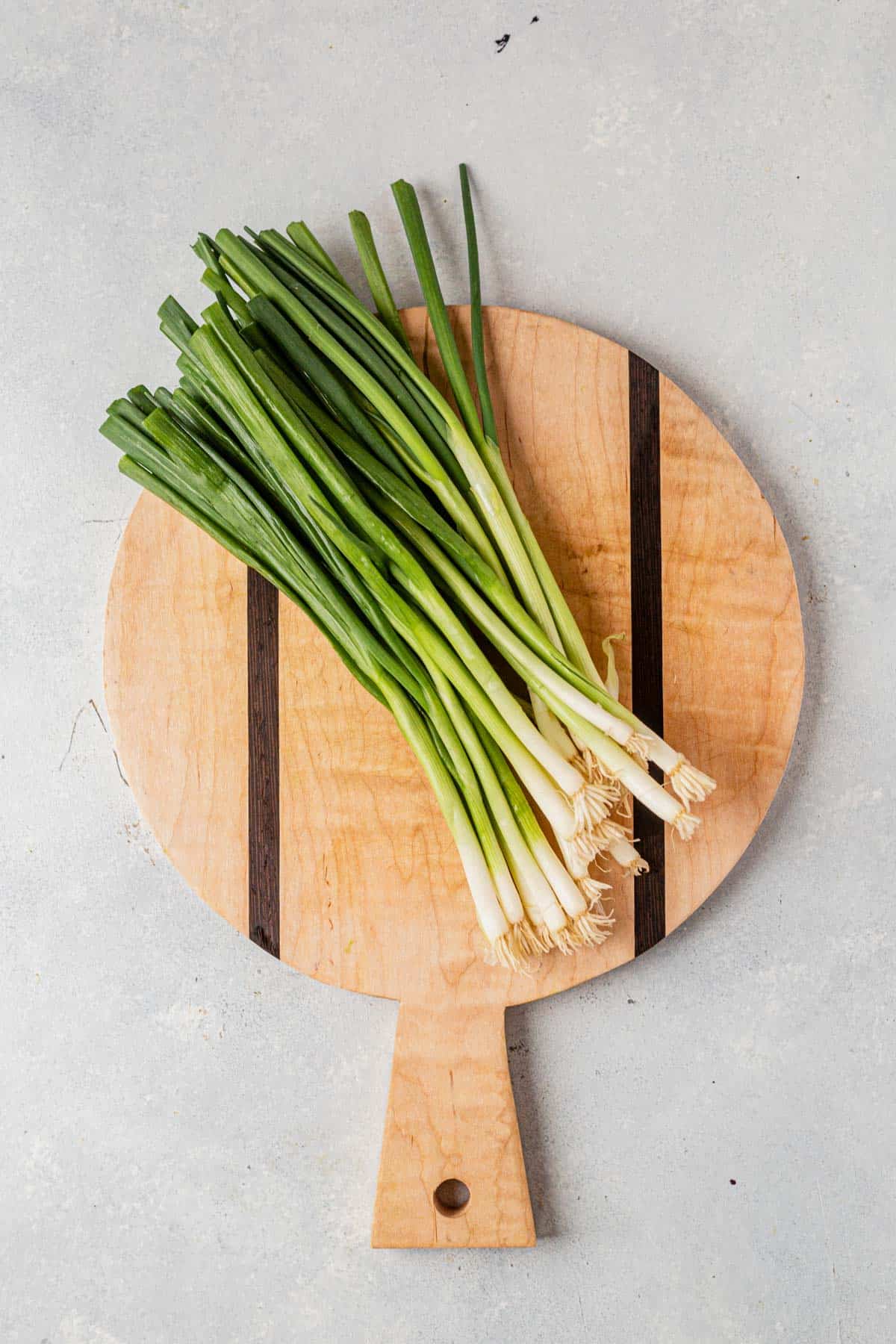 What Does A Green Onion Taste Like?
Whole green onions are unique and different from regular onions in that they present you with two different usable parts within one vegetable: the top green stalk and the bottom onion bulb!
It might be obvious but the strongest onion-like taste comes from the white onion bulb; it's not quite as strong as a white or yellow onion but offers a similar flavor.
The green part is much milder than the bulb at the bottom.
They taste fresh while still offering a hint of the onion taste, which makes them a versatile ingredient for different recipes.
---
How to Cut Green Onions
Here are the simple steps to cut a green onion including cleaning, trimming, and slicing a few different ways. These step-by-step instructions will show you how to do it perfectly every time.
Step 1: Clean the Green Onions
Make sure any lingering surface dirt is washed away before you start cutting.
Run the green onions under cold water and use your fingers to gently rub the outside of the green onion to assist in cleaning off any dirt. Pat them dry with a paper towel to remove excess moisture.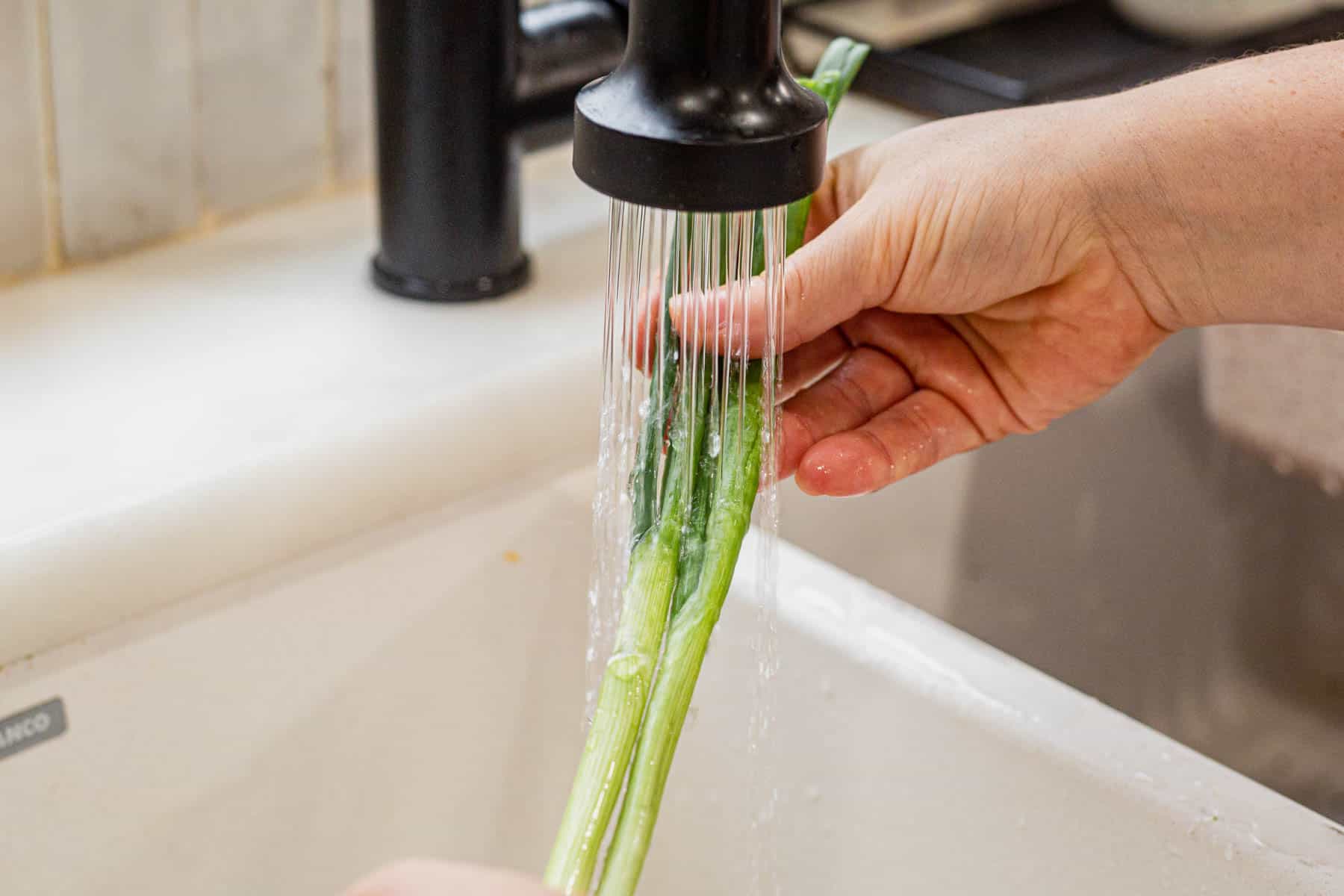 Step 2: Remove the Outer Layer
Green onions may develop slightly slimy skins due to their harvesting and shipping process. This is very normal and does not mean the vegetables have spoiled but you should remove this layer before cutting.
Unless the green onions are extremely fresh, the outermost layer of the green onion will be the layer that is most beaten up. Take the removal of this layer into account when purchasing the appropriate amount of green onions for your recipe!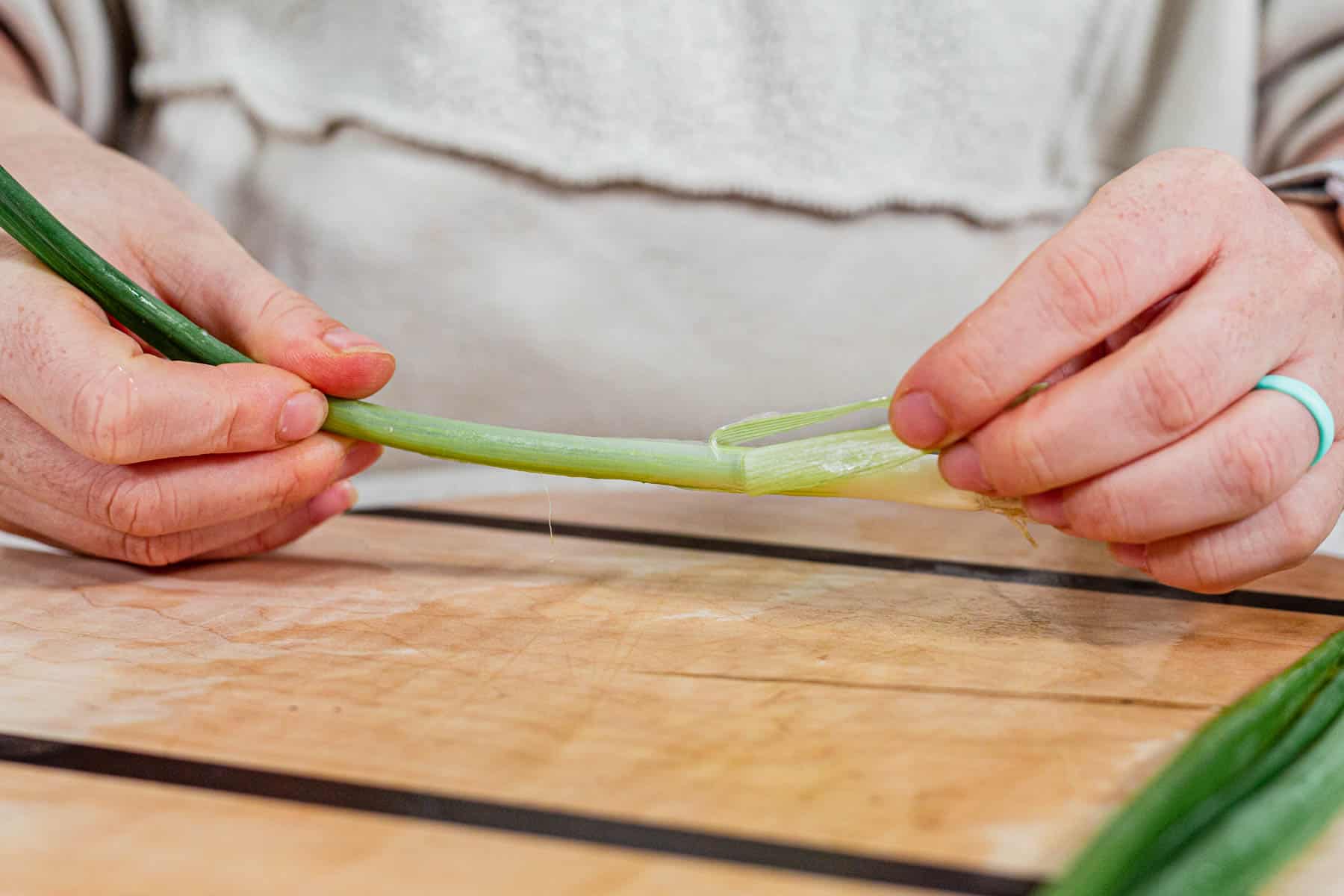 Step 3: Remove the Root End
Using your non-dominant hand, grab the green ends and hold them together in a bunch. Using a large chef's knife, chop off the end root of the green onion.
Every part of green onions is good to cook with, except the root! The root ends are not very appetizing and should be removed from the green onions and discarded. The tops of your green onions may be slightly wilted. If this is the case, trim the tops slightly.
Pro tip: composting the outer layer, root ends, and tops is a great way to avoid food waste.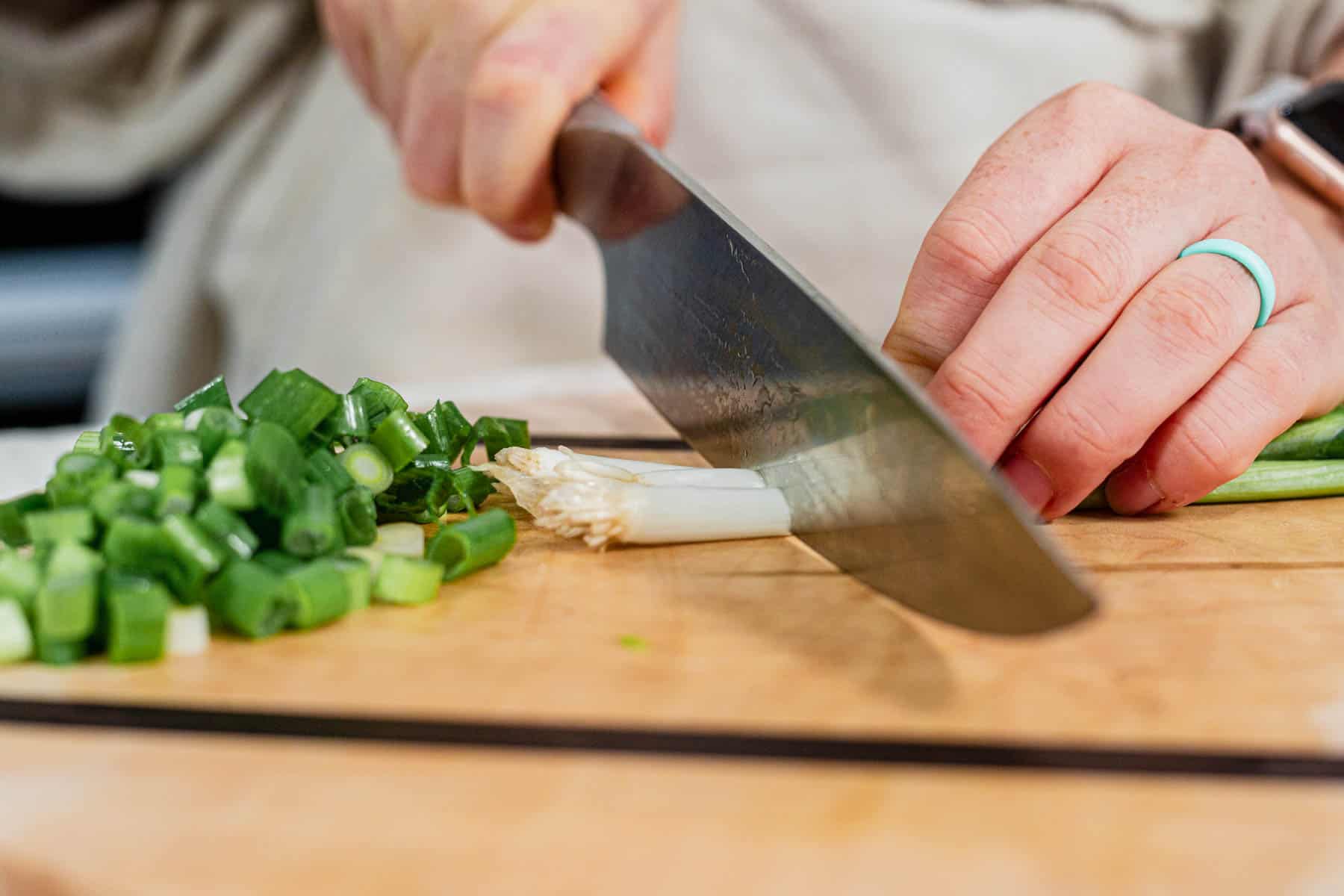 Step 4: Chop Using a Circular Motion
Keeping the tip of the knife on the cutting board the entire time, use a push cut down and away from you to chop the green onions into small pieces.
For circular green onions:
Lay the green onion perpendicular to you on the cutting board and use the push cut as you slowly slide the green onions to the side for even cuts. Make the cuts closer together for thin slices or farther apart for thick slices.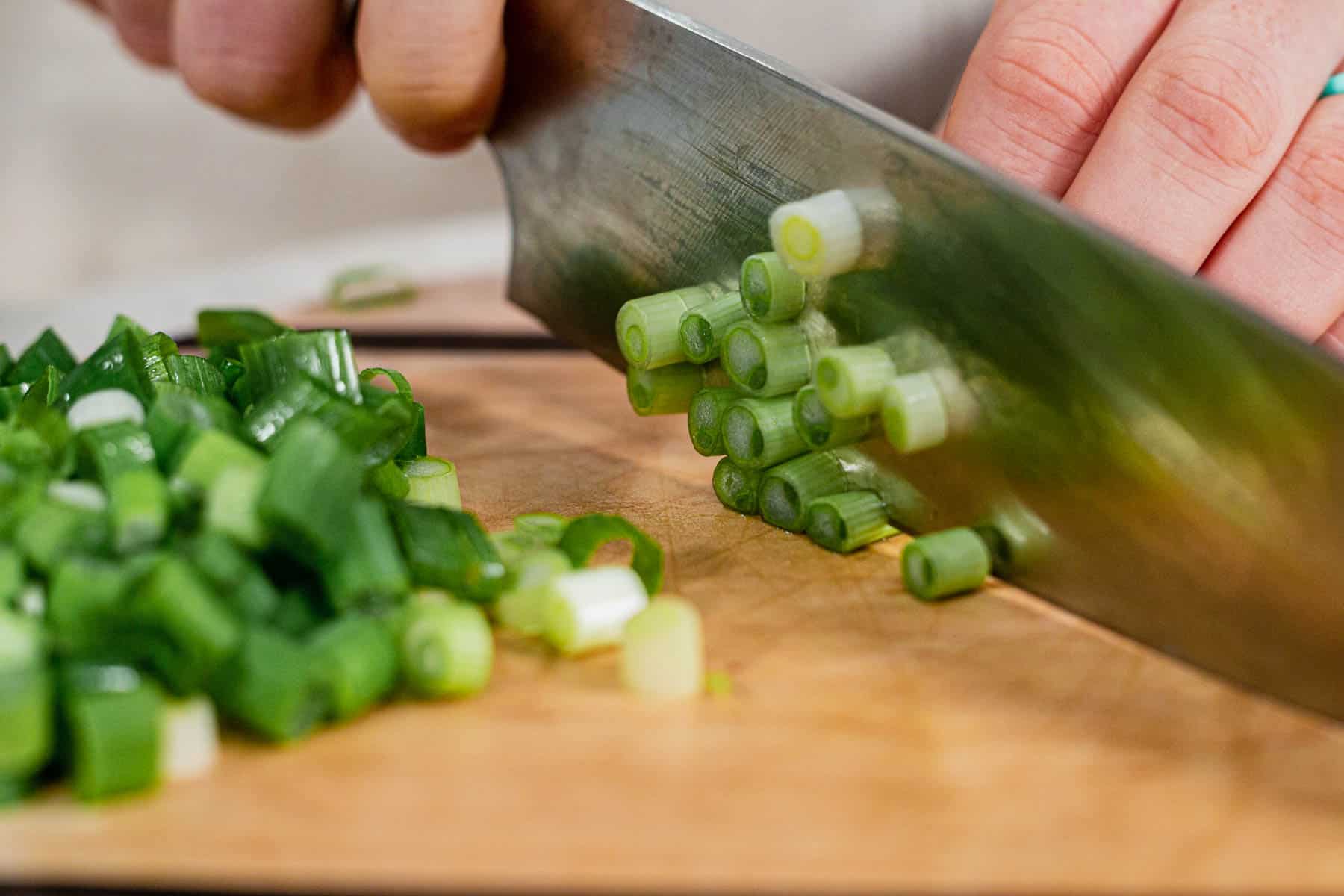 To cut green onions on the bias:
Place green onions at a slight diagonal angle (around 45°) and use the same circular motion as if you were cutting the green onions straight.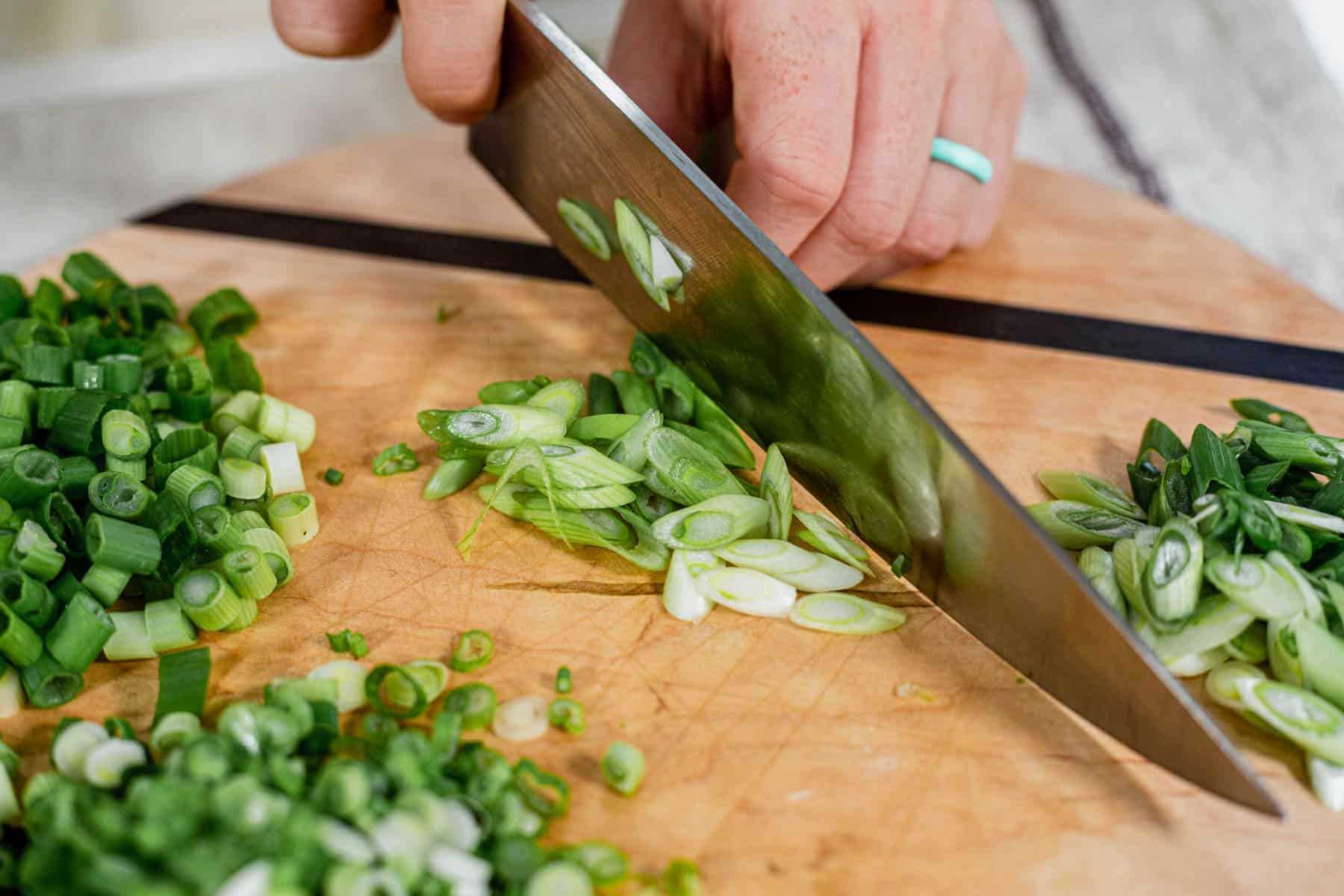 Green Onion FAQs
What does green onion taste like?
The entire green onion gives an onion flavor but depending on which part you use, the onion flavor strength can vary! The white bulb contains a stronger onion flavor and the green stalk provides a more mild onion flavor.
What part of the green onion do you cut?
Discard or compost the very end of the root, but can cut and use the green or white parts in your cooking or to garnish.

What part of the green onion do you eat?
You can eat the entire onion! Once you clean your green onion, remove the outer layer, and cut off the root end (the only non-edible piece of the green onion), you can eat everything that remains!

Can I freeze green onions?
You can freeze your green onions for a longer shelf life. You can blanch and flash freeze, similar to freezing kale.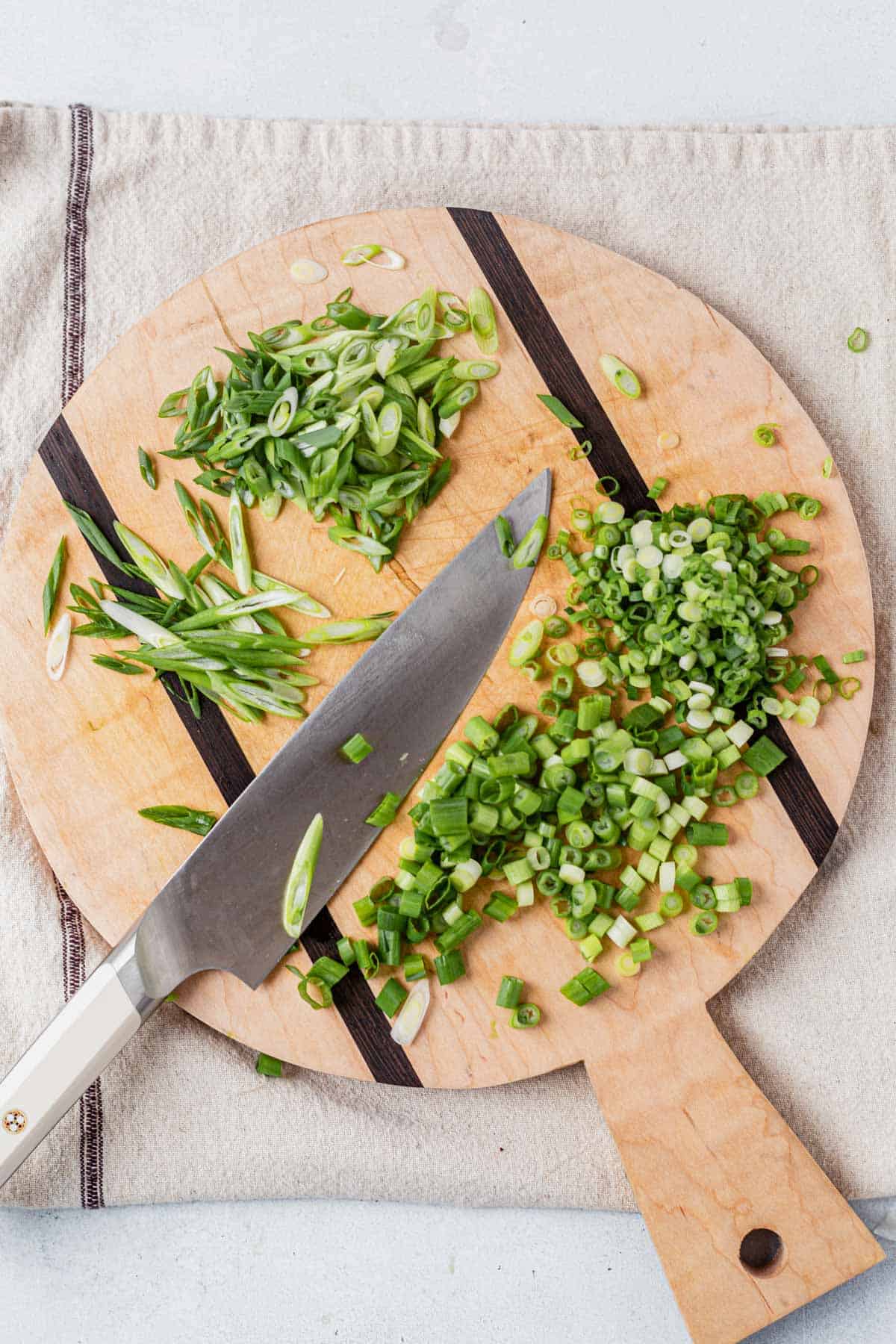 Recommended Tools
A large (8") sharp Chef's knife. By using a knife of this size, you can easily cut the green onions in the needed circular motion to your desired width.
Cutting board. Use a fresh & clean cutting board to keep the most flavor intact. Wood or bamboo cutting boards are best for veggies and herbs.
Kitchen towel. This is optional to place under the cutting board to prevent it from slipping.
Storing Green Onions
If you have chopped more green onions than you need, you can store the extras for later use. You can also store the entire stalk until you're ready to chop.
Before chopping, wrap green onions in a damp paper towel and store them in the veggie drawer until you're ready. This will help keep them fresh and prevent them from wilting.
Once you cut the green onions, place a damp paper towel in a resealable plastic bag or in the bottom of an airtight container. Place the chopped green onions on top of the paper towel and close the lid or bag, squeezing out excess air.
Store the green onions in the refrigerator for up to one week. Chopped green onions stay fresh in the freezer for up to 3 months.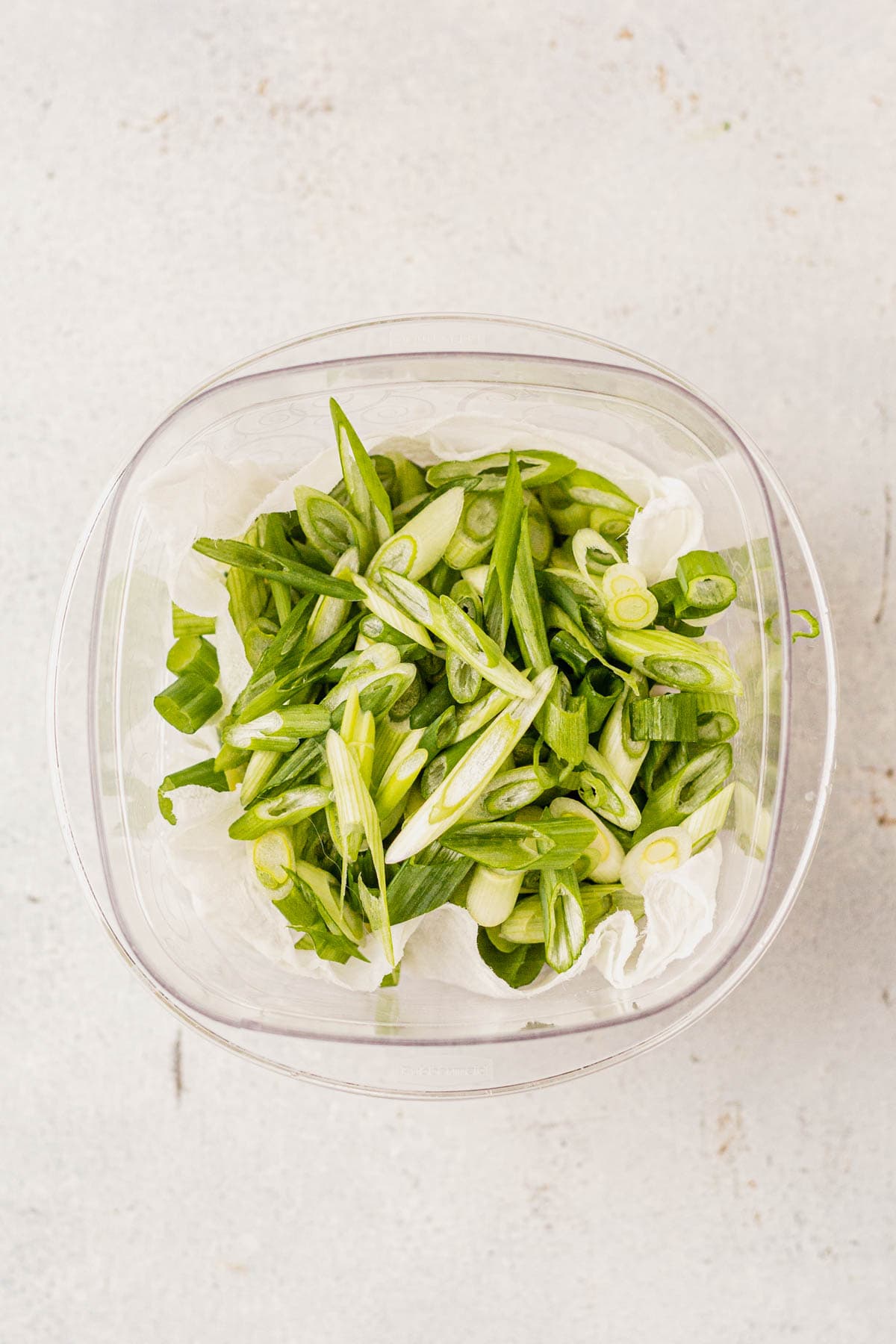 Best Recipes that Use Green Onions
Green onions are incredibly versatile— you can use both parts of the green onion in your recipes. If you want a stronger flavor, use the white part of the green onion. If you are going for a more mild flavor, or looking to garnish, use the dark green leaves.
For breakfast, mix them into this asparagus frittata with fresh basil or sprinkle them on top of this healthy breakfast casserole.
Brighten up your lunch recipes by mixing green onions into this curry chicken salad. You can also meal prep this healthy turkey teriyaki rice bowl and add sliced green onions on top.
Garnishing dinner recipes with fresh herbs makes them so much better and we love to add green onions to everything bagel chicken or crockpot pepper steak.
In the mood for soup? Finish off this sweet and spicy chili or creamy cauliflower soup with a handful of chopped green onions for added crunch.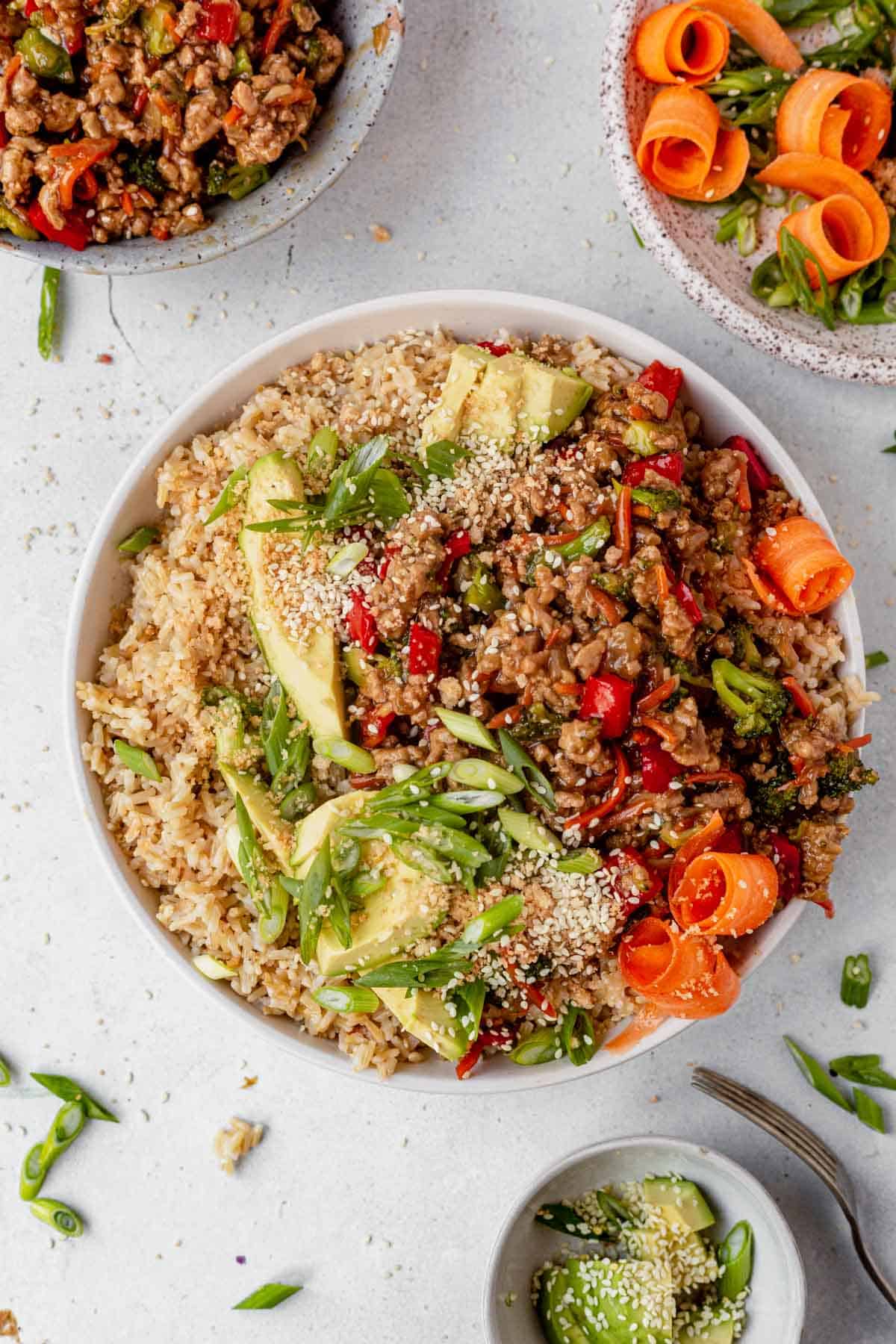 If you make this recipe, I'd love for you to give it a star rating ★ and leave a comment in the comment section below. You can also tag me on Instagram so I can see it!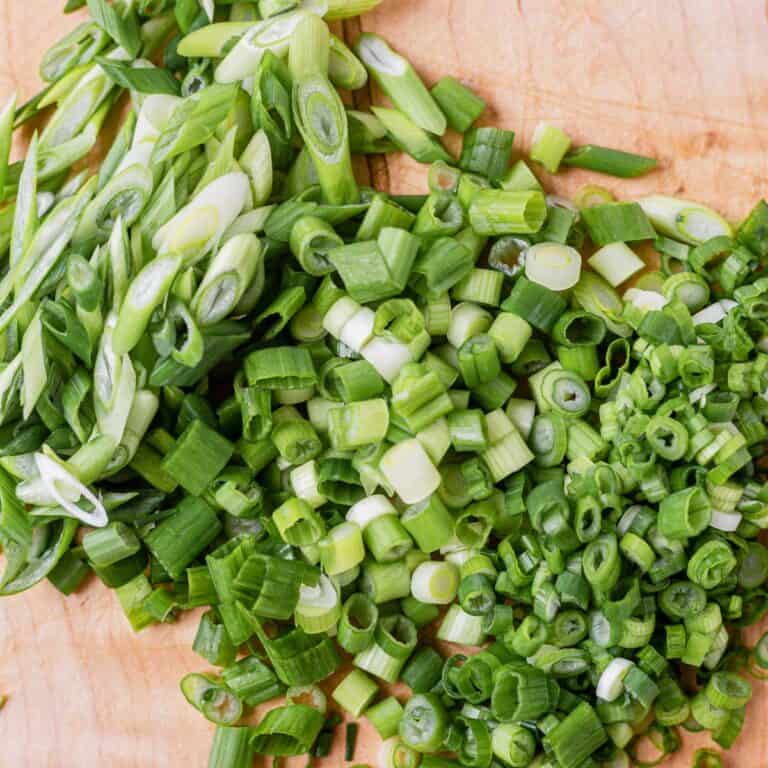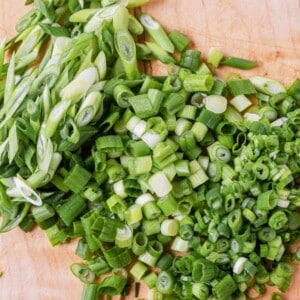 How to Cut Green Onions
If you have ever wondered how to cut green onions, this simple step-by-step guide will give you the best way to cut green onions and have you wondering no more! Green onions are a popular and versatile vegetable that is easy to cut, no matter what your knife skills may be.
Print
Pin
Rate
Save
Saved!
Servings:
1
bunch of green onions
Recommended Equipment
Sharp chef's knife

7-8 inches

Cutting board
Instructions
Rinse the green onions under cool water and use your fingers to remove any dirt or debris. Pull off the outer layer that is slimy or wilted and discard or compost.

Place a green onion on a clean cutting board perpendicular to you and make a cut crosswise at the root side to remove the bulb end of the green onion, leaving the majority of the white intact.

Use a circular motion, keeping the tip of the knife on the cutting board, to chop the green onions crosswise into thin or thick circles. Or turn the green onions at a 45-degree angle and slice them on the bias. Move the green onion with your non-dominate hand as you slice in a fluid motion, being very careful to keep your fingertips away from the knife.

​Use the chopped green onions immediately in your favorite recipes or store them inside a damp paper towel inside an airtight container or bag in the refrigerator for up to one week.
Notes
Freeze Green Onions. Lay the green onions flat on a baking sheet and flash freeze for 15-20 minutes. Transfer to an airtight container or plastic bag and store in the freezer for up to 3 months. Thaw overnight in the fridge before using.
Nutrition
Serving:
1
bunch
|
Calories:
48
kcal
|
Carbohydrates:
11
g
|
Protein:
2.7
g
|
Fat:
0.3
g
|
Sodium:
24
mg
|
Fiber:
3.9
g
|
Sugar:
3.5
g
|
Vitamin A:
75
IU
|
Vitamin C:
28.2
mg