Learn how to cut dragon fruit to enjoy on its on or in recipes like fruit salad or pitaya bowls. Similar to avocado, slice it in half, scoop out the center, and slice or scoop it for your favorite dragon fruit recipes.
Looking to sharpen your knife skills? Learn how to cut peppers, how to cut watermelon cubes, and how to cut a peach.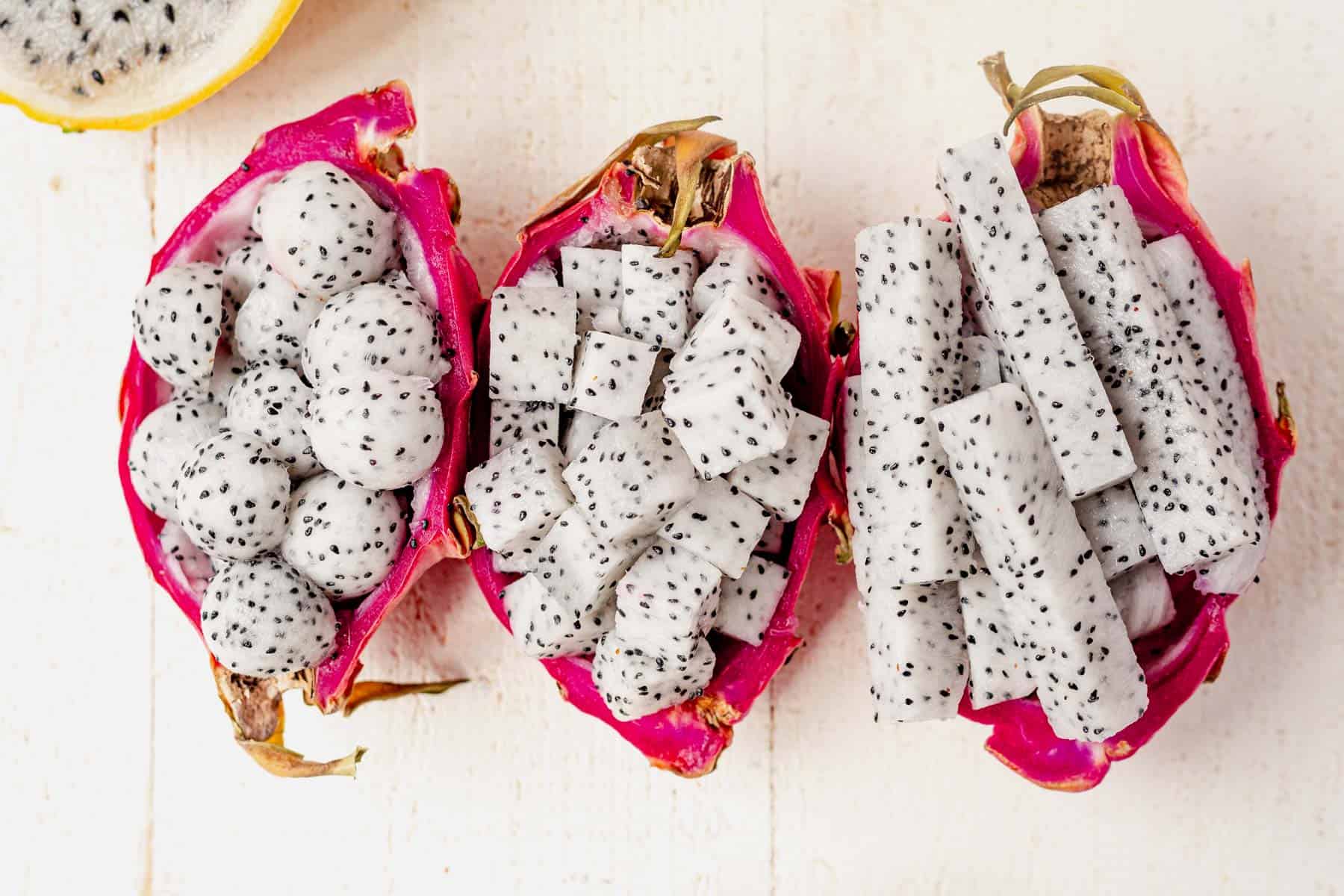 Jump to:
This mildly sweet fruit is great for eating on its own, adding to smoothies or drinks, or snacking on its own.
Looking for some inspiration on where to use your dragon fruit? Check out our Copycat Starbucks Dragon drink or put it on top of a pitaya bowl.
What Is Dragon Fruit?
Dragon fruit, also known as pitaya, strawberry pear, or hylocereus, is a mild-tasting and delicious fruit. This exotic fruit gets its name because of the leather-like and spiky skin it possesses. Similar in appearance to an artichoke, the pointy "scales" around the oval-shaped fruit resemble a dragon's.
While native to and still growing in Central America, dragon fruit plants grow in many subtropical climates, including the United States, Australia, South America, and Southeast Asia. Vietnam is one of the largest dragon fruit suppliers in the world and dragon fruit is a staple produce item in Asian markets.
Did you know? Dragon fruits are actually a part of the cactus family; the Hylocereus species to be exact. Dragon fruit grows on vines and the largest dragon fruit vines can span up to 30 feet! They start as a flower and the end product is what you purchase and consume from the store.
Dragon Fruit Health Benefits
Dragon fruit boasts many health benefits because they're rich in antioxidants, vitamins (especially vitamin C), and fiber.
Specifically, dragon fruit has been shown to support heart health, decrease insulin resistance while also reducing the risk of type 2 diabetes, and improve gut health.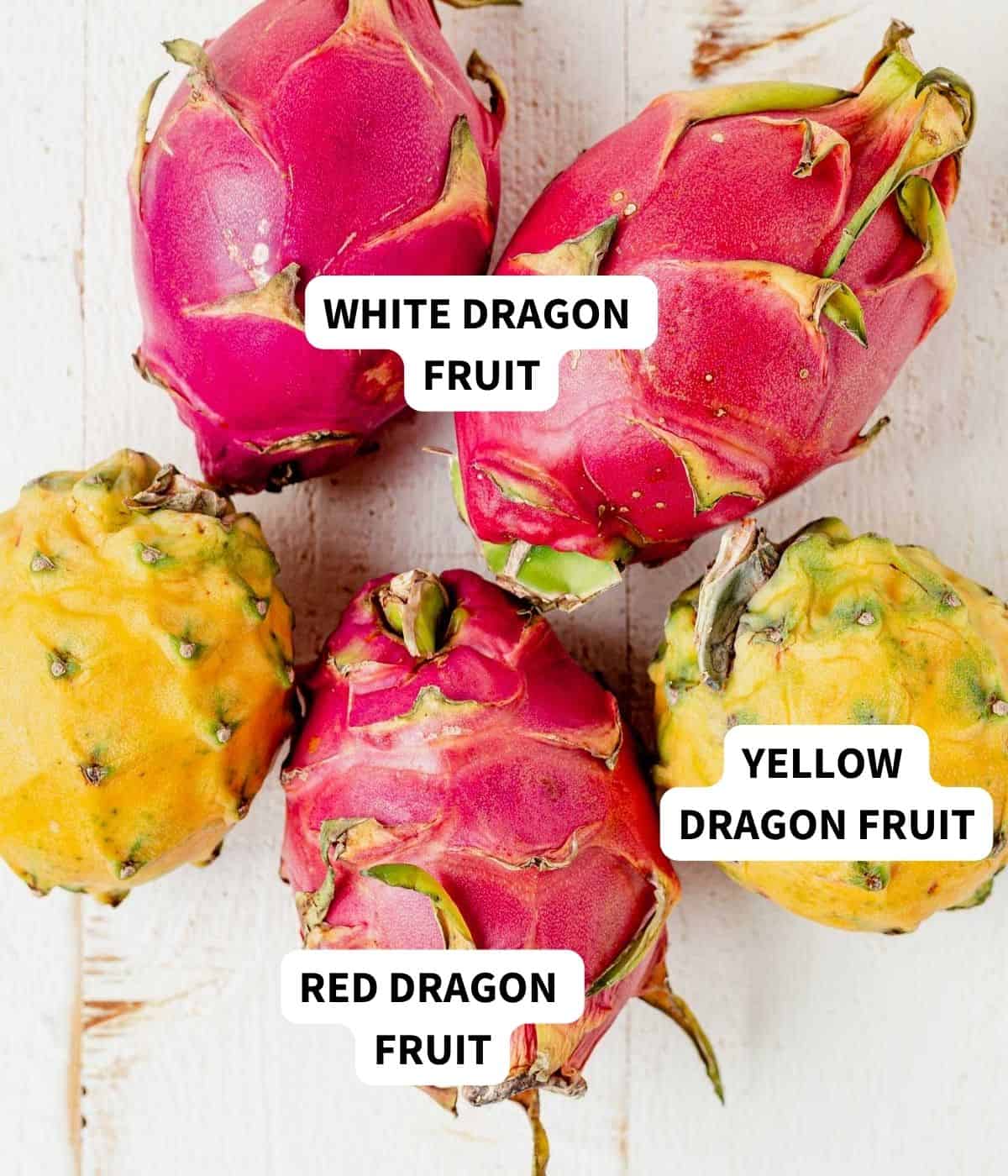 Types of Dragon Fruit
There are three primary types of dragon fruit. Red-fleshed versions are typically slightly sweeter than white-fleshed ones.
White Dragon Fruit: this type has vibrant pink skin and white flesh with tiny black seeds. It is the most commonly grown and the one you'll see in the photos of this tutorial.
Red Dragon Fruit: this variety has the same vibrant bright skin, but bold red flesh on the inside. This type of dragon fruit is most common when you purchase frozen pitaya packets from the grocery store. This type is slightly sweeter than the white-fleshed and can easily stain your skin when cutting, so beware of that!
Yellow Dragon Fruit: this type has yellow skin and features a different scale pattern, but has the same white flesh on the inside as white dragon fruit.
Choosing a Ripe Dragonfruit to Cut
Give it a squeeze. Ripe dragon fruit will give a little bit, similar to a ripe avocado.
Check its color. Ripe dragon fruit will have a bright pink color all the way around and smooth skin. Unripe dragon fruit will be greener in color.
Look at the points of the skin. The "wings" (the pointy leafy parts) of ripe dragon fruit will have started to wither slightly. If the wings are still very colorful (or haven't started to wither), they aren't quite ready for eating.
If the only dragon fruit available at your store are unripe, you can still buy them and let them ripen at home by sitting at room temperature in your kitchen.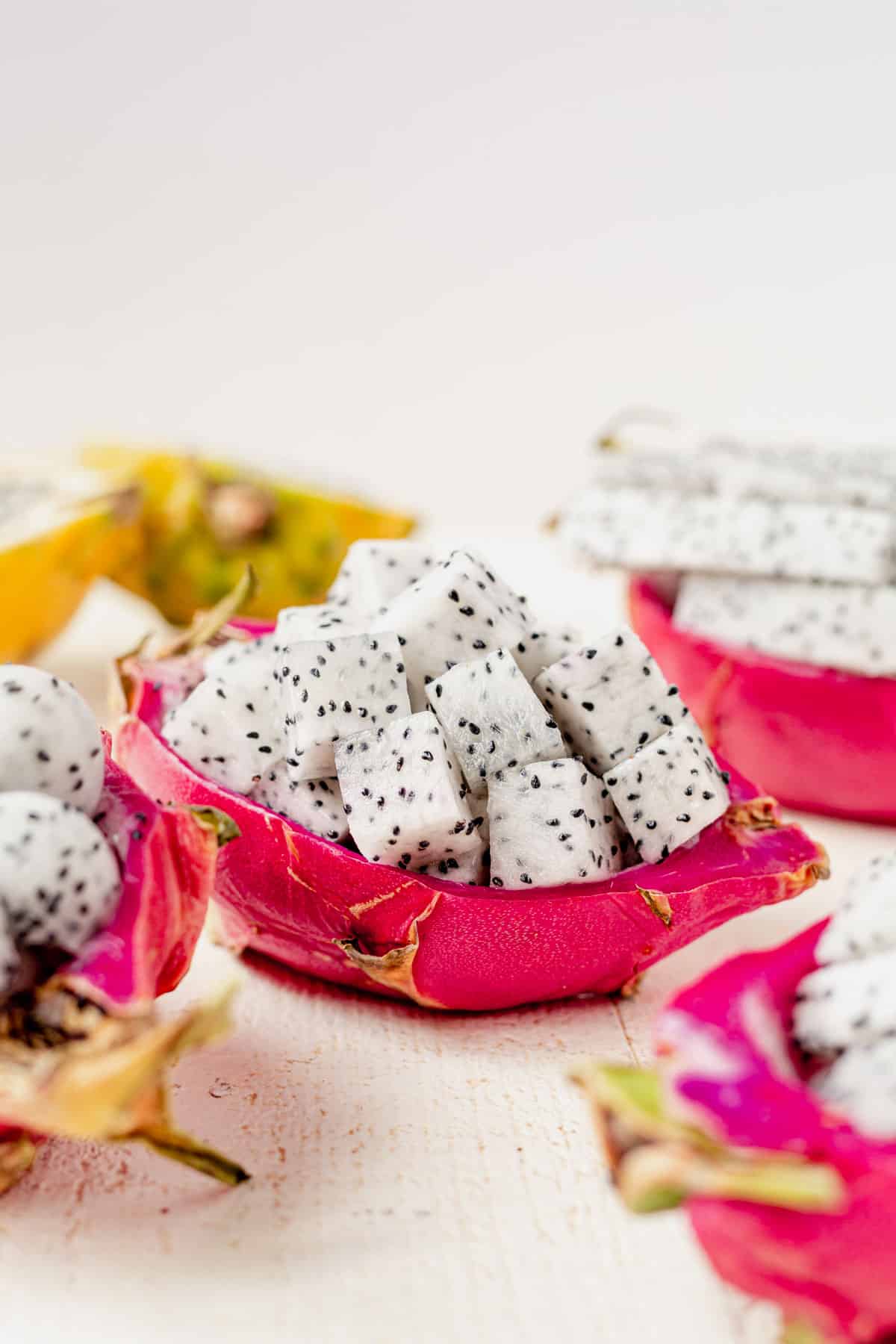 How to Cut Dragon Fruit
The exterior of the fruit may look intimidating, like trying to cut through the tough skin of a pineapple, if you've picked a ripe dragon fruit, it's an effortless process to slice all the way through the fresh fruit. The outer skin is soft and easy to slice through. Follow this detailed tutorial to see how to cut dragon fruit with step-by-step photos.
Video: Watch How to Cut Dragon Fruit
Step 1: Cut it In Half
Start by placing your dragon fruit on the cutting board long way (the stem should be opposite the edge of the table). Slice through the dragon fruit from top to bottom, leaving two halves that resemble the shape and size of a sliced avocado.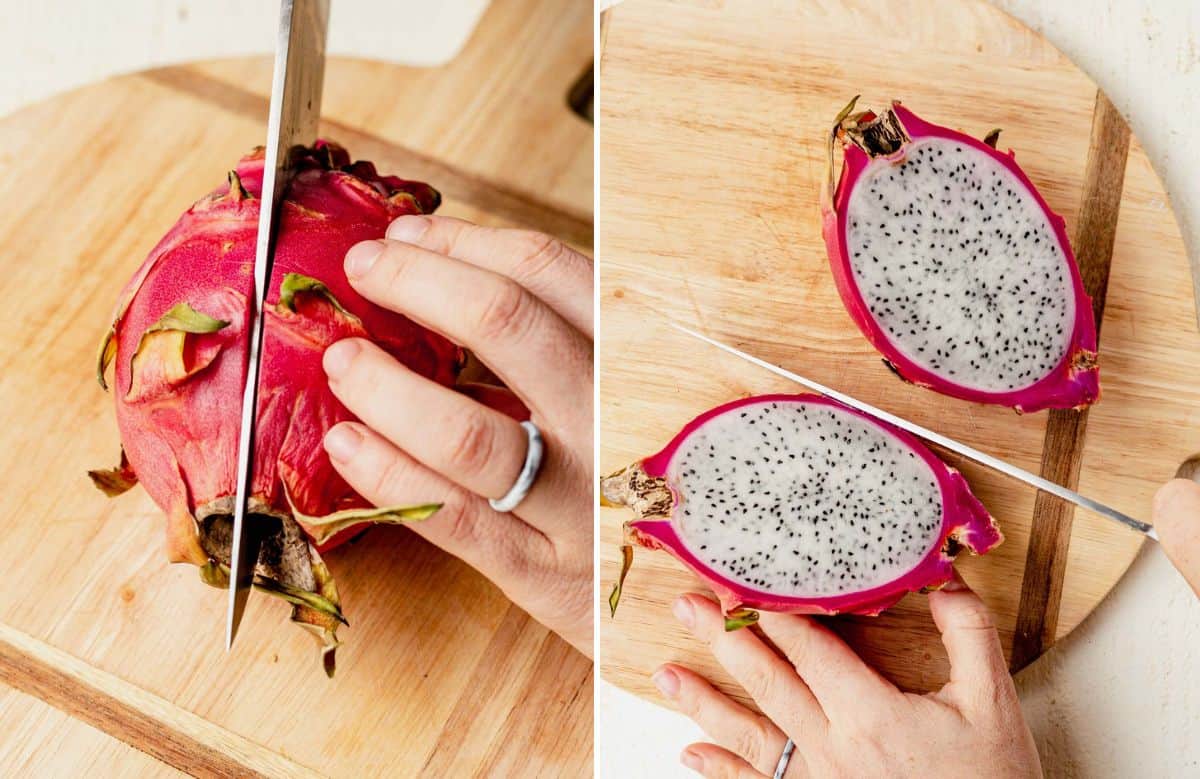 Step 2: Remove the Skin
Next, you'll need to remove the skin from the dragon fruit so you can easily slice the flesh. Do your best to get as much flesh from the skin to make the most out of the fruit. Note, you don't need to remove the skin if you plan to use a melon baller so skip to that section to see step-by-step photos.
Method 1: Scoop Out the Flesh
Starting at the base of the dragon fruit, gently place the spoon edge where the dragon fruit skin meets the dragon fruit flesh. Slowly push the spoon into the fruit, separating the dragon fruit from its skin. If you have ever scooped an avocado, this process is very similar.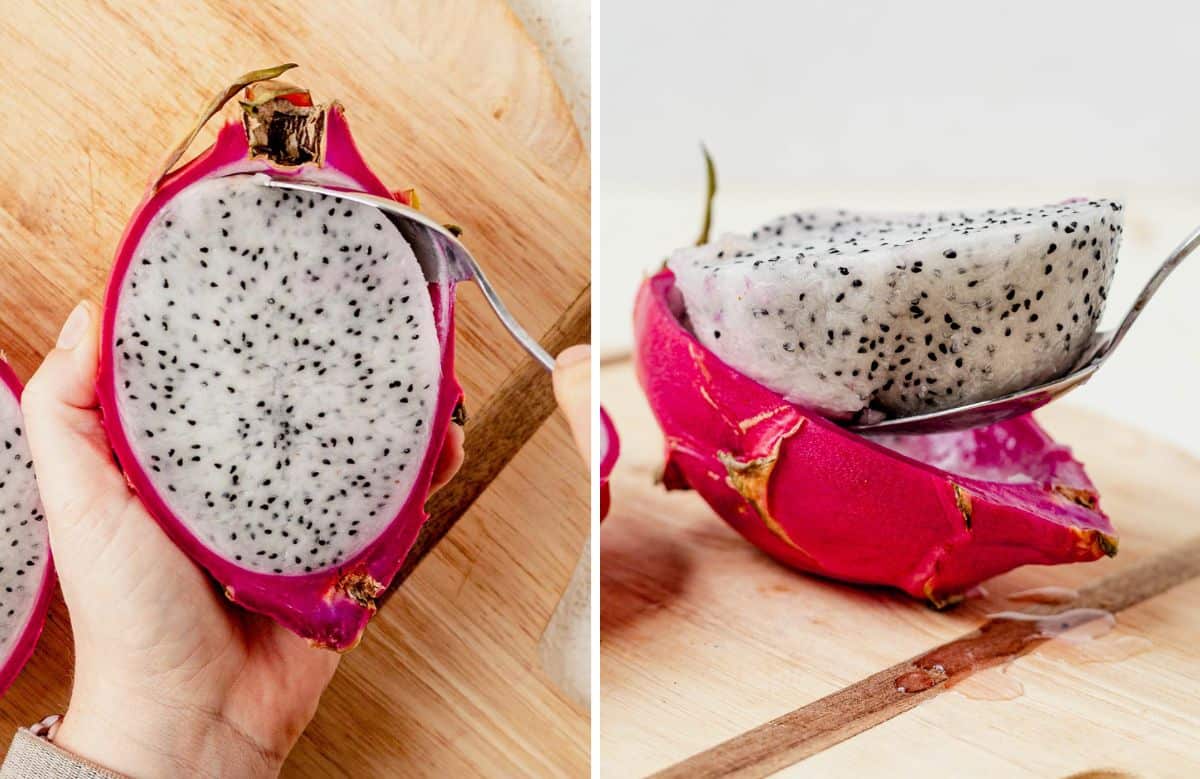 Method 2: Peel the Skin
If your dragon fruit is ripe enough, you can peel the skin off similar to the process of peeling a banana. This is my preferred method because it leaves the most amount of dragon fruit flesh intact.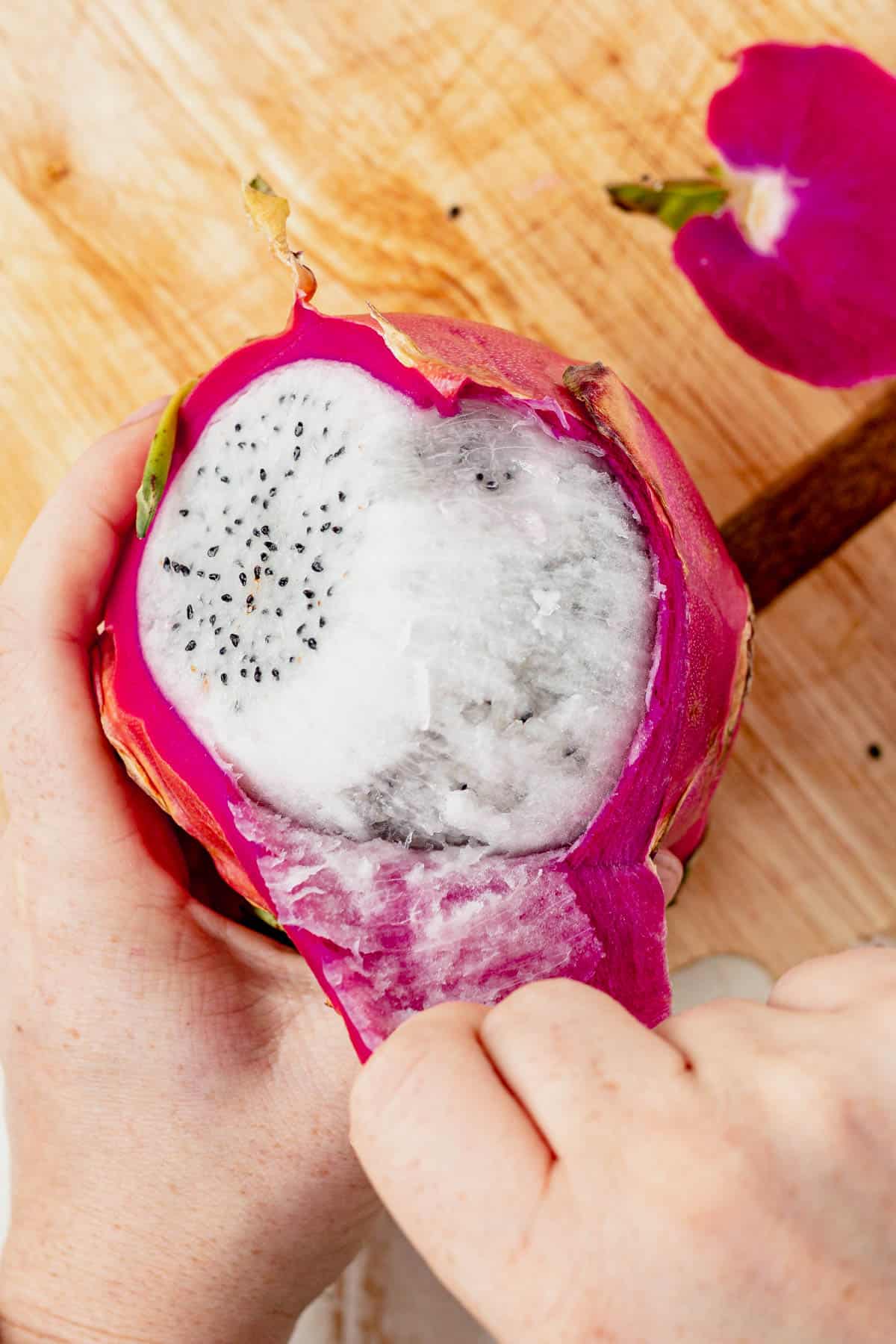 Step 3: Cut the Dragon Fruit (3 Ways)
Now you've successfully removed the flesh of the fruit, you're ready to slice. Decide how to cut your dragon fruit based on its intended use. The three most common ways to cut a dragon fruit are cubed, halved, or spheres.
Cut into Slices
Lay the dragon fruit flesh flat side down and cut the dragon fruit into ½ - 1 inch slices. The centerpieces of the dragon fruit will be larger and more half-mooned shape, so turn the slices on their side and slice them in half again to create long stick-like pieces of dragon fruit.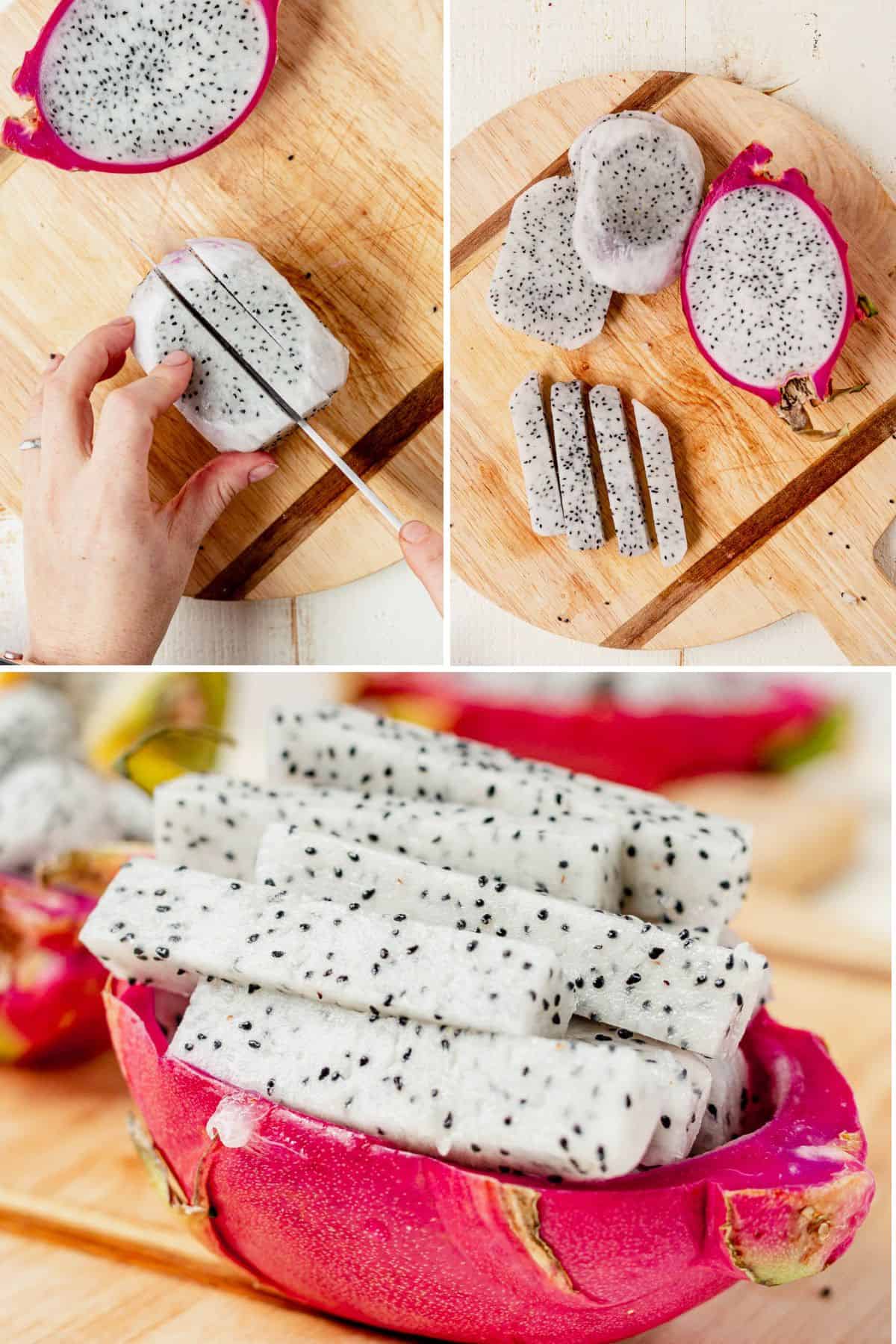 Cut into Cubes
Follow the method above to slice the dragon fruit and then turn them in the opposite direction and cut them into smaller pieces about ½ - 1 inch in size. Flash-freezing cubes on a baking sheet is great to add to dragon fruit smoothies.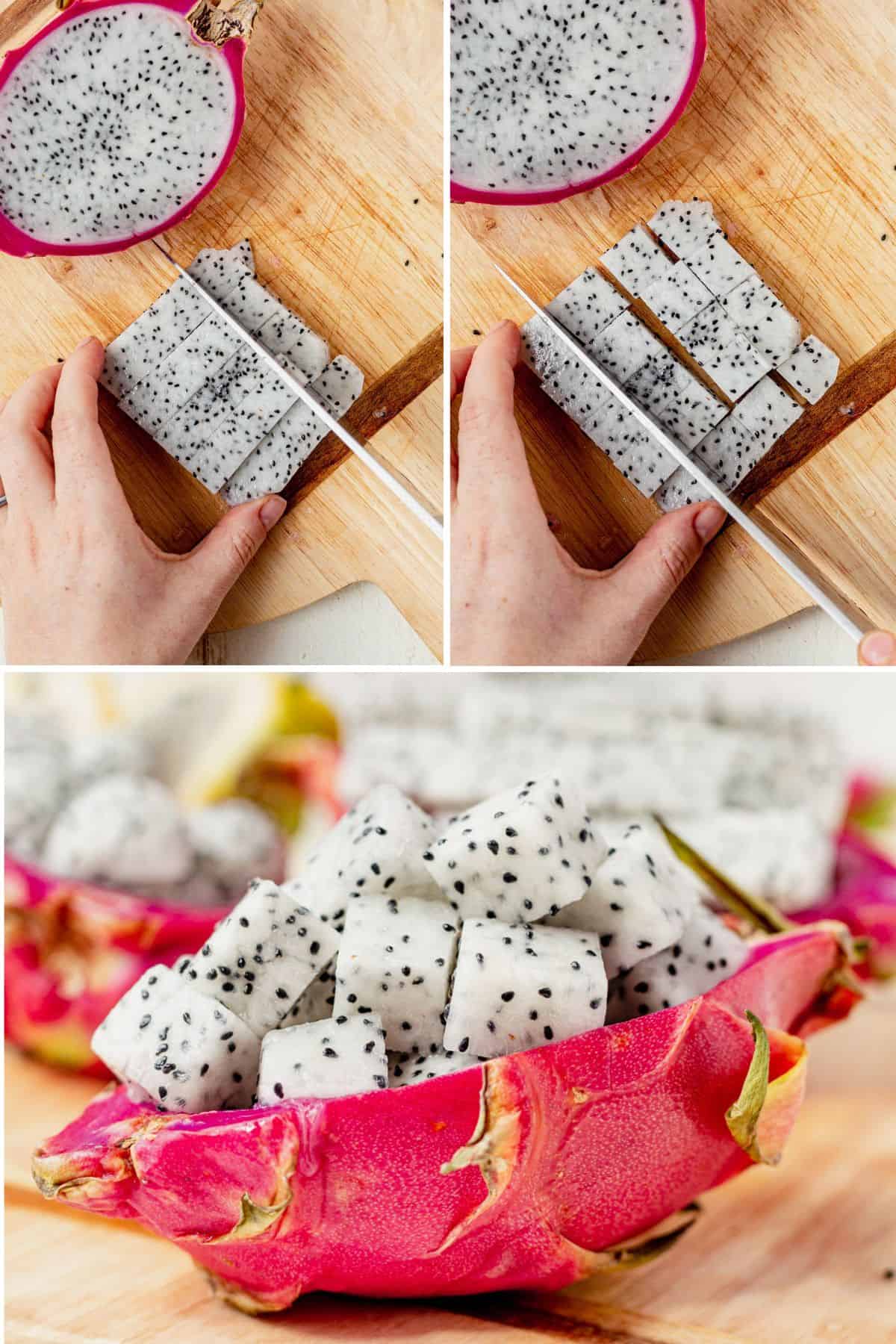 Scoop into Balls
Keep the skin on the dragon fruit after you slice it in half then use a small melon baller to scoop out spheres.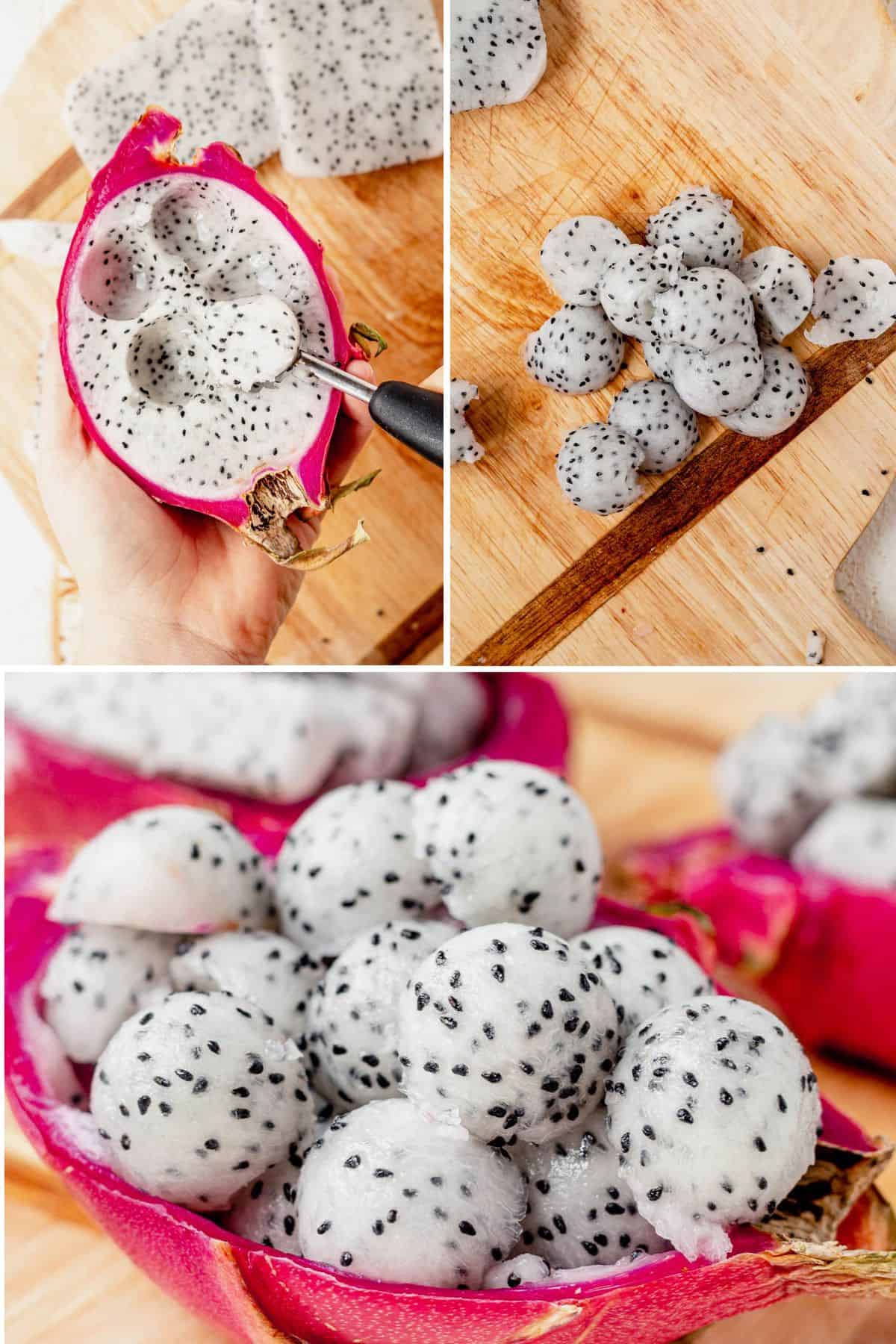 Expert Tips
Always use a sharp knife! Sharp knives are much safer to use when working with food and provide a more efficient cooking and cutting experience.
Start at the top of the dragon fruit as the skin is slightly thinner here compared to the base where the thicker stem is located.
How to Store Dragon Fruit
Storing the whole dragonfruit before cutting: Whole dragonfruit (uncut) can be stored at room temperature. However, if the dragon fruit is already ripe but you are not ready to enjoy it, place it in a sealed plastic bag in your refrigerator for up to one week.
Storing sliced dragon fruit: If you don't plan to use your freshly cut dragon fruit all at one time, you can store it in an airtight container in your refrigerator for 1-2 days. Freshly cut dragon fruit does not have a long shelf life so it is important to use it quickly. If your refrigerated dragon fruit begins to look brown or mushy, it has gone bad and you should discard it.
How to Freeze Dragon Fruit: Dragon fruit can also be frozen for up to 6 months. To freeze your dragon fruit, place the freshly cut pieces on a baking sheet in your freezer. Once frozen, place it in an airtight container and back in your freezer. Frozen dragon fruit will stay good for up to six months. Use directly from frozen in smoothies or bowls or let it thaw overnight in the fridge for fruit salads.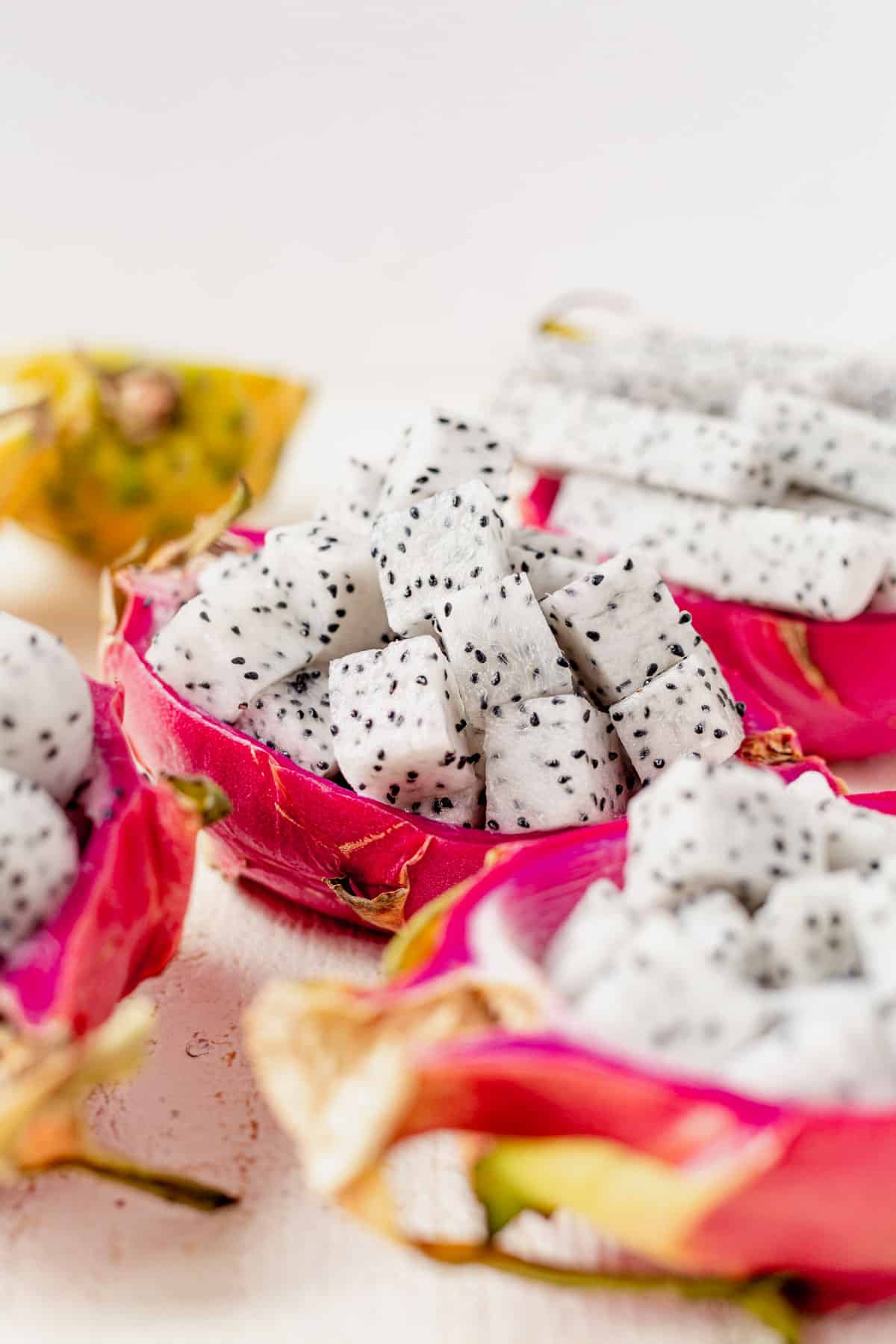 Dragon Fruit FAQs
What fruit does dragon fruit taste like?
Dragon fruits have a mild tropical flavor and taste like a mix between a kiwi and a pear. It has a slightly creamy texture, but the presence of the tiny black seeds likens it to the inside of a kiwifruit.
How do I eat dragon fruit?
You can eat dragon fruit in many ways! It is delicious on its own, but may also be added to smoothies or cocktails. You can also grill your dragon fruit just like you would a pineapple!
Can I cook or bake with dragon fruit?
Due to its mellow flavor, dragon fruit is great to cook and bake with.
Can I freeze my dragon fruit?
You can safely freeze your freshly cut dragon fruit in an airtight container for up to 6 months.
Does freezing my dragon fruit decrease its nutritional value?
Much like frozen kale, frozen fruits retain most nutrients for months while frozen and become active again once thawed. In fact, the freezing process may slightly activate the fiber within the dragon fruit, making it more soluble.
Is the shell of a dragon fruit edible?
The shell of dragon fruit is not edible. However, we recommend using the shell as a sustainable bowl for serving your freshly cut dragon fruit in!
Can dragon fruit stain your clothes or skin?
If you are working with dragon fruit with red or pink flesh, the colored juices could stain your clothes. Be sure to wear an apron or have your stain remover pen close by! The pink coloring can also transfer to the skin but will eventually wash off.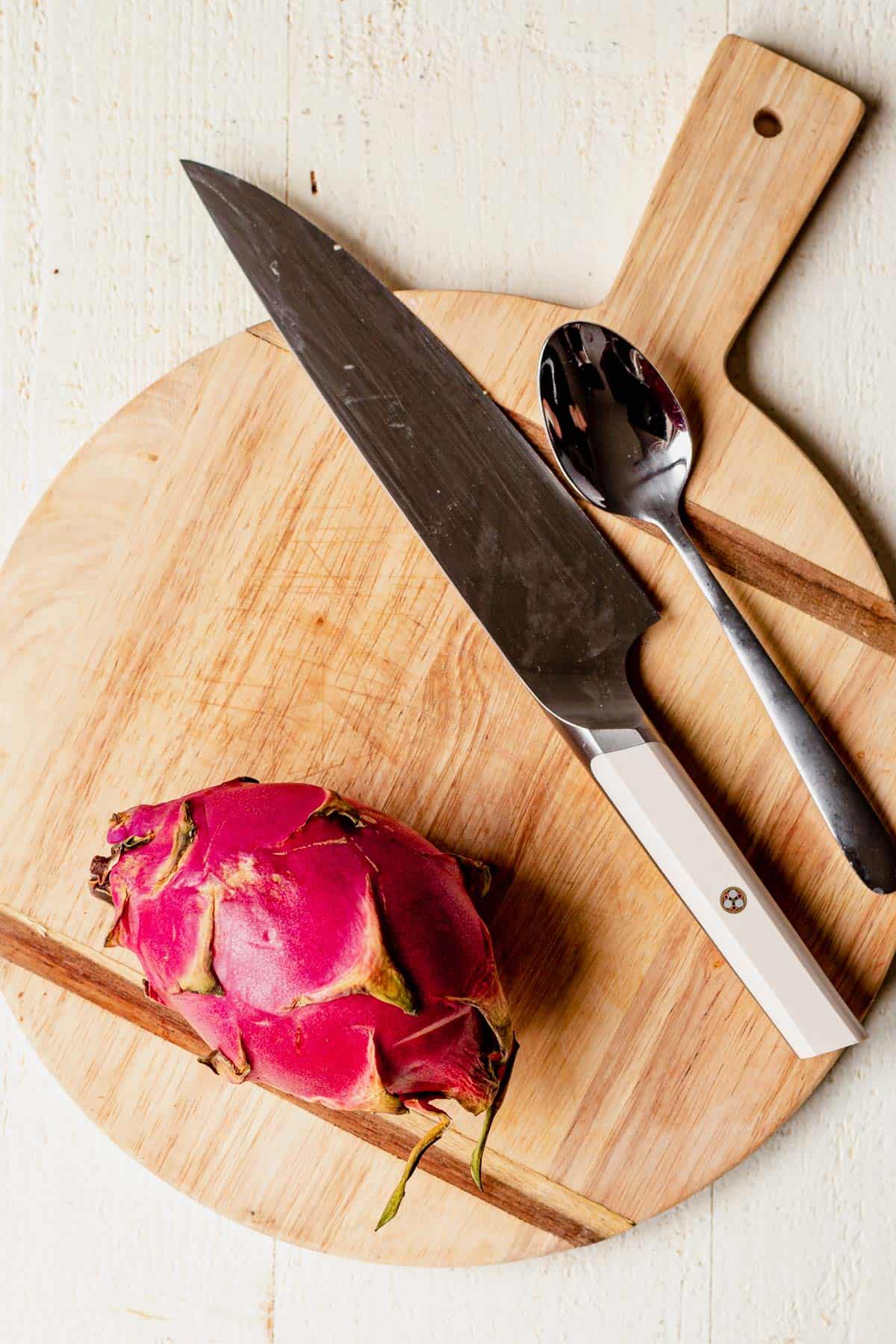 Recommended Tools
A large (8") and sharp Chef's knife. By using a knife of this size, you can get a clean slice through the dragon fruit - no need to saw back & forth or get creative and try to slice around like an avocado!
Cutting board. By using a fresh & clean cutting board, you not only set yourself up for success by not getting the fruit's juice on your counter and minimizing clean up, but you also help prevent cross-contamination from other foods you may have been working with. Dragon fruit can pick up flavors & odors of other foods so it's important to use fresh tools when working with dragon fruit.
Spoon. You will need a large spoon to assist with removing the inside of the fruit from its skin.
Melon Baller. This is only necessary if you plan to scoop out the flesh into spheres, similar to a watermelon baller.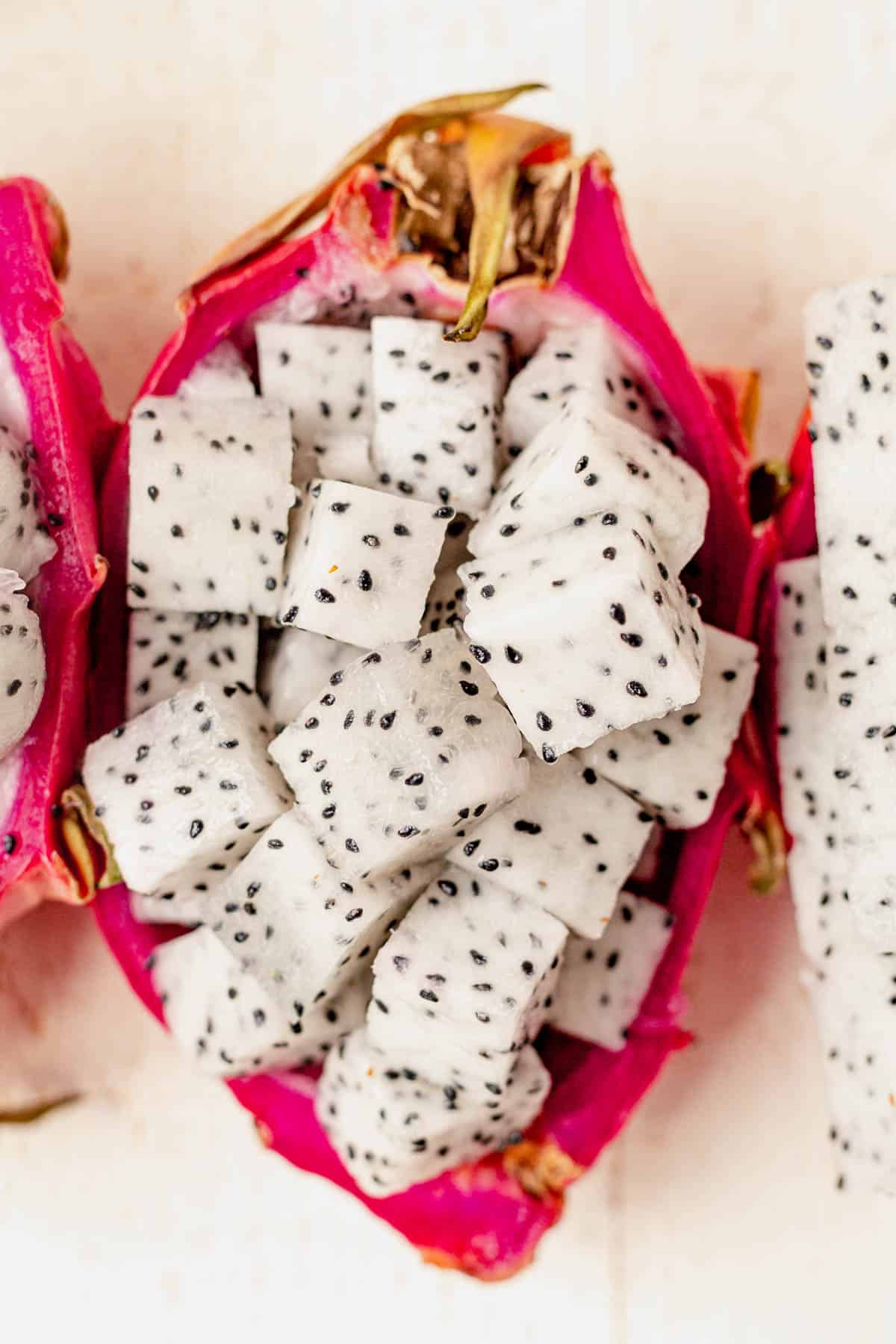 Ways to Enjoy Dragon Fruit
Dragon fruit is very versatile; however, since most people don't regularly work with it, it can be difficult to figure out how to use it!
Add it to your favorite smoothie or drink. This Dragon Drink takes minutes to make.
Pile it on top of this pitaya bowl. The recipe calls for frozen pink dragon fruit so cubed white dragon fruit would be beautiful and delicious on top. You could also freeze it yourself and use it as the base for the bowl. Smoothie bowls are a great way to get in lots of superfoods and nutrients in a meal!
Try it in a fruit salsa! Swap the kiwi in this healthy fruit salsa for dragon fruit, or add dragon fruit for a fun twist. We recommend using 2 dragon fruits compared to the 4 kiwifruits the recipe currently calls for.
Mix it in a tropical fruit salad! Since dragon fruit is a mildly flavored fruit, it makes a great addition to any fruit salad.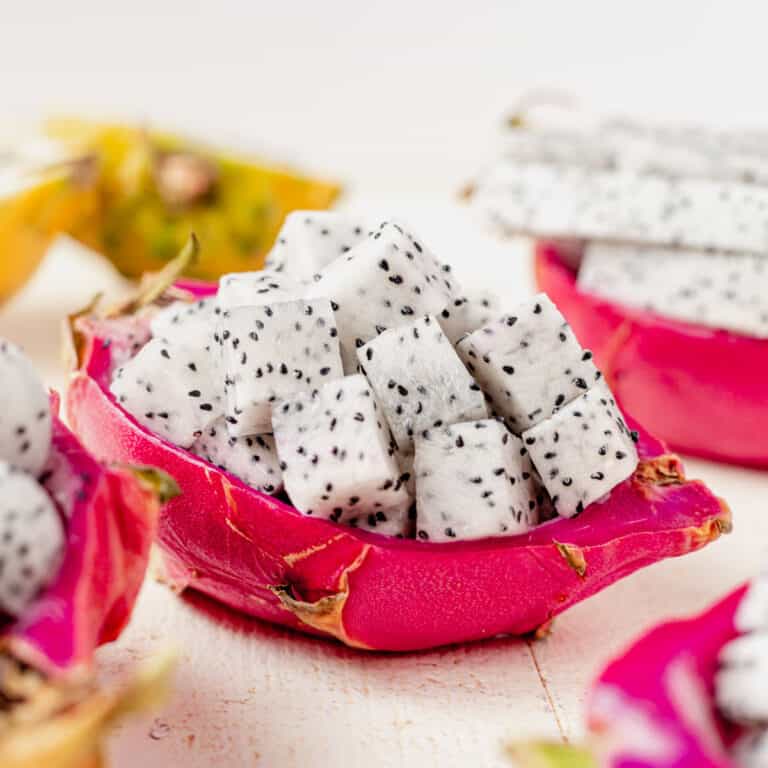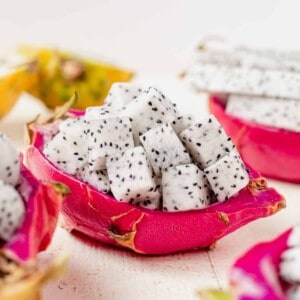 How to Cut Dragon Fruit
Learn the easy process of how to cut dragon fruit. Similar to avocado, slice it in half, scoop out the center, and slice or scoop it for your favorite dragon fruit recipes. View the recipe post above for step-by-step photos of peeling, cutting, dicing, and scooping dragon fruit.
Print
Pin
Rate
Save
Saved!
Ingredients
1

ripe dragon fruit

pitaya (Note 1)
Recommended Equipment
Sharp chef's knife

Cutting board

Spoon

Large baking sheet

optional for freezing dragon fruit
Instructions
Place the dragon fruit on the cutting board. Use a sharp knife to cut the dragon fruit in half lengthwise, starting at the smaller end of the dragon fruit to the bottom end where the stem is. The skin is thinner at the smaller end, allowing the knife to insert easier.

To remove the flesh from the skin, either scoop it out with a spoon or peel the skin off. To scoop it out, slide the spoon inside the edge of the dragon fruit, removing it from its shell in one piece. Alternatively, score the skin slightly on the edge and use your fingers to peel the skin off the flesh.

Place the flesh of the dragon fruit flat side down on the cutting board and cut it into 1-inch slices. Leave it in slices or turn it sideways and cut it into 1-inch cubes. You can also use a melon baller to scoop the flesh out of an unpeeled dragon fruit.

Enjoy immediately as fresh dragon fruit or store in an airtight container for up to 2 days. To freeze it, lay the cut dragon fruit on a large baking sheet and flash-freeze for 30 minutes. Put frozen dragon fruit in your air-tight container and store it for up to six months.
Notes
Note 1. Ripe Dragon Fruit. Ripe dragon fruit will give a little bit, similar to a ripe avocado. It will have a bright pink color all the way around and smooth skin and the "wings" (the pointy leafy parts) will have started to wither slightly.
Nutrition
Serving:
1
dragon fruit
|
Calories:
264
kcal
|
Carbohydrates:
82
g
|
Protein:
3.5
g
|
Sodium:
39
mg
|
Fiber:
1.8
g
|
Sugar:
82
g
|
Vitamin C:
6.4
mg