Soft and buttery muffins packed full of yummy ingredients! These Raspberry Chocolate Chunk Muffins will make your next Monday mornings the best yet. The melty chocolate oozes with each bite and the raspberries burst with flavor.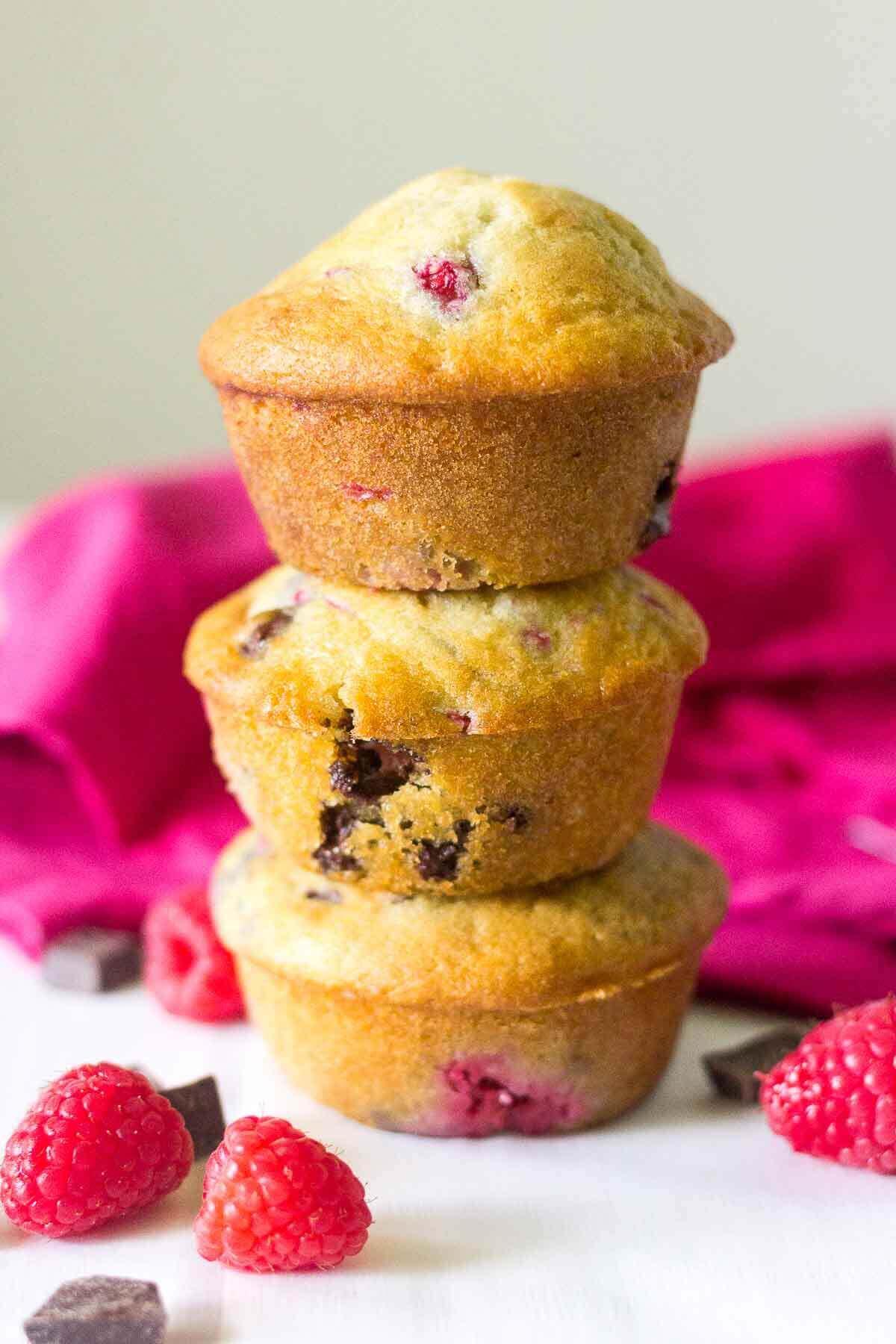 This is going to be a FUN day. Because we get to talk all about muffins. If couldn't tell I'm crazy about sharing muffins. Some of my favorite muffins recipes include easy blueberry muffins, pumpkin streusel muffins, Nutella filled banana muffins and chocolate banana blender muffins.
And apparently muffins are some of your favorite recipes too! I just published my first annual reader survey and so many of you replied saying you want to see more breakfast recipes and that my muffin recipes are some of your favorite!
If you took the survey, thank you thank you so much for taking the time to answer it. It means so much to me that you spent the time to give me valuable feedback so I can share better recipes with you!
Looking for a quick raspberry treat? These chocolate covered raspberries are done in 10 minutes and easy to store in the freezer.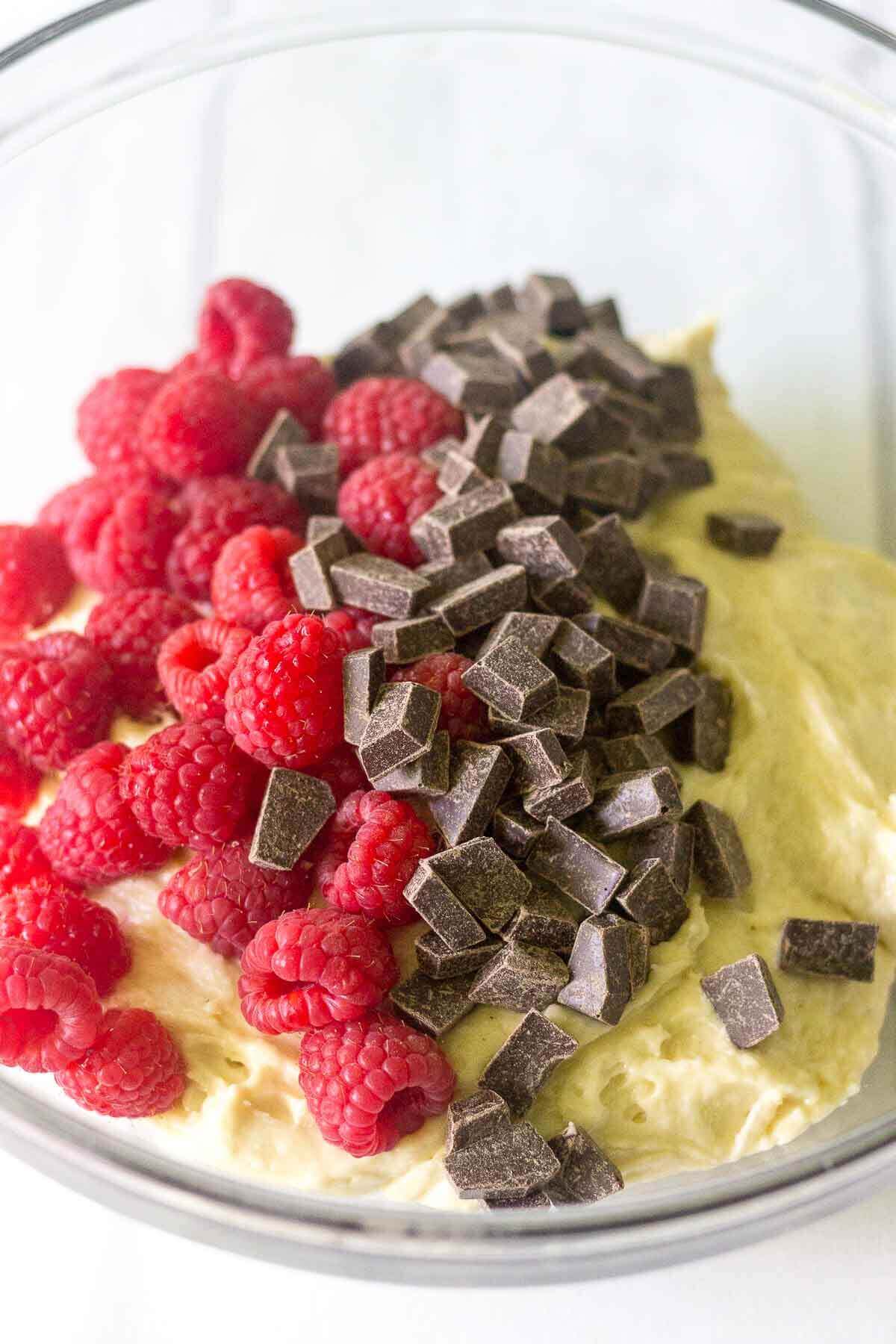 Muffins are one of my favorite recipes to make form multiple reasons.
First, they're really hard to mess up. They aren't super particular like a cookie or a cupcake!
Which brings me to number two. They're really easy. You typically need one or two bowls (or a blender) to mix up a batch of your favorite muffins.
Once you find a good muffin recipe you can easily customize it to whatever you're feeling that day. Like this recipe for example. Don't want dark chocolate and raspberries? Just add blueberries, lemon poppy seed, cinnamon apple and so much more.
They make your mornings so much better. Is there any better way to start the day than a buttery, tasty muffin? I especially like mine on the weekends with a big cup of coffee.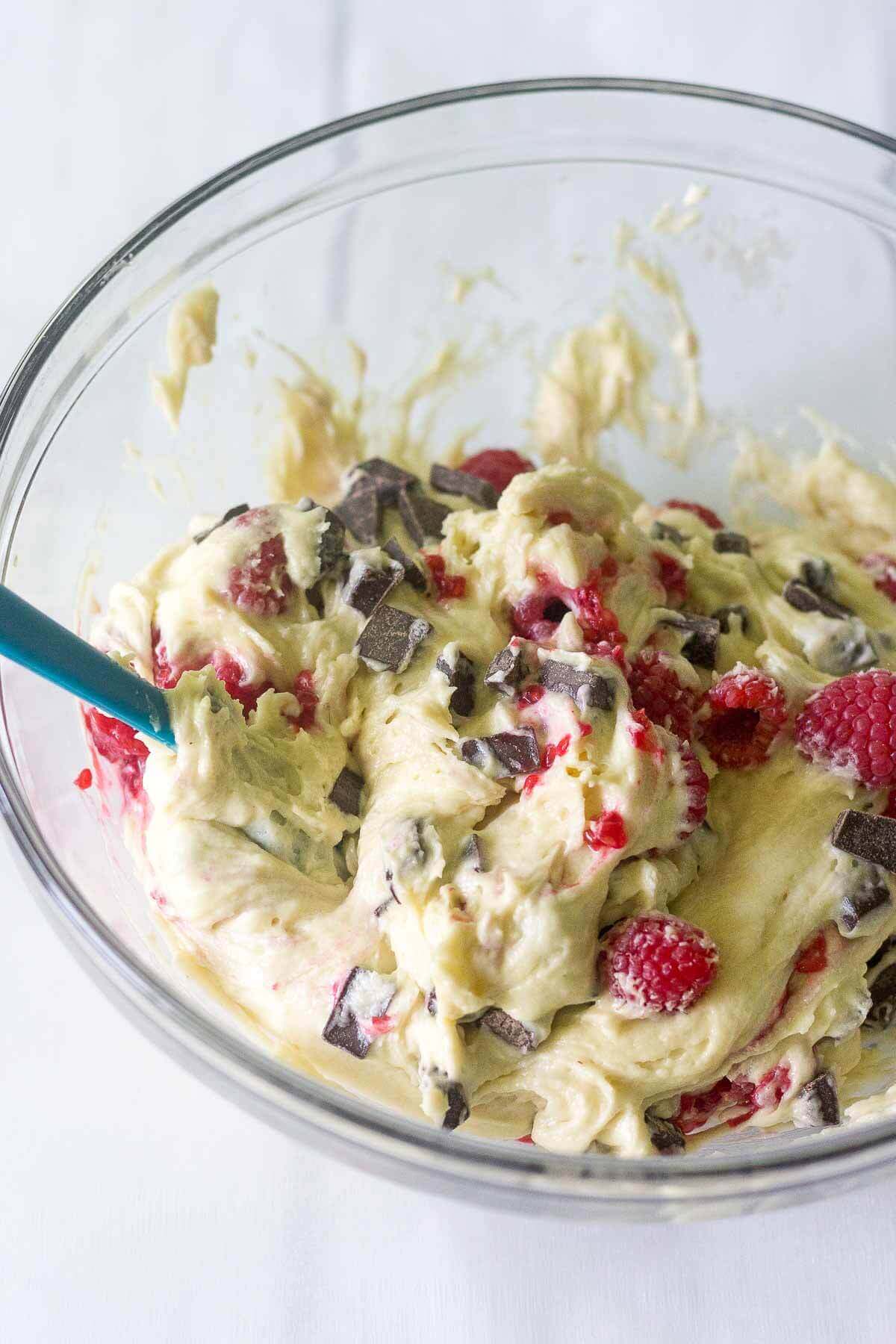 The reason I extra love this recipe today is because it reminds me of my best friend growing up. She is obsessed with all things raspberry and dessert. When we would go out to dinner for special occasions she would always order cheesecake with raspberry syrup and chocolate. This flavor combo is so nistolgaic for me!
The actual recipe wasn't hard to create because I have a few simple tricks I use for all of my muffins recipes.
How to Make Raspberry Chocolate Chunk Muffins:
Using melted butter makes such a difference in these raspberry chocolate chunk muffins. The butter adds so much flavor compared to vegetable oil. It's rich and delicious and adds a lot of depth.
Greek yogurt is key. The tang from greek yogurt adds a perfect flavor and just the right amount of softness. Plus they add a little extra protein!
Fill your muffin tins to the brim with batter. With a thick batter like this they puff up bakery style.
Sprinkle a little coarse sugar on top to really make them bakery style! They add just a little crunch when you bite into them!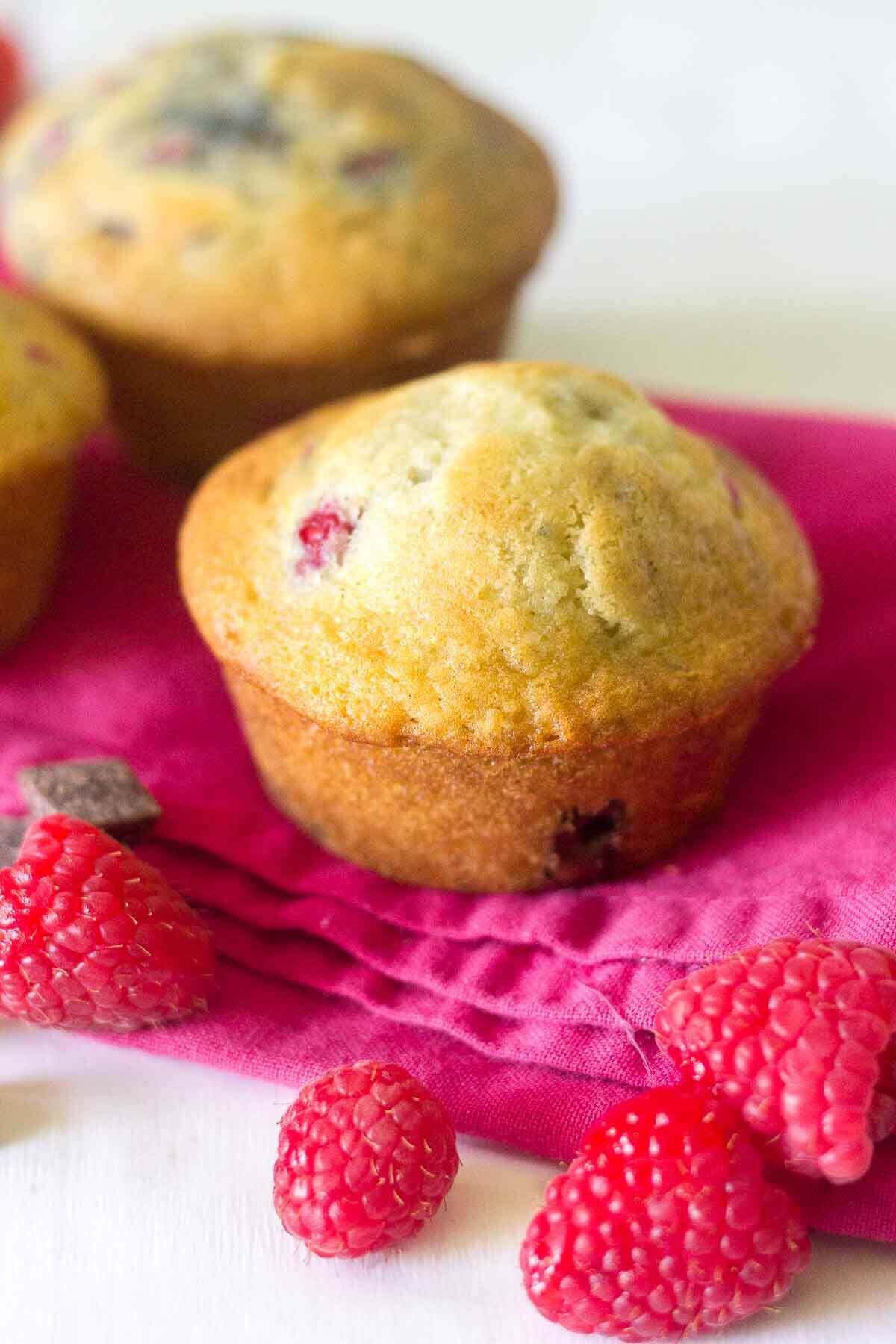 And last but not least...
My all time favorite muffin baking tip: bake your muffins at a high temperature in the first five minutes then lower the heat (while keeping the muffins in the oven) to bake all the way through. This allows the muffins to puff up quickly with the initial hot burst of air then bake all the way through at the reduced temp.
This tip works really well with a thick muffin recipe like these raspberry chocolate chunk muffins. I tried it with the batter for my chocolate banana blender muffins and it didn't work great, so it's definitely a tip for the thicker batters!
If you have any other muffin flavors you want to see don't forget to let me know!
More raspberry recipes: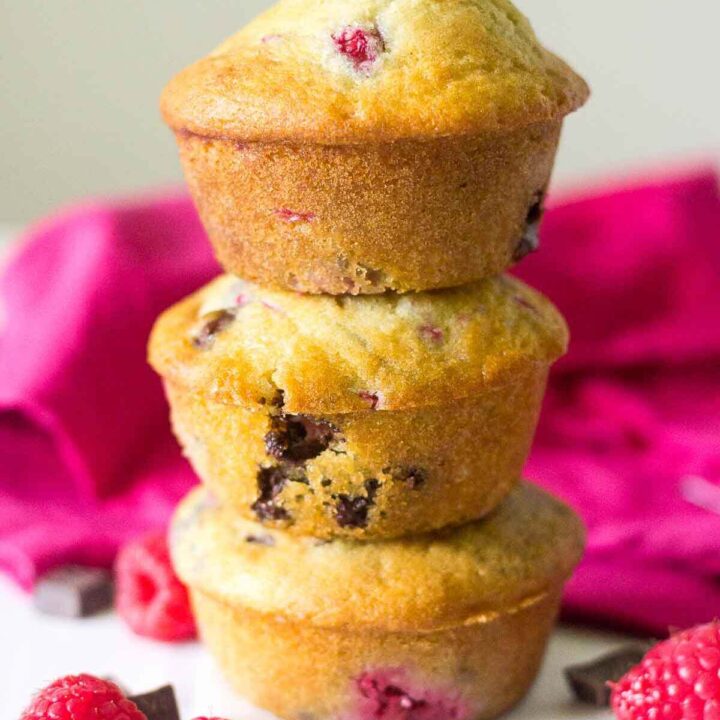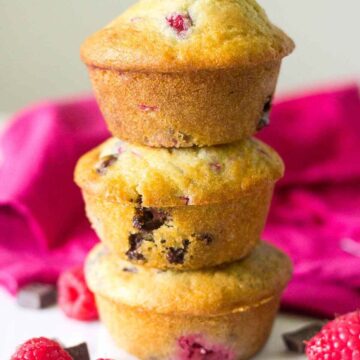 Ingredients
1

and ¾ cups all-purpose flour

1

teaspoon

baking soda

1

teaspoon

baking powder

½

teaspoon

salt

½

cup

1 stick unsalted butter, softened to room temperature

¾

cup

granulated sugar

2

large eggs

at room temperature

½

cup

Greek yogurt

2

teaspoons

teaspoons vanilla extract

¼

buttermilk

1

and ½ cups fresh or frozen raspberries

do not thaw if using frozen

1

cup

chocolate chunks
Instructions
Preheat oven to 425°F. Line a 12-count muffin pan with cupcake liners or spary with nonstick spray. Set aside.

In a large bowl, whisk the flour, baking soda, baking powder, and salt together and set aside.

In the bowl of a stand mixer or in a large bowl using a handheld mixer, beat the butter on high speed for approximately one minute until smooth and creamy. Add the sugar and beat on high again until creamed, at least two minutes. Add the eggs, yogurt, and vanilla extract. Beat on high speed for another minute until combined.

Add the dry ingredients to the wet ingredients and beat on low speed until just combined. Add the buttermilk, and continue to beat on low until combined. Fold in the raspberries and chocolate chunks with a rubber spatula.

Spoon the batter evenly into each cup, filling each all the way to the top. Bake the muffins for 5 minutes at 425 then reduce the oven temperature to 350°F and bake for an additional 15-17 minutes or until a toothipick inserted in the center comes out clean. Remove muffins from the oven and allow to cool in the pan for approximately 10 minutes then transfer to a wire rack to cool completely. Store muffins in an air tight container in the refrigerator for up to 1 week.