Healthy and filled with melted and gooey chocolate, these chocolate banana blender muffins come together in minutes and they're gluten free! When you warm one of these muffins up the chocolate oozes everywhere as you take a bite. You won't even know they're healthy!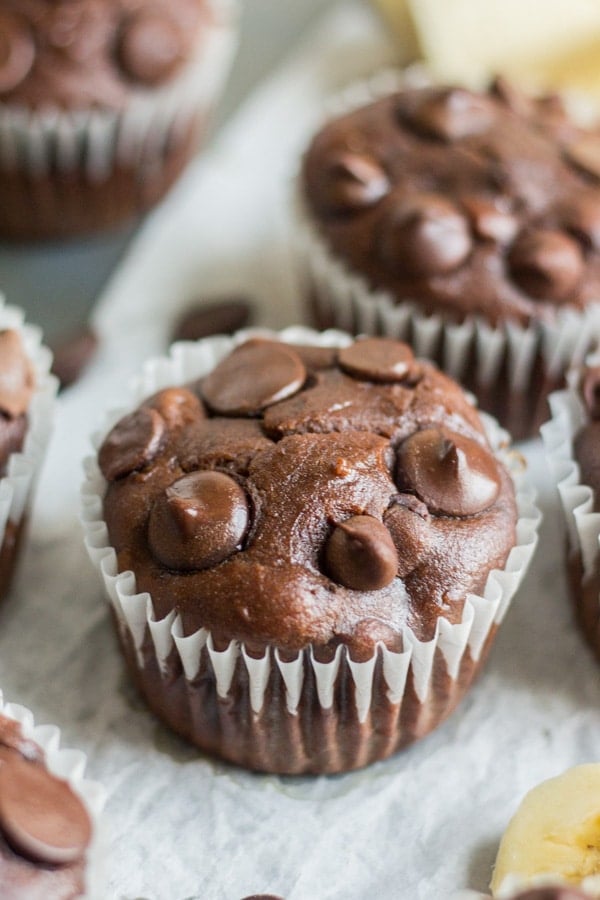 I was seriously contemplating how I wanted to name this recipe. There are so many distinguishing factors I love about them: triple chocolate, sweetened mostly with bananas, quick and easy in the blender, filled with greek yogurt and they're gluten free. How does one highlight just one aspect?
Because of that I'm calling these my magic muffins. So many magical things happening in one muffin tin.
I also now have a love-hate relationship with these chocolate banana blender muffins. Why, you ask? Funny story.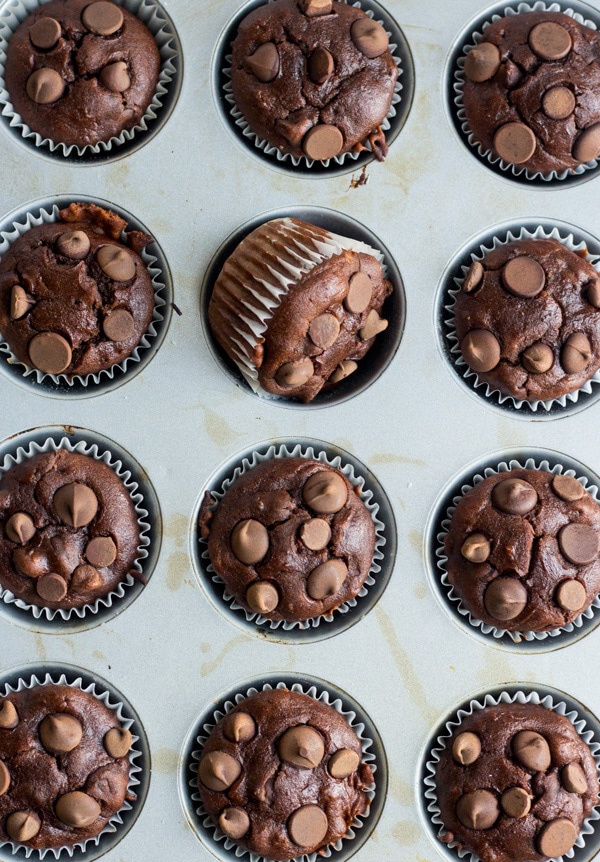 I had just cleaned up all of the dishes from shooting this recipe. I was so very excited to test it because I just got a brand new Ninja for Christmas. The ones that have all of the extra pieces including individual cups, a food processor and the large blender. (See cashew energy bars and oatmeal cookie energy bites for other Ninja recipes).
I threw everything in the sink and then it came a food blogger's favorite part of the process: cleaning. I was about half way through the pile when I reached for the blender blade.
A few moments of not paying attention and a blender blade slipping out of my hand later and I landed in Urgent Care with 4 stitches and a very sore middle finger.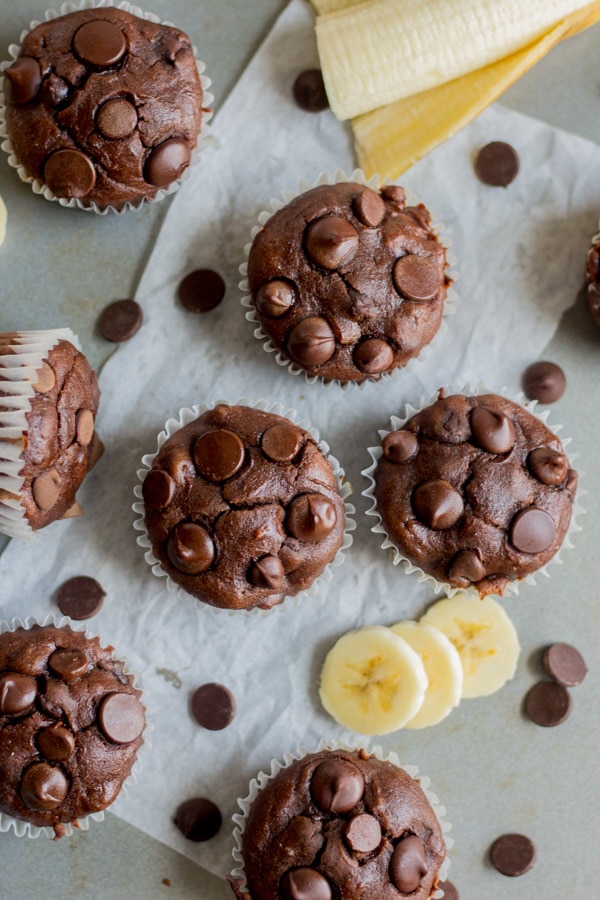 So now here I am awkwardly typing this post with my left hand poking at each button on the keyboard because it's very difficult to type with a piece of giant gauze taking over. But this recipe is that good. #WorthIt
And don't worry! The muffins were safely baked and stored in the freezer pre-blender incident.

So why were these chocolate banana blender muffins worth it?
Because they're filled with chocolate, first and foremost. There are three types of chocolate in this recipe. The cocoa powder that's mixed with the dry ingredients, the melted dark chocolate that gets blended with the wet ingredients, and the two kinds of chocolate chips that gets mixed into the batter and baked.
And then because they're super healthy and sweetened with only a tiny bit of brown sugar. The rest is naturally sweet from honey and banana.
There is also no butter or vegetable oils in these chocolate banana blender muffins! Just straight up coconut oil and greek yogurt. I love greek yogurt in so many baked goods because the acid in it gives the batter a tender and moist texture. The acid also mixes really well with the other ingredients and brings out all of the delicious flavor even more.
And finally, because they're so easy to make. Mix the dry ingredients in a large bowl then throw everything else (besides the chocolate chips) in the blender all at once and blend on high until smooth and creamy. You'll simply pour the blender ingredients into the dry ingredients, mix and stir in the chocolate chips and you're done. Eazy-peazy.

Before you get started I've also got 4 tips to keep in mind before you start baking:
These chocolate banana blender muffins bake up really high in the oven but not like cupcakes so you can fill the muffin tins just under completely full. I love to bake my muffins at high heat for the first few minutes so they puff up right off the bat and help them rise high like bakery muffins. Then I turn the oven back down and let the muffins bake all the way through.
If you're dying to make these muffins but you don't have super ripe bananas ready to go use this simple tip! Preheat your oven to 250°F and place your bananas (with the peel on) on a baking sheet. Bake for 15-20 minutes until the banana starts to turn brown. Remove from the oven and allow to sit for about 5 or so minutes. They will likely turn completely brown, this is okay. And there you have it, perfectly ripe and ready bananas in under 20 mins.
Don't forget to spray the muffin tins and the liners (if you're using them)! This batter sticks to liners so those alone will not be enough. Either spray the pan or spray the liner sin the pan. Both are great options.
I also love to top the muffins with extra chocolate chips right before they go in the oven. Spoon the batter in to the muffin tins and then place 4-6 more chocolate chips on top so when they bake the tops is perfectly melty and look so perfect. You'll impress all your friends! Or at least yourself if you're like me and hoard all the delicious things.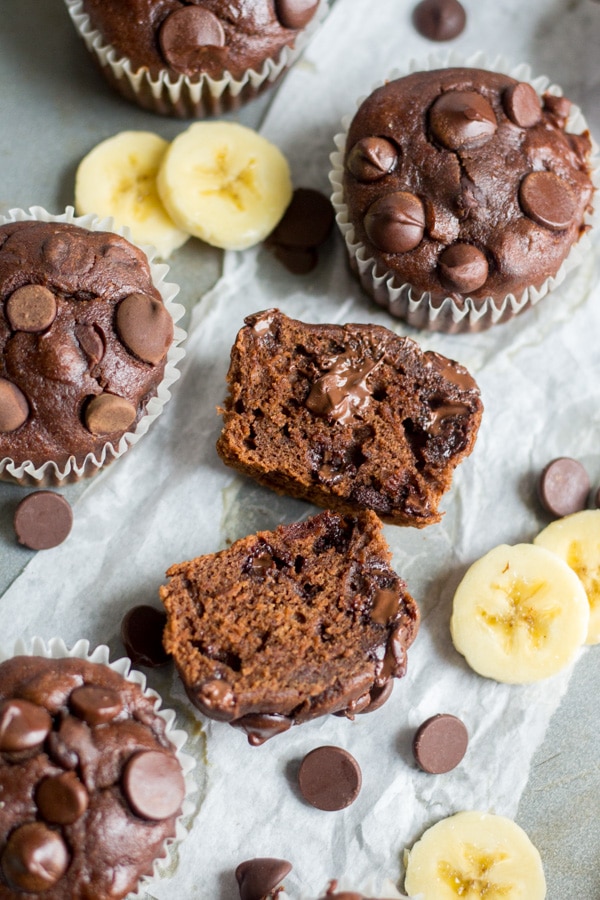 If you follow these tips you'll open the oven to perfectly baked chocolate banana blender muffins. I promise your kitchen will smell amazing! Oh, and don't forget they're best served warm so if you can zap it in the micro before serving I highly recommend it.
So go forth and blend! Just be careful when you're cleaning the blade?.
More recipes: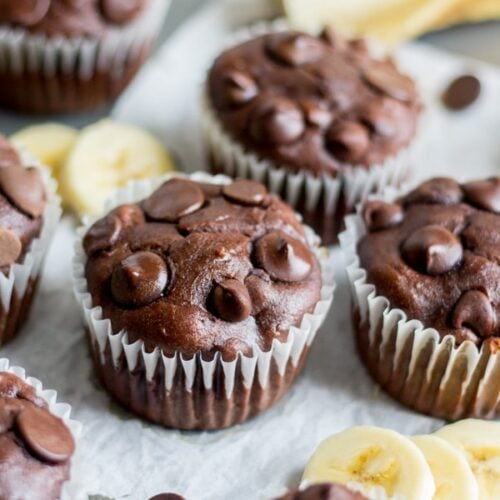 Ingredients
1 ½

cups

gluten free flour

I used Pillsbury

⅓

cup

cocoa powder

⅓

cup

brown sugar

½

teaspoon

baking soda

1

tablespoon

cornstarch

¼

teaspoon

salt

3

very ripe bananas

⅓

cup

honey

⅓

cup

dark chocolate chips

melted

1

tablespoon

vanilla extract

¼

cup

melted coconut oil

2

large eggs

½

cup

vanilla or plain Greek yogurt

¾

cup

dark chocolate chips

½

cup

semi sweet chocolate chips
Instructions
Preheat oven to 425° F. Line and spray a 12 cup muffin tin with nonstick cooking spray.

In a large bowl whisk together the gluten free flour, cocoa powder, brown sugar, baking soda, cornstarch and salt and set aside.

To a blender, add the bananas, honey, melted chocolate, vanilla, coconut oil,and greek yogurt. Blend on high until smooth and creamy, about 30 seconds. Add the eggs and blend again until smooth. Pour the wet ingredients into dry ingredients and whisk until just combined. Gently fold in both types of chocolate chips, saving a few to top the muffins.

Divide batter evenly into muffin tins, filling just under all the way full. Place a few reserved chocolate chips on top of each muffin. Bake for 5 minutes at 425° then reduce heat to 350° and bake for an additional 13-15 minutes or until tooth pick comes out clean or with just a few moist crumbs attached. Cool muffins in the muffin pan for 5 minutes then transfer to wire rack to cool completely. Keep in an air tight container at room temperature for 3 days or in the freezer for up to one month. Muffins are best served warm!