This moscato sangria is an easy and fruity cocktail for the summer. It's a simple to mix together with sweet moscato wine and fresh fruit. We love to serve this in the summer with fresh fruit.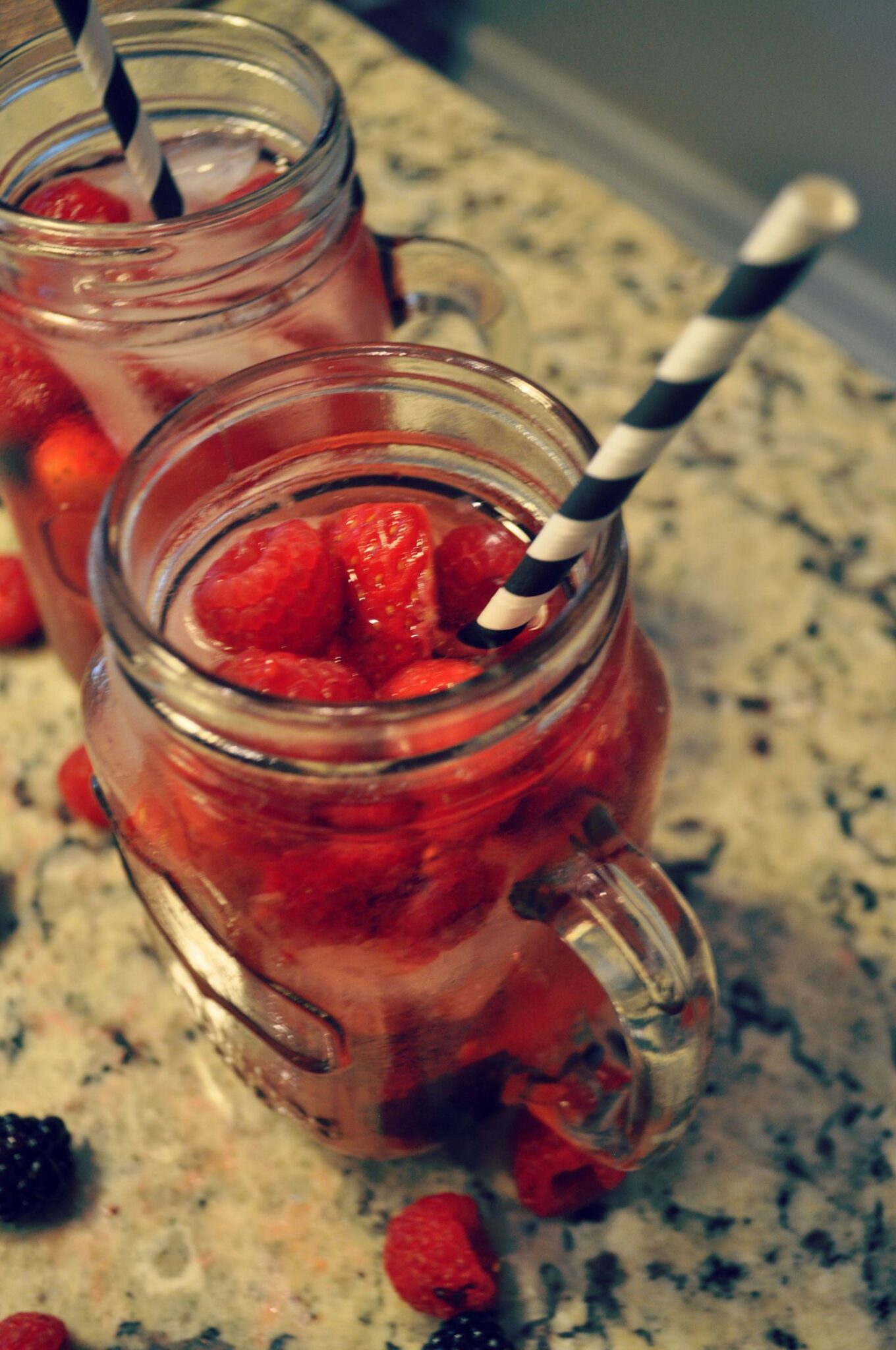 One of my favorite things of summer is all the fresh berries and whether it's raspberries, blueberries or strawberries, one variety is pretty much guaranteed to be on sale at any given time. This easy moscato sangria recipe features fresh summer fruits (even better if they're on sale!) and your favorite wine (ahem moscato). The delicious flavors of berries and citrus make this the best sangria cocktail, especially in the summer months.
And if you're looking for a sangria for all the other seasons we have a great apple cider sangria for fall, a spiced winter sangria (with red wine), and a fun frozen sangria for spring.
Ingredient Notes
This recipe comes together with a few alcoholic ingredients, and a whole lot of fresh fruit. It's the perfect recipe for sipping in the summer.
Raspberries: fresh or frozen work well
Strawberries: I prefer fresh strawberries here, but frozen works well too.
Peaches: slice these with the skin on or use frozen chopped peaches if they aren't in season.
Oranges: i like to have some soort of citrus fruit to balance out the sweet flavors
Moscato: see the section below to learn more and find out the best moscato to use for this summer sangria.
Raspberry vodka: you can use whatever brand is yoour favorite, or leave this out completely if you don't want them as strong. A strawberry vodka would be great tooo
Chambord liqueur: this is just a raspberry liquor you can buy at the grocery store with the other liquor (or the liquor store). you can use an orange liqueur if you have that.
Ginger ale or club soda
A Guide to Mosocato
Moscato is a sweet wine made from the muscat grape with fruity notes, specifically of peaches and orange (the peach and oranges in this recipe are not an accident!).
Muscat grapes are one of the oldest varieties, and you can find them grown all over the world, with each region having their own style. Because of that, there are so many types of moscato to choose from. Here's a quick guide to help you choose a bottle of wine at the grocery store.
Sparkling moscato: a lot of wines labeled as moscato will be sparkly or bubbly (similar to soda). However, this is probably the only variety I will say to avoid for this recipe. We are mixing the moscato and allowing it to chill in the fridge for hours, which will result in a flat moscato.
Still moscato: Still moscato is very similar, it's just won't have that bubble feeling on your tongue.
Pink moscato: this type of wine is more of a marketing ploy because of its pink hue. There isn't much of a difference between pink and other moscato. It usually has a bit of merlot to give it that pink color. It's a really fun color to go with all the berries!
How to Make Moscato Sangria
Add all of the ingredients to a large pitcher and stir together.
Chill the pitcher in the refrigerator for at least 3 hours (or up to 24 hours).
Fill glasses with ice, give the sangria a stir then fill each glass ⅔ of the way full. Top each sangria with ginger ale, ginger beer or club soda. Top it with a bit of extra fruit and enjoy!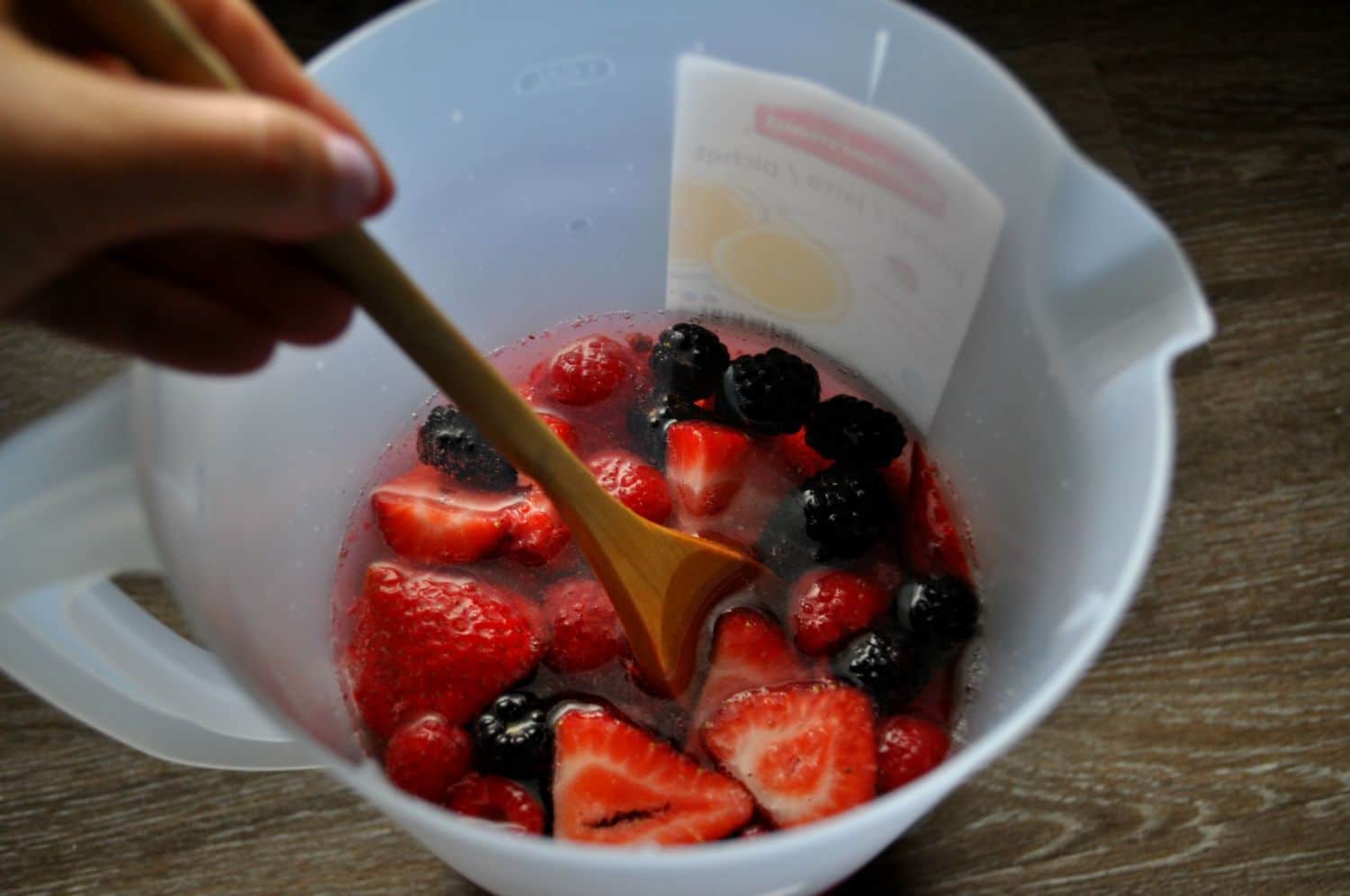 How Far in Advance Should you Make Sangria?
The best time range to soak fruit in sangria is between 2-24 hours. The closer to a day in advance the sangria chills in the fridge, the better it will be. I don't recommend going over 24 hours because the fruits can bread down too much and taste bitter.
What fruit is good in sangria?
You can't really go wrong with any fruit in a sangria recipe, but my favorite is fruit that is in season.
For summer: strawberries, raspberries (any berry, really), peaches and other stone fruits are great.
For winter: apples and citrus like oranges are delicious.
Variations and Substitutions
Want this a little less sweet? Use another type of wine, like pinot grigio.
Use any fruit that is in season instead of berries. Peaches and other stone fruits are great in this recipe.
Want to break up the alcohol a bit? Add ¾ cup of fruit juice (like the juice from a fresh orange!).
When to Serve Moscato Sangria
Here are a few of our favorites times to stir up this delicious cocktail (not that you reallyyyy need one).
A summer bbq
bridal showers
baby showers
girls' night
summer brunch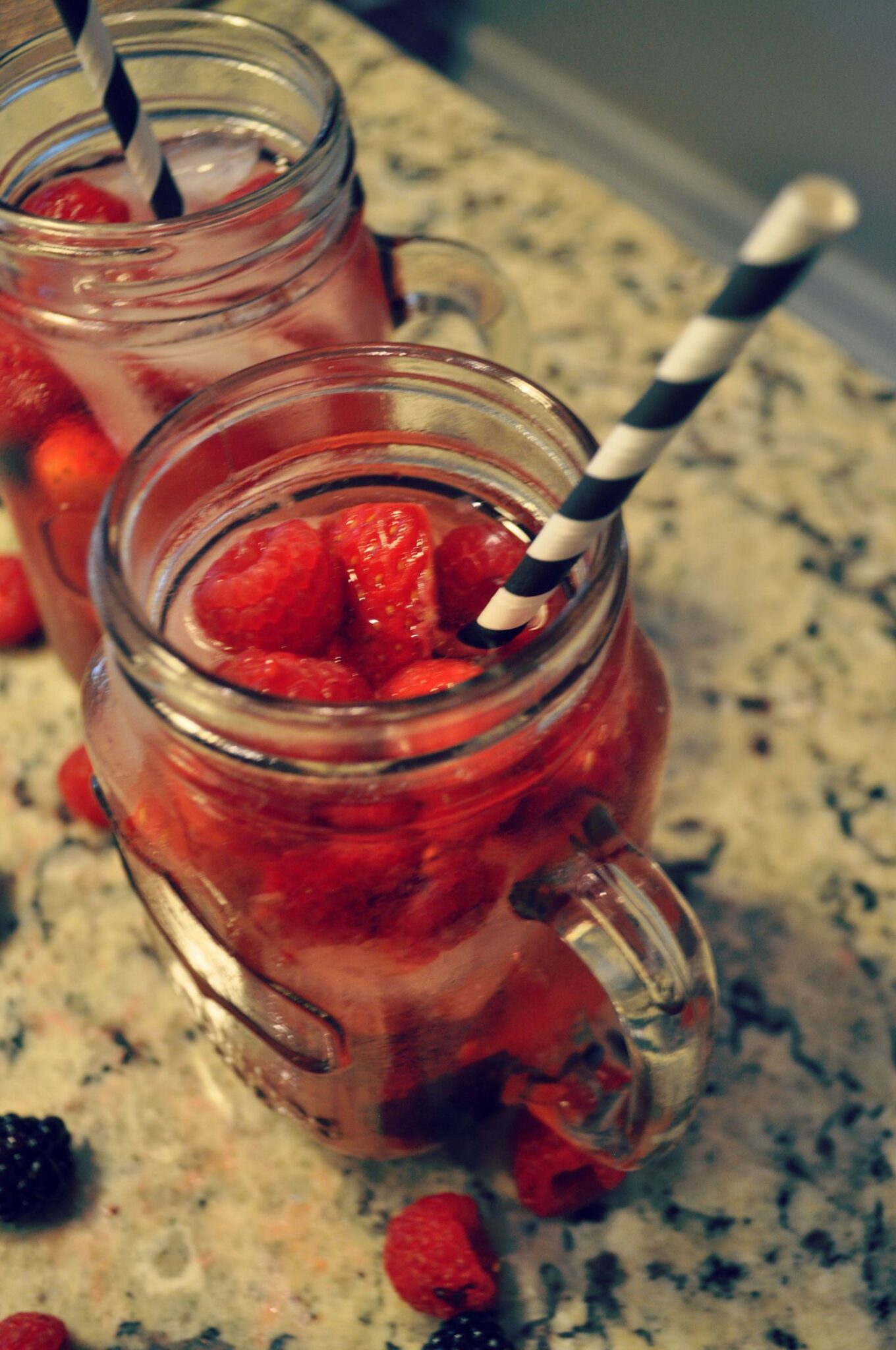 More Sangria Recipes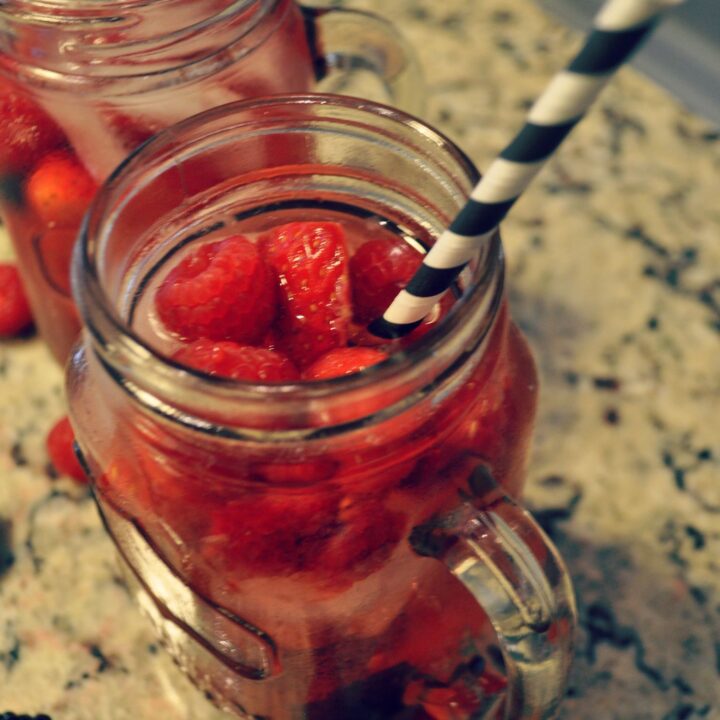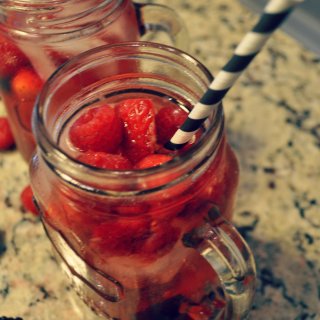 Ingredients
1

cup

fresh or frozen raspberries

plus more too top

1

cup

halved strawberries

plus more to top

2

peaches

sliced

plus more to top

1

750 ml

Moscato

⅓

cup

raspberry vodka

⅓

cup

Chambord liqueur (raspberry liqueur)

Ginger ale, soda water or ginger beer to top
Instructions
Add fruit to the bottom of a large pitcher. Stir to combine. Place the pitcher in the refrigerator for at least 2 hours.

Fill glasses with ice, give the sangria a stir then fill each glass ⅔ of the way full. Top each sangria with ginger ale, ginger beer or club soda. Top it with a bit of extra fruit and enjoy.