Blend up fresh mango and spinach and start your day right with this mango spinach smoothie. Smoothies are a great way to fuel your body with healthy fats, protein, leafy greens and fiber.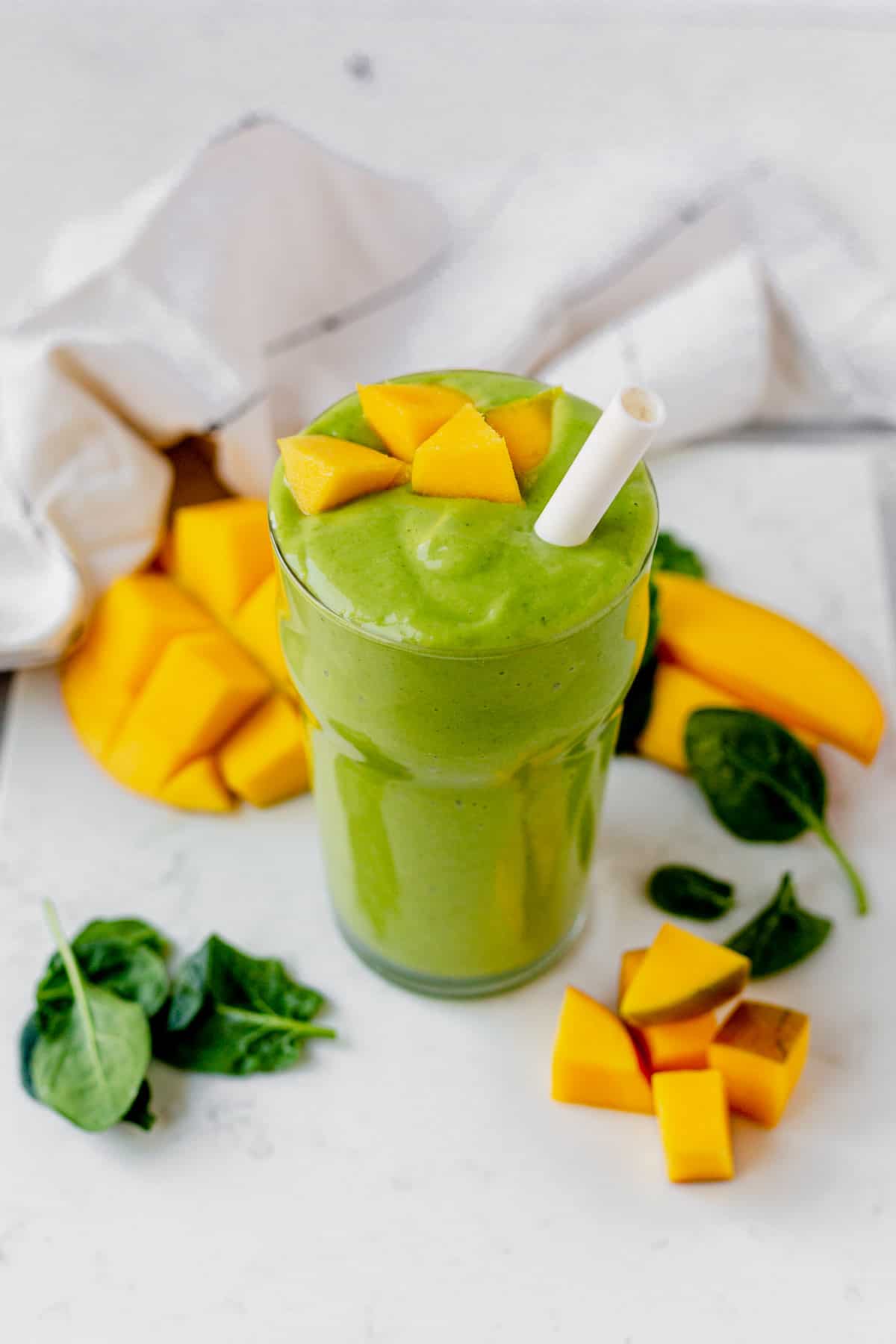 Jump to:
Mango is easily our favorite tropical fruit. My husband likes to eat frozen mango out of the bag so I always have to hide some so I can make this mango spinach smoothie recipe!
We start every morning with healthy smoothies for the whole family, even our daughter joins in to help, and it may be the best part of our day! I love how excited she gets to make them with me. She loves mango (just like her dad!).
Blend mango chunks up with greens and you have a winning green smoothie recipe you could eat every day without getting bored.
Why We Love this Mango Spinach Smoothie
It balances blood sugar first thing in the morning so you don't have a spike or dip that could result in cravings and low energy.
It's made with healthy ingredients (no added sugars!).
The creamy texture comes from the frozen fruit and avocado.
It's packed with fiber! Most of us don't get enough daily fiber, but this recipe includes spinach and avocado for fiber. Bonus points if you add chia seeds or flax seeds.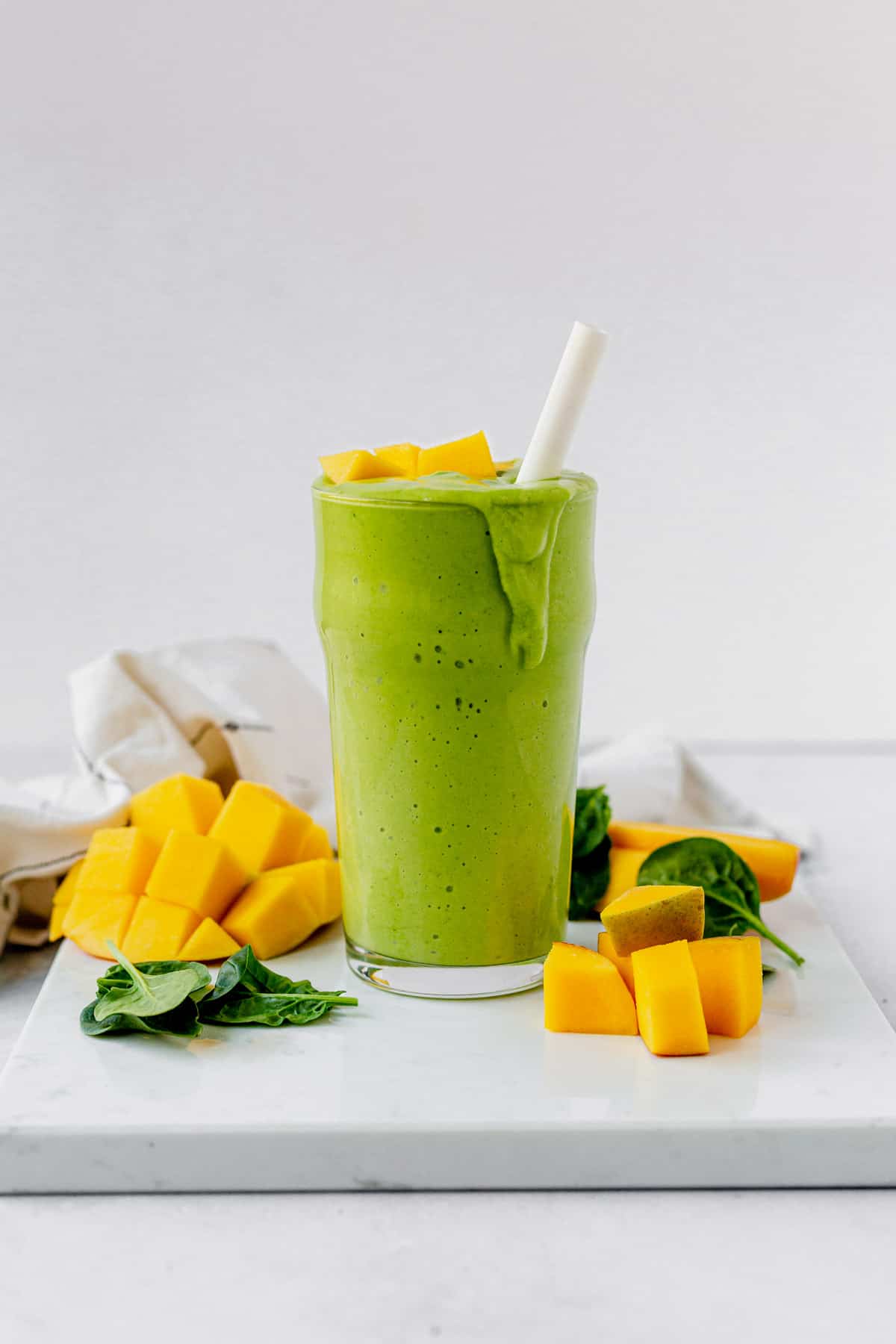 Health Benefits
Mango: this tropical fruit is packed with vitamin C and have been linked to improved digestion and immunity in studies (read more about mango health benefits).
Spinach: it's packed with insoluble fiber and is a great source of iron, calcium, vitamin A and vitamin C. Add as much spinach to your smoothies daily, there's not such thing as too much! (read more about spinach health benefits).
Ingredient Notes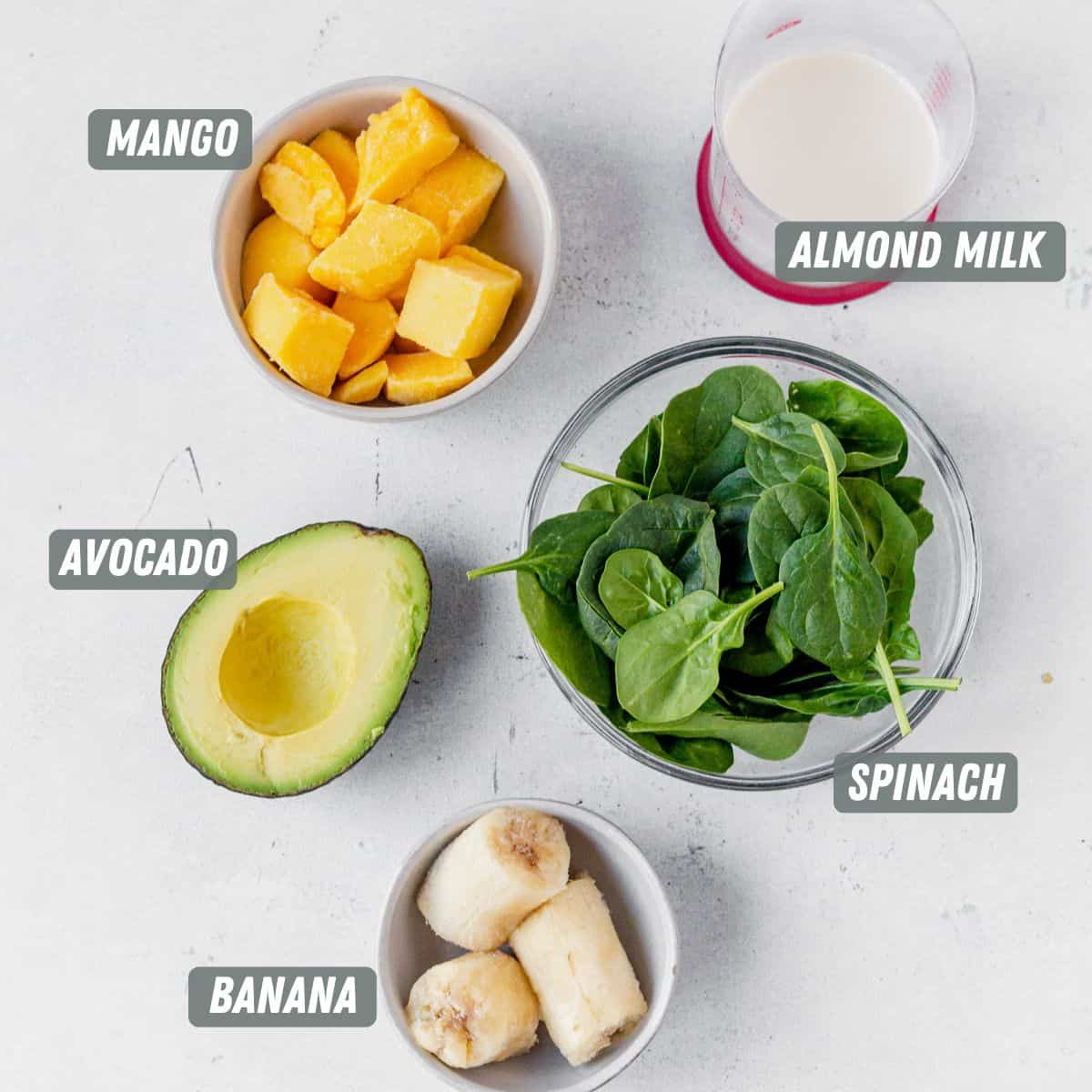 Baby spinach: be sure to wash and dry it well. This recipe calls for 1 cup but you can put as much as you want in! Definitely use fresh spinach (rather than frozen).
Nut milk: any kind of dairy-free milk works, but we like to use unsweetened almond milk. Coconut milk is another great option. If you're balancing blood sugar, milks like oat milk may not be ideal.
Frozen mango chunks: we buy a large bag at the grocery store to have on hand all the time.
Frozen banana: this is a secret to super creamy smoothies. We buy fresh bananas, slice them up and freeze them in baggies.
Avocado: this superfood is full of fiber and healthy fats!
Protein: Greek yogurt or 1 scoop of vanilla protein powder (optional).
Smoothie Extras
A smoothie or smoothie bowl is the best vehicle to stuff in extra supplements, seeds, vitamins and more. They blend up easily and you can't even taste them. Here are some of the delicious additions you can add to this healthy green smoothie.
Seeds: get some extra fiber in your smoothie with hemp seeds, chia seeds or flax seeds.
Protein: our favorite is BeWellByKelly protein powder because it's made with monk fruit sweetener and has the best flavor. I always add it to every smoothie!
Adaptogens and Supplements: ashwaghanda, maca root, and inositol are great ones.
Nut butters: add almond butter or peanut butter for some extra healthy fats.
---
How to Make a Mango Spinach Smoothie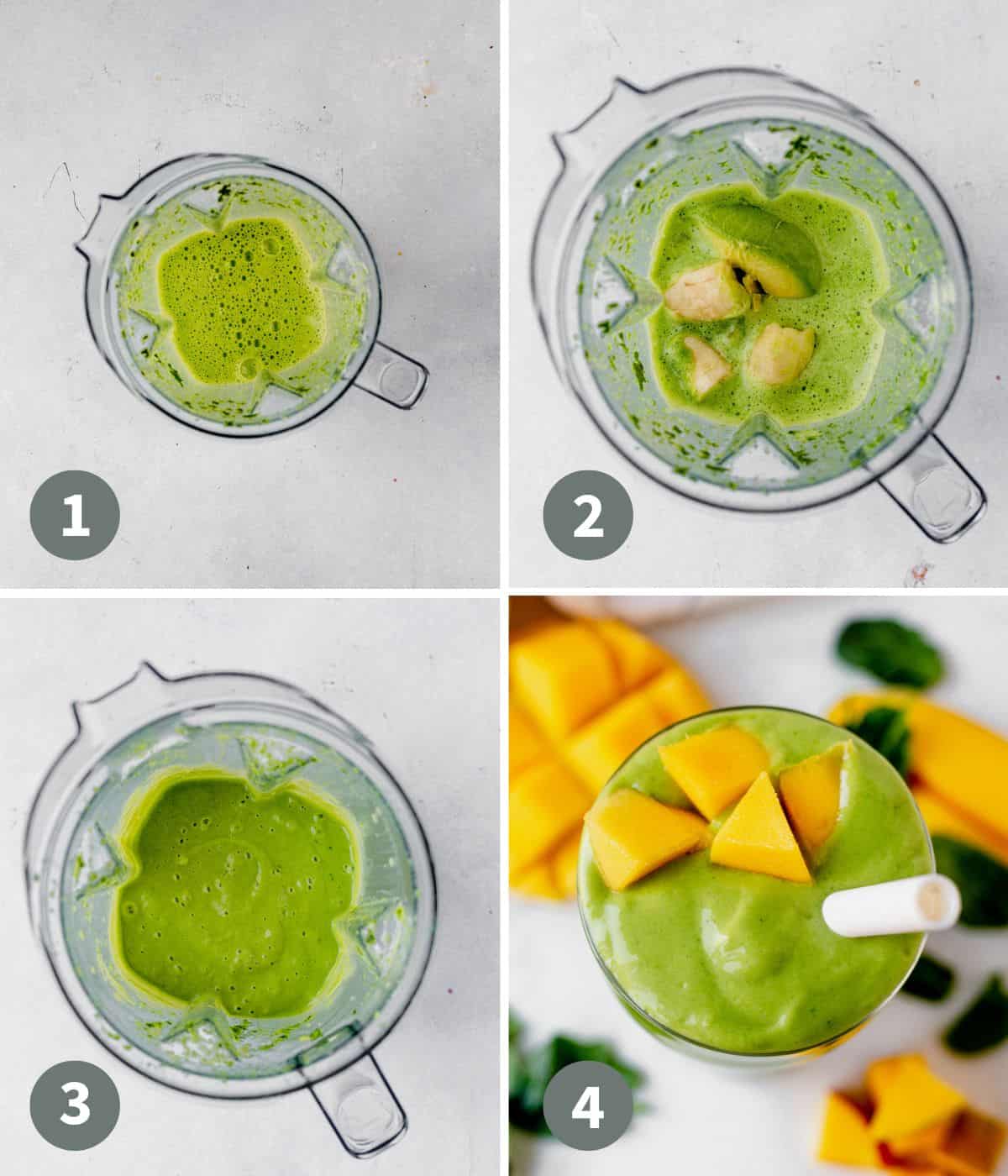 Add the almond milk and greens to a high-speed blender then blend on high first to break up the spinach. It should resemble a green milk when it's done.
Add the rest of the ingredients to the blender with the spinach and milk.
Blend on high until smooth and creamy. Check the consistency and add more milk as needed.
Serve right away with extra toppings, if desired.
Prefer to Watch Instead of Read?
Recipe Variations
Mango Pineapple Smoothie: swap the banana for a handful of frozen pineapple.
Mango spinach smoothie without banana: opt for a little extra mango or use more avocado to replace the velvety texture the banana provides.
Fresh fruit: use fresh fruit if you have it on hand, just be sure to add ice and use a high speed blender to get it creamy.
Mango kale smoothie: this leafy green is also packed with nutrients and is a great swap for spinach. We have a delicious tropical kale smoothie with similar ingredients.
Mango spinach smoothie bowl: add half the amount of almond milk to make this really thick. We use our Vitamix blender with a tamper to make smoothie bowls.
Expert Tips for Thick and Creamy Smoothies
Blend the milk and greens together first.
Add avocado for a thick texture.
Use frozen fruit (especially banana).
Use less milk than you think then add more at the end to thin the smoothie out.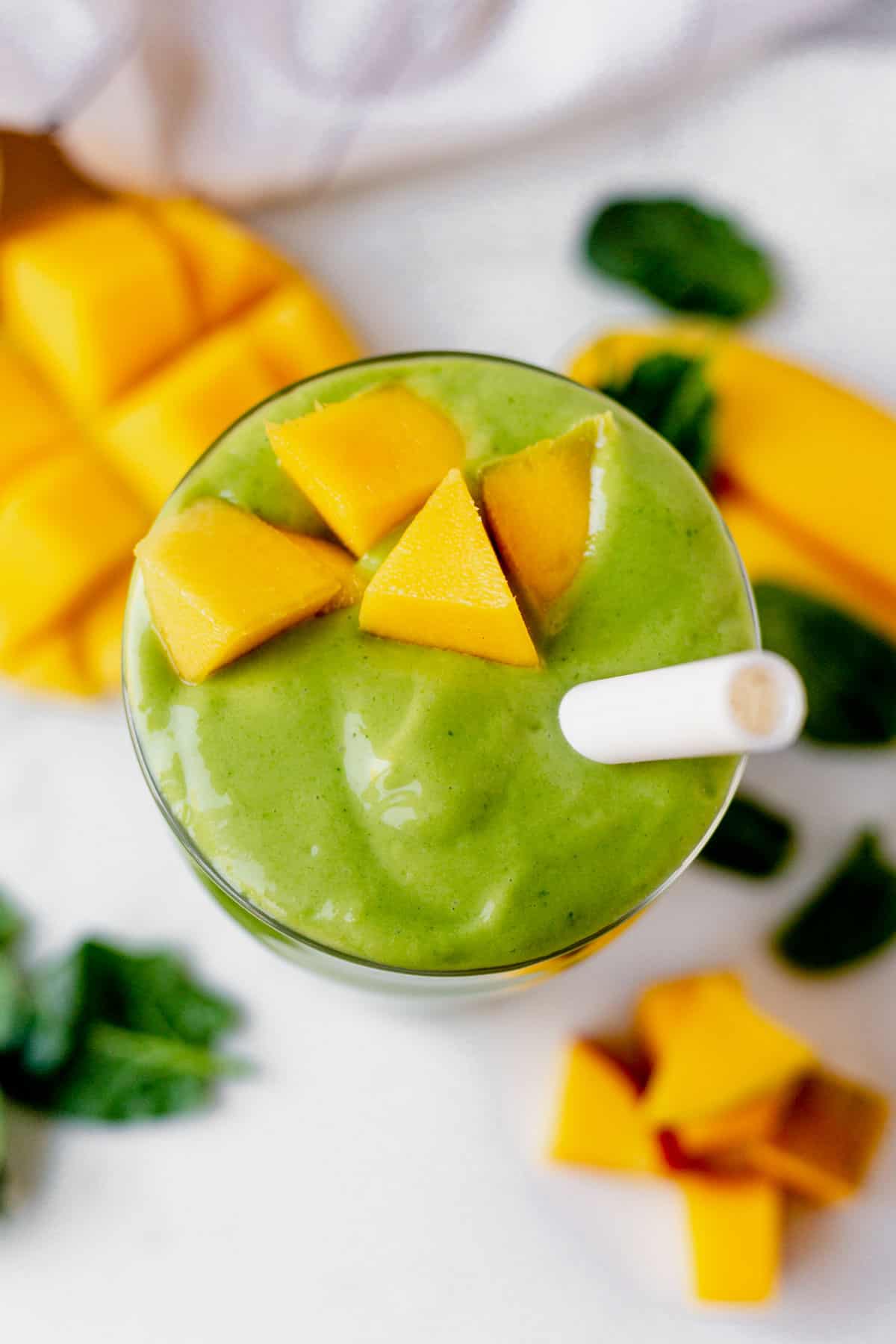 More Easy Smoothie Recipes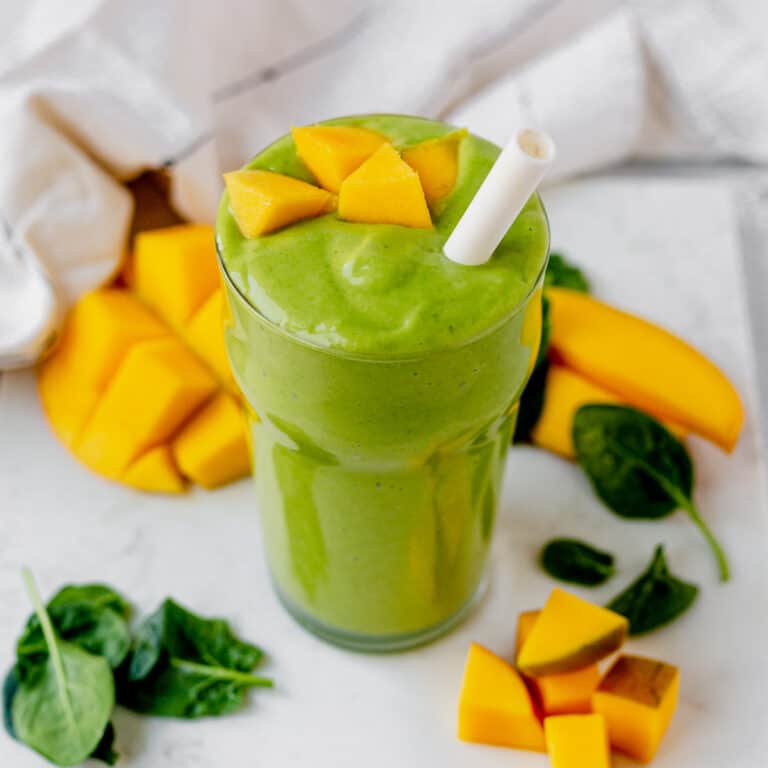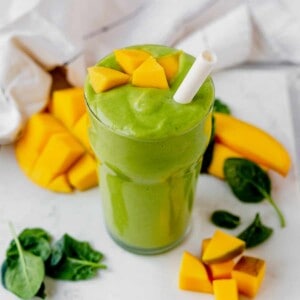 Mango Spinach Smoothie
Blend up mango and spinach and start your day right with this mango spinach smoothie. Smoothies are a great way to fuel your body with healthy fats, protein, leafy greens and fiber.
Print
Pin
Rate
Save
Saved!
Servings:
1
large smoothie
Ingredients
1

cup

baby spinach

1

cup

nut milk

¾

cup

frozen mango chunks

½

frozen banana

½

avocado *

Optional for protein: ½ cup greek yogurt or 1 scoop of vanilla protein powder
Instructions
Add spinach and milk and blend to a high-speed blender and blend until the spinach is broken down and the mixture resembles green milk.

Add the rest of the ingredients and blend on high until smooth. Check the consistency and add more milk a few tablespoons at a time if desired.
Notes
Avocado: you can make this recipe without avocado, but it's essentially tasteless in this recipe and it adds a ton of healthy fats and fiber to balance blood sugar and keep you full longer. Highly recommend! We also use frozen avocado chunks.
Protein: if you add yogurt or protein powder you may need to add a bit more milk to thin it out.
Store in the fridge: this smoothie will last a couple hours in the fridge. You may need to blend it again before serving.
Store in the freezer: Pour the smoothie into a silicone ice cube tray and freeze until solid then transfer the smoothie cubes to a ziplock bag. Pour into the blender with more milk when you're ready to serve.
Nutrition info does not include greek yogurt or protein powder.
Nutrition
Serving:
1
smoothie
|
Calories:
262
kcal
|
Carbohydrates:
34
g
|
Protein:
5
g
|
Fat:
14
g
|
Sodium:
216
mg
|
Fiber:
8
g
|
Sugar:
18.8
g
|
Vitamin A:
304
IU
|
Vitamin C:
49
mg