Two hazelnut shortbread cookie sandwiches with Nutella ganache right in between. The shortbread is buttery and nutty from the hazelnut flour and baked to perfection and the chocolate ganache is filled with Nutella. When you bit into them it's the most delicious bite of Christmas cookie ever!
Today is the 5th day of my Christmas cookie extravaganza! If you missed the first four they were Giant Ginger Cookies, the best sugar cookies, triple chocolate cookies and soft maple cookies.
I absolutely love Christmas time and if you're a regular reader around here you know it's my fave! I just spent $50 at the Container Store on wrapping paper and ribbons. Is that normal? TBD.
I also just watched 4 consecutive Hallmark movies and then watched Santa Clause. Somehow I fit that in between all of the Gilmore Girls binge watching. I'm on season 5 and I'm trying my hardest to watch them all and catch up so I can watch the new seasons on Netflix but all this Christmas hubbub is putting a small dampering on that schedule. If you've already watched it don't tell me what happens!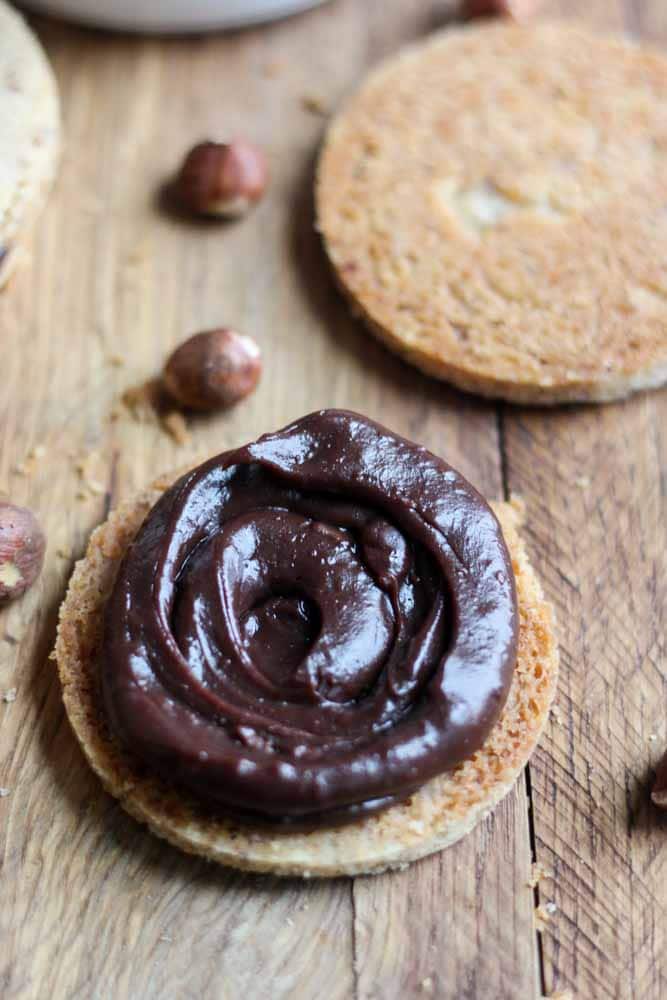 I went on this rant about Gilmore Girls and tried really hard to come up with a creative segway to chat about these Hazelnut Shortbread Cookies but I got nothin'. So, let's chat about these hazelnut shortbread cookies.
How to make Hazelnut Shortbread Cookies:
It starts with a base of butter and then there's a mixture of two flours: all purpose flour and hazelnut flour. The hazelnut flour gives this dough so much depth and nutty flavor I promise you're going to want to put it in all your baked goods. It's so perfect.
Typically shortbread is made of butter flour and and sugar and that's exactly what's happening here. It's going to seem like a lot of cookie dough and flour but because we're using the cookies to make sandwiches I like to go heavy on the dough so you are jipped with half the cookies in the end.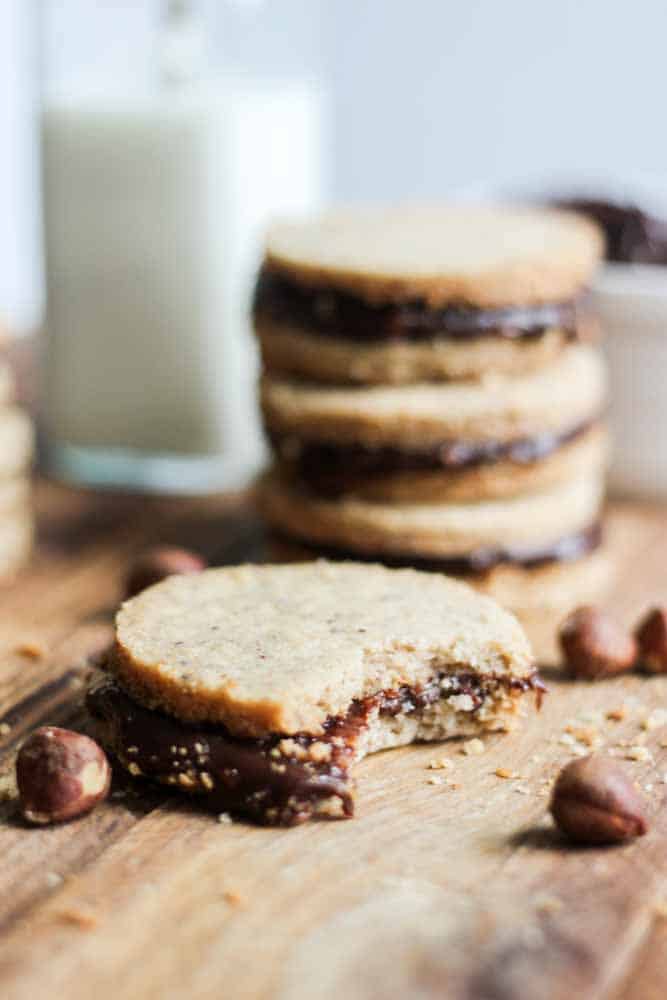 It's super important to chill this cookie dough friends. If you don't you're going to end up with melty cookies spread all of your pan. And good like trying to match up the same size cookies to make the sandwiches that way. The inner OCD in me is already stressed about it. Chilled dough is the key.
I even chill it in the fridge, roll it out and cut it then throw it back in to the fridge before it's baked to get one last good chill. You can even freeze the dough for a couple of months and throw them in the oven straight from there.
Once they're baked and cooled you get to fill the cookies with Nutella ganache. Please please don't be afraid of making ganache. It's so easy! You just heat the heavy cream and pour it over the chocolate and Nutella to melt. Once it's melted let it sit for a while to thicken and there you have chocolate Nutella ganache.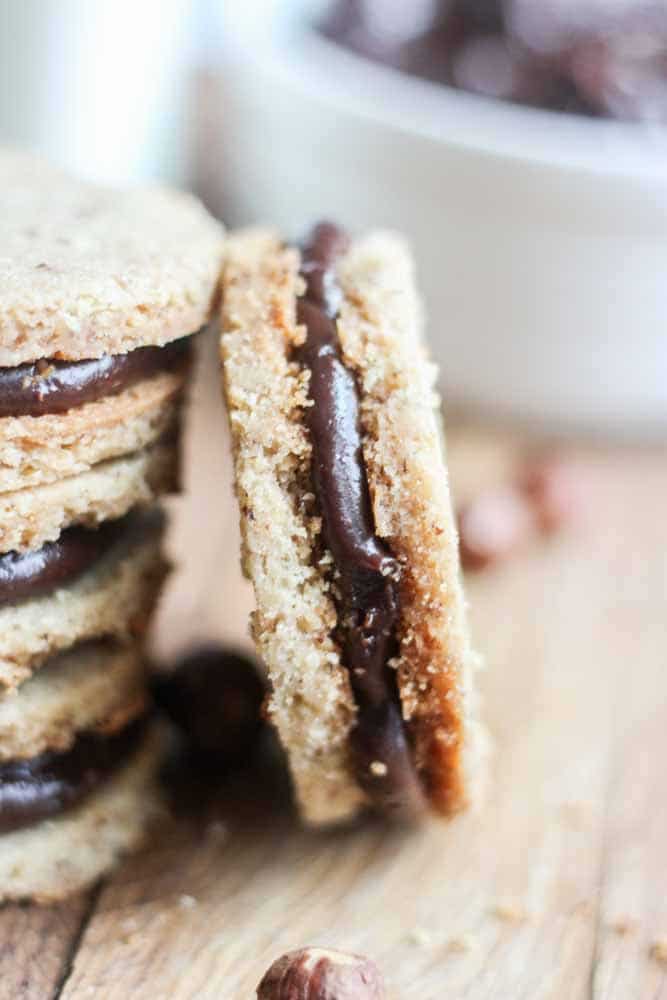 Pipe the ganache into the hazelnut shortbread cookies and smooth them together to make perfect little sandwiches. I've always thought the best foods are sandwiches. PB&J, Grilled Cheese, Whoopie Pies. All very very great things. And these hazelnut shortbread cookie sandwiches are no exception.
They sound and look real fancy and all of your friends and family will be so impressed by the look and the flavor, but they're so simple! They're so good for Christmas cookie gifting, taking to parties or eating yourself. I currently have 8 left in my freezer and I'm trying so hard to savor them to take to a Christmas party I have next weekend but it's just so hard.
Will power at it's finest.
If you've made it to this day (day 5) I am so grateful for you and for following along with my Christmas cookies extravaganza! There's still 2 days left but I am just so grateful for all of you.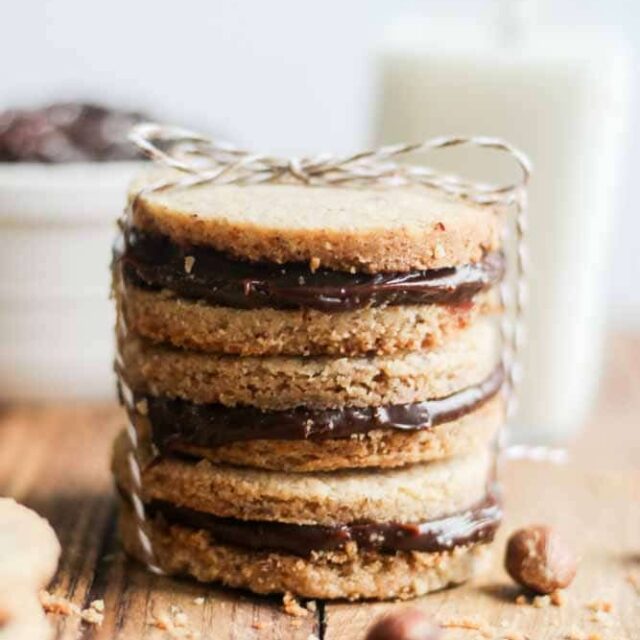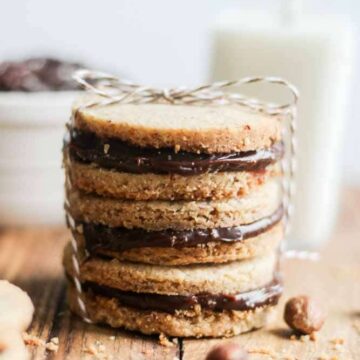 Ingredients
Hazelnut Shortbread Cookies

2

cups

4 Sticks unsalted butter, room temperature

1

cup

granulated sugar

1 1/2

teaspoons

salt

4

teaspoons

vanilla extract

2 1/2

cups

all purpose flour

2 1/2

cups

Hazelnut Flour

Hazelnut Ganache:

3/4

cup

semi sweet chocolate

3/4

cup

nutella

3/4

cup

heavy cream
Instructions
In a large bowl or in the bowl of your stand mixer, add the butter, sugar, sea salt and vanilla. Beat well until smooth, about 3 minutes. Add the flour and hazelnut flour and beat on medium to high speed until the dough comes together.

Turn the dough out onto a well floured surface and form into a disk about 3/4 an inch thick. Wrap the dough in plastic wrap and place in the refrigerator for at least two hours.

Once chilled, line a large baking sheet with parchment paper. Remove the dough from the refrigerator and let the dough sit to warm slightly so it's easier to work with. Add more flour to your work surface and a rolling pin and roll out the dough to about 1/4 an inch thick, being careful to make sure all the cookies are the same width for even baking.

Cut the cookies our using a circular cookie cutter and transfer to the prepared baking sheet. Gather cookie dough scraps and re-roll and cut out more cookies until all the dough is gone.

Place the cookie dough back into the fridge for about 25 minutes. While chilling, preheat the oven to 325°F.

Bake the cookies from 20-25 minutes until they're golden brown around the edges. Remove from oven and allow to cool on pan for 2 minutes then transfer to a wire rack to cool completely.

While cookies are cooling, make the Nutella ganache. In a large bowl, add the semi-sweet chocolate and Nutella and set aside. In a medium saucepan, add the heavy cream and heat on high until it just begins to bubble around the edges. Remove and pour heavy cream over the chocolate and allow to sit without stirring for about 2 minutes. Stir with a rubber spatula until completely combined then cover with plastic wrap and sit for approximately one hour to thicken.

Once thickened, place the ganache in a plastic bag or piping bag and pipe chocolate on top of one half of the cookie. Place the other half of the cookie on top. Repeat until all cookies are made in to sandwiches. Store in an air tight container for up to 3 days or in the freezer for up to 3 months.
DID YOU MAKE THIS RECIPE!? SNAP A PIC AND TAG @WHAT_MOLLYMADE AND USE #WHATMOLLYMADE!
See all Christmas Cookie Recipes.
SHOP THE RECIPE
Here are a couple of items I used to make today's recipe:
Glass Bowl Set
, Silicone Spatula Set
, Baking Sheets
, Parchment Paper
, OXO Good Grips Non-Stick Rolling Pin
Some of the links above are affiliate links, which pays me a small commission for my referral at no extra cost to you! Thank you for supporting What Molly Made!