Buckeye peanut butter stuffed between two crunchy and salty pretzels dipped in chocolate!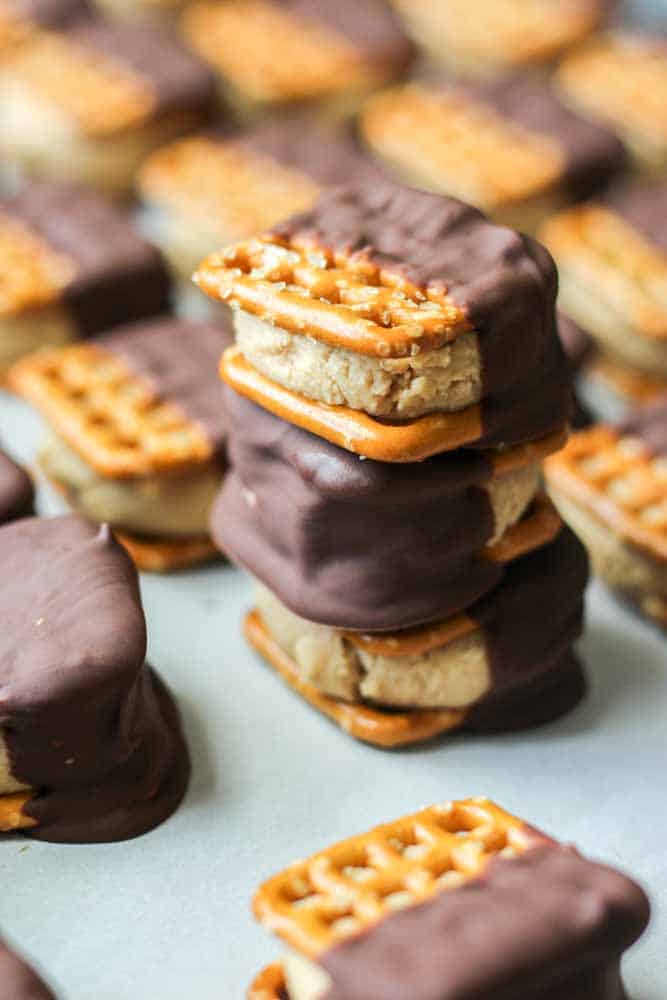 I've been dreaming about these Buckeye Bites for the last couple of weeks. Then I was working a million hours and traveling and life just got in the way. Don't ya hate it when that happens?
Even though I couldn't make them I thought about these bites every day, trying to figure out a way to fit them in my schedule. It's never good when you can't find 45 minutes in the day.
But Sunday I finally had the chance to make them! And they're so quick and easy. No bake = best dessert recipes ever!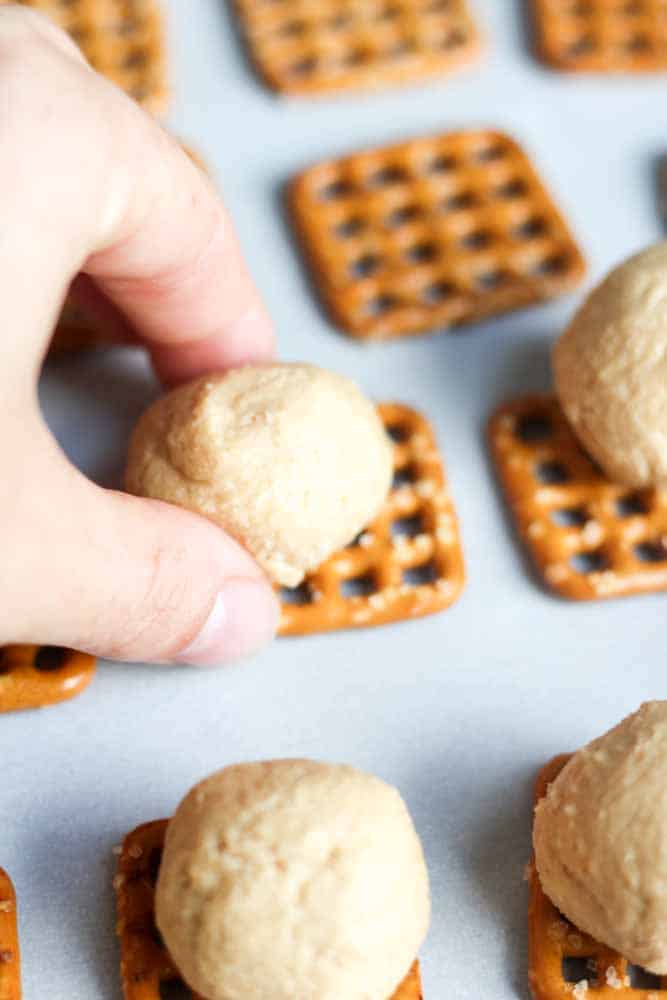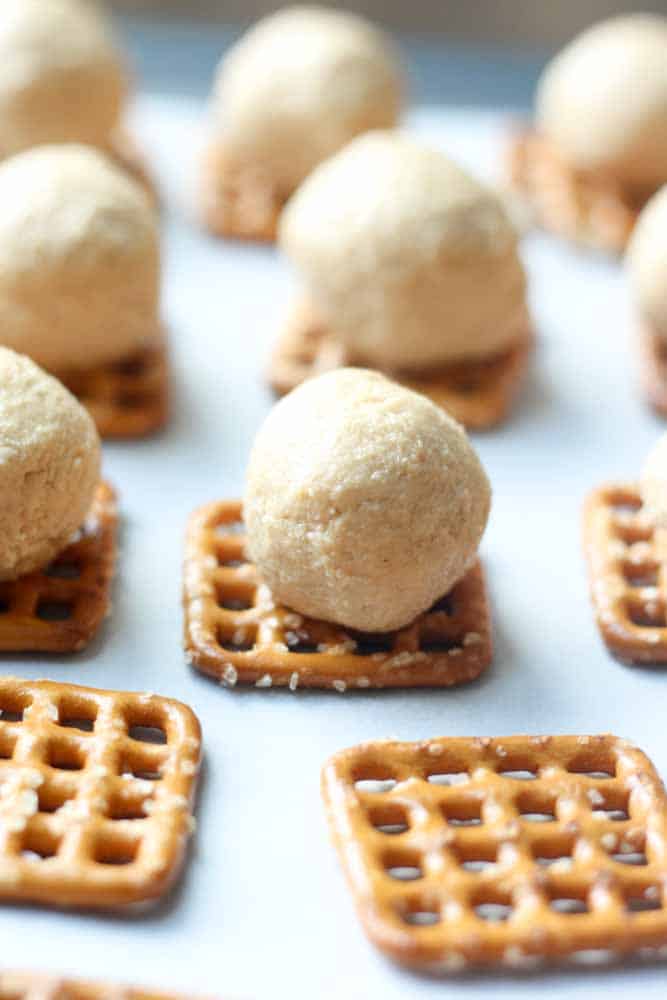 This recipe is the brainchild of my Buckeye Dip and a chocolate covered pretzel. You all loved it so much and it's been killing it on Pinterest I had to figure out a way to get creative with my buckeyes! It only seems fitting because I'm from the great state of Ohio and it's basically what we're known for.
Football tailgate? Bring buckeyes. Last minute holiday treat? Buckeyes. Quick and easy party dessert? Buckeyes.
But these aren't only limited to Ohio. Who doesn't love CHOCOLATE AND PEANUT BUTTER?!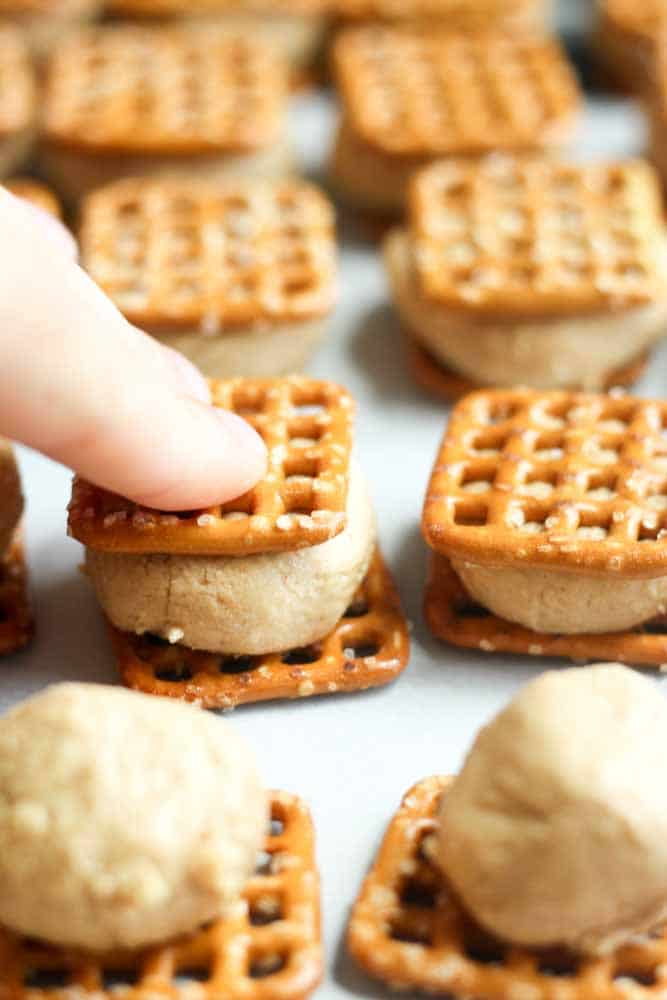 And it's not just any old peanut butter, it's peanut butter mixed with butter, vanilla and powdered sugar. The peanut butter to end all peanut buttersssss. Stuffed between salty snacks and dipped in luscious melty chocolate.
My favorite part about these is they are bite-sized! I watched my coworkers stuff them whole in their mouths and try to tell me how good they were at the same time, it was awesome. That should be a new game, because it was hilarious!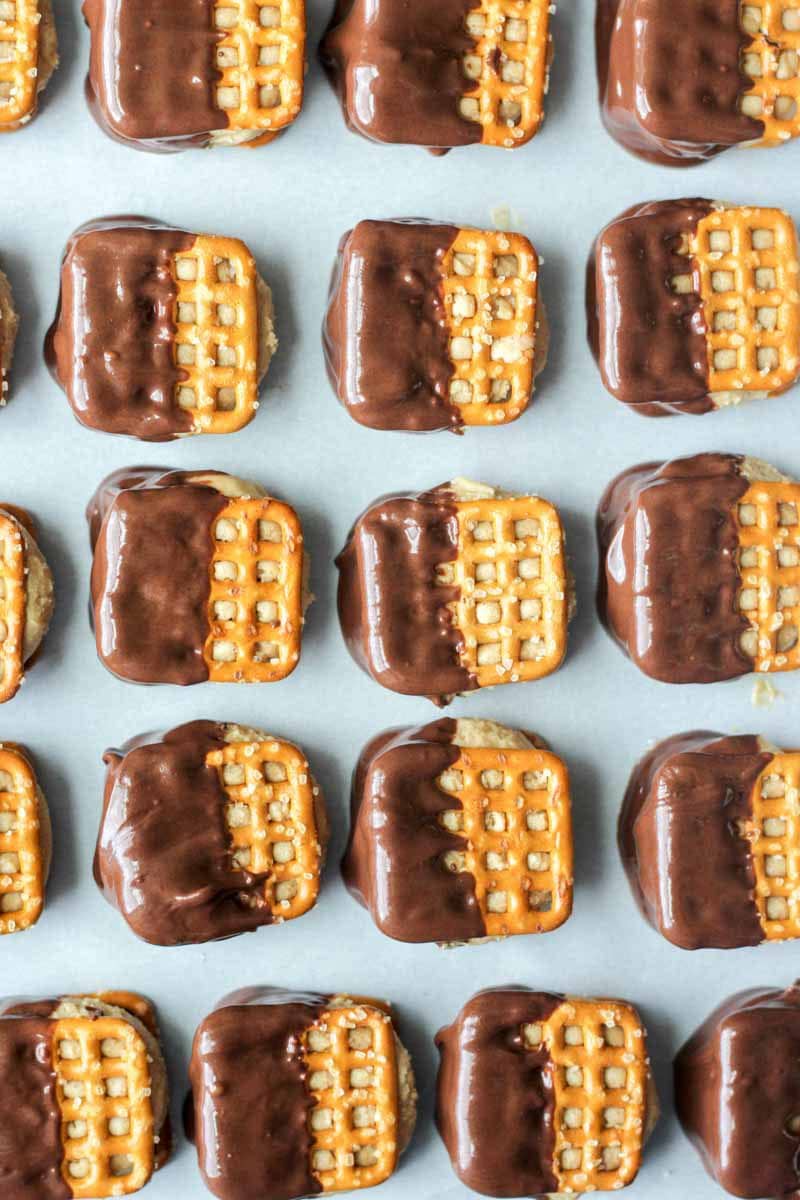 And because they're so small they make so many! I think I got around 60 bites out of this recipe. I didn't want to overwhelm my coworkers so I took about 20 of them with me and threw the other 40 in the freezer for another time. You guys, it's really hard finding friends to eat all my treats. Which is why when I can freeze a dessert it makes it that much better.
I know (hopefully) I'll have some place to go in the next couple of weeks and instead of rush to the store to make something, BOOM! Buckeye Bites ready for action. And by action I mean impressing all my friends and stuffing as many bites in my face as humanly possible.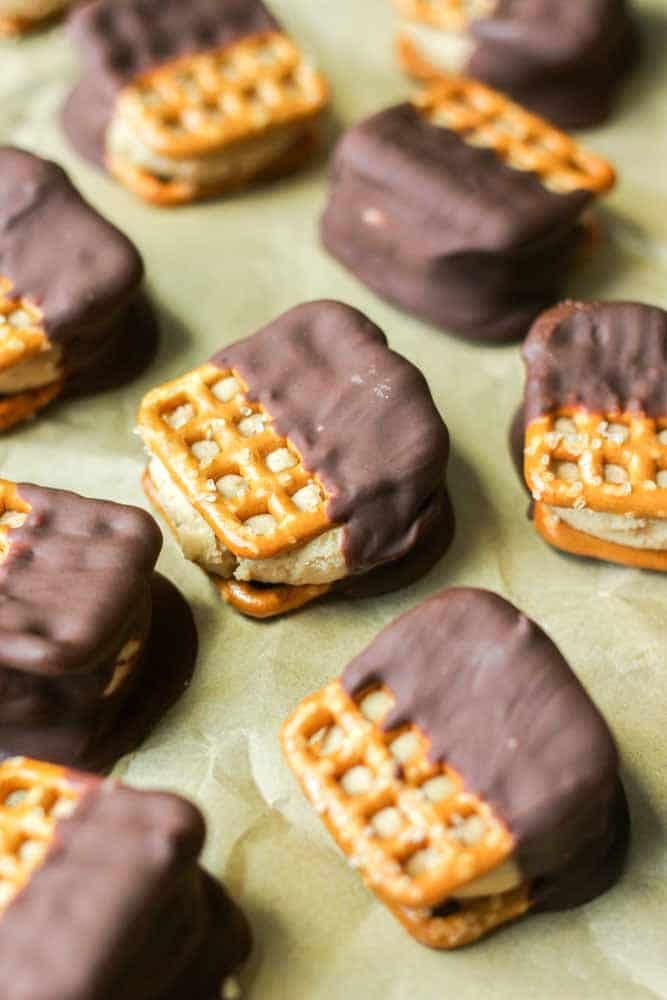 I also love the size because they are somewhat rich and the size is just right for a quick pick-me-up. You don't feel like you're overdoing it with the sweets, but at the same time get a exactly what you need mid-afternoon. And if you really want to overload, there are 59 more in this batch awaiting your snacking pleasure.
I also found these are easier to make than actual buckeyes! You know the struggle of dipping the peanut butter in the chocolate and placing it on the tray without messing up the look? Like NOBODY can make them look like the store bought buckeye. There's always a little hole in the top where I stab the peanut butter ball with a toothpick to dunk in the chocolate.
But these are so much easier! You smash the peanut butter between two pretzels and hold on to the pretzel while you dunk half of it in chocolate. No mess and super easy!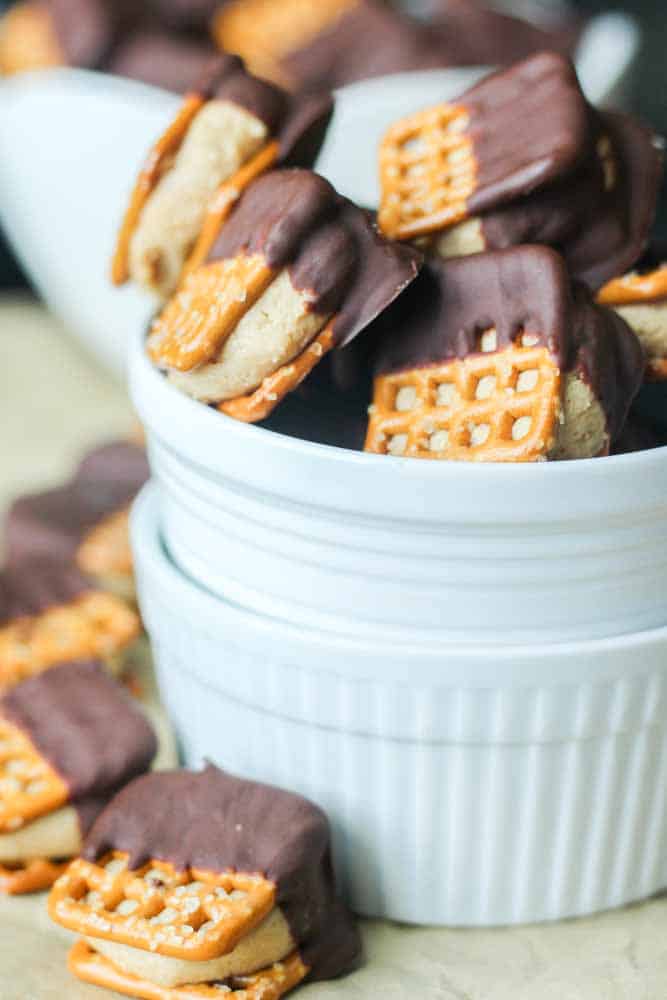 So go ahead and get your dunk on! Then eat all the buckeye bites.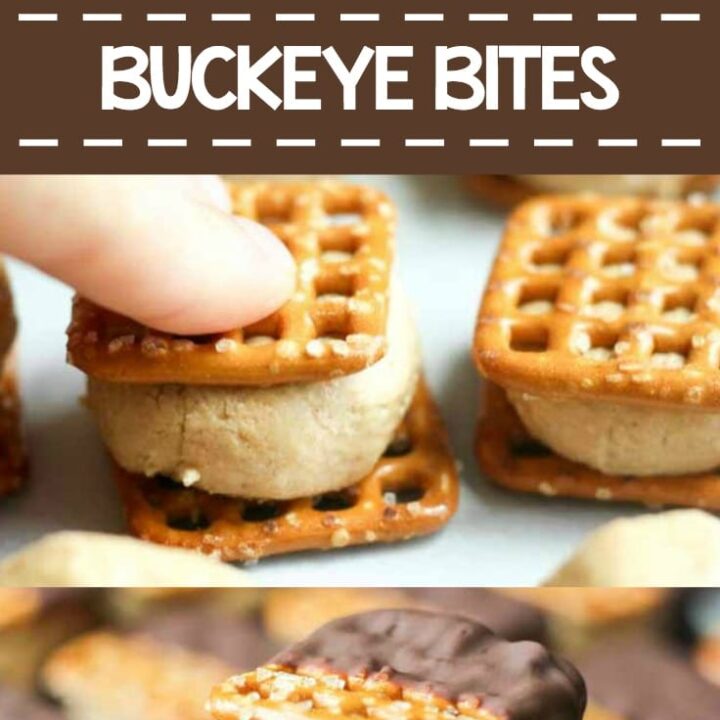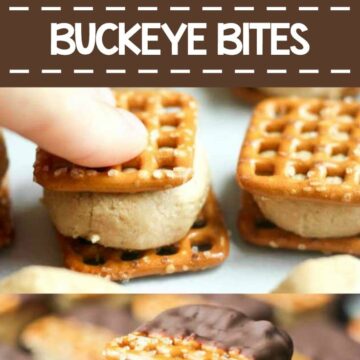 Ingredients
1 ½

cups

creamy peanut butter

I used JIF

½

cup

1 stick unsalted butter, softened

1

teaspoon

vanilla extract

3

cups

powdered sugar

1

bag of square pretzels

3

cups

semi-sweet chocolate chips

1

tablespoon

coconut oil
Instructions
Line a large baking pan with parchment paper. Place about 60 square pretzels in an even layer on top. Set aside.

In a large mixing bowl, beat the peanut butter and butter on medium speed until creamy, about 3 minutes. Add the vanilla and beat until incorporated, about 1 minute. Slowly add the powdered sugar one cup at a time until it's incorporated. Peanut butter mixture should be thick and slightly wet but not sticky.

Use a large rounded teaspoon to roll peanut butter mixture into balls. Place one ball of peanut butter on top of each pretzel prepared on the baking sheet. Once all balls are rolled, place another pretzel on top and gently press down to sandwich the peanut butter, being careful not to break the pretzels.

Once all sandwiches are made, combine the chocolate chips and oil in a large tall measuring cup and heat in the microwave on high in 30 second increments until chocolate is melted.

One at a time, dip half of each peanut butter pretzel sandwich into the chocolate and place back on the parchment paper. Repeat until all sandwiches are dipped. Place in the freezer for 15 minutes, or until chocolate is frozen.

Store in an air tight container in a cool place for up to 5 days or in the freezer for a month.