What if I told you that this puppy chow was healthy? Because that's exactly what I'm going to do.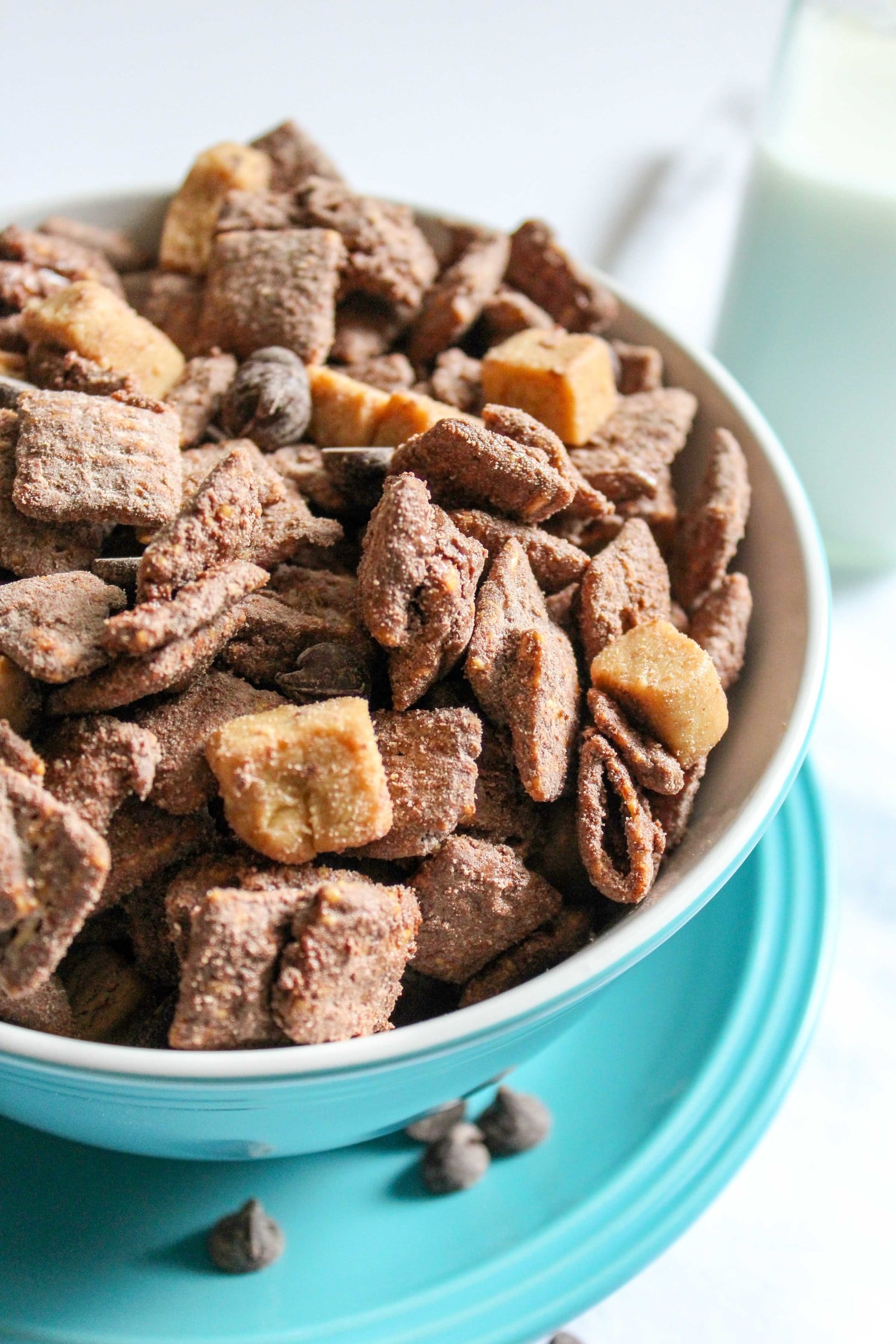 Puppy Chow is one of the greatest recipes ever created. The melty chocolate mixed with peanut butter and doused in powdered sugar are like little pieces of heaven in every bite.
I was a high school cheerleader and we had a basketball player we had to make treats for every week. Whenever we played the Green "Bulldogs" Chelsea would help me make "puppy chow" to be fun and extra spirited. Our favorite part was pouring the powdered sugar into the bags and shaking them like crazy to get each Chex coated. That treat was devoured before the game started.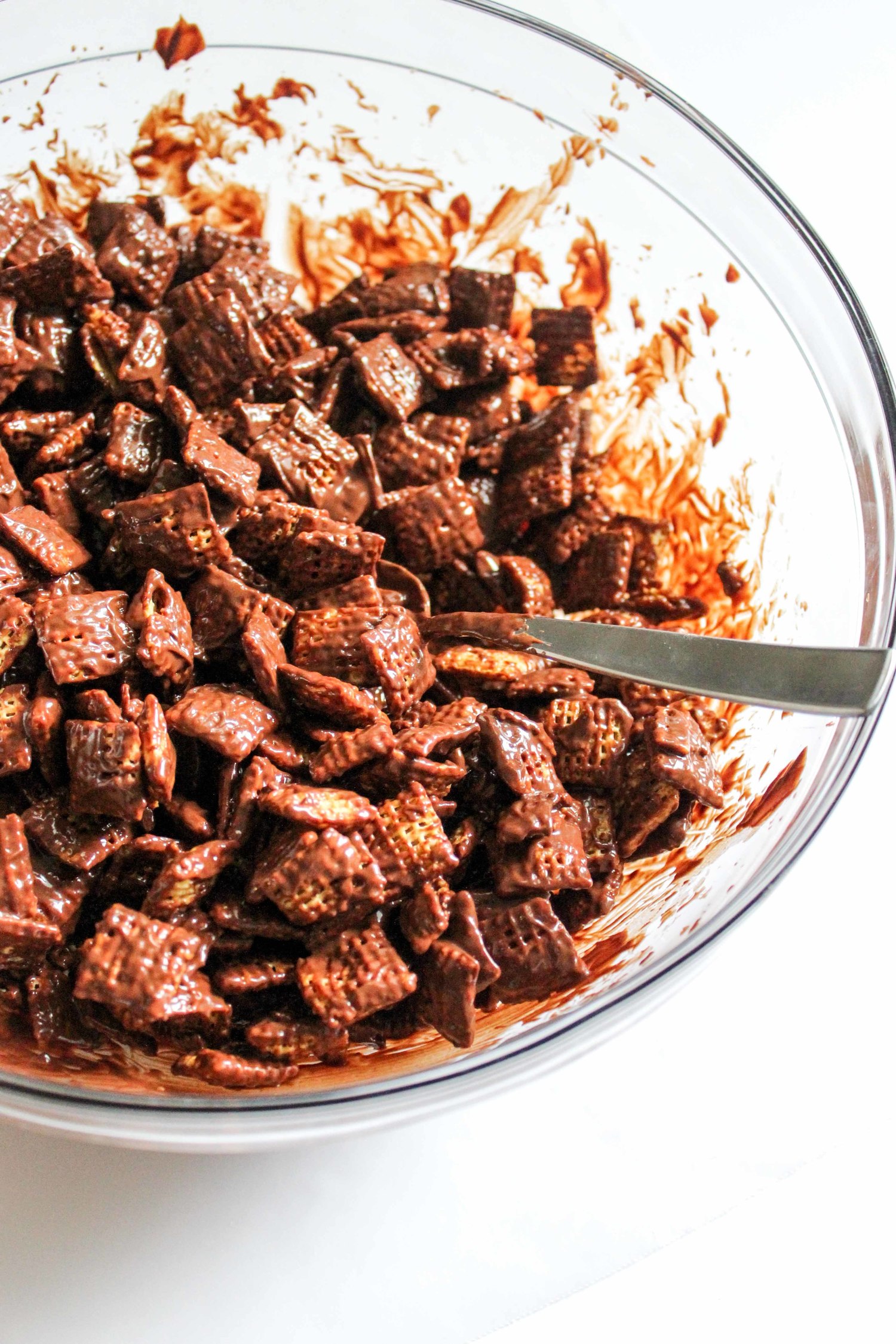 Now that we're both pretty health conscious we wanted to take this face-stuffing addictive treat and put a healthy spin on it then turn it into a snack instead of a dessert.
So when www.mixtnutrition.com sent us chocolate peanut butter protein power it was a sign from up above to give everyone's face-stuffing delicious dessert a healthy high protein makeover.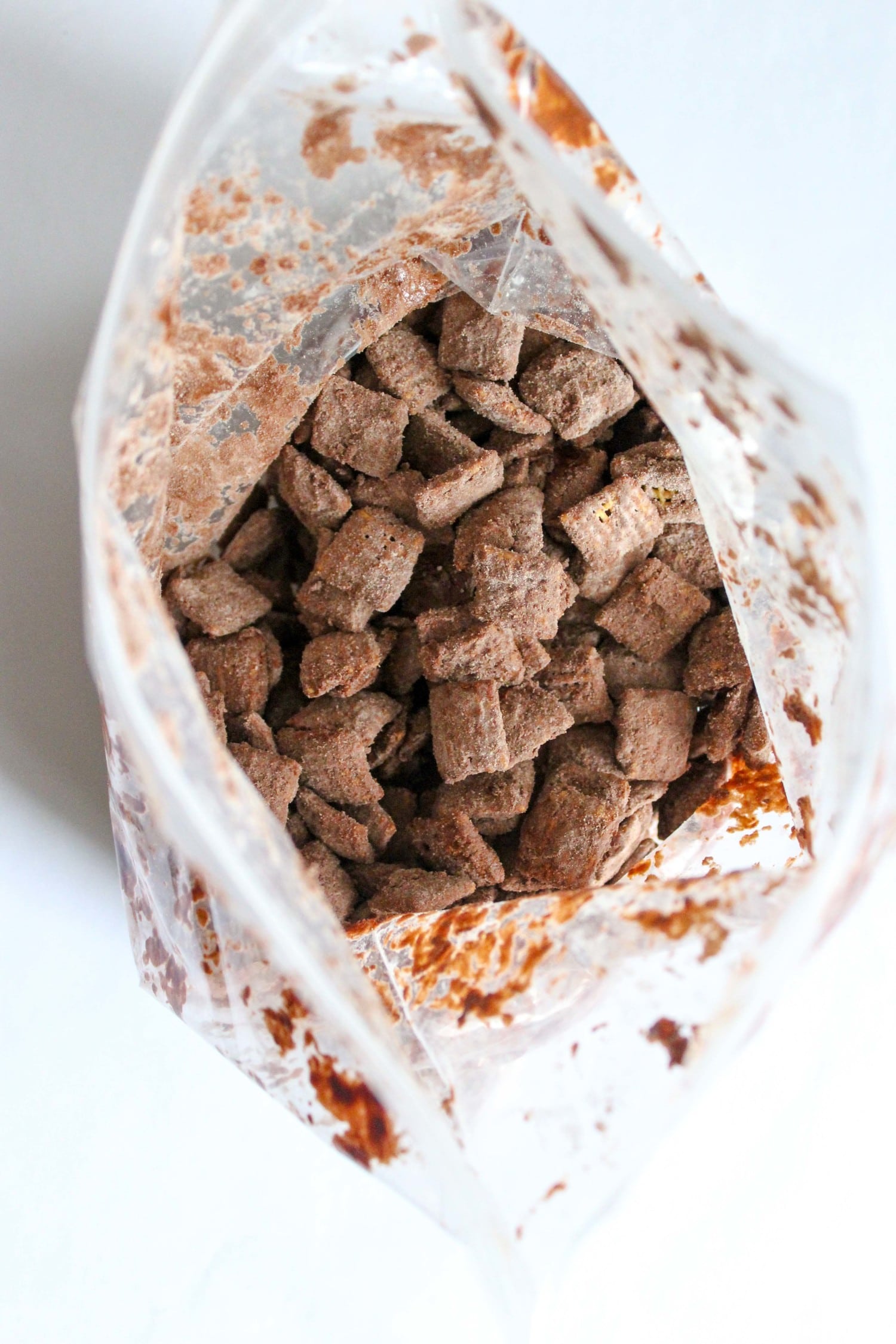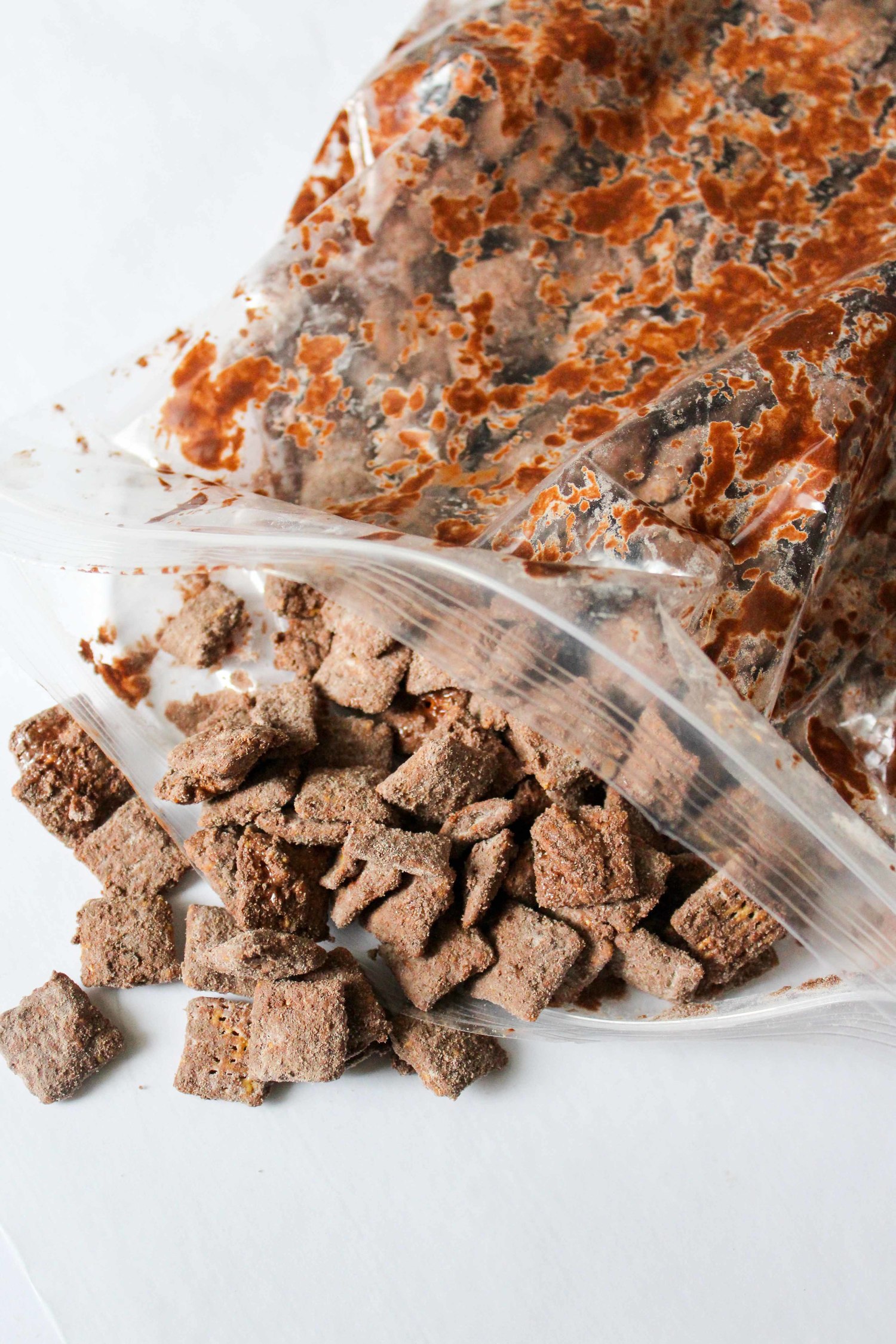 The butter is replaced with coconut oil and honey, the Chex are still the same (btw, gluten free!), and the powdered sugar is swapped for CHOCOLATE PEANUT BUTTER PROTEIN. And then I added Bia Bar peanut butter bars. These things are like whoa. Bia bars are a local Columbus-based company that came out with this crazy good bar that's gluten free and so healthy. It's basically tastes like peanut butter fudge. #heaven
I chopped those up and added them into the mix. The more peanut butter the better, I always say.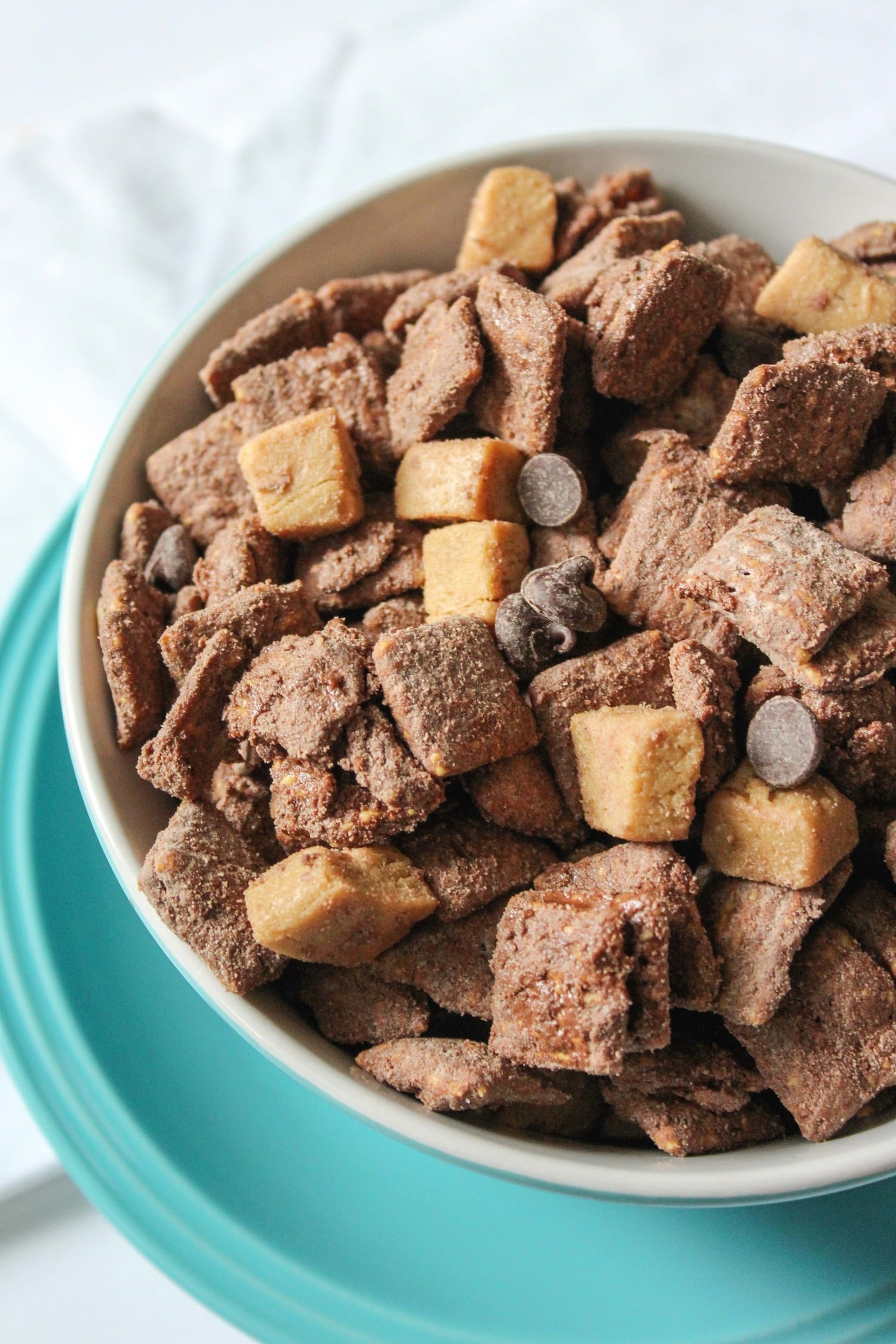 Oh, and the chocolate is still the same. But it's fine because all the other healthy things cancel it out (right?). I made this recipe with semi sweet chocolate chips because that's what I had in my pantry, but next time I will try it with dark chocolate!
This recipes was inspired by Food Faith Fitness.
Another favorite puppy chow recipe: Puppy Chow with Cookie Butter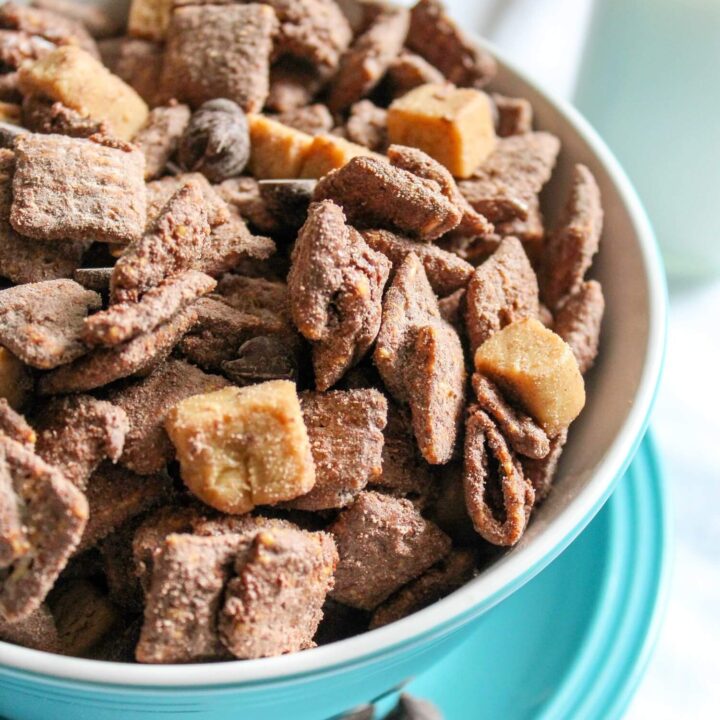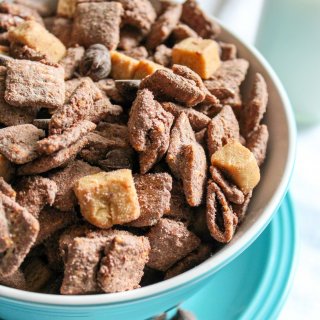 Ingredients
1

cup

semisweet chocolate chips

or dark chocolate chips

2

tablespoons

coconut oil

¼

cup

honey

¼

cup

peanut butter

1

teaspoon

vanilla

5

cups

Honey Chex cereal

3

Bia Bars

1

cup

chocolate peanut butter protein powder
Instructions
In a medium microwave safe bowl, combine the chocolate chips, coconut oil, honey, and peanut butter. Melt in the microwave in thirty second increments, stirring between each one, until melted. Add vanilla and stir. Add Chex cereal and stir until completely coated.

In a large freezer bag, add the protein powder. Transfer the chocolate Chex mixture into the bag and shake vigorously until it's completely coated.

Chop the Bia Bars into small bite size pieces and add to the bag. Shake again to mix. Store in the fridge for up to a week.