These healthy scotcharoos are a lightened up version of the classic scotcharoo recipe. They're gluten-free and refined sugar-free but you wouldn't notice at all! They're the healthy option when you are craving the sweet treat!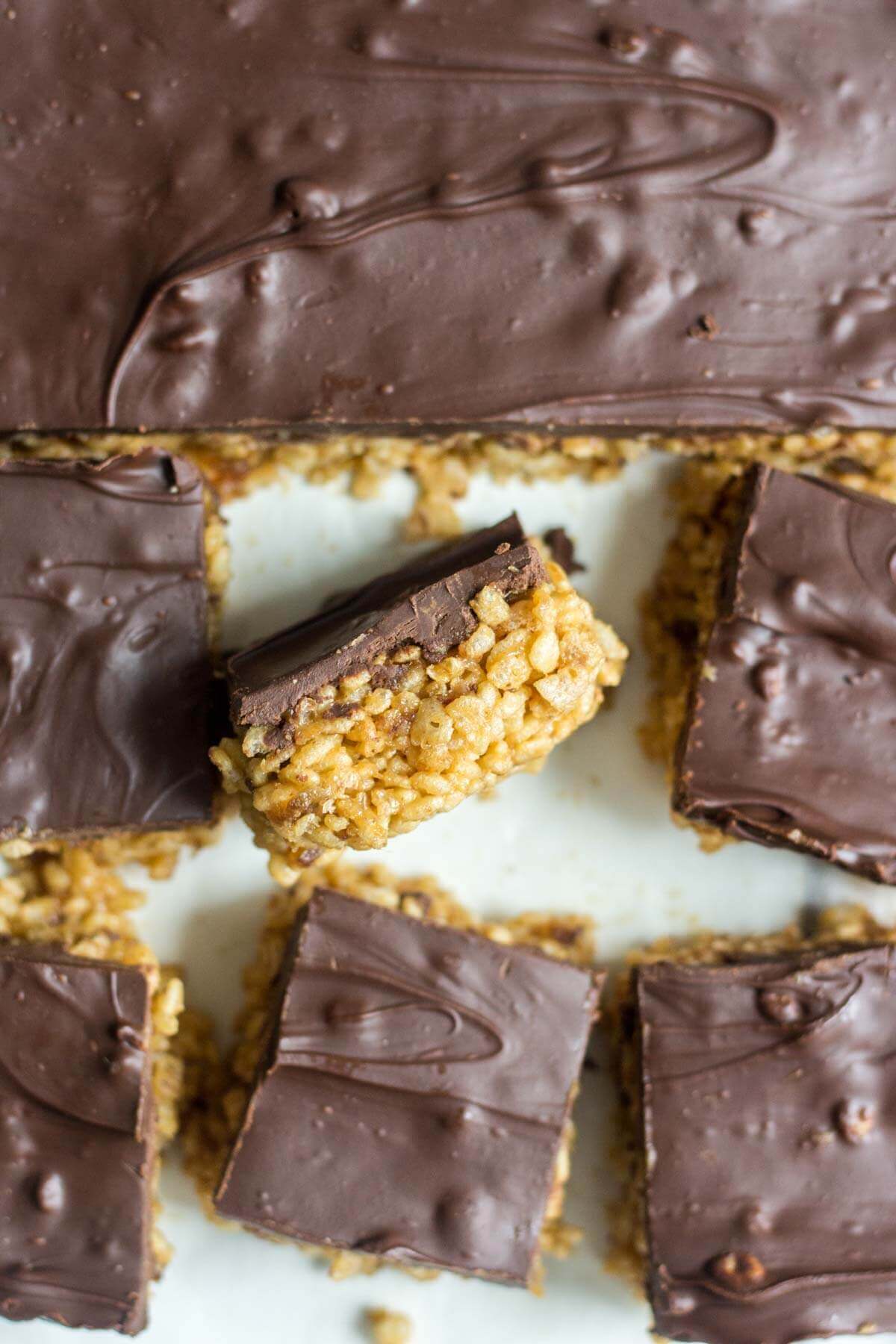 Are scotcharoos a midwest thing?
Okay, serious question: Is Ohio considered the midwest? I've grown up my entire life thinking Ohio was in the midwest. Didn't give it a second thought when I was describing my hometown to other people. Until I met Zach! Zach, my fiance, was born and raised in Iowa. When he moved to Ashland, Ohio to play baseball he always gave everyone a hard time if they thought Ohio was in the midwest, including myself. We jokingly give each other a hard time about it and I like to tease him by over emphasizing the fact the we both live in the midwest.
His main reasoning for Ohio to not be included is because he considers living in the central timezone a pre requisite for being considered midwest. And because Ohio is in the easter time zone then technically we shouldn't be included.
We were visiting his family in Iowa a few Christmases ago and someone mentioned a scotcharoo. I thought they sneezed.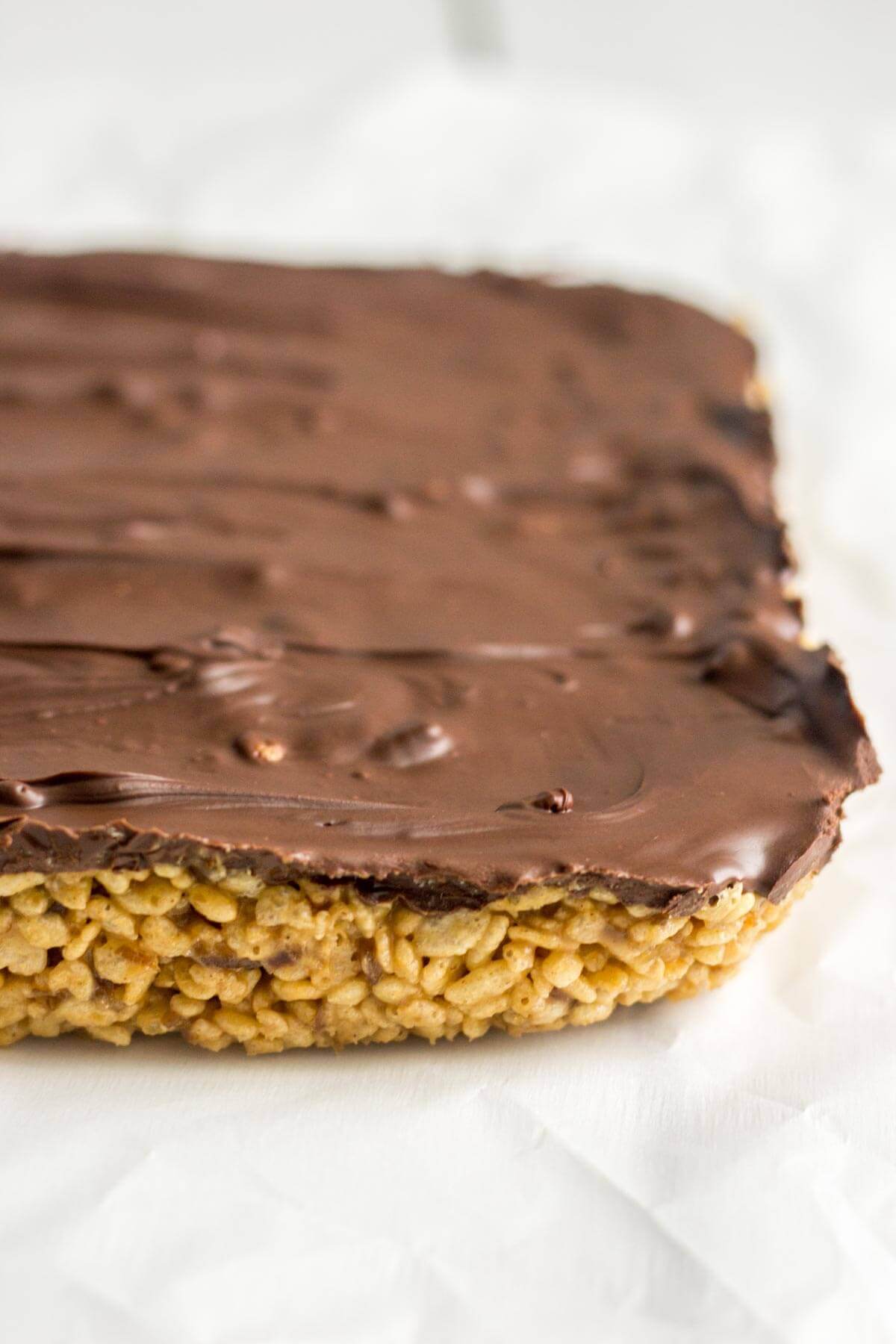 I politely asked what they were referring to and everyone was astonished that I had no idea what a scotcharoo was, let alone not ever had one in my life. Apparently it's a really popular midwestern recipe and I had never heard of it. I'm telling you now I have yet to live that down.
The next step was an obvious one: I had to try scotcharoos! I'm telling you it was life changing. Those things are so dang good, I now know why they are crazy popular. I'm just sad I lived without them for 24 years of my life.
Are scotcharoos gluten free?
I knew I needed to enjoy them forever and I wanted to fit them into my healthy lifestyle because I couldn't go another year without them. And that's when the healthy scotcharoos idea was created! These healthy scotcharoos don't have any of the refined-sugar and they're gluten-free too. They also don't include any butter! Just pure coconut oil.
The secret ingredient to these healthy scotcharoos are the dates. Dates have quickly become one of my favorite healthy baking ingredients. They contain more antioxidants than blueberries and they're naturally sweet. Not to mention they're sticky! So it's the perfect ingredient to hold healthy tarts and bars together.
I recently made these breakfast tarts and vegan cheesecake bars with dates!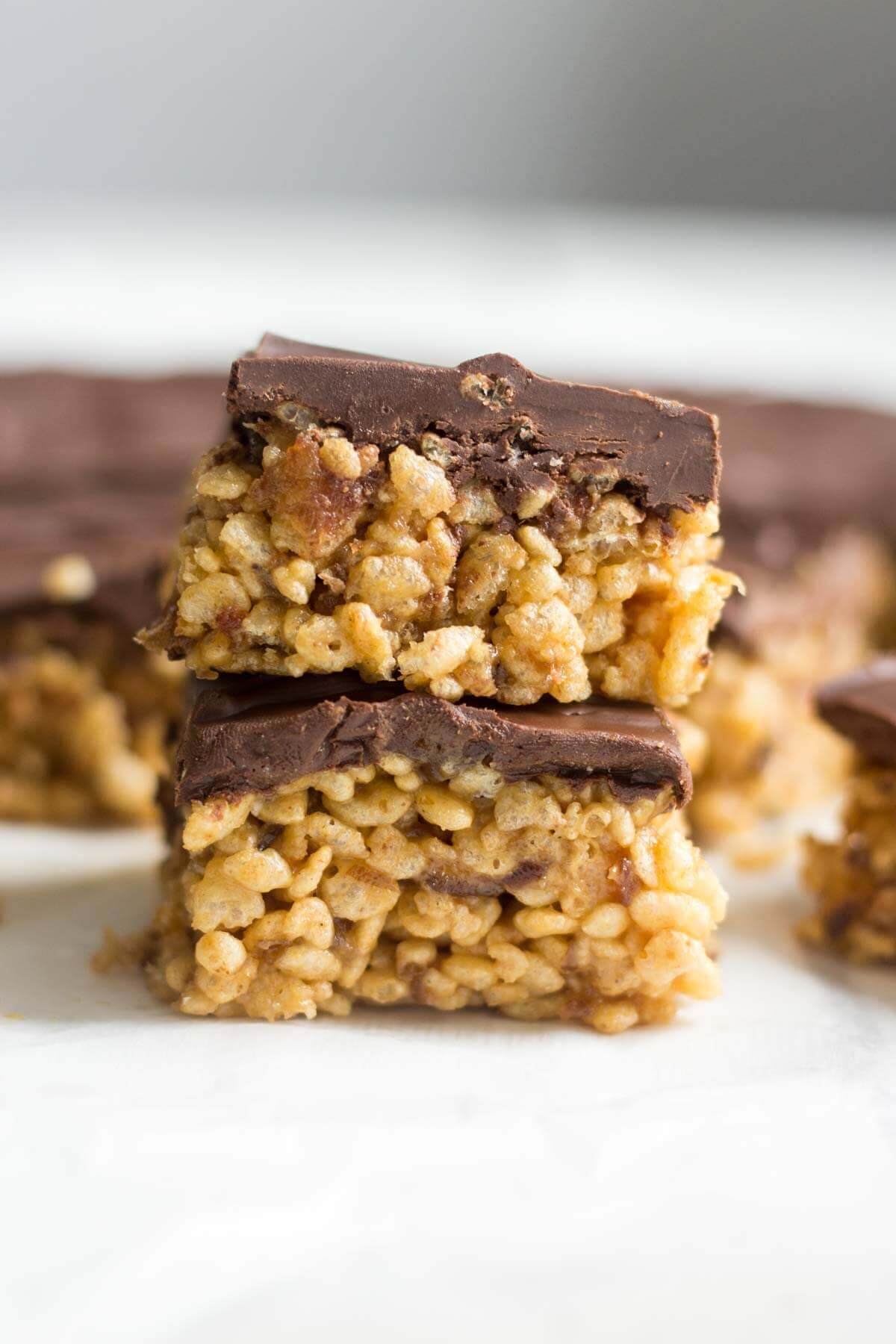 Because I knew I needed a sticky texture to keep these healthy scotcharoos together and I didn't want all the sugar from marshmallows I instantly knew the dates were going to be the perfect healthy place holder to make these happen. They're sweet and sticky at the same time!
I also used a little pure maple syrup to sweeten them up even more. When you heat the syrup on the stove with the dates it gets nice and bubbly and just a little caramel-y. The other sweetener used in this recipe is brown rice syrup. It's the butterscotch equivalent in the unhealthy version. The butterscotch chips are a staple in the chocolate later of the traditional recipe and I knew I needed to achieve that iconic taste.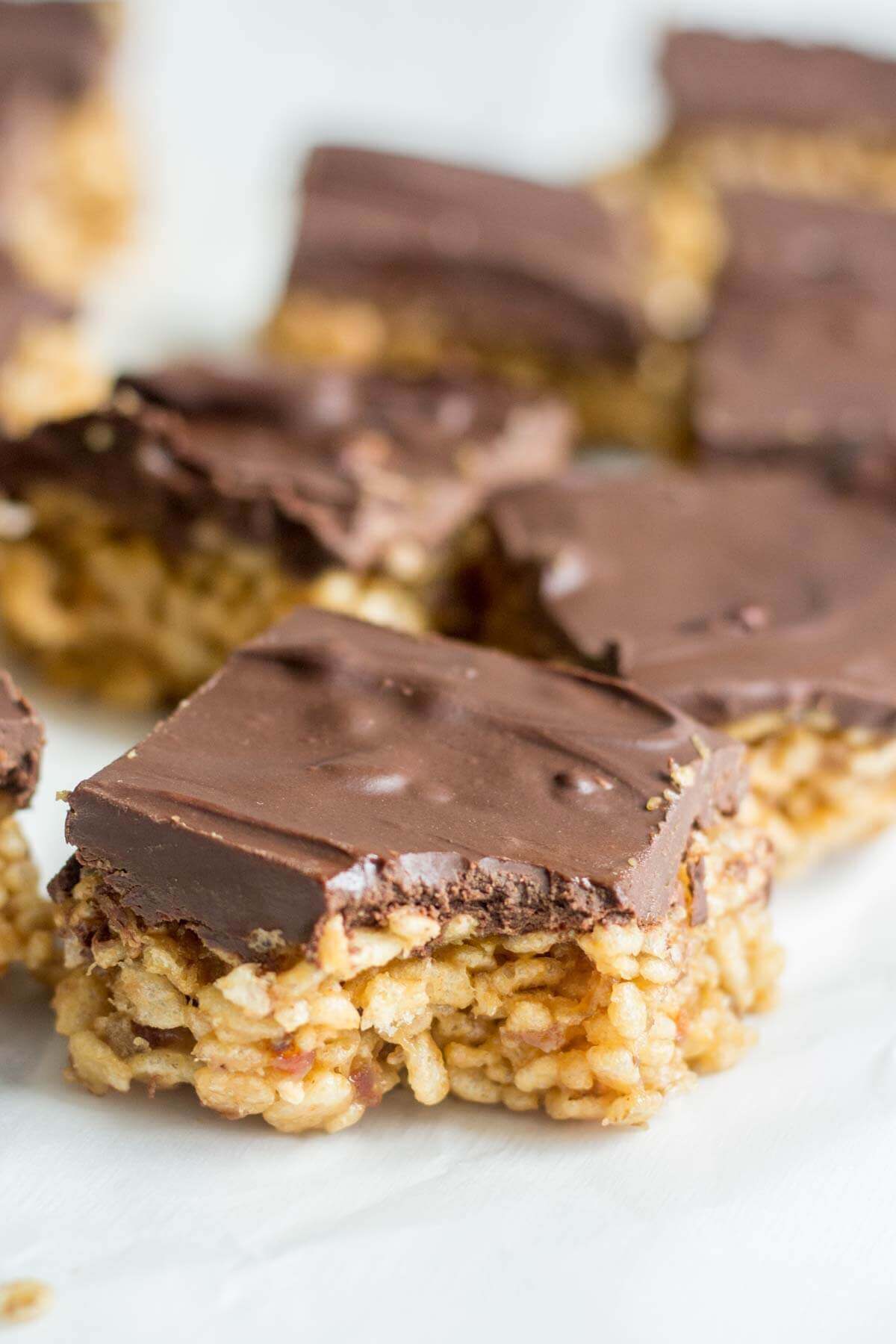 If you want to buy brown rice syrup just for these healthy scotcharoos you can sub it in for maple syrup in other healthy baking recipes. That way you aren't using it only once. Though you could just make this recipe over and over. That's highly recommended!
If you're struggling to find it near you I linked it on amazon below the recipe!
Other than heating the ingredients up on the stove top there is no other heating involved. These healthy scotcharoos are also an easy no-bake recipe! Triple win in my book. I kept these in the freezer for a few weeks and they kept really well. I just let them thaw for about 15 minutes before eating one.
If you love this recipe give me a virtual high five by saving it to your pin board or following me on Instgram and tagging me with @what_mollymade or #WhatMollyMade so I can see it and feature you!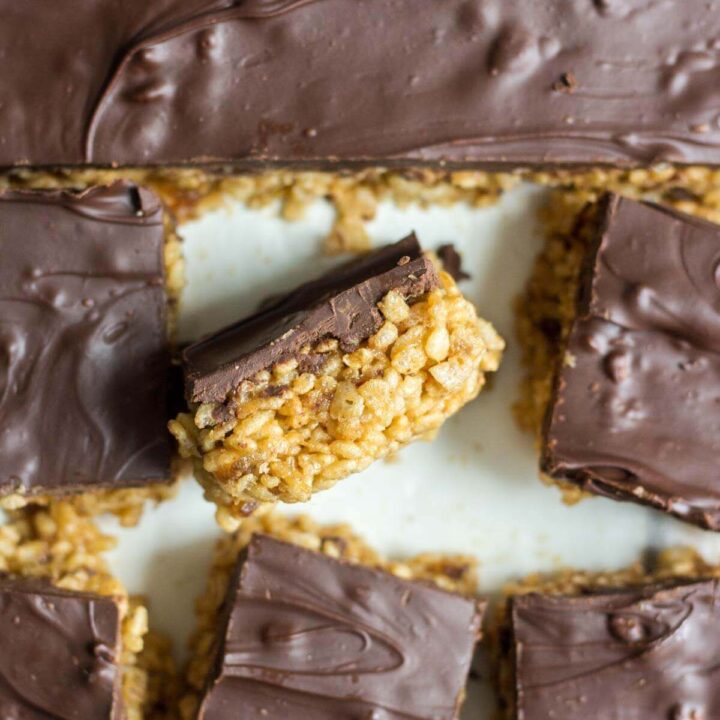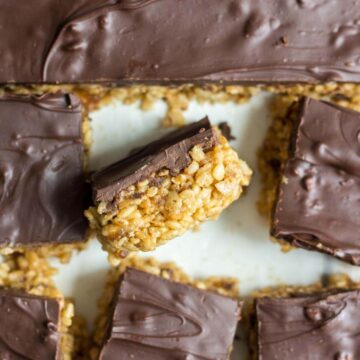 Ingredients
4 1/2

cups

brown rice cereal

1

cup

medjool dates

1

tablespoon

water

1/2

cup

maple syrup

1/4

cup

coconut oil

2/3

cup

creamy nut butter

I used peanut butter

1/2

teaspoon

sea salt

2 1/4

cups

dark chocolate

chopped

1/4

cup

brown rice syrup

can be subbed for maple syrup
Instructions
Line an 8 inch square pan with parchment paper or foil and set aside.

Add the brown rice cereal to a large bowl and set aside.

Add dates to the bowl of a food processor with 1 tablespoon of water and blend until smoother and broken up. Small chunks left are okay.

Once blended, add the dates, maple syrup and coconut oil to a medium saucepan over medium-high heat. Heat, stirring constantly for 1-2 minutes. Add the nut butter and sea salt and mix, stirring constantly until melted. Remove from pan.

Pour the melted nut butter mixture over the prepared cereal and using a rubber spatula gently combine until coated. Pour the cereal mixture into the prepared baking pan and press down gently with the spatula into the corners of the pan until firm. Place in the freezer while you make the chocolate.

In a medium microwave safe bowl, combine the chocolate and brown rice syrup and heat on high in the microwave for 30 seconds. Remove an stir with a rubber spatula. Repeat until completely melted. Remove pan from freezer and pour chocolate mixture on top. Smooth evenly on top and place back in the freezer to set for one hour.

Cut into square and serve. Keep in an air tight container at room temperature for 3-5 days or in the freezer for up to one month.
DID YOU MAKE THIS RECIPE!? SNAP A PIC AND TAG @WHAT_MOLLYMADE AND USE #WHATMOLLYMADE!
Here are a couple of items I used to make today's recipe:
Organic Brown Rice Syrup
, 8-Inch Square Pan
, Organic Brown Rice Crisps Cereal
, Nutri Ninja Ninja Blender System
Some of the links above are affiliate links, which pays me a small commission for my referral at no extra cost to you! Thank you for supporting What Molly Made!