Chewy, chocolatey, sweet, minty popcorn for all your christmas snacking.
I've been feeling rather snacky lately. And by lately I mean all time.
Set out some snack mix or a cheese board and I would never make another meal in my life. So let's just go ahead and add fuel to the fire with this Christmas Popcorn Snack Mix. Aka christmas crack. aka christmas in snack form. the list goes on.
It's air popped popcorn doused in melty white chocolate, mixed with CAKE BATTER.
Is this real life?
Fortunately for you and me…yes. Unfortunately for the Christmas cocktail dresses I'm supposed to being wearing in the near future…not so much.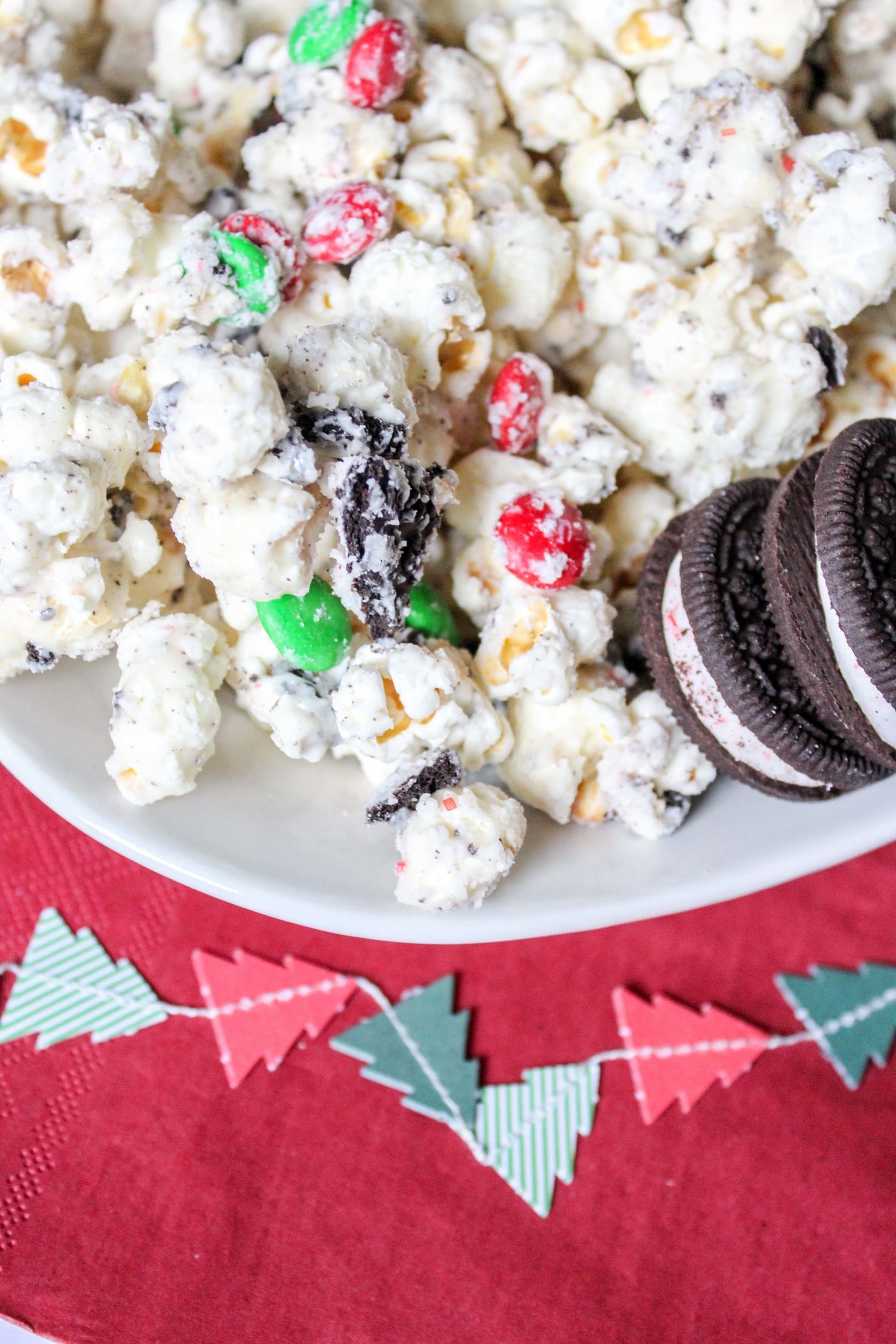 It's the type of dessert/snack where you take a handful and think "wow that was super good, but very sweet so you can only have a little at a time." Then five minutes later you have a little more. And a little more. And then an hour later its gone. Oops.
It's just too easy to munch on while doing cyber shopping.
Click. Buy. Eat. Click. Buy. Eat.
I'm so productive.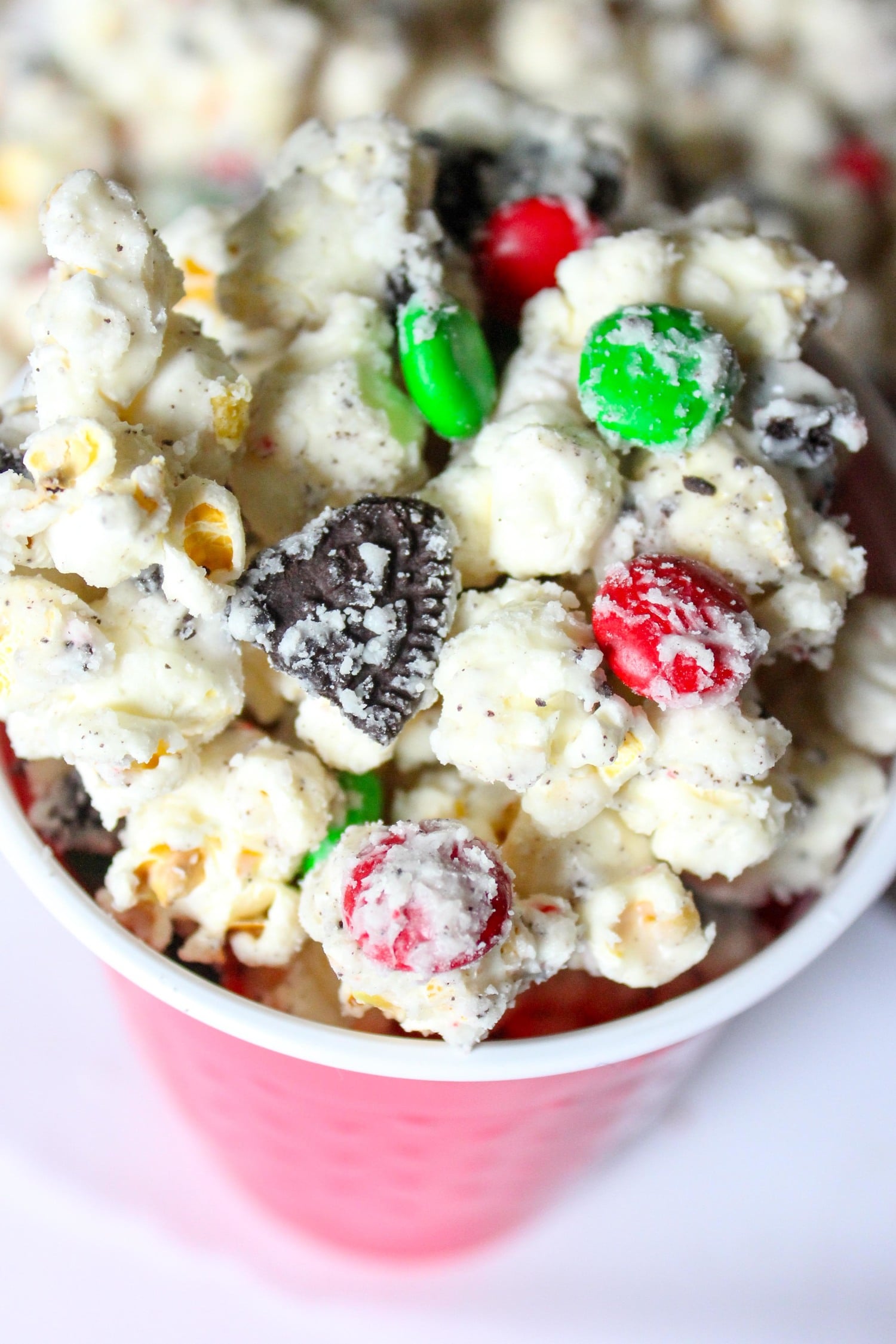 So here's the game plan:
Pop a bag of natural popcorn or make your own with a popcorn maker or on the stovetop. If you pop a bag just make sure to pick all of the kernels out before moving on.
Melt the chocolate in 30 second increments, mix until smooth and add the oil and cake batter. Douse your popcorn with the cake batter mixture. That popcorn won't know what hit it! Mix it with a rubber spatula, add crushed mint Oreos and M&Ms and dump it all on parchment paper and get ready to wait the longest 10 minutes of your life.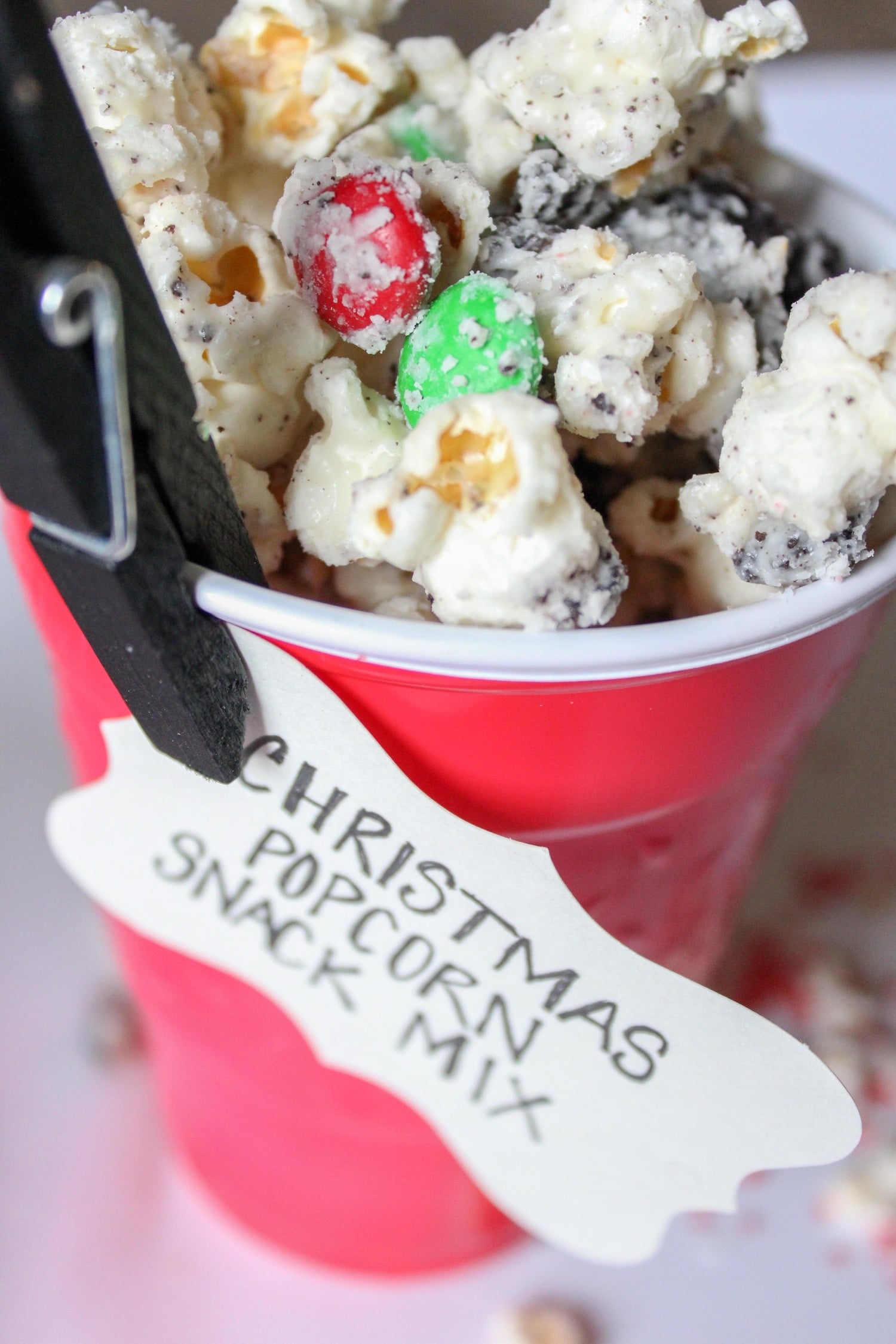 The Oreos serve a double purpose in this recipe: The crunchy texture and the mint flavor notorious to this time of year.
So make yourself a big batch of this and get ready for snacking and shopping.
You could also take it to a christmas party or something. I guess.
More holiday treats: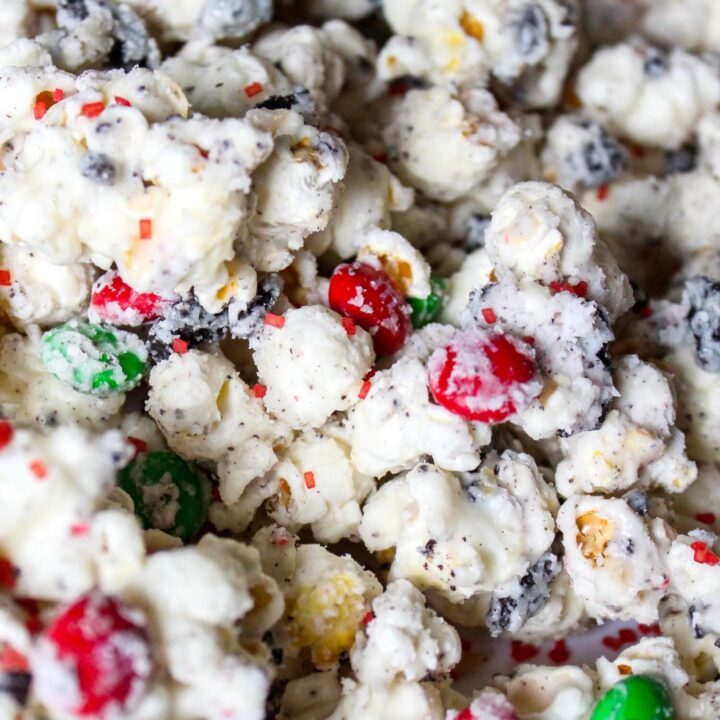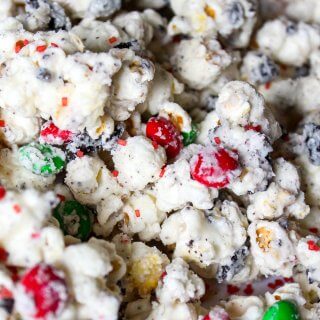 Ingredients
12

cups

popcorn

1

bag

16 ounces white chocolate chips

½

box store bought white cake batter

¼

cup

vegetable oil

1

cup

green and red M&Ms

10

mint Oreos

crushed
Instructions
Cover large portion of counter with wax or parchment paper.

Pop the popcorn and put in a large bowl. If using bagged popcorn, pick out the kernels.

In a medium bowl, melt the chocolate chips in the microwave in 30 second increments. Stir chocolate until smooth, add cake batter and oil and mix well.

Pour chocolate over popcorn and mix well with rubber spatula, being careful not to break popcorn.

Add the crushed Oreos and M&Ms and mix well.

Dump popcorn on prepared counter space and spread evenly. Allow to cool for 10 minutes.

Keep in an air tight container for up to 5 days.