Thick and chewy, these gluten free snickerdoodle blondies are filled with all the flavor and texture you crave from a blondie but don't include any of the gluten. So all my gluten-free friends rejoice!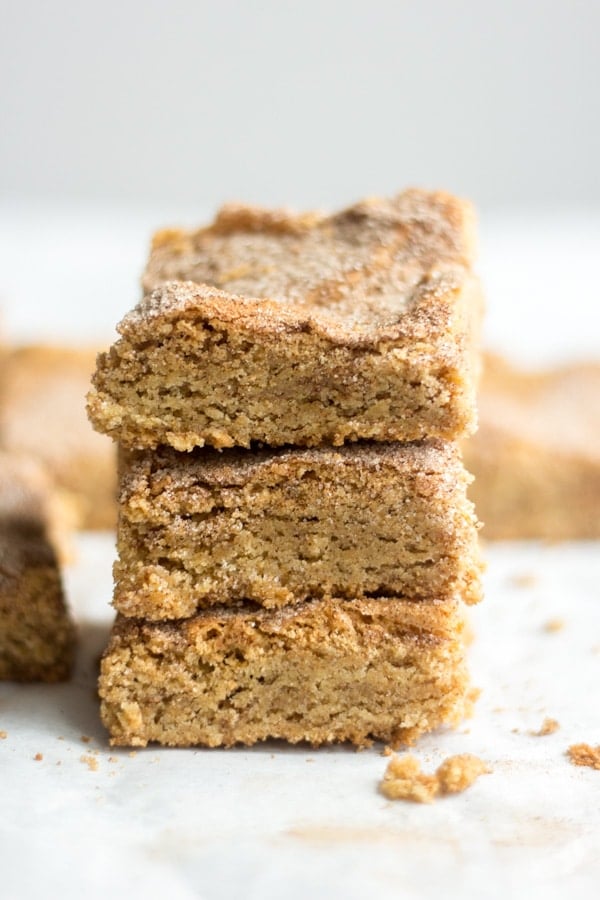 I'm so grateful for this season of my life and this season of blogging. I've been experimenting with more gluten free recipes outside of these gluten free snickerdoodle blondies (like this chocolate caramel tart and loaded oatmeal cookie energy bites) and it's changing the way I bake.
Don't get me wrong, a fantastic doughnut or giant cinnamon roll always hits the spot, but I love being able to provide delicious baked goods for people that have restricted diets (both for health reasons and by choice).
My mom went gluten free a few years ago because of severe arthritis in her joints and eliminating gluten from her diet has immensely reduced the amount of swelling in her body resulting in less pain. It's such an honor and love of mine to be able to create recipes she can still enjoy!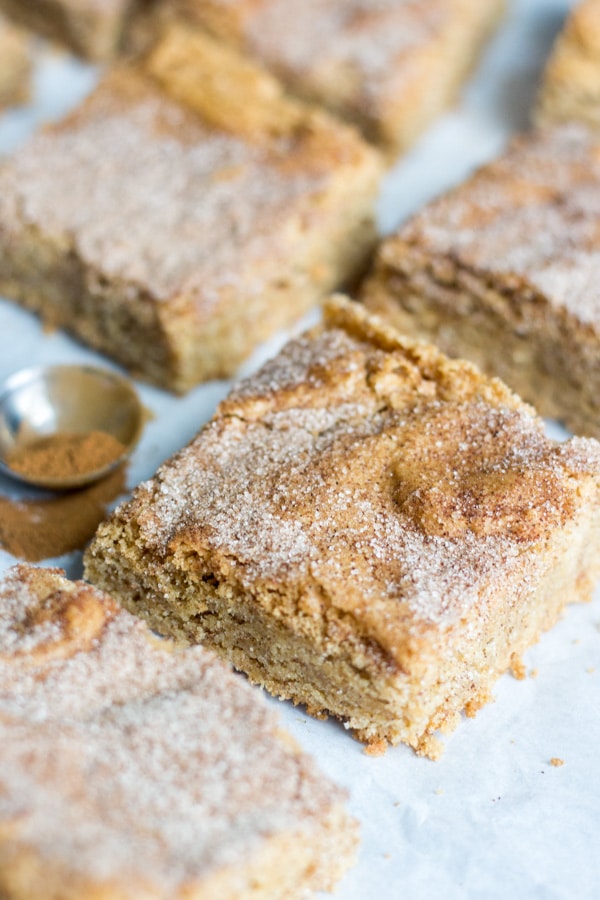 And I love being able to bake for everyone in general! Which is precisely why I teamed up with the wonderful organization Sweeten the Day, who are dedicated to "baking the world a better place." They do it by providing one dessert and donation at a time. That's right, they give 10% of their proceeds to charities all over the world.
Having an opportunity to be a part of that and provide a sweeter tomorrow for people in the World Vision and Disable American Veterans organizations means so much to me. And really fills up my love tank! It's why I started baking in the first place and I'm so grateful to be able to serve those in need through my passion for baking.
So how am I teaming up with them? Great question! Valentine's Day is right around the corner and Sweeten the Day is offering an amazing gluten free valentines gift for all my baked good loving and gluten-free friends and family (cough mom cough).
Use this code: sparkjoy. You'll snag 10% off your order, plus you'll get delicious baked goods for you or your loved ones straight to your door. And you'll have that wonderful heart warming feeling knowing that your purchase also helps all the awesome organizations above. That's certainly going to fill my heart without question ❤️.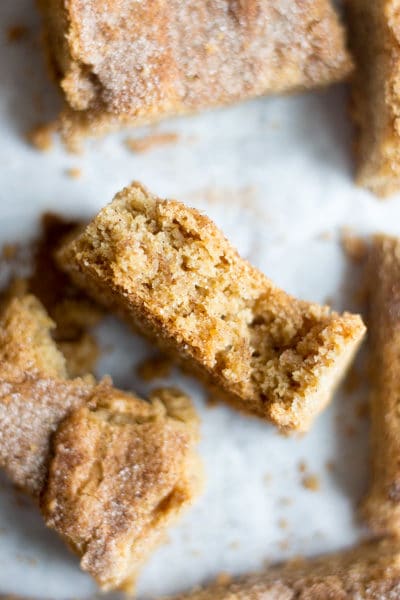 And guess what?! When you order you'll get a sampler of these gluten free snickerdoodle blondies straight to your door included in the gift. Speaking of these gluten free snickerdoodle blondies, let's chat about how these were (easily!) made.
Hint: there's no mixer required. Extra bonus: no waiting for butter to soften either. Win-win, my friends.
That means when you're sitting on your couch binge watching Friends (oh, just me?) and you get a craving, you don't have to wait for the butter to soften or unsuccessfully try to "defrost" it in the microwave (oh, just me again?) and end up with half melted and half still hard butter.
Just pure melted butter. It's what gives these blondies such a chewy texture! Plus all that yummy brown sugar. You just whisk the wet ingredients together then all of the dry ingredients together and then mix the two together. I love to layer my batter with a cinnamon sugar mixture to get all that yummy snickerdoodle flavor in the center and on top.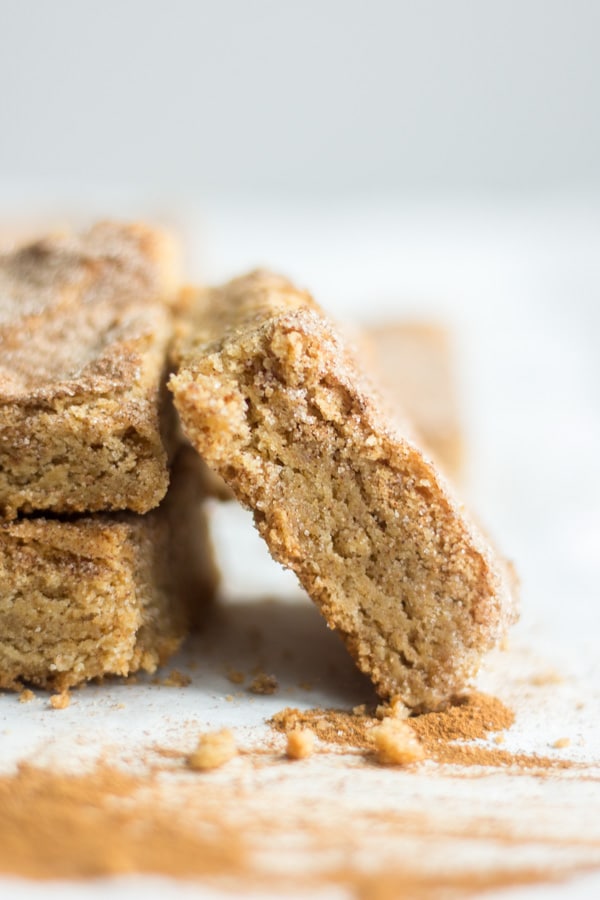 Simple and easy and delicious!
And if you don't feel like baking, order this amazing gluten free valentines gift for all your loved ones. With the code sparkjoy and you'll get 10% off and another 10% will go to some really awesome charities that you can check out here. Another win-win.
Could this recipe get any better?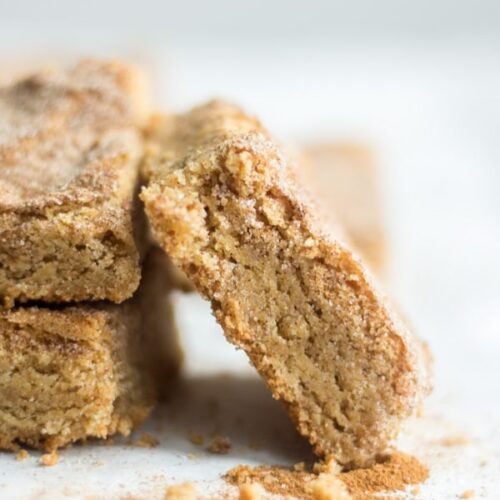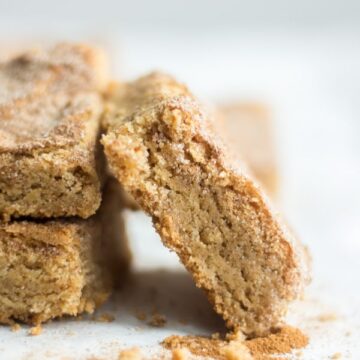 Ingredients
1

cup

gluten free flour

I used Pillsbury GF blend

½

teaspoon

baking powder

⅛

teaspoon

baking soda

¼

teaspoon

salt

1

teaspoon

cinnamon

5

tablespoons

butter

melted

¾

cup

light brown sugar

packed

¼

cup

granulated sugar

1

egg

2

teaspoons

vanilla

cinnamon sugar topping:

1

teaspoon

cinnamon

2

tablespoons

granulated sugar
Instructions
Preheat oven to 350° F and line an 8x8 in baking pan with foil or parchment paper, leaving an overhang on all sides to easily remove once baked.

In a medium bowl, whisk the gluten free flour, baking powder, baking soda, salt and 1 teaspoon cinnamon together and set aside.

In a large bowl, whisk together the melted butter, brown sugar and granulated sugar. Add the egg and vanilla, whisking until combined. Slowly add the flour mixture into the wet ingredients, mixing with a large wooden spoon or rubber spatula being careful not to overmix.

Spoon half the batter into the prepared pan and spread evenly to the corners. Evenly sprinkle half of the cinnamon sugar mixture over the top of the batter. Spoon the rest of the batter over and spread evenly to the corners. Sprinkle the rest of the cinnamon sugar over the top of the batter. Bake for 25 minutes or until light golden brown on top and a toothpick inserted in the center comes out clean.

Allow to cool completely in the pan on wire rack. Once cool, lift the foil or parchment paper out of the pan using the overhang on the sides and cut into squares. Keep in an air tight container at room temperature for 5 days or in the freezer for up to 2 months.