Dark chocolate bark covered with coffee roasted pistachios and pecans, coconut and Craisins.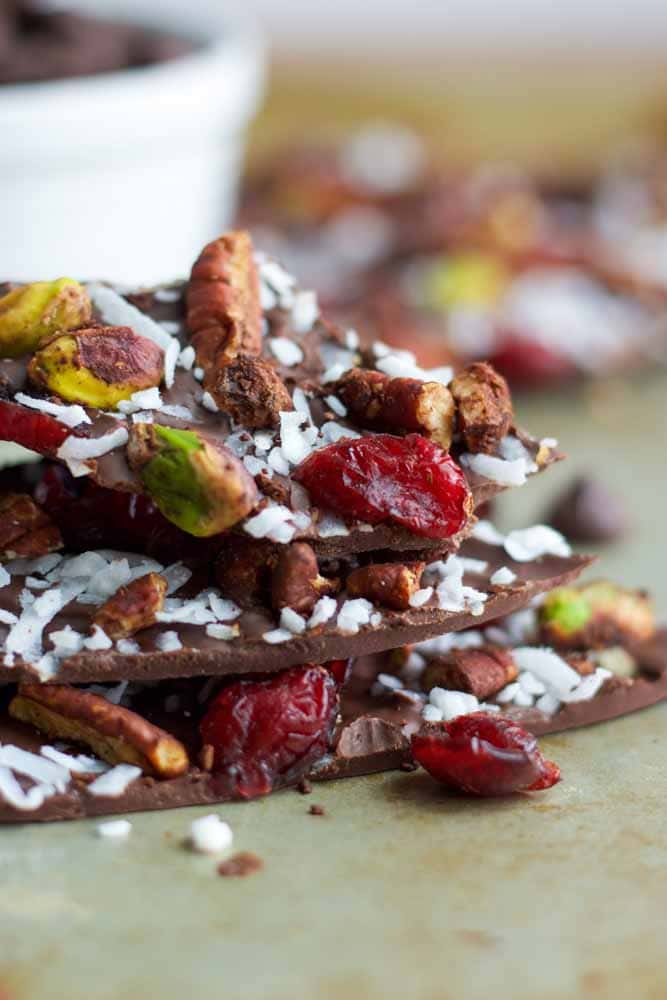 Hello my sweet, sweet friends!
I'm talking to the dark chocolate bark, actually. ?
But hello to all of you too! Thanks so much for sharing your love of dark chocolate, coffee and coconut with me.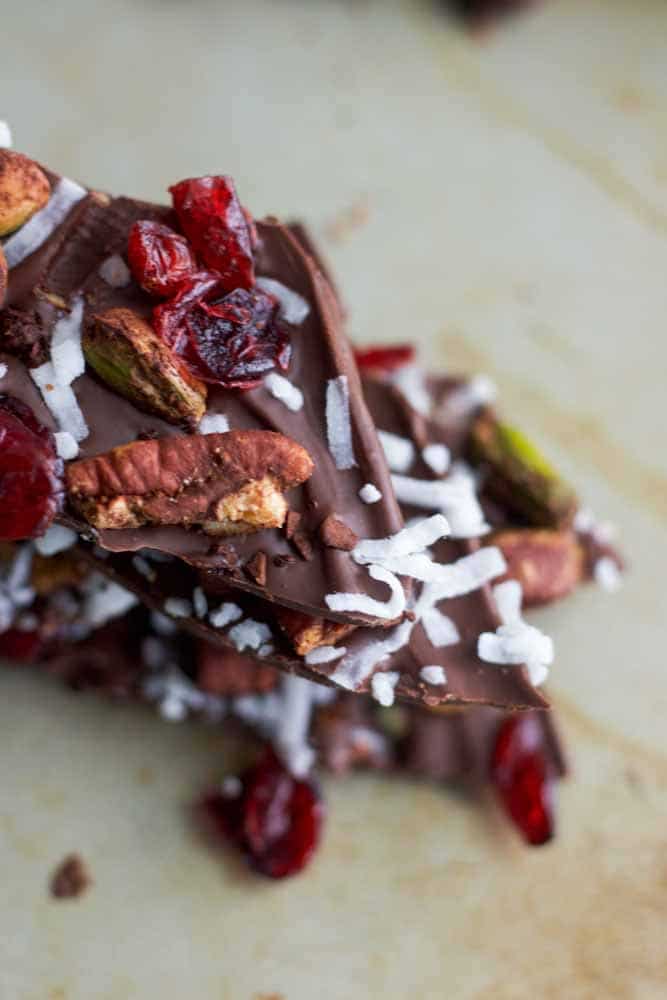 I'm seriously bursting at the seams over this recipe. Bursting with love for how wonderful and delicious it turned out and also dark chocolate because it's all in my stomach.
If it isn't obvious, I'm seriously in love with this dark chocolate bark.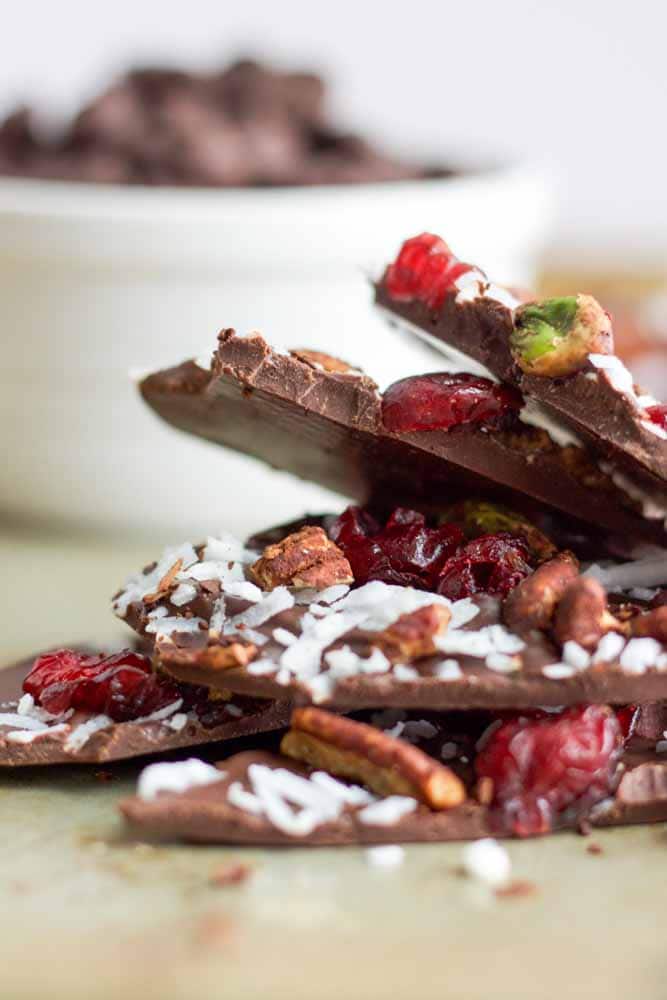 I was first introduced to Half Baked Harvest's version of this when my cousin made it in the fall. I walked in to my apartment (my cousin is also my roommate BTW) and she had pistachios roasting in the oven and I yelled WHAT IS THAT? I need it in my life (and stomach) right now.
Then she sprinkled it on top of dark chocolate and my life was changed. So naturally I had to make a version of it myself.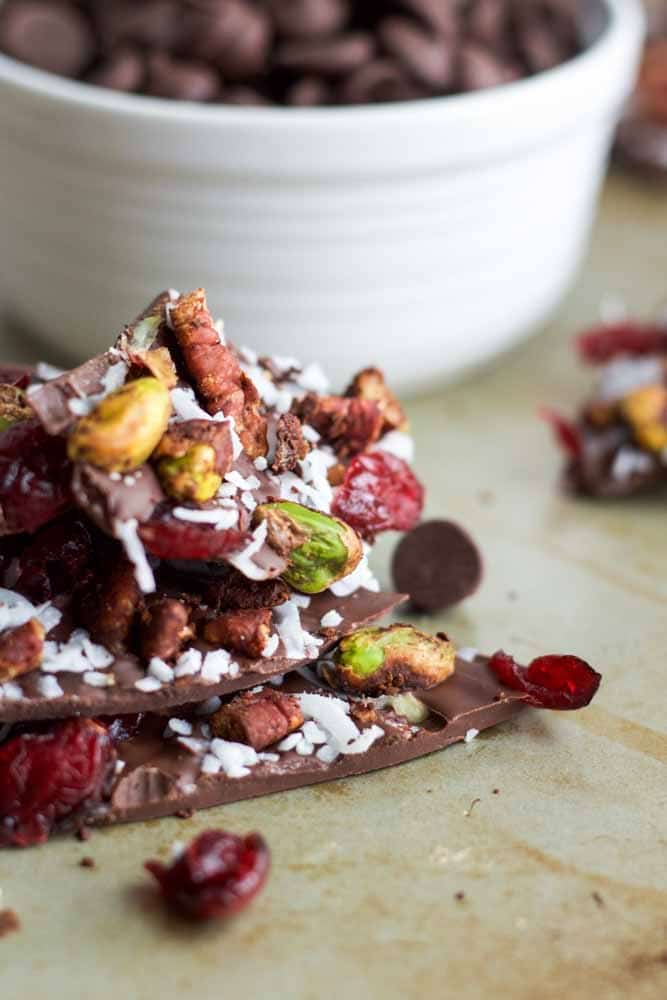 It has a nice silky sweet base of dark chocolate and topped with the most delicious pistachios and pecans you've every had. They're covered in coconut oil and coffee and roasted in the oven. They get so warm and toasty in the oven and release such a strong and nutty aroma that will have you drooling waiting for the oven timer to go off.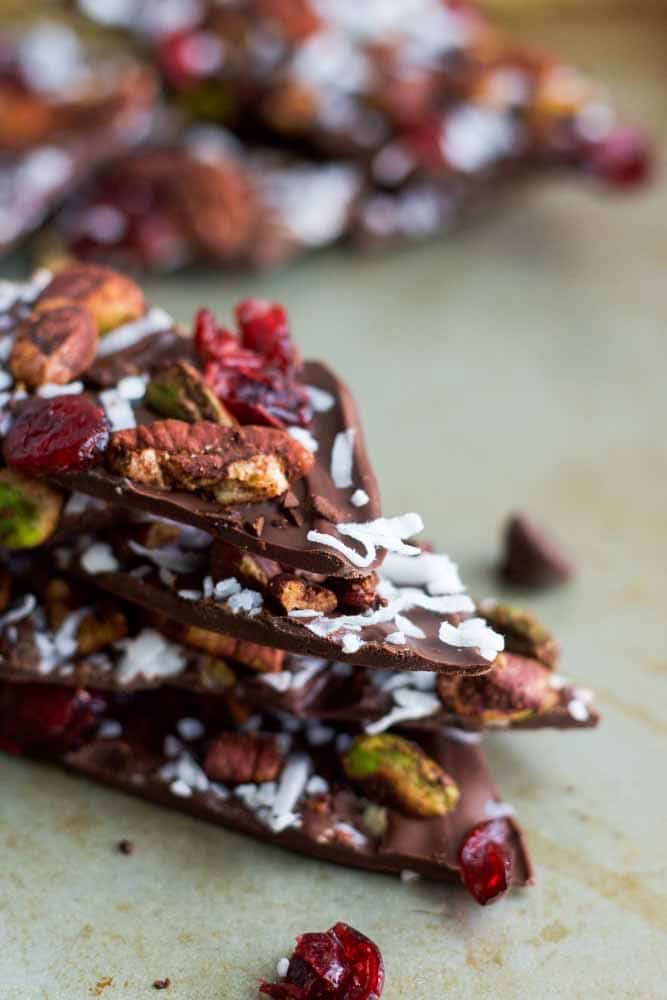 Warning: It will be extremely hard not to just eat all of the pistachios and nuts right out of the oven.
So here's a tip! Make extra? I made more and snacked on them throughout the week when I got hungry. Along with these carrot cake energy bites. I'm a snacker, people. It's what I do.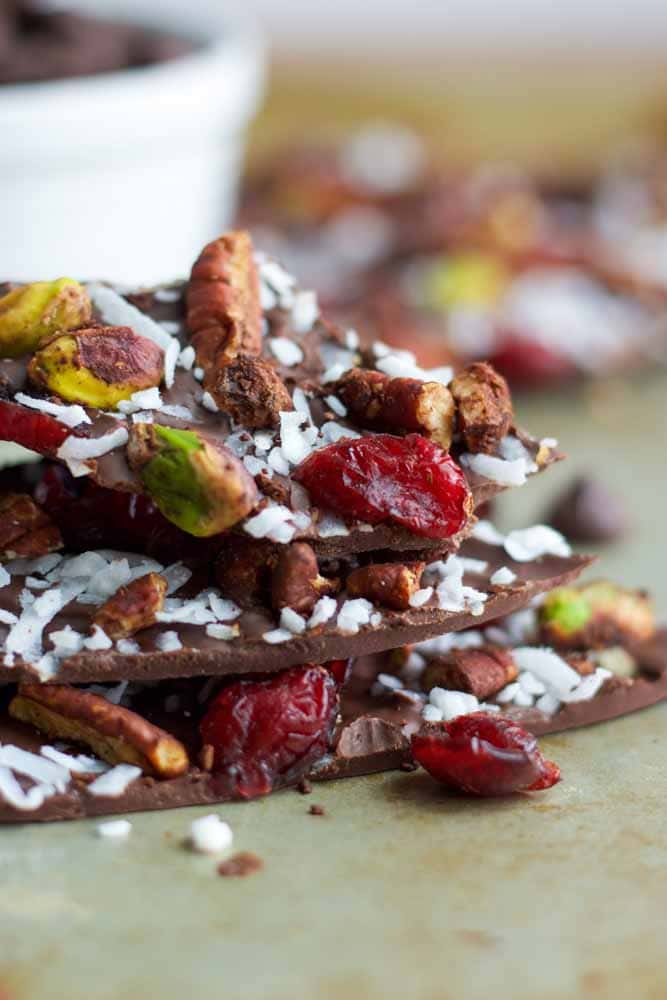 And this recipe is made for just that. So go froth and snack my sweet friends!
If you like this recipe, give us a virtual high five by following us on Insta, Pinterest, Twitter and liking us on FB.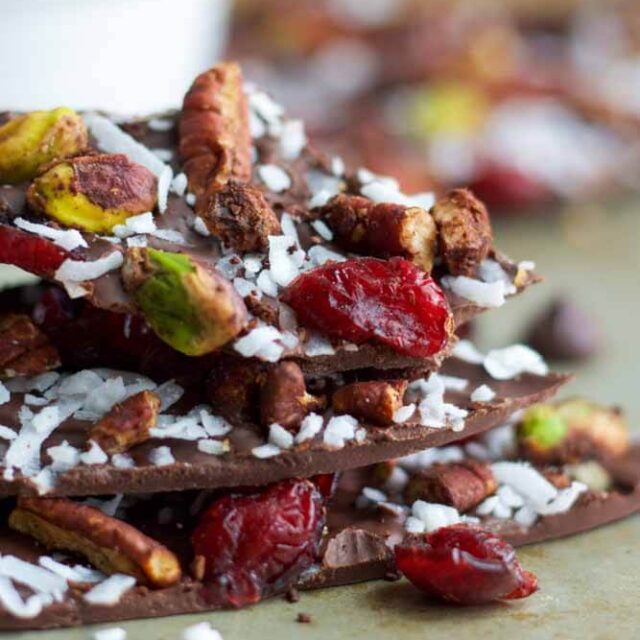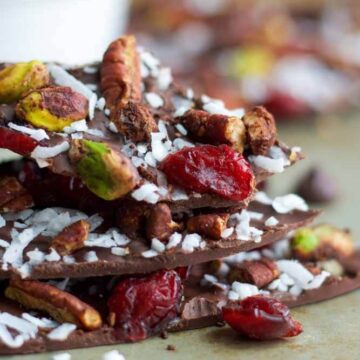 Ingredients
1 ½

cups

chopped pecans

1

cup

pistachios

½

cup

fresh ground coffee beans

1

tablespoons

unsweetened cocoa powder

2

tablespoons

coconut oil

melted

1

teaspoon

vanilla extract

½

teaspoon

sea salt

16

ounces

dark chocolate

chopped

1 ½

cups

unsweetened flaked coconut

1

cup

Craisins

flaked sea salt

for topping
Instructions
Preheat the oven to 375 degrees F. Line a baking sheet with parchment paper or a silpat mat.Pour the pecans onto the prepared baking sheet. Roast in the oven until the pecans are fragrant, about 10 minutes.

While they're baking, mix together the coffee grounds, cocoa powder and salt in a small bowl.

In another small bowl, add the melted coconut oil and vanilla together.

When the pecans are done roasting add the pistachios to the baking sheet with the cooked pecans.

Pour the coconut oil mixture over the nuts and toss to coat. Then toss with the chocolate coffee mixture until pecans and pistachios are fully and evenly coated.

Roast the pecans and pistachios until the coffee is fragrant and the almonds are starting to become crisp, about 10 minutes. Remove from the oven and let cool.

Line a large sheet pan with parchment paper.

Melt the dark chocolate in a microwave safe bowl for thirty seconds, stir and heat for another 30 seconds. Stir until all the chocolate is completely melted.

Pour ¾ the melted chocolate on to the prepared baking sheet and spread the chocolate out to form a rectangle. Chocolate should be a smooth layer, making sure it's not too thin. Immediately sprinkle on the coconut, Craisins and then sprinkle on the pecans and pistachios.

Sprinkle with sea salt.

Refrigerate until solid, about 1 hour, or overnight.

Peel off parchment, and break bark into pieces.