PALEO chocolate cookie bars, with sea salt. Thick and chew and everything. Are you even ready for this?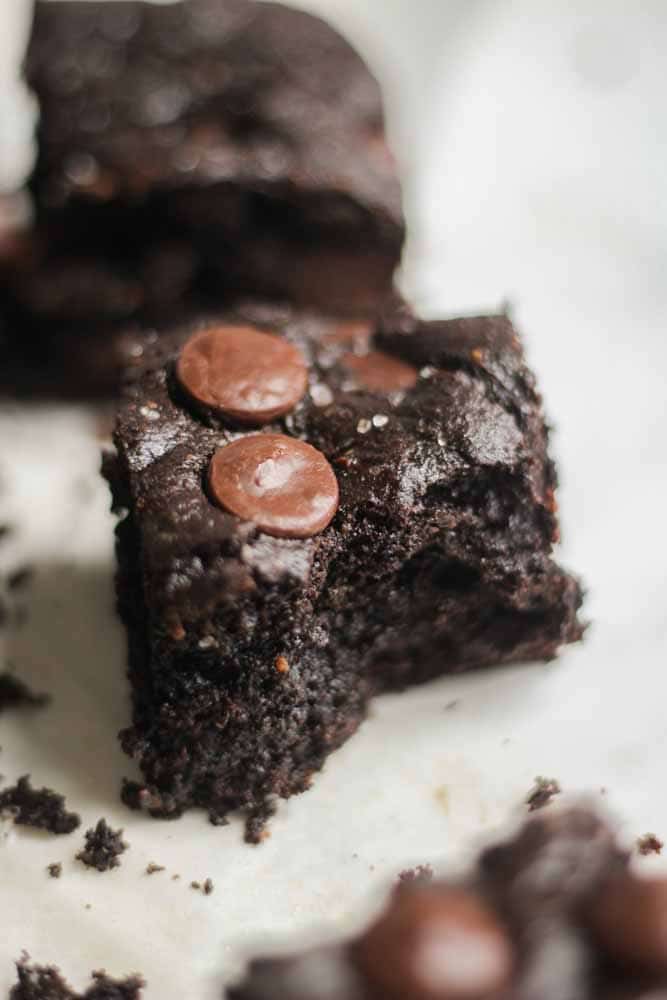 Here I am one day before Thanksgiving and instead of sharing all of my favorite Thanksgiving recipes (though you should definitely make this Apple Cider Sangria and these Paleo Pumpkin Bars) I thought it only appropriate to share a post-Thanksgiving recipe that's guilt free.
I don't know about you but the dessert I have the more dessert I crave. And after all the pies happening tomorrow I'm going to be craving a sweet treat, but my body surely won't need sweets, hence the paleo salted chocolate cookie bar. And because they're so darn good.
And honestly I think I should started last week because by the time tomorrow rolls around it will be my FIFTH Thanksgiving. This year. Does that mean I have a problem? Quite possibly. But here I am with four Thanksgivings dinners under my belt and somehow I feel no shame.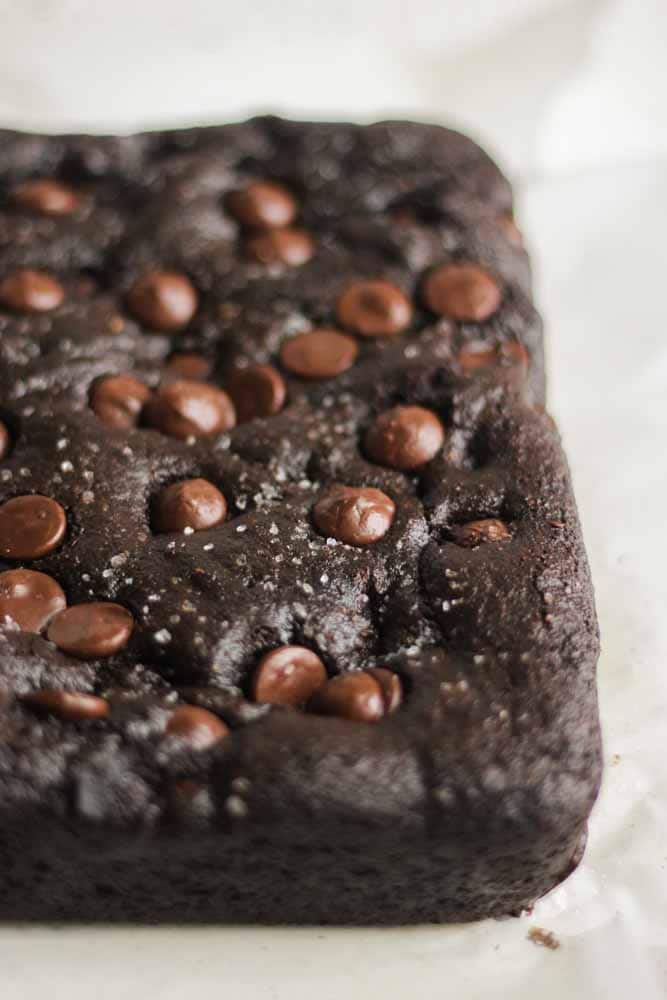 They started at a Friendsgiving last weekend, then we had another one at work and then another one at our church on Sunday. Then I hosted another Friendsgiving last night. And somehow we got to 4 real quick.
But tomorrow is the big one. My mom is hosting 20 family members and close friends and we're going to watch the parade and relax all day and it's going to be really great. I made my paleo pumpkin bars, apple crisp and I am making cranberry apple sangria. I also made a paleo chocolate caramel tart (coming to the blog soon!).
All I have to say is thank the lord above that chocolate is paleo. I'm not sure what I would even do if it weren't. Because that tart is phenom.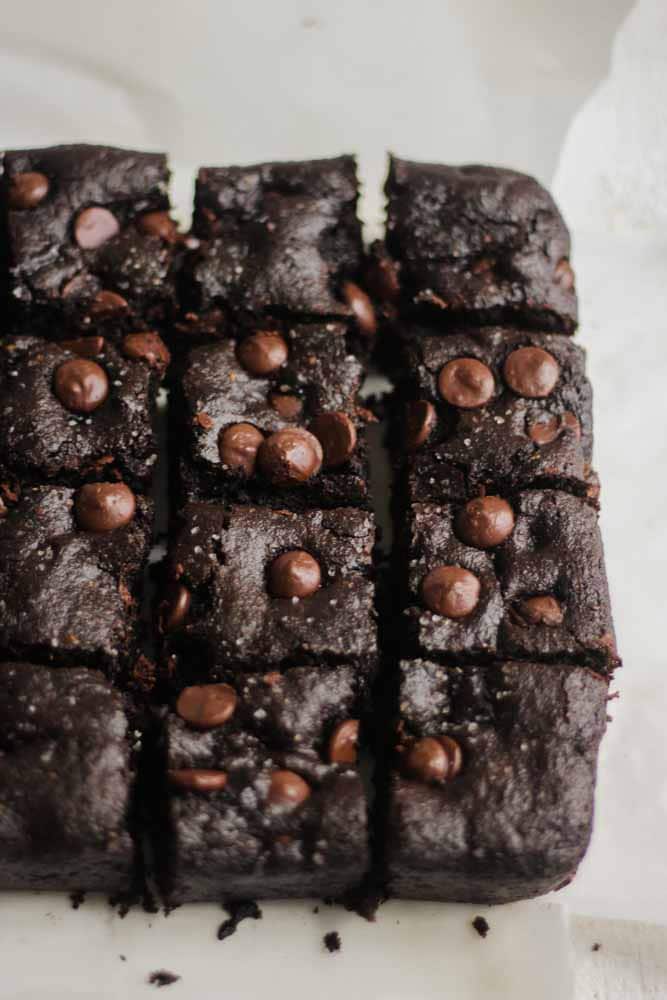 Just like these cookie bars! There's so much luscious, dark, chocolate happening and they're so chewy and moist and I think the giant flakes of sea salt on the top are just right. Seriously, the texture of these cookie bars is ?. That's my emoji for on point.
I made this recipe the first time and thought I would make them extra chewy by only using egg yolks like I've done for non-paleo desserts and well, it didn't work. I cut them and picked up a piece and they crumbled in my hand and by the time I got it up to my mouth I had one measly crumb to munch on. '
So, round two happened. I added the full egg back in and that did the trick. Chewy, chocolatey bars of heaven. I would keep going but I can't think of any more adjectives to describe how wonderful these paleo cookie bars are.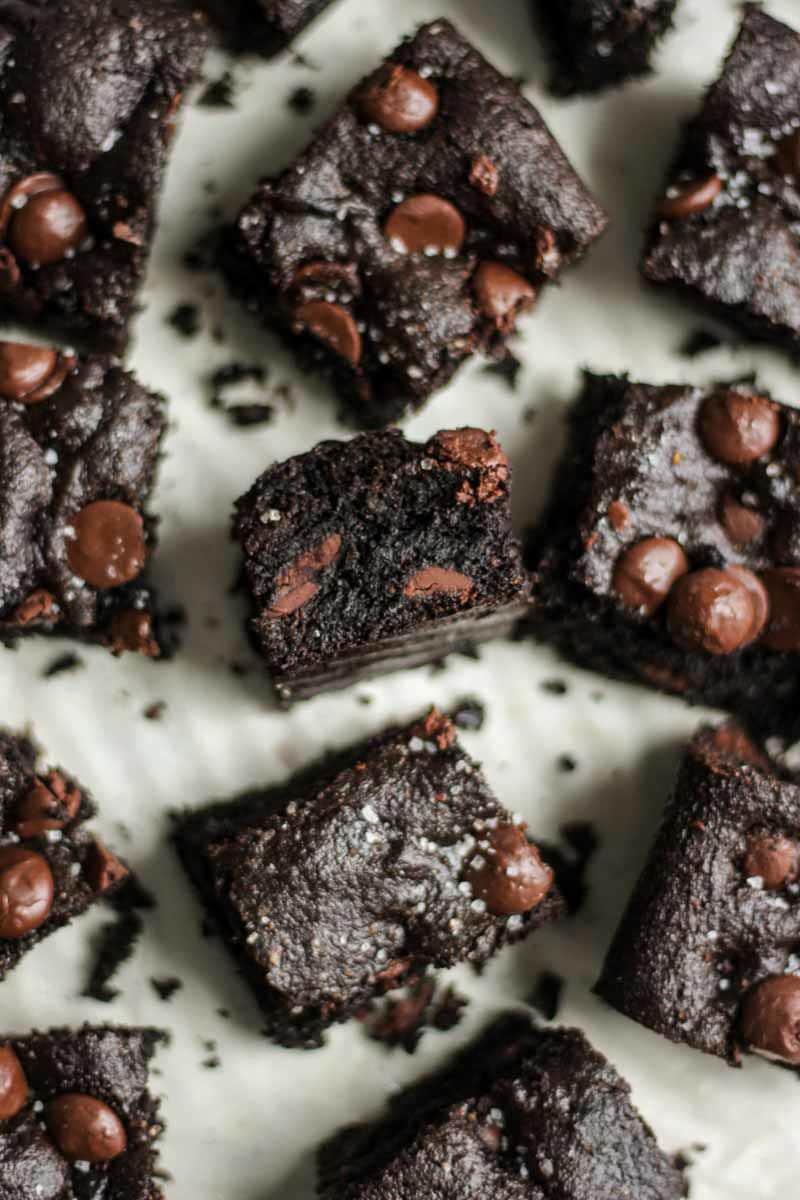 I'm thinking you should test it out for yourself! And if you love them as much as I do please share your adjectives below?.
And one last Thanksgiving note: I am so so grateful for you. Every single person who stops by here for one recipe or if you come back to check in and follow along. You make blogging and sharing my recipes so worth while. Thank you! Happy Thanksgiving!
More paleo chocolate desserts: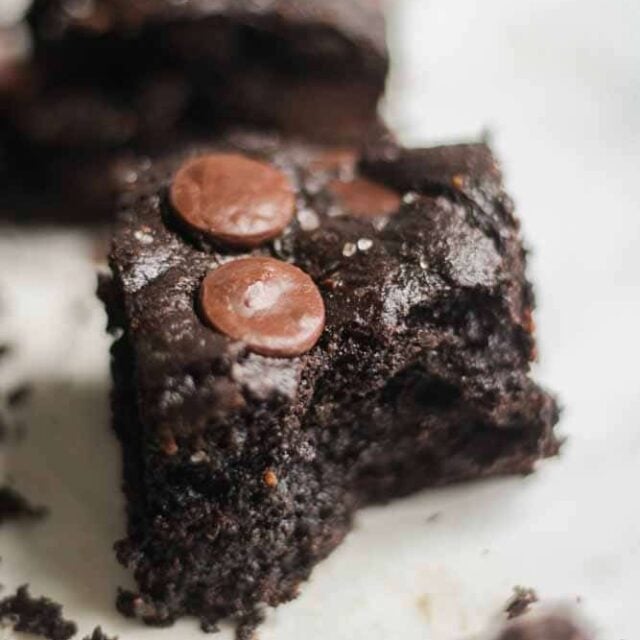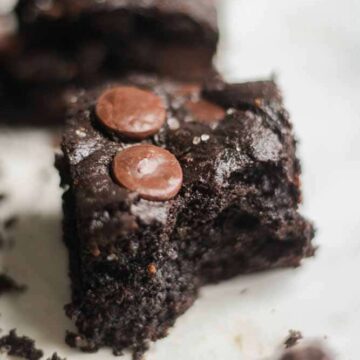 Ingredients
1

cup

almond flour

½

cup

cocoa powder

¼

cup

Hershey's dark chocolate cocoa powder

1

teaspoon

baking soda

½

teaspoon

baking powder

½

teaspoon

salt

½

cup

coconut oil

melted

¼

cup

almond butter

½

cup

coconut sugar

¼

cup

maple syrup

2

large egg

at room temperature

1

teaspoon

pure vanilla extract

1

cup

paleo chocolate chips

sprinkle of sea salt
Instructions
Preheat the oven to 350°F. Line an 8-inch square baking pan with parchment paper, leaving an overhang on all four sides to lift the bars out of the pan when baked and cooled. Set aside.

Whisk the almond flour, both cocoa powders, baking soda, baking powder and salt together in a large bowl. Set aside.

In a medium bowl, add the coconut oil, almond butter, maple syrup and coconut sugar together and microwave on medium high heat for 30 seconds. Stir and repeat until completely melted. Allow to cool for approximately five minutes then add the eggs and stir until smooth. Add vanilla and stir until combined.

Add the dry ingredients to the wet ingredients and using a whisk or rubber spatula mix together until combined. The dough will be very soft and wet, but thick. Fold in the chocolate chips.

Transfer the dough to the prepared baking pan and smooth into an even layer. Sprinkle the top with more chocolate chips and sea salt if desired. Bake for 30-35 minutes or until a toothpick inserted in the center comes out clean.