Soft and chewy double chocolate paleo cookies are a sweet and rich dessert recipe, without the guilt! These cookies are gluten free, refined sugar free and paleo and you would never know. They are still sweet and full of chocolate flavor with cocoa powder and chocolate chunks!
Get ready you guys, because you will now be seeing a lot more healthy recipes here! Don't worry, I'm still sharing my favorite rich and indulgent recipes, but want to share some healthy options for all the healthy people in my life (including myself)!
I've always been extremely in to health and fitness. Im an avid exerciser and feel about 10000% better when I eat healthy foods, so I thought my blog should reflect that! However, I love to indulge once in a while and believe everything is okay in moderation. A little butter never hurt anyone, right?
My boyfriend is a strength and conditioning coach and is so passionate about health and fitness and he's been asking me to start creating healthified (?) recipes. And my mom eats gluten-free to help with some health issues and she's been asking me to start creating gluten-free recipes for her to taste test. And if two of my favorite people in the world are asking for it, I think it's a sign I better appease them!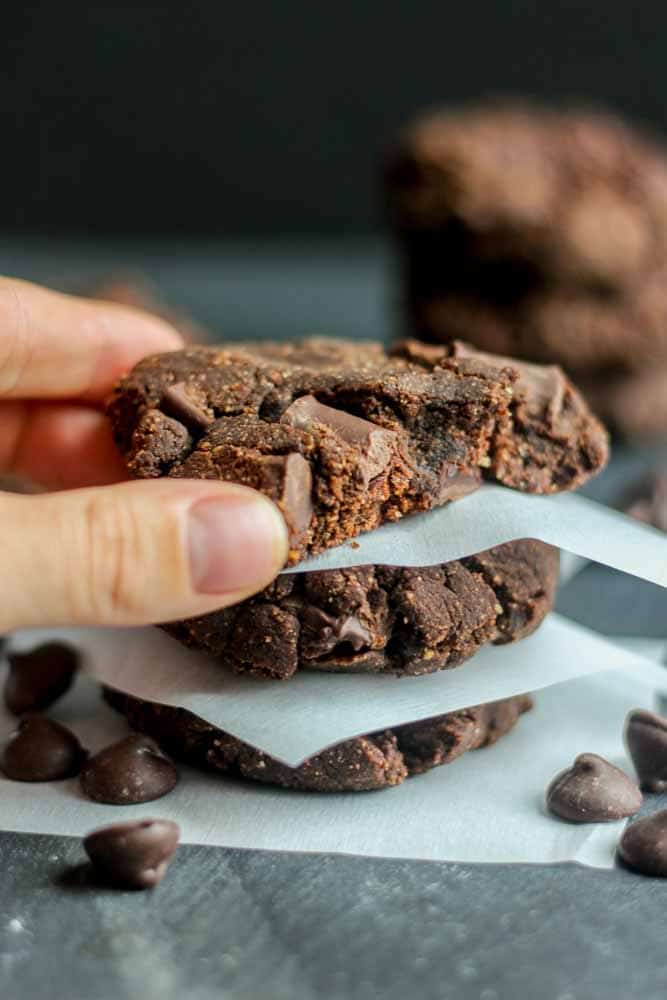 So cheers, ladies and gents, to a new addition to my littler corner of the internet! A mix of healthy baking for all of us health lovers and indulgent desserts for when you hard a long week.
Trust me, you will not be mad about these healthy desserts! These double chocolate paleo cookies taste anything but healthy. They're chewy and rich and packed with chocolate minus butter, refined sugar and gluten! WIN-WIN. Zach (my boyfriend) ate 3 of these back to back. And he is the ultimate taste tester (thanks Zach!).
I usually bring all of my baked goods in to work but these didn't even make it that far. That's a really really good sign they're delicious. These chocolate paleo cookies include a mix ingredients, including almond flour. What's almond flour, you ask? It's almonds ground into a very fine powder. Typically when baking paleo recipes you have two main options for flour: coconut flour and almond flour. They are both paleo and gluten-free, but it's up to you to decide which one is best!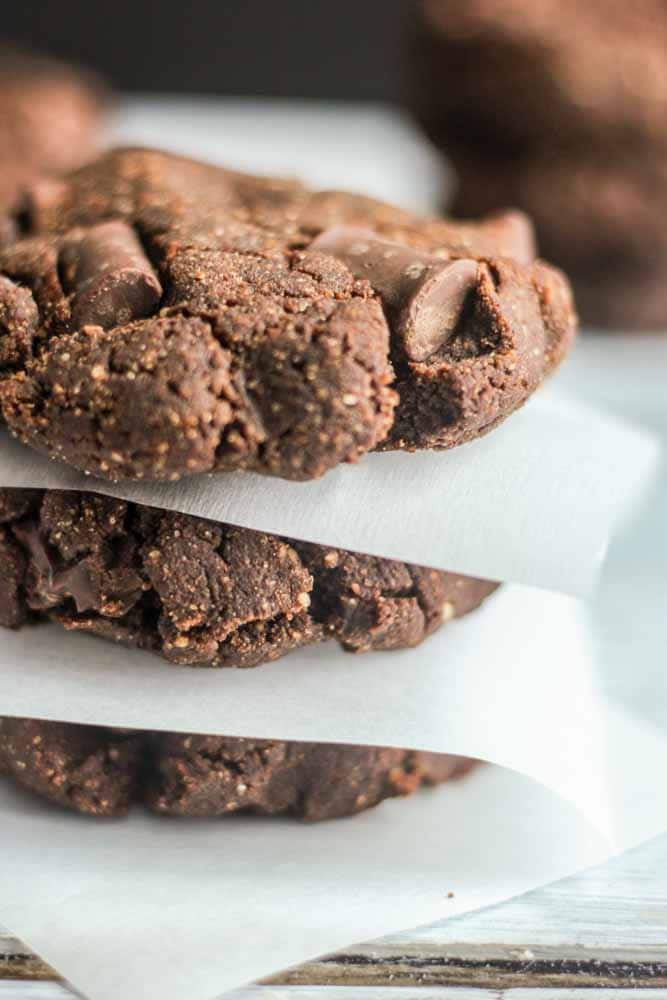 Here's a little macronutrient info about each:
Almond Flour: if you eat paleo and are trying to stay low in carbs, this flour is for you. It's lower in carbs, but higher in fat.
Coconut Flour: it's higher in carbs, but has more fiber. It's also a lot lower in fat (and that fat includes Omega-6 fat, which most of us don't really need a ton more of), but higher in carbs.
Overall, from a macronutrient perspective, one flour option isn't better than the other, it just depends on your goals and which one you like more! From a baking perspective, they do have different baking properties. The biggest difference is that coconut flour contains a lot more moisture than almond. Essentially, recipes made with coconut flour need a lot more wet ingredients to avoid them getting crumbly and dry. The biggest takeaway? You can't just substitute almond flour or vice versa in a recipe because it won't come out right. Baking is finicky that way.
A good rule of thumb is for every 1 cup of coconut flour, use about 6 eggs or 1 cup of liquid.
Because I wanted these cookies to be soft and crumbly I went with almond flour! And trust me, that's exactly what they are! Rich with chocolate, sans guilt! I will be making these again very soon.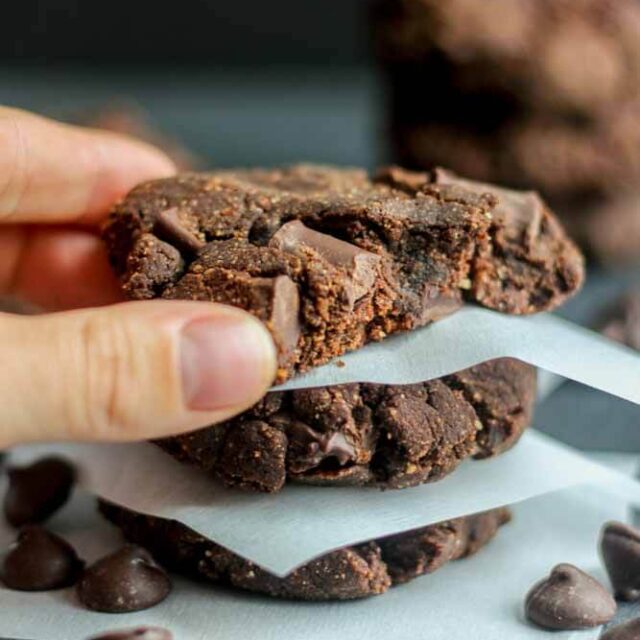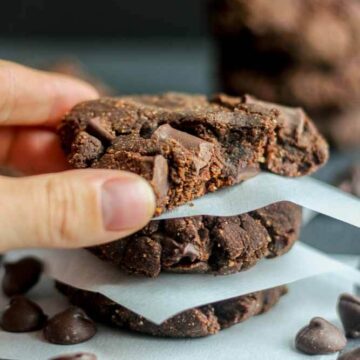 Ingredients
⅓

cup

coconut oil

solid at room temperature

¼

cup

pumpkin puree

6

tablespoon

honey

6

tablespoon

almond butter

1

egg

room temperature

1

teaspoon

vanilla extract

½

teaspoon

baking soda

½

teaspoon

salt

½

cup

almond flour

½

cup

cocoa powder

1

cup

semi-sweet chocolate chunks

be sure they are dairy-free

Flaky sea salt

optional
Instructions
Preheat oven to 350 degrees and cover a large baking sheet with parchment paper and set aside.

In a medium bowl, combine the baking soda, salt, almond flour and cocoa powder and mix well. Set aside.

In a large bowl, beat together the coconut oil, pumpkin puree and honey until combined, about 2 minutes. Add the almond butter and mix well. Add the egg and vanilla extra and beat until incorporated, about 1 minute.

Gently add the flour mixture into the wet ingredients until combined and the dough comes together. Drop by rounded tablespoon on to the parchment-lined baking sheet. With the palm of your hand, gently press the dough down to flatten slightly.

Bake for 10 minutes or until set around the edges. Allow to cool completely.