Is there every a wrong time for no churn peanut butter ice cream? It's always smooth, creamy and swirled with real peanut butter. You should make this ice cream all summer long.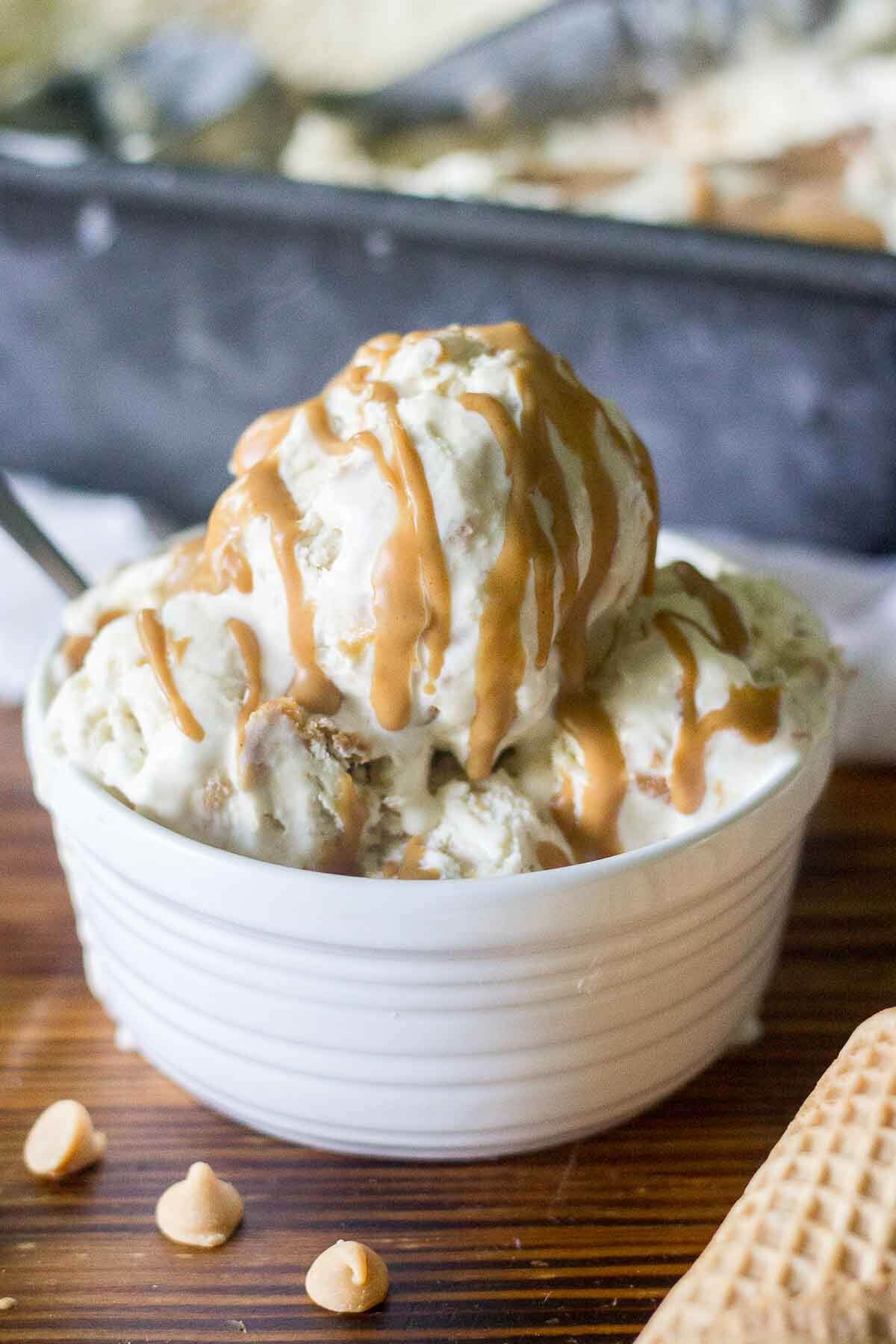 Another big event is happening today! I'm going to be an aunt for the second time! My sister went into labor early this morning and we'll be meeting sweet baby boy Arko any time.
If you follow here regularly you know Zach and I have had some major life changes in the last six months. We got engaged, went to Ireland and bought a house. Things have yet to slow down and I don't see that happening any time soon considering we're headed to Branson, MO next week, Lake Erie and Colorado in August and the Outer Banks in September. I swear our wedding is going to be here before we know it.
All that being said, I have to admit the crazy schedule has been weighing on me. Every single thing is so amazing and I'm so grateful but change isn't easy and it can throw you off a bit. I've gained some weight (still eating well and working out a lot), have been having stomach issues and I've been a little short with people.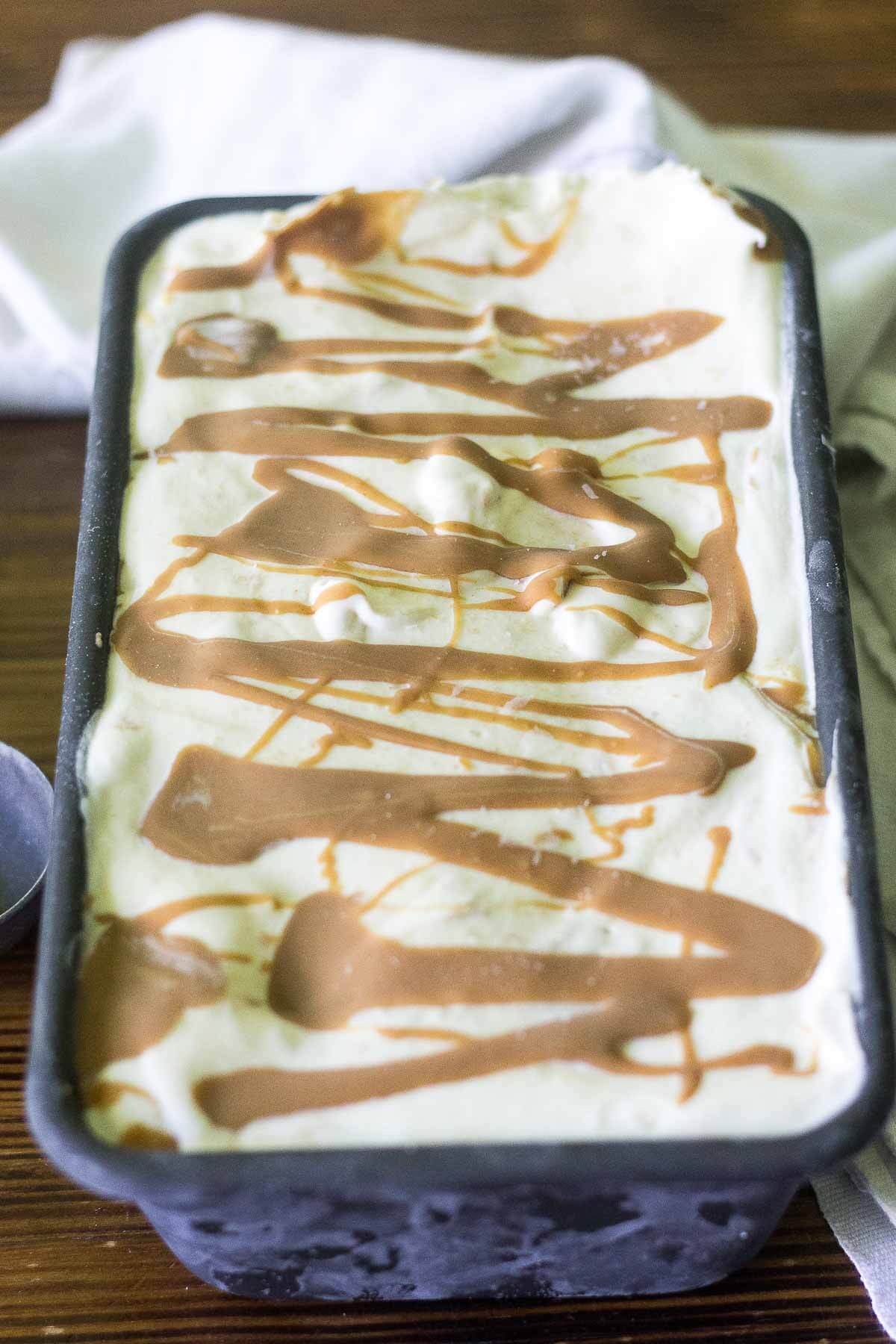 I've finally realized I need to get it under control so I started meditating every morning, working out a little longer to clear my head and incorporating some new vitamins into my diet like Vitamin D, probiotics and more fiber. So far so good! Anyone have any recommendations for dealing with change and stress? I'm all ears!
Although I've been battling some health things I can't complain at all! I have the most amazing fiance, a place to call home and a sweet little miracle is coming into the world as we speak (write?)!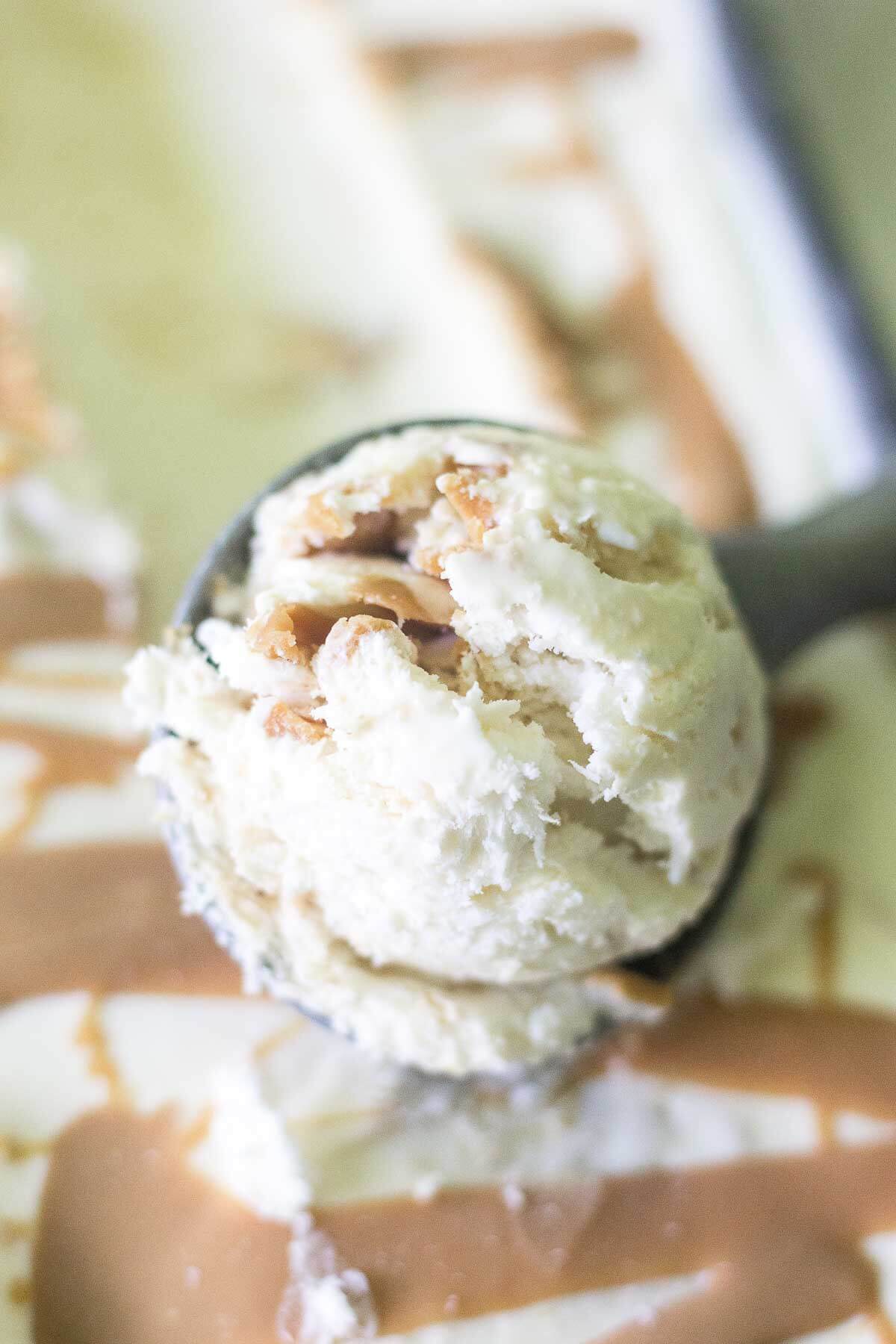 My sister is in love with all things peanut butter so I thought today is the perfect day to share my no churn peanut butter ice cream in honor of her sweet boy. I also just shared a recipe for flourless peanut butter cookies she is going to adore.
I think a warm flourless peanut butter cookie with a big scoop of no churn peanut butter ice cream is the perfect summer combo, especially for peanut butter lovers like my sister.
It's also for people who want to impress everyone with minimal effort (aka me) because no churn ice cream is so easy to make.
How to Make No Churn Peanut Butter Ice Cream:
Beat 3 cups of cold heavy cream on high for 2-3 minutes until medium to stiff peaks form. Fold in one can of sweetened condensed milk. From there, stir in your favorite flavors, like cookie dough or peanut butter, and place in a 9x13 loaf pan to freeze for 4 hours or overnight.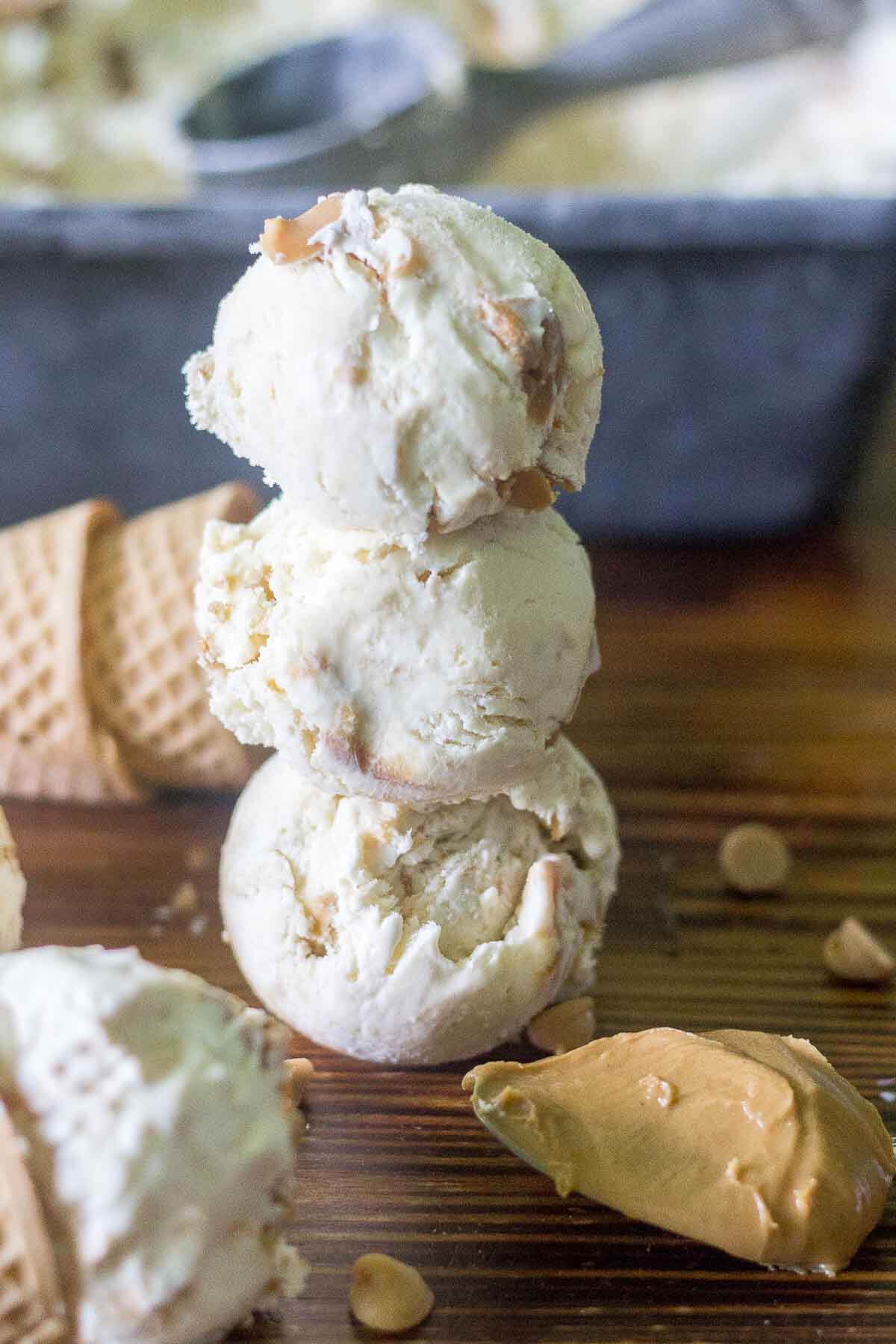 I know what you're thinking, that can't be all. Right? When I learned how to make no churn ice cream for the first time I couldn't believe that was it. The base of the ice cream is the same for every recipe, it just depends what you want to add to it to make it your own. I've done a homemade cookie dough ice cream and a homemade peppermint ice cream. I'm thinking of doing a pumpkin cheesecake swirl closer to fall. Thoughts?! Have any ice cream flavor recommendations?!
So for this no churn peanut butter ice cream, I added some peanut butter chips and swirled creamy peanut butter through. I waited to swirl the peanut butter until the mixture was in the loaf pan to make pretty swirls.
To make sure it gets evenly distributed through the recipe pour ⅓ of the ice cream base into the pan then add dollops of melted peanut butter on top and swirl gently. Repeat the process two more times and you'll be all set to freeze your no churn peanut butter ice cream.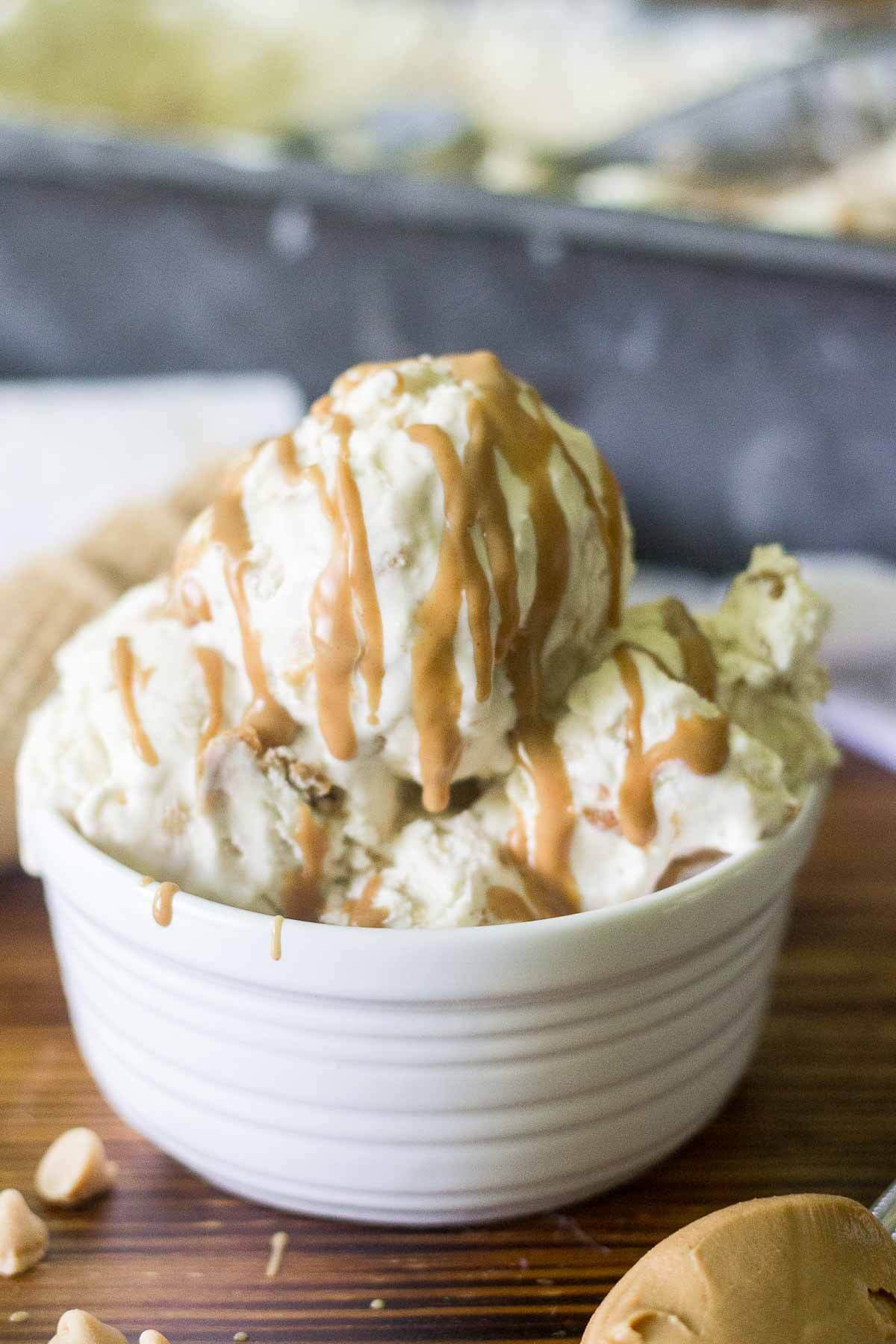 One of the challenges with this recipe is it isn't easy to store once you make it. Unless you're feeding a large crowd it's likely you won't eat all of this no churn peanut butter ice cream in one setting. I don't know about you, but I need my loaf pan to make banana bread and other breads and don't want it sitting in my freezer for a month.
Because of that, I love my to use my White Frozen Dessert Containers from Amazon to store the leftovers. And because at any given moment there could be multiple flavors in there at once, I like to use a pretty label to keep them organized! And now you can too with my FREE homemade ice cream printables.
HOMEMADE ICE CREAM FREE PRINTABLES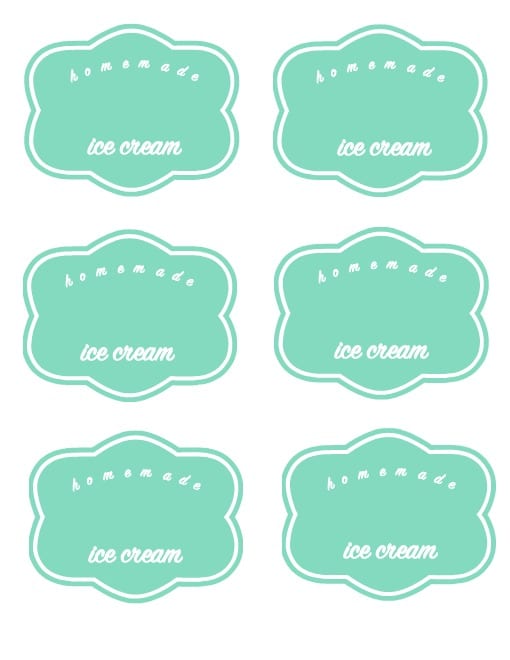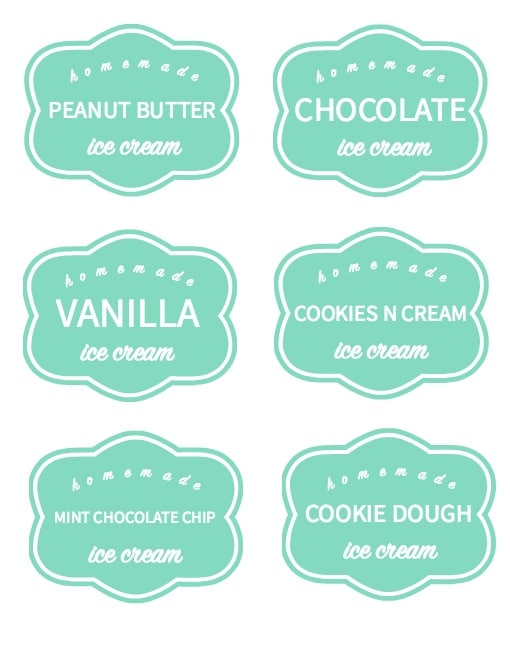 To print these, just save the image to your desktop! It should be 8.5 x 11 and ready to print but let me know if you have any issues! I created one with a blank space so you can write in your ice cream flavors! I also created one with some classic ice cream flavors. I love to print mine on plain full sheet sticker paper. Just cut them out and place them on the carton!
Enjoy!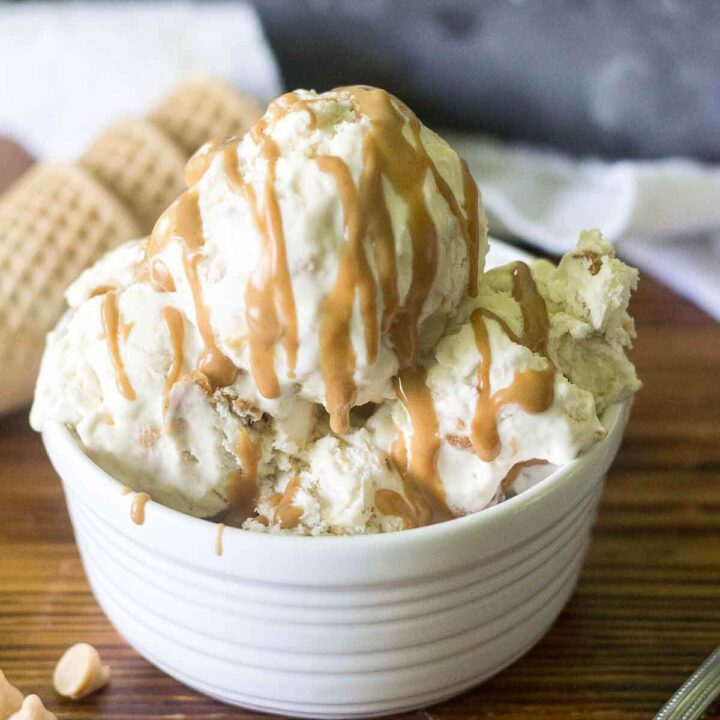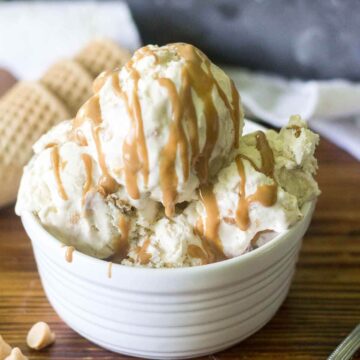 Ingredients
3

cups

heavy whipping cream

cold

1-14

ounce

can sweetened condensed milk

2

teaspoons

vanilla bean paste or pure vanilla extract

4-5

tablespoons

creamy peanut butter

peanut butter chips

optional
Instructions
In a medium bowl, stir together the sweetened condensed milk and vanilla. Set aside.

In the bowl of a stand mixer or a large bowl with a hand mixer, beat heavy cream on high until soft peaks form, about 2-3 minutes. With a rubber spatula, gently fold condensed milk mixture into whipped cream. If using peanut butter chips, fold them in until well combined.

Place peanut butter in a small microwave safe bowl and heat on high for 30 seconds. Pour ⅓ of the ice cream base into a 9x13 inch loaf pan. Drizzle ⅓ of the melted peanut butter on top and swirl gently with a knife. Repeat the process until all ice cream base and peanut butter is gone. Cover with foil and place ice cream in the freezer to set for 4 hours or overnight.
DID YOU MAKE THIS RECIPE!? SNAP A PIC AND TAG @WHAT_MOLLYMADE AND USE #WHATMOLLYMADE!
Here are a couple of items I used to make today's recipe:
White Pint Frozen Dessert Containers
, KitchenAid
, Loaf Pan
, Ice Cream Scoop
Some of the links above are affiliate links, which pays me a small commission for my referral at no extra cost to you! Thank you for supporting What Molly Made!